Ready to travel Wisconsin? Let's explore a special place that has something for everyone — from outdoor adventurers, food and wine aficionados, and culture buffs to anyone who loves picture-perfect landscapes?
Welcome to stunning Wisconsin!
This great state will surprise you with its beauty and attractions, adventure activities and monuments.
Along with me, Paulina on the Road, discover why it's the perfect destination for your next getaway.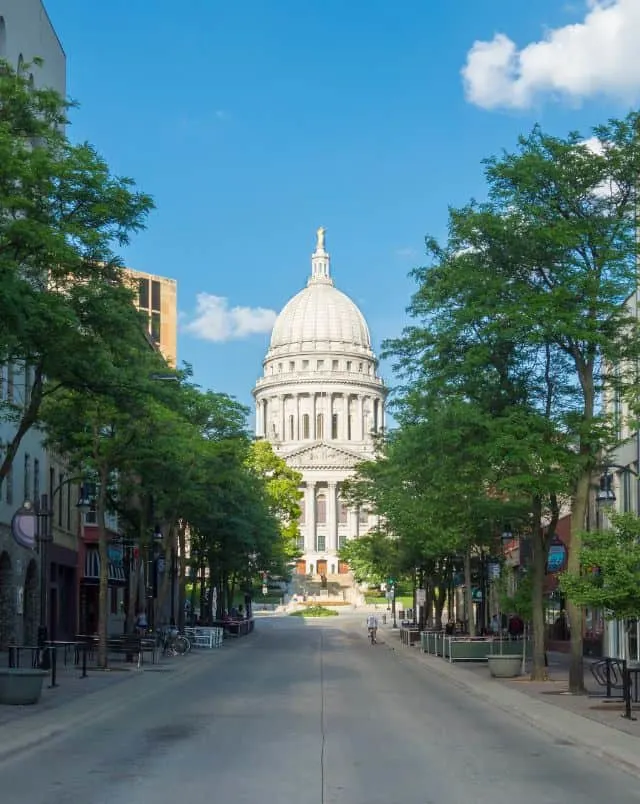 With a wide range of accommodations from luxurious resorts to cozy hotels in Wisconsin, you're sure to find the perfect place to stay no matter your budget or preference.
And for those seeking to explore the great outdoors, Wisconsin's hiking trails offer stunning scenery and a chance to connect with nature.
But that's not all! From fishing to kayaking to snowmobiling, there are endless outdoor activities to enjoy.
And when it's time to refuel, don't forget to indulge in Wisconsin's renowned food scene.
This blog is supported by you, dear reader. If you purchase through a link, I earn a small commission. As an Amazon Affiliate, I earn from qualifying purchases.
Top resources to travel Wisconsin
✎ Plan the ultimate Wisconsin road trip (no backtracking!) with the Perfect Wisconsin Road Trip itinerary – Buy now for less than 12$

✈ Find the best hotel deals in Wisconsin with Trivago

➳ Book vacation rentals in Wisconsin with VRBO

✔ Book tours in Wisconsin with Viator

☘ Get the best discounted outdoor gear (outlet) at REI.com

$ Get Wisconsin hiking guides and maps at REI.com

✎ Never leave without travel insurance. I get mine at SafetyWing. It is easy to set up, cheap, and reliable.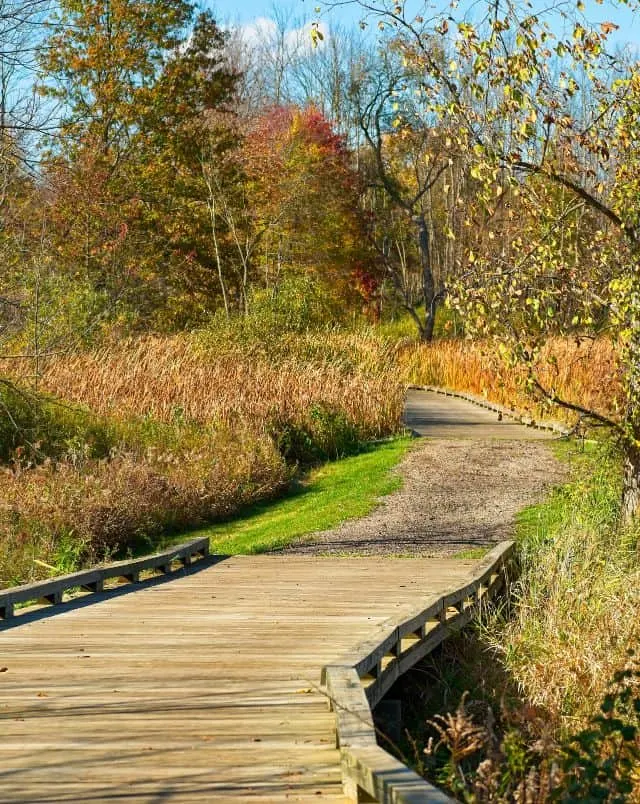 Where to stay in Wisconsin
Budget
Mid-range
Luxury
Weekend getaways in Wisconsin
Embark on a journey of weekend getaways in Wisconsin and immerse yourself in the beauty and charm of the Badger State.
Below, you'll find a handpicked selection of posts, each offering unique insights and recommendations for memorable adventures that await you.
From serene lakeside retreats to bustling city escapades, let these curated experiences inspire your next weekend getaway in Wisconsin.
Places to visit in Wisconsin
Uncover the hidden gems and iconic destinations of Wisconsin as I delve into a captivating collection of posts showcasing places to visit in Wisconsin.
Below, you'll find a curated selection of articles offering insights, recommendations, and firsthand experiences that will guide you on a journey through Wisconsin's rich cultural heritage, breathtaking landscapes, and vibrant cities.
Romantic Getaways in Wisconsin
Get swept away by the ultimate combination of love and allure with our specially curated posts on romantic Wisconsin getaways.
I've carefully chosen a collection of articles that feature dreamy locales, snug lodgings and enchanting experiences that will spark romance and create everlasting memories for couples seeking an unforgettable retreat in Wisconsin's picturesque settings.
Northern Wisconsin
Get ready for an adventure like no other! Step into the serene wilderness of Northern Wisconsin with my exclusive collection of blog posts that will steal your heart.
I have handpicked the most fascinating articles that will treat you to the hidden treasures, picturesque landscapes, thrilling outdoor activities, and delightful towns that make Northern Wisconsin a must-visit destination.
Things to do in Wisconsin Dells
Get ready for an epic adventure in the ultimate waterpark destination – Wisconsin Dells!
Here's my carefully curated collection of posts that showcase the best things to do in this vibrant city.
From thrilling attractions and family-friendly activities to stunning scenery and exciting entertainment options, we've got you covered.
Discover firsthand recommendations, insider tips, and personal experiences that will make your trip to Wisconsin Dells unforgettable.
Things to do in Door County, Wisconsin
Discover the breathtaking beauty and irresistible charm of Door County, Wisconsin!
My posts are brimming with insider tips, unbeatable recommendations, and personal anecdotes that will immerse you in the region's idyllic landscapes, picturesque towns and rich cultural heritage.
Wisconsin fall colors
Ready to be captivated by the stunning autumn landscapes of Wisconsin?
These posts will take you on a journey through the very best that the state has to offer in terms of Fall Colors.
From the most scenic drives and hiking trails to the hidden gems that only locals know about, this selection of articles is your guide to discovering Wisconsin in fall.
Winter in Wisconsin
Welcome to Wisconsin's winter wonderland!
I've handpicked a selection of articles that will transport you to the most magical winter experiences in Badger State.
Discover thrilling outdoor activities, cozy getaways, and festive celebrations that will make your heart skip a beat.
From skiing down pristine slopes to sipping hot cocoa by a crackling fireplace, my curated experiences will guide you to Wisconsin's winter adventures.
Resorts in Wisconsin
Welcome to a world of unparalleled luxury and hospitality at the finest Wisconsin resorts!
With picturesque views and endless outdoor activities, these accommodations are perfect for both families and couples.
From cozy resorts in Door County to luxurious Spa resorts in Wisconsin Dells, there is something for everyone. Whether you are seeking a quiet retreat or an action-packed getaway, resorts in Wisconsin provide a unique experience that you won't soon forget.
Personally, I highly recommend checking out the lakeside resorts such as resorts in Wisconsin on Lake Michigan if you want to feel relaxed and at peace.
There is truly nothing quite like waking up to the sound of the water lapping at the shore and a beautiful sunrise over the lake. So why wait?
Cabins in Wisconsin
Immerse yourself in Wisconsin's natural beauty with my handpicked collection of cabins in Wisconsin!
There's something special about staying in a cabin in Wisconsin.
You're surrounded by nature, but you still have all the comforts of home. With so many different types of cabins to choose from, whether you're looking for rustic family Cabins in Wisconsin or luxury cabins in Wisconsin, there's a perfect escape waiting for you in the Badger State.
Personally, I love the feeling of being tucked away in the woods, my favorite are lake cabins in Wisconsin, sitting by a crackling fire with a cup of hot cocoa in hand.
You can spend your days fishing on the lake, hiking the trails, or simply lounging on the porch. It's the ultimate place to unplug and recharge.
Why you should travel Wisconsin
Wisconsin has always been a special place to me. It's not just because I did my Master's thesis about Wisconsin.
For instance, have you ever been hiking in Wisconsin? The natural beauty of the state is unparalleled, whether you're wandering through the Kettle Moraine State Forest or exploring Door County's rugged shores.
But it's not just the great outdoors that make Wisconsin special.
The state is home to some incredible resorts and hotels. Whether you're looking for a cozy cabin or a luxurious spa experience, Wisconsin has you covered.
And let's not forget about the food – from fresh Wisconsin cheese curds to steaming bowls of chili, Wisconsin cuisine is not to be missed.
So if you're planning your next adventure, travel to Wisconsin – I promise it won't disappoint.
What is the best place to visit in Wisconsin?
If you're looking for an unforgettable travel experience, you can't go wrong with a trip to Wisconsin.
This state is home to so many incredible destinations, it's tough to choose just one.
But if I had to pick just one, I would highly recommend visiting Door County. This charming peninsula juts out into Lake Michigan and boasts beautiful natural wonders, quaint towns, and delicious cuisine.
Whether you're interested in hiking, kayaking, or simply soaking up the local culture, Door County has something for everyone.
What to know before traveling Wisconsin?
If you're considering traveling around Wisconsin, there are a few things you should know to make your trip a success!
The Cheese State boasts charming small towns, vast green spaces with shimmering lakes, and some of the most memorable food and drink experiences in the country.
You can spend hours exploring quirky alleyways and boutiques in Milwaukee, taking in Wisconsin's historical architecture in Madison, and wandering the historic districts of Green Bay.
Before you leave, be sure to pack for all kinds of weather, and don't forget to bring your appetite for cheese curds, bratwurst, and frozen custard.
Ready to explore all that travel Wisconsin has to offer? Let's hit the road!
The Perfect Wisconsin Itinerary
Avoid tourist traps with the "Perfect Wisconsin Road Trip" itinerary: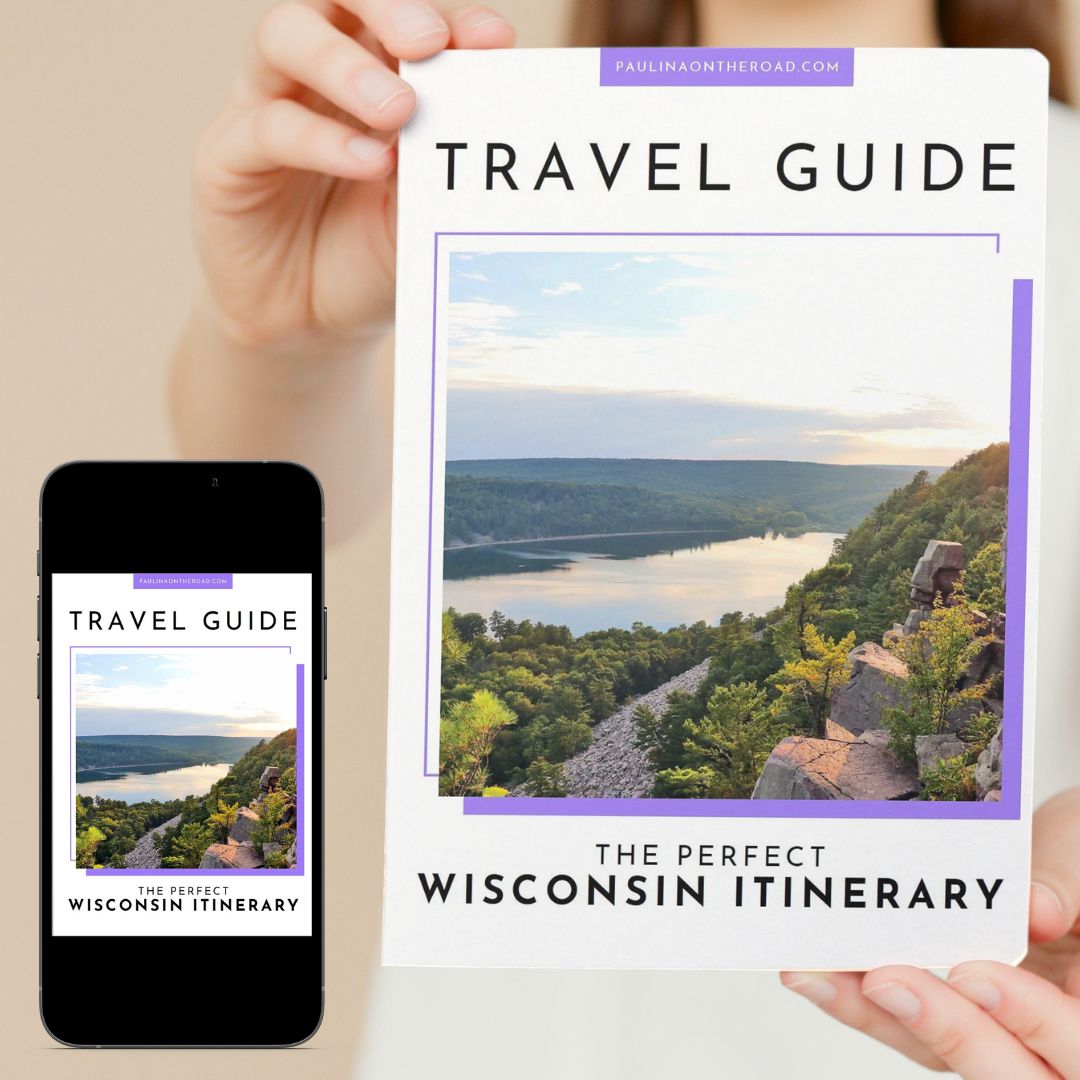 Travel Wisconsin like a local! Make the most of your time with the fully customizable Wisconsin Road Trip itinerary. – Get it here