Guide to the best winter camping Wisconsin has to offer, including RV camping and winter cabins
Wisconsin is a great place to visit all year round, however, in the winter months, the place really comes into its own.
And one of the best ways to experience the majesty of the season is to indulge in some winter camping in Wisconsin.
There are great opportunities for winter camping in Wisconsin, meaning you can indulge in this year-round.
For those that are prepared to brave the elements, then the magnificent winter campgrounds in Wisconsin can be incredibly rewarding.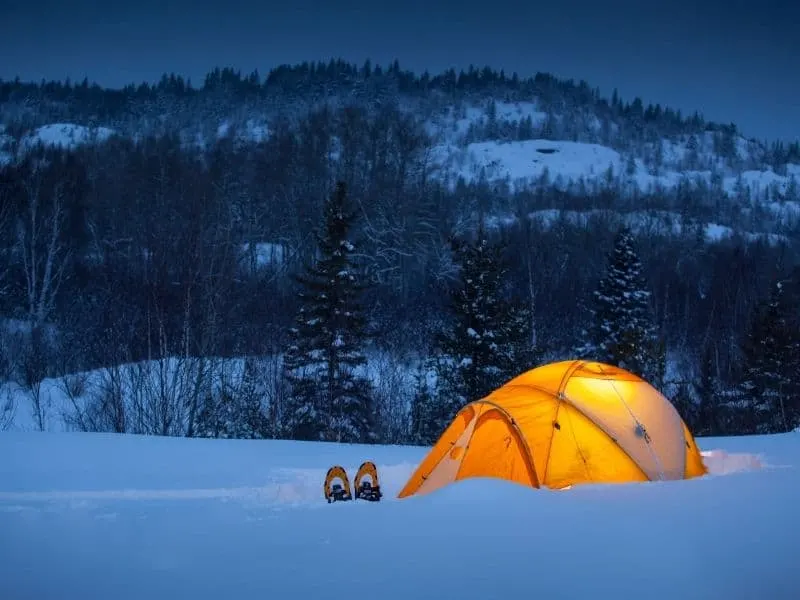 The snow-covered landscapes make the countryside even more beautiful and the crystal-clear air makes you want to bottle it and take some home with you.
To get out amongst this natural beauty at this time of year is an experience you will never forget.
You'll also have plenty of opportunities to enjoy other winter outdoor activities in Wisconsin while you camp.
To help you on your way, this article will explore some of the best places for winter camping in Wisconsin.
We'll look at a range of options throughout the state and also options for those who'd prefer to stay in a cabin or take the RV along.
So get packing your warm clothes and we'll dive straight into it.
This blog is supported by you, dear reader. If you purchase through a link, I earn a small commission. As an Amazon Affiliate, I earn from qualifying purchases.
Top resources to travel Wisconsin
✎ Plan the ultimate Wisconsin road trip (no backtracking!) with the Perfect Wisconsin Road Trip itinerary – Buy now for less than 12$

✈ Find the best hotel deals in Wisconsin with Trivago

➳ Book vacation rentals in Wisconsin with VRBO

✔ Book tours in Wisconsin with Viator

☘ Get the best discounted outdoor gear (outlet) at REI.com

$ Get Wisconsin hiking guides and maps at REI.com

✎ Never leave without travel insurance. I get mine at SafetyWing. It is easy to set up, cheap, and reliable.
1. Devil's Lake Quartzite Campground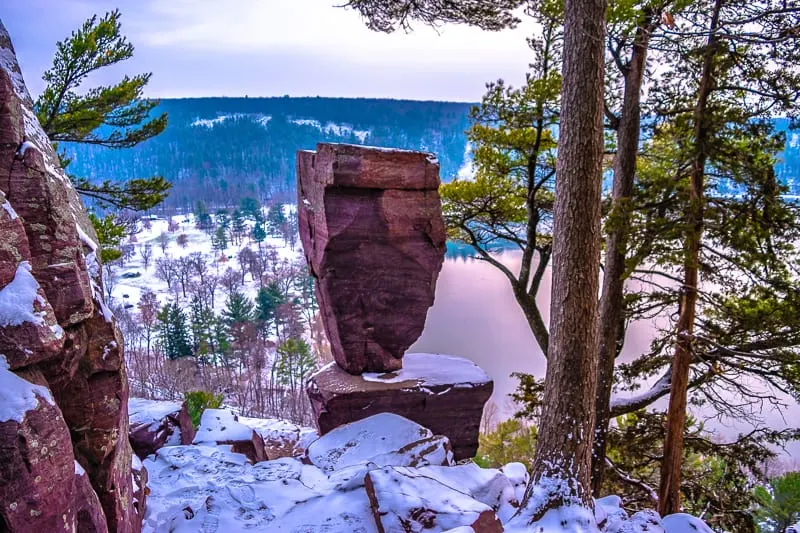 Just south of Wisconsin Dells, outside the town of Baraboo, you'll find the magnificent Devil's Lake Quartzite Campground.
This campground is the only one within Devil's Lake State Park that is open in the winter months.
Devil's Lake State Park is home to one of the best hiking trails in Wisconsin, the magnificent Ice Age National Scenic Trail.
The trail actually extends for around 1200 miles, but no one's expecting you to walk the whole thing!
The campground is located within shouting distance of Wisconsin Dells, meaning that you can hop into town to sample the finest there is to offer in Wisconsin Dells in winter.
There are, of course, many fun things to do in Wisconsin Dells year-round, including other great places to go hiking in Wisconsin Dells.
Surrounded by natural splendor yet within touching distance of some action makes this one of the greatest things to do in Wisconsin in winter.
All in all, this is one of the best weekend trips in Wisconsin.
Book here the best tours in Wisconsin Dells
2. Woodside Cottages, Bayfield, Apostle Islands National Lakeshore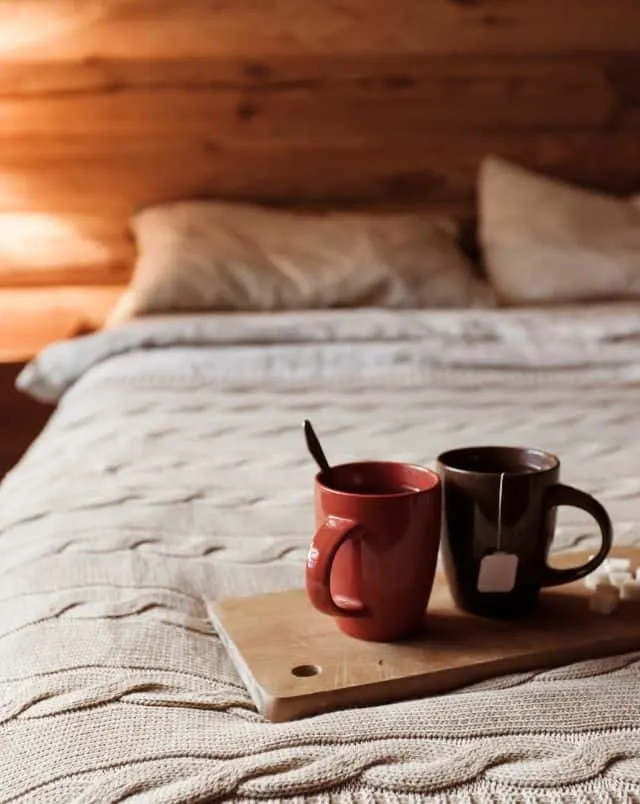 Just over the water from the Apostle Islands, on the mainland you'll find the charming town of Bayfield, home to some of the best winter camping cabins in Wisconsin.
Bayfield in winter provides access to the incredible ice caves and many of the finest snowmobile trails in Wisconsin.
This charming town has great dining options and a laid-back, relaxing vibe, perfect for unwinding in those winter months.
It's a magnificent place to stay, with many of the best winter cabins in Wisconsin, such as Woodside Cottages.
These beautiful cottage-style winter camping cabins in Wisconsin come equipped with jacuzzi tubs, fireplaces, kitchens, decks, and Wi-Fi.
You'll find Woodside Cottages about a mile outside of Bayfield, so you're close enough to all the amenities.
So if you're looking for cabin camping in Wisconsin, then look no further.
3. Wisconsin Ridge Campground, Wyalusing State Park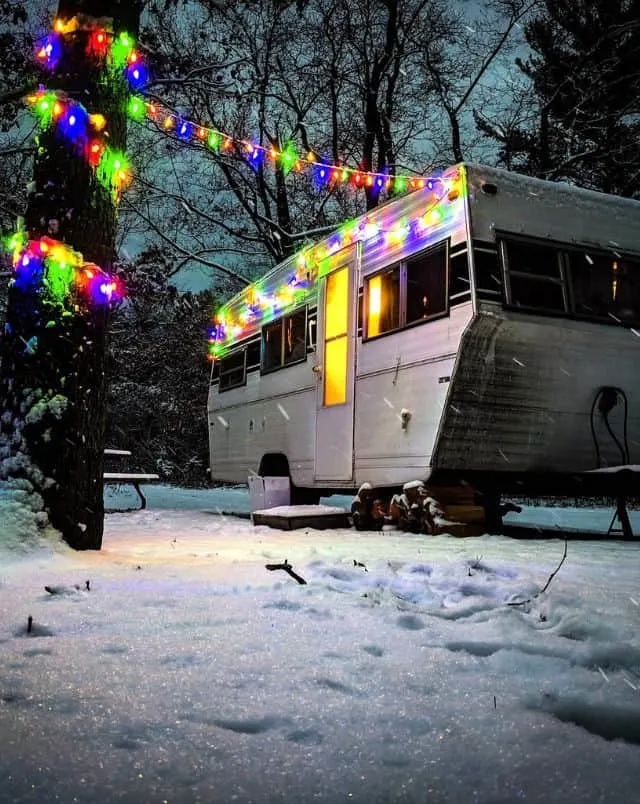 If you're looking for winter RV camping in Wisconsin, then you find it hard to beat the Wisconsin Ridge Campground in Wyalusing State Park.
The campsite is located just outside the charming town of Prairie du Chien, which is the oldest European settlement in the region!
It is on the confluence of the Lower Wisconsin River and the mighty Upper Mississippi River, and the activities on offer here make it a great choice for those spending Christmas in Wisconsin.
Activities on offer include hiking, mountain biking, boating, canoeing, kayaking, cross-country skiing, fishing, hunting, (if that's your thing), and wildlife viewing.
This is a great base from which to explore one of the best state parks in Wisconsin in the winter.
In a nutshell, if you're looking for Winter RV camping in Wisconsin, then look no further!
4. Copper Range & Bois Brule Campgrounds, Brule River State Forest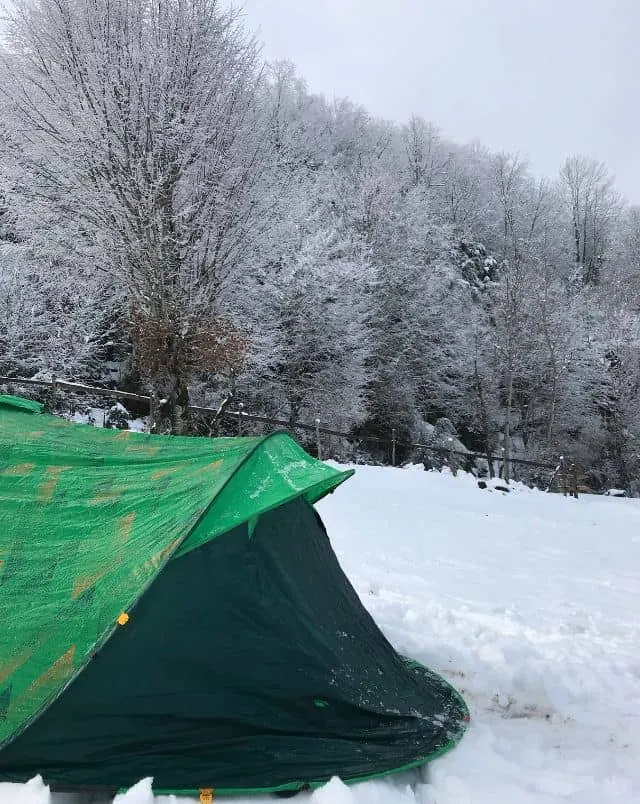 Winter in Wisconsin is a veritable wonderland with so many marvelous things to see and do.
And what better way to get all the best that winter camping in Wisconsin has to offer than pitching up in the magnificent Brule River State Forest?
There are several campgrounds in the area, however, the optimum choices are the relatively small campgrounds at Bois Brule and Copper Range.
The Bois Brule campground is perfect for those who like to take to the water, and there is great canoeing to be had here, and even a canoe landing on site.
The slightly smaller Copper Range campground also has a canoe landing nearby.
This campground is also a great favorite of those who love to fish, with many great fishing holes close to the site.
5. Mauthe Lake and Ottawa Lake Campgrounds, Kettle Moraine State Forest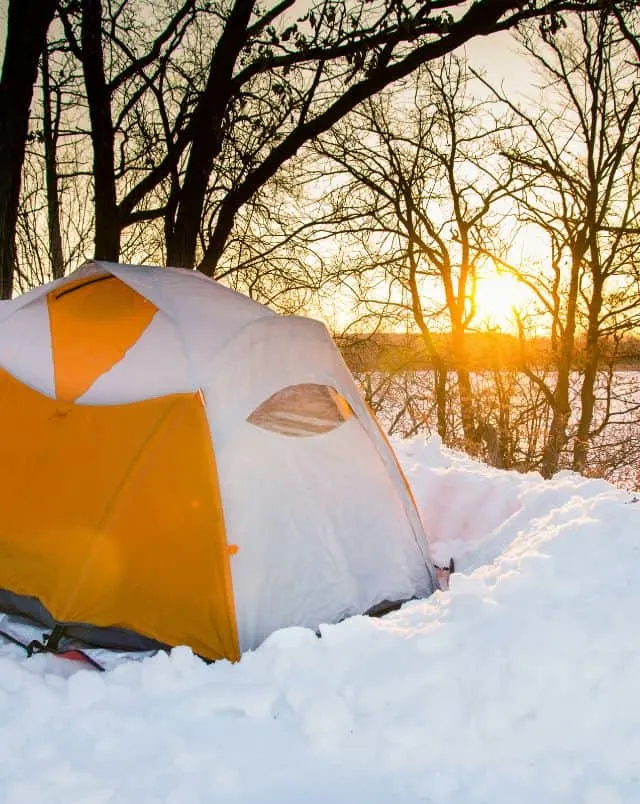 If you're looking for year round campgrounds in Wisconsin, then those at Mauthe Lake and Ottawa Lake in the magnificent Kettle Moraine State Forest are hard to beat.
Located in the northern section of Kettle Moraine State Forest, these well-equipped sites provide some of the best winter camping Wisconsin has to offer.
There's lots of opportunity for excitement right on your doorstep (or tent flap, as the case may be), with mountain biking and snowmobile trails running straight past the campgrounds.
The wildlife in this special area is also something worth the trip in its own right.
There are glacial rock formations to take your breath away, lakes and hiking trails galore.
The winter climate is also perfect for the action-packed adventures on offer as all that activity is sure to keep you warm!
6. Daisy Field Campground, Potawatomi State Park
Potawatomi State Park is one of the most amazing places for winter camping in northern Wisconsin.
And as far as winter camping in Wisconsin state parks goes, the Daisy Field Campground is as good as it gets.
The site is located just outside of Door County's stunning town of Sturgeon Bay, and staying here is one of my favorite things to do in Sturgeon Bay in winter.
Door County in winter is a magical place and this is a site for those who love outdoor activities, with hiking (the Ice Age Trail, Hemlock Trail, and Tower Trail are all nearby) and cycling both on offer.
There's a handy store on site where you'll be able to stock up on all your necessary groceries, and even beer and wine to make your stay even more relaxing.
The natural beauty of Potawatomi State Park and proximity to Sturgeon's Bay make this a very popular site so make sure to book in advance.
You'll find plenty of amazing outdoor activities and things to do in Door County during your stay.
Book here the best tours in Door County
7. Blue Mound Family Campground, Blue Mound State Park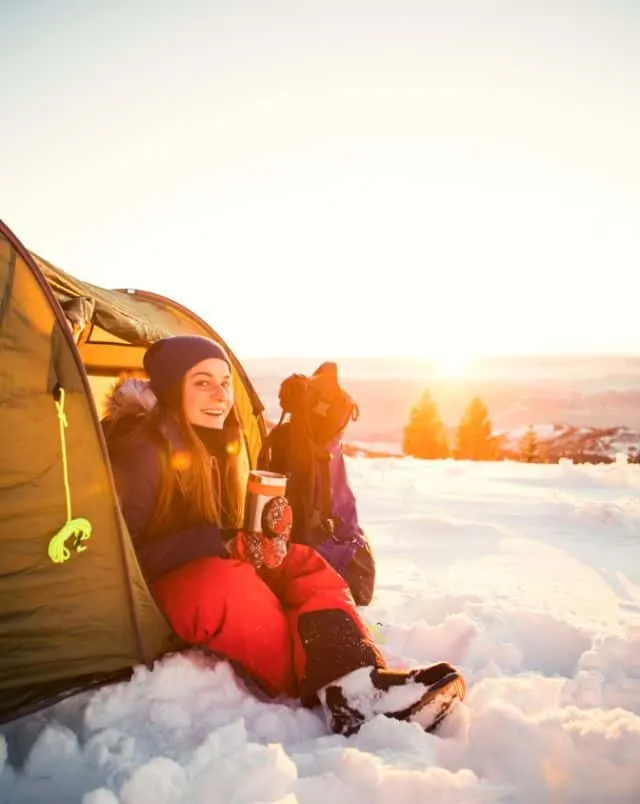 If you're looking for winter getaways in Wisconsin then some of the best winter camping in Wisconsin is to be found at the Blue Mound Campground in beautiful Blue Mound State Park.
Located in southern Wisconsin, this site offers spectacular views over the park from its elevated position.
It's also a great base for exploring the many hiking trails that crisscross the region, and there's great cross-country skiing to be had here too.
The site is so far out into the wilds that it is only accessible by foot (or ski) in the winter months.
Due to its isolated setting, this site is only really for the most committed winter camping enthusiasts.
Firewood is available to fend off the cold on those freezing Wisconsin winter nights.
Always use the requisite safety precautions when lighting any fire.
8. Sandstone Ridge Campground, Mirror Lake State Park, Wisconsin Dells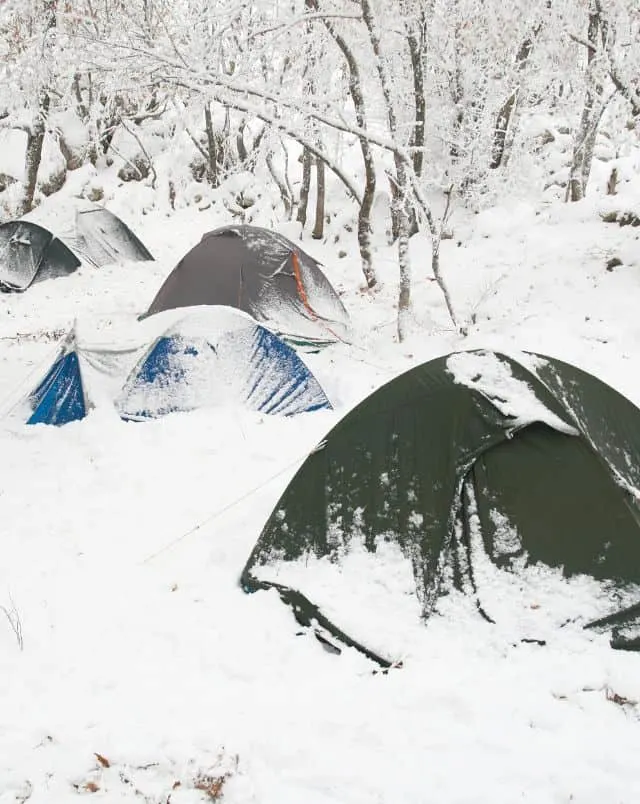 Just over a mile outside of Wisconsin Dells is the Sandstone Ridge Campground in Mirror Lake State Park, one of the finest year-round campgrounds in Wisconsin.
Stunning Mirror Lake provides a perfect background and is without a doubt one of the best places for winter camping in the region.
This is perfect for those that love to get out into nature but also stay close to where the action is.
And there's always lots of action in Wisconsin Dells, one of the best winter resorts in Wisconsin.
Just a stone's throw from the downtown action, the Mirror Lake State Park has superb hiking and biking trails.
Being able to offer the best of both worlds makes the Sandstone Ridge Campground one of the best campsites in Wisconsin Dells.
Book here the best tours in Wisconsin Dells
9. North Campground, Copper Falls State Park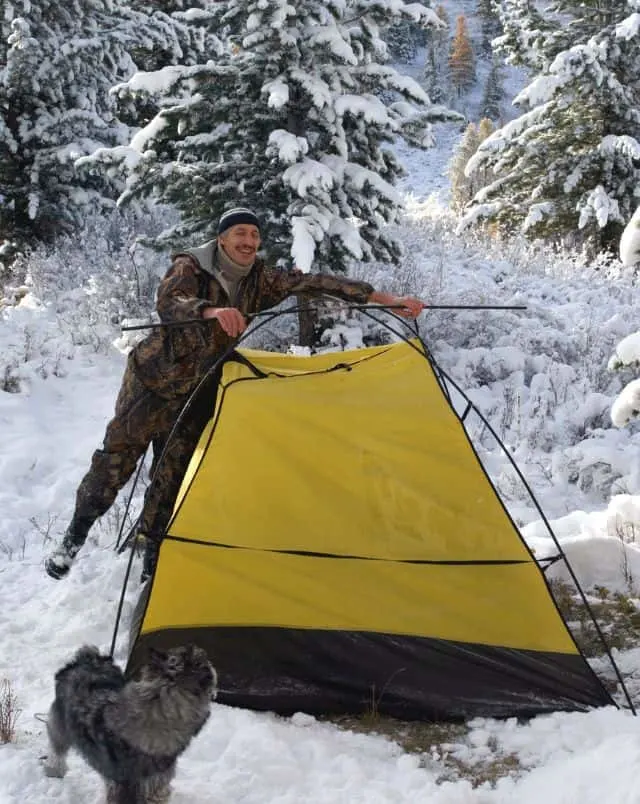 If you're going camping in the winter in Wisconsin then make sure to get yourself along to Copper Falls State Park Campgrounds.
This is another of the best Wisconsin camping options for those who like to stay active.
There are numerous cycling and hiking opportunities throughout the park to keep you busy for the duration of your stay, as well as great ski trails nearby.
Make sure to check out Copper Falls, one of the best waterfalls in Northern Wisconsin, which looks magical frozen over in winter.
The campgrounds here are incredibly well-equipped so you're sure to find everything you need to make your stay as comfortable as possible.
Phone service here may be intermittent or even completely non-existent.
Best practice is to inform a friend or family member where you will be, how long you will be gone, and when you plan on being home.
They can then alert the authorities in case of an emergency.
10. Northern Highland – American Legion State Forest Campgrounds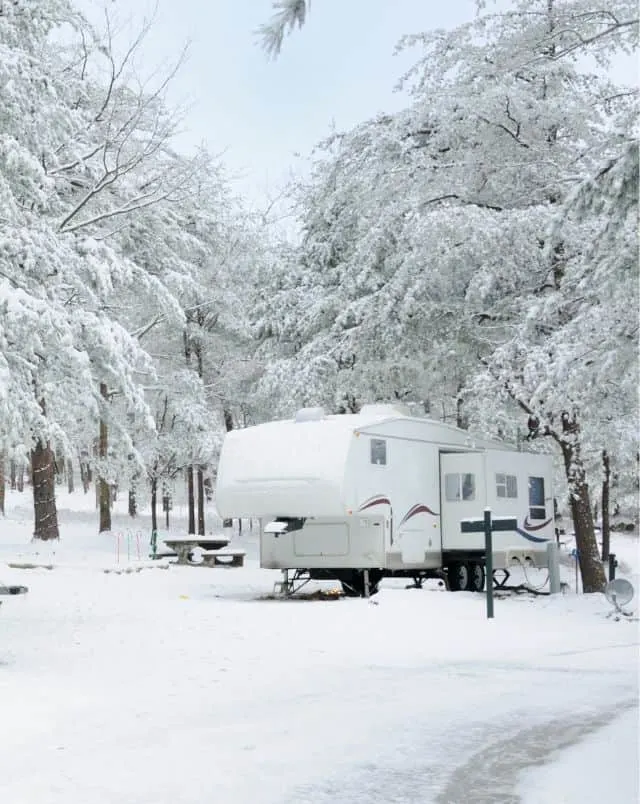 Winter camping in Wisconsin doesn't get any better than that on offer at the Northern Highland – American Legion State Forest Campgrounds.
The forest here sprawls across three counties and encompasses the towns of Woodruff, Minocqua and Boulder Junction.
Beautiful Minocqua is a great place to visit at any time of year but the winter brings another dimension to the place, with the clear light bouncing off the icy lakes, lending an otherworldly aura to the entire vista.
The campgrounds here are great for those wishing to access the hiking trails, beaches, and boat launches that proliferate the region.
RV's are welcome here too, making this a fantastic all-around option however you like to spend your vacations.
11. Family Campground, Kohler-Andrae State Park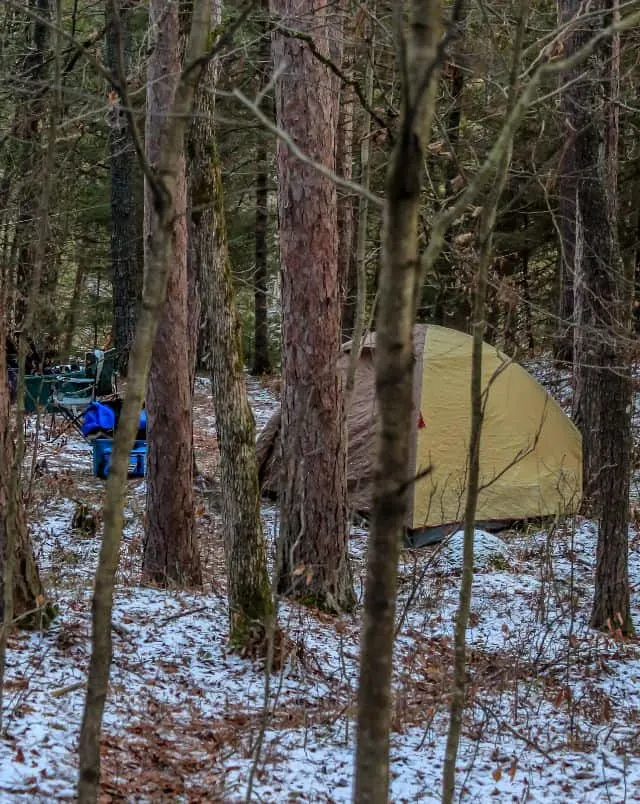 Kohler-Andrae State Park Campgrounds are set beside the shores of the majestic Lake Michigan, one of the best lakes in Wisconsin.
These incredibly relaxing sites spread for two and a half miles alongside an inviting sandy beach.
The sites are sheltered from the worst of the winter elements due to being set among the pine tree woodland areas that flank the lake.
For nature lovers, there's also a spectacular array of wonderful wildlife to be found in the area and some of the best Southern Wisconsin hiking trails.
The campgrounds are incredibly well-equipped, with features such as a huge picnic area, a playground, and even a volleyball court.
Due to the fantastic facilities here, the campgrounds are perfect for families wishing to experience the joys of winter camping in Wisconsin.
Make sure to check out the spectacular sand dune formations that can be found here.
12. Family Campground, High Cliff State Park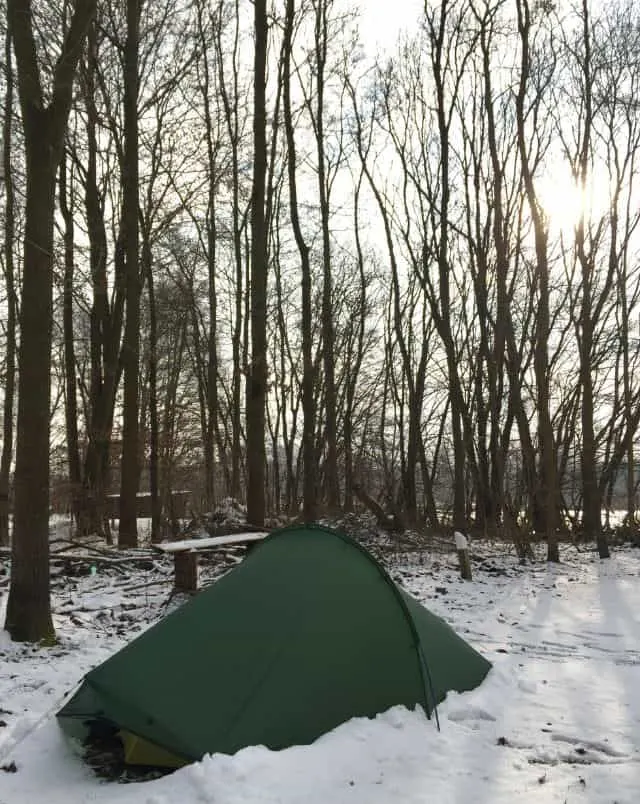 High Cliff State Park is the only remaining state-owned recreation zone on Lake Winnebago.
And the campgrounds here are also incredibly well-equipped.
Set along the eastern shore of Lake Winnebago (which is Wisconsin's largest inland lake), the campgrounds host a marina, picnic areas, and even an observation tower from which to look out over the waters of magnificent Lake Winnebago.
The standout factor of the campgrounds is the diversity of the surrounding area.
In addition to some sensational geological features to marvel at, there are also some magnificent historically important features such as lime kiln ruins, effigy mounds, and an eerie disused quarry.
Make sure to see the brilliant twelve feet tall statue of the storied Winnebago Native American Chief, Red Bird.
The statue sits high atop a rock overlooking the park, making it hard to miss it.
13. Family Campground, Big Bay State Park Campground, Madeline Island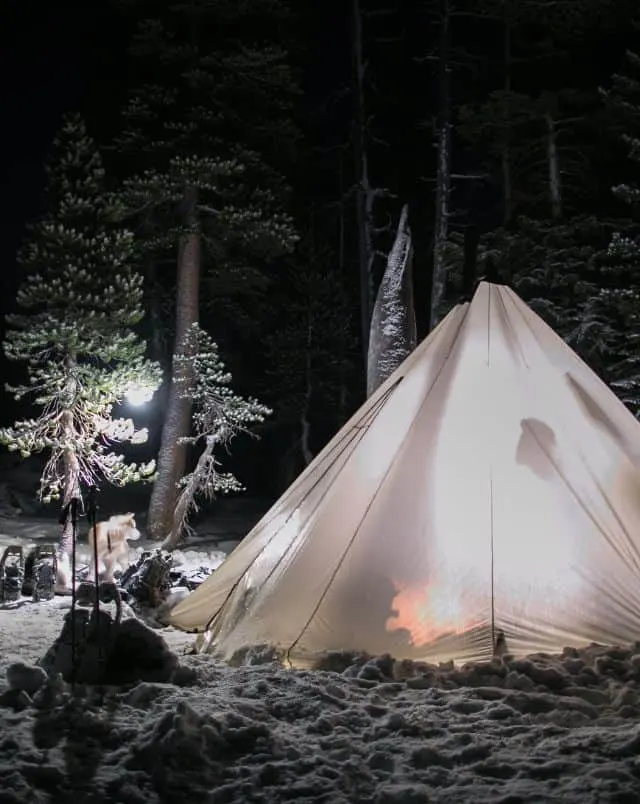 The Apostle Islands in winter are a playground for those who love the cold.
And there are so many great things to do in the winter that your days will be eventful and fun.
There are ice caves, lighthouses, and charming sleepy towns to visit. In winter, Apostle Islands' offers great activities to indulge in such as snowmobiling, hiking, and snowshoeing.
Big Bay State Park Campground on the eastern side of Madeline Island offers the best winter camping to be had around here.
The park is set along four miles of the Lake Superior shoreline.
It features a one-mile-long boardwalk, magnificent hiking trails, and a beautiful sandy beach.
You'll need to take the ferry from Bayfield to access the island – unless the lake is frozen over.
In the winter months, this sometimes happens, but don't fear, when this is the case, you can take the spectacular ice road over frozen Lake Superior.
It's worth the trip for some of the best snowy camping in Wisconsin.
Plus, it's one of the best things to do in Apostle Islands during winter.
14. Pigeon Creek Campground, Black River State Forest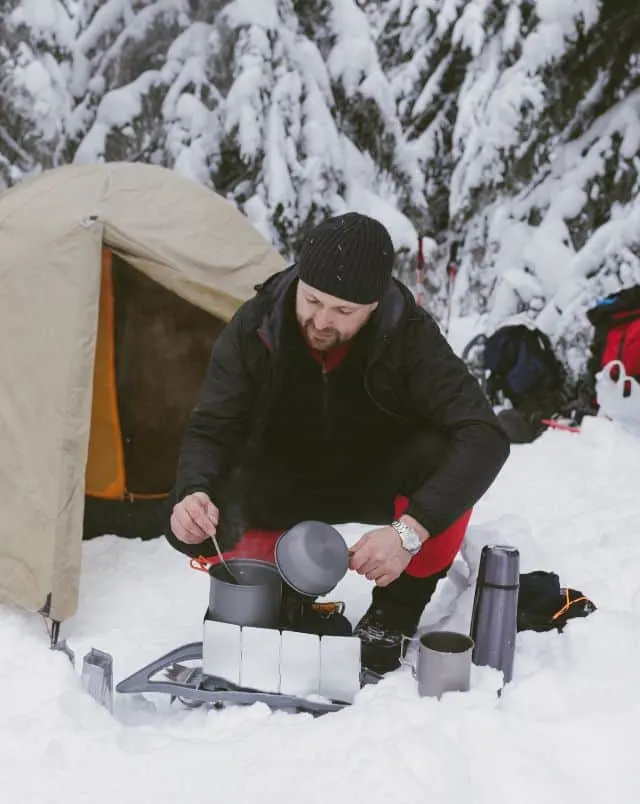 The Pigeon Creek campground in the heart of Black River State Forest is a magnificent choice for winter camping in Wisconsin if you are an adventure lover who likes their trips to be action-packed.
The recreational opportunities on offer here are second to none.
You'll find hiking, ATV riding, canoeing, off-road biking, snowmobiling, hunting (if that's your thing), and skiing, all in abundance here.
The site here is relatively small and doesn't feature many amenities, so bear that in mind if those things are of importance to you.
The campground is set among pine and oak woods where you can often witness Elk roaming, as they were reintroduced to the area in 2015 and 2016 after a 125-year absence.
15. Family Campground, Point Beach State Forest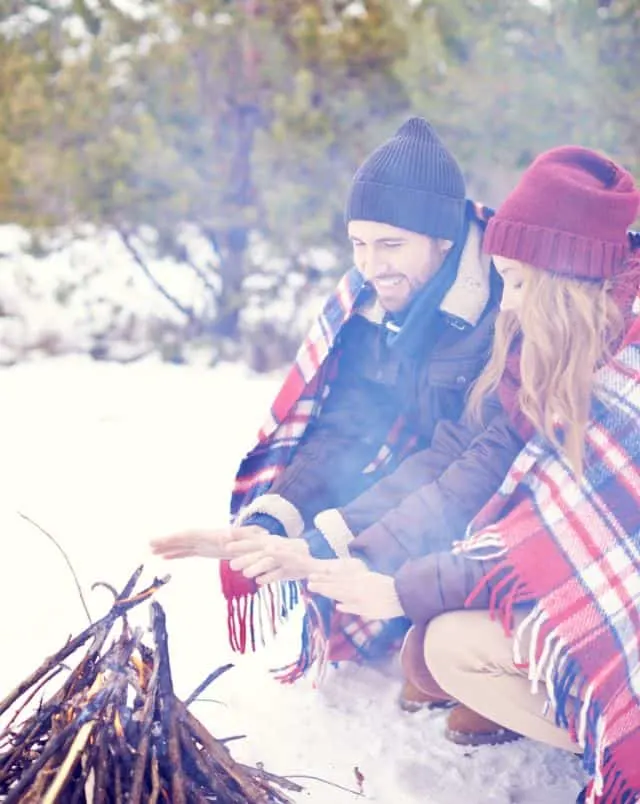 If you're going winter camping with kids, then the Family Campground at Point Beach State Forest is a great option for you.
Set on a promontory that juts out into magnificent Lake Michigan, the state forest features a six-miles long beach.
You can also pay a visit to the historical Rawley Point Lighthouse which has been in operation since 1853.
There's a fascinating nature center and over seventeen miles of hiking and biking trails.
The trails actually connect to the city of Two Rivers, great for when you want to get away from nature for a while and experience some civilization!
It's worth noting the campground doesn't offer views over the lake due to the high sand dunes that populate the area.
It's still a fantastic option for camping in the winter though.
---
Why Go Winter Camping in Wisconsin
To go winter camping in Wisconsin is to test yourself – in the best possible way, of course.
It gets cold, extremely cold, and therefore, preparing correctly for your excursion is essential.
January and February are the coldest months so take extra care if setting out on a camping trip during that period.
December gets the most snow, another thing to bear in mind when planning your trip.
It almost goes without saying that you'll need to take suitable winter clothing (though not cotton, as this holds moisture next to the skin and can make you colder if damp.
Layer up your clothes as this is a great way of holding in heat and make sure to get yourself a good sleeping bag (preferably a mummy bag).
Another good tip is to take a couple of bottles filled with hot water to bed with you in order to stave off those cold nights.
You'll also need to consume more food than you usually do in order to keep your body temperature up.
So, taking all of that into consideration, if you'd still like to head out into the wilds of Wisconsin during the winter months, then you already know the answer to the question, why go winter camping in Wisconsin?
And remember, if the cold is getting too much for you out there under canvas, you can always head to one of Wisconsin's superb towns and cities and check into a hotel for some respite!
Be sure to reserve your spot at these fantastic Wisconsin winter camping sites in advance!
---
Due to the extreme weather, winter camping in Wisconsin will certainly not be for everyone, so you can also check snowmobile resorts in Wisconsin if you think you're not up to it.
However, for those this does appeal to, there really is no better in which to partake in this magnificent fun activity.
And remember, Wisconsin is full of great villages, towns, and cities, with a vast array of things to do all year round.
So if it gets too cold under canvas, pack up the tent and head to town!
---
Short FAQ About Winter Camping in Wisconsin
Can you camp at WI state parks in winter?
Yes, many of of the Wisconsin state parks keep at least a portion of their campsites open in winter for those interested in camping during the colder months. However, not all of the parks stay open, so be sure to check ahead of time.
Where can you camp year round in Wisconsin?
There are many spots that allow year-round camping in Wisconsin, including many popular state parks. Some of the best year-round camping options are the Quartzite Campground at Devil's Lake, the Family Campground at Kohler-Andrae State Park, and the Wisconsin Ridge Campground at Wyalusing State Park
Is it safe to camp in the winter in Wisconsin?
Absolutely, but that doesn't mean it doens't take some extra preparation. For example, you will need to bring winter camping gear and a sturdy waterproof tent that can stand up to the harsher elements.
---
Before You Go: Top Tips for your Trip
---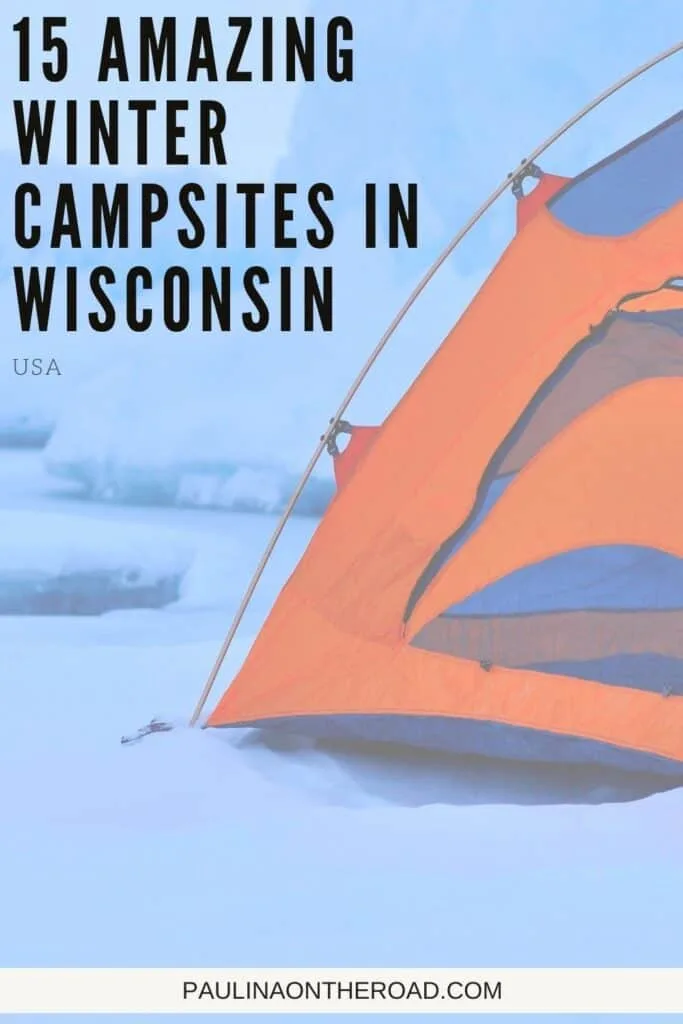 ---
Hola! I am Paulina, a fervent travelette who crossed the Atlantic Ocean by Boat HitchHiking. On my blog, you'll find all the tips to make the most of your holiday. Get ready to enjoy outdoor and sustainable travel like hiking, cycling or sailing. Let's hit the road together!