A guide to the best Wisconsin snowmobile trails for an amazing winter vacation
Winter getaways in Wisconsin are definitely some of the best winter thrills.
From ski resorts to cozy cabins, there are many things to do in Wisconsin in winter. But there is one activity without which the winter fun is not complete.
Put on your snowsuit, grab some gloves, and be ready to explore the pristine lands of Wisconsin on a snowmobile adventure!
With more than 25,000 miles of scenic snowmobile trails in Wisconsin, you will discover the serenity of frosted nature on an electrifying experience.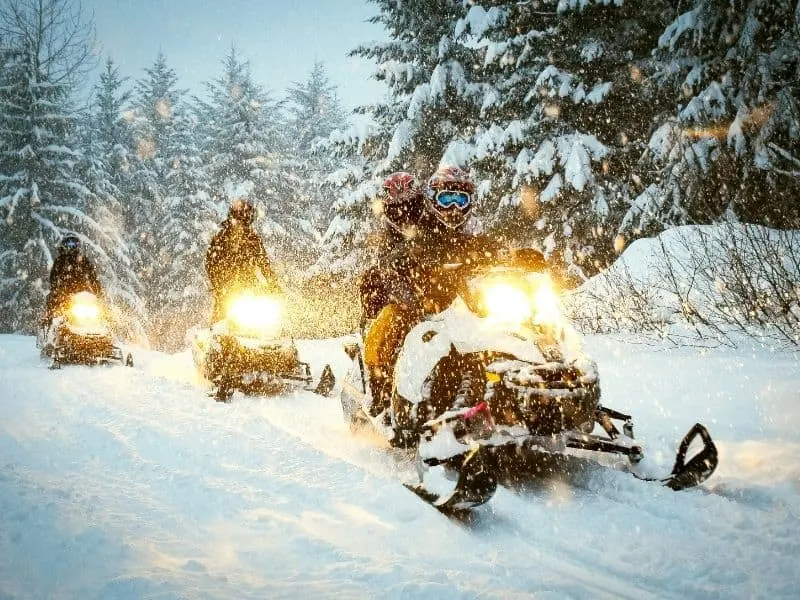 Apart from the exhilarating fun of snowmobiling trails, Wisconsin offers an important cultural and historical legacy.
The sled, an ancestor of snowmobiles, was first invented in the state in 1924. Today both are incredibly popular winter activities.
Don't know where to start? I am here to help you navigate some of the best snowmobile trails in Wisconsin!
Make sure you don't miss anything and keep reading to find more about the stunning Wisconsin snowmobile trails.
This blog is supported by you, dear reader. If you purchase through a link, I earn a small commission. As an Amazon Affiliate, I earn from qualifying purchases.
Top resources to travel Wisconsin
✎ Plan the ultimate Wisconsin road trip (no backtracking!) with the Perfect Wisconsin Road Trip itinerary – Buy now for less than 12$

✈ Find the best hotel deals in Wisconsin with Trivago

➳ Book vacation rentals in Wisconsin with VRBO

✔ Book tours in Wisconsin with Viator

☘ Get the best discounted outdoor gear (outlet) at REI.com

$ Get Wisconsin hiking guides and maps at REI.com

✎ Never leave without travel insurance. I get mine at SafetyWing. It is easy to set up, cheap, and reliable.
What to Know About Snowmobiling in Wisconsin
Before jumping right into the list of the best snowmobile trails in Wisconsin, there are some things you need to know.
First, it's best to consider the time when you want to plan your vacation.
You should still look at the Wisconsin snow conditions, as well as at the Wisconsin trails conditions.
Not every day is a good snowmobiling day, so you can avoid disappointment by double-checking the weather and the trails.
The Wisconsin snowmobile trail report is helpful when it comes to making sure that you can enjoy your awaited adventure.
In Wisconsin snowmobile trail conditions may change depending on numerous factors. Official notices or local news can also be sources of information.
You also need to consider when the Wisconsin snowmobile trails open as you don't want to miss out!
Although this will vary year to year, most are open from the end of November until the beginning of March.
Next, you should research how to get a Wisconsin snowmobile trail pass, or a snowmobile license.
It might start to sound difficult, but, in reality, snowmobiling in Wisconsin is a piece of cake.
In fact, if you need a snowmobile rental, Wisconsin has plenty of options at affordable prices.
However, to rent a snowmobile in Wisconsin, you must be at least 18 and have an ID or driver's license. In some cases, you need to take a Safety Course and obtain a snowmobile safety certificate.
Every person at least 12 years of age and born afterwinter getaways in Wisconsin January 1st, 1985 will need to get this Wisconsin snowmobile license.
Luckily, the course can be completed online, but it's best to do your research or even reach out to a snowmobile rental agency in Wisconsin for more information.
Another important aspect to remember is that snowmobiling off the trails is illegal and dangerous. You should always drive on the trails to keep yourself safe and avoid any problems.
Now that you know a little about snowmobiling and things to keep an eye on when booking your getaway, it's time to pick your favorite destination!
1. Ahnapee State Trail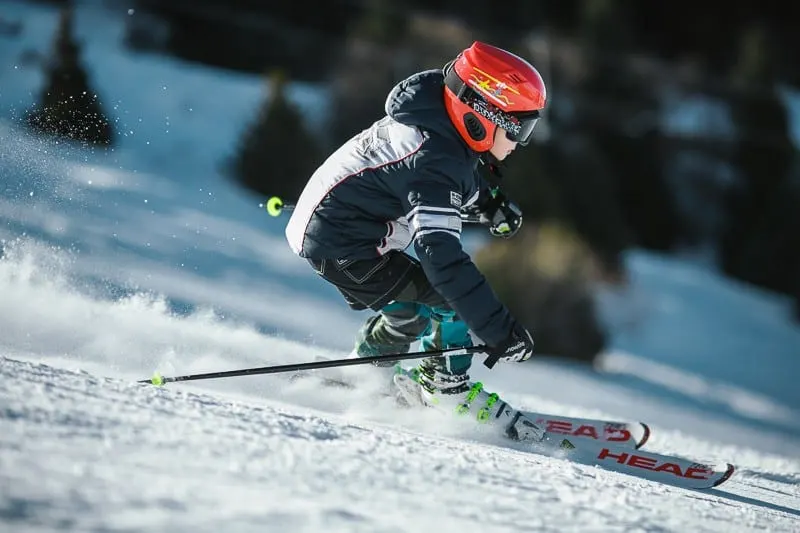 This trail is part of the Door County snowmobile trails. With postcard-like views, this trail is one of the must-do outdoor activities in Wisconsin.
Although it is a multi-use trail stretching over 50 miles, I think winter is the best season to visit.
Previously an old railroad, it turned into a trail for hiking, horseback riding, biking, and snowmobiling, allowing visitors to enjoy the stunning images of nature all year round.
It's one of the best hiking trails in Door County any time of year, as well as one of my favorite Door County bike trails.
This snowmobile trail in Wisconsin interconnects with 95 miles of other trails from different counties beginning in Green Bay and continuing past the southern county line.
Moreover, you can enjoy a snow adventure and then choose from a multitude of things to do in Door County.
You will find numerous resorts in Door County, including some of the most popular ski resorts in Wisconsin.
Embrace the serene atmosphere of one of the best snowmobile trails in Wisconsin and observe the still state of the prairies, farmlands, and woodlands covered by the winter glaze.
Book here the best tours in Door County
2. Baileys Harbor to Sister Bay Trail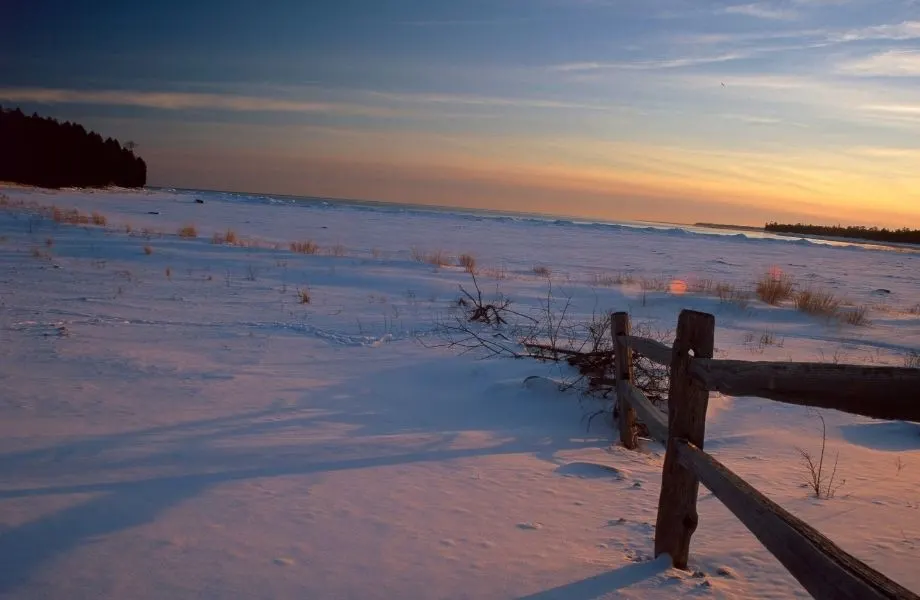 Bailey's Harbor to Sister Bay is another one of the most popular Door County snowmobile trails.
It's popularity is thanks in no small part to the stunning views out over Lake Michigan, one of the best lakes in Wisconsin.
This unique trail for snowmobiles in Wisconsin should be on your list if you are looking for fun things to do in Door County in winter.
Add a little spice to your vacation and discover nature like a true explorer!
Additionally, this is one of the snowmobile trails in Wisconsin that is inaccessible in the warmer months, so you can only enjoy this stunning adventure only for a few months.
The reason behind this is that this trail passes through Mud Lake State Wildlife area, traveling north.
This trail will take you to Sister Bay, allowing you to treat yourself with a snack and drink while warming your feet in some of the best winter cabins in Wisconsin.
Cuddle up in the evenings after a long day of winter fun with some of the best movies set in Wisconsin. You can even rent out one of the most cozy cabins in Door County.
Book here the best winter cabins in Door County
3. Marathon County Trails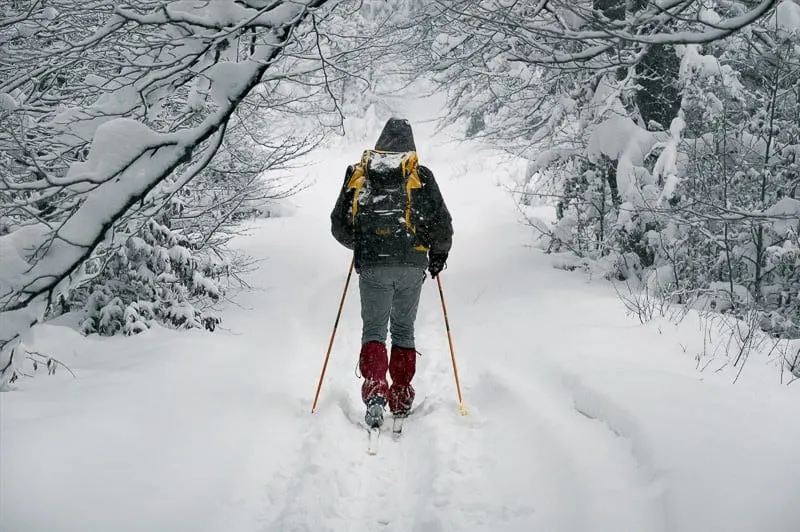 If you are looking for things to do in Central Wisconsin, Marathon County is a great choice, especially in winter.
You can enjoy 884 miles of groomed trails and gorgeous landscapes. You can easily find these trails along with on-trail lodging using a trail map.
It's best to visit the Marathon County snowmobile trails in the second week of September as you'll be able to enjoy both snowmobiling and a two-night music festival at Folk Farm.
For those who don't want to stick with only one activity, Marathon County offers some of the most picturesque bike trails in Wisconsin.
So pack your bags and prepare for a vacation full of exhilarating fun!
This region also has some of the best Wisconsin cabins with hot tubs for a relaxing winter getaway.
Buy here the best trail guides for Wisconsin
4. Shawano County Trails
Discover some of the best snowmobile trails in Wisconsin in Shawano County.
This region offers postcard-like landscapes along with many activities that winter lovers can enjoy.
The Shawano County snowmobile trails are well maintained and come with the right dose of adrenaline to elevate your winter vacation.
All the trails in Shawano County are maintained by groups of volunteers who work all year round to make sure that tourists can make the best out of their winter getaways.
More than that, if you want to spend Christmas in Wisconsin, add Shawano County to your bucket list.
From cozy accommodation, restaurants, bars, and all kinds of winter activities, this region has it all.
Shawano County makes a great day trip from Green Bay, so when you're not snowmobiling check out some of the best things to do in Green Bay.
Book here the best tours in Green Bay
5. Sheboygan County Trails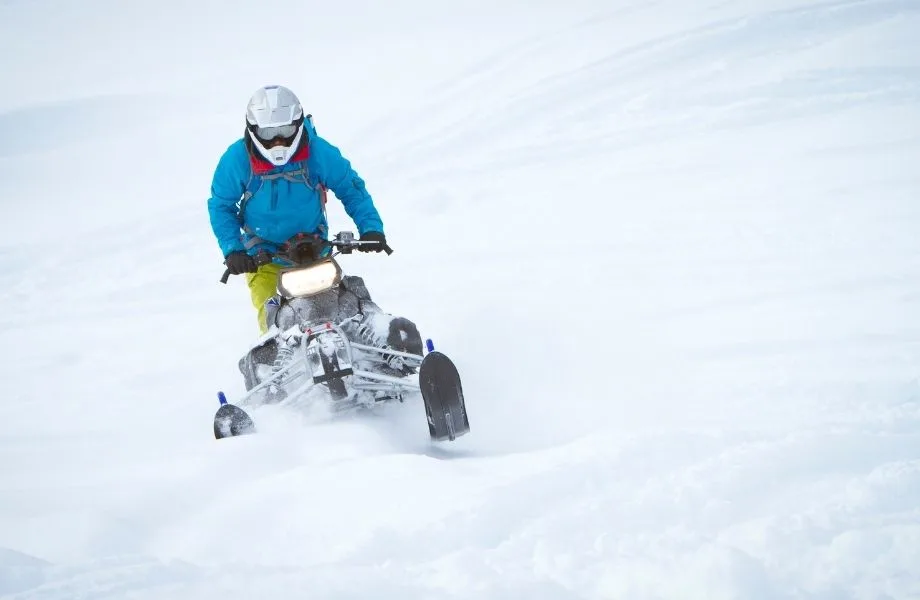 The Sheboygan County snowmobile trails spread over more than 230 miles of pristine landscapes and stunning views.
This destination is a great choice for both snowmobiling and enjoying the winter atmosphere.
Allow yourself to get lost in the wonders of nature, experience the snowmobiling adrenaline kick, and warm your hands at a cozy cabin while trying out some of the best beers in Wisconsin.
Furthermore, Sheboygan County is one of the best places to spend your Christmas in Wisconsin.
Annual lights, Santa, snow, and good times are the exact ingredients for an amazing Christmas, and Sheboygan has it all!
You can even enjoy Christmas lights in Evergreen Park and meet Santa in Quarryview Center.
After you check snowmobiling off of your list, you can try another unique experience.
Spend a 19th century Christmas and see how people used to celebrate back in the day at the historic Wade House.
When you're not snowmobiling, don't forget to check out the other fun things to do in Sheboygan.
Book here the best accommodation in Sheboygan
6. Three Lakes Trails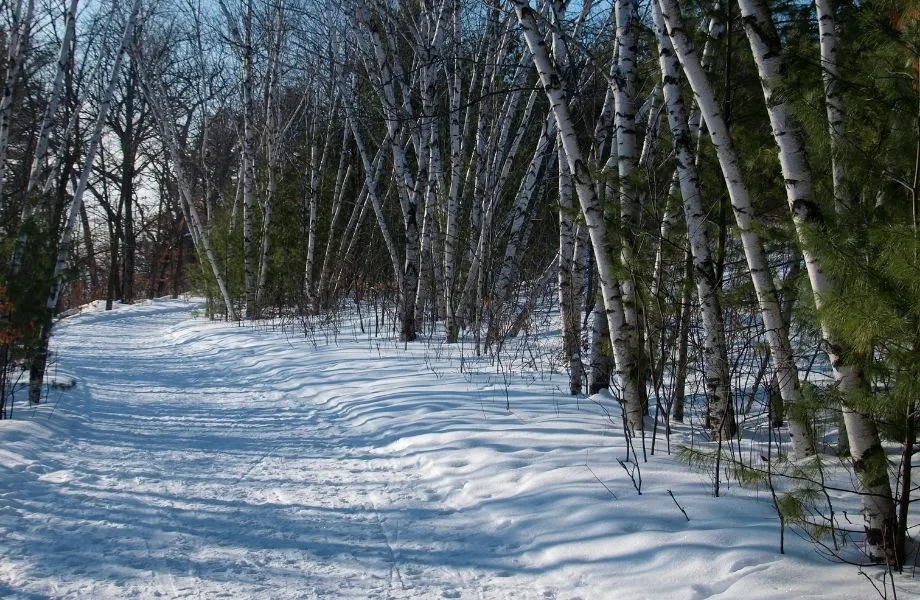 Out of all the things to do in Northern Wisconsin, visiting the Three Lakes and discovering the 132 miles of snowmobile trails is a must.
Don't miss this amazing experience and enjoy some of the best Wisconsin snowmobile trails.
Relax in the calm atmosphere of the Northwoods, a truly magical experience.
The Three Lakes chain and the winter charm will take your adventure to the next level, it's also perfect for seasonal romantic getaways in Wisconsin.
More than that, you can be the guest of some of the best taverns in the state and enjoy a warm meal and the hospitality of the people.
Alternatively, stay at one of the most romantic hotels in Wisconsin to make it extra special!
This system of snowmobile trails in Wisconsin consists of the Kimball Trail that stretches from the Nicolet National Forest to Vilas and Forest county.
It also includes southern trails to Monica and Pelican lakes, and west and north trails to St. Germain and Eagle River.
This destination offers easy access to a multitude of other trails and allows you to discover the best landscapes in Wisconsin.
During the rest of the year, Three Lakes is one of the most popular places to go hiking in Northern Wisconsin.
Buy here the ultimate like a local itinerary to Wisconsin
7. St. Germain Trails
St. Germain trails are the center of snowmobiling in Wisconsin. This region offers not only snowmobile trails, but also some of the best hiking trails in Wisconsin.
Head for this amazing destination and be ready for a vacation filled with fun.
Winter in Wisconsin is very special, from unique traditions and events to races and outdoor activities, this state has a lot to offer.
When it comes to St. Germain, you can expect to find something to please everyone. For fun-seekers or those who want to relax, St. Germain offers a wide range of things to do and enjoy while on vacation.
To be honest, you can find a snowmobile trail in any direction and you will definitely find more than one to suit your preferences.
One thing to keep in mind is that you always need to drive on the maintained trails and avoid trespassing in any way.
To help you navigate the vast system of snowmobile trails of St. Germain, you can find a map online or buy one there.
In addition, something that you must see in the annual Radar Run. It is a sled race with riders topping up 160 mph on an ice track.
Book here the best vacation cabins on St. Germai Lake
8. Vernon County Trails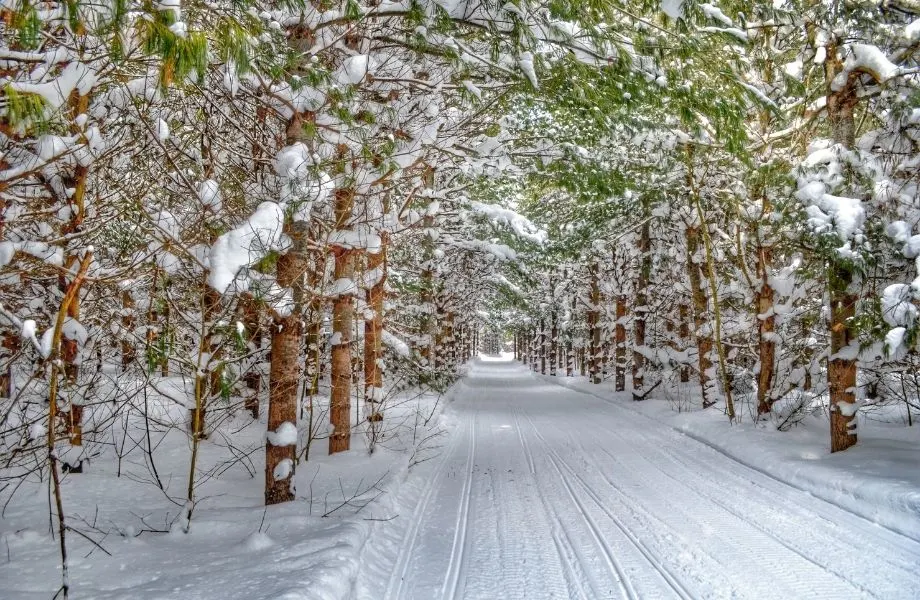 Vernon County offers one of the most diverse systems of snowmobile trails in Wisconsin.
This beautiful region, located in Southwest Wisconsin has more than 250 miles of snowmobile trails maintained by clubs and groups of volunteers who work all year round to make sure that every trail is safe and ready to use.
Snowmobiling in this region is more than business or winter fun. It is a tradition supported and appreciated by locals.
Snowmobile trails in Vernon County include diverse landscapes, from open lands to rugged terrain.
See with your own eyes the valleys and narrow ridges, and experience the thrill of driving a snowmobile.
After a tiring day snowmobiling, you can stop at one of the local restaurants and find accommodation in a welcoming, warm cabin.
Try out local food and learn more about the cultural and historical jewels of Vernon County.
Buy here the best trail guide for Wisconsin
9. Eagle River Trails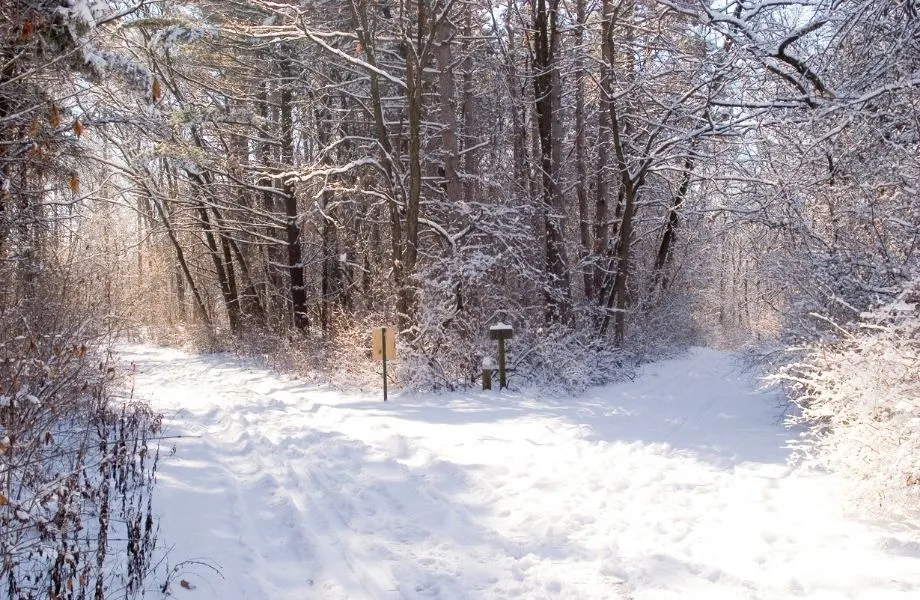 Eagle River is the gem of snowmobile trails in Wisconsin, not to mention you can find here some of the best snowmobile resorts in Wisconsin.
Dubbed "The Snowmobile Capital of the World" from 1964, this region should be on the bucket list of every snowmobile enthusiast.
The Eagle River snowmobile trails cross Vilas and Oneida counties, passing through the Nicolet National Forest, and weaving around 2400 lakes.
Don't miss one of the most popular winter destinations in Wisconsin and visit the Eagle River snowmobile trails.
Make sure to check if the trails are open and the weather conditions are acceptable to avoid any disappointment and be a part of this unique adventure.
Apart from the great number of accommodations and restaurants to fit any preferences, Eagle River offers an annual Ice Castle creation.
This frozen wonder with a different design every year was first built in 1927 and is made of about 3,000 ice blocks that take up to 700 hours to be completed.
More than that, you can enjoy it all while driving a snowmobile. How amazing is that?
It really shows the tradition of snowmobiling of this region, as Trail #13 passes right by the Ice Castle allowing you to take a break and observe this scenic creation.
The Eagle River Inn & Resort, one of the best winter resorts in Wisconsin, is also located in Eagle River and is ideal for snowmobiling access and rentals.
Book here the best cozy winter cabins in Eagle River
10. Minocqua Trails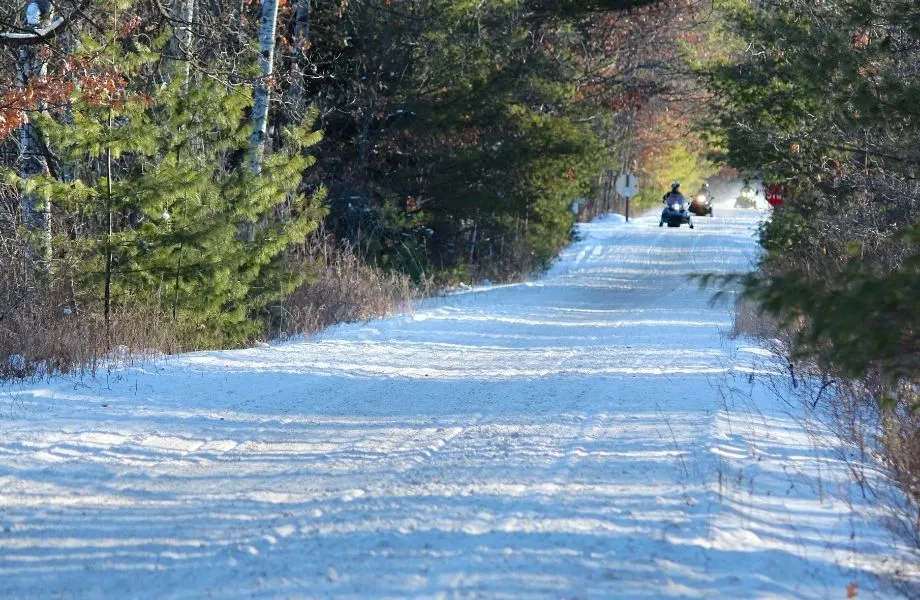 Snowmobiling is easily one of the best things to do in Minocqua during the winter months.
Minocqua offers more than 1,600 miles of trails with different degrees of difficulty.
Having something to match every taste, this snowmobile trail system travels along 1,300 glacial lakes and hundreds of acres of forestland.
What could be more scenic than passing through frozen forests and snowy lands in the serene atmosphere of winter?
After a long day snowmobiling in the cold, you can finish your day at a restaurant or a nice hotel, and get some rest for the next day's adventure.
One of the most popular trails is Bearskin State Trail in Oneida County.
This region is also a pioneer of ice fishing. Learn more about this or even try it yourself and spice up your vacation. Who knows, maybe you have a true survivor spirit!
Another must-see is the Thirsty Whale, a landmark on Lake Minocqua.
If you're hoping for a relaxing vacation between snowmobiling, book a stay at The Waters of Minocqua, one of the best spa resorts in Wisconsin.
To make the most of your stay, check out my guide on the best hotels in Minocqua for any budget.
Book here the best accommodation in Minocqua, WI
11. Tomahawk Trails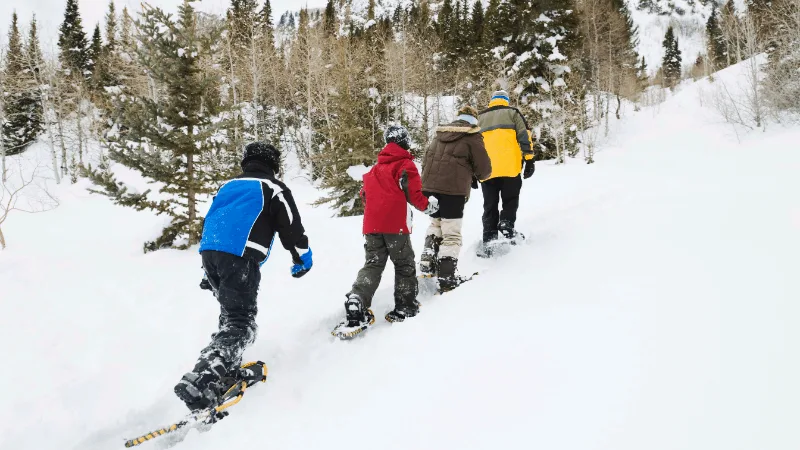 Tomahawk has more than 400 miles of groomed trails and amazing views. This region has some of the best trails in Wisconsin.
Don't miss the North Winter fun and jump on an adventure of nique snowmobile trails, welcoming restaurants and warm cabins.
If you want to enjoy yourself and get to know more about Wisconsin and Tomahawk, then this is your go-to destination.
As a matter of fact, this region was named a Snowmobile-Friendly Community by the Wisconsin Association of Snowmobile clubs.
The Hiawatha trail and the Underwood Recreation Area are the most popular winter destinations in this region.
Hiawatha was once a railway, so you can now ride directly on the rail bed and travel on the long-forgotten route of trains.
You can snowmobile, or try snowshoeing in the Underwood Recreation Area, a dense forest area with more than 44,000 acres of outdoor playground.
Buy here the best road trip itinerary for Wisconsin
12. Hurley Trails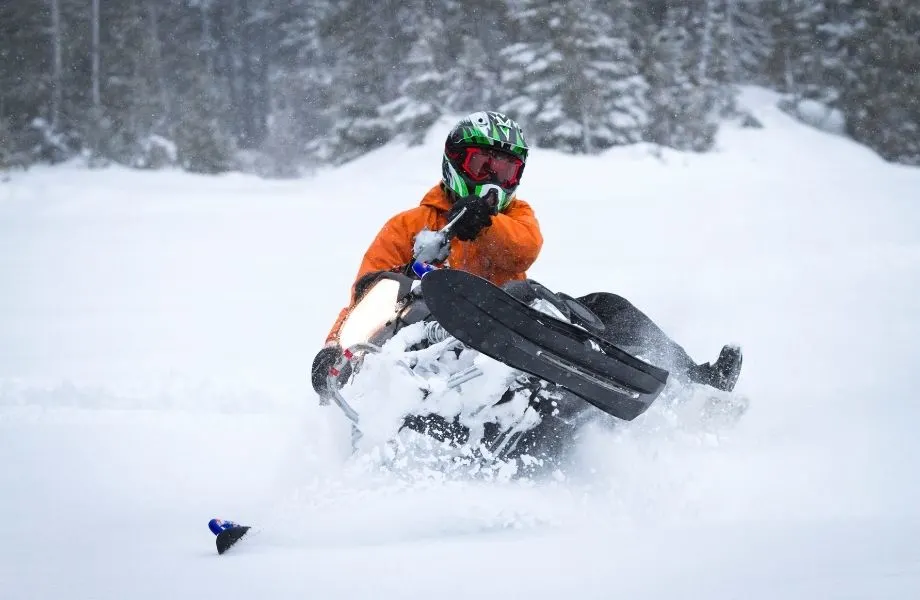 The 304 miles of snowmobile trails in Iron County. It is the Snow Capital of Wisconsin, offering loads of winter fun and interesting activities to fill your time.
You can check the snowmobile trail map to find out more about the trails and verify the weather conditions.
This complex system of trails connects Michigan's Upper Peninsula, Price, and Vilas counties and offers scenic views of nature!
Pack your things and spend an amazing vacation at one of the most diverse snowmobile systems in Wisconsin.
Book here the best winter cabins in Northern Wisconsin
13. Boulder Junction Trails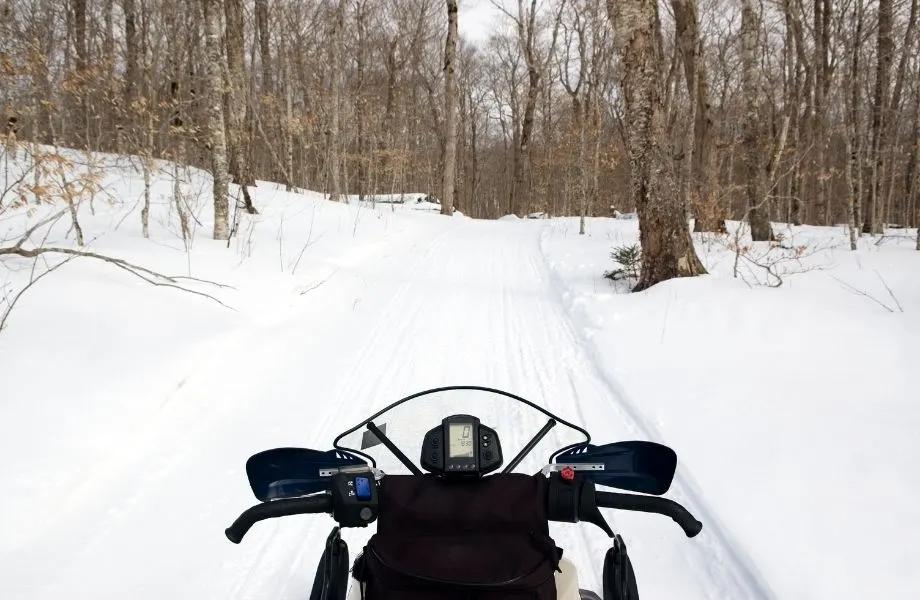 This region is ideal for snow lovers! Because of its convenient location, Boulder Junction made it on the list of best snowmobiling trails Wisconsin has to offer.
In the Lake Superior snow belt, this snowmobile paradise offers lots of snow and well-groomed trails for winter fun lovers.
Be sure that you don't miss Trail #8, as it passes through scenic landscapes and out of brochure views.
Apart from snowmobile trails, you can enjoy the city's local shops and events, as well as some of the best meals in the state.
This magical city is a winter wonder, definitely embracing the spirit of the holidays and offering an ideal winter atmosphere.
Boost your spirit and tour around the snow-covered streets!
Book here the best winter lodgings near Boulder Junction
14. Bayfield Trails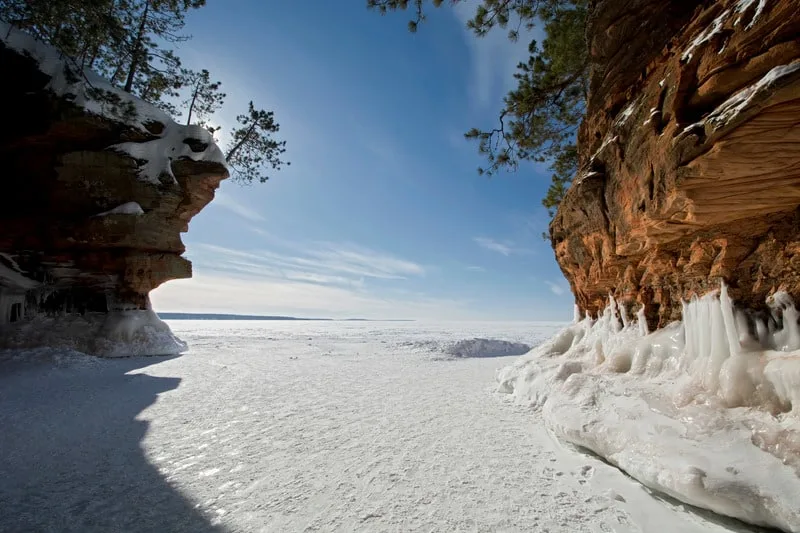 Bayfield Trails are a snowmobiler's dream come true! With more than 600 miles of groomed trails and another few hundred ungroomed ones, this diverse region offers a unique experience.
The Bayfield snowmobiling trail system interconnects with Douglas County and Ashland County snowmobile trails, extending the fun.
This never-ending adventure should definitely be on your winter list! You can find taverns and restaurants along the trails, facilities for fuel, and accommodation.
Test your limits and enjoy a snowmobiling vacation in this wonderful region.
Visit wineries, galleries, other local shops, and museums to discover the cultural and historical background of Bayfield County.
While here, be sure to check out the nearby Apostle Islands and their famous ice caves.
The Apostle Islands in winter are absolutely magical and a must-see spot.
There are also quite a few amazing things to do in the Apostle Islands during the winter.
Book here the best cozy winter cabins near the Apostle Islands
15. Barron Trails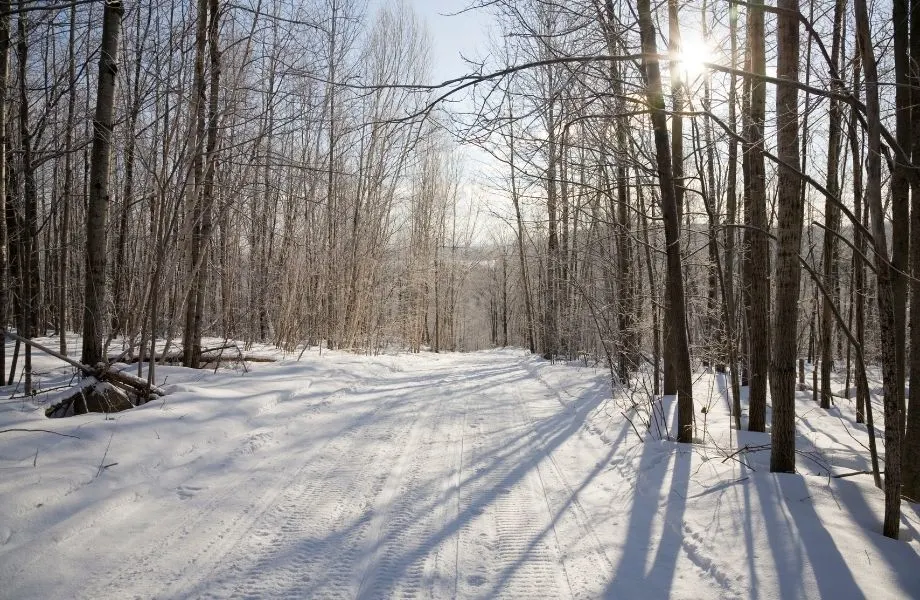 Have an exciting snowmobile vacation in Rice Lake, Barron County.
This destination is much appreciated by snowmobile lovers and offers more than 250 miles of groomed snowmobile trails.
The area has become very popular recently, and for good reason! Its scenic views, forests, and hills are a must-see, especially in winter.
Pass through scenic landscapes covered in white and allow yourself to get lost in the forests of Barron Trails.
More than that, you can find many entertainment spots to finish your day and enjoy a drink or a hot meal.
This area is a popular destination all year round, with activities like golf and racing.
When it comes to accommodation, there are many motels and resorts conveniently located close to the region's landmarks and points of interest.
I would recommend staying in Eau Claire, which also happens to be home to one of the best escape rooms in Wisconsin.
Book winter cabins in Eau Claire, WI
---
In conclusion, Wisconsin is a true winter wonderland, with many activities and exciting adventures waiting to be discovered.
No matter if you are an experienced snowmobile driver, or you are just starting to get familiar with this sport, visiting Wisconsin is a great choice.
Take a look at the destinations above and choose the one that suits your interests.
Don't forget to check the weather and Wisconsin trail conditions, and you are ready to go!
---
Before You Go: Top Tips for your Trip
---
Short FAQ About the Best Snowmobile Trails in Wisconsin
1. When do snowmobile trails open in Wisconsin?
It varies from year to year, but typically the Wisconsin snowmobile trails open around the 3rd week in November.
2. How many miles of snowmobile trails in Wisconsin are there?
There are over 25,000 miles of snowmobile trails in Wisconsin, so you'll never run out of new ones to try!
3. How long are snowmobile trails open in Wisconsin?
This also varies from year to year, but normally the Wisconsin snowmobile trails remain open until early or mid-March.
---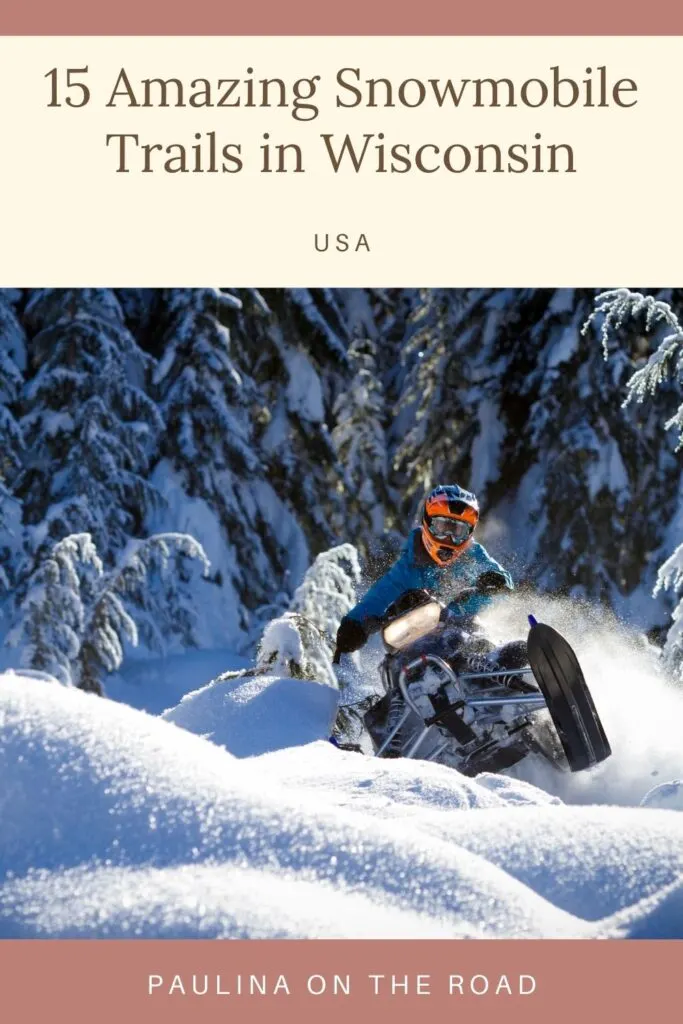 ---
Hola! I am Paulina, a fervent travelette who crossed the Atlantic Ocean by Boat HitchHiking. On my blog, you'll find all the tips to make the most of your holiday. Get ready to enjoy outdoor and sustainable travel like hiking, cycling or sailing. Let's hit the road together!