Guide to the best vegan winter boot brands for both men and women
It is challenging to shop for a quality pair of vegan winter boots when you are trying to transition towards a sustainable lifestyle.
Most high-end brands carry genuine leather boots filled with fur and lined with shearling.
Apart from this, the glue that attaches different parts of the winter boots is made from animal products too.
Leather relies on cattle production and the industry is notorious for releasing methane, which has 28 times the warming potential than CO2.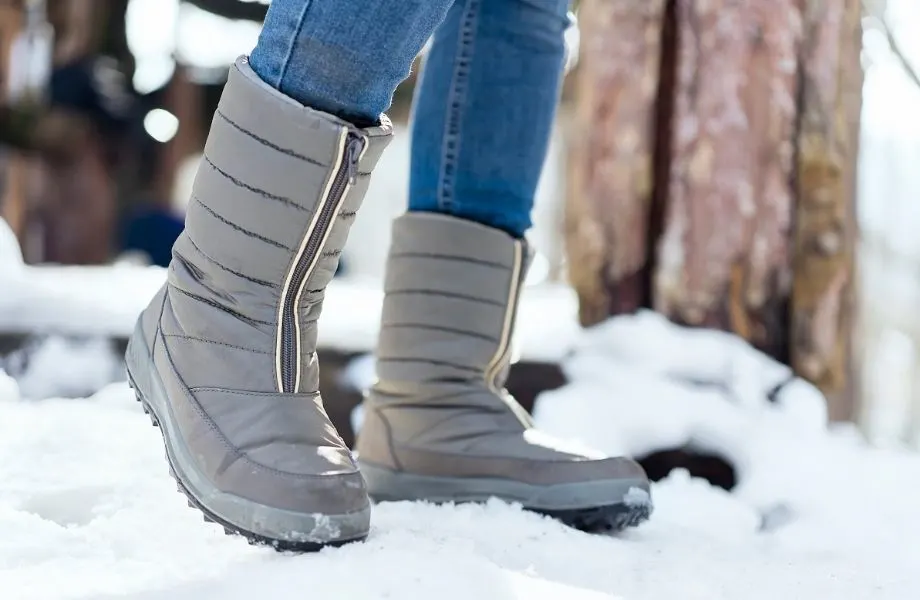 Additionally, cattle production can contaminate the water.
As people are now looking for the best vegan clothing brands and sustainable shoe brands, many companies offer certified vegan cruelty-free products.
I have found several vegan winter boot brands that make 100% vegan snow boots that are not only comfortable and fashionable but keep you warm and dry throughout the chilly winters.
Keep reading to find the best vegan winter boots brands that will improve your style, elevate your looks, and help you make the transition to a sustainable lifestyle smoother.
"Paulina on the Road" is supported by you, dear reader. As you buy through my links, I earn a small commission. As an Amazon Affiliate, I earn from qualifying purchases. Thank you for your support
Overview: The Top 5 Vegan Winter Boot Brands
Jambu is a fashion-forward brand founded in 2010 to empower adventurous people with thoughtfully made footwear.
The brand is built on a belief that comfort should never compromise on style, so it's no surprise they have some of the most stylish vegan snow boots.
Their outdoor-inspired shoes have premium fashion elements along with being cruelty-free.
The vegan winter shoes combine creative designs with no animal products to offer superior comfort and durability at an affordable price.
I tried their vegan winter boots, and they have an outstanding grip as they are made of All-Terra outsole and memory foam footbed.
Additionally, their sustainable boots are extremely lightweight weighing 13.58 oz.
If you love your winter boots, then try out their equally comfortable vegan sandals in the summer months.
VIVAIA is a premium footwear brand for women founded with a mission to create stylish, sustainable, and eco-friendly footwear.
Granted, not all of their vegan winter boots are designed for heavy snow weather, but they are warm and slip-resistant.
The brand focuses on creating a positive impact on the world and has created a line of luxurious footwear that is comfortable, incredibly stylish, and modern using sustainable practices.
What I like most about this sustainable footwear brand is that they create vegan women's boots and all other footwear using discarded PET bottles from the ocean and 3D technology with a zero-waste process.
Additionally, all the packaging boxes are created using 100% recycled cardboard with no artificial colors protecting the environment.
Just be sure to check the materials as some of VIVAIA's winter boots are made using wool!
Luckily they change up designs every season and year, so you can always check again next year.
Native Shoes is based in Canada and offers an incredibly stylish collection of men's vegan winter boots and vegan winter boots women that are water-resistant too.
Every single shoe that Native makes is certified vegan-friendly by PETA. They are also all unisex.
The company has a 100% animal-free policy, which means not a single hair or hide from any animal is used in creating some of the best vegan shoes available.
The boots are manufactured in ethical factory conditions where there is no forced labor and workers have steady wages and working hours.
Their waterproof vegan shoes are lightweight and insulated with faux fur materials to protect your feet from the cold while looking fashionable.
The EVA cushioning adds a layer of shock absorbency, the boots are hand washable, and odor resistant.
Additionally, Native Shoes is working towards having each pair of shoes 100% life-cycled by 2023.
Established in 1966, The North Face provides the best outdoor gear and activewear with a dedication to sustainability and eco-friendly practices.
The brand also offers both vegan women's winter boots and vegan winter boots men will love that feature ThermoBall Eco insulation.
For vegan winter shoes, their ThermoBall line is your best bet, however not all of this line is vegan, so make sure to check the materials.
The selection of vegan winter boots is lightweight, water-resistant, and equipped with innovative technology to keep your feet warm and dry.
These boots are made of 100% recycled PET ripstop material with Oso fleece lining for comfort, and all of the footbeds are made with 5% recycled rubber for increased traction.
So if you are looking for the best recycled clothing brands that also do shoes, The North Face is a safe bet.
Also, the glue used to attach the pieces is synthetic-based, making the ThermoBall line 100% vegan.
The North Face also makes some of the best backpacks made from recycled materials.
The Dr. Martens brand creates boots that appeal to the people who have individual styles but share a united spirit and stand for something.
Their certified synthetic vegan leather boots are a hit among people as they keep you stylish during the cold winter months.
As Dr. Martens boots are not lined with fleece, a pair of good warm socks will keep your feet cozy.
The vegan boots for winter are slip-resistant and abrasion-resistant too.
Some of the best vegan boots for winter offered by Dr. Martens are Vegan 1460, Vegan 2976 Chelsea Boots, and Vegan 1460 Goldmix.
I love to buy vegan winter boots from Dr. Martens, as it offers to easily sort by vegan styles.
All of the shoes made by Dr. Martens come with a lifetime guarantee.
Founded in 1856, Hunter's is a progressive British brand renowned for its tall rain boots and comfy waterproof vegan shoes.
This British boot brand has a rich history of innovation and continues to design boots that protect from the elements and offer great performance on the varied landscape while being sustainable.
Hunter's has 278 PETA-certified vegan products in its range including sustainable backpacks made from recycled materials and winter boots.
All of Hunter's vegan boots (which is most of them) are marked as vegan certified on their site.
The vegan winter boots are handcrafted from waterproof rubber with fleece linings and quilted upper to keep the feet warm in the cold icy weather.
Also, if you are looking for unique gifts for outdoorsy people under $50, then Hunter has many offerings.
Xero Shoes brand was founded by Steven and Lena to offer the right kind of shoes for outdoor enthusiasts.
Although they are known for their sustainable running shoes, the brand also offers versatile vegan options.
They have some of the best vegan boots for winter as well as amazing vegan hiking boots using natural and ethically sourced materials.
The vegan winter boots by Xero Shoes are comfortable and barefoot inspired, which means they are lightweight, and some even fold up extra small!
The boots have a minimalist design and are made with water-resistant canvas, flannel lining, and have a stylish poly-wool blend collar.
Additionally, Xero boots also have a heat-reflecting insole to keep the feet nice and warm.
Although not all of Xero Shoes are vegan, most of them are vegan-friendly.
According to their site, only the following shoes are NOT vegan-friendly: Alston, Melbourne, leather Hana, leather Phoenix, and the original Mika.
Koi Footwear is a British brand that creates fun and trendy vegan shoes for women and men.
To bring in like-minded people, the brand has a big presence on social media and in the eco-friendly community.
Koi Footwear is a PETA-approved vegan brand and offers a diverse line of high-quality vegan boots.
All of their shoes are 100% vegan, and they partner with the climate action program One Tribe to make a positive impact on the environment and the people.
The boots are made of animal-friendly and cruelty-free premium synthetic leathers, high-quality trims and finishes, and adheres to stringent quality standards.
At Koi Footwear, you can find some fantastic styles from their brand and various designers who bring a variety of options for you.
Matt + Nat is a popular vegan brand renowned for its luxe handbags that look and feel like real leather (their vegan backpacks are equally stylish).
They were established in 1995 in Canada when the founder became inspired by the MAT(T)erial and NATure, thus Matt + Nat was born!
The founder of this vegan brand was inspired by veganism and decided to make footwear, wallets, clothing, and bags that are entirely sustainable and eco-friendly.
The brand experiments with a lot of different materials like rubber, cork, nylon, and recycled plastic bottles to make their products.
Now, most of the products are made of recycled PET bottles and the vegan winter shoes look and feel like the real leather boots you will find in high-end stores.
If you are looking for affordable eco-friendly clothing brands, then Matt + Nat is the one to choose.
And to complete your stylish winter outfit, Matt + Nat also make some of the best vegan winter coats.
Founded in 2009, Noah Shoes creates elegant, fashionable, leather-free shoes using vegan materials.
All Noah Shoes are handcrafted in small series in Italy under fair working conditions.
The basic idea of the brand is to create shoes with an Italian style and high quality, while responsibly respecting the environment, the animals, and the health of the people.
These shoes are all incredibly high quality and are just as stylish as traditional Italian shoes, many even look just like real leather!
The vegan boots are created using materials like microfibers, linen, cotton, natural latex, rubber, and kenaf, and are also lined with cozy faux fur to keep you warm and 100% vegan and cruelty-free.
It's easy to see why Noah Shoes is one of my favorite vegan winter boot brands!
Columbia is an outdoor brand that makes active lifestyle gear enriched with industry-leading technologies.
The brand also creates high-quality vegan winter boots with OMNI-Heat technology.
The shoes with his technology are cold rated to -32 degrees Celsius and are made of woven synthetic textile with faux-fur lining.
Most of the vegan winter boots are made of powder bug nylon and come in cute patterns to elevate your style.
While several of Columbia's winter boots are vegan friendly, especially those with OMNI-heat technology, not all are, so make sure to double-check the materials used before you buy!
Columbia also has some great gifts for outdoor lovers under $20, such as beanies, hip packs, or some of the best water bottles for hiking.
Established in 2001, Journee Collection started with selling women's dresses, blouses, tops, outerwear, and, eventually, footwear.
The brand focuses on empowering women by offering imaginative styles that ignite confidence.
If you're looking for cute vegan winter duck boots, Journee Collection is a great choice as they have several to keep you warm and cozy all winter long!
I love the Blizzard waterproof vegan duck boot as it is made of vegan leather and has a fleece lining with a Comfort Foam footbed. The women's Takani winter boots are also awesome.
Founded in 1962, Sorel combines expert craftsmanship and design to create all-season footwear.
The brand makes extremely warm, high-quality, and sustinable vegan boots for both women and men.
However, Sorel has a few vegan-friendly options, including some great waterproof vegan shoes.
I personally love the moon boot-style Snowlion boot, but the 1964 CVS boot and canvas duck boot are also good ones.
The vegan duck boots are a comfortable, yet durable pair of boots made with canvas and rubber.
Sorel winter boots are designed to be waterproof with seams sealed to keep out rain and snow so you can be sure your feet will be kept warm and dry no matter the conditions.
Please note: While Sorel has several winter boots that use vegan-friendly materials, the company is unable to guarantee that the glue used in their shoes is vegan-friendly. If this is a deal-breaker for you, it is best to choose a different brand on this list.
Launched in 2013, Will's Vegan Shoes make ethically sourced vegan shows for both women and men.
This 100% vegan shoe company is also certified carbon neutral, and the packaging is plastic-free.
Will's vegan boots for winter are made of Italian bio-based vegan leather from cereal crops, 69% bio-oil, and viscose.
Additionally, the brand also uses recycled polyurethane for footwear insoles and recycled rubber for outsoles, and none of their products uses PVC or contains PFC's
What I like love about Will's Vegan Shoes is that they are always looking for more sustainable alternatives to create their products.
Established in 1990 in the UK town of Brighton, Vegetarian Shoes is one of the most popular vegan shoe brands in the world.
Don't be fooled by the name, they are a 100% vegan shoe brand that makes shoes without exploiting the environment and the animals.
The innovative shoe company provides the vegan community and other people with high-quality footwear made in Spain and Portugal.
Vegetarian Shoes' warm vegan winter boots have a hardy design with spiky ice cleats to keep the feet steady outdoors and transition to indoor flooring easily.
Simple, sleek, and ready for the cold, the stylish shoes have speed lacers and are a little larger so you can have room for your thick thermal socks to add some extra warmth.
If you are looking for the perfect vegan UGG alternative, check out their Snuggle boots.
Vegetarian Shoes also has a line of amazing and durable hemp shoes that are great year-round.
---
Buying Guide: What to Consider When Buying Vegan Winter Boots
Materials
When you buy vegan winter boots, look for the right material like fabric, Gore-Tex, microfiber, polyester, nylon, and synthetic leather.
Unfortunately, many winter boots have leather or suede in the upper or the sole and they are not vegan friendly.
Also look out for wool, especially in the lining.
Sustainability
Vegan shoemakers create high-quality winter boots while also minimizing their environmental footprint. So, check for things like a transparent production chain, eco-friendly materials, and fair working conditions when buying vegan shoes.
Breathability
Vegan winter shoes are often criticized for not being breathable. While that is the thing of the past, vegan materials have evolved to overcome this problem. The shoes are now available with infused synthetics with natural materials offering breathability.
Durability
Durability is an important aspect to look at when purchasing vegan boots for winter. So, look for the material the shoe is created with that offers high durability. You can go for manmade materials, synthetic mesh, thermoplastic urethane, polyester, or nylon as they are durable.
---
Short FAQ about Vegan Winter Boots
You can't get enough of vegan winter boots? Have a look at my Google Story here.
---