Guide to the best sustainable footwear and the best ethically made shoes no matter your budget
What if I told you that every day when you walk, you leave behind harmful chemicals, which are harming both humans and wildlife?
Do you know that each year more than 20 billion pairs of shoes are manufactured throughout the world?
Our choices can make a difference!
Since even shoe production is not exempt from hazardous environmental impact and sweatshop labor, I have curated a list of the best sustainable shoe brands.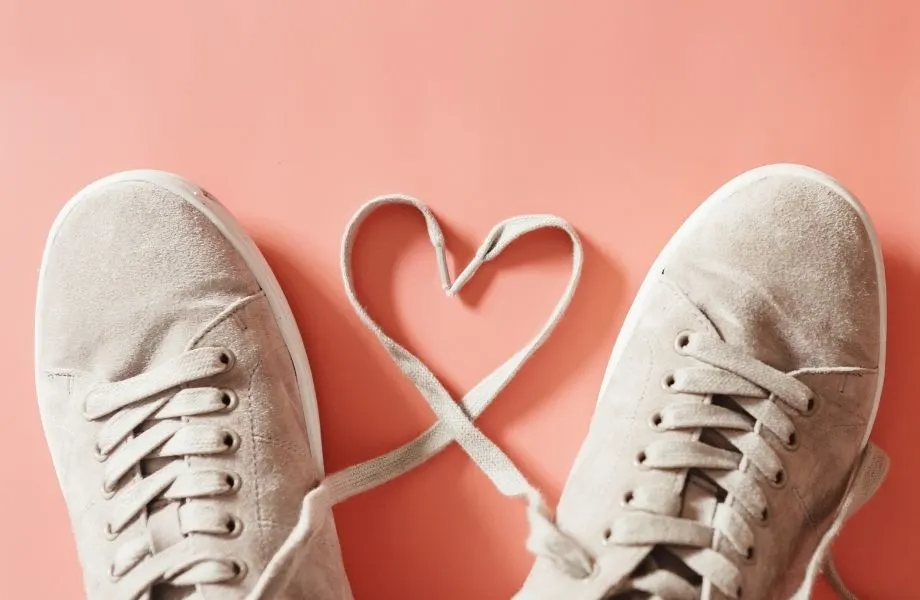 These sustainable shoe companies are not only a good choice for you but the environment in general.
The shoe manufacturing process poses threats to the wellbeing of our planet as the first and last steps of the shoemaking life cycle leave behind chemicals, toxins, and fossil fuels in the environment.
Thankfully, we have ethical shoe brands that produce fantastic shoes that range in price, style, and function.
More and more sustainably-minded companies are coming up with styles that will fit into anyone's closet and will be quite beneficial for greener conscience people.
This blog is supported by you, dear reader. If you purchase through a link, I earn a small commission. As an Amazon Affiliate, I earn from qualifying purchases.
Overview: The Top 5 Sustainable Shoe Brands
Best Sustainable Shoe Brands
Targeted at: Women
Sustainable Measures: The brand creates sustainable and stylish footwear that is responsible and friendly. VIVAIA uses plastic bottles, eco-friendly, and recycle materials.
Price Range: $69.00-$119.00
VIVAIA is a luxurious and premium brand that was founded with a mission to create fashionable sustainable footwear that is kind to the environment.
The brand focuses on creating a positive impact on people and the world, which is why they only use recycled and responsibly sourced materials.
With the use of 3D technology, their team follows a zero-waste process, making them a great zero-waste fashion option.
Many VIVAIA shoes are made from recycled plastic water bottles that they rescue from landfills, and every single pair has a carbon-free rubber sole and insoles created using soft natural latex.
In addition to being ethically made shoes, VIVAIA shoes are also incredibly stylish, very comfortable to wear, and completely machine washable!
Plus, VIVAIA makes some cute vegan winter boots, so you can stay stylish and cruelty-free year-round!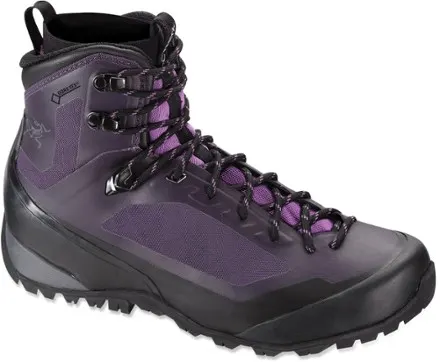 Targeted at: Men, Women, and Kids
Sustainable Measures: Eco-friendly outdoor shoes, gear, and clothes for everyone. They do responsible production and use eco-friendly materials.
Price Range: $39.73-$205.00
Created in 1938, REI is an outdoor company dedicated to sustainable and eco-friendly practices.
They sell their own products and also serve as a storefront for many other ethical outdoorsy brands.
In the USA, they are the go-to brand for nature lovers and adventure enthusiasts as they sell some of the best sustainable activewear.
They're also a great option if you're looking for sustainable running shoe brands.
REI shoes are made with eco-friendly materials and ever-evolving technology, and they only work with brands that can ensure the same sustainability standards.
In addition to selling some of the best sustainable shoe brands, you will also find some of the best backpacks made from recycled material in their shop.
To show their dedication to being one of the best sustainable footwear brands, REI gives back 70% of its annual profits to the outdoor community.
Targeted at: Men and Women
Sustainable Measures: The brand uses natural and responsibly sourced materials. Every pair of shoes is ethically made via ILO standards and uses blue-sign certified dyes.
Price Range: $79.00-$129.00
Ethical shoes are all about using natural materials that won't leave behind carbon footprints, and Cariuma is one such brand that genuinely cares for everyone.
Not only do Cariuma fight against the wasteful practices the fashion industry follows, but their IBI line is 100% vegan!
In fact, it's actually made using bamboo, which is why Cariuma is also one of the best bamboo clothing brands.
They're also one of the best recycled shoe brands as many of their products are made using at least some recycled materials.
Cariuma shoes use recycled PET; GOTS certified organic cotton and dyes that have a low impact on the environment.
So, if you love stylish and sustainable sneakers as much as I do, consider Cariuma when buying new ones.
Targeted at: Women
Sustainable Measures: 90% of the materials used by Alice + Whittles are suitable, and the company is aiming for 100%. They use natural fair tread rubber, recycled PET, re-claimed ocean plastics, and vegan water-based glue.
Price Range: $120–$200
Alice + Whittles believes in making this world a better place to live in and strives to design ethical shoes for global citizens.
Co-founders Sofi Khwaja and Nicholas Horekens saw a gap in the market for travel-friendly ethical footwear and decided to make them themselves.
If you want to travel sustainably now you can with Alice + Whittles's plastic-free shoes, which were designed with you in mind!
Alice + Whittles has become one of the most impressive ethical shoe companies when it comes to using eco-friendly materials.
Their fantastic range of fashionable footwear gets produced by small-scale artisans, and Alice + Whittles works closely with all of their partners to ensure they have some of the most ethically made shoes on the market.
Currently, 90% of their products are sustainable and completely traceable. Their goal is 100% and they are actively working towards it.
In addition to using ethical materials, Alice + Whittles is committed to ethical practices, and always ensures fair pay and working conditions for their employees and those of their partners.
Alice + Whittles is also extremely proud of its diverse workforce.
Targeted at: Men and Women
Sustainable Measures: Shoes made of cannabis hemp fibers, ecological soles made of algal blooms, insoles made of pure hemp, 100% vegan, and eco-friendly.
Price Range: $14.00-$129.00
8000 Kicks is one of the best hemp clothing brands and will let you stay vegan from head to toe.
To avoid waste, the company focuses on using as little water as possible while manufacturing its sustainable socks, shoes, and caps.
Instead, the shoes are made from plant-based materials like hemp and algae.
In fact, the innovative algal bloom soles make 8000 Kicks incredibly breathable, making them the perfect sustainable footwear for active people.
The company is backed by intelligent textile engineers who use eco-friendly materials.
As one of the best hemp shoe brands, their women's and men's sustainable shoes don't just look stylish, but they are flexible and strong as well!
Targeted at: Men, Women, and Kids
Sustainable Measures: Shoes by Sanuk are made by using 55% recycled materials. They use recycled GRS Certified fibers, which include PET fibers, recycles polyester fibers, recycled cotton fibers, and recycled.
Price Range: $35.00-$85.00
Sanuk was founded in 1997 by Jeff Kelley who wanted to "make people Smile…and Pass It On." And he hopes he's achieved that with his super sustainable footwear brand!
The brand works hard to ensure its footwear is long-lasting, comfortable, and ethical, and that it will make a positive contribution to the fashion world.
As one of the best eco-friendly shoe brands, Sanuk only uses environment-friendly materials, and even has an ever-increasing vegan-certified collection – including many great vegan sandals!
All of their products are sustainably and responsibly sourced, and wherever possible Sanuk shoes use all-natural materials like jute, hemp, and cork.
Sanuk also helps preserve our precious coastlines with the use of recycled GRS Certified fibers.
And all Sanuk shoes are machine washable!
Targeted at: Men and Women
Sustainable Measures: The brand uses natural and recycled materials and is a certified B Corp. The production is WRAP- & SMETA-certified.
Price Range: $95–$135
Allbirds is one of the best ethical sneaker brands there is!
Based in New Zealand, Allbirds focuses on minimalistic design, comfort, and fewer carbon footprints.
This is the reason why Allbirds uses materials from nature itself, in particular wool, sugar and trees.
And if you're looking for recycled shoe brands, Allbirds is a great option as many of their products use recycled bottles and nylon rescued from landfills.
Both their women's and men's sustainable shoes are made of Merino wool and FSC-certified Tencel lyocell.
Allbirds ethical footwear is lightweight and feel light and airy when you wear them, so you don't have to worry about foot odors!
You can find some great unique gifts for outdoorsy people under $50 amongst their accessories.
Targeted at: Men and Women
Sustainable Measures: The company is B-Corp certified and uses certified mulesing-free wool for the sneakers, sourced from Portugal. For boots and slippers, the eco-friendly wool comes from New Zealand.
Price Range: $86.00-$120.00
This Swiss company makes some of the most comfortable and sustainable shoes Europe has to offer.
BAABUK started off with a modern, simple Swiss design and traditional pedigree that provides ample comfort and unusual looks.
Now they're one of the most sustainable shoe companies with an impressive catalog of styles and designs.
It's a family-owned business and takes the responsibility to conduct its business following ethical standards and practices.
BAABUK is B-Corp certified, and their cute, stylish shoes are all made of certified mulesing-free wool.
Apart from stylish and comfy shoes and slippers, you will also find cool outdoor gifts for women like amazing sustainable wallets, woolen hats, and storage bags.
Targeted at: Men and Women
Sustainable Measures: The brand uses sustainably sourced materials like cork and natural yarns, and recycled PET.
Price Range: $115.00-$210.00
Founded in 2012, VIVOBAREFOOT works on one principle, and that is sustainable shoemaking.
Co-founders, Galahad and Asher Clark, come from a long line of cobblers. So not only do they know the ins and outs of shoes, but they actually care about your feet.
And the only thing they care about more is the environemnt.
That's why every single one of their shoes are made of sustainably sourced materials and recycled PET, and why they are one of my favorite recycled clothing brands!
They're also one of the best sustainable activewear brands and make some of the best vegan hiking boots for women and men.
One of VIVOBAREFOOT's main inspirations is for people to get up and reconnect with nature, and so they manufacture sustainable footwear that is healthy for both us and the environment.
VIVOBAREFOOT is known for designing durable shoes that will last long and source its materials locally.
To do that they implement new technologies and works with Indigenous shoemakers from all across the world.
Targeted at: Women and Men
Sustainable Measures: The company is certified B-Corp and follows fair labor and wages policy. All the shoes are artisan-made and are climate-neutral certified. Leathers are Leather Working Group certified and vegetable-tanned.
Price Range: $90–$260
Nisolo's sustainable shoes are known for their comfortable and distinctive styles designed by independent artisans in Peru and Kenya.
From the beginning, Nisolo has collaborated with local artisans to create unique shoes, accessories, and more, and they are proud of their transparent handmade production process.
Their factory in Peru pays a living wage and ensures good working conditions for all workers.
Additionally, Nisolo pays living wages to their entire supply chain.
Plus, every single purchase goes towards protecting the environment.
Nisolo is committed to the conservation of the planet and actively works to protect the Amazon Basin from deforestation.
They have worked hard to become a climate-neutral company by offsetting 100% of its carbon emissions.
So you can wear their sustainable boots and other styles guilt-free!
In addition to fashionable and ethical footwear, Nisolo also sells cute bags, belts and sustainable jewelry.
Targeted at: Men, Kids, and Women
Sustainable Measures: The brand uses recyclable materials for shoes. Not just this, Rothy's follow fair labor practices and sustainable packaging materials.
Price Range: $55–$165
Rothy's impressive collection of ethical footwear collection is a head-turner!
Most recycled shoe brands tend to be ethical sneaker brands, not Rothy's! These incredibly stylish shoes are full of recycled and all-natural materials.
They practice responsible manufacturing policy and continue to strive for zero waste.
The brand puts people and the planet first, and that's why they only use eco-friendly materials, such as recycled ocean-bound marine plastic, hemp, natural rubber, and castor beans.
Additionally, all Rothy's insoles are made with algae-based foam, and 30% plant-based oil, and recycled rubber
By combining handcrafted and 3D knitting technology, they create styles that won't compromise comfort and quality.
You can even machine wash their shoes so that you get to wear your pair of sustainable shoes over and over again.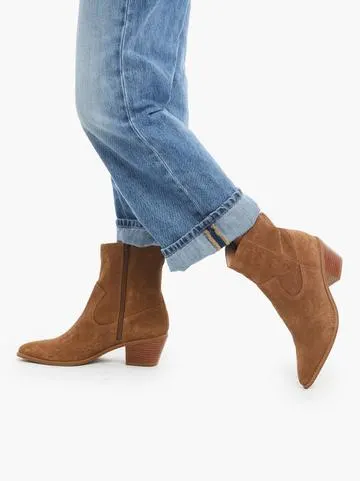 Targeted at: Women
Sustainable Measures: Hires women, employees and educates women to break the poverty cycle. The company uses eco-friendly materials, which include organic cotton.
Price Range: $44.00-$120.00
This amazing eco-friendly clothing brand is transforming the fashion industry by giving employment opportunities to women.
Nashville-based ABLE is a company that believes in empowering, educating, and training women to be a part of this productive ecosystem in order to break out of cycles of poverty.
ABLE is a company that makes ethical products for women by women. Their products are handcrafted and many uses recycled materials.
From their sustainable footwear to their sustainable backpacks, every single product that ABLE makes uses eco-friendly materials that have been responsibly sourced.
Targeted at: Men and Women
Sustainable Measures: The company uses sustainable and vegan materials. They have recyclable sneakers and give back to society.
Price Range: $120.00
Thousand Fell is one of the best sustainable sneaker brands currently available.
Each pair of Thousand Fell sneakers is designed by using sustainably sourced material and comprises a cute, comfy design.
Not only is their ethical footwear comfortable to wear, but it will last much longer than almost any other brand of sneakers you've owned!
And, at the end of their lives, all Thousand Fells shoes are 100% recyclable.
That's what Thousand Fell stands for. By using recycled plastics, natural materials like coconut husks, and palm leaf fibers, these shoes are meant to last long AND protect the planet!
Targeted at: Women and Kids
Sustainable Measures: The brand uses sustainably sourced upcycled leather. Christy Dawn sources deadstock fiber and organic cotton.
Price Range: $94.00-$328.00
I love my outdoorsy shoes, but Christy Dawn is one of my go-to sustainable shoe brands for fashionable options.
Although they are much better known for their stylish organic cotton dresses, they do have a limited number of footwear options and the designs are refreshing and really cute.
At Christy Dawn their ethos is honoring Mother Earth and all her people, which is why they are committed to making the best ethically made shoes possible.
Christy Dawn sources deadstock fiber to design their beautiful apparel and shoes. Deadstock fibers are obtained from excessive fabric left behind by fashion companies to reduce carbon footprints.
Additionally, they use sustainably sourced organic cotton, upcycled leather and other repurposed fabrics on their shoes.
To ensure their materials are ethically sourced, Christy Dawn works closely with their suppliers and partners.
Targeted at: Women
Sustainable Measures: The brand focuses on a fair, healthy, and safe working environment for everyone. They use low-impact materials, repurposed vintage clothing, and rescued deadstock fabrics—ref standards.
Price Range: $62.00-$299.00
Reformation makes some of the best organic clothing Made in USA, and luckily they also make cute and sustainable footwear.
To make sure that Reformation shoes live up to the definition of sustainability, they have Ref standards.
Everything they manufacture is done considering eco-toxicity, land use, energy input, water input, human toxicity, and greenhouse gas emissions.
The shoes are made of natural and recyclable fibers that have a low impact on nature. Their products are also cruelty-free and they are one of my favorite vegan clothing brands.
As one of the best sustainable shoe brands, Reformation shoes (as well as the rest of their products) only use 100% certified organic materials.
They are also one of the best sustainable swimwear brands. Their two pieces sets are attractive and made of breathable fabric.
---
Buying Guide: What to look out for when buying sustainable shoes
Think About Your Priorities
Before buying sustainable shoes, always figure out your concerns.
Are your concerns related to humanitarian issues, animal rights, business ethics, sustainability, inclusivity, or others?
It's alright to prioritize your issues and then go for a company that stands for your concerns.
Don't Get Confused with the Terminologies
While browsing through sites, make sure that they talk about how they are sustainable.
If you can't find any information on that or the brand has simply made a nebulous claim that they are responsible, look for other brands that will explain what they mean by that.
How they do their business, what are the sources of the material, what about their packaging protocols, etc.
Look for as much information that you can find. If need be, contact the brand and enquire.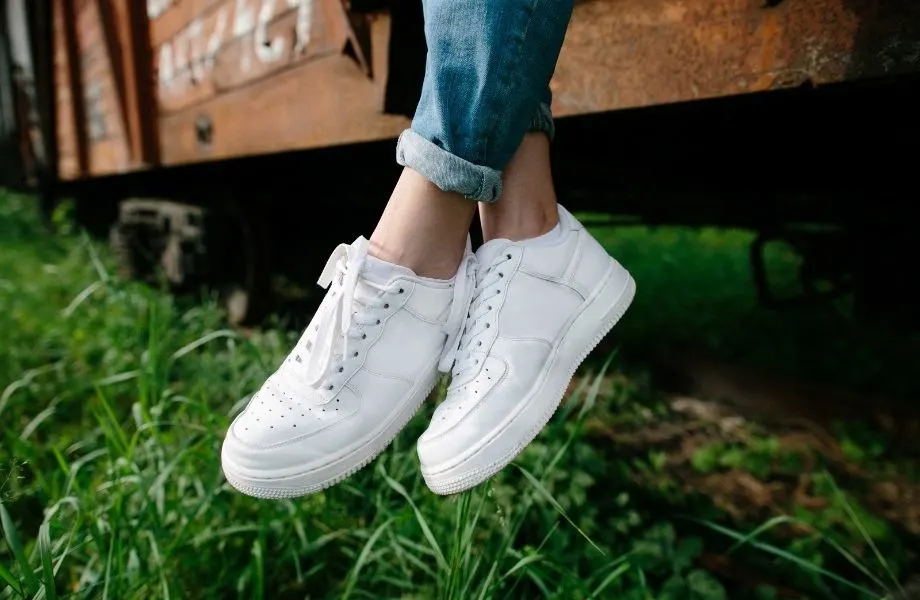 Do Consider Your Budget
Ethical and sustainable brands will always cost you more than those that aren't.
This is because they pay attention to how they manufacture their shoes, practice ethical ways to work, and always use sustainably sourced materials.
If a sustainable brand asks for a high price for a pair of shoes, they have a good reason for it.
You will find sustainable shoes in Europe, the USA, Asia, etc., at a reasonable price, but the margin from a non-sustainable shoe brand will be pretty huge.
Check out the cost of every sustainable shoe store, and then buy.
Buy Local
Indeed, there are great overseas sustainable brands available, but despite the claims, the process that will be followed to ship the pair of shoes to another part of the world will leave carbon footprints.
This is because the courier service they will use might not be following the same policy like theirs. That's why, whenever possible, try to shop from local, sustainable shoe shops and stores.
---
Short FAQ about Sustainable Shoe Brands
1. What are the most sustainable shoe brands?
The most sustainable shoe brands are Reformation, Christy Dawn, Rothy's, Allbirds, Alice + Whittles, REI, VIVAIA, BAABUK, VIVOBAREFOOT.
2. What are the best sustainable shoe brands for men?
Allbirds, REI, Cariuma, 8000 Kicks, Sanuk, VIVOBAREFOOT, Nisolo, Rothy's, and Thousand Fell, are the best sustainable shoe brands for men.
3. What sustainable shoe brands use recycled products?
Thousand Fell, VIVOBAREFOOT, Allbirds, Sanuk, Alice + Whittles, Cariuma, and REI are the brands that use recycled products.
---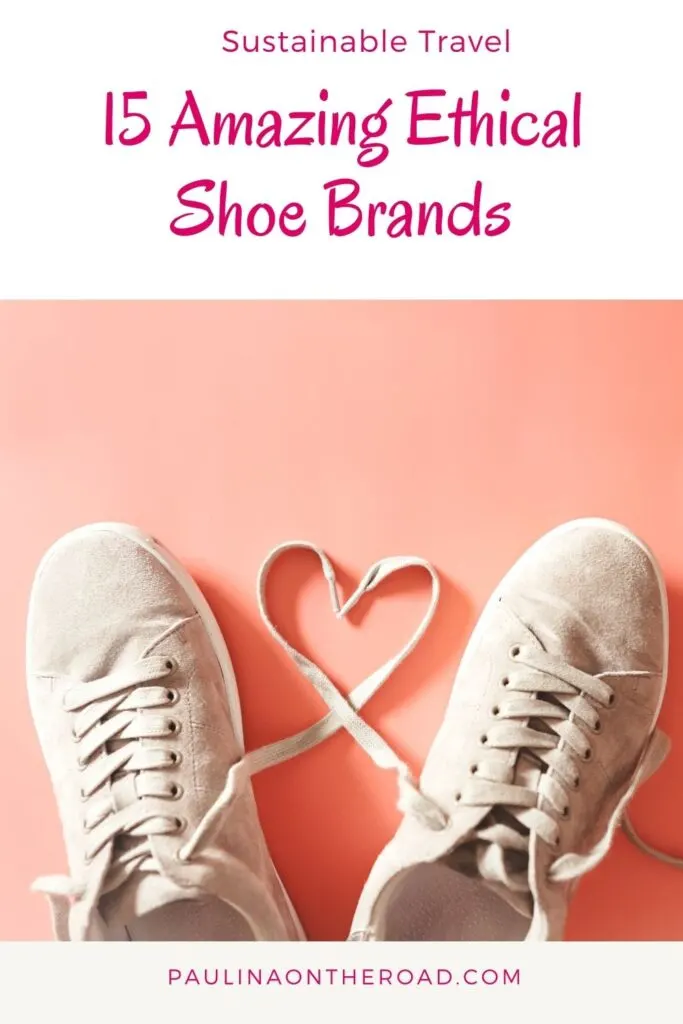 ---
Hola! I am Paulina, a fervent travelette who crossed the Atlantic Ocean by Boat HitchHiking. On my blog, you'll find all the tips to make the most of your holiday. Get ready to enjoy outdoor and sustainable travel like hiking, cycling or sailing. Let's hit the road together!