A guide to the best vegan clothing companies, inclduing luxury brands and affordable vegan clothing brands
Vegan clothes! Is there such a thing, you may think? Yes, vegan clothing brands exist, and they are trending right now!
Major fashion brands are implementing vegan collections offering sophisticated pieces, from designer labels to affordable basics.
They are also paying attention to the materials used.
Also, consumers are becoming more aware of how their clothes are manufactured and they are seeking out cruelty-free clothing brands.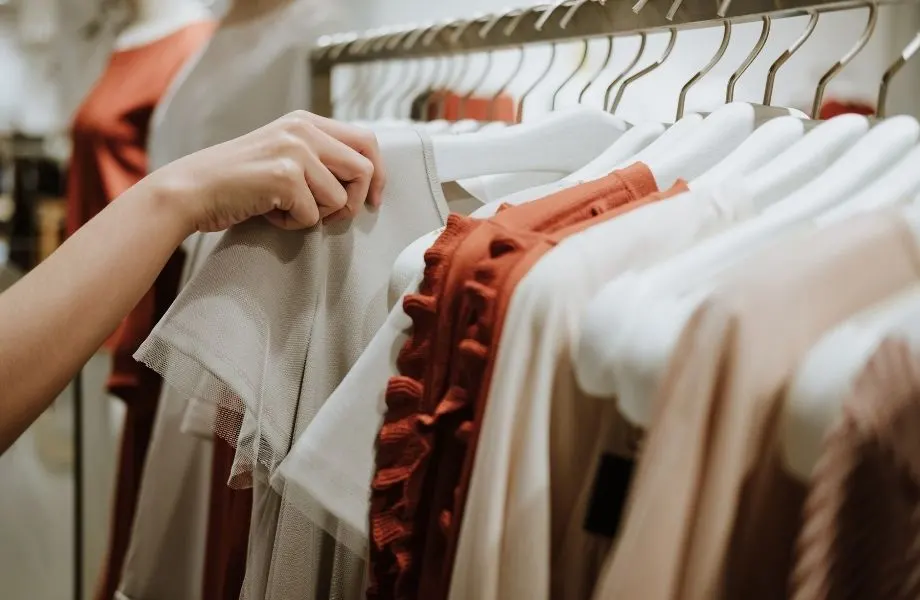 There are plenty of vegan clothing brands out there offering animal-free and cruelty-free clothing.
Vegan fashion will continue to grow as fashion designers see the endless possibilities of an ethical lifestyle.
If searching for on-trend vegan clothes brands has seemed a full-time job for you, stress no more.
I have curated the best vegan fashion brands to help you discover trendy ethical vegan clothes that will complement and enhance your lifestyle.
Check out my handy list of the best vegan brands so that you can live and travel sustainably.
This blog is supported by you, dear reader. If you purchase through a link, I earn a small commission. As an Amazon Affiliate, I earn from qualifying purchases.
Overview: The Top 5 Ethical Vegan Clothing Brands
Best Vegan Clothing Brands
Known for creating comfortable and versatile activewear for men and women, Outdoor Voices deliver styles that allow you to be active and comfortable.
Launched in 2012 in Austin, TX, this direct-to-consumer retailer is on a path towards a more sustainable future.
All of Outdoor Voices products are made using sustainable textiles, including RecPoly, responsibly sourced Merino wool, Cotton Terry, and recycled polyethylene terephthalate made from water bottles.
Outdoor Voices even has a partnership with WWF, The Nature Conservancy, and CHOOOSE to generate funds to drive education around sustainability, conservation, and carbon offsetting.
And it isn't just animals that this ethical vegan clothing company cares about, Outdoor Voices also prioritizes fair working conditions and ethical labor practices for all staff.
If you are looking for affordable eco-friendly clothing brands, then Outdoor Voices should be the top choice.
Girlfriend Collective is one of the leading American vegan brands for sustainable activewear, loungewear, and swimwear for women.
This thoughtful brand offers size-inclusive clothes, from XXS to 6XL, proving every body type is an active body, and some of my favorite vegan workout clothes come from Girlfriend Collective.
The beautiful versatile pieces offered by Girlfriend Collective are not just comfortable, but available in a large variety of colors to match your style.
All of their clothes are made from recycled and earth-friendly materials, including their cute and sustainable underwear.
Being eco-friendly and kind to the Planet they prove it by being transparent about the clothing production process and recycle old Girlfriend pieces turning them into new ones.
The brand recently launched its new swimwear line making it one of the best sustainable swimwear brands to source eco-friendly swimsuits.
Taylor Stitch is one of the best men's vegan clothing companies for stylish and fashion-forward men.
They design men's shirts, denim, outerwear, footwear, and accessories in California, and all of Taylor Stitch's products are built to last.
The manufacturing process starts with sourcing fibers and fabrics that do not harm the animals or rely on harmful chemicals and cultivation practices. If they can't find the right fabric, they develop it!
The fabrics are made from a blend of used apparel, manufacturing wastes, plastic bottles, and more. Some of their products have ECONYL, a recreated nylon fabric.
They also have a collection of hemp clothing for anyone looking for plant-based clothing.
Additionally, Taylor Stitch's clothing resists sun, sea salt, and chlorine. That's why, it is one of the best recycled clothing brands for men out there.
Conscious Step only makes socks that support the causes that matter most. I love that every ethically sourced cotton sock you buy supports a cause you care for.
They help with restoring the oceans, educating children, building homes, promoting breast cancer prevention, save LGBTQ lives, tree planting, wildlife preservation, and more.
You can search through the causes that Conscious Step supports and choose the right sustainable socks for you!
They also make thoughtful gifts for outdoorsy people under $50, especially fellow animal lovers.
Above all, the Conscious Step uses organic cotton, which is not treated with herbicides, insecticides, pesticides, and is not genetically modified.
Their vegan socks provide a sustainable and colorful vibe, and it is one of the best organic cotton clothing brands.
Now you can get cute socks as sustainable Christmas gifts and help out someone's favorite cause!
Environmentally conscious and cruelty-free living is a lifestyle, not a trend.
That's why Noize creates unique seasonal collections and accessories for men and women with PETA-approved vegan fur and leather alternatives.
Their products provide warmth, comfort, and style all without harming animals or wasting essential resources, and are some of the best vegan winter coats available.
Furry pals also get cold, and Noize's vegan sustainable clothing has them covered too.
Their pet collection uses the same eco and vegan materials as used for human coats.
Walk your dog in style with Noize's adorable sustainable pet products. Match together or mix up your and your furry friend's clothing to look awesome and warm this winter!
It might seem impossible to find a fashionable clothing brand that is comfortable, stylish, and sustainable, but BOODY really does to it all.
Not only that, but BOODY is one of the most affordable vegan clothing brands and my go-to for vegan workout clothes.
Their activewear pairs perfectly with these awesome vegan hiking boots for men and women.
This Australian plant-based clothing brand focuses on creating everyday essentials from innovative and eco-friendly materials such as bamboo for men, women, and babies.
It is one of the top bamboo clothing brands on the market.
BOODY is certified by Ecocert who conducts SGS tests on the garments to ensure they meet the health and safety standards, meet compliance with WRAP, the yarn is certified by OCIA, and certified under ISO 4001 and ISO 9001.
What I love about this ethical vegan clothing brand is that they do not just make claims about their practices, they back them up with independent regulators and certifications.
If you are looking for cool outdoor gifts for women, then you can get some awesome items from BOODY.
Tact and Stone are based in the US and is one of the few dedicated men's vegan clothing brands available.
You'll find a little bit of everything for the modern man at Tact and Stone from chinos to t-shirts – and all of it is made ethically!
Their products are made from a variety of sustainable and responsibly sourced materials, including recycled plastics, hemp, and organic cotton.
Tact and Stone source the most premium hemp on the market and turn it into premium low-impact products, which is why they're one of the best hemp clothing brands.
I love that they are 100% transparent about their supply chain, and their website is very upfront about materials and each product's environmental impact.
Tact and Stone are also committed to working with local artisans and providing fair wages.
Reformation is one of the best sustainable cruelty-free clothing brands for women and produces only high-quality products.
This American vegan clothing brand shoes emit 37% less carbon dioxide, uses 58% less water, and result in 100% less waste compared to conventional footwear.
With a belief in sustainable production practices, the clothing and accessories brand works exclusively with tanneries classified as gold or silver by the Leather Working Group.
Reformation provides some of the best organic clothing made in the USA and has achieved B-Corp Certification.
This means its business practices include environmental and labor policies that adhere to rigorous standards.
They recently released their Ref Shoes Collection making them one of the best sustainable shoe brands, and it's also one of the best vegan leather brands to source sustainable footwear.
I particularly love their sustainable boots which are great for every occasion.
Footwear represents between 18% to 25% of the total carbon emissions of the fashion industry, but Reformation is working to change that.
The collection is incredibly eco-friendly and even features 15 unique and 100% recyclable models!
A pioneer in sustainable Fair Trade fashion, People Tree is a women's sustainable vegan clothing brand based in the UK.
For over 20 years, People Tree has been proud to provide stylish and eco-friendly clothing to suit any season or fashion taste.
The company ticks all the boxes when it comes to treating people and the environment with love.
The brand does well when it comes to animals as most of the products are vegan, however, they have some products made from wool.
Although not all of their clothing is vegan, People Tree now has a certified vegan clothing line that sells lightweight organic cotton dresses, workwear, sustainable yoga clothes, jumpsuits, and more.
If you're in the market for sustainable yoga pants, they have some of the best vegan options.
And more products are being added all the time – they even offer sustainable jewelry!
Everything on their site that is vegan is marked as Vegan to help you buy the right product.
Their most popular vegan clothes are their denim products which are made from 100% GOTS certified organic cotton, and save up to 95% of water during their production process.
What I like most about People Tree, one of the UK's leading vegan clothing brands is its price. They are affordable, making ethical, vegan clothes more accessible to all.
Thought Clothing is one of the best vegan clothing brands in the UK that strongly believes in sustainable and eco-fashion.
All their garments are made to last and are some of the most fashionable vegan streetwear on the market.
This vegan clothing brand works as per ethical principles and is committed to minimizing its own footprint on the environment.
The story of Thought Clothing began in 1995 in Australia, with a desire to combine beauty and natural clothes.
With this concept in mind, the brand released the first men's capsule collection, sustainable men's beachwear made of natural hemp.
From there, the brand has grown into one of the best vegan brands for men and women.
All the clothing Thought Clothing make is certified by Oeko-Tex and the fabrics are GOTS (Global Organic Textile Standard) certified.
This ensures a sustainable and ethical process at every stage of the production.
If you want to build an eco-friendly wardrobe, then PACT is one of the best vegan clothing brands in the world.
Founded in 2009, the brand makes sustainable vegan clothing from Global Organic Textile Standards (GOTS) certified cotton to offer high-quality garments.
PACT is a member of Fair Trade USA and the entire manufacturing process is certified, supporting cotton farmers in India.
It is one of the best vegan clothing companies to offer affordable organic ethical clothing for men, women, children, and babies.
I loving shopping at Pact when I need affordable sustainable sweaters, pajamas, or pants.
However, while most of their products are vegan, a few products use a wool-organic cotton blend, so be sure to double-check the used materials.
LOVECO, one of Germany's best vegan clothing brands is your one-stop destination for ethical and sustainably made fashion.
The store is 100% vegan with all products certified with either GOTS (Global Organic Textile Standard) or Fair Trade.
All the products, whether pants, jackets, shoes, and bags are made from organic cotton, Modal (cellulose), hemp, recycled polyester, or other eco-friendly materials.
What I like the best about LOVECO is that it offers fair clothes, shoes, and accessories for men and women from 80 carefully curated vegan fashion brands.
From well-known vegan luxury brands like ARMEDANGELS, JAN 'N JUNE, LANA Organic, and Veja, to smaller brands like Wild Fawn, COSSAC, and Mila Vert, LOVECO gathers the best in vegan fair fashion under one roof.
Based in Melbourne, Australia, Unreal Fur offers a range of fashionable and sustainable faux fur jackets and coats for women and children.
Unreal Fur is one of the best vegan luxury brands offering a selection of various colors, styles, and sizes.
All the styles are made with 100% modacrylic and the brand is PETA-Approved Vegan.
What I like about Unreal Fur is that to prevent waste they recycle fabric scrap to make their accessories and kids collection.
Every ethical item is meticulously designed and created, to ensure its texture and appearance are perfect and both lush to look at and luxurious on the skin.
Created by the titular fashion designer, Stella McCartney is one of the first vegan luxury brands.
Stella McCartney is incredibly innovative and always striving to find new cruelty-free and plant-based materials for their designs.
They currently have many garments made from Mylo leather, a sustainable, animal-free leather made from mycelium, the fungus.
Unlike most vegan leathers that are polyester-based, Mylo is entirely biodegradable, making Stella McCartney one of the best vegan leather brands in the world.
Developed and created by Bolt Threads, a company that invents sustainable materials for clothing brands, Mylo is soft, supple, renewable, and less harmful to the environment.
This makes it completely sustainable and a perfect alternative to animal leather.
Stella McCartney is also committed to protecting the environment and reducing the impact of its production.
All their materials are responsibly sourced and the company adheres to fair wage and condition standards.
The brand is also known for its luxury sustainable running shoes and fashionable vegan backpacks.
Vegan accessories brand Matt & Nat began in 1995 in Canada when the founder became inspired by the MAT(T)erial and NATure.
The founder of this vegan clothing brand was inspired by veganism and decided to produce clothing, footwear, wallets, and bags that are entirely sustainable and eco-friendly.
The company has experimented with a lot of different sustainable and vegan materials like rubber, cork, rubber tires, nylon, and recycled plastic bottles.
Now, most of the products are made of recycled PET bottles and the brand recycles over 9 million plastic bottles every year.
In addition to clothes, Matt + Nat are actually most well known for their stylish sustainable backpacks and handbags that look and feel like they are made with real leather!
Matt + Nat also makes some of the most stylish vegan winter boots and sustainable winter coats, so you can stay animal-free year round!
---
Why buy from vegan clothing brands?
Vegan clothing is literally helping to protect the planet!
Plant-based fashion is better for the environment and helps save animals. It's a win-win!
Plus, vegan clothing companies are more ethical and tend to have more eco-friendly production processes as a baseline.
The good news is that more and more brands are going vegan or coming out with vegan-friendly collections.
Vegan fashion is in, animal cruelty is out!
---
Short FAQ about Best Vegan Clothing Brands
---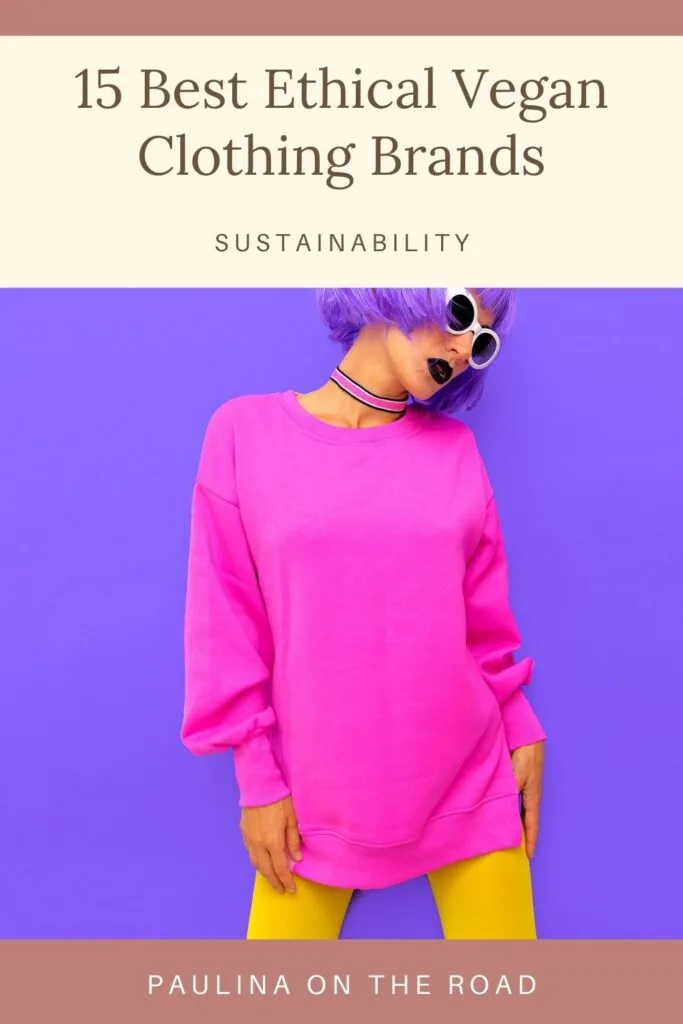 ---