Guide to the best ethical and eco-friendly bamboo clothing companies from around the world
Sustainability is a way of life that we all must embrace for a healthier planet and a better tomorrow.
On this journey, every small step matters and one of the things we do is start by changing the way we dress and opting for sustainable alternatives – like bamboo clothing!
Fortunately, bamboo clothing brands are now more popular than ever!
Bamboo clothing is nothing short of a blessing for the sustainable fashion industry due to its affordability and abundance.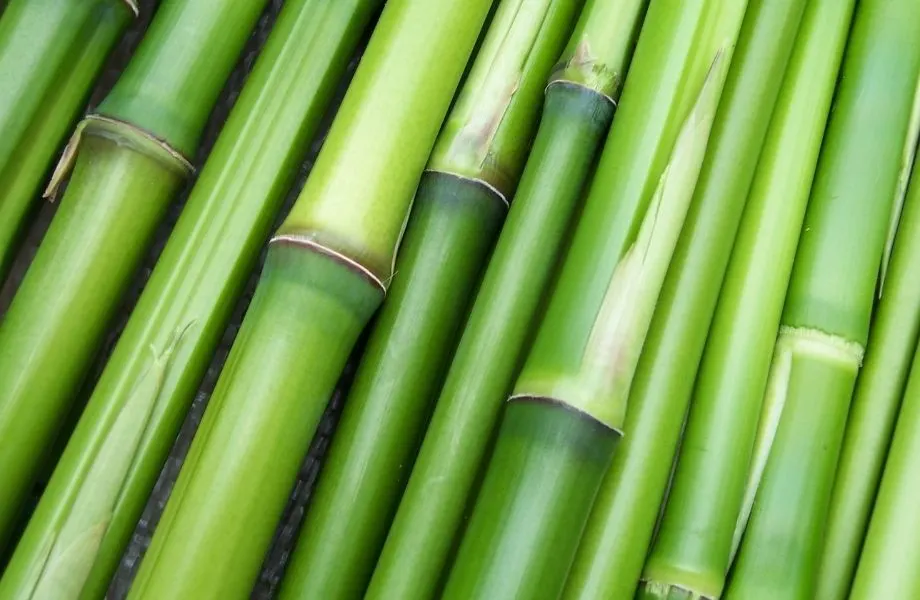 Bamboo has some remarkable qualities like odor resistance (the plant itself is naturally antibacterial) and temperature regulation that makes it ideal for clothes.
I also really love that bamboo clothing is super soft, incredibly comfortable, and durable.
But best of all, it is great for the environment as bamboo plants grow easily, and don't require irrigation, excessive amounts of water, or pesticides.
Additionally, bamboo products are completely compostable so long as they don't have anything toxic in them like plastics.
In this article, I've put together the best bamboo clothing brands currently available that I personally love and use.
This blog is supported by you, dear reader. If you purchase through a link, I earn a small commission. As an Amazon Affiliate, I earn from qualifying purchases.
Overview: Top 4 Bamboo Clothing Brands
Highlights
PETA approved – 100% vegan garments
Follows highest standards of labor and environmental practices
Odor resistant and breathable fabric
Uses UPF50+ rated bamboo fabric that protects from UV rays
Favorite Bamboo Clothing Item: Downtime Slim Leg Lounge Pant
BOODY is one of the fastest-growing bamboo clothing brands that create affordable and sustainable everyday essentials.
In fact, they are one of the best affordable eco-friendly clothing brands.
Their products are thoughtfully designed to make you look and feel good whether you are getting active or lounging around the house.
The brand boasts an excellent collection of bamboo clothing for men, women, and babies and has everything from high-quality loungewear, activewear, tops, briefs to socks.
As one of the best sustainable activewear brands, it's no surprise the designs are all simple and perfectly match a range of everyday lifestyles.
Their sustainable yoga pants are ideal for everything from heavy workouts to longing around the house.
For all of their products, BOODY uses EcoCert Certified bamboo that is organically grown without the use of fertilizers or pesticides.
This makes all the garments super soft, comfortable, and breathable.
The bamboo viscose fabric is also thermoregulating, which makes it ideal for all seasons.
BOODY strongly believes in giving back to the community by supporting various initiatives and actively engages in cloth donations to non-profit associations that help those in need.
Additionally, the company strives to create a positive impact on the environment by reducing waste and donating 1% of its online sales to associations that protect the environment.
Highlights
Specific clothing for different activities like yoga, hiking and running
Sustainable packaging process with zero use of plastics
Favorite Bamboo Clothing Item: Grace Bamboo Yoga Pants
BAM is one of the top bamboo clothing brands that actively works towards creating a positive impact.
This environmentally sustainable brand offers clothes that are high in style and performance.
If you are searching for sustainable yoga clothes, BAM has impressive choices to offer.
All of their bamboo yoga pants are moisture-wicking and specially designed for movement and maximum comfort.
Of course, they don't just make yoga clothes. BAM's activewear is suitable for a range of activities.
For instance, they have clothing that is designed for running, hiking, gym, training, and even walking.
You can also find fantastic bamboo jeans, bamboo shirts, tops, hoodies, and sustainable socks.
The fabric of BAM clothing is extremely kind to the skin and stays fresh for longer.
BAM is working to be impact positive by 2030 with zero landfill waste, zero pollution, and zero water wastage as its most important goals.
Highlights
Carbon neutral shipping process
Solar-powered warehouse
Favorite Bamboo Clothing Item: IBI High Stone Grey Knit
When it comes to sustainable shoe brands, Cariuma has an excellent reputation.
The brand encourages its consumers to make responsible choices by preferring quality over quantity.
You will find high-quality durable sneakers that you can wear every season that are lightweight, stylish, and ultra-comfortable.
The timeless designs of Cariuma shoes are intentional as they believe that fast fashion has a short attention span and focuses more on vintage-inspired future classics.
Whether you like printed, bright and neutral sneakers, you are sure to find your new favorite here.
All Cariuma shoes use only high-quality, responsibly sourced raw materials to ensure durability in every pair.
Although all of their shoes are ethically made, only the IBI line, which comes in both low and high tops, is made using bamboo.
The bamboo used in their IBI line is certified by the Forest Stewardship Council (FSC), OEKO-TEX, and the Organic Crop Improvement Association.
Other sustainable materials used in their shoes are organic cotton, rubber, sugarcane, and cork, as well as recycled PET for laces and labels to reduce the use of plastics.
Additionally, many of their shoes (currently 65% of their collection) are 100% vegan!
Buying shoes from Cariuma allows you to be a part of its reforestation program in Brazilian rainforests; whenever you purchase a pair of their sustainable shoees, they will plant a pair of trees.
Thought is one of the best bamboo clothing companies that perfectly blends contemporary designs and sustainability.
Since its inception in 1995, the brand has been inspiring people to make a positive change through their clothing choices.
As the brand name suggests, it creates effortless styles by putting in a lot of thought. The prints inspired by nature, galleries, and vintage archives make its apparel unique.
Thought encourages the concept of slow and circular fashion in order to maximise sustainability.
The sustainability loop involves turning crops into fabric, designing it into clothes, and eventually recycling it.
This is one of the many reasons that they are one of the best vegan clothing brands.
In their bamboo products, Thought uses EcoCert organic standard certified bamboo to make soft, breathable, and versatile clothing.
They have comfortable bamboo t-shirts, jackets, hoodies, socks, and more, including warm and cozy vegan winter coats.
Thought is also one of the best best organic cotton clothing brands.
No matter what time of year, you can also get beautiful organic cotton dresses here.
If you are looking for outdoor gifts for women, their stylish, moisture-wicking bamboo socks with fun designs are a great choice.
The team at Thought always looks for innovative solutions to reduce wastage.
For example, they upcycle leftover fabrics by turning them into new products like headbands and socks.
Thought also donate all the unworn production samples every season.
And speaking of seasons, Thought makes some of the cutest scarves – though most are not made from bamboo.
But these scarves make great sustainable Christmas gifts!
Highlights
Use of compostable and recyclable materials for packaging and shipping
One of the best sustainable underwear brands by women to inspire women
Favorite Bamboo Clothing Item: Logan Bra
Mary Young is one of the best bamboo brands for intimate apparel. Founded in 2014, the brand produces all its garments locally in Montreal, Canada.
The products range from bodysuits, briefs, robes, to underwear, and every garment is designed with all body types in mind.
With a range of timeless styles available, you'll easily find something that suits you and makes you feel and look your bests
Mary Young uses responsibly sourced rayon of bamboo fabric to create soft and stunning pieces.
Additionally, all of their products are free from harmful substances and have passed UV testing.
Due to this commitment to ethically made lingeries, it is one of the best sustainable underwear brands.
The brand is also determined to eliminate the use of single-use plastics, and they only use compostable and recyclable materials for packaging and shipping.
In order to inspire and empower women, Mary Young has started a movement called the self-love club.
Anyone is welcome to join this community that focuses on self-acceptance and share your stories.
The company donates proceeds from every sale to organizations that uplift others through opportunities and resources.
Highlights
Donates one dollar to plant a tree for every purchase
Favorite Bamboo Clothing Item: Lumi Crop Top
337 Brand makes effortless-style leisurewear for women that care about the planet and its people.
Established in New York, it boasts a stylish collection of bamboo clothing made in USA with earth-friendly garments are inspired by nature, comfort, and kindness.
For sustainability at its forefront, 337 Brand has embraced the concept of circular fashion where clothes are made and recycled to reduce wastage.
If you're searching for new recycled clothing brands to try out, you'll love 337 Brand.
They use biodegradable bamboo to create everyday essentials that are silky soft, breezy, and breathable.
The bamboo fabric clothing from 337 Brand such as t-shirt dresses, crop tops, skirts, and shorts stand the test of time.
You can also choose bundles to create your stylish looks and also get great discounts.
337 Brand support the one-tree planted initiative that focuses on global reforestation, and or every order, they donates one dollar to plant a tree and create a positive impact.
Highlights
Products are free of toxins, harsh chemicals and dyes
Moisture-wicking and durable weave fabric that won't pill
Favorite Bamboo Clothing Item: Men's Ultra-Soft Bamboo Hoodie
The clothing from Cozy Earth are the ideal examples of minimalist style and premium quality.
To create high quality and sustainable products, Cozy Earth uses premium 100% viscose from bamboo that provides superior softness.
This allows you to get ultra-soft bamboo joggers, pajamas, shorts, dresses, and socks that last awhile.
Cozy Earth clothes offer a flattering fit for every body type and look chic, and also feature temperature regulation properties.
In addition to comfy loungewear, Cozy Earth also features a fantastic collection of luxury bedding.
The bedding range has everything from comforters, bed sheets, pillowcases to blankets.
Although it seems a little hyperbolic when Cozy Earth describes the experience of using their bedding as sleeping on a cloud, it is an accurate description.
Even Oprah Winfrey has showered praises for Cozy Earth products, and described them as the "softest ever."
In terms of the durability of products, this is one of the best bamboo clothing manufacturers as they guarantee that the durable weave fabric won't pill for at least 10 years.
Encircled features stylish bamboo women's clothing that is crafted to last long, and brings together quality, ethics, comfort, and sustainability to make its iconic pieces.
The clothes are ethically and locally made without using any harmful substances.
The feature that I adore the most about Encircled clothing is its versatility.
This is best exemplified in Encircled's trademark chrysalis cardi that can be styled in 8 gorgeous and unique ways.
For example, you can use it to easily convert your comfortable bamboo workout clothes to workwear.
Alternatively, you may choose to pair it with accessories for a smart casual look.
Besides bamboo, Encircled also have clothes made from fabrics like modal and Tencel ™ lyocell.
Encircled is so committed to sustainability that it only uses eco-friendly products in the studio, this includes everything from reusable cutlery to bioplastics used in events.
Highlights
Textile recycling services available at showrooms
Favorite Bamboo Clothing Item: Bamboo Jogger
Cariloha promotes the idea that bamboo clothing is the most comfortable way to save the planet, and its luxuriously soft range of bedding, bath sets, and garments validates this point.
The bamboo fabric used by this brand is 3 degrees cooler and twice as soft as cotton.
Plus, it wicks moisture away and naturally repels odors and allergens making it perfect for the durable activewear Cariloha is known for.
Cariloha has everything from bamboo leggings, jackets, underwear, sleepwear to facemasks.
Those looking for cool gifts for outdoor lovers under $20, can check out the bamboo socks.
Its bamboo pillows are innovative and help you to get a better night's sleep, and it's also possible to buy the bundle with the entire bedding set at great discounts.
In 2020, Cariloha was recognized with the reputed Green Business Award for its eco-friendly products.
However, they continually work to improve, and are currently working towards attaining 100% carbon neutrality and to use recyclable packaging for all products.
Highlights
Organic certified bamboo that doesn't require irrigation or pesticides
Use of lotus as natural water filtration system at certain factories
Favorite Bamboo Clothing Item: Bamboo Fleece Pullover Hoody
Free Fly is a family-owned brand created for the love of outdoor adventures that offers certified organic bamboo clothing to best suit the freedom lifestyle.
The clothes reflect comfort and simplicity, which the brand believes is a luxury while outdoors.
These apparels are the ideal companion to take along on your adventurous trips.
In fact, the clothes from Free Fly offer natural UPF protection, so you don't need to worry about being underneath the sun for long.
You can find products with UPF 20 to UPF 50+, which you can select based on the level of exposure.
Free Fly also has special categories of clothing to choose from for a range of activities like fishing, travel, water adventures, and more.
If you are looking for gifts for outdoorsy people under $50, you will get great tees, tanks, and shorts here.
The quick-dry breathability of the fabric makes it an exceptional choice for water adventures.
Additionally, the clothes feature other properties like odor resistance, moisture-wicking, and renewability, and the fabric is super soft and lightweight.
Free Fly works towards sustainability by eliminating the use of pesticides and fertilizers and supports non-profit organizations that work towards cleaning waterways.
---
Buying Guide: What to look out for when buying bamboo clothing
Look for certifications
Before buying bamboo clothing, check its label to know if it meets the sustainability standards.
The common certifications for Bamboo clothing brands are EcoCert, Oeko-Tex Standard, and B corp.
These evaluate whether the brand follows organic practices and if the raw materials used are grown organically.
Check the composition and type of fibers used
It is important to check whether the bamboo clothing brands are actually giving you sustainable garments.
You must avoid clothes that have more cotton, silk, or other raw material than bamboo – this does not apply to organic materials.
To find this out, you can check for the percentage of different fibers used for the fabric.
For example, if the composition of the fiber is 60% silk and 40% bamboo, it won't meet your sustainability goals.
You must look for fabric names like bamboo viscose, rayon bamboo, modal, or lyocell.
Learn more about the manufacturing process
While buying bamboo clothing, you must ensure that the complete product is sustainable.
For this, you can check how the manufacturing is done by bamboo clothing brands.
For example, you can check if the dyes used for design are free from harsh chemicals. You can also enquire if they follow sustainable printing techniques.
---
Short FAQ About Bamboo Clothing Brands
What are the disadvantages of bamboo fabric?
While bamboo clothing is generally very sustainable, there are a few downsides to consider. In terms of sustainability, consider where the bamboo is being grown as bamboo grown outside of its natural environment can become extremely invasive. On a more personal level, some bamboo fabrics can wrinkle more easily so might not be ideal for formal wear. Bamboo is also more likely to shrink than other fabrics, so you might need to buy a size up.
Is bamboo clothing durable?
Yes, absolutely! Bamboo is one of the most durable materials for clothing, and bamboo clothing is less susceptible to quick wear and tear.
Why is bamboo clothing so sustainable?
Bamboo is an incredible material for clothing as it has many properties that make it super eco-friendly. For one, bamboo uses significantly less water to grow than any other plant and does not need pesticides to grow. It is also naturally antibacterial, hypoallergenic, and moisture-wicking, which is not only great for comfort but can actually help prolong the life of your clothes.
---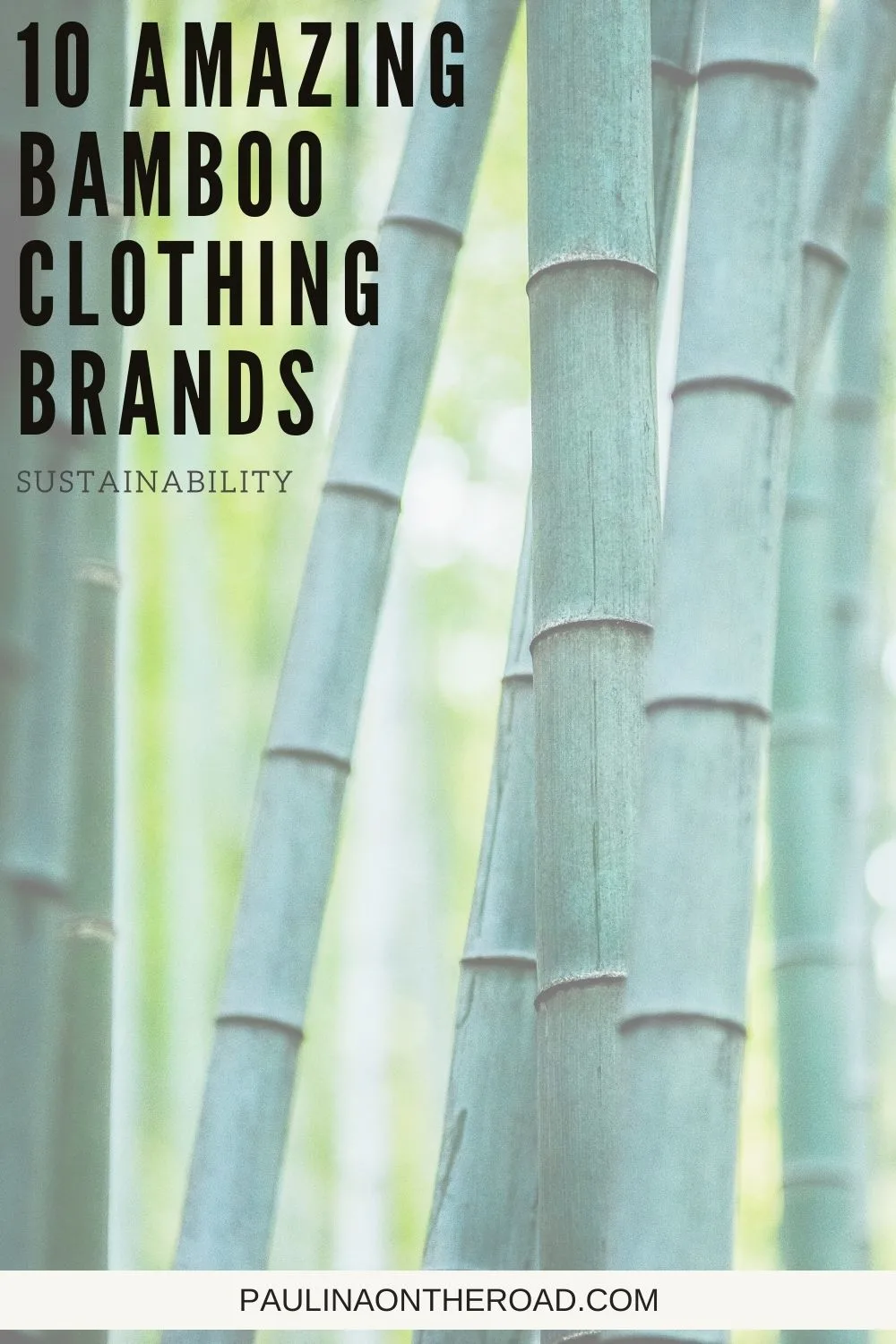 ---
Hola! I am Paulina, a fervent travelette who crossed the Atlantic Ocean by Boat HitchHiking. On my blog, you'll find all the tips to make the most of your holiday. Get ready to enjoy outdoor and sustainable travel like hiking, cycling or sailing. Let's hit the road together!