Guide to the top sustainable sock brands for all the best bamboo socks, vegan socks, sustainable fuzzy socks and more
Adopting an eco-friendly everyday and travel lifestyle is the best way to pay gratitude to our beautiful planet.
If you are ready to make responsible choices, sustainable socks are a must-have in your wardrobe.
These everyday essentials allow you to experience comfort in every step while feeling great about the planet.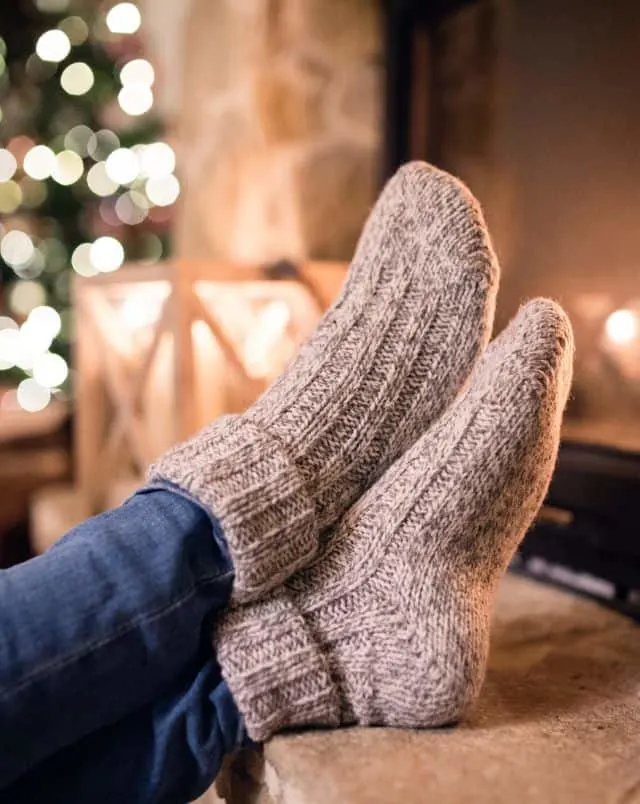 The reason I love wearing eco-friendly socks daily is that it doesn't compromise on style or quality.
Let's take a look at the best brands for sustainable socks so you can live and travel sustainably and keep your feet happy while doing it!
This blog is supported by you, dear reader. If you purchase through a link, I earn a small commission. As an Amazon Affiliate, I earn from qualifying purchases.
Overview: Top Sustainable Sock Brands
Conscious Step aims to create a sustainable and equitable world for everyone with its products.
This brand believes in giving back to the community and supports various non-profit organizations.
They offer ethical socks made with organic cotton that are free from pesticides and insecticides.
These fair trade socks are available in various fun designs like SpongeBob, space exploration, and more.
But the best thing about Conscious Step is that you can shop according to the cause that you want to support.
You can choose from providing free meals, women empowerment, planting trees, and many more.
Conscious Step is one of the best sustainable sock brands for cute and colorful kids' socks.
You can even get matching pairs for the whole family or buy a gift box.
The Conscious Step subscription option allows you to get one pair of sustainable socks at a reduced price every month.
Thought sources planet-friendly products for its exceptional range of clothing and accessories.
Started in 1995, this UK brand believes in spreading joy by encouraging a thoughtful lifestyle.
At Thought, you'll find an impressive collection of eco-friendly socks to keep your feet happy.
As one of the best bamboo and hemp clothing brands, it's no surprise that their socks are made from sustainable fabrics like organic cotton, bamboo, hemp, and seaweed.
All the socks have natural anti-bacterial and anti-fungal properties to protect your feet as well as being super soft and breathable.
Plus they come in a range of fun patterns of nature, animals, sports, hobbies, and more.
These designs are available in men, women and kids' sizes, so the whole family can get matching eco socks.
For formal occasions, the plain bamboo socks are an excellent choice.
Thought even has a special range of socks for people with diabetes that are designed to increase circulation and to help in managing foot, ankle, and leg swelling.
These socks also work like magic to alleviate abrasions, drying, and cracking.
Highlights
Uses fairtrade and GOTS-certified organic cotton
Takes action against child labor by teaming with NGO Save
ThokkThokk is a European eco-fashion label where minimalism and creativity walk hand in hand.
To meet its sustainability goals, ThokkThokk uses durable and environmentally-friendly materials, and is always striving to find new innovative ways of making products.
As one of the best vegan clothing brands, they offer an amazing range of PETA-approved vegan socks made with organic cotton.
Produced in fair trade factories, ThokkThokk socks are great for inclusion in your everyday wardrobe.
For cold days, you can also opt for extra soft and thick terry socks with multi-layer technology.
These are available in solid colors and fancy designs to match your mood on outdoor days.
Allbirds honors mother earth and natural materials with its range of footwear and accessories.
This brand works with the world's leading ethical wool brands like ZQ for making its products.
All the socks from Allbirds are made in ethical factories using sustainable materials like merino wool and eucalyptus fiber.
These soft and breathable ethical wool socks ensure ultimate comfort by wicking moisture and keeping the feet feeling cozy and fresh by minimizing odor.
The simple designs of Allbirds socks make them perfect for wearing at home or on the go.
Whether you prefer no-show socks, ankle socks, or cushioned socks, Allbirds has got them all, including quarters and crew socks with no-slip soles that are perfect for your adventurous days.
You must also check this brand for durable and sustainable running shoes and everyday trainers.
Highlights
Donates 1% of sales to initiatives to protect the environment
Certified B corporation brand

Organic Basics makes comfortable everyday essentials while keeping sustainability and affordability in mind.
All of the earth-friendly products from Organic Basics are made from recycled materials that save water and energy.
At Organic Basics, you'll find socks made from eco materials like recycled wool, nylon, denim, and cotton.
They also offer a collection of vegan socks made from GOTS-approved organic cotton.
These ethically made socks are produced in Europe and offer a seamless feel and are designed to last for years.
Offered in a range of in stunning styles, you can get everything from rib socks, tennis socks, and ankle socks to mid-rise socks here.
You will also find some great options here if you are looking for strong and durable sheer socks.
Organic Basics is also popular for its sustainable underwear that redefines comfort.
Paper Project presents sustainable socks made with paper yarn inspired by the Japanese way.
The unique capabilities and functionality of this incredible fabric make it perfect for your feet.
The socks have a natural anti-odor ability and even stop the growth of sweat odor-causing bacteria.
Additionally, this quick drying and moisture-wicking ability eliminate any discomfort.
Superwash wool, organic cotton, and hemp are some other sustainable materials used for Paper Project socks.
The anti-pilling and shrink-resistance ability of the socks ensure that these sustainable socks stay with you for years.
The socks from Paper Project are available in multiple colors and you can buy them in bundles for everyday use.
The heather camp socks are the best eco-friendly socks for outdoor activities and cold weather.
You can wear these thick socks under your warm, sustainable boots and feel warm and comfortable all day.
8000 Kicks is regarded as one of the most sustainable shoe brands in the world.
The brand is incredibly popular for its waterproof hemp shoes and accessories (such as their sustainable wallets).
But 8000 Kicks also offers extremely durable and breathable hemp socks that are 100% vegan.
The natural fiber socks protect your feet as it is antibacterial and antifungal, and also has a natural temperature-regulating feature which makes them great for every season.
Available in various sizes and styles, these hemp socks are soft and durable.
They are ideal for an active lifestyle as they have an ultra-comfortable design with an anti-slip heel.
8000 Kicks features the world's first stripe hemp socks that will look great with all your outfits.
Highlights
Uses 100% climate-positive and renewable wool
Keeps old socks out of landfill by transforming them into new products
Smartwool is a brand you can rely on for the best high-quality sustainable wool socks that last.
Their impressive range of socks for outdoor activities are made using ZQ-certified Merino wool.
You can find socks for different activities like hiking, skiing, and more; no matter your sock-based need, Smartwool has you covered.
The functional socks have mesh zones for breathability and offer enhanced comfort, and are visually pleasing with vibrant colors and attractive patterns.
Smartwool's range of athletic and sustainable running socks is also a class apart as you can choose the cushioning and height of the socks according to your needs.
The socks come with Smartwool's Go Far. Feel Good.™ Guarantee that allows you to exchange it within 2 years if unsatisfied.
Highlights
Gives 1% of sales to the preservation of the natural environment
Ironclad guarantee on all the products
Patagonia aims to create a positive change in the planet by making sustainable outdoor products.
To do this, Patagonia reduces wastage and carbon emissions by using renewable and recycled raw materials.
This sustainable activewear brand is an ideal choice if you are looking for daily use or performance socks.
Their sustainable men's socks made from recycled polyester and hemp have odor control and fast-drying features.
But Patagonia's tough yet cozy and easygoing socks are equally suitable for women!
The sustainably made socks from Patagonia will keep your feet comfortable while you are hiking or even going to work.
This brand also uses Responsible Wool Standard (RWS) certified merino wool for its cushioned socks.
Highlights
Super soft socks made with self-replenishing bamboo
Gives back to the community with Cariloha Cares Initiative

Cariloha makes natural and sustainable luxury a reality with its eco-conscious products.
In an effort to help keep the earth cleaner and greener, Cariloha uses fabric made from self-replenishing bamboo.
This means the brand's comfortable and durable apparel is soft on both you and the planet.
Cariloha presents a wide variety of sustainable socks in creative designs that are skin-friendly and keep allergens and irritation at bay.
You can select from athletic socks, ankle socks, crew socks, trouser socks, and much more.
Additionally, the sustainable fuzzy socks with no-slip silicone foot beads are great for your casual days.
All Cariloha socks have odor-resistant and moisture-wicking features to keep your feet fresh all day.
BAM (aka Bamboo Clothing) was started in 2006 with sustainability as its core mission, and is driven by the passion to make a positive impact on the planet.
That's why BAM makes super soft socks with bamboo which is one of the most sustainable resources.
These comfortable socks with reinforced toes and heels are available in various styles.
From classics, actives, trainers, and roll tops, to walking and tech running socks, the choices are incredible.
These eco-friendly socks are designed to make you go the distance in style and comfort.
BAM also has traditional cable knit pattern socks that aid in improved foot health.
In addition to comfy socks, this brand's collection of sustainable yoga clothes and activewear is also noteworthy.
You'll find a range of sustainable yoga pants and tops made from bamboo.
Girlfriend Collective stands out among the best ethical sock brands with its incredible collection.
All Girlfriend Collective products are made in SA8000-certified factories that ensure safe working conditions and fair wages for its employees.
They make high-quality sustainable socks from recycled materials like post-consumer water bottles.
Their products are eco-conscious, and one pair of its crew socks keeps 4.8 bottles away from landfills and oceans.
Additionally, all Girlfriend Collective socks and other products are recyclable after use with the brand's ReGirlfriend program.
The sustainably made socks feature a compressive stitch that promotes circulation and reduces swelling.
These everyday staples will let you feel ultra-comfortable by reducing friction at pressure points.
Girlfriend Collective's sock collection includes quarter crew socks, crew socks, ankle socks, and no-show socks.
You can create bundles by adding 5 of your favorite styles for a discounted price.
Established in 1991, People Tree is one of the best organic cotton clothing brands and makes fashion products that respect people and the planet.
The mission of People Tree has always been to meet the highest ethical and environmental standards at every step.
This sustainable fair trade fashion brand uses a mix of traditional skills and innovative technologies to make all of its products, including eco socks.
The brand features a stunning collection of breathable socks made from GOTS-certified organic cotton that is hypoallergenic and the safest option if you have sensitive skin.
Many of People Tree's luxuriously soft socks are available in plain designs and playful prints, but they also offer stylish plain colors, too.
The socks gift box is a very thoughtful gift for anyone you know in need of sustainable socks – or even for yourself!
People Tree is also one of the best brands for organic cotton dresses and comfortable nightwear.
Highlights
Manufacturing with computer knitting to reduce fabric wastage
Uses 100% organically grown bamboo
BOODY is one of the best bamboo clothing brands that bring simplicity and sustainability together.
All of their products are made using organically grown bamboo without pesticides or fertilizers.
So you can rest assured that all BOODY products are soft and won't harm your skin – including their comfy eco-friendly socks!
Luckily, BOODY features environmentally friendly socks in 10 signature styles for your everyday wardrobe.
The elegant colors available like black, white, beige, gray, and dusty pink allow your socks to blend with any outfit.
The bamboo viscose socks from BOODY let you slip into comfort with their breathability and moisture-wicking ability while keeping the feet warm, cozy, and dry.
These socks are also hypoallergenic and odor-resistant to make your feet feel fresh even after a long day.
BOODY's collection includes bed socks, ankle socks, sports socks, invisible socks, and more.
The low-cut cushioned socks are great for the days when you have to stand or walk for longer and ensures all-day comfort by reducing friction at pressure points.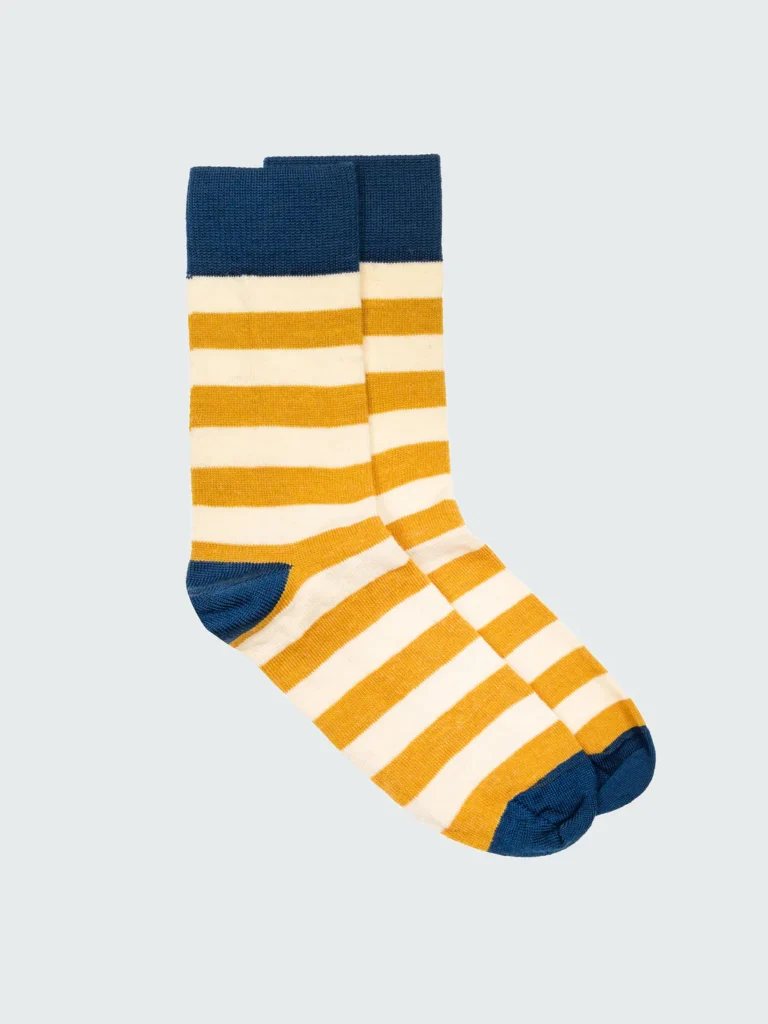 Highlights
Recyclable and marine safe packaging

Finisterre came into existence in 2003 to make functional and innovative gear for surfers.
Since then, the brand has kept sustainability as its priority from the beginning and now offers a variety of outdoor accessories.
All of Finisterre's socks are made in Britain with organic cotton and locally-sourced British wool.
At Finisterre, you can find the best sustainable socks for your hiking trips, or for everyday wear.
For hiking, the thick wool socks have cushioned soles and keep your feet warm even in extreme cold.
The range of styles and designs is diverse with striped, plain, patterned, and ribbed socks.
Alternatively, for everyday use, you can opt for soft organic socks made with cotton.
This brand is also a fantastic choice for interesting outdoor gifts for women, including everything from wetsuits, beanies and water bottles to changing robes.
---
What to look out for when buying Sustainable Socks
Check the Fabric
While buying sustainable socks, make sure to check if the fabric is sourced responsibly.
Natural, recyclable, and organic fabrics are a brilliant choice as it leads to less waste generation.
Check the initiatives and mission of the brand
A brand's mission speaks a lot about what it does to save the planet and the people.
You can look for ethical brands that support fair trade and take part in giving back to the community.
---
Short FAQ about Sustainable Socks
What is the most sustainable material for socks?
Bamboo is typically considered one of the most sustainable materials for socks. However, other popular equally eco-friendly materials include hemp, organic cotton, ethically sourced or recycled wool. Most recycled or all-natural materials are also great sustainable options.
Are socks sustainable?
They can be! Socks, like many articles of clothing are not always made sustainably. but luckily more and more brands and making eco-friendly socks that use durable and all-natural sustainable materials.
Are cotton socks biodegradable?
If they are made with all-natural materials, then your socks should be biodegradable with time.
---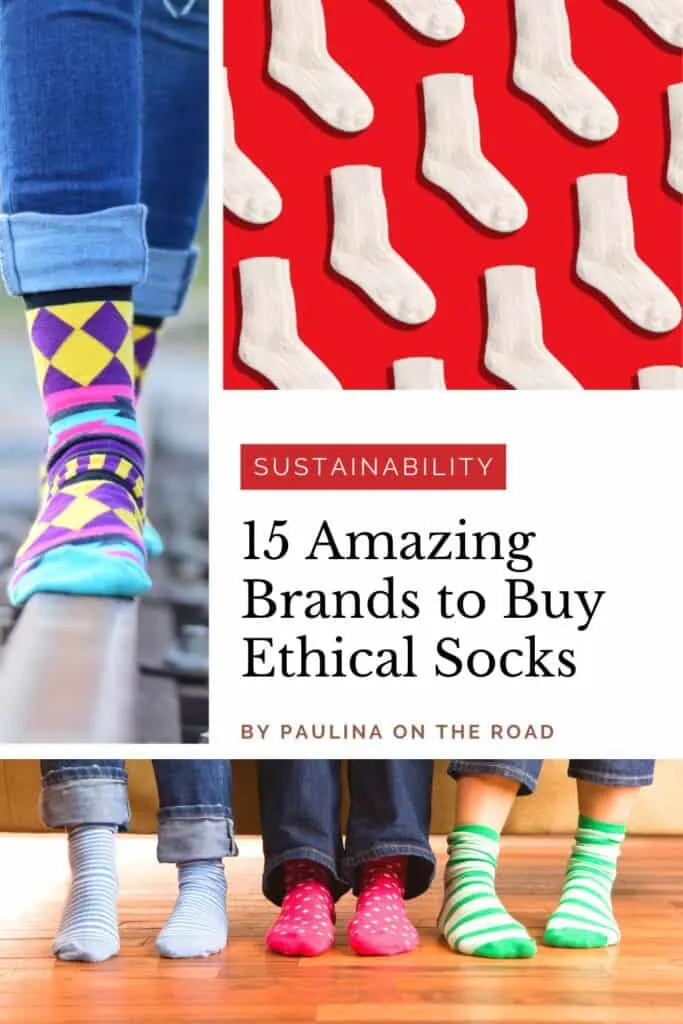 ---
Hola! I am Paulina, a fervent travelette who crossed the Atlantic Ocean by Boat HitchHiking. On my blog, you'll find all the tips to make the most of your holiday. Get ready to enjoy outdoor and sustainable travel like hiking, cycling or sailing. Let's hit the road together!