Guide to the best brands for buying ethically made underwear, including period underwear and sexy lingerie options
Underwear is a staple in everyone's wardrobe, but do you know yours might be doing more harm than good to you and your planet?
Well, we need to change our underwear every six to nine months, so many of us often look for quantity over quality when buying a new one.
Lycra, lace, nylon, and polyester are some of the synthetic materials the underwear is manufactured from.
Depending on how sensitive you are to a particular fabric; these synthetic materials are not great for the delicate area.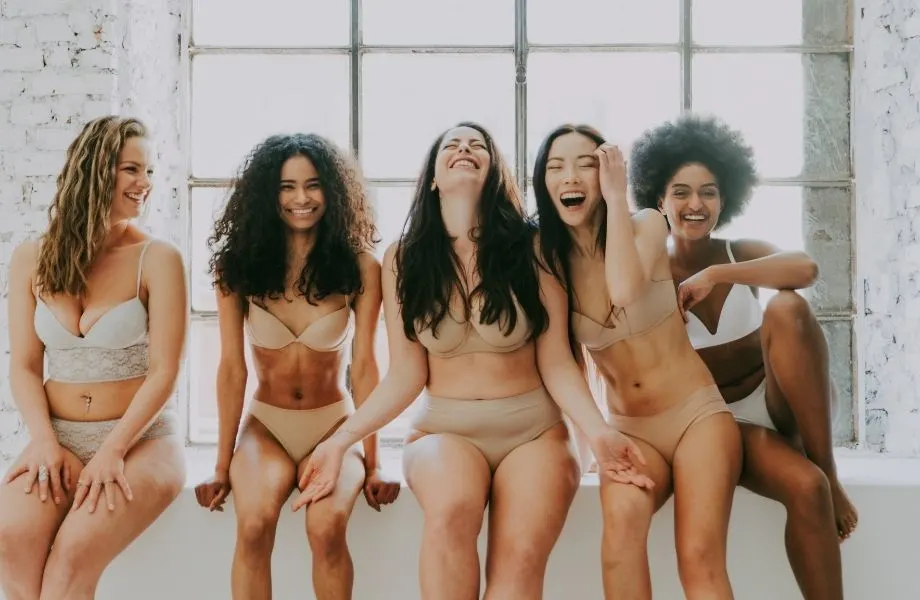 Also, discarded underwear land up in landfills polluting the environment.
However, if you want to minimize the impact on Planet Earth, then switch to eco-friendly and sustainable underwear as it is not only great for your delicate areas but also returns to the earth after use.
I have been using sustainable lingerie myself and believe me it is super comfortable and makes me feel confident and effortlessly sexy and reflects my values for ethics and sustainability.
With sustainable fashion and recycled clothing brands on the rise, you can easily find ethical lingerie.
However, to make your process of buying ethically made lingerie, I have put together a list of the best sustainable underwear brands.
These are all offering people eco-friendly lingerie and undies that are good for the planet and your privates.
"Paulina on the Road" is supported by you, dear reader. As you buy through my links, I earn a small commission. As an Amazon Affiliate, I earn from qualifying purchases. Thank you for your support
Overview: The Top 5 Sustainable Underwear Brands
ThokkThokk is a German sustainable fashion brand to creates an alternative for fast fashion and makes sustainable clothing accessible to all.
As one of the best vegan clothing brands, they are PETA-approved vegan certified and use organic cotton. recycled materials like elastane (POICA), and polyamide (Q-NOVA) in their ethically made underwear.
The garments are produced in India where organic cotton is grown.
Additionally, ThokkThokk works with several manufacturers that are GOTS and Fairtrade certified and are active against child labor while strengthening the rights of women.
I like the brand for colorful and fun patterns, super soft and comfortable organic women's underwear, and easy to wear everyday pieces.
ThokkThokk sells some of the best organic cotton underwear, and all for an affordable price!
In colder weather, you can wear one of their sustainable winter coats, but keep feeling cute and sexy underneath!
If you are looking for cool gifts for outdoorsy people under $50, then head to ThokkThokk and check out their options.
BOODY offers the most comfortable and sustainable clothing essentials.
The sustainable underwear brand keeps things simple with its basic underwear collection.
Their eco underwear is uniquely made with viscose from sustainably grown bamboo that is good for the skin and great for the planet.
Organic underwear is comfortable to become a staple in your wardrobe.
I love the breathability BOODY's underwear offer, and it keeps you cool in the summer and warm in the winter.
BOODY is one of the best sustainable lingerie brands that use cruelty-free production methods that do not harm animals.
Moreover, they have innovative ways to upcycle, recycle, and reduce waste.
This ethical clothing brand also offers socks, activewear, children's clothing, and some of the best sustainable yoga clothes.
I could happily love in their sustainable yoga pants – they're THAT comfy!
You can find cool gifts for outdoor lovers under $20 made from bamboo here as well.
Organic Basics specializes in creating minimalist eco-friendly essentials for women and men including underwear, activewear, tops, and accessories.
This Denmark-based best sustainable underwear brand focuses on sustainable materials such as regenerative organic cotton and Tencel.
It's no surprise this is one of the best organic cotton clothing brands!
From bras to briefs, Organic Basic offers women's and men's organic underwear in multi-packs.
You can buy their organic cotton panties and most-loved sets making it an easy switch to a sustainable underwear drawer.
Additionally, the brand uses SilverTech where they cover the polymer fiber in silver and then blend it with organic cotton to manufacture soft, odor-controlling, and heat-regulating underwear.
Cosabella is an Italian luxury lingerie brand established in 1983.
Since its inception, the brand has used techniques that blend traditional Italian artisanship with fashion-forward innovation to create sustainable underwear that evokes confidence and individuality in every woman.
All the eco-friendly lingerie, thongs, boyshorts, and babydolls are handmade in family-run workshops by local artisans using Renaissance-era techniques.
The material used to create exceptional quality feminine timeless pieces includes lace, mesh, and satin-like sustainable fabrics.
What I like about this sustainable brand is how cute their selections are, proving that sustainability doesn't have to equal boring.
Due to the natural dyes they use to create about 2000 styles in more than 100 colors, Cosabella has an incredible range of options.
Additionally, Cosabella's extensive collection of ethical lingerie includes maternity wear so you can feel cute and sexy no matter what.
If you are looking for sexy sustainable Christmas gifts or Valentine's ideas for a partner, these are a great choice!
I was excited when Girlfriend Collective, which is one of my favorite sustainable activewear brands, expanded its product range to include underwear.
The collection features a range of seamless briefs and thongs in minimal shades and is made with recycled plastic bottles (RPET) and low-impact non-toxic dyes.
The brand's clothing is made with certified fair labor and the Social Accountability Standard International SA8000. They are also OEKO-TEX Standard 100 certified.
What I love best about Girlfriend Collective is that all of their designs are cute, practical and size-inclusive offering recycled underwear options running from XXS to 6XL.
Additionally, Girlfriend Collective not only makes clothes from recycled material but takes the old ones back and turns them into new pieces making them one of the best recycled clothing brands.
One of leading Berlin's best vegan clothing companies, LOVECO is your one-stop destination for ethical and sustainable fashion.
The brand is 100% vegan with all products made from certified GOTS (Global Organic Textile Standard) and Fair Trade.
LOVECO mostly sells other popular ethical brands, collecting all your favorites in one place.
They sell only ethical underwear produced with sustainable materials like organic cotton, Modal (cellulose), Lyocell, recycled nylon, and Tencel materials.
Eco, fair, and vegan are the three pillars of the brand and sell fashion made from durable, ecological, and easy to care materials.
What I love about LOVECO is that they do not use be sustainable just as a marketing slogan but take it seriously in all areas of work.
All of their products are shipped with 100% plastic-free packaging.
The company has no private investors and uses electricity from the eco-energy provider.
Of course, sustainable underwear isn't all you'll find at LOVECO.
They also offer vegan winter coats, sustainable jewelry, shoes, and accessories like vegan backpacks for both men and women from various fashion brands under one roof.
Summersalt, one of the best sustainable swimwear brands, rolled out their intimate collection, Feel Free.
The collection includes sustainable everyday essentials made from recycled nylon from plastic waste bottles (PET).
Each style of underwear at Summersalt is created using micro-mesh striped nylon fabric that is breathable, lightweight, and wrinkle-resistant.
The pieces are designed to go places with you and have a super soft and stretchy elastic band for comfortable wear.
Summersalt is one of the best ethical underwear brands that offer quality at the best price.
Additionally, the brand is committed to various strategic initiatives for diversity and spreads kindness.
If you have been on the lookout for organic undies at an affordable price, then Knickey is one of the best ethical lingerie brands to buy.
They have styles and sizes that fit every size and shape.
Their certified organic cotton sustainable underwear is free from toxic chemicals so you and your sensitive part can breathe easy all day long.
Knickey uses only OEKO-TEX certified dyes in manufacturing which means zero toxic chemicals in the production.
What I love about this certified organic cotton underwear brand is that they take back your underwear and recycle them into new materials. Thus, reducing the carbon footprint!
Reliable and comfortable period underwear can improve your period experience.
There are many styles that are chic and effective, and one is Thinx.
It is a period-proof underwear brand that brings some technical enhancements and designer touches to its sustainable underwear.
Thinx makes strong and durable lace underwear that can hold up to 5 tampons' worth, yet they look and feel like regular underwear.
Additionally, Thinx works with programs like the GiveBack program, which empowers women and sustains the planet while breaking taboos about menstruation and reproductive health.
TomboyX makes sustainable underwear and apparel for all body types, no matter size or gender.
This popular sustainable underwear brand is featured in hundreds of publications and celebrated for its inclusive approach to lingerie
With inclusivity and practicality at their forefront, the brand creates underwear that lets everyone feel comfortable and confident in their skin.
With a focus on sustainability, most of the TomboyX cotton underwear is made using OEKO-TEX 100 certified materials free from harmful chemicals.
WAMA Underwear is a fashion brand that makes natural and comfortable organic hemp underwear for both men and women.
Their underwear is naturally soft, breathable, antibacterial, and renewable, making them one of the best hemp clothing brands.
This sustainable underwear brand is dedicated to responsibly sourcing materials and socially engaged garments to look amazing with a good conscience.
Moreover, they care for every detail from the stitches, pattern pieces, colors, and overall design.
I love the fact that the WAMA Underwear brand partners with factories that offer their employees fair wages and quality working environments.
If you are looking for super absorbent sustainable underwear, then Knix is an excellent option.
Knix wants to change the way we think about underwear, which is why they create comfy and cute underwear for periods and incontinence so you never need to worry or feel self-conscious.
This woman-founded brand prioritizes transparency, women empowerment, and reduces environmental degradation.
Knix works toward more sustainable practices throughout their production, transportation, and consumption as well as across their supply chains.
For ultimate comfort and protection on your period, Knix offers leak-proof underwear, sports bras, shapewear, and loungewear.
Uye Surana is a sustainable underwear brand that delicately designs its underwear with artistic and modern appeal.
One of the best aspects is that all the pieces are handmade in small batches and often limited edition, so the styles are unique.
What I love about the brand is that the sustainable underwear line is size-inclusive, from XS up to 3XL in size.
Uye Surana has partnered with a small family-owned factory in Colombia for the production of their line.
This sustainable company uses 100% recycled boxes and tissue paper to ship its products so you never have to worry about waste.
PACT makes the best organic underwear, and you can feel comfortable in your skin with its timeless designs.
To reduce their environmental impact, the brand uses GOTS certified organic cotton and is Fair Trade Factory Certified.
You won't be bored with their selections, as they offer a wide range of designs and colors, and some of the best organic clothing made in the USA.
You can feel attractive in and out of clothes with their stylish organic cotton dresses, t-shirts, and more.
PACT even offers a wide range of maternity clothing options.
If you are on a budget and looking for everyday use cotton underwear for the entire family from a brand that puts people and the planet first, then PACT is the place to buy.
They sell sustainable underwear and clothing for women and men, as well as eco-friendly options for babies.
PACT is one of the best affordable eco-friendly clothing brands and aims to become the world's first guilt-free fashion brand.
Mary Young is a sustainable underwear brand that minimizes textile waste by using low waste cutting techniques.
This Toronto-based company champions sustainability and body positivity.
They create their underwear from organic bamboo and is OEKO-TEX certified to reduce carbon footprint, which is why it's one of the top bamboo clothing brands.
The fabric is sustainably produced and is free from any toxic substances.
Mary Young also puts in a great deal of thought when it comes to packaging their intimates, and each panty is wrapped in compostable tissue and shipped in 100% recycled packing.
In addition to this, all the garments are produced in a factory in Montreal, Canada, where equal wages and conditions are being met.
---
Buying Guide: What to look out for when buying Sustainable Underwear
Opt for sustainably sourced fabric
Looking for what materials your underwear is made from is important to make a more sustainable purchase.
That means you should opt for certified organic cotton, sustainably sourced viscose such as Tencel or Lyocell, etc.
Avoid virgin polyester
Most of the underwear contains synthetic materials, so it is best to avoid virgin nylon and polyester to reduce your environmental impact.
Look for a brand that uses recycled materials to create underwear.
Look out for harmful chemicals
Underwear is an intimate garment, so it is particularly important that it is free from harmful chemicals.
Look for OEKO-TEX certified products and naturally dyed materials.
Zero waste
The fast-fashion manufacturing process wastes a lot of textiles that end up in landfills.
This is why zero waste fashion is so important as it means the brand either doesn't produce any waste or that it uses the waste to create more products (called circular fashion).
Sustainable underwear brands use leftover material, as well as repurposed deadstock to manufacture the products reducing waste.
---
Short FAQ about Sustainable Underwear
---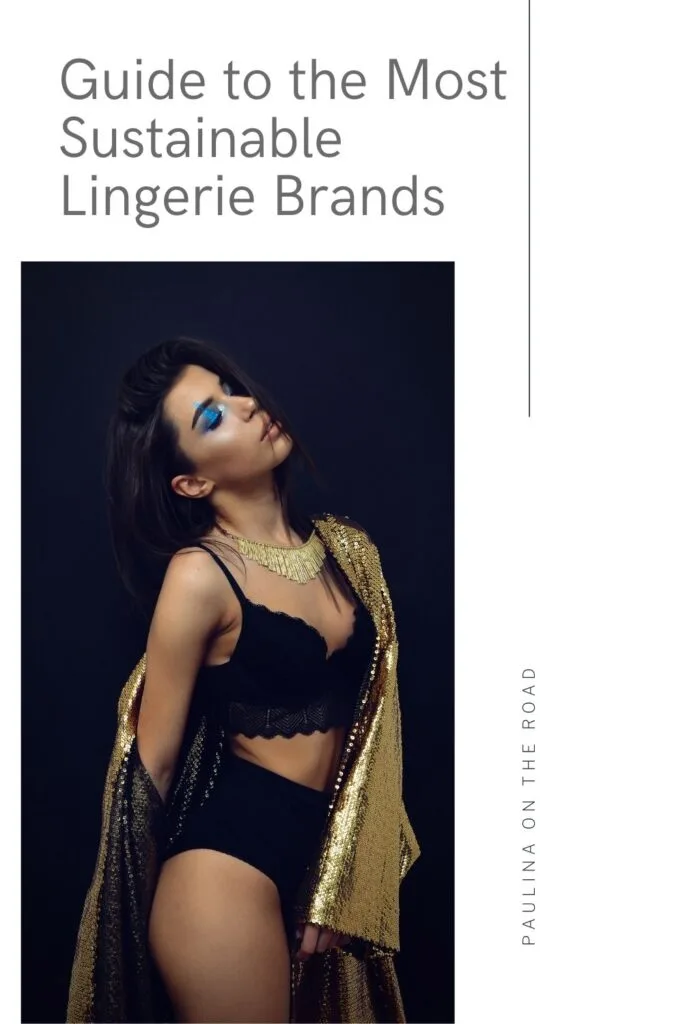 ---