Travel Resources and Discounts
Are you decided to go on a trip but you don't know where to start planning? No worries, that's why I decided to gather all my favorite tools on this page.
After many years of travel, I have tested out quite a few travel companies. Some have been amazing, others have been a nightmare. In order to avoid dreadful situations, I listed below my favorite tools and resources that I use to plan all my travels.
All of the here listed brands have been test first-hand. I am convinced that they make travel planning easier and more affordable.
Disclosure: Please note that some of the links below are affiliate links. At no additional cost to you, I may earn a commission if you make a purchase. I use all the companies listed here and recommend them because they made travel easier and helped me to save loads of money.
If you are planning your trip and would like to support my website, using these links is one way to do that. Thanks a million in advance!
If you have any questions about the listed companies, just write me!
Free Resources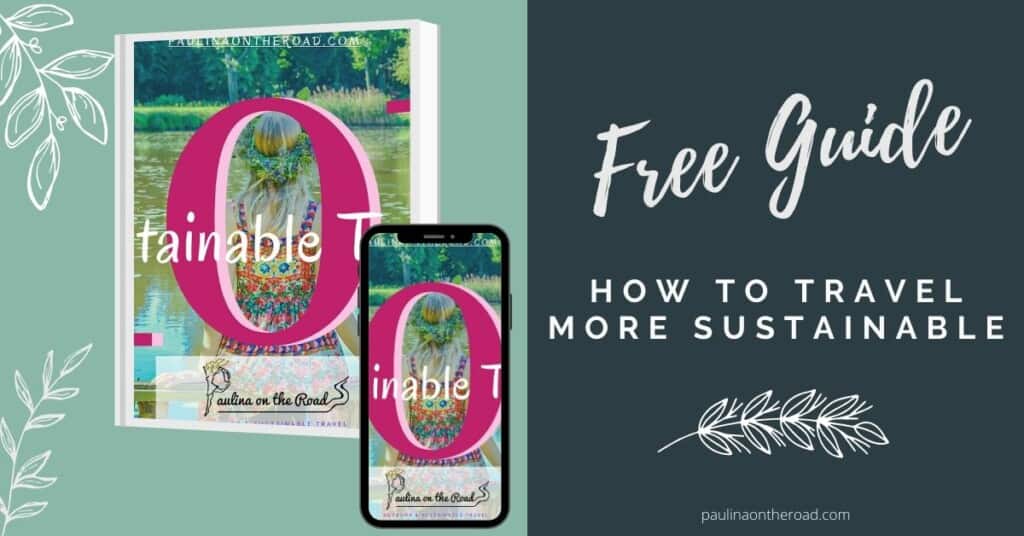 Learn how to travel more eco-friendly. Even small steps make a difference and the best ones are listed in my "Sustainable Travel 101" eBook
The best way to find sustainable travel gear. Get the easy access to eco-friendly brands and companies in travel.
Travel Discounts & Coupons
Who doesn't like to save a little money when planning a trip?
That's why I teamed up with some of the best travel brands in order to create discounts codes. They'll help you to save tons of money!
As a thank you for checking out my website, I'd like to offer you these amazing coupons.
If you love to connect with the local community, booking an AirBnB is the best way to go!
The platform connects home owners with travelers.
A great way to stay in amazing, non-touristy places.
HeyMondo offers 24/7 worldwide assistance for travelers.
No out-of-pocket expenses.
The best is their app with a 24/7 online doctor chat and free assistance calls.
Clickstay adverts for thousands of holiday properties in destinations worldwide.
Whether you are looking for villas in Spain, cottages in France, or apartments in Italy, they have a lot!
First stay only
No code needed
Code: "PaulinaOnTheRoad"
Olloclip offers lenses that you only need to clip on your device to convert it into a professional camera. It's the world's most-awarded mobile lens!
Choose among "ultra-wide", "fisheye", "macro" lenses or the kit. The clips work with almost every mobile device.
Who else loves road trips? As I don't own a car, I prefer to rent one if I can't make it to my destination by public transportation.
Don't you think that renting a car occasionally is another way of sustainable travel? Instead of owning one?
Sundried sells eco-friendly sports and activewear. Indeed, their workout clothes are made with the only biodegradable polyamide yarn on the planet.
Clothing made from this fabric will take only 3 years to be eliminated from the planet.
I love the stylish, ethically made socks of Conscious Step. But the best part is: For every pair of socks purchased, a donation goes directly to a non-profit.
Shop by the cause you want to support: protect wildlife, children's education…
Code: "ONTHEROAD10″
No code needed
Code: "PAULINA"
Code: "MYFIRSTSTEP"
Flights
When looking for flight deals, Skyscanner is where I head first. They include almost every airline in the world, even island flights in Cape Verde.
My favorite part is to leave the destination slot empty and see that is the current cheapest destination
If I want to compare flight deals, I head over to Kayak. Indeed, I often managed to find a schedules that fits better or a slightly better price.
I also love Kayak for comparing car hire companies.
eDreams is my go-to-site when I want to book package holidays or find great flight+hotel deals.
Did you know that you can save tons of money by booking accommodation and flight together? eDreams gives you the best deals.
Accommodation
I admit that I am a HUGE fan of Booking.com Why? First, their numerous filters help you to find the best accommodation.
Second, they give away amazing loyalty bonuses.
Their customer service was fabulous when I had problems with a cancelled stay!
If you are looking for the best hotel deals, TripAdvisor is your go-to-site.
They compare hotel prices of other platforms and only propose to you the best prices.
I also love the abundance of reviews for every hotel!
If you are traveling on a budget and you don't want to drain your budget on accommodation, you'll love Hostelworld.
Hostelworld features only the best hostels around the globe. Oftey you can only find them on this site and nowhere else!
I discovered VRBO only recently but I am definitely hooked!
VRBO connects homeowners with families and friends looking for unique places to stay.
Their offer in the US is great and it's my go-to site for lake cabins or dreamy cottages.
If you don't want to rent an entire holiday villa (even though you can do this too), Airbnb will have the perfect place for you.
I love Airbnb to connect with the local community and I am still friends with some of my hosts.
HomeAway belongs to VRBO but I found them to hav a larger offer in Europe and Cape Verde.
With unique properties around the world, HomeAway makes it fun to book cabins, condos, beach houses and every kind of space in between.
Travel Insurance & Visa
I used HeyMondo on my last trip to Cape Verde and I couldn't be happier.
My favorite part are the free assistance calls and their intuitive app.
When at the hospital, there are no out of the pocket expenses.
SafetyWing is perfect for long time travellers and digital nomads.
The best part is that you can buy your insurance while already abroad!
Visits to home country are covered too!
I love iVisa since it helps me to get all my visas upfront…hassle free!
iVisa provides the simplest solution to process your travel visa. They enable travelers to process visas from a computer, smartphone or tablet.
Travel Gear
I am a huge fan of all outdoor gear from REI.com. I love that you can browse product according to sustainability and vegan material only.
Their outdoor gear ranges from kayaks to hiking boots, swimear and cozy fleece jackets. Browse their outlet for the best discounted outdoor gear.
Tourradar is my go-to place to multi-day tours in Europe, the Middle East and the US.
No matter whether I am looking for a scenic Rhine river cruise or a trip to the best Christmas Markets in Europe, Tourradar offers the best rates and impeccable customer service.
I love Patagonia when looking for sustainable backpacks. No matter whether you are looking for backpacks made from recycled material or vegan backpacks, Patagonia has a large choice.
The sustainable backpacks from Patagonia come in all kind of sizes and are suitable also for small budgets.
Tours & Activities
No matter whether you are looking for food tours or skip-the-line tickets, you can get it all at GetYourGuide.
I love them for their affordable rates, great customer service and easy to use entrance tickets. You get them sent straight to your phone!
The best site for all tours in European cities.
Viator has the best offers and prices when it comes to tours and activities in USA.
It's my site to go when booking activities in Cape Verde or Wisconsin.
I love the fact that you get extensive reviews.
Who else love bike tours? Baja Bikes offers the best bike tours in Europe and in many US cities too!
Besides bike tours, you can also rent bikes or do mountain bike tours with them.
Definitely a great way to explore new places.
My favorite place to be is on the sea! That's why I love to charter boats with Click&Boat in order to spend a great time with friends.
On top, you often get the best views on a destination while sailing! Do something unique and charter a boat!
If you want to explore a destination like a local and find the best hidden places that no other guidebook tells you about, get yourself a Lonely Planet Guide.
I particularly love their sections about history and culture.
They ave a great shop with countless travel gifts too!
You my code "PAULINA10" to get -10% off.
For the adventure travellers out there, you'll love G Adventures! It's particularly great for solo travellers since their adventure tours are all in small groups.
Whether you are looking at hiking the Inca trail or exploring the highligths of Spain with top-notch tours.
Ground Transportation
Omio is the best place to buy your train tickets or bus tickets.
They offer up-to-date public transport schedules in US and Europe.
It's so easy to book, just enter your departure and arrival destinations and travel dates. Omio proposes you the best way to reach your destination by train, bus or ferry.
If there's one thing I hate, then it's arriving late at the airport and having to wait for the next bus.
That's why I book my airport transfers with KiwiTaxi. It makes travel just so much easier when booking your transfer in advance… at unbeatable prices!
If you want to find the best car hire deal, you need to check out Discover Cars.
They browse thousands of companies so that you can compare and save up to 70% on car rentals in Europe and US.
On top they offer free cancellation and 24/7 support!
Ethical Travel Fashion Brands
I love to pack pieces by KOTN when traveling since they work with the softest cotton out there: Egyptian cotton.
On top, it's stronger than any other cotton in the world.
Every purchase at KOTN directly supports the lives of our cotton farmers and their children.
When looking for colorful dresses or sustainable swimwear, Outerknown is my go-to site.
90% of their fibers are sourced organic, recycled, or regenerated.
Once you wear Vivo Barefoot shoes, you never go back! They create the most lightweight shoes possible and with minimal interference to natural movement.
I love their Primus Lite II since it's vegan and made of recycled material.
CONSCIOUS STEP does not only produce GOTS and vegan certified socks, but for every pair of socks purchased, a donation goes directly to a non-profit.
You can browse socks according to the cause you want to support.
Code: "MYFIRSTSTEP"
When looking for active sports apparel that's sustainable on top, you can't skip Sundried.
With 2 collections made from 100% recycled materials, everything Sundried does is low in carbon.
Code: "PAULINA"
No matter whether you are looking for sustainable backpacks, organic underlayers for your next camping trip or vegan hiking shoes, you can find it at REI.COM.
Have a look at their outlet store to get top brands at discounted prices.
Looking for sustainable and ethically made active wear? Have a look at Girlfriend Collective.
They turn plastic bottles, fishing nets and other waste into bras, leggings and shorts.
Sizes from XXS-6XL
I am a big fan of the dreamy dresses and feminine silhouettes by Reformation.
They source the most beautiful and sustainable fabrics possible to bring the latest fashion designs to life quickly.