A guide to affordable sustainable clothing brands that make cheap and sustainable fashion for every budget
Though often considered to be still in its infancy, "eco-friendly fashion" is a term that is meant to last.
Taking into consideration the earth, environment, health, and animal welfare is not a trend anymore but a necessity!
Unfortunately, there exists the myth that sustainable fashion is expensive. First, I don't think that you can put a price tag on ethical practices.
Second, there are plenty of fashionable clothing brands that produce gorgeous affordable eco-friendly clothing for those on a budget.
I admit that some of these brands are often hard to find. That's why I decided to create an ultimate recompilation of affordable sustainable fashion brands.
Thus, your budget can't be an excuse anymore to shop for eco-friendly pieces.
On top of that, all of the listed fashion brands make gorgeous items and are in the market for a long time.
Their success is yet another evidence for their quality and the fact that sustainable fashion is here to stay.
If you love ethically made clothes, you should also check out my article about the best ethical swimwear brands for him & her and my guide to the best organic cotton brands.
This article will bring you gorgeous and top affordable eco-friendly clothing brands on the market for every budget!
This blog is supported by you, dear reader. If you purchase through a link, I earn a small commission. As an Amazon Affiliate, I earn from qualifying purchases.
Overview: Top 5 Affordable Sustainable Clothing Brands
Price Range: $$
ABLE comes from Nashville, Tennessee with the sole aim to transform the eco-friendly clothing industry.
The main purpose of the brand is to empower women that comprise 95% of the workforce. It invests and educates women so they can earn a living, break the cycle of poverty, and thrive.
The transformative nature of the business not only protects the environment but also cuts the cost to make the items more affordable.
In addition to their affordbale eco-friendly clothing, ABLE is also one of the best sustainable shoe brands and makes super cute sustainable backpacks.
Favorite Affordable Fair Trade piece:
Women – The Merly Jacket
Price Range: $
Headquartered in San Francisco the brand was launched in 2010. The best part is that EVERLANE believes and practices radical transparency.
The products that EVERLANE sells are truly timeless as quality processing is done to make them last for years and years.
With the use of all recycled materials, the company is helping the environment to get less polluted and even taking part in using recycled materials to make cheap and sustainable clothing.
Favorite Affordable Fair Trade piece:
Men – The French Terry Crew
Women – The Linen Square-Neck Jumpsuit
Price Range: $
PACT comes from Boulder, Colorado and makes comfy affordable organic clothing that never has any toxic chemicals.
Their ambitious goal is to make ethical clothing accessible to everybody, regardless of their budget. And they have succeeded!
That's why they are one of the best ethical clothing brands that ensure to get you the quality that meets international standards.
PACT is considered one of the top one-stop shops where consumers can find organic alternatives at affordable prices.
They even have kids and baby sections and are a great choice for affordable, sustainable underwear and sustainable yoga pants!
They are also a top choice when looking for organic clothing "made in the USA".
I absolutely love PACT's inexpensive sustainable clothing and wide range of options for every mood and activity, including super cute 100% organic cotton dresses.
Favorite Affordable Fair Trade piece:
Men – Textured Slub Long Sleeve Pocket Tee
Women – Tie-Front Midi Dress
Price Range: $$
Tradlands was started in 2012. The background is that the owner, Sadie Beaudet, had the view that women are often being urged to wear disposable clothing to keep up with fashion.
And that durability of clothes was a huge issue, one she hoped to change by providing affordable slow fashion.
The vision behind Tradlands was to make clothing that was not only durable but was something that women felt comfortable in as Beaudet observed that fashionable clothing was often unnecessarily uncomfortable.
The company, therefore, aims to make quality clothing that is developed to last for generations and withstand ever-changing trends.
Tradlands is easily one of my favorite affordable small clothing brands, and I particularly like their timeless, romantic feel. They make some of my favorite affordable sustainable dresses and t-shirts.
Favorite Affordable Fair Trade piece:
Women – 102 Box T-Shirt Red Stripe
Price Range: $$
Headquartered in Toronto Canada, KOTN is one of the best affordable independent clothing brands.
KOTN is a company that makes sure to provide you with all the information you need to know about the origin of your clothes.
Absolute transparency and hence traceability are key! That's why all their cotton farms are located in Egypt where the material is grown using eco-friendly techniques only.
It is also a fabulous affordable brand when looking for sustainable women's clothing and I am in love with their 100% KOTN tee.
Favorite Affordable Fair Trade piece:
Women – Essential Crew White
Men – Mock Neck Sweatshirt
Price Range: $$
It is perhaps the only company on the list that produces pieces in limited quantities in order to assure the highest quality standards.
During the fabrication process, AMOUR VERT makes sure to use only the most sustainable fibers and raw materials available.
On top, all their shipping bags and boxes are made from recycled materials and printed with soy-based inks. It's thus perfect when looking for outdoorsy gifts for her.
Favorite Affordable Fair Trade piece:
Women – Yuma Viscose Skirt
Price Range: $$
Based in Los Angeles California, ALTERNATIVE APPAREL focuses on developing styles that are lightweight yet durable. It's thus perfect when looking for year-round layers.
The styles are highly classical and not fashionable so that their items are timeless. The combination of 100% organic cotton and hemp fibers creates unique feel-good pieces.
The company is also planning to replace by 2021 all virgin polyester with 100% recycled polyester in future fabrics.
Favorite Affordable Fair Trade piece:
Men – Eco-Teddy Full-Zip Jacket
Women – Lazy Day Pullover
Price Range: $
REI.com online store offers a hand-picked selection of brands in the travel and outdoor segment.
One of their bestsellers is is Patagonia, an outdoor brand with a strong focus on sustainable pieces. Sustainable policies lay at the core of everything that REI.com makes.
REI.com is one of the best affordable, ethical clothing and outdoor brands out there since it has options for every budget. I love them for their broad offer in backpacks made from recycled material or vegan winter boots.
Favorite Affordable Fair Trade piece:
Men – Cozy Undershirt Layer
Women – Patagonia Refugio Backpack for Women
Price Range: $$
BODEN is an affordable eco-friendly clothing brand that puts quality and protects the environment in the first place.
Every product at BODEN is rigorously tested to make sure it lasts a lifetime and all fabrics are sourced and packaged responsibly.
Most of their organic items are made in the US which is an important factor when looking for fair trade fashion.
Its employees are taking part in numerous fundraising activities and the company has recently donated £100,000 to the Trust.
Favorite Affordable Fair Trade piece:
Men – Piqué Polo
Women – Sienna Jersey Maxi Dress
Price Range: $
I love GIRLFRIEND COLLECTIVE for offering stylish and sustainable activewear made from recycled material.
Indeed, it's quite hard to find eco-friendly sports brands. Plus, their pieces are incredibly affordable!
Every sports bra, every short has been made from recycled bottles or recycled plastic fished out of the ocean.
Its factories are SA8000 certified which means that there is no child labor, no forced labor, safe working, and allowing workers to unionize.
Whether you are looking for sustainable yoga clothes, active maternity wear, or actually supportive sports bras, GIRLFRIEND COLLECTIVE is the brand for you.
Favorite Affordable Fair Trade piece:
Women – Plum Compressive High-Rise Legging
Price Range: $$
The slogan of the company is "As close to going barefoot as you can get". They spent over 10 years researching how to recreate the perfect barefoot feel. I love my VIVOBAREFOOT and I don't want to wear anything else!
By opting for VIVOBAREFOOT, you'll purchase a sustainable product and also do something good for your health.
VIVOBAREFOOT also makes some of my favorite vegan hiking boots for women and men.
Favorite Affordable Fair Trade piece:
Men – GEO COURT II MENS
Women – GEO Court Eco Women's
Price Range: $$
Launched in Sydney by John and Rachel, THOUGHT has evolved into a company that loves nature and fashion.
Quantities are kept small to make every piece feel unique.
THOUGHT is one of the best environmental clothing brands out there since they use recycled materials as much as they can.
It's thus a great option when looking for recycled clothing brands.
I especially love them for their colorful prints, incredibly soft clothes, and cute sustainable jewelry.
Favorite Affordable Fair Trade piece:
Men – Merano Hemp Grandpa Shirt
Women – Rosetti Organic Cotton Bell Sleeve Dress
Price Range: $$
Starting in 1991 People Tree has been regarded as the pioneer in the sustainable affordable fashion industry.
People Tree is part of a UK-wide celebration of Europe's most sustainable and innovative fabric: linen.
Founded by Safia Minney, the company is certified by the global organic textile standard.
On top, their organic cotton, organic linen, and Tencel™ products are certified by PETA, and they are one of the best vegan clothing brands.
Favorite Affordable Fair Trade piece:
Women – Brooklyn Denim Dungarees
Price Range: $$
OUTDOOR VOICES was founded in 2013 by Terry Haney in New York.
If you want sustainable, affordable clothing brands that do activewear, Outdoor Voices boasts gorgeous workout pieces at extremely competitive prices.
Many of their pieces include a significant amount of recycled PET making their clothes extra eco-friendly.
The company's product take-back and repair programs were launched in 2021 and traceable fiber usage will be increased to 80% by the end of 2022.
When looking for affordable, sustainable fashion brands, Outdoor Voices is a must!
Favorite Affordable Fair Trade piece:
Men – CloudKnit T-Shirt
Women – The Exercise Dress
Price Range: $
The best thing is that TAYLOR STITCH pledges to create clothing that lasts while at the same time minimizing the environmental impact.
Founded in 2010, they have been at the forefront of environmental sustainability. The company aims to use reusable fibers to reduce water usage and get rid of chemicals.
In the winter, they have some of the best vegan winter coats for men.
I particularly love the look of their organic denim collection!
Favorite Affordable Fair Trade piece:
Men – The Hemp Shirt
Price Range: $$
Founded in 2009, REFORMATION has used sustainable materials since its origins. Thanks to their unique design process, they can quickly respond to fashion trends.
I am obsessed with their fashionable prints and cuts. Who says you can't follow the latest trend without being sustainable?
Other eco-friendly materials they use are organic and recycled cotton, recycled cashmere, and Econyl®, made from 100% recycled nylon.
REROFMATION is also a top choice when looking for organic clothing "made in USA" or recycled clothing brands.
Favorite Affordable Fair Trade piece:
Women – 70S Sweat Shorts
Price Range: $
It should be the goal of every purchase: eco-friendly dressed from head to toe. To toe? Oh yes, literally!
CONSCIOUS STEP does not only produce GOTS and vegan-certified socks but for every pair of socks purchased, a donation goes directly to a non-profit.
My favorite part is there "Causes" section where you can shop your socks according to the cause you want to support.
They teamed up with internationally established NGOs in order to support the causes of LGBT+, tree planting, wildlife preservation, violence against women, and many more.
On top, they come in colorful designs! Conscious Step is one of the most unique eco-friendly cheap small clothing brands.
Favorite Affordable Fair Trade piece:
Men – Socks that Protect Monkeys
Women – Socks that Stop Violence Against Women
Price range: $
The mission of Honest Basics is clear and simple: make sustainable fashion affordable to anyone!
Indeed their incredible prices make eco-fashion accessible for everybody, and they sell some of the best sustainable cheap clothing.
Honest Basics believes that price plays a big role in our purchase decisions. Hence it's important that environmentally conscious fashion can compete with fast fashion in terms of pricing.
Luckily Honest Basics delivers with their incredibly affordable eco-friendly clothing that never goes out of style!
Their basics are gorgeous and prices start at 10€ only!
Favorite Affordable Fair Trade piece:
Men – Black Honest Hoodie
Women – Loose t-shirt dress
Price range: $
There is a revolution on the way and it's called WAMA! They're pioneering the Hemp Clothing industry with Premium Hemp Underwear.
You may wonder why hemp? Why in underwear? Well, it's naturally anti-bacterial, super soft, and breathable.
So of course this is one of the most sustainable underwear brands!
WAMA created from scratch their own hemp fabric which is all based on eco-friendly and organic fabrics.
No wonder that nowadays it's considered one of the top hemp clothing brands when it comes to underwear.
The best part: with every wash, your undies get softer! It's hard not to love affordable eco-friendly clothing that gets BETTER with time!
Favorite Affordable Fair Trade piece:
Men – Boxers
Women – Triangle Bralette
Price range: $$
SAUTHS clothing collection is sourced from top-quality European linen and crafted consciously in small batches with a zero-waste mindset. Effortless, timeless design with everyday comfort in mind.
Whether you are on a holiday trip or relaxing back at home, you can enjoy your daily rituals.
My favorite thing about SAUTHS is that their apparel is so lightweight and just perfect to travel in hotter countries such as Spain or Cape Verde. If you love beautiful linen and cotton, you'll fall in love with SAUTHS.
SAUTHS linen and cotton are sourced with premium quality, sustainability, and everyday comfort in mind.
Price Range: $$
BOODY makes amazing affordable eco-friendly clothing for active people or anyone who just wants comfy, breathable clothing.
This Australian-based brand is one of my favorite vegan clothing brands as they only use cruelty-free materials and production methods.
Many of BOODY'S materials are plant-based, including viscose made from bamboo, which they use at least partially in all of their products.
In they are one of the best bamboo clothing brands on the market.
This also means their clothes are extra soft, breathable, and less likely to smell bad after a hard workout or run as bamboo is naturally moisture-wicking!
If you need cheap and sustainable clothing that you can move and sweat in, BOODY is one of the best brands there is!
Favorite Affordable Fair Trade piece:
Men's – Men's Weekend Sweatpants
Women – Women's Weekend Crew Pullover
Price Range: $$
San Francisco-based Quince is all about affordable slow fashion. And they deliver!
Their mission is to create high-quality and stylish sustainable clothing at a fraction of the price tag of luxury fashion brands.
Quince is dedicated to only using the best materials without hurting the environment in the process. And they expect the same standards from the manufacturers and companies they work with.
Many of their products are made using Mongolian cashmere, and Quince only sources the cashmere from goats that are shorn and combed in the spring.
This is essential as the goats no longer need their winter coats and in fact, often need to shed some fur as the weather warms up.
However, quality isn't just about the materials for Quince. It's also about the quality of living, which is why they pay fair wages and only work with companies that do the same.
Quince is one of the most affordable eco-friendly clothing brands for stylish clothes, but it's also great for accessories like bags and scarves (especially super-soft cashmere ones)!
Favorite Affordable Fair Trade piece:
Men – Double-Brushed Stretch Overshirt
Women – Mongolian Cashmere Batwing Sweater
Price Range: $$ (memberships start at $69)
Rent the Runway (RTR) is a totally unique concept for those looking for affordable fair trade clothing.
Basically, the way it works is that you pick clothes you want and they send them to you to temporarily use. When you're done, pick some new items to replace them.
To start, you sign up for an RTR membership. This can be a weekly, monthly, or even yearly option. You get to tailor it to how often you want new stuff coming in to freshen up your wardrobe.
Once you sign up, you are then able to shop their catalog. Pick out items you want and then have them shipped to you to wear to fancy events, school, a date, or even lounging around the house.
Alternatively, you can also do one-time rentals, or buy pre-loved items outright (but for much less than their original value).
RTR only works with high-quality slow fashion brands as they want you to have access to clothes that LAST.
However, because of their business model, you get high-end fashion at the same prices (or less!) as other affordable and sustainable clothing brands
Items that might usually cost over $1000 are free with membership! I've gotten some of my favorite affordable sustainable dresses from RTR!
Plus they do accessories if you only need one extra-fancy outfit.
Favorite Affordable Fair Trade piece:
Women – Polka Dot Emerson Romper
Price Range: $$
Looking for affordable, non-fast fashion brands that allow you to shop for the entire home? Well, good news Made Trade does just that!
The company act as a storefront for other brands, all of which must meet Made Trade's high standards of sustainability.
What I love about this is that it makes it easy to find eco-friendly and affordable small business clothing brands you might not otherwise know about!
Plus, not only will you find affordable fair trade clothing on their site, but you'll find accessories, pillowcases, kitchenware, and even furniture.
Made Trade is a woman-owned, family-run company and considers itself to be "ethically elevated."
This essentially means they hold themselves – and their partners – to the highest standard to ensure every item they sell is as sustainably and ethically made as possible.
And they are always working to be more and more sustainable, making changes in materials and manufacturing processes whenever better ones are made available.
All Made Trade products are vegan and made using responsibly sourced materials. Many of the products they sell are also fair trade, made in the USA, or by local artisans from around the world.
Made Trade is also committed to diversity both in their staff and the brands they work with, and they are always seeking out companies that are women and BIPOC-owned.
However, they don't their products to be inaccessible, so they do their best to provide inexpensive sustainable clothing and other household items.
Favorite Affordable Fair Trade piece:
Men – No Nastie's Anton Knit Shirt
Women – Passion Lilie's Maxwell Button-Up Dress
Price Range: $$
Do you want affordable sustainable brands that are as obsessed with the perfect jeans as you are?
Well, then Warp + Weft will change your life – and, of course, provide some of the best sustainable jeans while they do it.
Warp + Weft is dedicated to making the best denim products on the market and keeping them affordable for the consumer.
From jumpsuits to jackets to comfy maternity jeans, Warp + Weft does it all. You'll even find a few extras like underwear and chinos on their site.
Whether you're shopping for men's, women's, or kids clothes, Warp + Weft has the perfect denim item for you.
Warp + Weft is particularly committed to inclusivity. Their women's collection comes in sizes 00-24. The men's collection has difficult-to-find waist sizes, Big and Tall options, and inseam lengths from 28 to 36.
If you can't find the perfect fit jeans here, you won't find them anywhere.
In addition to inclusivity, they care about the environment and are one of the best cheap sustainable brands for jeans.
Where most brands use over 1,500 gallons on a single pair of jeans, Warp + Weft only uses 10. And they recycle 98% of the water they do use in their manufacturing processes.
All of their denim is made from scratch in their factories.
Favorite Affordable Fair Trade piece:
Men – JFK PLUS – Skinny Twilight Jeans
---
My personal notes: Can organic clothing be affordable?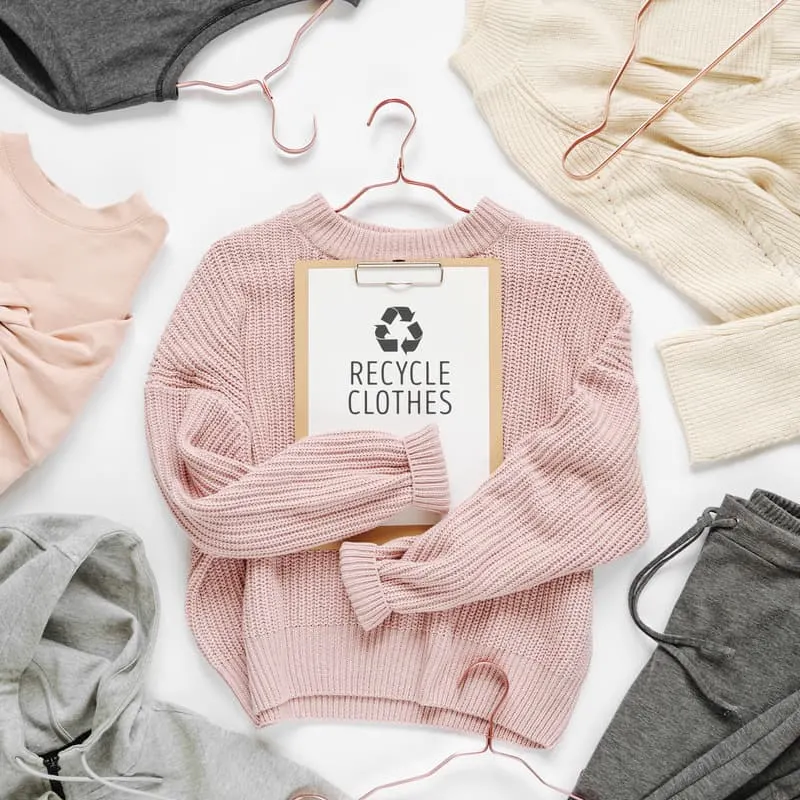 The answer is "yes"! Organic clothing can be affordable and there are many reasons for that. Many sustainable women's clothing brands are using recycled fabrics.
It's thus all about shifting minds and replacing materials. Using recycled materials is becoming more and more common, which helps a lot to reduce prices.
Higher-end clothing brands also use recycled plastic bottles to make raw materials later reused to create beautiful clothes.
Additionally, more and more clothing brands are using organic raw material which doesn't involve pesticides. Organic clothing does not use expensive bleaches and colors to alter the fabrics.
Last but not least, the workers of such brands are paid decently and the working conditions are simply superb.
One thing that you should note is the fact that prices never represent the quality or the sustainability of a clothing brand.
Like in fast fashion, there are cheap and expensive sustainable clothing brands, but luckily affordable organic clothing DOES exist!
Below are what I consider to be the best sustainable affordable fashion brands currently available.
What do I mean by cheap and sustainable clothing?
The different clothing items have different prices and this should be considered before you make a purchase. The price scale that has been used for this article has the following range:
$: up to $50
$$: $50 – $100
$$$: over $100
In terms of affordability, I consider "affordable" the following prices per item:
Dress: $35 to $40
Shoes: $40 to $60
T-Shirt: $25
Bags: $50 to $80
Socks: $15 to $20
Coats: $60 to $100
The prices are a rough estimate that can vary from brand to brand! Here is my selection of gorgeous & affordable eco-friendly clothing brands.
---
Short FAQ about Affordable Sustainable Fashion Brands
If you can't get enough of sustainable and affordable clothing brands, have a look at my web story about the best affordable eco-fashion brands.
---
---