Guide to the best ethical jewelry brands for sustainable rings, necklaces, bracelets, and more!
Wearing Jewelry is the best way to express and celebrate yourself.
It is even more fun if it is sustainable jewelry because it speaks aloud about your eco-conscious choice.
These are capable of bringing joy not just to you but to the entire planet.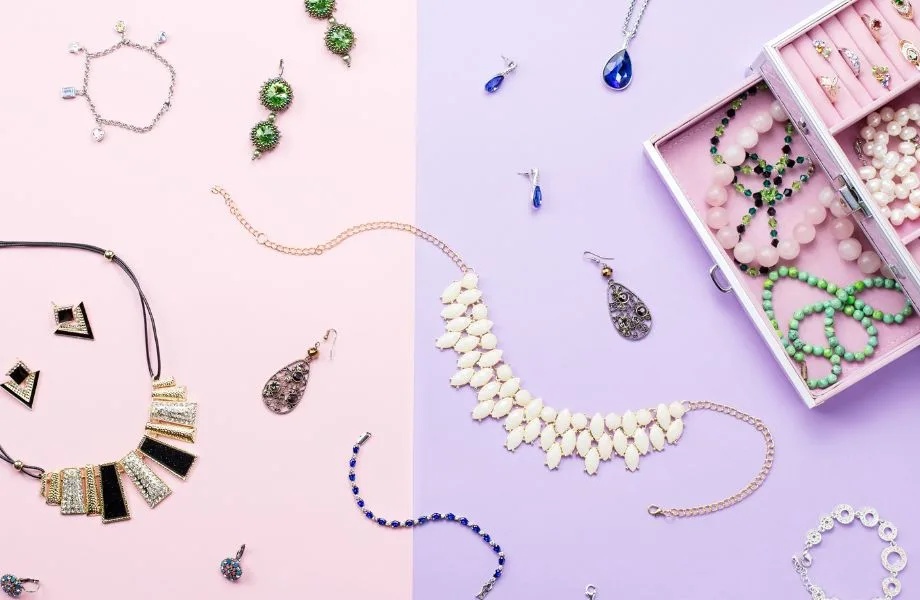 I adhere to sustainable jewelry because it is majorly made by skillful artisans from low-income communities.
I admire the fact that sustainable jewelry provides them employment opportunities and protects their traditions.
The beautiful designs prove that sustainability can look fashionable, and is also the best gift that you can give someone as it will stay with them forever.
Here are some of my favorite sustainable jewelry brands' outstanding collections.
This blog is supported by you, dear reader. If you purchase through a link, I earn a small commission. As an Amazon Affiliate, I earn from qualifying purchases.
Overview: Top 5 Sustainable Jewelry Brands
Personalized jewelry is always special because of the sentiments that it carries along.
Karativa is a sustainable jewelry brand that lets you create unique and customized jewelry and has stunning pieces for every occasion like weddings, birthdays, festivals, and daily wear.
This brand is perfect for gifts that your loved ones will cherish forever; from gorgeous rings, necklaces, and earrings to bracelets, the designs at Karativa are splendid.
They allow you to add names or your special messages on the jewelry to delightfully express your love.
The high-quality Eco 925 sterling silver used in the jewelry is ethically sourced and makes the jewelry long-lasting and water resistant.
Karativa is also known for its sustainable jewelry packaging in boxes that are crafted from recycled plastic bottles and paper.
This is one of the most affordable sustainable jewelry brands that has partnered directly with suppliers and jewelry artisans.
As they also offer seasonal-themed items, they're also one of my favorite options for sustainable Christmas gifts.
15% discount with code "PAULINA15"
Monica Vinader is a positive luxury-certified brand that makes gorgeous eco-friendly jewelry.
All of the jewelry pieces from Monica Vinader are brilliant examples of superior product quality and excellent craftsmanship.
If you love layering your jewelry, Monica Vinader has some exceptional options to offer you.
You can create a new style every day with layered necklaces, stackable rings, bracelets, and even earrings.
They also let you build personalized jewelry by adding pendant charms and choosing your desired finish.
Monica Vinader ranks among the best sustainable brands thanks to its many thoughtful efforts to protect the environment.
This brand uses only 100% recycled gold vermeil and sterling silver which greatly reduces CO2 emission.
The diamonds are responsibly sourced and Kimberley process approved, and Monica Vinader also uses sustainably sourced natural gemstones and pearls to make eye-catching products.
Additionally, Monica Vinader encourages slow and circular fashion, and all its pieces come with a 5-year replacement warranty.
Lifetime repair services are also offered on the products so that your favorite jewelry always stays as good as new.
To encourage sustainability, Monica Vinader also provides options to recycle gold and silver jewelry from any brand and get a discount on your next purchase.
ABLE is a brand that makes products to empower women and make them feel confident.
All ABLE products bring a smile not just to the women who use them, but also to those who make them.
All of the jewelry from ABLE is lovingly handcrafted by the talented women of Nashville, TN who have faced a lot of challenges in life.
The elegant necklaces, rings, earrings, and bracelets are perfect to be worn to your workplace or casual outings.
Once you buy an ABLE product, it's going to be with you forever as it comes with a lifetime guarantee.
To meet its responsibility towards the planet, ABLE majorly uses recycled silver for its sustainable jewelry.
In addition to exquisite silver pieces, you can also find charming jewelry made with durable gold filling.
To protect the environment, ABLE refrains from using harsh chemicals and opts for natural alternatives to clean the jewelry.
To reduce wastage, all the scrap metals are given to a refinery to process them into new wires or sheets.
ABLE is also one of my favorite affordable eco-friendly clothing brands, and you can find tons of cute clothes to match their stylish ethical jewelry.
They also make sustainable boots, sandals, heels, flats, and sneakers for any occasion.
Edge of Ember is a London-based female-led brand that inspires customers to make responsible jewelry choices.
Sustainability is a way of life here and they only work with partners that meet its social and environmental standards.
The brand strongly believes in circularity and predominantly uses recycled metals and ethically sourced gemstones.
Edge of Ember also works with lab-grown diamonds to put an end to the need for mining.
This brand celebrates craftsmanship with its super trendy collections and it boasts a stunning range of sustainable rings, earrings, necklaces, bracelets, anklets, and pendants.
From colorful jewelry to making any outfit pop to simple ones for daily wear, Edge of Ember has options for every taste.
The jewelry from Edge of Ember can also be customized with your choice of chains, charms, and semi-precious gemstones.
The environmentally friendly jewelry brand offers repair services to ensure that your favorite jewelry lasts a lifetime.
Additionally, Edge of Ember is also the UK's first sustainable jewelry brand with a recycling program for your old jewelry.
Established in 2008, Missoma is one of the best ethical jewelers based in London.
Missoma keeps creativity, innovation, and sustainability in mind while designing each of its iconic pieces.
If you are interested in recycled sterling silver and ethical gold jewelry, Missoma is a fantastic option.
The fine jewelry collection is made using recycled 14ct solid gold certified by the Responsible Jewelry collection (RJC).
Liquid recycled solid gold is also used for plating gold in their vermeil jewelry pieces.
With bold chains, chokers, and classic pendant necklaces, Missoma collections are perfect for layering.
To create a style statement, you can also team its charm hoop earrings with basic delicate studs and huggies.
Missoma also boasts a Men's jewelry collection with chunky charms, bracelets, rings, and gemstone necklaces.
All of the conflict-free diamonds and pearls are sourced through responsible suppliers certified by RJC.
TAMGA Designs has an impressive collection of ethically made jewelry with a chic vibe.
All the pieces are responsibly made in Mexico with locally sourced natural metals and gemstones.
The sustainable jewelry from TAMGA Designs is versatile and designed to match contemporary boho styles.
The TAMGA hand-crafted eco-friendly bracelets instantly elevate any look, while the necklace with delicate lapis beads, adjustable rings, and earrings also complements any outfit.
The jewelry comes in a sustainable TAMGA Designs pouch made from fabric off-cuts and a polishing cloth.
You can also check this brand for its stylish and sustainable clothing collection and trendy scarves.
TAMGA Designs supports forest-friendly fashion by using sustainable wood-cellulose fibers and encourages initiatives to plant more trees for a better future.
People Tree has established a name for itself for promoting ethical and eco-conscious fashion.
Formed in 1991, this brand has always supported traditional artisanal skills, fair trade, and social justice.
Now People Tree has partnered with the Bombolulu organization for its ethical jewelry project
Based in Kenya, Bombolulu helps empower physically disabled people in Kenya through workshops and other programs.
The artisans at Bombolulu skilfully handcraft all the beautiful jewelry pieces for People Tree to perfection.
These pieces are all nickel free and every sample is checked in the London office to ensure no nickel has slipped in.
At People Tree you can find amazing statement necklaces, earrings, stackable rings, and bangles.
In addition to selling beautiful sustainable jewelry, they are also one of the best vegan clothing brands and offer sustainable jeans and tees.
Additionaly, they have a wide selection of sustainable underwear – including socks!
You can also check People Tree for its excellent range of sustainable yoga clothes and eco-friendly activewear.
Kimai ranks among the best sustainable jewelry brands because of the true transparency it offers.
The brand focuses on providing superior quality products while keeping the impact low.
One of the main ways Kimai does this is by making jewelry with 18k recycled gold and lab-grown diamonds.
For those who are ready to pop the question to their special someone, this brand has amazing sustainable diamond rings ready.
You can customize the eco-friendly engagement rings by choosing everything from carat size to stone shape.
The engagement rings are handmade to order in Antwerp, Belgium.
Kimai also offers wedding band options for personalized engraving to make them unique and special.
The fine jewelry collection from Kimai includes sustainable necklaces, earrings, rings, bracelets, hoops, and ear climbers.
You can also select your favorite designs to be in yellow, rose, and white gold.
Accompany supports economic equality and fair-trade practices with its ethical products.
The brand works towards empowering low-income communities by providing them with training and work opportunities.
Because Accompany understands the importance of traditional crafts, it works to preserve local arts and skills.
This dedication to the protection of cultural heritage is reflected in the unique sustainable jewelry that Accompany sells.
Their pieces are made by artisans from around the world using materials from all over, as well.
Accompany has jewelry made by artisans in communities from Kenya, Peru, Ghana, India, and many more.
From bracelets made with Miyuki Japanese beads to hoop earrings made with fabric scraps, the collection is very diverse.
You'll also find some bold beaded bracelets that will make your outfit stand out.
When it comes to ethical jewelry brands that excel in style and social responsibility, SOKO is among the best.
This female-led brand connects artisans in Kenya with the international market through a virtual factory.
SOKO make sustainable jewelry with materials like recycled brass, silver, wood, and reclaimed horn and bone.
You can also get high-quality 24k gold plated extremely durable brass jewelry, as well as jewelry made with hand-painted ceramics and beads from clay.
The collection at SOKO ranges from stackable and dainty sets to subtle statements and zodiac necklaces.
If you adore chain link styles, the choices of bracelets, anklets, earrings, and necklaces will amaze you.
There are also exclusive collections at SOKO to match your travel, wedding, and gifting needs.
Nisolo is a brand that is determined to make responsible manufacturing a reality in the fashion industry.
Although more well known for being one of the most popular sustainable shoe brands, they also offer ethical jewelry and accessories.
The brand works closely with small and independent talented artisans in Nairobi, Kenya to create its stunning jewelry.
It is important to Nisolo to ensure workers are provided with living wages and a healthy work environment while preserving generational craftsmanship.
The entire jewelry collection from Nisolo including earrings, bangles, necklaces, and bracelets is made from upcycled brass.
The designs are perfect to add a dazzling touch to your everyday look.
Nisolo takes transparency to the next level by sharing the sustainability facts of its products.
The brand scores the jewelry across different sustainability metrics to identify its social and environmental impact.
You'll find a range of items from Nisolo to accessorize with your jewelry, including sustainable wallets, shoes, and bags.
Thought offers hand-made jewelry by small artisans from recycled and responsibly sourced materials.
As the name suggests, this brand makes its products thoughtfully to meet its core value of sustainability.
Here you will find jewelry made from 100% recycled silver, brass, and gold vermeil plating.
All the pieces from Thought are nickel and lead-free, so it is suitable for those with sensitive skin.
The unique and playful designs make Thought stand out among other sustainable jewelry brands.
Within their collection, you'll find necklaces inspired by ancient ayurvedic traditions, cosmic-inspired charm bracelets, and more.
You can pair these remarkable pieces with their organic cotton dresses for a comfortable outing.
Thought is also one of the best bamboo clothing brands, and is particularly known for its amazing sustainable socks made of bamboo.
But they have everything from sustainable yoga pants to jumpsuits.
LOVECO is a storefront shop that supports vegan, fairly produced, and ecological fashion from around the world.
They sell eco-friendly and sustainable jewelry by reputed brands like Jewelberry, Wild Fawn, and Umiwi.
All of the brands they work with are 100% vegan and cruelty-free, and they also work with amazing vegan brands from around the world.
With different brands coming together, you can find jewelry for every occasion at LOVECO.
Whether you prefer jewelry that sparks simplicity or trendy statements, you will be spoilt for choices here as the selection includes stunning necklaces, earrings, bracelets, and rings.
All the products at LOVECO rank high on high on quality and aesthetics, and it's a great place to find durable and sustainable gold jewelry that makes the perfect gift.
You'll find a range of recycled sterling silver and brass jewelry in their collection which are also exceptional.
Each LOVECO product is a result of a fair manufacturing process where workers have regulated working hours and are paid fairly.
You can also check out this company for its wide range of vegan backpacks and sneakers.
Abby Alley works on the principles of classic design, collaborative spirit, and authenticity.
The brand has partnered with artisans in Kenya for its handcrafted eco jewelry collection.
The creators of this beautiful sustainable jewelry earn above the national standard of a living wage and share the mutual value for making exceptional quality products.
Because they believe in quality over quantity, Abby Alley has products made in small batches, making their jewelry even more unique.
These limited-edition pieces are timeless, but are trendy enough to make you stand out.
The materials used for making their ethical jewelry include brass, sterling silver, and 18-carat gold-filled.
Abby Alley earrings are perfect for a minimalist look and perfect for the working women's wardrobe.
You'll also find a selection of stacking rings, chain necklaces, and bracelets to add a smart vibe to your look.
At the heart of Raven + Lily is a focus on transparency, inclusivity, diversity, and sustainability.
This woman-led brand is based in Austin, Texas and has a global network of skilled artisans from different communities.
The ethical jewelry from Raven + Lily is made with regionally sourced, natural, and sustainable materials.
Semi-precious stones, upcycled brass, and locally sourced leather are just some of the materials used in their jewelry.
From studs handcrafted in Ethiopia, and earrings made in India to bracelets made in Kenya, the Raven + Lily collection is vast.
All of the earrings have hypoallergenic posts and silicon backs perfect for sensitive skin.
Raven + Lily is a certified B corp brand and ensures the preservation of traditional crafts with its beautiful range of sustainable jewelry.
Daisy Jewellery is a London-based brand that focuses on luxury everyday jewelry made with sustainable materials and a lot of love.
All Daisy pieces celebrate women and are designed on-site in London by their female led team.
The sustainable jewelry at Daisy is made using 100% recycled 925 sterling silver and 18ct gold plating.
They specialize in making modern and unique pieces that you will treasure for years to come.
The Daisy Jewellery collections have sustainable necklaces, stacking rings, statement earrings, and chain bracelets to name a few.
Daisy takes its environmental goals very seriously, and it is a carbon positive brand that offsets more than 3x the carbon that it generates.
Additionally, with every purchase you make, they will remove 10 plastic bottles from the ocean.
Ten Thousand Villages allows you to easily shop for handcrafted products made by artisans from developing countries.
It's rightly called a maker-to-market movement that empowers artisans by providing them with respectful employment.
With every purchase you make from Ten Thousand Villages, you are contributing towards making a positive social change.
This eco-friendly company brings you fair trade jewelry that respects the planet, people, craft, and culture.
Sustainable materials like glass beads, copper, brass, wood, and vegetable ivory are used for making their unique and striking jewelry
You can find bamboo cane bangles from India, Capiz shell earrings from the Philippines, Kenya's hand-hammered earrings, and much more.
These pieces from Ten Thousand Villages are perfect for your vacations, beach days, lunch dates, and night out.
LIKHÂ presents beautiful handcrafted artisan products to the global marketplace.
They work in collaboration with artisan communities in the Philippines and offers them dignified employment and access to fair trade.
The blend of modern design and traditional techniques in LIKHÂ jewelry makes each of its products a masterpiece.
The ethical jewelry from LIKHÂ is made from natural materials like mother of pearl, wood, brass, and capiz shells.
Their sustainable earrings are stylish and versatile that can be worn in different ways.
Adding its beaded necklaces to your basic outfit can take your look to the next level.
You can also find bangles perfectly hand carved from a single shell and earrings made from Mother of Pearl.
In addition to sustainable jewelry, planters, kitchenware, handbags, and masks are some other sustainable products offered by LIKHÂ.
The British jewelry brand Astley Clarke makes pieces that are examples of extraordinary craftsmanship and superior quality.
Astley Clarke products have proudly been spotted on the red carpet and seen on the silver screen many times.
Popular public personalities like Taylor Swift, Kate Middleton, Cameron Diaz, and many more have proudly shown off their Astley Clarke jewelry.
The brand expresses its love for the planet by using only noble metals, semi-precious, and precious gemstones.
All of the diamonds used in their pieces are responsibly sourced according to the Kimberley process.
The long-lasting products from Astley Clarke are designed to let you joyfully celebrate every day.
The collection has bracelets, lockets, necklaces, earrings, and rings, all of which can be layered easily or worn alone if you prefer a minimalist look.
AGMES makes timeless jewelry pieces that can be passed on to the coming generations.
Responsible sourcing and use of recycled materials make it one of the best sustainable jewelry brands.
For their sustainable jewelry, AGMES uses recycled 14-karat gold, 18-karat gold vermeil, and 925 sterling silver.
Many pieces also contain freshwater pearls to add an extra touch of classiness to their ethically sourced jewelry.
All AGMES pieces are handmade to order by a small team of jewelers in New York City.
The pieces are inspired by art, architecture, and natural and urban landscapes, perfectly combining fun and fashion.
You'll find a bit of everything here – necklaces, earrings, bracelets, and rings – and all of it is lightweight and ultra-comfortable to wear.
AGMES also has a wide range of sustainable bridal jewelry that will make you look ethereal on your special day.
---
Buying Guide: What to look out for when buying Sustainable Jewelry
Check the materials
To identify if your jewelry is truly sustainable, pay attention to the materials.
For example, you can opt for jewelry made from recycled materials like silver, brass, or gold.
You should also ensure any diamonds are conflict-free, ethically sourced, or lab-grown.
Look for Transparency
The best way to buy sustainable jewelry is to check the brand's transparency regarding the supply chain.
Look for options to trace the source of the materials to avoid getting trapped by greenwashing companies.
Check the durability
Sustainable jewelry is made to last for years as the aim is to support slow fashion.
Check if the brand offers any guarantee on its products and opt for brands that have repair services.
This is especially important in the case of sustainable wedding rings.
---
Short FAQ about Sustainable Jewelry
---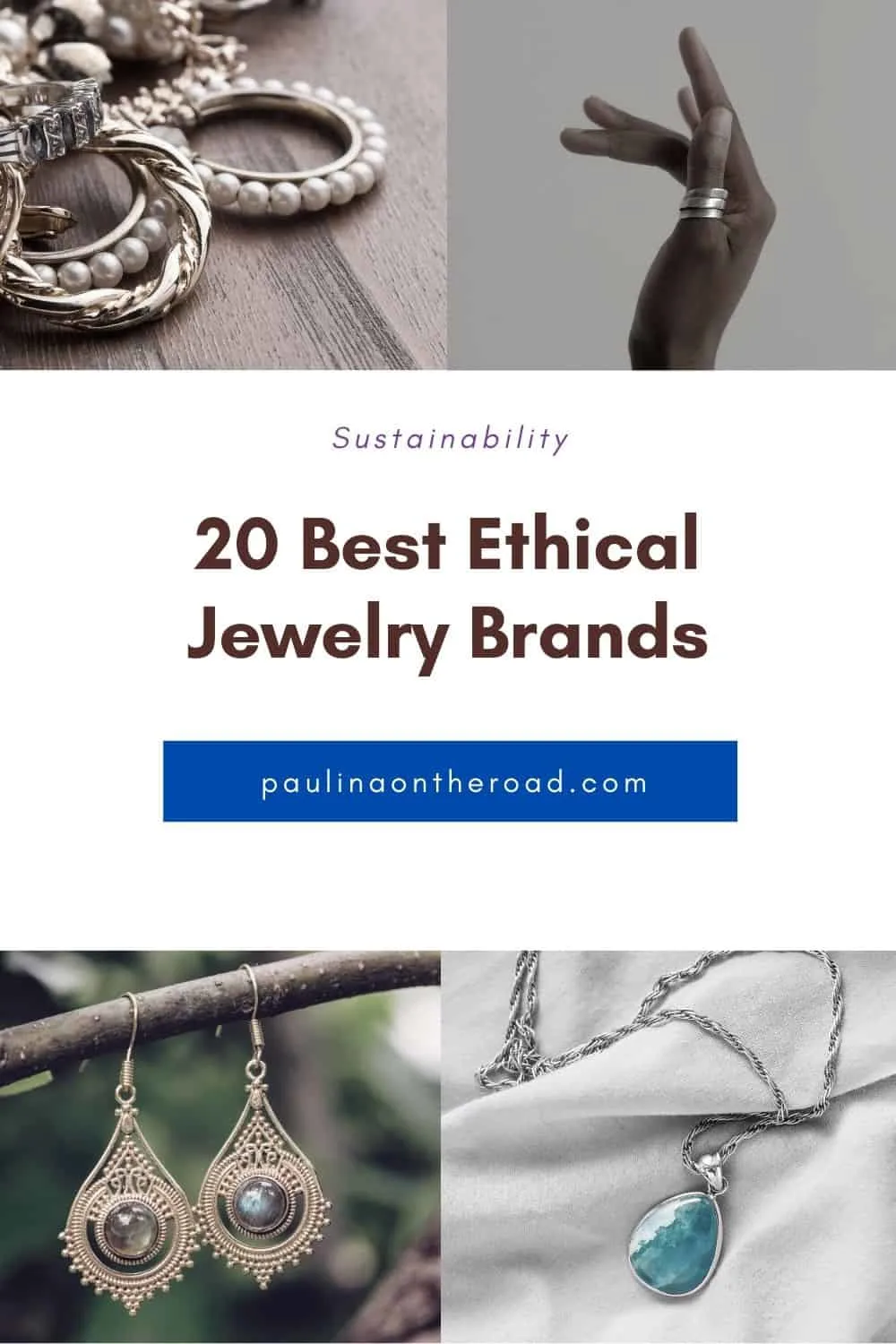 ---