Guide to the best brands for environmentally friendly wallets, including sustainable leather wallets, recycled wallets and cardholders
A wallet is an everyday essential without which stepping out of the home is almost impossible.
For leading an environmentally conscious lifestyle, sustainable wallets are a must-have for everyone.
An eco-friendly wallet not only lets you stay organized, but also helps to keep the planet green.
And fortunately, with sustainability at the forefront of fashion, many brands make these wallets without compromising on design, and functionality.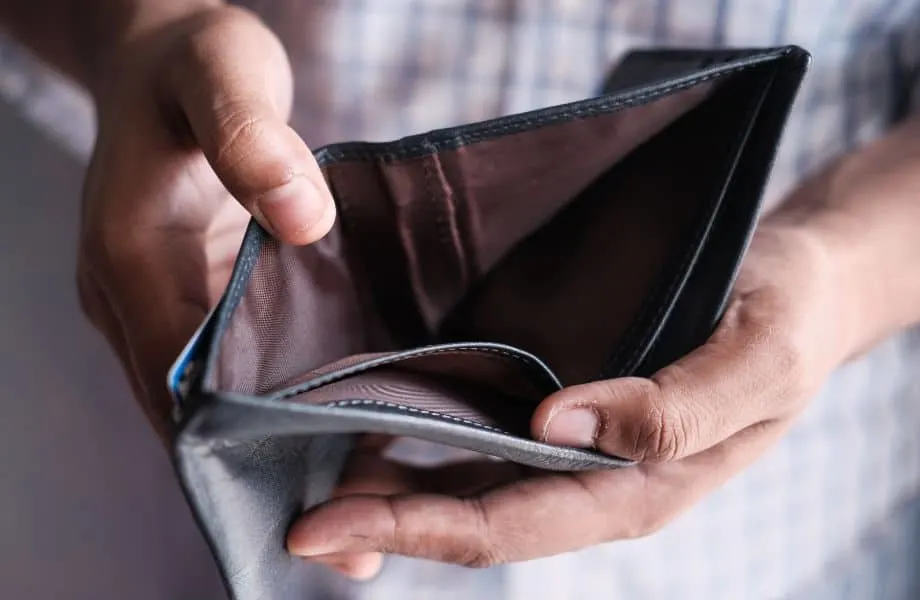 I prefer eco wallets as they allow me to conveniently carry my essentials in style without hurting the planet.
Here is a curated list of the best sustainable wallets that the planet would love as much as you will.
Whether it is for your cards, cash, IDs, or phone, these brands have amazing options for sustainable Christmas gifts or to treat yourself!
"Paulina on the Road" is supported by you, dear reader. As you buy through my links, I earn a small commission. As an Amazon Affiliate, I earn from qualifying purchases. Thank you for your support
Overview: The Top 5 Sustainable Wallet Brands
Svala offers a range of luxury vegan wallets handcrafted locally and ethically in Los Angeles.
This purse brand uses innovative European fabrics like Italian Leather and Piñatex® made from pineapple leaf for its sustainable wallets.
Here you can get stylish card cases that will easily fit in your pocket, mini bag, or purse.
These sustainable wallets from Svala have enough space to hold 4 credit cards and folded cash bills.
Plus, the linings of these eco-friendly wallets are made with recycled polyester and organic cotton.
The selection of wallet purses with detachable chains is perfect for your daily use.
In addition to card slots, Svala has a zipper pocket and can even fit an iPhone plus inside.
These are available in stunning colors and patterns to let you make a fashion statement every day.
A brand built and operated by women, LaBante believes in the philosophy of Fashion with Respect.
LaBante offers vegan wallets made from recycled materials that keep millions of plastic bottles away from landfills.
All of the ethically made wallets are PVC free and are examples of incredible craftsmanship.
The pieces from LaBante are designed thoughtfully with interior card slots and note compartments.
The popular zip-around wallet is a great everyday option for women as it also fits iPhone XS.
The bi-fold wallet radiates elegance and has cute secret messages that make it a great gifting option too.
LaBante also has a sustainable men's wallet collection that is of the ideal size to fit in the pocket.
These feature a classic design with attractive 3-toned color interiors, among other styles and colors.
You can also check this brand for chic vegan backpacks and handbags.
Elvis & Kresse creatively makes the best use of reclaimed materials for its unique products.
Started in 2005, this brand has a brilliant sustainable wallet collection made from decommissioned fire-hose.
Reclaimed Printing blankets and parachute silk are some other materials that are given a second life here.
The ethical wallets from Elvis & Kresse are handcrafted and stand the test of time.
They have also partnered with Burberry Foundation to recraft cut leather cut-offs from Burberry to eco wallets and more.
The options Elvis & Kresse offer are diverse, from bi-fold wallets and travel wallets to print room wallets.
There are also some great choices if you need a sustainable card holder or a wallet with a coin pocket.
These wallets are contactless card friendly so that you can make payments with ease.
Elvis & Kresse also offers an interesting personalization option for a small text to appear on your wallet.
Nisolo responsibly makes fashion accessories that are comfortable and functional, and takes pride in being one of the world's top-rated Certified B Corporations and Re/Make brands.
This brand provides sustainability facts labels with its products to promote transparency and allows you to check the product's social and environmental impact.
Additionally, Nisolo uses Leather Working group certified leather for most of its high-quality and durable products.
This includes their sustainable wallets, such as the water-resistant classic wallet, which is an everyday essential that you must own.
This minimal and timeless wallet comes with a zipper pocket and a magnetic closure.
Alternatively, the eco-friendly card holder handmade from upcycled scrap leather fits conveniently in any pocket.
It is excellent for the days when you just want to travel light with your cards and ID.
Nisolo is also one of the best brands to find ethically made wallets for men.
ABLE is a brand on a mission to empower women by providing them with safe and dignified jobs.
With women compromising more than 90% of its staff, ABLE makes products that are ideal for women and reflect creativity, style, and strength.
The brand focuses on a purposeful approach to fashion and uses eco-conscious materials.
The sustainable leather wallets from ABLEare made with leather upcycled from discarded animal hides.
They also minimize waste by utilizing deadstock and scraps for designing different-sized pieces.
ABLE lets you carry your everyday essentials in an easy and functional way with wallets with detachable wristlets to keep your hands free and take convenience to the next level.
Whether it's a quilted design, hand-painted, or minimalist one, all ABLE wallets are high on fashion.
They effortlessly match outfits and you can carry them everywhere from the workplace, and casual outings to night parties.
You can also rely on this brand for multi-functional sustainable backpacks.
8000 Kicks is known for being one of the most sustainable shoe brands, but they also make fantastic hemp accessories.
In addition to their amazing waterproof hemp shoes, you can also get the best eco-friendly wallet made from hemp.
All 8000 Kicks products are made with hemp and are extremely durable and strong.
This powerful natural fiber requires less water to grow and does not need any fertilizer.
This brand offers the world's thinnest hemp wallet that can fit even in your skinny jeans.
Although it is just 5mm thin, it is spacious enough to carry 6 cards and is very secure as it comes with an RFID shield that blocks the scanning of a card or ID.
This eco wallet is one of the best gifts for outdoor lovers under $20 as it is easy to carry and maintain, and can even be hand washed with warm water, soap, and a gentle scrub.
Get 10% off your 8000 Kicks purchase with the code PAULINEWEIS
Matt + Nat encourages its customers to adopt a sustainable lifestyle by opting for cruelty-free products.
The brand's name is inspired by its love for nature and the materials that don't harm its beauty.
All of the high-quality vegan products from Matt + Nat are made from recycled nylon, cardboard, rubber, cork, and windshield resins.
Matt + Nat also has eco-friendly wallets and card holders innovatively made from apple waste.
The colorful collection of wallets stands true to this brand's motto to live beautifully as there are plenty of great designs like flap closures, wristlets, and folded wallets.
One design that truly stands out is the cross-body wallet with detachable straps.
If you are a frequent traveler, you must consider the zip-around closure travel wallet as it is amazingly designed with passport, checkbook, and card slots.
Pixie Mood was started in 2010 to make 100% vegan products that make you look and feel good.
This climate-positive brand sources the most innovative and sustainable materials to minimize environmental impact.
The exceptional range of recycled wallets and card cases available at Pixie Mood are absolute conversation starters.
From compact-size wallets to long and crossbody wallets, Pixie Mood has something to match every fashion choice.
The RFID-blocking technology in these sustainable wallets keeps your cards safe.
And in terms of functionality, its 2-in-1 cross-body bag is a clear winner as it features a detachable wallet and bag held together with hidden magnets.
Available in various colors, this is one of the most thoughtful outdoor gifts for women.
Doshi ranks among the best sustainable wallet brands that offer 100% vegan products.
The eco brand is admired by customers for its high-quality and affordable wallets made from microfiber-based vegan leather.
In the sustainable women's wallet collection from Doshi, you can find mini wallets, passport wallets, fanny packs, and phone purses.
There are also zip-around wallets made with eco-friendly kraft paper.
The beautiful floral designs of these wallets make them perfect for your vacations and casual outings.
If you are looking for an eco-friendly men's wallet, you will be surprised by the numerous options available here.
Doshi offers durable and luxurious bifold, trifold, and passport wallets with folded edges.
The slim money clip card holders and card sleeves are splendid choices for carrying your cards comfortably.
GUNAS designs 100% vegan products that are kind to people, animals, and the planet.
All of the sustainable wallets and handbags available from GUNAS showcase luxury, uncompromising quality, and elegance.
Eco Polyurethane, rPET, and microfibers upholstery fabrics are just some of the materials that this brand uses.
The chic women's wallet comes in soft feminine colors, and is all that is required to elevate any look.
Alternatively, the handcrafted wallet is functional with an internal slip pocket and zip.
GUNAS also offers a sustainable leather wallet for men that is made from plant-based vegan leather Mulbtex.
This super stylish wallet is slim and ultra-weight with pockets to hold 8 cards, available in different color combinations, and is excellent for a smart professional look.
Creating dignified jobs in Haiti and honoring the island's craftsmanship was the inspiration behind starting Deux Mains.
Deux Mains' sustainable products are made using traditional craft methods in a solar-powered factory.
The brand offers a fantastic range of tri-fold wallets made from responsibly-sourced genuine leather.
Everything from Deux Mains is designed with circularity in mind and will last for years.
Their products are phenomenal for everyday use and you can choose from different vibrant colors.
Deux Mains also make card holders from hand-woven strips of leather that come with two slots to carry your credit cards, business cards, and folded cash.
Additionally, Deux Mains is also one of the best sustainable jewelry brands as they make stunning pieces from Majok seeds.
Besides wallets, you must check out this brand for its gorgeous bracelets, earrings, and necklace.
Malia Designs offers high-quality fashion products made by talented artisans in Cambodia.
All of Malia Designs' fair-trade products help in providing dignified working conditions and sustainable income to the underprivileged.
The brand uses eco materials locally sourced in Cambodia for making its sustainable wallets.
Upcycled cotton, recycled cement bags, and recycled inner tubes are some examples of unique materials that Malia Designs turn into wallets.
The lively and modern designs allow these pieces to complement both casual and professional lifestyles.
If you want a unique recycled wallet, you can opt for the recycled feed bag wallets from Malia Designs.
The durable vegan wallets are perfect for adding a bold pop of color to any look.
The phone case wallet with multiple card slots and adjustable strap is another iconic product by this brand.
These sustainable wallets make great gifts for outdoorsy people under $50 due to their durability and eco-friendliness.
Baggu was started in 2007 to make reusable shopping bags that minimize wastage, and now makes different sustainable accessories that follow this mission of minimal waste.
The brand boasts a great selection of recycled nylon wallets in fun designs.
The yarn for these sustainable wallets is produced from pre-consumer waste and has kept many scrap materials away from landfills.
The trifold wallet from Baggu has a loop so you can attach it to your keychain.
Additionally, these wallets are machine washable which ensures their longevity.
The compact size, card pockets, and Velcro closure makes it easy to carry everywhere.
From kid's bamboo rayon socks to a cozy throw quilt, Baggu has something for everyone in the family.
Parker Clay takes steps in the right direction for the empowerment of women in Ethiopia.
Each of the handcrafted products from Parker Clay is a reflection of exceptional Ethiopian artistry.
This brand ethically sources sustainable leather from local farmers for its premium quality products.
Available in different sizes, Parker Clay wallets are built to last for life, and the designs are trend-proof and will still be a statement piece in your wardrobe for years.
You can choose from several styles including envelope wallets, zip wallets, bi-fold wallets, and more.
The accordion wallet is a travel essential with enough space to keep your phone, cards, cash, and even lipstick.
Parker Clay also has an outstanding selection of slim wallets for men to avoid unnecessary bulk and clutter.
The card wallet with 3-slot construction can fit even in the front pocket!
Ekster embraces technology to make environmentally friendly wallets to make your life easier.
The brand uses LWG-certified vegan recycled leather made from car windshields for its products.
The next-generation smart wallets from Ekster have a built-in cardholder that allows quick card access with the click of a button.
These are designed with RFID technology to block the chances of wireless theft.
Ekster has taken luxury to new heights with its 18k gold cardholder that can hold up to 15 cards.
They also provide the option to add a tracker card to the wallet so you never lose it.
The solar-powered card from Ekster notifies you when you leave your wallet behind.
You can ring your wallet from the phone or vice versa with this phenomenal invention.
It is voice-activated using Siri, Alexa, and google and you can even click remote group selfies with this tracker.
---
What to look out for when buying Sustainable Wallets
Transparency
While buying sustainable wallets, it is essential to see how transparent the brand is about its processes.
Whether manufacturing, packaging, or shipping, a brand should clearly state how it impacts the environment.
For example, check how the leather is sourced and certified for a sustainable leather wallet.
Durability
A sustainable wallet must be synonymous with durability as the purpose is to reduce waste.
Before buying a wallet, check with the brand about the estimated product life and guarantee.
It is great to go for brands offering lifetime guarantees or repair services on the wallets.
Moreover, if the materials used are recyclable wallets have even more chances of not ending in a landfill.
Functionality
While buying a sustainable wallet, check whether its features serve your purpose.
Carefully choose the ones that have enough card slots and space to keep your money.
It's great to choose multi-functional wallets as it eliminates the need for other products.
For instance, a wallet with adjustable straps is fantastic as it converts to a bag or fanny pack.
---
Short FAQ about Sustainable Wallets
---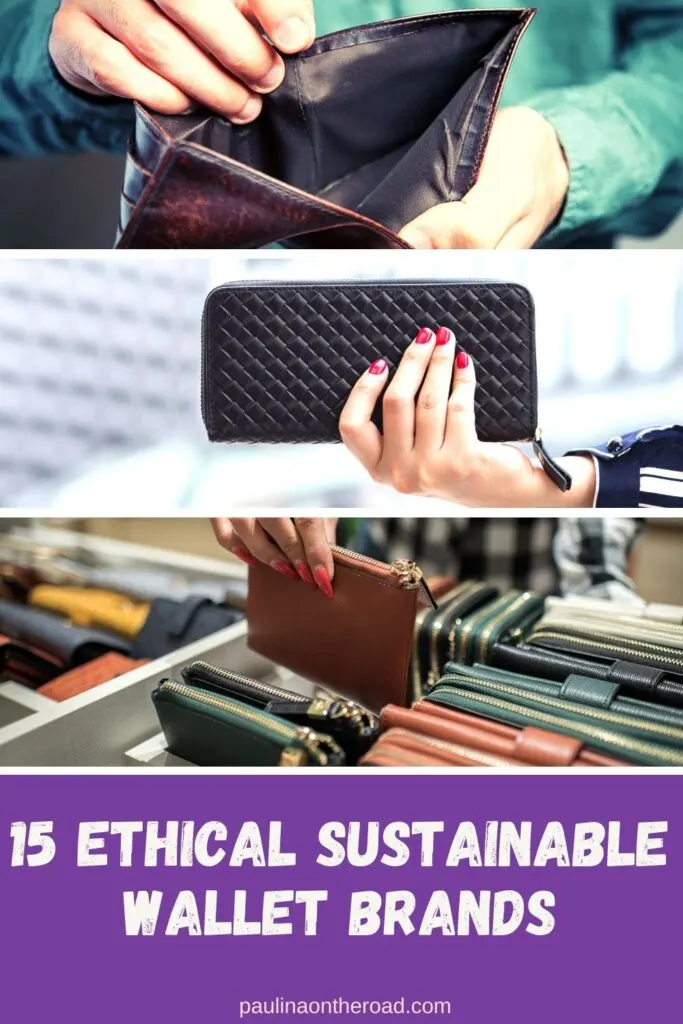 ---