15 Best Brands for Vegan Backpacks
Guide to the best sustainable vegan backpack brands, including sporty backpacks and stylish vegan leather backpacks
Whether it is for school, work, outdoor adventures, or a casual outing, everyone needs a backpack.
When buying a bag, we always tend to look for its color, style, price, and storage. However, now it's time to also check if the backpacks that you are buying are vegan.
Climate change, animal cruelty, carbon emission, and plastic waste piling up at landfills are just a few of the many problems of today.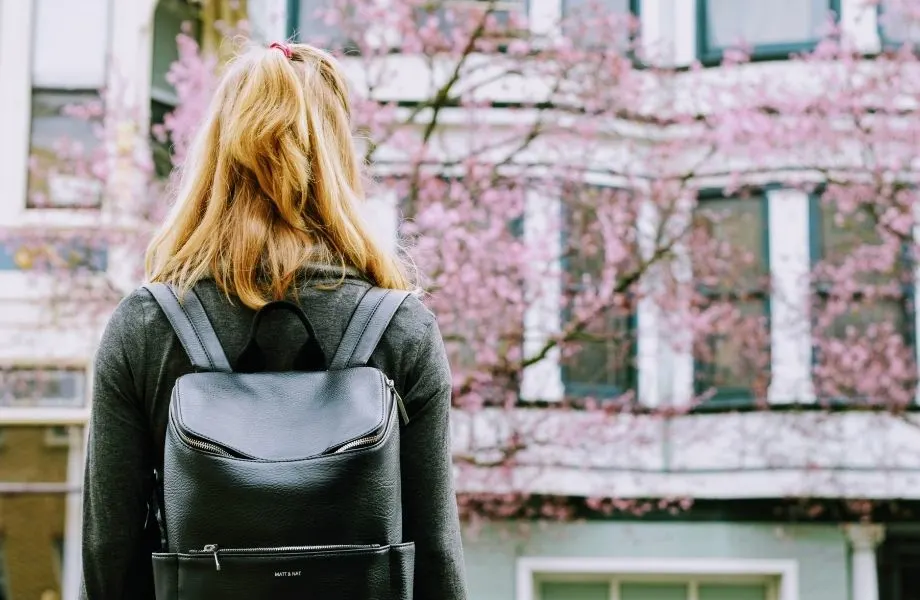 Shifting to vegan products is a change that we all need to make to save our environment.
Vegan bags are guilt-free and do not compromise on quality or fashion quotient. Because of this, they are often more durable which proves to be cost-efficient in the long run.
But buying can be daunting if you don't know where to start!
That's why I've put together a list of the best vegan backpacks to help get you on your eco-friendly and cruelty-free journey.
This blog is supported by you, dear reader. If you purchase through a link, I earn a small commission. As an Amazon Affiliate, I earn from qualifying purchases.
Overview: 5 Best Vegan Backpack Brands
Matt and Nat is a completely cruelty-free brand that came into existence in 1995 and follows the mission to "live beautifully" by respecting nature and all that it offers.
When it comes to the best vegan backpacks, this brand has earned an unmatched reputation.
They use innovative alternatives like nylons, cardboard, rubber, cork, and windshield resins to make the products environment-friendly.
Every Matt and Nat backpack features linings that are made from 100% recycled plastic bottles.
If you need a convenient bag for keeping your everyday essentials, you can check the Matt and Nat mini backpack.
With features like a zip compartment and adjustable straps, it is sure to become your next favorite.
Matt + Nat also makes some of my favorite stylish sustainable winter coats which pair great with their cute backpacks.
You'll find a range of cute vegan accessories, including sustainable wallets, belts, and scarves.

Pangaia, which essentially means "All-Inclusive Mother Earth" is a vegan company on a mission to save the environment.
Their behind-the-scenes team consists of scientists, designers, and technologists who work hard to find innovative solutions for an Earth-positive future.
They put in the best use of technology to make products with earth-friendly, biodegradable materials.
The vegan backpacks from Pangaia are made from recycled nylon and thus contribute towards reducing waste.
The interiors of the bags are made with organic cotton and eucalyptus lyocell, and they are water-resistant and lightweight so you can carry them comfortably.
Pangaia is one of the best sustainable activewear brands with great collections for kids and adults.
If you are looking for outdoor gifts for women, you must check out this brand for its vegan leather sneakers.
GUNAS is a PETA-approved brand that was established in 2009 that now makes affordable luxury a reality with its vegan leather backpacks.
The team at GUNAS loves people, fashion, animals, and most importantly, the planet, which is why all of their products are vegan and cruelty-free.
They make fashionable vegan-friendly backpacks with Polyurethane and recycled plastic bottle lining, and even have backpacks made from 100% plastic-free Mulbtex.
This innovative alternative material is made from Mulberry leaf pulp and is lightweight, waterproof, and shiny.
GUNAS is such a popular vegan brand that they've made their way onto multiple Netflix shows, and multiple celebrities have been spotted wearing them.
This European clothing company is your one-stop shop for all the best sustainable and vegan fashion brands.
LOVECO takes the meaning of sustainability to the next level by following it in all areas of their work; from manufacturing, packaging to shipping, every process is eco-friendly, fair, and vegan.
They even use renewable energy for electricity which makes it one of the best sustainable backpack brands.
Although more well known as a clothing brand, LOVECO also features completely vegan backpacks, as well.
The top vegan backpack brand that they work with is Pinqponq, which makes backpacks from 100% recycled ocean plastic, while the straps and buckles are usually made from recycled polyester.
Whether you want a vegan laptop backpack or a vegan rucksack for your next trip, this company has got it all.
I admire its classic roll-top design backpacks that offer great storage space and are very convenient to carry.
In addition to bags, they also have a stunning collection of vegan winter boots and are one of the best sustainable underwear brands for those based in Europe.
As one of the top luxury vegan clothing brands on the market, Stella McCartney makes vegan fashion look more elegant than ever before with its stylish products.
Founded in 2001, the brand has been working towards creating a positive impact on the planet ever since.
The brand never uses leather, skin, or fur in any of its designs. It is also strictly against the policy of animal testing in any form.
All the products are PVC plastic free and they make the best use of vegan leather.
In addition to vegan leather, backpacks at Stella McCartney are also made with sustainable materials like Econyl recycled nylon.
Besides backpacks, vegan totes and shoulder bags in vibrant colors are also available here for every occasion.
Fjällräven is a sustainable outdoor brand that's determined to create a positive impact on the environment.
Its clothing, backpacks, and accessories are designed to last for generations.
Here you can find vegan trekking and hunting backpacks that are waterproof, lightweight, and incredibly durable.
All of Fjällräven's bags are spacious, lightly padded, and made of G-1000 Heavy-duty Eco material.
They also have technical and sturdy mountaineering backpacks made from snow-repellent recycled nylon fabric.
Their vegan laptop bags are excellent for everyday use and outings, and perfect for kids to use as vegan backpacks for school.
Svala is a PETA-approved brand that makes handcrafted bags from premium vegan materials.
To make their gorgeous backpacks, Svala uses Italian vegan leather PU, pineapple leaf fiber, cork, and other innovative PVC-free fabrics for its bags.
These fashionable ethical backpacks are durable with excellent water-resistant, stain-resistant, and scratch-proof properties.
I find the vegan leather backpack purse as the star among all Svala products as the bag oozes elegance and is perfect for both casual and formal occasions.
Additionally, the Svala vegan backpack purse is versatile and can be converted into a handbag so it's perfect no matter the outing.
The brand follows a direct-to-consumer business model and contributes 10% of its profits to charities, particularly those focused on protecting wildlife and the environment.
In 2020, Svala won the Eluxe award for the best vegan brand of the year. The brand has also been featured in renowned publications like Vogue, Forbes, and LA Times.
LaBante vegan backpacks are luxurious, stylish, ethical, and sustainable all the same time.
You can take pride in owning their products as they are completely cruelty-free, and don't harm the environment.
In addition to being 100% vegan and cruelty-free, LaBante has saved millions of plastic bottles from ending up in the ocean and landfills by recycling them into polyester.
These trendy ethical backpacks are made from eco-friendly fabric and vegetable-based Polyurethane.
Additionally, LaBante never uses animal-based glues, dyes, or PVC in any of its products.
To give back to the planet, LaBante plants 10 trees for every purchase made and donates a minimum of 10% of their profits to wildlife and medical charities each year.
They also ensure fair wages and safe working conditions for all employees, and only work with manufacturers who share their values.
I personally love the brand's vegan leather mini backpack as it is very innovative and multi-functional without sacrificing style.
The bag is lightweight and can be transformed into a satchel or shoulder bag, making it one of the most versatile vegan backpacks for work or social events.
The vegan leather laptop backpack is also exceptional as it's gender-neutral and can be used as a practical travel bag.
LaBante offers a range of other items, including beautifully crafted sustainable jewelry, wallets, and even shoes!
TenTree is committed to walking on the path of sustainability to create high-quality clothing, bags, and accessories.
As their name suggests, this brand plants 10 trees for every purchase made, and they have planted more than 70 million trees till now and plan to reach 1 billion in a few years.
All of their products are designed in Canada and manufactured around the world in factories with the highest ethical standards.
TenTree ensures that all of its workers have safe working conditions and fair wages, including access to benefits like insurance coverage.
Everything at TenTree is made from the most sustainable and comfortable materials, such as organic cotton, hemp, repurposed factory wastes, and recycled bottles
The Daily Backpack is made with algae foam padding and is outstanding for carrying to and from the workplace, or out for a hike.
If you need more space, you can opt for the spacious Mobius Backpack for your next hiking trip.
For those looking for sustainable and unique gifts for outdoorsy people under $50, you'll find a few cute and stylish hats at TenTree.
They're also one of the best brands for sustainable yoga clothes.
Patagonia takes its environmental responsibility very seriously and is committed to making a positive change in the clothing and accessories industry by following sustainable practices.
To ensure sustainability, the brand's focus is on making products that are durable, which will lead to less trash in the long run.
Additionally, many of Patagonia's backpacks are made from recycled materials like nylon and polyester which are vegan-friendly.
If you are looking for vegan backpacks made from recycled materials, this is a great place to start.
Patagonia has also confirmed that all of its glues are vegan-friendly.
However, do make sure to check the materials used as some of the products contain animal products like leather and suede.
You can find everything from casual everyday laptop backpacks to heavy-duty vegan rucksacks for hiking at Patagonia.
Patagonia also offers larger duffels that are perfect for those in need of sustainable luggage that is incredibly durable.
What I like the most about this brand is that they have bags that are custom-tailored for a woman's torso, as well as being extremely comfortable and water-repellent.
Patagonia is also one of the best recycled clothing brands and also encourages the purchase of worn wear.
REI is a renowned brand for travel gear, apparel, outdoor equipment and sustainable running shoes, and hiking shoes.
But did you know they also have many sustainable backpacks made from vegan-friendly recycled materials?
You can get bags in all sizes and capacities to carry all the essentials you need for your next adventurous trip or outing.
Most of REI's sustainable bags are made from 100% recycled polyester that's water-resistant and provides optimum strength.
REI also has mini backpacks made with Econyl fiber made from fishing nets and nylon waste.
These bags feature anti-theft technology and are excellent for carrying your laptop and phone.
In addition to REI's own brand eco-friendly backpacks, you can get great products from several other sustainable brands, including Fjällräven and Patagonia.
With its sustainable products, REI aims to reduce carbon footprint, eliminate waste and work towards fighting climate change.
However, keep in mind that for their backpacks, REI cannot confirm the glue used for many of the products, so they are not certified vegan.
If you're planning an epic hike trip, be sure to check out their water bottles for hiking and their range of vegan hiking boots for women and men!
At REI, you can also get some cool gifts for outdoor lovers under $20, such as accessories like travel pillows and small everyday essentials that are pocket-friendly and sustainable.
Herschel Bags are popular for their timeless designs and attention to detail.
They have several brilliant backpacks that are made with 100% recycled fabrics and other vegan-friendly materials like synthetic leather.
All of the bags are sure to make a fashion statement whether you carry them to work or to social gatherings.
The signature Herschel Little America™ Pro backpack is available in many attractive colors, and most of the line is made using recycled post-consumer water bottles.
To maximize the eco-friendliness of the bag, opt for one of the eco Little America bags, which use 20 recycled bottles and are made with 100% recycled materials for the exterior and internal lining.
The line comes with features like textured rubber straps and metal pin buckles.
I love this bag for travel as it is not only thoughtfully designed, but spacious with dual water bottle pockets.
You can also check Herschel's Eco Novel Duffle Bag which is sustainable and has a compartment for keeping spare shoes.
Although most of Herschel's signature backpacks are vegan, many of the bags made in collaboration with other brands and designers are not, so be sure to check the materials before you buy!
Made Trade is a women-owned sustainable company that came into existence in 2018 and is known for its fair business practices.
Rather than sell their own products, Made Trade exclusively works with companies they thoroughly vet to meet their high ethical and sustainability standards.
As part of its commitment to sustainability, the company is climate-neutral certified and all its products are made from responsibly sourced materials.
Those looking for eco-friendly backpacks here won't be disappointed, as they offer several handcrafted vegan backpacks made with cork.
These ethical vegan backpacks are perfect for everyday use with enough space to carry your laptop and books.
But if you are looking for a vegan sling bag, you will find plenty of choices here, as well as cute a vegan mini backpack made with cork.
I love that Made Trade donates 1% of every single purchase to an environmental non-profit organization, so you know that everything you get is helping the planet.
In addition to sustainable backpacks, Made Trade sells a little bit of everything from clothing to furniture, so they are often my go-to for sustainable products.
Frank & Oak showcases a blend of innovation and eco-friendly processes to create sustainable backpacks that are vegan-friendly and cruelty-free.
Founded in 2012, the company's mission is to promote the idea of a better way of living through its products and practices.
Their eco-friendly backpacks are made from PETA-certified vegan leather, and their durability and weather-resistant properties make them a perfect companion for your adventure trips.
The vegan leather backpacks are also stylish and offer a large storage capacity to suit the needs of a modern lifestyle.
Due to Frank & Oak's high standards of social and environmental performance, they have been awarded a B Corp certification.
The brand has taken a further step forward towards sustainability by reducing the use of plastics even in the packaging.
Frank & Oak is also one of my favorite brands for lightweight vegan winter coats.
Urban Originals is a 100% cruelty-free brand that makes stylish and high-quality vegan backpacks.
They use vegan leather and recycled materials for their products and ensure that everything meets industry ethical standards.
The vegan backpacks from this brand stand ahead of their competitors in terms of versatility.
You can find bags with convertible straps to change into fashionable crossbody bags, which are available in many attractive colors and sizes and are brilliant for everyday use.
Urban Original bags can be found in boutiques across Australia, the US, Mexico, Japan, South Korea, and the UK.
However, they also offer worldwide shipping facilities so you can own a gorgeous vegan backpack from anywhere in the world.
10% of all Urban Original profits are donated to causes for human rights.
---
Buying Guide: What to look out for when buying vegan backpacks
Check the label
While buying vegan backpacks make sure that you check the label to know if the product is cruelty-free.
Some of the most popular vegan materials are Econyl, recycled polyester, cork, and silicone.
Further, make sure to pay attention to small details – for instance, if you are buying a vegan leather backpack, check if the dye-used is also vegan. This is true even for a tan or black vegan leather backpack.
Buy according to the purpose
Vegan backpacks are available for different purposes in various sizes, so buy ones that suit your needs without going overboard.
If you are buying backpacks for outdoor adventures like hiking or mountaineering opt for a technical backpack.
If you need to carry it to your work or school, a vegan mini backpack is all that you need.
Wherever possible, buy bags that will serve multiple purposes to cut down on waste.
Check the features
Vegan backpacks are known to have many great features, such as excellent scratch-resistant and water-proof properties.
When buying your next vegan leather backpack, look out for these features to make it last longer.
Buy from a trusted brand
When it comes to vegan backpacks, it is essential that you buy from trusted brands.
Look for the company's expertise, its mission, vision, and how it is contributing towards making the planet a better place.
You should also choose brands that eliminate wastage even in its packaging and shipping process whenever possible.
---
Short FAQ about Vegan Backpacks
---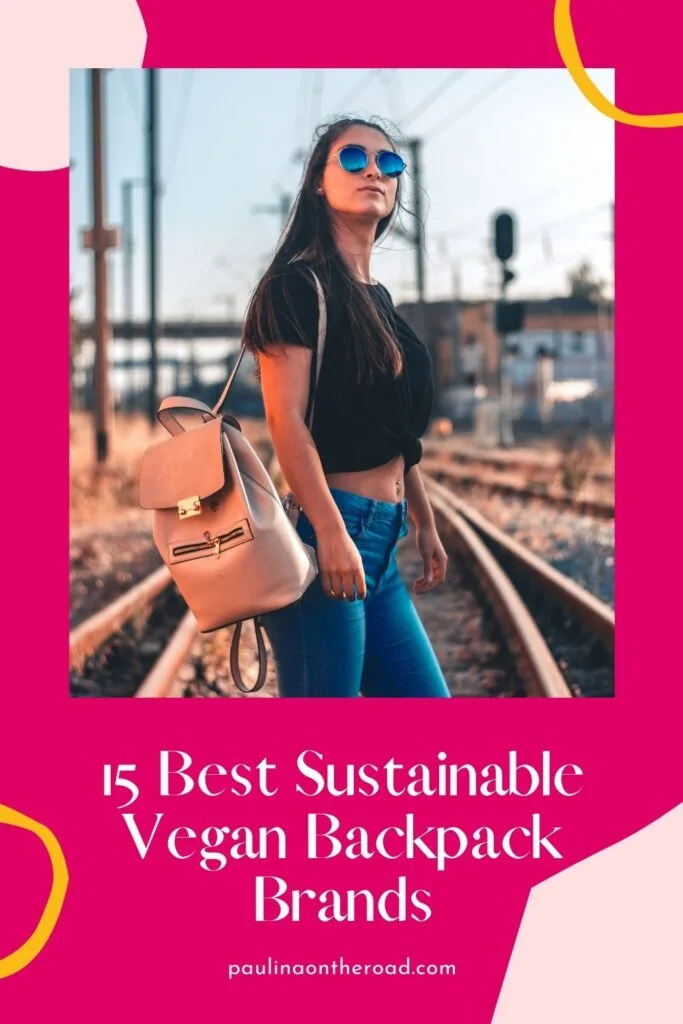 ---