Guide to the best attractions in Madison, WI, including things to do for budget travelers, families and couples
Madison, Wisconsin is the state capital and is regarded as one of the most authentically American cities.
Although often visited as one of the best day trips from Milwaukee, Madison has its own thriving cultural scene, and there are many fun and unique things to do in Madison, Wisconsin.
It also has a number of first-rate museums and art galleries, as well as a variety of tourist attractions.
During the summer, the city's enormous bike route network is packed with riders.
Other visitors (and residents) choose to sail on Mendota, Monona, and Waubesa lakes for cool weekend trips in Wisconsin.
While talking of Madison winter activities it's all about outdoor activities, such as skating, hockey, Nordic skiing, and ice fishing.
One of the city's most notable claims to fame is its lengthy affiliation with the renowned American architect Frank Lloyd Wright.
With our list of the top tourist attractions and interesting things to do in Madison, Wisconsin, you can discover the greatest sightseeing possibilities and the most distinctive sites to visit in and around the city.
Whether you are looking for things to do in Madison this weekend or planning a future trip – you won't be disappointed!
This blog is supported by you, dear reader. If you purchase through a link, I earn a small commission. As an Amazon Affiliate, I earn from qualifying purchases.
Top resources to travel Wisconsin
✎ Plan the ultimate Wisconsin road trip (no backtracking!) with the Perfect Wisconsin Road Trip itinerary – Buy now for less than 12$

✈ Find the best hotel deals in Wisconsin with Trivago

➳ Book vacation rentals in Wisconsin with VRBO

✔ Book tours in Wisconsin with Viator

☘ Get the best discounted outdoor gear (outlet) at REI.com

$ Get Wisconsin hiking guides and maps at REI.com

✎ Never leave without travel insurance. I get mine at SafetyWing. It is easy to set up, cheap, and reliable.
Where to Stay in Madison
1. Go Hiking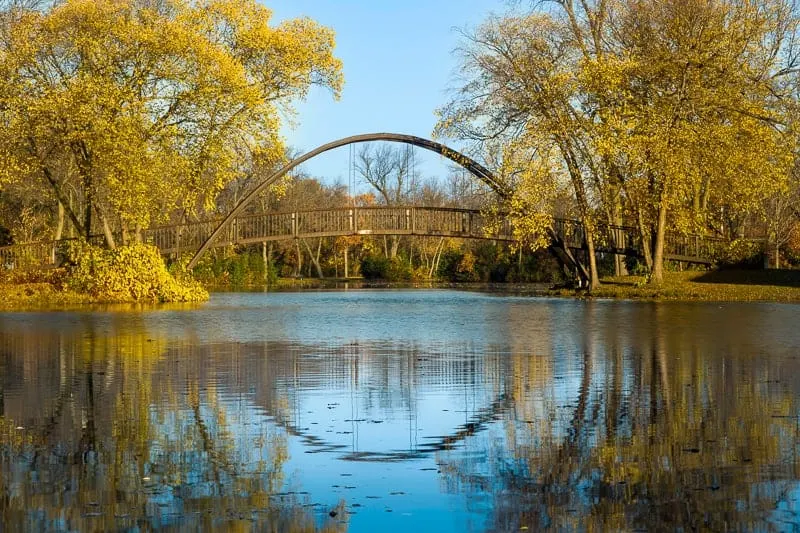 Hiking is one of my favorite Madison, Wisconsin activities!
There are so many amazing opportunities for hiking in Madison, and in fact, the city has some of the best Southern Wisconsin hiking trails.
One of my favorites is the Holy Wisdom Nature Trail that partially runs along Lake Mendota, one of the best lakes in Wisconsin.
The Holy Wisdom trail is associated with a monastery of the same name that is run by Benedictine nuns and will make you feel one with nature.
Although if you're looking for peace and quiet in Madison, you should also visit the Pheasant Branch Conservancy.
This is a heavily wooded location that is ideal for hiking in Madison, WI, and calming your restless thoughts.
Even if you believe your head is in a good place, it can always be in a better one.
Pheasant Branch Conservancy is also located near Lake Mendota and near some of the best hiking trails in Wisconsin, just perfect for hiking.
The paths are not too difficult, and the experience is improved if done with friends or a spouse.
You may also view some magnificent birds, such as herons and swans.
The Pheasant Branch Conservancy is a great place to spend time in nature near Madison.
2. Relax at a Yoga Retreat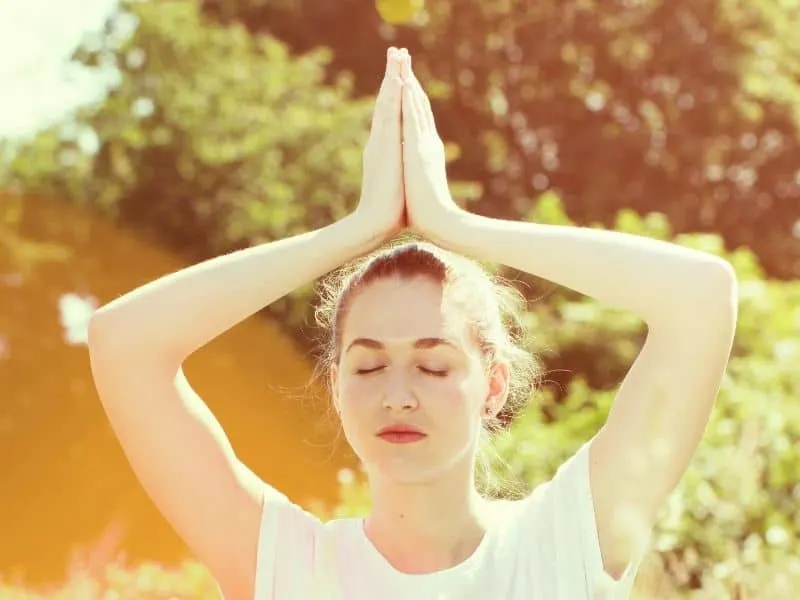 Wisconsin is one of those places that can provide both fun and thrilling outdoor activities as well as magnificent natural surroundings.
More importantly, it is for these reasons that this location is ideal for a weekend retreat of healing and refreshment.
Madison provides some of the best yoga retreats in Wisconsin.
Whether you're a resident looking for a calm escape, a yogi looking for a community, or just visiting this area and want to keep up with your health regimen, Madison is the perfect place to embrace your inner yogi.
Get off your newsfeed, unplug from social media, and start practicing yoga — in a farm home!
Rooted Soul Farm Getaways provides both day and overnight retreats for those looking to de-stress and unwind from their stressful routine.
The rustic barn home where you'll perform your yoga and meditation is an added bonus.
Another option, Andrea Russell, a Wisconsin-based "Ayurvedic health counselor, and yoga therapist," also offers fantastic retreat options.
When you attend Ms. Russell's retreat in Wisconsin, you will practice yoga, meditation, and Ayurveda at various sites across the state.
She also teaches in several places of the world, including Costa Rica and Bali.
If you want to escape away from the stresses of life and immerse yourself in a calm voyage of reflection, you should check her out.
3. Try an Escape Room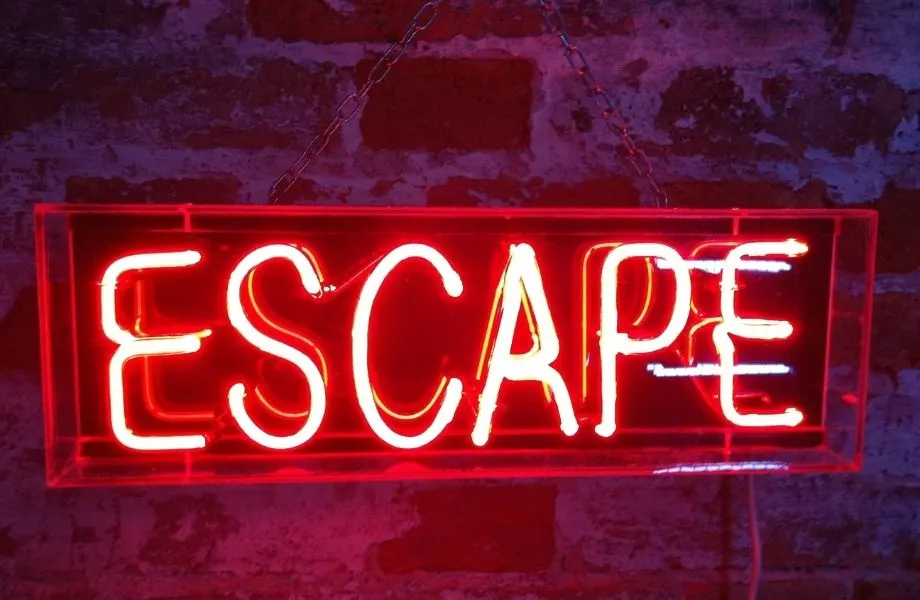 Escape rooms have become quite popular in recent years and you get the opportunity to try this type of experience.
With a variety of them cropping up around Wisconsin, now is the time to join a group of friends, family, or coworkers to work together to solve one!
When it comes to indoor things to do in Madison, Escape in Time and My Escape Plan are excellent choices.
Their escape rooms are some of the best escape rooms in Wisconsin and push you to use your critical thinking, problem-solving, and ability to work under pressure.
The sessions last no more than 60 minutes, so make sure you leave before the timer goes off! Or else…
Your group will need to collaborate to achieve a common objective, which will need good teamwork and communication skills… all while enjoying one of the most fun things to do in Madison, Wisconsin!
4. Spend the Night Camping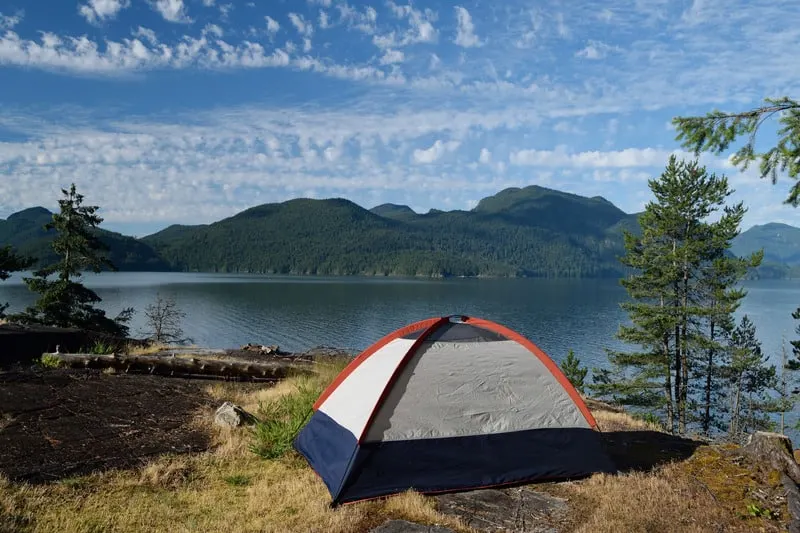 If camping under the stars sounds fun or romantic to you, then head to Devil's Lake State Park, one of the best state parks in Wisconsin, and camp to your heart's content!
Located 40 miles from Madison, Devil's Lake State Park is both the largest and most visited state park in the entire state of Wisconsin.
The park itself spans 10,000 acres, but it sits up against an additional 27,000 acres of natural space that is open to the public.
This makes the park a mecca for outdoor lovers and is some of the best hiking in Wisconsin Dells.
Besides camping, you can try many amazing outdoor activities in Wisconsin.
This is one of the most versatile things to do in Madison, Wisconsin for nature lovers as you can hike, bike, swim, ski, rock climb, and more within the park.
When it comes to mountain biking this park has one of the best mountain bike trails in Wisconsin.
If you are looking for fun, outdoorsy day trips from Madison, then Devil's Lake State Park is a great option.
If you have a bit more time, be sure to check out some of the other fun things to do in Wisconsin Dells.
5. Book a spa getaway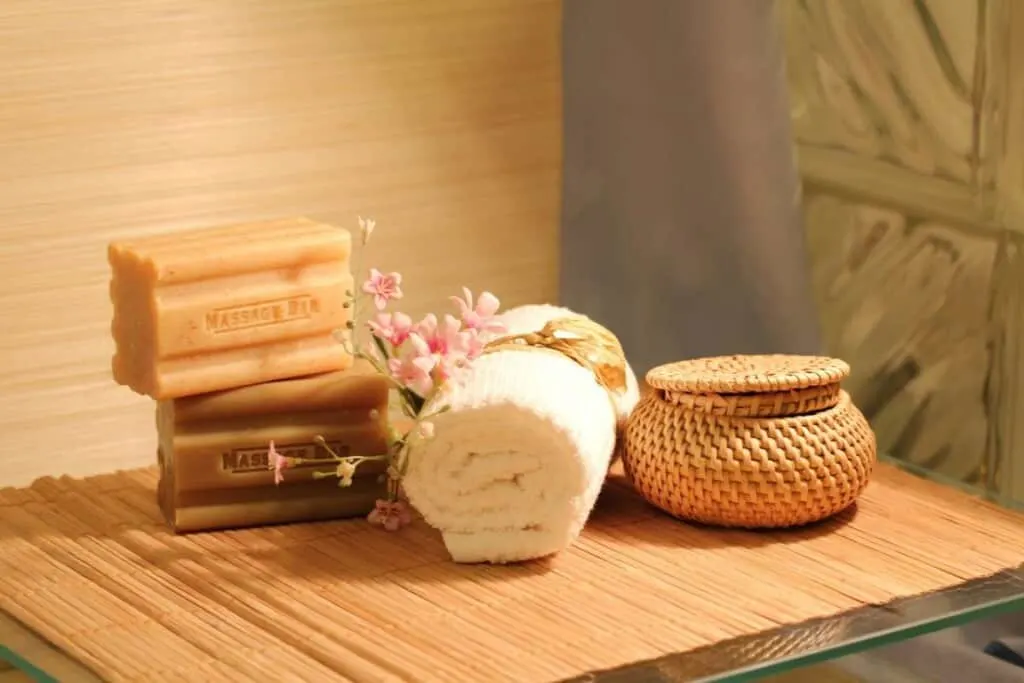 If you are looking for romantic things to do in Madison, Wisconsin, then you can't go wrong with a spa day.
Wisconsin has some excellent spa packages for couples if you are seeking the ultimate romantic getaways in Wisconsin.
Choose one of the top spa resorts in Wisconsin for your break to completely pamper yourself and your significant other!
Spas are an excellent winter alternative to regular holidays because the weather outside has no bearing on your plans or the pleasure of your stay.
And spa winter getaways in Wisconsin are the perfect way to relax, unwind, and escape from the cold!
Spa treatments are always accessible, whether it's -20°C and snowing outside or not – and they're guaranteed to help you relax and bond with your sweetheart.
If you are visiting in winter, Christmas in Wisconsin is a particularly magical period and it's the perfect time of year to treat yourself to a spa-cation!
There are also lots of great Madison attractions that are fun things to do in Wisconsin in winter.
Madison is home to some of the best winter resorts in Wisconsin to make your stay extra cozy – and just one more reason to visit during winter in Madison, WI.
6. Kayaking on Lake Wingra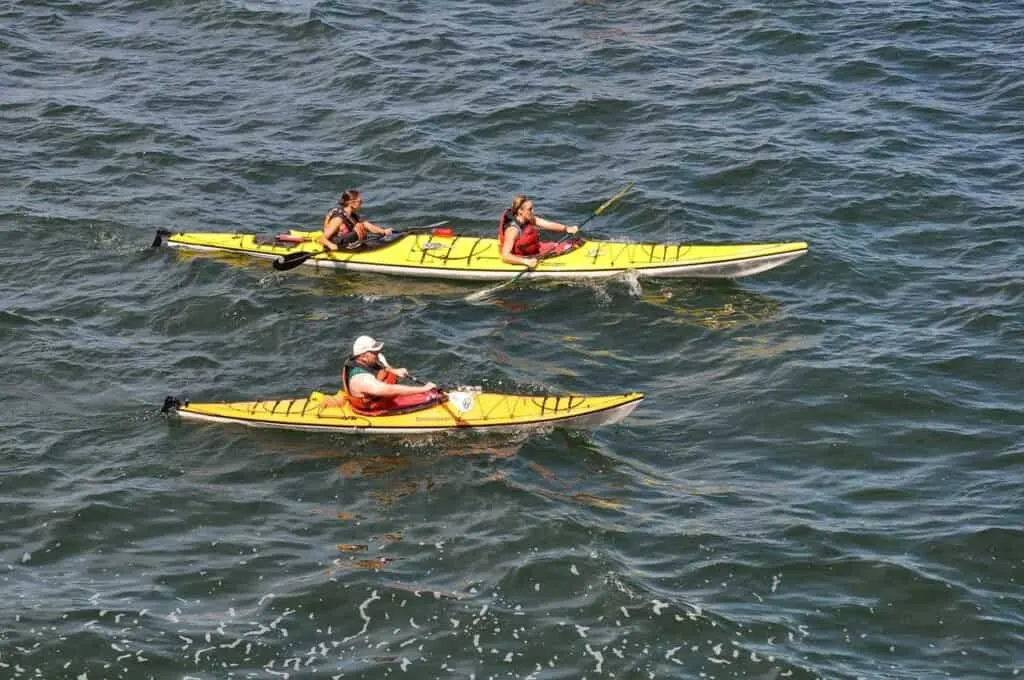 If you want to try unique things to do in Madison, WI, come to Lake Wingra and hire a kayak.
Kayak across the lake from the put-in for spectacular views of the Madison skyline and is one of the most fun places to go in Madison.
Kayaking down the beach will reward you with sights of rare plants and birds.
If you're ready for a longer paddle, you may round the lake or proceed beneath the bridge to visit Lake Monona as well.
Wingra Boats rents out boats by the hour and has ample parking. I recommend that you rent in the morning, arriving at the rental location as soon as it opens.
This will ensure you are able to find a parking spot, as the park is very popular, and also have a quiet experience on the lake.
This is a great choice for the best things to do in Madison, Wisconsin for sure!
7. Henry Vilas Zoo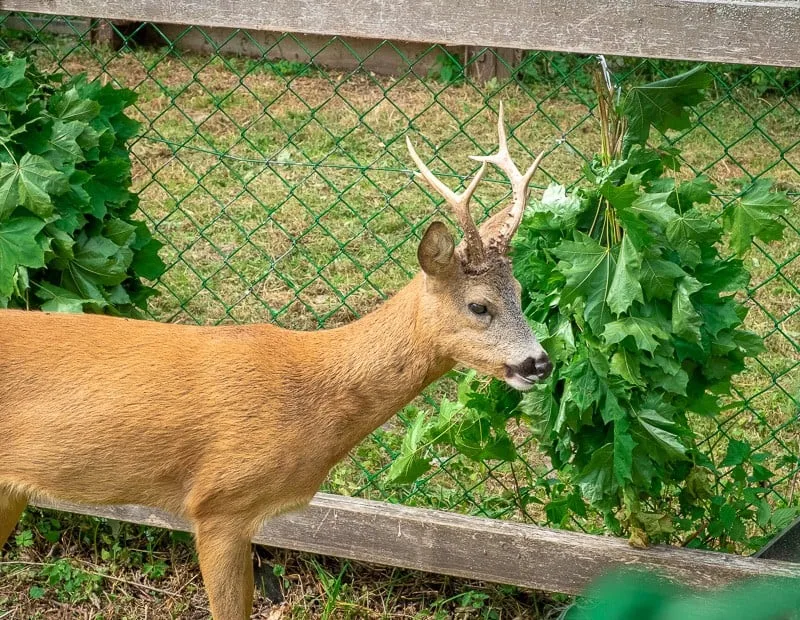 Another of the city's biggest tourist attractions in Madison, WI is the magnificent Henry Vilas Zoo, which is located just to the north of the lake.
The park is owned and administered by the local county and is home to more than 115 species from all over the world.
It is one of the country's few surviving admission-free zoos, making it one of the best affordable Madison, WI, activities for families.
The zoo, a family favorite, initially opened to the public in 1911 and today has a diverse collection of mammals, amphibians, reptiles, and birds.
While strolling through its green outdoor areas, visitors may observe rhinos and red pandas on display alongside lions, tigers, and polar bears.
You may take a train trip across its Children's Zoo or meet some of its friendly residents while on a tour, in addition to experiencing captivating portions like its Arctic Passage and Tropical Rainforest Aviary.
8. Cave of the Mounds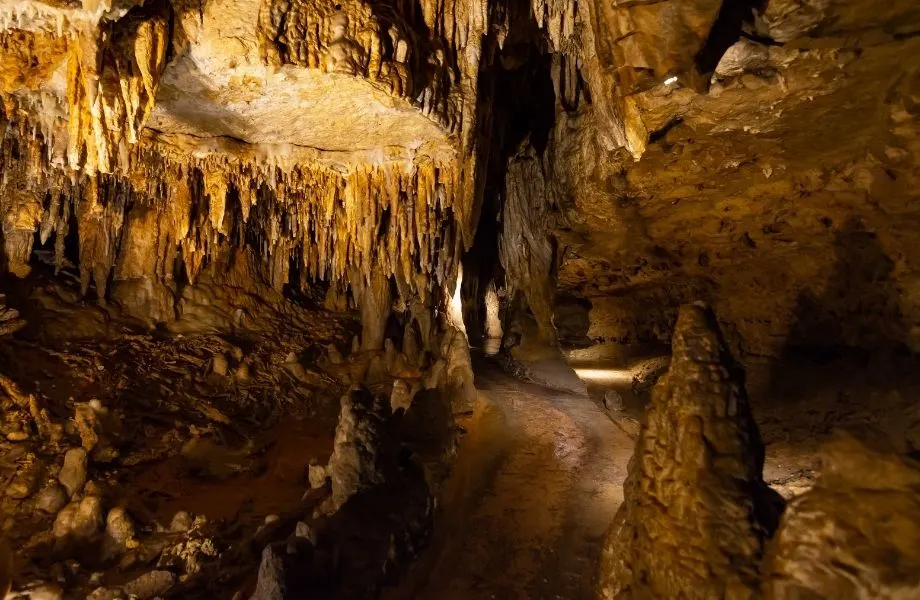 Cave of the Mounds, discovered in 1939 while local miners were blasting for limestone, was one of Madison's most distinctive and intriguing locations to visit.
The cave system is fantastic, and you may take a self-guided trip around it.
Guides are stationed along the way to inform you about the cave's history, point out noteworthy features, and answer any questions you may have.
Above ground, you may open geodes, sluice for gems and fossils, or hike one of the many paths.
This cave is one of the greatest day excursions from Milwaukee, so you must go, but if you only have time for one activity, make it a tour of the cave.
9. Olbrich Botanical Gardens & Bolz Conservatory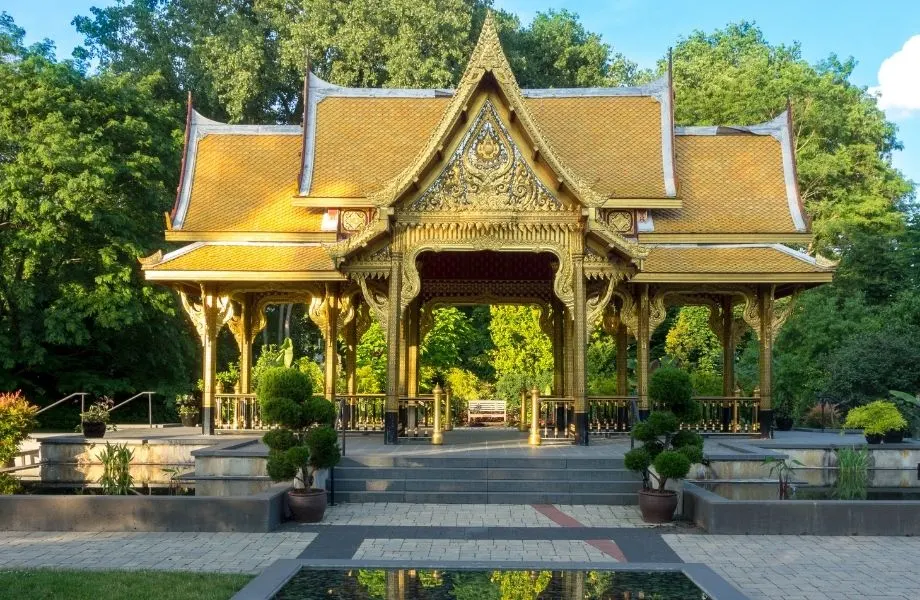 The lovely Olbrich Botanical Gardens, located a short drive north of downtown, is a tranquil and picturesque place to meander about.
This is one of the best things to do in Madison, Wisconsin when you want to escape from the hustle and bustles of the city for a bit.
Its thick, green borders include a remarkable quantity of aromatic flowers, exotic plants, and towering trees from all over the world, and it lies along the north coast of Lake Monona.
It was founded in 1952 and currently boasts picturesque portions for guests to enjoy, including meticulously planted lawns and meadows, as well as charming rose, rock, and rain gardens.
While there are lots of lovely ponds and dazzling water features to admire, the hot Bolz Conservatory also holds hundreds of fantastic tropical plants, as well as magnificent birds and butterflies that may be seen darting about.
The gardens' other prominent attraction is its golden Thai pavilion, which shines out against the lush foliage all around it.
12. Learn about architecture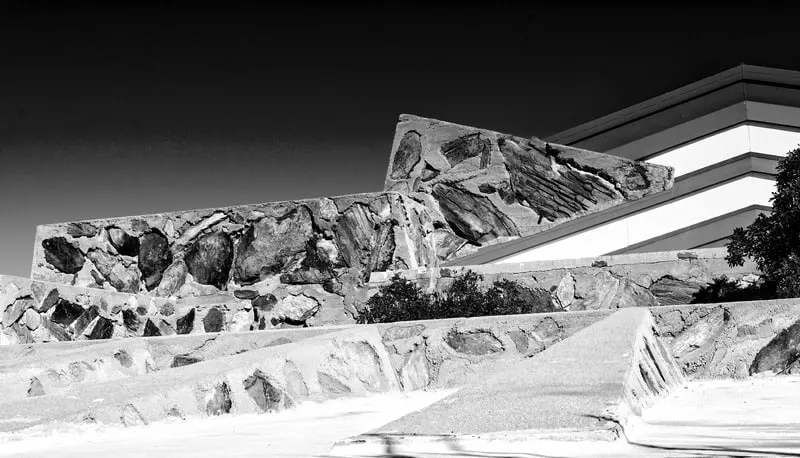 Who said you can't learn things while relaxing?
If you're an architecture lover there are plenty of things to do in Madison, Wisconsin for you!
Frank Lloyd Wright is one of the most famous architects of all time, and it just so happens that he found the perfect setting for his inspiration in southern Wisconsin.
He returned as an adult after growing up on a tiny homestead here and constructing Taliesin, his own retreat.
In addition to a residence, he established a design studio in which many of his most renowned ideas were realized.
If you take the highlights tour from the visitors center, you'll get to see the inside of Taliesin as well as a school that he established on his grounds for the community.
11. Wisconsin State Capitol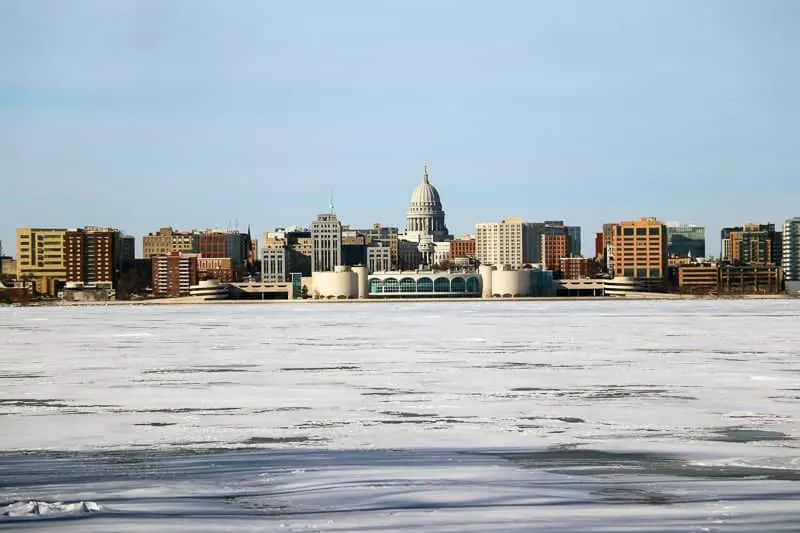 Don't miss out on seeing Wisconsin's state capitol, which is one of the most beautiful Madison, Wisconsin tourist attractions.
It is unquestionably a marvel that should not be neglected.
You may take a self-guided or guided tour of the interior, or you can simply go directly into the building.
Except during lunchtime, guided excursions leave from the tourist bureau every hour.
If you'd rather investigate on your own, this same place has information.
Without a question, the most notable and stunning structure in Madison is the Wisconsin State Capitol, which dominates both the city center and the skyline.
It is the state administration's seat and contains some very spectacular architecture, including a majestic dome that climbs to a massive 279 feet in height.
The massive yet elegant Beaux-Arts building, completed in 1917 and inspired by the US Capitol in Washington, DC, is the third such capitol to stand in the same place.
While the capitol's handsome facade and Corinthian columns are eye-catching, the marble and mahogany-clad interior are as appealing, with exquisite murals and mosaics.
After you've seen the magnificent chambers, halls, and rotunda, don't miss the grounds and gardens, which are filled with monuments and memorials.
12. Allen Centennial Gardens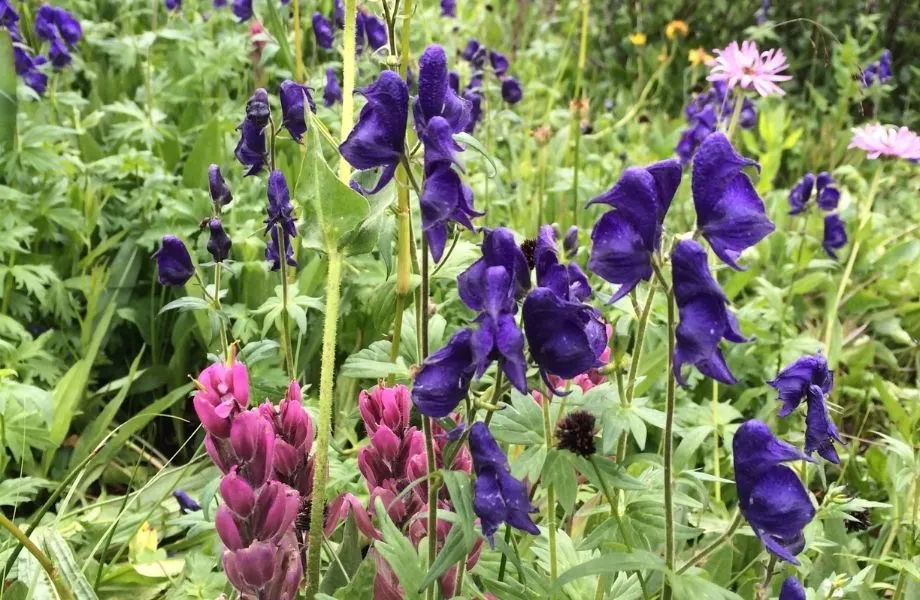 The Allen Centennial Garden is one of Madison's most attractive and popular attractions.
The garden is located on the campus of the University of Wisconsin – Madison and includes the Agricultural Dean's House as well as an 1896 Queen Anne-style residence, among other structures.
It is open daily from dawn to sunset and the entrance is free, making it a great area to stop for a walk and a respite from the hustle and bustle of the city.
13. Fishing on Lake Monona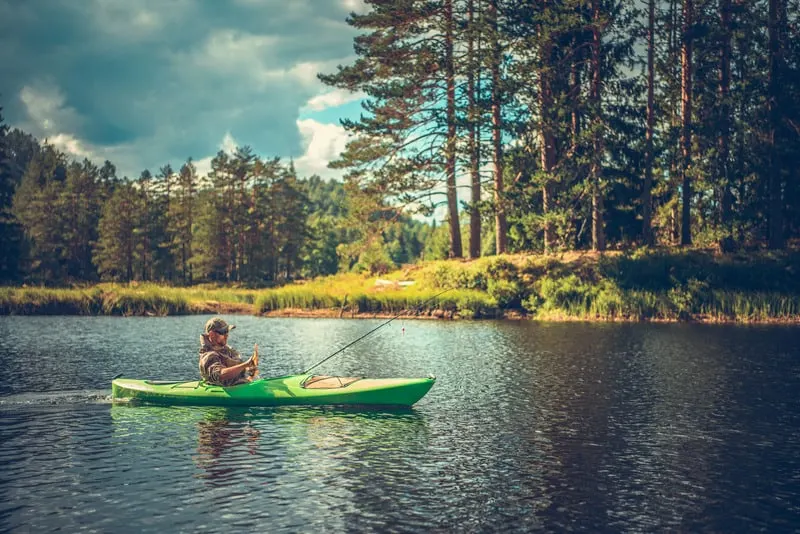 Wisconsin's capital city, believe it or not, is a growing fishing destination.
The nicest part is that you can enjoy it directly from downtown on Lake Monona or Lake Mendota.
A half-day fishing trip on Lake Monona, where you can catch bluegills, perch, bass is one of many such rewarding activities in Madison.
If you visit in the right season, you can take part in northern pike and muskie sport fishing, for which the area is well known.
Enjoy a relaxing afternoon on the lake, all catch, and release, and create lovely memories in the company of your family or friends.
I recommend arranging a trip at Madison Angling Guide Service if you want to spend some time fishing on your next vacation to Madison.
14. Wisconsin Historical Museum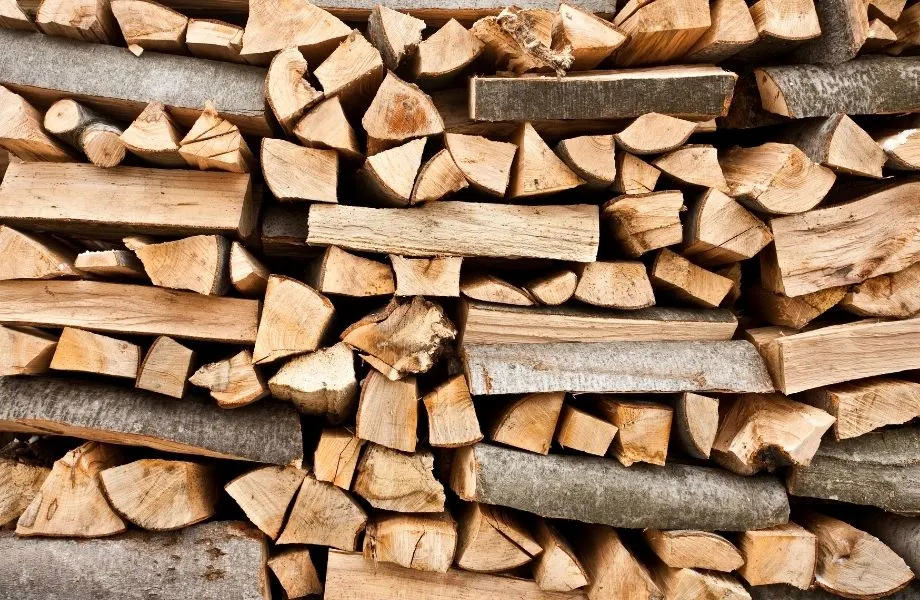 The Wisconsin Historical Museum is one of the greatest Madison attractions for families.
This museum, run by the Wisconsin Historical Historical Society, is an excellent site to learn about how Wisconsin has evolved over time.
This museum has a fantastic retro look, which adds to the uniqueness of your visit.
The Wisconsin Historical Museum teaches visitors about various eras in the state's history.
There are sights such as a fur trade station and a lumber camp.
You can observe how fantastic of a state Wisconsin is by visiting the various floors and taking a tour.
One of the finest ways to find meaningful entertainment in Madison is to visit the Wisconsin Historical Museum.
15. State Street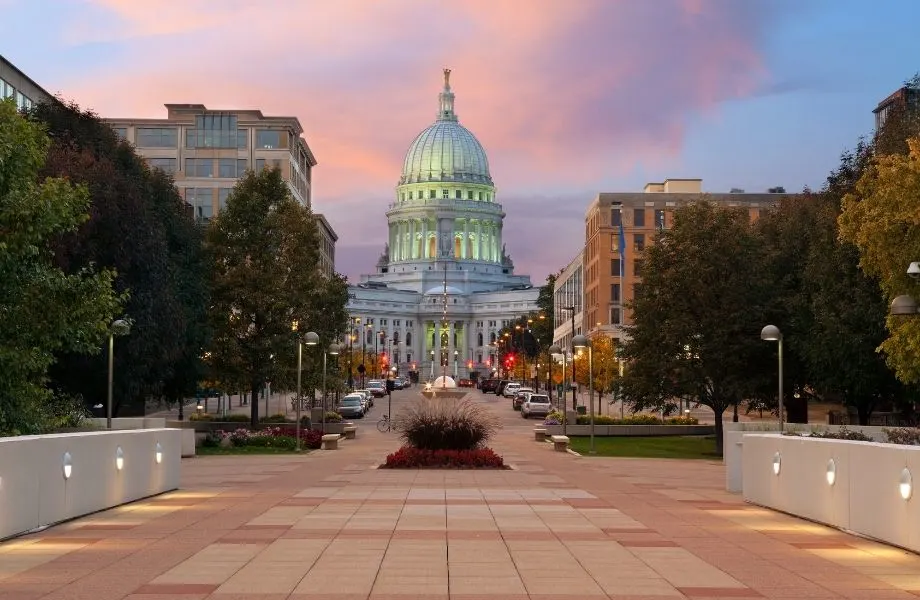 If you are looking for unique things to do downtown, Madison's State Street is the place to be!
One of the most exciting events in Madison, WI is the Madison Night Market, which is a yearly celebration along State Street.
But even if the market is not taking place, you should go about Capitol Square, especially in the evening.
There is frequently a lot of stuff to do in Madison along State Street: live music, street performers, and an overall great ambiance to absorb up.
State Street is one of the city's most popular streets, with a variety of shops, restaurants, and museums to enjoy during your stay.
State Street, which runs from the Capitol Building to the University of Wisconsin campus, is the city's primary shopping, dining, and entertainment district.
The famous pedestrian zone, which is lined with lively businesses, cafés, and boutiques, provides a multitude of entertaining things for tourists to see and do, as well as a number of art galleries and museums.
The popular road, which is almost a mile long, currently includes approximately 400 diverse stores, restaurants, and nightclubs for you to visit.
Aside from stopping for a cup of coffee or a great meal, you can also visit the Madison Museum of Contemporary Art or enjoy a performance at the Overture Center for the Arts.
While its numerous taverns and street entertainers usually create a lively atmosphere, State Street is most known for its boisterous 'Freakfest' celebrations held each Halloween.
It's one of the top things to do on Halloween in Wisconsin!
---
There is no doubt you won't get bored of the many Madison events and activities you have to choose from!
There are so many unique and fun Madison, WI, things to do no matter what time of year you visit.
Whether you enjoy sports, music, art, cuisine and drink, nature, or just about anything else, Madison has experiences that will keep you coming back for more.
Short FAQ About Things to do in Madison, W
What is there to do in downtown Madison?
Anything between Lake Mendota and Lake Monona is considered downtown, and a few of the main things to do in Madison, Wisconsin can be found here. The most popular Madison attractions downtown are the State Capitol and State Street.
What are the top attractions to visit in Madison?
The number one attraction in Madison is the State Capitol building, which is modeled after the building of the same name in Washington, DC. Other popular sites are Cave of the Mounds and Olbrich Botanical Gardens & Bolz Conservatory.
What are the best outdoor activities in Madison?
If you are looking for indoor things to do in Madison, then make sure to check out the Wisconsin Historical Museum and the escape room experience: Escape in Time.
---
Before You Go: Top Tips for your Trip
---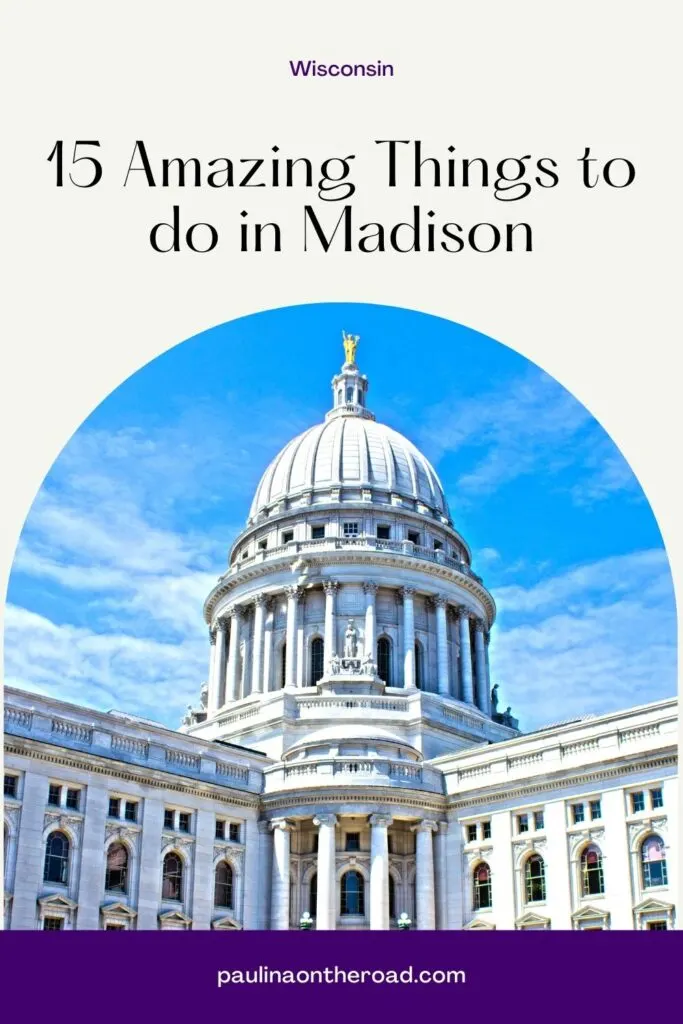 ---
Hola! I am Paulina, a fervent travelette who crossed the Atlantic Ocean by Boat HitchHiking. On my blog, you'll find all the tips to make the most of your holiday. Get ready to enjoy outdoor and sustainable travel like hiking, cycling or sailing. Let's hit the road together!