A guide about Things to do during Christmas in Wisconsin with Christmas Markets and Christmas Towns
There's nothing quite like a white Christmas, with a homey atmosphere and a crackling fire to warm you up after a day of holiday fun and shopping.
If this sounds like something you'd enjoy this Christmas season, then start booking your stay in Wisconsin!
There are plenty of Christmas towns, markets, and unique holiday events around the state, sure to suit everybody's tastes.
You'll also find lots of wonderful winter resorts in Wisconsin to make your visit extra special.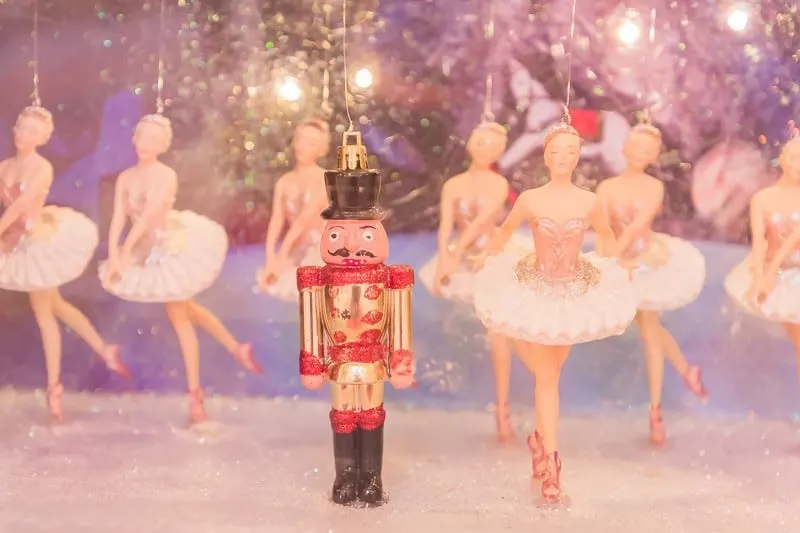 Wisconsin winters are well-known for being quite long, very cold, and extremely snowy, which makes the state the ideal destination for a traditional, Hallmark movie-style Christmas.
In this article, you'll find lots of ideas for planning your Christmas in Wisconsin, including tips on which towns offer the most festive attractions and suggestions on the best places to stay.
Whether it's a couples getaway or a family vacation in Wisconsin that you're after, there are tons of Christmas-themed things to do in Wisconsin in winter!
"Paulina on the Road" is supported by you, dear reader. As you buy through my links, I earn a small commission. As an Amazon Affiliate, I earn from qualifying purchases. Thank you for your support
Top resources to travel Wisconsin
✎ Plan the ultimate Wisconsin road trip (no backtracking!) with the Perfect Wisconsin Road Trip itinerary – Buy now for less than 12$

✈ Find the best hotel deals in Wisconsin with Trivago

➳ Book vacation rentals in Wisconsin with VRBO

✔ Book tours in Wisconsin with Viator

☘ Get the best discounted outdoor gear (outlet) at REI.com

$ Get Wisconsin hiking guides and maps at REI.com

✎ Never leave without travel insurance. I get mine at SafetyWing. It is easy to set up, cheap, and reliable.
Things to do during Christmas in Wisconsin
1. Cut your own Christmas Tree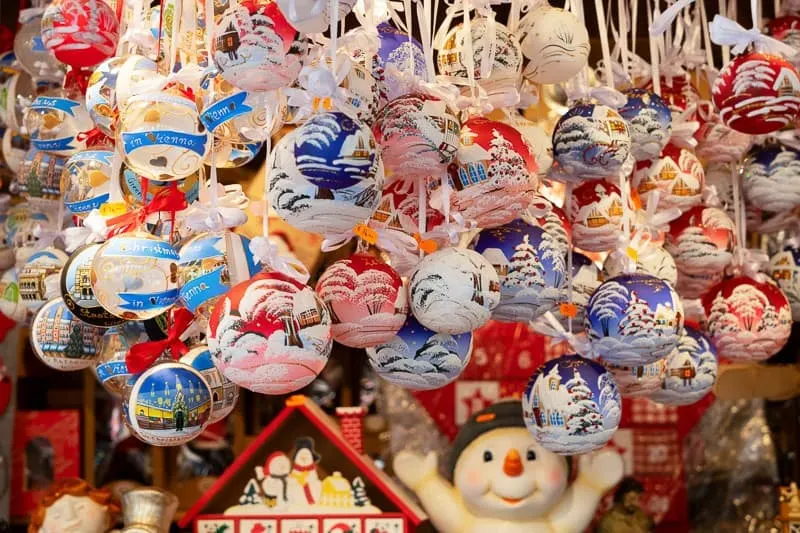 A beautiful tree is the heart of every home during Christmas time. Give the tree even more significance by cutting it down yourself, as part of a memorable family experience.
Wisconsin offers plenty of tree farms where you can chop down a tree yourself, or pick one and have it cut down for you.
Many farms also have special Christmas-themed events, gift shops, and outdoor activities for kids.
Of course, the stock is limited on tree farms and trees are in high demand in the weeks leading up to Christmas.
So before heading out to a farm, it's a good idea to call ahead and make sure it still has trees on offer.
The Wisconsin Christmas Tree Producers Association has a helpful website with a full directory of all tree farms in the state.
This will help you easily check where to cut your own Christmas tree in Wisconsin.
Where to stay:
Cabin on Lake Waubesa – Staying in a quaint, waterfront cabin will be a perfect way to complete your rustic Christmas experience.
This one is located just outside Madison, which offers plenty of additional holiday attractions, and there are seven tree farms within a 20-mile radius.
The cabin sleeps four and features stunning views of the lake from the living room, as well as a fire pit outside. – Check prices here
Staying here will give you the feeling that you are staying in one of the best winter cabins in Wisconsin.
2. Meet Rudolph the Reindeer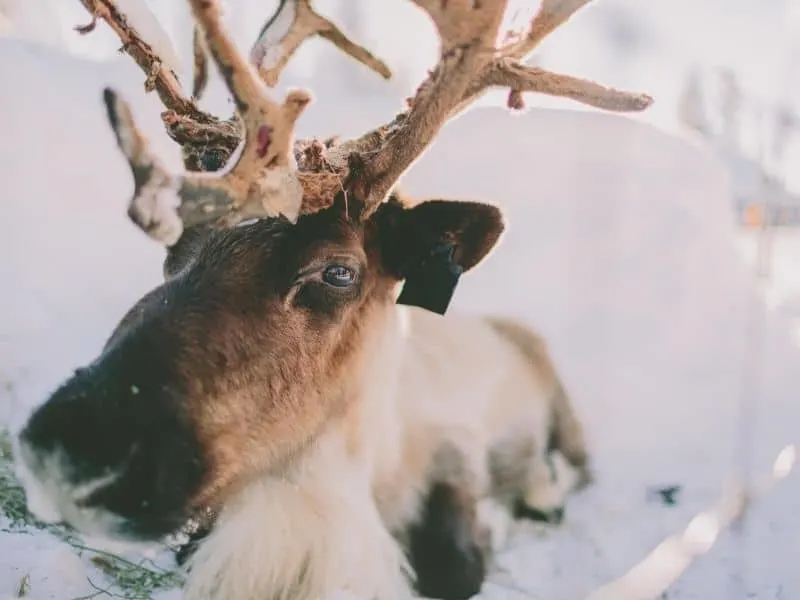 Is there anything more special to add to your Wisconsin Christmas experience than meeting Santa and his reindeer?
Thanks to the Reindeer Games reindeer farm, there are plenty of places in Wisconsin where you can see Santa arrive in a reindeer sleigh and get your picture taken with one of these friendly, gentle animals.
Rudolph and the other reindeer travel around Wisconsin from mid-November to Christmas, visiting malls and winter festivals along the way on weekends.
Check the Reindeer Games public schedule to find out when and where you can see them, or book a private event to make Christmas truly unforgettable!
3. See the Canadian Pacific Holiday Train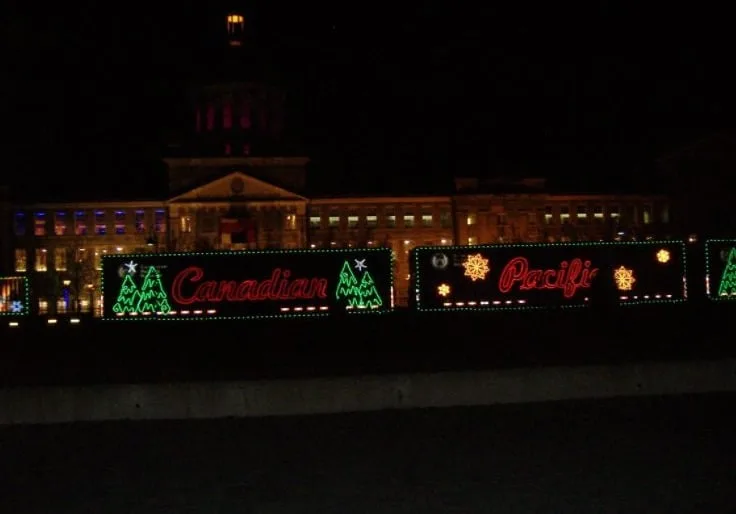 Every year, the Canadian Pacific Railway's Holiday Train winds its way across Canada and the U.S.
Along the way, it stops to provide festive entertainment and raise funds and awareness for local charities.
Wisconsin Dells in winter is one of the best places to see the Christmas train, which stops at the Amtrak Depot on La Crosse St. in the early afternoon.
The train itself is decorated with thousands of Christmas lights, making it a truly wonderful sight.
A half-hour event takes place upon the train's arrival, featuring live Christmas music and holiday-themed entertainment.
The event is free to attend, and visitors are encouraged to bring a donation (such as a non-perishable food item or simply cash).
All donations will go toward the local food bank and other charities.
Where to stay:
LeGros Chateau – This family and pet-friendly guest house combine a luxurious, tasteful interior with a rustic vibe.
Sleeping eight, it's a perfect choice for a Christmas holiday for the whole family or a group of friends.
It's located near Christmas Mountain where you can find hiking trails and ski slopes.
Restaurants, shops, and other attractions are also well within walking distance. – Check prices here
There are also several luxury cabins in Wisconsin close by.
Alternatively, why not stay at one of the best family resorts in Wisconsin!
4. Visit Christmas Mountain Village in Wisconsin Dells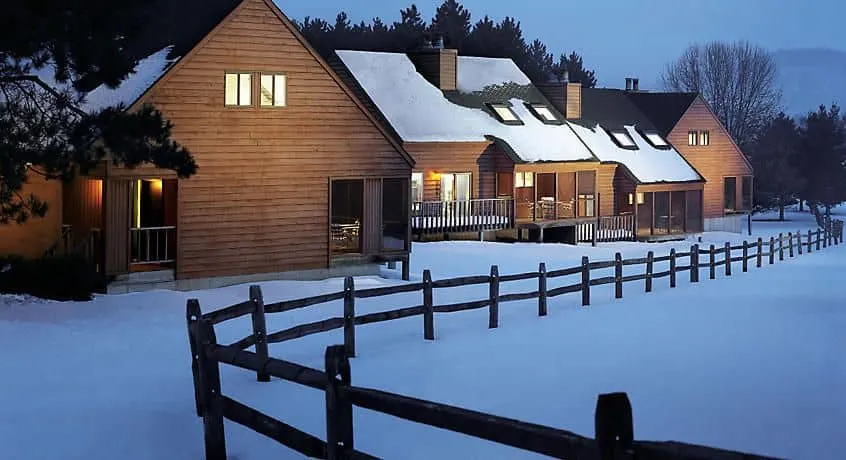 Christmas Mountain Village, Wisconsin, is a large resort offering seasonal outdoor activities and attractions.
It's close enough to the city that you can easily stay in Downtown Dells – close to restaurants and local attractions, and visit the resort for a day trip.
Head to Christmas Mountain for 16 skiing and snowboarding downhill runs, with on-site equipment rental and many trails suitable for beginners and first-timers.
Winter fun at the resort also includes snow tubing and cross-country skiing, so there's definitely something to enjoy for the whole family!
This is the perfect winter getaway in Wisconsin.
While you're out Christmas Mountain skiing in Wisconsin Dells, don't miss the annual Winter Carnival at the resort.
This carnival is one of the coolest things to do in winter in Wisconsin.
The event features live music, fun competitions and contests, a fireworks display, and an evening torchlight parade.
Where to stay:
Christmas Mountain Village Cabin – Nature lovers will value the essence of tranquility here at Wisconsin Dells and the zone's numerous open-air exercises.
There are also more than 77 other nearby attractions, shows and amusement parks to explore.
Featuring three bedrooms, a kitchen, bathroom, and game room, this Christmas Mountain Village Cabin is only a short walk away from the slopes, and a ten-minute drive to Wisconsin Dells. – Check prices here
5. Visit the best Christmas Stores in Wisconsin
Wisconsin is home to dozens of year-round Christmas stores.
And what better time to visit them than during the holiday season?
Packed with gorgeous ornaments and unique gifts, Christmas stores in Wisconsin are sure to put you in a festive mood!
The top-rated Christmas stores in Northern Wisconsin include The Christmas Chalet in Minocqua, Oneida County, and the Tannenbaum Holiday Shop in Sister Bay, Door County.
You can also find several cool things to do in Northern Wisconsin while visiting these beautiful stores.
In southern Wisconsin, check out Kristmas Kringle in Fond du Lac and the Christmas Barn in Elkhorn, Walworth County.
That being said, just about every county in Wisconsin has its favorite Christmas shop.
Wherever you go in the state, you're sure to find festive shopping opportunities in the winter season!
6. Visit Christmas Markets in Wisconsin
A stroll through the Christmas markets in Wisconsin, complete with a bit of holiday shopping and sampling local produce, is a winter must-do for many visitors to the state.
Christkindlmarket in Milwaukee is particularly popular, with countless stalls and stands, arts and crafts workshops, cooking displays, and plenty of other activities for kids and adults alike.
The German Christmas Market in Oconomowoc is another interesting destination.
Here you'll find polka music and other themed entertainment to liven up an evening of sampling authentic European food and drink and shopping for unique gifts.
The Old World Christmas Market in Elkhart Lake has a similar vibe, with a huge selection of ornaments, gifts, and novelty items from Europe.
There are also many workshops, wagon rides, and of course, plenty of drinks and snacks to enjoy.
Where to stay
The Osthoff Resort is perfect for those who want to splurge. Cabin lovers, you'll enjoy the Esker Ridge Chalet or this gorgeous European-style home in the heart of Elkhart Lake.
7. Visit a Christmas Tree Farm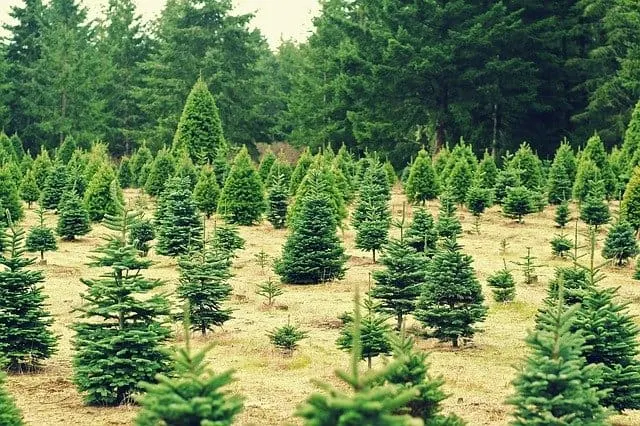 Many Christmas tree farms in Wisconsin provide additional attractions and activities during the Christmas season.
Getting a tree is only a small part of the fun, so even if you aren't looking to buy one, visiting a farm will be an awesome experience.
For example, the Tannenbaum Acres Tree Farm in Janesville offers hay wagon and bobsled rides, refreshments and delicious local produce, a gift shop, and, best of all, a reindeer petting zoo!
A trip to the farm will make for a great Christmas-themed day out for the entire family, especially if you visit Tannenbaum Acres on Thanksgiving weekend, just in time to meet Santa!
Where to stay:
Cozy Wood Cabin – This top-rated, beautiful house near Koshkonong Lake is only a 20-minute drive away from Tannenbaum Acres and a 5-minute drive from shops and restaurants.
A great place for a family holiday, it sleeps ten and features 1 bathroom, a huge, landscaped backyard, a cozy queen-size bed, and comes with gorgeous like views.. – Check rates here
8. Stay in Christmas Mountain Village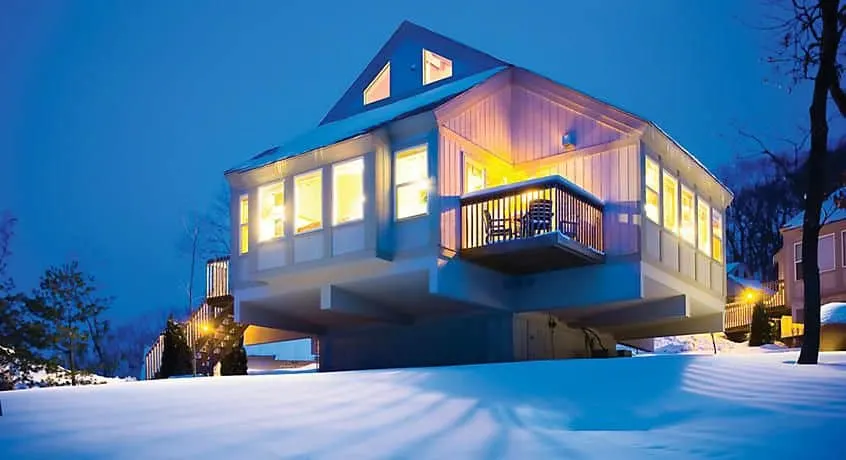 For winter sports enthusiasts who want to combine outdoor fun with a Christmas-themed holiday, Christmas Mountain, Wisconsin Dells is the place to be.
There are many things to do in Wisconsin Dells for winter, especially skiing.
Christmas Mountain Village is one of the most popular ski resorts in Wisconsin and the best option for skiing in Wisconsin Dells.
With 16 downhill skiing and snowboarding runs, snow tubing, cross-country skiing trails, and an annual Winter Carnival, there's plenty to see and do.
Thanks to on-site accommodation, you can stay right where the action is but still be close enough to the city to easily reach shops and local attractions.
It's also a great idea when looking for a unique weekend trip in Wisconsin.
Where to stay:
Christmas Mountain Village-2BR/2BA Timbers – This two-bedroom, two-bath timber sleeps six and is located right by all of the resort's main attractions.
The interior is cozy and welcoming, outfitted with everything you'll need even during longer stays.
In addition to winter sports opportunities, Christmas Mountain Village also offers swimming pools, hot tubs, mini-golf, tennis courts, a gym, and much more! – Check rates here
9. Attend the Santa Cycle Rampage in Milwaukee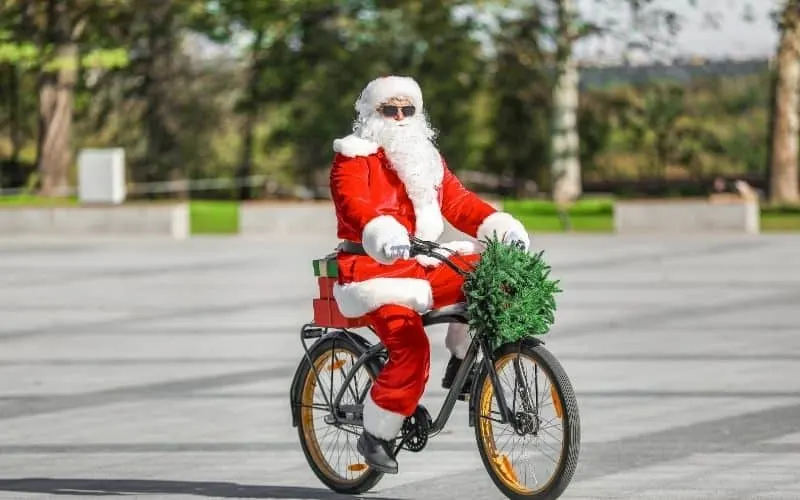 How many of us can say we've seen 3,000 Santas on bicycles, all at once?
Well, by attending Milwaukee's Santa Cycle Rampage, that's exactly what you're in for!
This annual event involves thousands of people signing up and joining together to cycle the streets of Milwaukee in Santa Claus outfits.
As well as getting to see this unusual spectacle, you can also buy merchandise, such as t-shirts and accessories.
Plus all proceeds go towards Wisconsin Bike Fed, the largest statewide bicycle organization in the U.S.
Where to stay:
Trendy Penthouse Downtown – One of the coolest Airbnbs in Milwaukee, this condo measures over 600 sq ft and accommodates a maximum of four guests.
This makes it a perfect choice for both couples and groups visiting Milwaukee.
It's located close to Milwaukee's main attractions, in the famous Third Ward, the artistic hub of the city, and one of the most unique things to do in Milwaukee.
Alongside the spacious, modern interior, the condo also includes a parking space, so you can rest easy knowing you won't need to search for a parking spot in an unfamiliar city. – Check rates here
10. Marvel at a Holiday Lights Display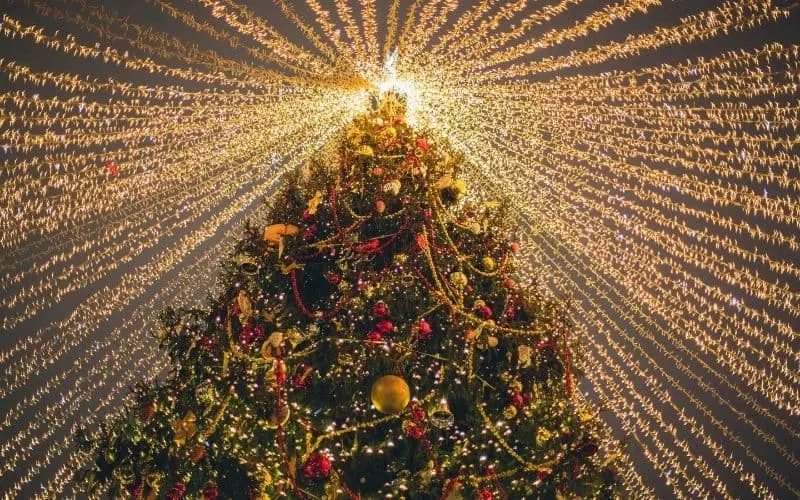 Visiting a Wisconsin holiday lights display is one of the best ways to get into the Christmas spirit and create some wonderful, warm memories.
Most towns put up their own illuminated attractions and displays around Christmas time, so if you're heading to Wisconsin in winter, check around the local area.
Typically, smaller displays are intended for foot traffic, while larger ones feature drive-through alleys.
For the most spectacular illuminated sights in the state, head to Pewaukee in Waukesha County and look for the Ingleside Hotel.
The hotel is home to Wisconsin's largest drive-through Christmas lights display, with over a million lights along a mile-long trail over 40 acres of woodland!
The Ingleside Hotel also features other holiday-themed attractions, such as wagon rides and a Christmas village.
Where to stay:
Pewaukee Lake View Home – Located right on the shore of Pewaukee Lake just outside the village, this cozy home is blessed with the best views.
Sleeping four, it features two bedrooms, a bathroom, a fully stocked kitchen, and a large backyard.
Situated just off the I-94, the home is only a few minutes' drive away from the holiday lights display and the restaurants and shops in the village. – Check rates here
11. Visit Sam's Christmas Village in Somerset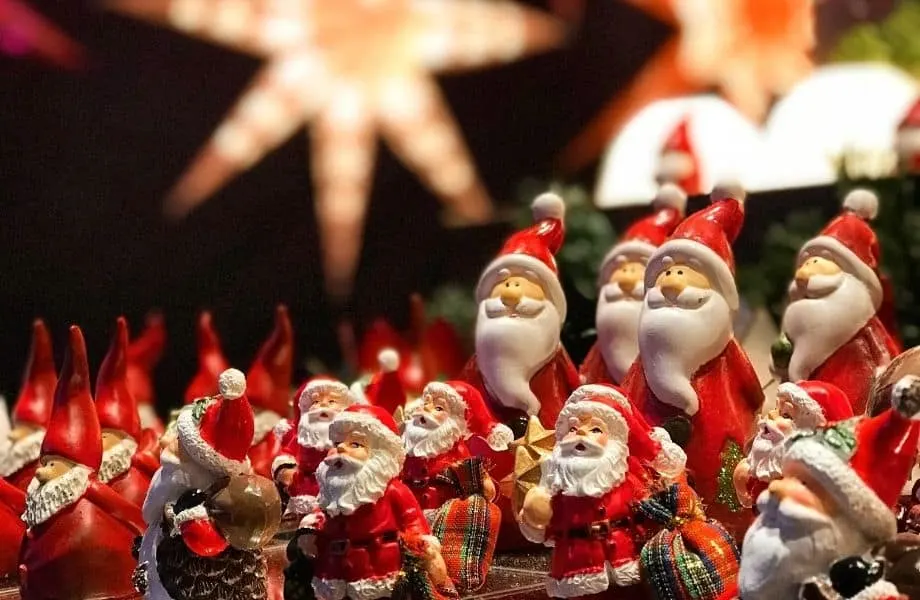 Wisconsin Christmas getaways wouldn't be complete without a visit to a Wisconsin Christmas Village.
For one of the best Christmas villages in Wisconsin, you need to head to the small town of Somerset WI, just a few miles from the Minnesota border.
Here, to the north of the town, you can find Sam's Christmas Village and Light Tour, one of the best Wisconsin Christmas towns around!
The village sits by the Apple River on more than 40 acres of open air land, and features displays of more than 8 million Christmas lights each year!
Visitors can enjoy all the Christmas activities Wisconsin has to offer, such as petting reindeer and, of course, meeting Santa Claus.
Groups of up to 8 people can also rent out S'more Cabins, which come with campfire essentials and S'more kits.
They're available from 5pm to 9/10pm, and they're heated, which always helps!
Don't miss out on the European-style Christmas market, with plenty of local produce, crafts toys and snacks.
Enjoying the market's festive cheer is one of the best things to do for Christmas in Wisconsin!
Where to stay:
Scenic St Croix River Islands – This gem is located just 5 miles from downtown Somerset in the backwaters of the St. Croix Islands State Wildlife Area.
With 4 bedrooms and the ability to sleep up to 8 people, it's perfect for large families looking for winter getaways in Wisconsin.
It is the ideal getaway for nature lovers, as there is so much to explore literally in your backyard! – Check rates here
12. Christmas Carnival of Lights, Caledonia WI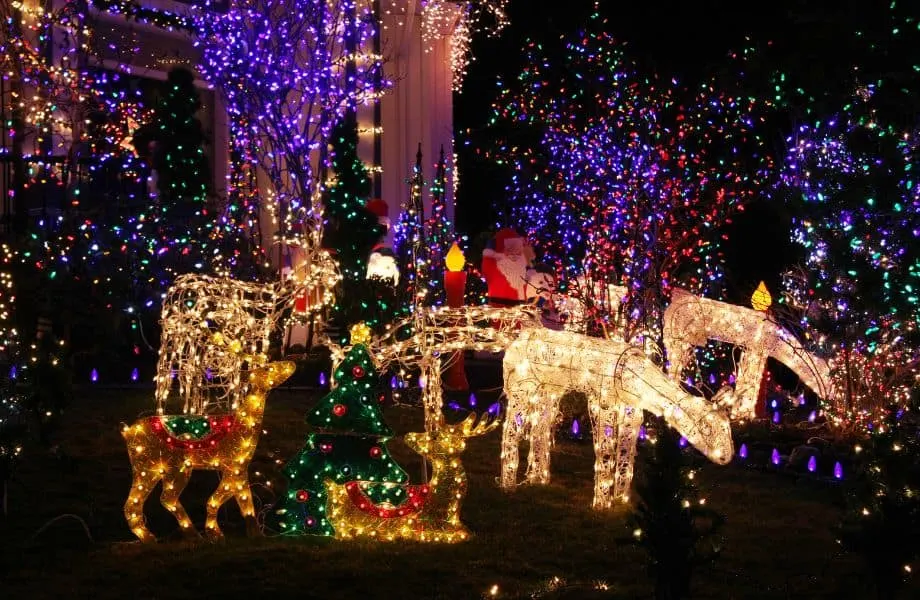 Head south from Milwaukee for 20 minutes' drive and you'll arrive at Jellystone Park in Caledonia WI, home of the Christmas Carnival of Lights!
This annual light show is one of the best places to visit in Wisconsin during Christmas, especially for families and those with young children.
One of the unique draws of this Christmas village in Wisconsin is that it is a drive-through event.
Visitors can use their own vehicle to enjoy the sights and sounds of the light displays, with over 2 million lights accompanied by synchronized music.
If you want something more fun, you can rent a limousine golf cart and glide through the displays.
But for the full 'Tis the Season experience, make sure to book a space on Santa's giant sleigh, which seats 43 guests in tiered comfortable seating and is pulled by Santa himself!
Fortunately, at the Carnival of Lights there are even more things to do in Wisconsin for Christmas than the displays.
Santa is available to visit in his workshop four evenings a week, and there's also the Firefly Boutique which offers festive gifts including toys, jewelry, clothing and more.
Where to stay:
Cozy apartment steps away from Lake Michigan – Stay in nearby Racine, WI, at this wonderful downtown apartment.
This first-floor apartment has all the amenities you need for a Christmas away from home.
Plus you'll find some fun Christmas activities in Wisconsin located nearby, including ice fishing on Lake Michigan! – Check rates here
13. Christmas in the Village, Ephraim Door County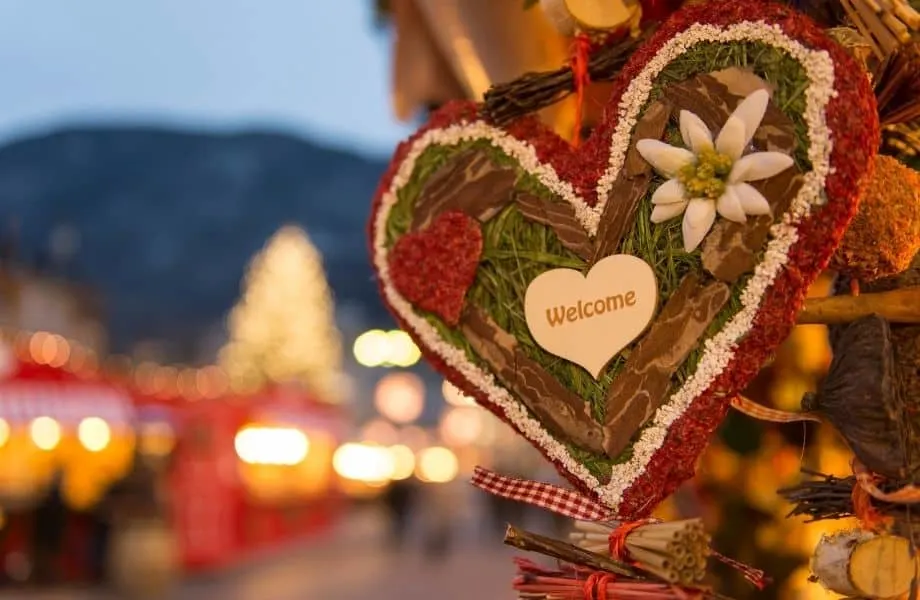 If you're looking for Christmas events in Wisconsin with buckets of town cheer then Christmas in the Village in Ephraim is the place for you.
Up on the northern end of the Door County peninsula (a great place for Christmas vacation ideas in Wisconsin) the town of Ephraim sits on the edge of Eagle Harbor opposite Peninsula State Park.
Christmas festivals in Wisconsin don't get more wholesome than this!
Starting in the Village Hall, where visitors can get festive carriage rides, Santa will then arrive on a fire truck and kick off the holiday fun.
After enjoying the activity tables and crafts, it's time to head over to Olson Park to meet the reindeer and Santa's elves before Santa lights up the town Christmas tree in Harborside Park.
If the holiday was measured in community spirit, then Ephraim could be the best Christmas town in Wisconsin!
Where to stay:
Harbor House Guest Cottage – This cozy cabin is a dream place to spend Christmas with the whole family.
The cabin sleeps up to 7 people and has plenty of space to hang out together inside.
There is also an outdoor fire pit for the earlier or later winter days when it isn't unbearably cold. – Check rates here
Visit the Best Christmas Towns in Wisconsin
14. Milwaukee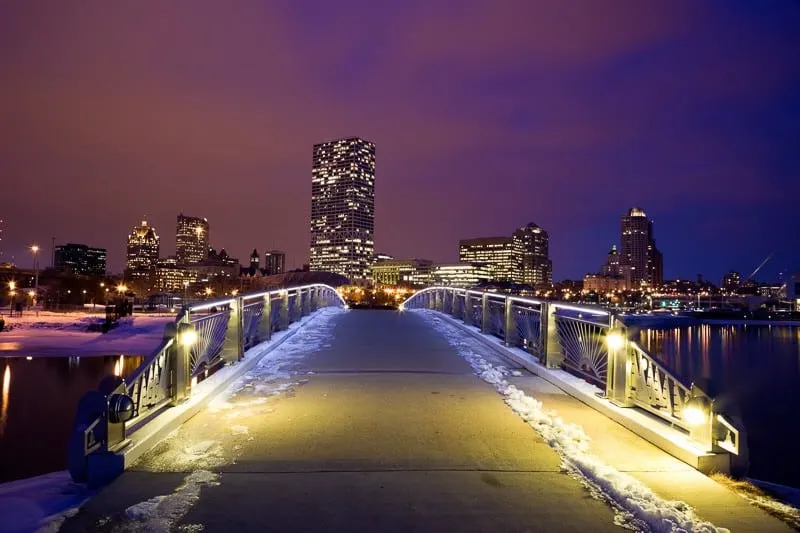 You'll never be short on things to do in Milwaukee in winter!
From November until the end of December, the city hosts a huge range of Christmas-themed events, in addition to its year-round attractions.
Marvel at the decorations and interactive displays at the Holiday Lights Festival, jump on the East Troy Railroad Train, another Christmas Train in Wisconsin.
Enjoy live entertainment and holiday-themed activities at Bayshore's Season to Sparkle. You can always enjoy your stay during winter in Milwaukee.
Remember to visit Milwaukee's Historic Third Ward, known for its artistic atmosphere.
In December, the district is full of pop-up Christmas events, stalls, shops, and live holiday-themed entertainment!
Where to stay:
Cozy Public Market Apartment – Stay close to the action in this centrally-located apartment, right in Milwaukee's Downtown.
All of the main attractions are well within walking distance, and free parking is offered.
The apartment sleeps four, featuring one bathroom and an additional air mattress, which makes it a perfect choice for couples and small families. – Check rates here
The modern, elegant interior includes a fully equipped kitchen, and all these things make it one of the best Airbnbs in Milwaukee.
15. Chippewa Falls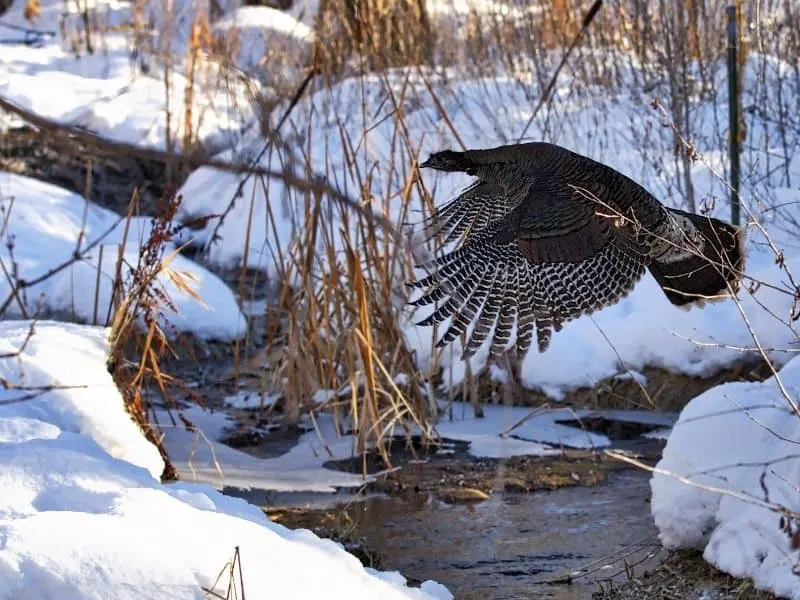 Chippewa Falls in western Wisconsin is an ideal Christmas destination particularly if you're looking for an atmospheric, traditional holiday away from city crowds.
This small city packs an impressive number of Christmas-themed attractions, such as the Christmas Village in Irvine Park, with a scenic lights display and live entertainment.
You can also take a Christmas wagon ride, join in on the Christmas Carol Singalong, visit Santa's House, and enjoy the Bridge to Wonderland Parade, featuring dozens of illuminated floats and complimentary drinks!
It's a must when spending Christmas in Wisconsin.
Where to stay:
Wooded Retreat in the City – Located in Eau Claire, 12 miles from Chippewa Falls, this three-bedroom house is incredibly cozy.
When you stay it will feel like a "home away from home" which is perfect for winter family holidays.
The house features a large yard (ideal for snowball fights!), a game room, and a fully stocked kitchen.
Restaurants and shops in Eau Claire are easily within walking distance. – Check rates here
16. Cedarburg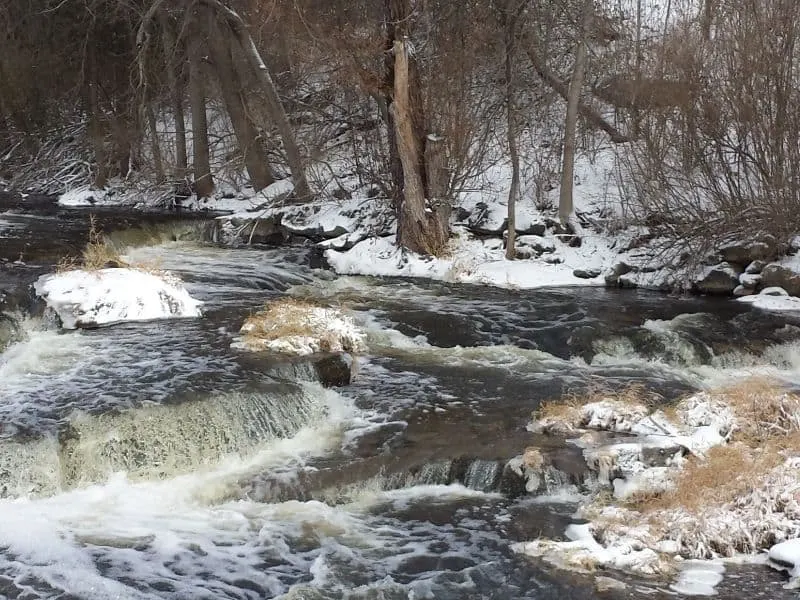 The historic city of Cedarburg has a long-standing reputation for being one of the best Christmas towns in Wisconsin.
It's easy to see why – between all the holiday-themed events taking place in November and December, there's always something to see and do here in the winter!
The Festive Friday Eves series of events is particularly popular.
Held on five consecutive Fridays leading up to Christmas, these feature themed events (different theme every Friday) centered around Christmas.
You'll get to enjoy live music, food, and wine sampling, wagon rides, and much more.
The Historic District along Washington Avenue is transformed into a Christmas market in the holiday season.
With dozens of shops and stalls with everything from gifts to snacks and hot drinks, you can't go wrong!
This region also has some of the best snowmobile trails in Wisconsin, which is a great winter activity for the whole family.
Where to stay:
Festive Holiday Shopping Getaway – This cozy apartment is located right on Washington Avenue in Cedarburg's Historic District.
Within the neighborhood, plenty of the city's Christmas shopping and entertainment takes place.
If you visit Cedarburg specifically for holiday shopping and Christmas fun, you can't get closer to the action than this!
The apartment sleeps six, with two bedrooms and one bath, and features free parking on the premises. – Check rates here
17. Madison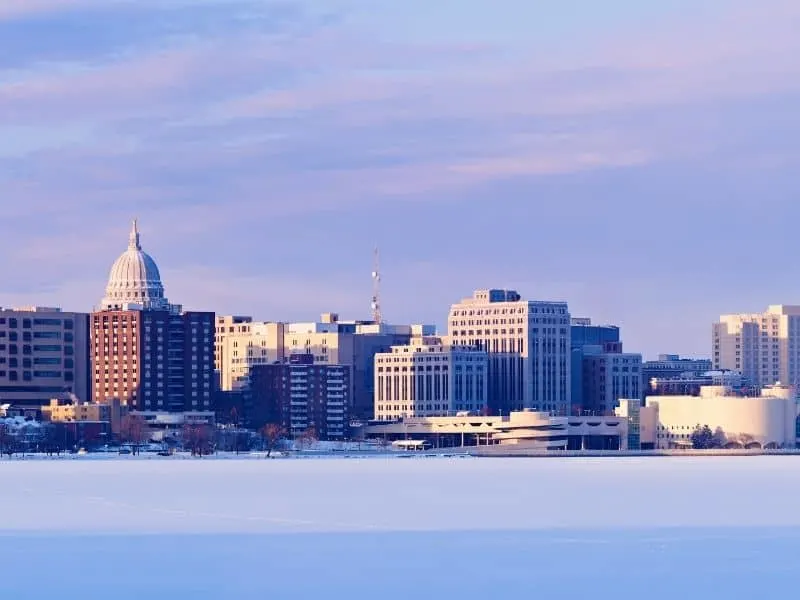 Winter in Madison, WI is one of the best things to visit the city.
There are many festive things to do in Madison, Wisconsin during the Christmas season!
From the incredible holiday lights display at Olin Park to the annual Holiday Express Train Show at Olbrich Botanical Gardens, featuring a model train display with holiday decorations and a Christmas-themed twist.
For the ultimate Christmas shopping experience, visit the Downtown Madison Holiday Open House, featuring dozens of shops and stalls.
In addition to retail, the Open House provides lots of holiday entertainment, including trolley rides, carol singing, arts and crafts workshops, and other fun family activities.
Performing arts enthusiasts will be glad to hear that the Overture Center for Arts puts on holiday classics (such as The Nutcracker) and themed entertainment events around Christmas time.
Christmas in Wisconsin can't happen without this!
Where to stay:
Vacation Rental with a View – Conveniently located near Madison Arboretum, close to shops and all of the holiday attractions the city has to offer.
This apartment features three bedrooms, with space for six guests.
The spacious, modern, beautifully decorated house is part of an original Victorian-style house, with a garden open to guests. – Check prices here
18. Wisconsin Dells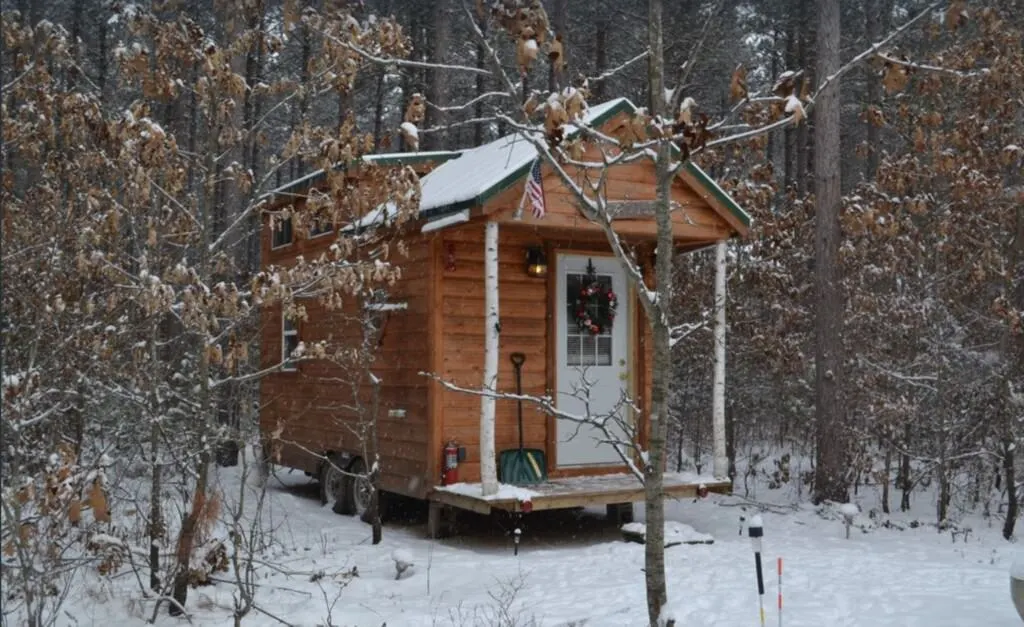 The city of Wisconsin Dells is known as the Waterpark Capital of the World, with over 20 parks in the area.
These offer tons of active, indoor fun to enjoy during Christmas time in Wisconsin.
For outdoor, Christmas-themed activities, head to Christmas Village, Wisconsin Dells (described above), a famous resort offering skiing, snowboarding, snow tubing, cross-country skiing, and lots more.
This is one of the best places to go skiing in Wisconsin Dells!
While in Wisconsin Dells at Christmas, don't miss the Canadian Pacific Railway's Holiday Train, decked out in thousands of lights and with live Christmas-themed entertainment!
Where to stay:
Lazy Bear Cabin – There's no shortage of excellent Airbnbs in Wisconsin Dells.
This three-bedroom, two-bathroom, spacious house can accommodate ten guests for Christmas-themed fun in Wisconsin.
It features a spacious interior with a simple, cozy design, as well as a detached game room and several TVs to keep entertained during long winter evenings!
The house is conveniently located a few minutes' walk away from the shops, restaurants, and attractions of Downtown Wisconsin Dells.
Staying in Airbnb's in Wisconsin Dells is a great way to experience the essence of the city. – Check prices here
19. Elkhart Lake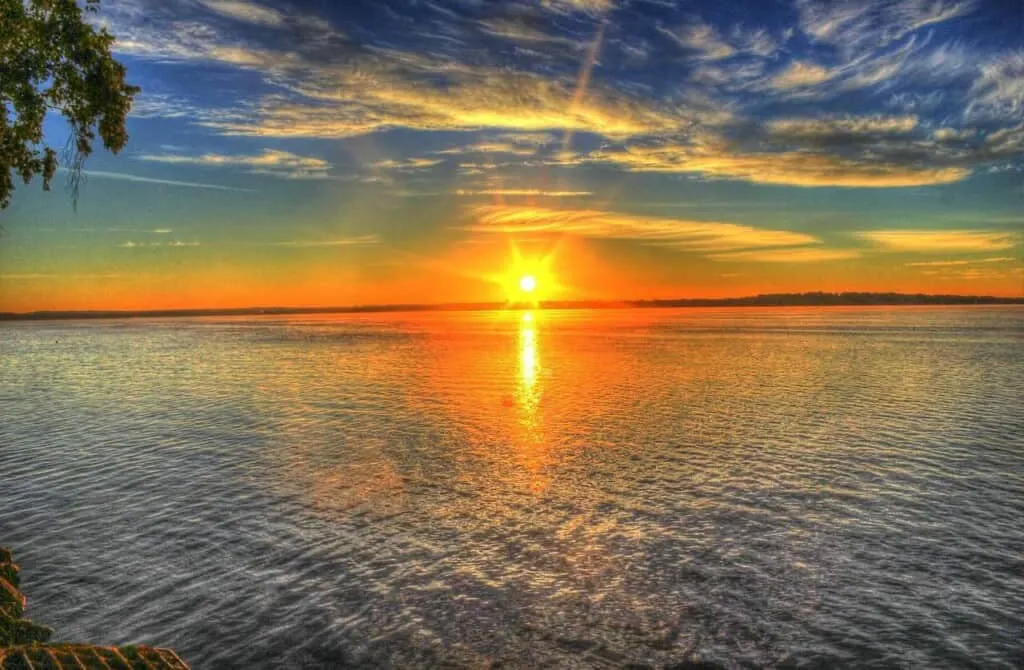 Located in Sheboygan County, Elkhart Lake is home to The Old World Christmas Market, a unique and eclectic seasonal collection of shops and stalls offering gifts and trinkets from Europe.
The Market also features authentic European food and drink, as well as entertainment.
In addition to the Market, there is an annual event in Elkhart Lake called Christmas in the Square.
For one day in late November, the village square is transformed into a holiday wonderland, with live entertainment, a tree lighting ceremony, and wagon rides.
Where to stay:
Modern Lake Home Cottage – Accommodating up to six guests, this apartment is a great choice both for couples on a Christmas getaway and for families looking to have some festive fun together.
The apartment is located in Downtown Elkhart Lake, a short walk away from restaurants and shops as well as the Christmas events in the village.
The interior is very spacious and has a warm, homely atmosphere despite its modern style. – Check rates here
20. Ripon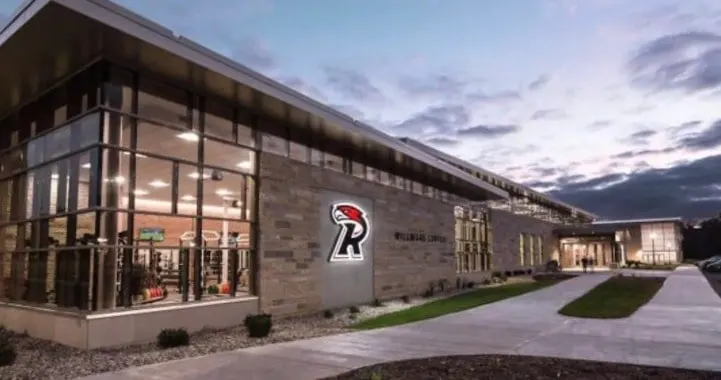 The small city of Ripon in Fond du Lac County hosts an annual Christmas in the Village event.
It features a weekend of Christmas fun in a picturesque setting, lavishly decorated for the holidays.
Christmas in the Village includes holiday music, plenty of shopping opportunities, authentic local food and drink, and perhaps most exciting of all, the chance to see live reindeer!
Ripon is also home to another holiday celebration: Dickens of a Christmas.
Taking place in Ripon's historic downtown, this event will transport you into the Victorian era, with carolers, old-timey shops, themed activities and contests, and a Living Windows display.
Where to stay:
Hip APT in Historic Downtown Ripon – With two bedrooms accommodating four guests, this modern, cozy apartment is an excellent choice for the holidays.
Both couples and small families looking to enjoy the Christmas season in Ripon will feel at home here.
Alongside the tasteful decor, the apartment benefits from its location.
It's situated in the scenic historic downtown area of the city, with plenty of shops, restaurants, and breweries just a 15-minute walk away. – Check rates here
21. Hudson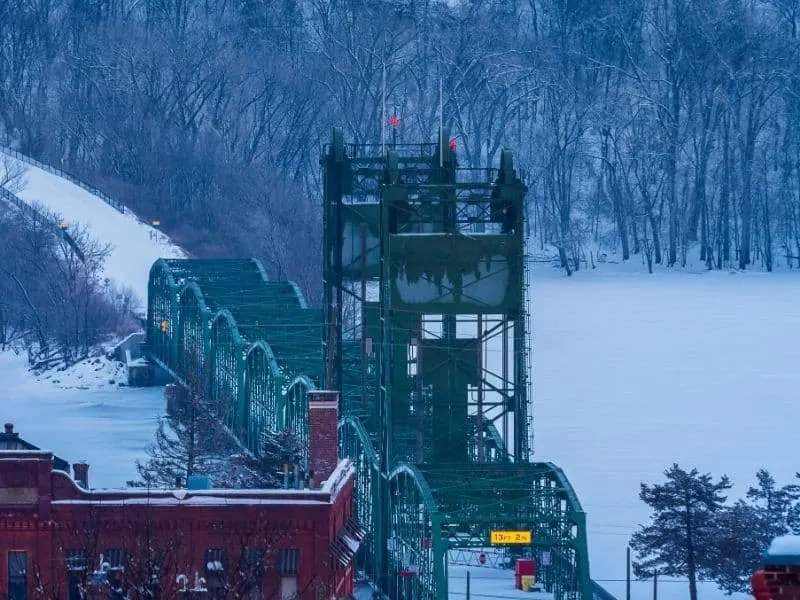 Located in St. Croix County, Hudson lies along the St. Croix River, which forms part of the border between Wisconsin and Minnesota.
During the Christmas period, Hudson quite literally lights up, and the amount of decorations in the city is truly a sight to behold.
Whether you enjoy walking through Christmas lights displays or prefer a drive, Hudson's got you covered with stunning displays in Lakefront Park.
To marvel at more Christmas decorations, visit Hudson's window decorating contest.
Where to stay:
Cozy Hudson Cottage – Bring your partner or firend this rental home near Hudson's Downtown. With one large bedrooms, this property can accommodate six guests.
The luscious interior is outfitted with everything you could need during your Christmas-themed visit to Wisconsin.
Christmas shopping opportunities, restaurants, bars, and cafes in Downtown Hudson are only a 15-minute walk (or 3-minute drive) from the house. – Check rates here
22. Lake Geneva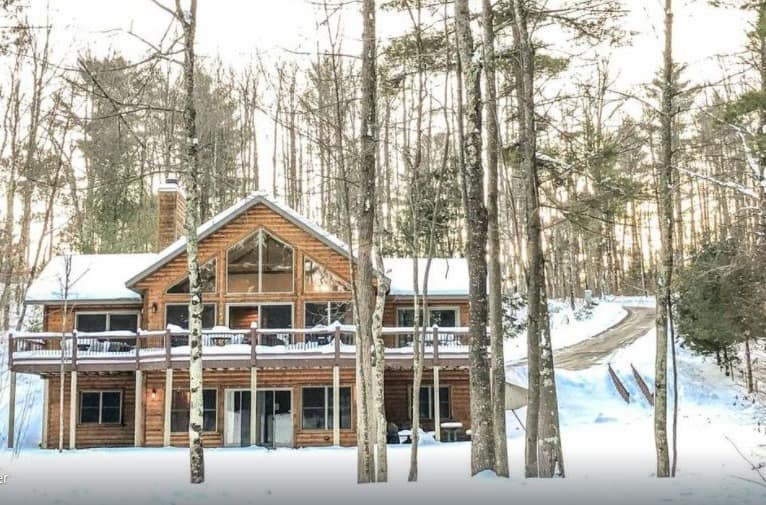 There are always plenty of things to do in Lake Geneva, one of the most popular resort towns in Wisconsin, and Christmas is certainly no different!
In fact, Lake Geneva in winter is extra magical!
Hop on the Christmas-themed cruise of the lake, decked out with dozens of lights and decorations and featuring fun activities for kids and plenty of refreshments.
Marvel at the holiday lights displays and illuminated decorations all over town, and get a visit from Santa and his reindeer!
Lake Geneva is home to the annual Electric Christmas Parade, including dozens of illuminated floats with a different holiday-related theme each year.
Each resort also holds its own events, and there are always Christmas-themed shows to catch at the local theatres.
Please make also sure to check out the Christmas Decoration of the Grand Geneva Hotel. which is one of the best things to do in Lake Geneva.
Of course, you can't miss the Lake Geneva Ice Castles, one of the most unique winter experiences anywhere in the USA!
Where to stay:
Lake Geneva Beach House – If you're wondering where to stay in Lake Geneva this Christmas, look no further.
This beautiful, spacious bungalow sleeps four, so even the largest family is sure to be happy with the accommodation!
The house features two bedrooms, one bathrooms, and a complete set of amenities.
The house is close to both the lake (just as scenic in the winter as it is during warmer seasons) and to Downtown Lake Geneva with its countless Christmas attractions and activities. – Check rates here
The city also offers some of the best luxury resorts in Wisconsin.
23. Stockholm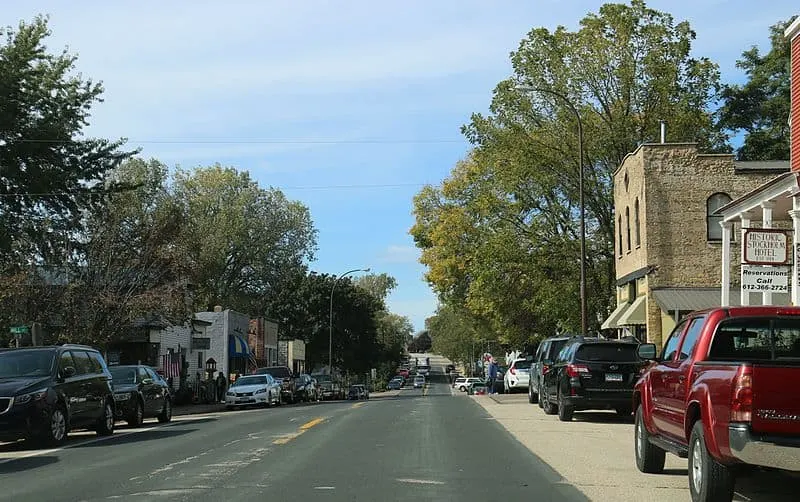 The small village of Stockholm in Pepin County, Wisconsin, was founded in the nineteenth century by settlers from Sweden, which is why it shares its name with the country's capital.
However, the name is not the only Swedish thing about Stockholm, Wisconsin. Winter celebrations also have something to do with the Old Continent.
Stockholm's residents celebrate Christmas for a full month, in accordance with the Swedish tradition, arguably making the location the most unique Christmas town in Wisconsin.
These celebrations really are something special as the entire village comes together to create an all-encompassing Christmas atmosphere.
Visitors can enjoy the decorations, wagon rides, unique shopping opportunities, meet St. Lucia, and take part in the Winter Solstice fire celebration!
Where to stay:
Beautiful Lake Cabin – Whether you're considering a romantic Christmas couples getaway or a family holiday, this guesthouse will meet your expectations.
The location is just as beautiful as the house itself, with stunning views of the Mississippi River bluffs and Lake Pepin.
The guesthouse is only a short walk away from the village, with its month-long Christmas fun! – Check rates here
---
A short FAQ about Christmas in Wisconsin
Where to see Christmas lights in Wisconsin?
If you want to see Christmas lights in Wisconsin you must visit places like Milwaukee Holiday Lights Festival, Milwaukee, Country Christmas, Pewaukee, WPS Garden Of Lights, Green Bay etc.
How long is Christmas break in Wisconsin?
Christmas break in Wisconsin is 10 days long for kids and 2 days as per federal holidays for office workers.
What are Christmas things to do in Wisconsin Dells?
Some of the best Christmas things to do in Wisconsin Dells are Christmas shopping, see Christmas lights and Christmas decorations, enjoy holiday music, authentic local food and drink, and see live reindeer!
What are the best December events in Wisconsin?
There are plenty of Christmas activities in Wisconsin all over the state. Some of the best are the Christmas Markets, light shows, Santa workshops and reindeer meets, plus plenty of Christmas Villages in the mountains.
What are the best places to go for Christmas in Wisconsin?
You'll be able to have a great Christmas vacation in Wisconsin in any number of places. Popular spots include larger areas like Wisconsin Dells, Door County, Milwaukee and Madison, as well as smaller communities like Ephraim, Somerset and Chippewa Falls.
---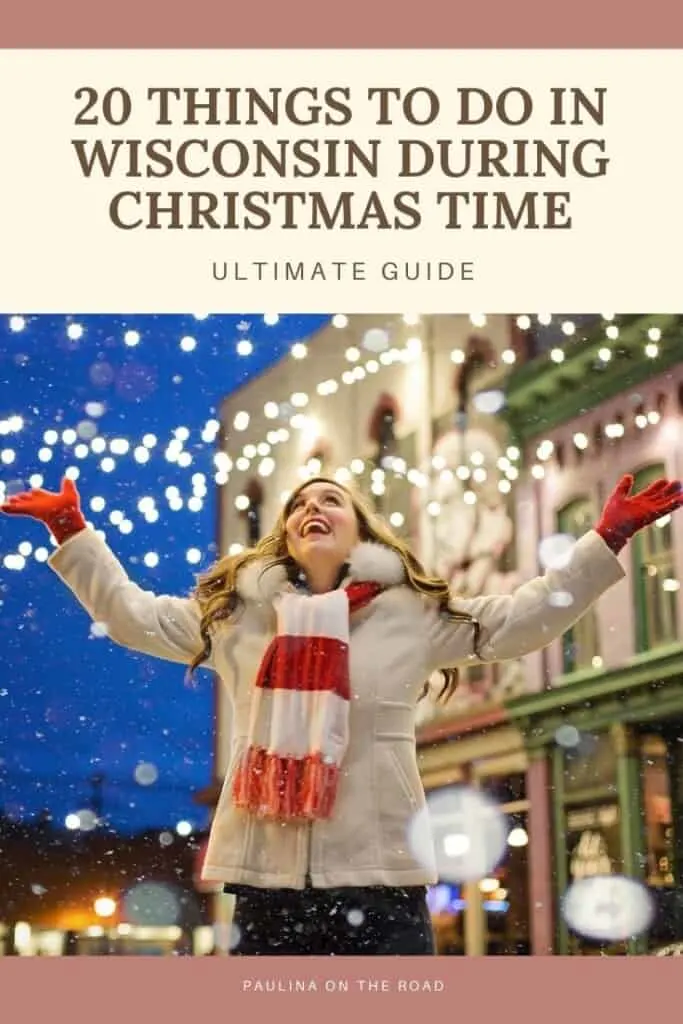 ---
Hola! I am Paulina, a fervent travelette who crossed the Atlantic Ocean by Boat HitchHiking. On my blog, you'll find all the tips to make the most of your holiday. Get ready to enjoy outdoor and sustainable travel like hiking, cycling or sailing. Let's hit the road together!