The ultimate guide to the best Airbnbs in Wisconsin Dells, WI with lake cabins, condos, and unique stays
The city of Wisconsin Dells is a traveler's delight that offers splendid options for accommodation. Airbnb's have changed the way we look at vacation rentals for the better.
Convenience, affordability, and privacy are just a few of the amazing features that Airbnb offers.
I love staying in Airbnb's for its fantastic locations like lakes near Wisconsin Dells. It makes the stay and the entire trip even more exciting. The area is famous for its waterparks, vast leisure options, and hiking trails near some of the best lakes in Wisconsin.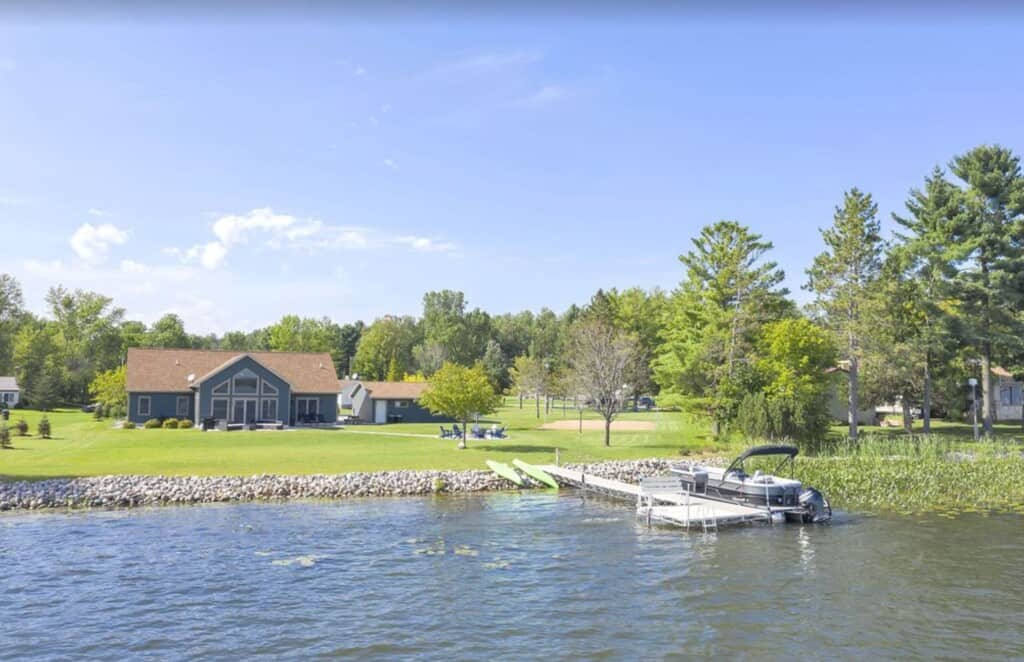 In order to make the choice easier, among the vast offer of gorgeous Airbnbs in Wisconsin Dells, I curated this list. In case some of them might not be available, you can still check these top-rated Airbnbs in Wisconsin Dells.
Thanks to affiliate links, I pay my bills. If you make a purchase through them, I may receive a small commission at no cost to you. As an Amazon Associate I earn from qualifying purchases. All opinions are always mine. Merci!
Useful Travel Information for Wisconsin
✎ Plan the ultimate Wisconsin road trip (no backtracking!) with the Perfect Wisconsin Road Trip itinerary – Buy now for less than 12$

✈ Find the best hotel deals in Wisconsin with Trivago

➳ Book vacation rentals in Wisconsin with VRBO

✔ Book tours in Wisconsin with Viator

☘ Get the best discounted outdoor gear (outlet) at REI.com

$ Get Wisconsin hiking guides and maps at REI.com

✎ Never leave without travel insurance. I get mine at SafetyWing. It is easy to set up, cheap, and reliable.
Overview: The Top 5 Airbnbs in Wisconsin Dells
Top 15 – Best Airbnbs in Wisconsin Dells
1. Overall Best Airbnb in Wisconsin Dells Area – Cool LakeFront Condo
~ $113/Night
4 Guests
Located on Lake Delton
Hosted by super hosts
This cool lakefront condo is a beautiful living space, offering mesmerizing views of Lake Delton. This one-bedroom condo promises superior comfort and relaxation with its amenities.
From a cozy fireplace and a hot tub, to a free pontoon ride, it has everything to make your stay memorable.
This amazing condo is located just a few steps away from Noah's Ark waterpark. It is also close to many splendid restaurants, so you get many amazing dining options nearby.
Having said that, if you are fond of cooking, you can prepare a delicious meal in the condo's full kitchen.
The most special part is that it's hosted by Airbnb SuperHosts who have aced the art of welcoming guests. A stay here is sure to make you feel at home as you get this entire condominium to yourself.
If you love the lake, but prefer a resort, check out these lake resorts in Wisconsin.
~ $125/Night
4 Guests
Direct access to waterparks
Nestled in wilderness territory
Your search for a perfect family vacation destination in Wisconsin ends at the Glacier Canyon Waterpark resort.
Located in the wilderness territory, it is close to many popular attractions in Wisconsin Dells like the Ho-Chunk Casino. From golf courses, malls, wineries, to boat tours, there is a lot to be explored near this stunning resort.
Direct access to water parks is one of the most interesting features of this phenomenal Airbnb in Wisconsin Dells. Even for dining the options nearby are impressive with restaurants like the Thirsty Buffalo Saloon and the Wild Canyon café.
Each of the rental condos comes with fully-equipped kitchens and indoor fireplaces. Make your vacation extra special by staying at this magnificent Airbnb in Wisconsin Dells.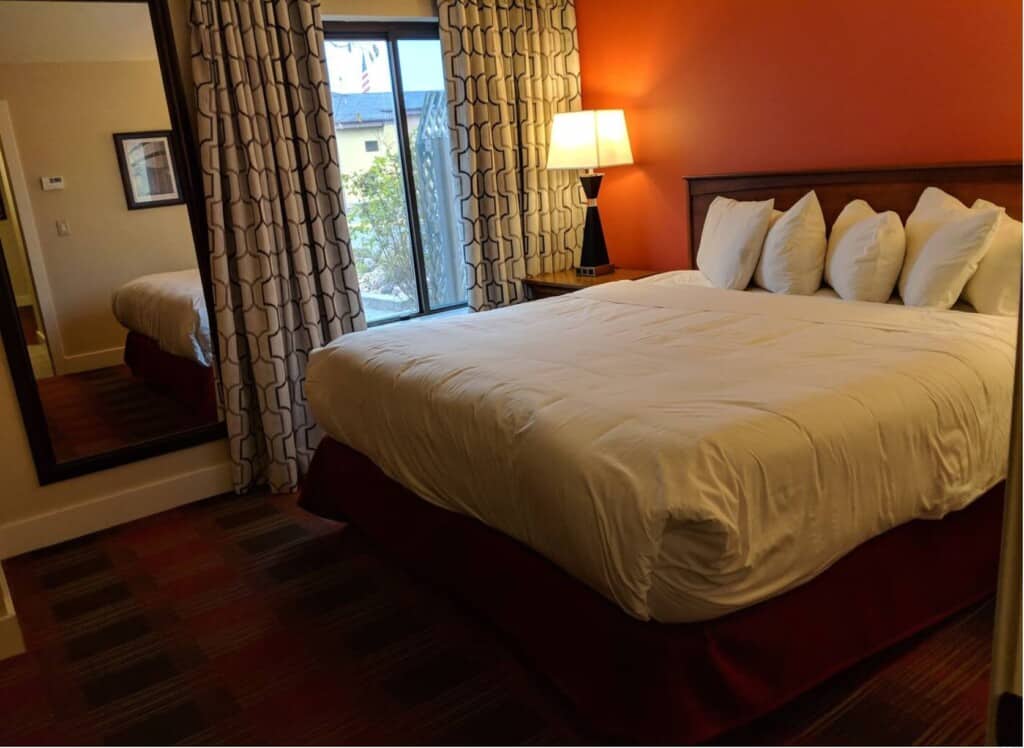 ~ $64/Night
4 Guests
Cheap lodging in Wisconsin Dells
Fun water activities
If you are looking for an affordable lodge in Wisconsin Dells, the Polynesian Suites is the best choice. Here, you have the option to choose from the King rooms, queen rooms, or two-bedroom suites.
Or entire apartments like this one.
This amazing Airbnb is just 5 minutes' drive from the popular Dells boat tour.
The most fun part about this Airbnb is its indoor and outdoor waterslides. It also has an animated lazy river, whirlpool, an interactive pirate ship, hot tubs, and a sauna. Perfect when looking for Wisconsin cabins with hot tubs!

This Airbnb makes lodging in Wisconsin Dells a delightful experience, that too without burning a hole in your pocket.
4. Best Luxury Airbnb In Wisconsin Dells – On the Water
~ $139/Night
4 Guests
Beautiful views of Lake Delton
Located near Noah's Ark waterpark
As evident from the name, the On the Water is a brilliant condo located right on the lake Delton. It boasts 2 beautiful bedrooms, 2 bathrooms, and a spacious patio from where you can enjoy breath-taking views of the lake.
One of the most fun things to do in Wisconsin Dells is to visit Noah's Ark waterpark. The best part is that it takes only 5 minutes to reach the park from this Airbnb in Wisconsin Dells.
The prime location of this condo near the best attractions in the city like Mt. Olympus makes it a massive success.

The "On the water" is a perfect destination for a relaxing getaway for couples or family. You can spend your day fishing off the docks, taking a dip in the indoor pool, or playing basketball.
Watch the sunset from the balcony or enjoy the cozy fireplace and make your evenings unforgettable.
5. Best Pet-Friendly Airbnb in Wisconsin Dells – Cool Lakefront Condo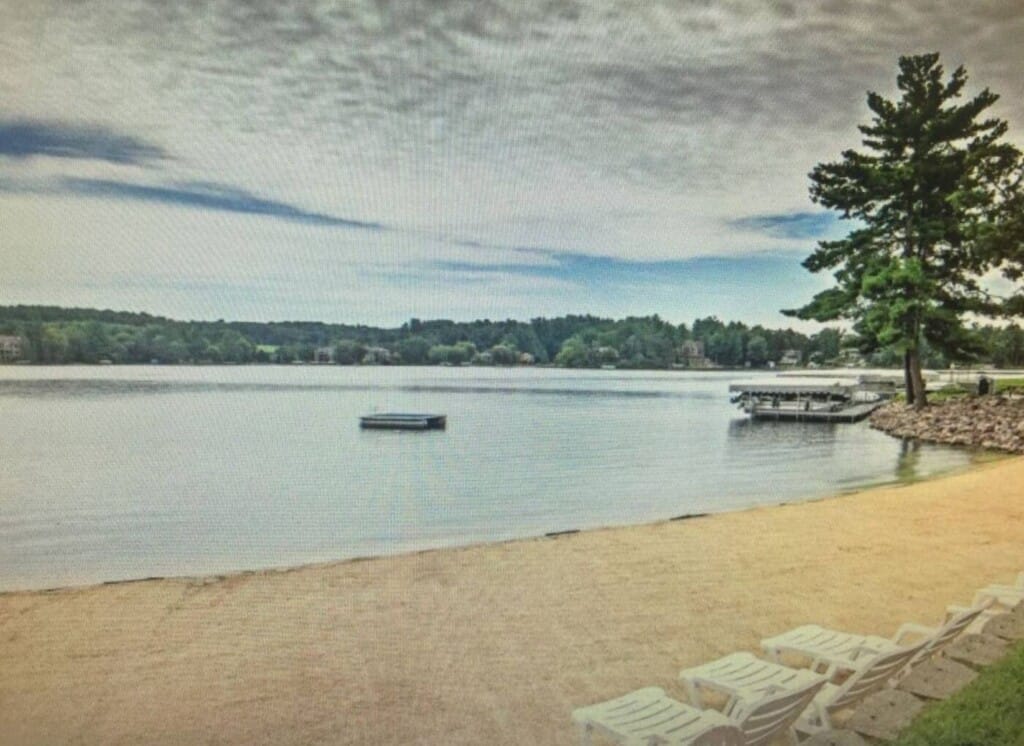 $150/Night
6 Guests
Prime Location on Lake Delton
Pet-friendly

Looking for a place to stay in Wisconsin Dells when you want to bring your pet along? Do not think twice before booking this cool lakefront condo.
It's a one-bedroom condo located on Lake Delton, and is near to Wisconsin's most loved places. For instance, Noah's Ark waterpark is just a 5 minutes' walk away.
While at this cool condo, you can enjoy free kayak and pontoon rides.
It is also equipped with facilities like a jetted tub, fireplace, and a grill for a great vacation. Along with you, your furry friends are sure to have a delightful stay here.
6. Best Airbnb in Wisconsin Dells for a Group of Friends – Beautiful Whitetail Ridge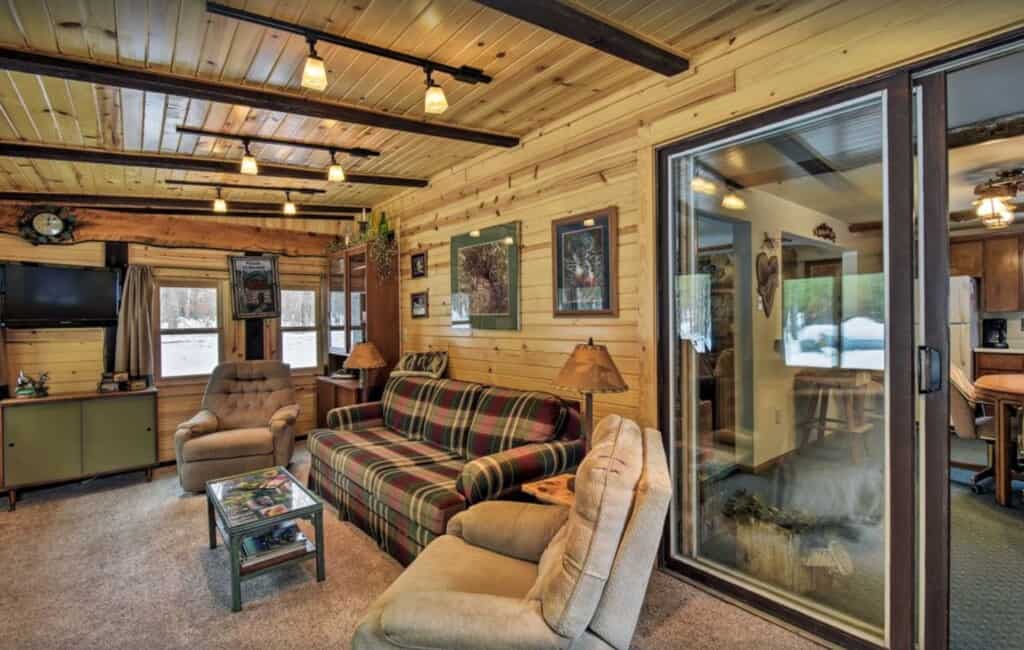 ~ $419/Night
12 Guests
Stunning decor
Easy access to a hiking trail
The Beautiful Whitetail Ridge is a luxury 5-bedroom cabin in Wisconsin Dells that can accommodate up to 12 guests. Handcrafted furniture and stunning design items adorn the rooms of this cabin.
Nestled in a rural area, this is the perfect place to unwind and escape from the hustle-bustle of city life. If you have always wanted to go hiking in Wisconsin Dells, the trail starts just across the street from here.
This is undoubtedly one of the best cabins in Wisconsin for a get-together of friends. And a great choice when looking for amazing luxury cabins in Wisconsin.
This is also an ideal vacation rental if visiting Wisconsin Dells in winter.
The kitchen has all the modern amenities for you to prepare a lip-smacking meal for your loved ones. Indulge in delightful conversations around the fire pit, play a game of pool, or simply relax on the porch.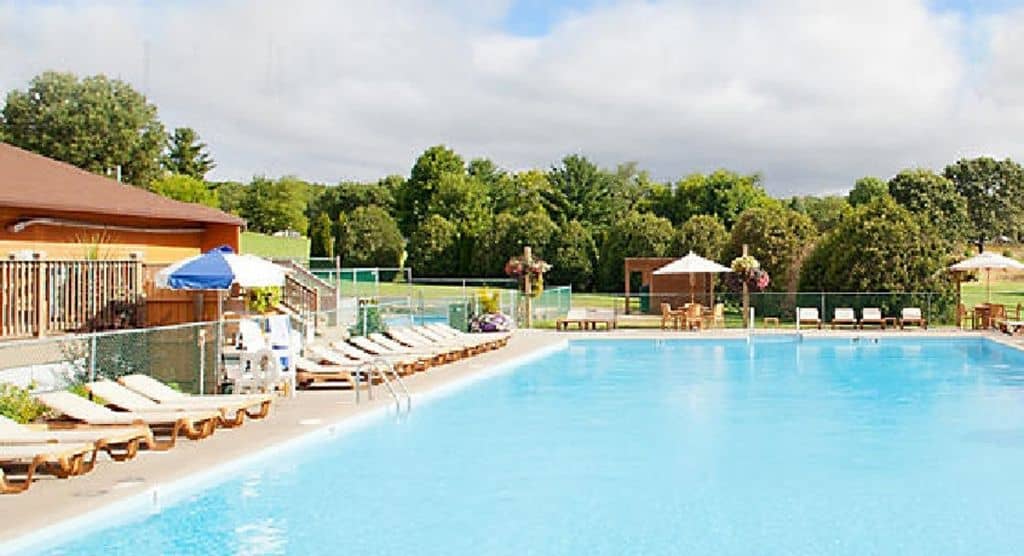 ~ $200/Night
6 Guests
Great outdoor activities
Special play area for the little guests.
A stay in one of the 92 cottages nestled in the Christmas Mountain Ski Golf Resort guarantees a blissful family vacation. The beautiful resort in the west of Dells is popular for many fun-filled activities.
While at the cottage you can indulge in outdoor activities like paddle boating, skiing, basketball, fishing, golfing, and much more. In winter, the area is famous for being one of the best ski resorts in Wisconsin.
This cottage with 2 bedrooms can easily accommodate 6 guests. The kitchen is also well equipped for you to cook a delicious meal for your family.
Moreover, If you enjoy spending some quality time around the grill or fire pit, this cottage has provisions for that too.
~ $141/Night
6 Guests
Caribbean inspired theme
Great glamping experience
The Pirate Ship is a cabin rental near Wisconsin Dells designed to offer you an adventurous glamping experience. A stay in this Caribbean-themed ship is a fascinating experience for kids and adults alike.
This tiny cabin can accommodate up to 6 people and has 2 upper decks ideal for relaxation. This place is one of the best winter cabins in Wisconsin to stay with your family.
It is located close to the popular lakes near Wisconsin Dells like the Mirror Lake and Devil's Lake. This cabin doesn't have WiFi and surprisingly you will be thankful for it.
From guided kayaking, ice climbing, to rock climbing, there are lots of fun and adventurous activities to indulge in here.
This cabin near Wisconsin Dells is a great place to bring your props, and play some fun pretend games.
The cabin has got rules like no shower in winter, so make sure to read the guidelines before booking your stay. You will also be required to clean the unit after the stay.
~ $72/Night
4 Guests
A perfect destination for couples
Easy access to the beach
Located on the lighthouse cove on Lake Delton, this amazing Airbnb in Wisconsin Dells is near all its major attractions. Besides Noah's Ark, popular places like the Wisconsin Deer park, and the Dells army ducks are also near.
This condo is a perfect place for couples who want to enjoy a romantic stay in Wisconsin Dells. The apartment accommodates 4 guests including 2 kids, so it's also suitable for a small family.
The most surprising part of this condo is easy to access the beach and the jacuzzi. This place offers several cool things to do in winter in Wisconsin as well.
This condo acknowledges the fact that cooking for your loved ones is always a delight. It has a kitchen with all the cooking basics and utensils to let you experience this joy.
10. Best Wisconsin Dells Short Term Rental for Couples – Romantic Lakefront Condo
~ $142/Night
6 Guests
Great options for water activities
Convenient Location
If you are looking for a condo that has every feature for a romantic stay, head straight to the LakeFront Condo. This is also a perfect romantic cabin in Wisconsin for couples.
From a convenient location, pool, amenities, to its cleanness, it has a tick on every checkbox.
This amazing getaway is also perfect for families or a group of friends.
Its excellent location on Lake Delton makes it a great place to witness scintillating views. Make the most of your trip by renting a kayak, pontoon, or ski boat from the Dells watersports.
You can also carry an inflatable to spend your day relaxing in the pool, go Skiing in Wisconsin Dells, etc.
This lakefront condo has 2 bedrooms, electric fireplaces, a fully equipped kitchen and a balcony.
11. Best Wisconsin Dells Airbnb with Lake Views – Gorgeous Lakefront Condo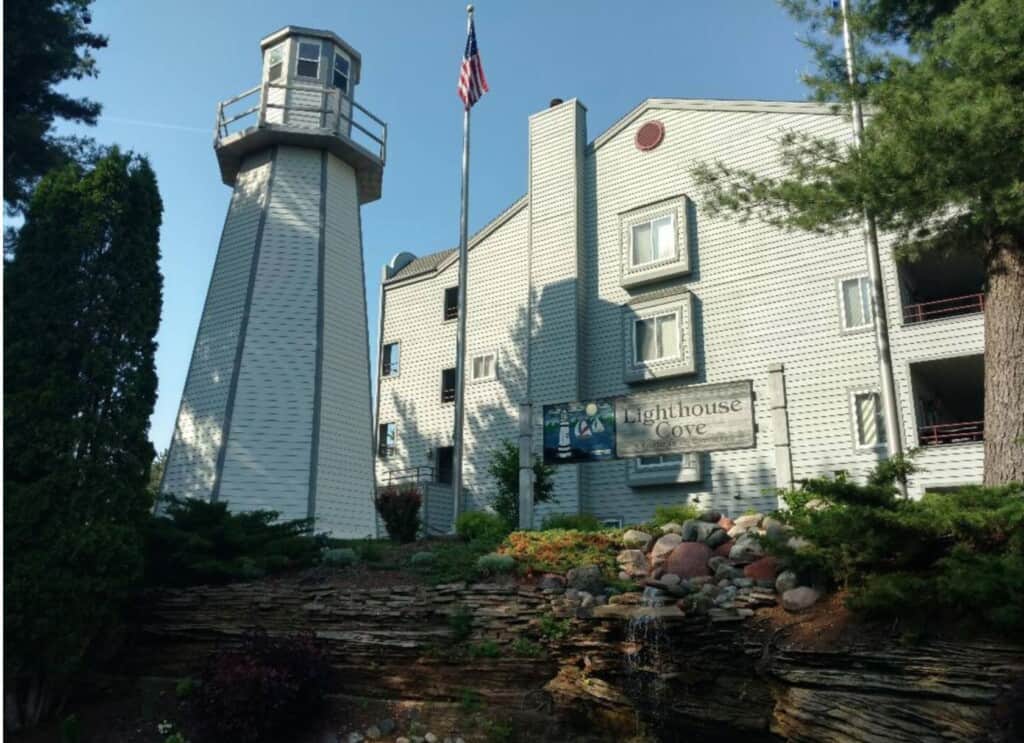 ~ $175/Night
6 Guests
Lake view
The pool!
The choices for cabin rentals in Wisconsin Dells are impressive. The gorgeous lakefront condo on Lake Delton effortlessly validates this point.
This two-level condo takes pride in having repeated visitors who admire the property for its prime location, amenities, and cleanliness.
The presence of balconies on both floors offering spellbinding views of the lake makes this one of the most exceptional condos in Wisconsin Dells. It has 4 comfortable beds, a well-equipped spacious kitchen, and a jacuzzi tub among other facilities.
A few steps away, there is an outdoor pool and a basketball court. You can also find a grill located on the beach where you can enjoy a great picnic.
12. Best Wisconsin Dells Airbnb for Cabin Lovers – Dells Cabin in the Woods
~ $150/Night
5 Guests
Perfect for a family vacation destination
Presence of beaches
A serene living space on Lake Delton, this Cozy Cabin Rental is one of the coziest resorts in Wisconsin Dells. The 2-bedroom cabin that can accommodate 8 guests is a perfect family destination.
The 2 sandy beaches from where you can enjoy beautiful sunset make this cabin a must-visit.
The rooms feature brilliant interiors and upscale furniture to make your stay comfortable.
The fully stocked kitchen also boasts all modern amenities, granite counters, and a wood-burning fireplace. Guests of every generation are sure to have a great time here.
13. Best Airbnb in Wisconsin Dells in Lake Delton – Lakefront Getaway
~ $150/Night
6 Guests
Discounted waterpark tickets
Spacious Yard with a gorgeous view
The Lake House is another beautiful Airbnb in Wisconsin Dells located on Lake Delton.
It's an ultra-comfortable 2-bedroom cottage area that's perfect for relaxing after indulging in activities like hiking near Wisconsin Dells. Closeby are some of the best hiking trails in Wisconsin.
This beautiful condo is one of 8 condos at Thunderbird Resort where you will be able to enjoy all the common areas without feeling overwhelmed with large crowds of people!
Spend your day by taking a ride in the rowboats and enjoy the sun in the loungers. While at the Lake House, you can cook a scrumptious meal in the fully-equipped kitchen.
A stay in this Airbnb is sure to take your vacation experience to the next level.
14. Best Airbnb in Wisconsin Dells in Baraboo – Log Cabin Lodge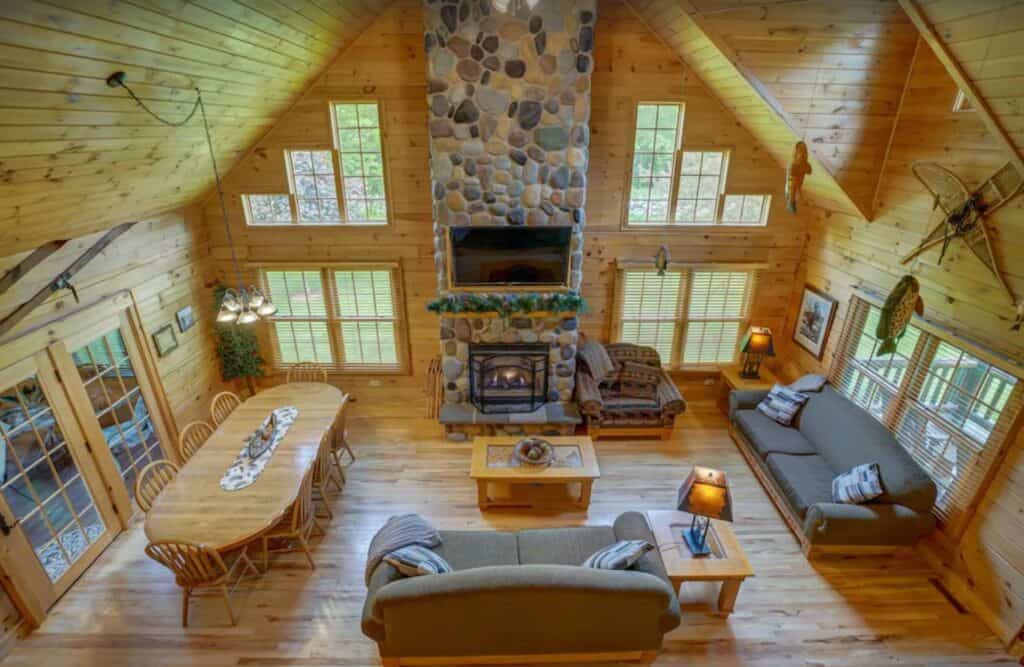 ~ $450/Night
10 Guests
Set amidst the woods
Professionally decorated
Located amidst 5 acres of forest, this gorgeous Airbnb is close to the famous Devil's Lake State Park, one of the best state parks in Wisconsin.
As the cabin is nestled in Baraboo bluffs, you can spend your day visiting the distillery, tasting wines, and enjoy stunning views of nature.
The rooms feature fascinating interiors and quirky elements like loft hammock chairs adds to its charm.
You can also find a splendid collection of Vinyl to listen to your favorite music. If you are planning to vacation in Wisconsin, this is definitely a great choice!
You get the entire home with a trendy living room, 5 bedrooms, and a huge kitchen to yourself. This Airbnb is adored for the modern amenities it offers along with the comfort of home.
If you are planning a long stay in Wisconsin Dells, do not think twice before booking this.
15. Best Airbnb in Wisconsin Dells near Christmas Mountain – Christmas Mountain Cottage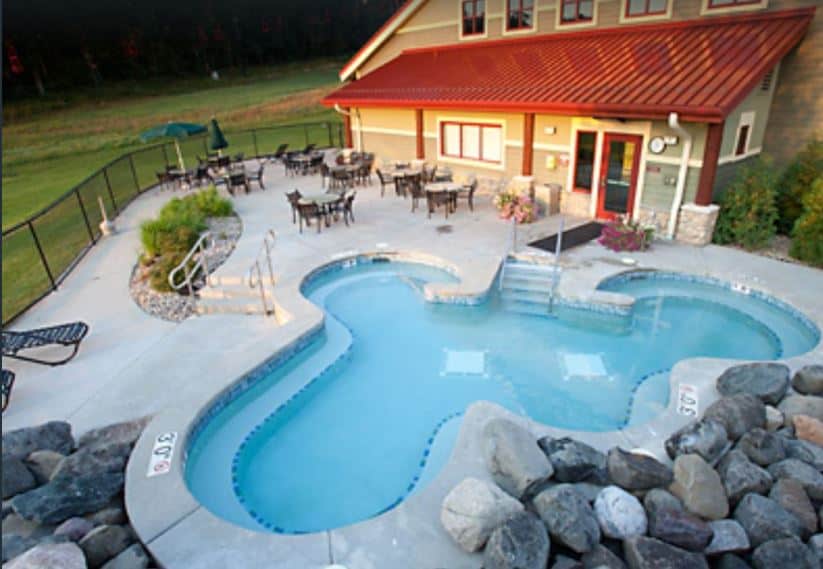 ~ $92/Night
6 Guests
Located in the countryside
Amazing golf courses
The Christmas Mountain Cottage is an enticing family destination offering an array of activities to make your vacation memorable.
You can indulge in snowboarding, snow tubing, fishing, and many more fun activities in Wisconsin Dells. In winter, it is also one of the best places to go skiing in Wisconsin Dells.
It is located in the heavily wooded countryside at a distance of 4 miles from downtown Wisconsin Dells. This beautiful 2-bedroom cottage is also popular for its amazing golf courses, park grill station, indoor and outdoor pools.
This cozy cottage also features all modern amenities including a microwave, toaster, and even a coffee maker.
It can accommodate a group of 6 members who plan to have a get together that they can forever cherish.
---
Best Vacation Rentals and Airbnbs in Wisconsin Dells: Suburbs Map
When going on a Wisconsin Dells vacation or looking for a Wisconsin Dells cabin, this map will be useful.
Find the perfect vacation home for the perfect vacation in Wisconsin Dells.
---
Why Stay in an Airbnb or Vacation Rental?
Local Experience
Living like a local is one fascinating experience that no traveler would want to miss.
The cabins in the Dells effortlessly offer this experience to you.
You can also get assistance from the hosts who will happily inform you about the traditions and must-visit local places. If you plan to visit Wisconsin, this is a must to have experience
Safety
I prefer and would recommend staying in an Airbnb as they follow an enhanced cleaning process.
Moreover, you can reach out to the hosts at any time and you will get help immediately.
If you are looking for safe places to stay in Wisconsin Dells, do not think twice before booking an Airbnb.
Affordability
Affordability is an important aspect that makes Airbnb's stay at the top of the game.
When compared to hotels, cabin rentals Wisconsin Dells are a much better option as they are relatively cheaper. Besides, Airbnb can accommodate more guests in a single apartment than in a hotel room, thus reducing the rates even further.
If you are bringing your pet along on your vacation, there are several pet-friendly cabins in Wisconsin to choose from at very affordable prices as well.
---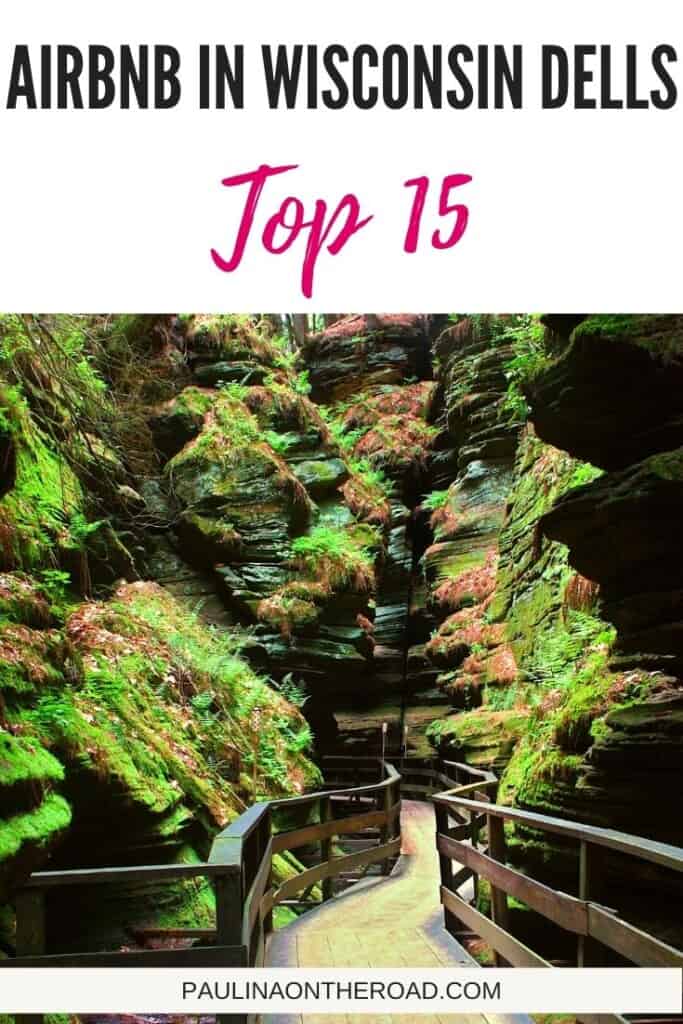 ---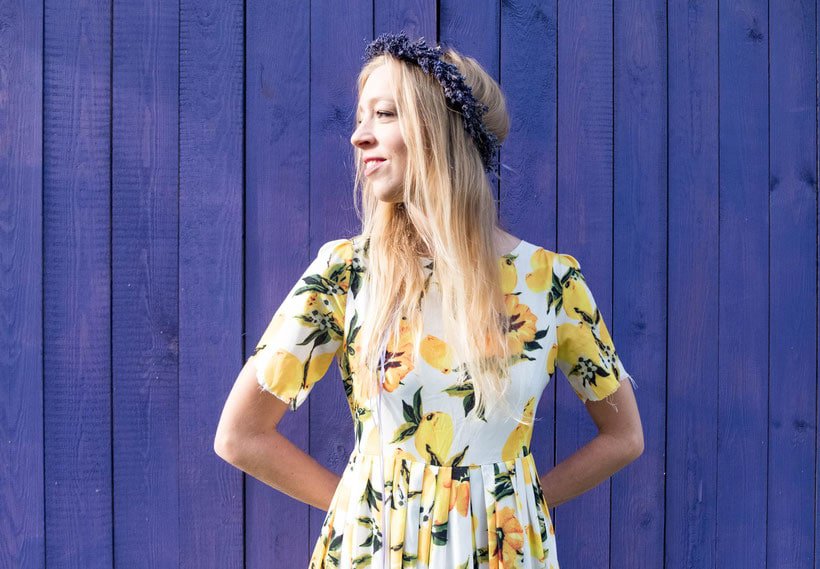 Hola! I am Paulina, a fervent travelette who crossed the Atlantic Ocean by Boat HitchHiking. On my blog, you'll find all the tips to make the most of your holiday. Get ready to enjoy outdoor and sustainable travel like hiking, cycling or sailing. Let's hit the road together!