A guide to the best resorts in Wisconsin on a lake, including Door County, Wisconsin Dells and Lake Geneva
Wondering where to stay in Wisconsin and make the most of your vacation? Lake resorts in Wisconsin are always a good idea as they offer scenic views and exciting opportunities to venture out on the water.
Whether you want to unwind, rekindle romance, enjoy a family get-together, or adventurous aquatic experience, these lake resorts never disappoint.
Staying by the lake in Wisconsin has always been a magical experience for me. But selecting one among the abundant choices of brilliant lake resorts in Wisconsin can be bewildering.
So here is a list of the best lake resorts in Wisconsin that will make your vacation special and unforgettable.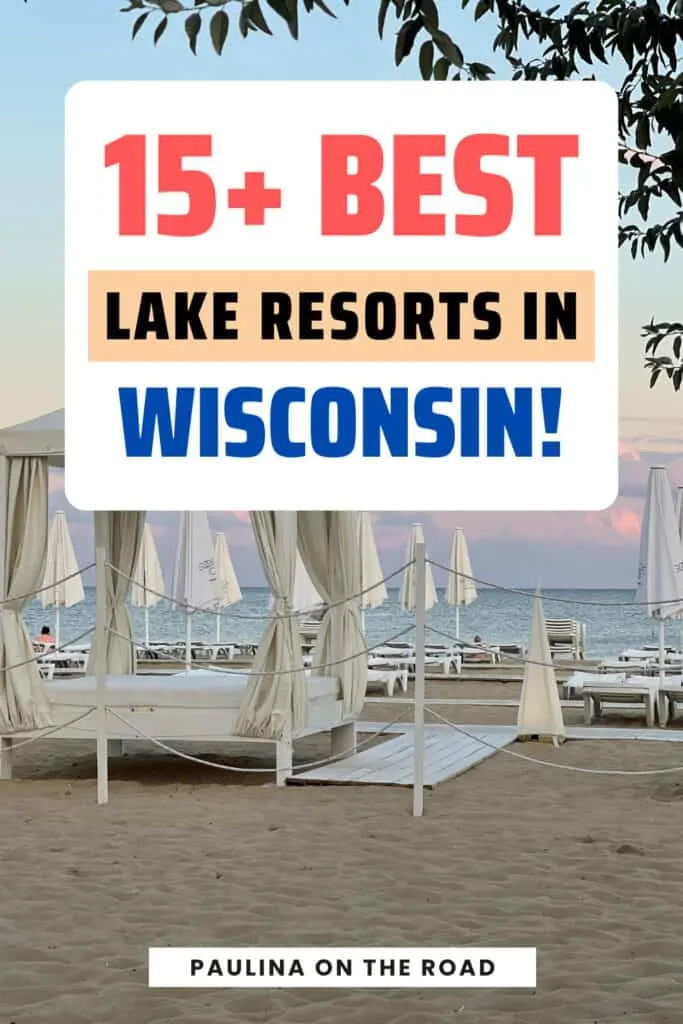 This blog is supported by you, dear reader. If you purchase through a link, I earn a small commission. As an Amazon Affiliate, I earn from qualifying purchases.
Top resources to travel Wisconsin
✎ Plan the ultimate Wisconsin road trip (no backtracking!) with the Perfect Wisconsin Road Trip itinerary – Buy now for less than 12$

✈ Find the best hotel deals in Wisconsin with Trivago

➳ Book vacation rentals in Wisconsin with VRBO

✔ Book tours in Wisconsin with Viator

☘ Get the best discounted outdoor gear (outlet) at REI.com

$ Get Wisconsin hiking guides and maps at REI.com

✎ Never leave without travel insurance. I get mine at SafetyWing. It is easy to set up, cheap, and reliable.
Overview: Best Lake Resorts in Wisconsin
Best Lake Resorts in Northern Wisconsin
Northern Wisconsin is a destination that's admired by nature lovers and adventure seekers alike.
It's a great vacation spot throughout the year as there are plenty of activities to choose from during every season. Fishing, kayaking, ice-skating, and snowmobiling are just a few of the myriad activities that attract visitors to Northern Wisconsin.
Whether you look for resorts near Hayward, WI, or for Minocqua, WI resorts, you will be surprised by the remarkable options here.
Where: Hayward, WI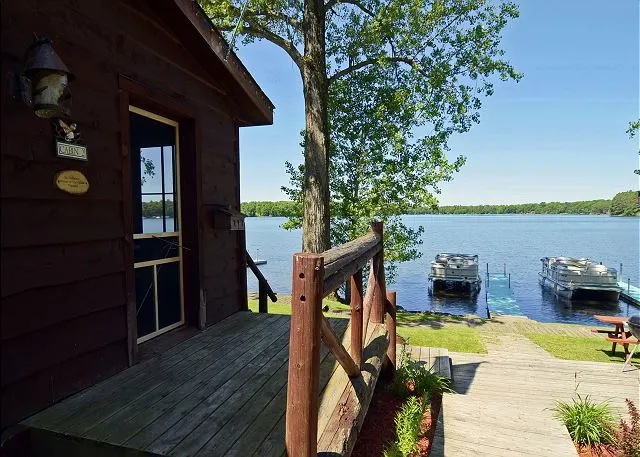 Sleeps: 8
Nr of Bedrooms: 3
Located in Hayward, the Grand Pines Resort amazes visitors with picturesque views of the crystal-clear round lake.
It stands out among the rest of Hayward, WI resorts with its comfortable furnishing and impressive decor. Features such as the stone fireplace in the living room and antique stove in the fully-equipped kitchen add to its charm.
Guests here enjoy relaxing on the private dock and gathering around the fire pit by the water in the evenings. Fishing, tubing, skiing on the lake during summers, and snowmobiling in winters are some other fun activities to try here.
After an adventure on the water, you can walk to the Props Landing Bar and Grill for an amazing dinner.
Where: Three Lakes, WI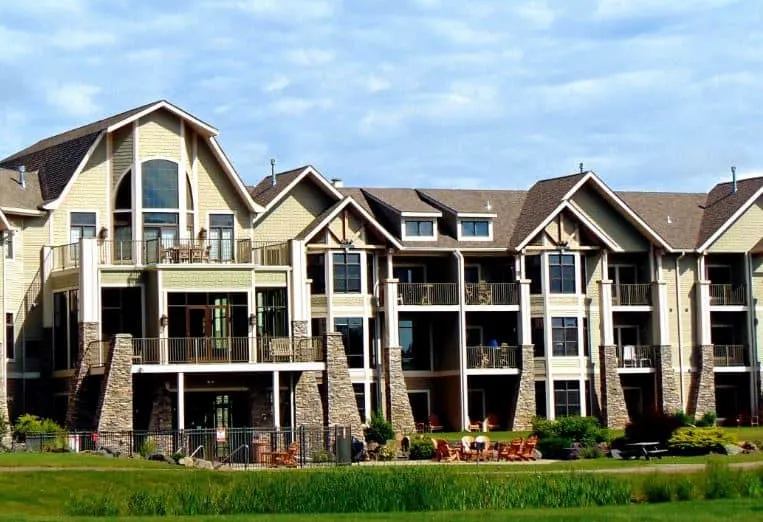 Highlight: Amazing outdoor hot tub for up to 33 people
Nestled on the shores of Three Lakes, the Northernaire Resort raises the bar of excellence of Wisconsin lake vacations. It is one of the best lake resorts in Wisconsin in terms of location, amenities, hospitality, and opportunities to explore.
The resort features an in-house bar, outdoor hot tub, sports courts, and a patio to enjoy an exceptional barbecue night.
Its location on the edge of Nicolet National Forest offers ample opportunities for guests to go biking and hiking. You can also embark on canoeing and kayaking trips to explore the world's largest chain of freshwater lakes.
Activities like ice fishing and snowmobiling are popular here during winters, making it one of the best winter getaways in Wisconsin.
Where: Minocqua, WI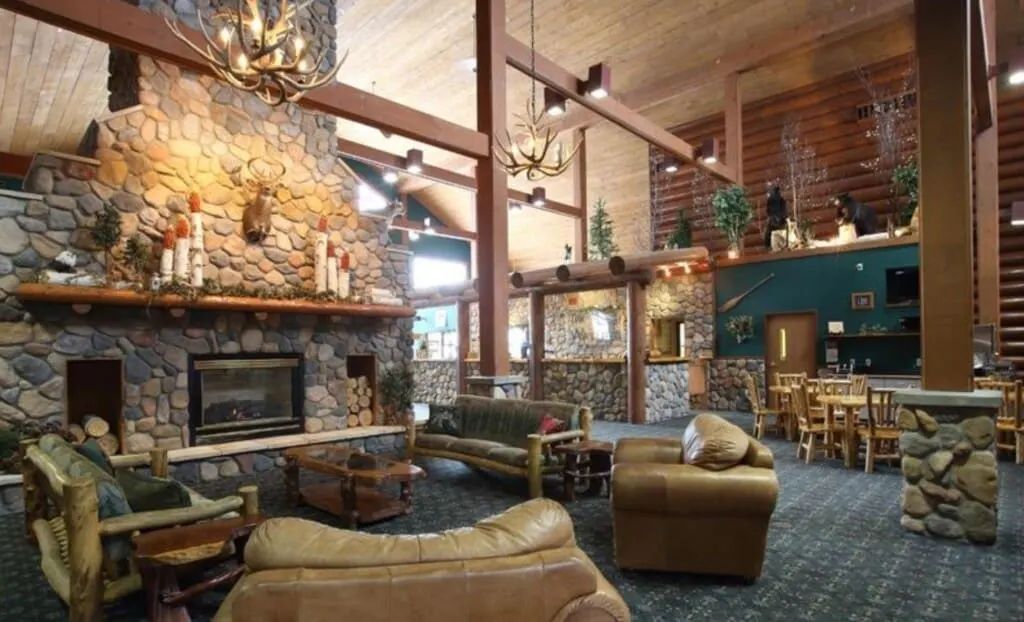 Highlight: Home to Northern Wisconsin's best indoor water park
If you are looking for Minocqua resorts with a rustic northern vibe, head straight to The Waters of Minocqua.
This stunning resort features impressive handcrafted wooden furnishing and boasts all modern amenities for an exceptional stay.
It is one of the best family resorts in Wisconsin with something to delight visitors of all age groups.
The highlight of this resort is the indoor water park with fun rides and activities and is one of the best things to do in Minocqua.
The guests also enjoy access to an outdoor pool, fitness center, redemption arcade, and complimentary breakfast here.
The Waters of Minocqua Resort is located just 10 minutes away from the pristine Lake Minocqua where you can enjoy swimming, water-skiing, and fishing.
In the winter the resort is nearby to fun activities like snowmobiling, which is why it's one of the best winter resorts in Wisconsin.
It's easy to see why it's one of the top Wisconsin resorts on lakes for families, as well as one of the top hotels in Minocqua!
Where: Rice Lake, WI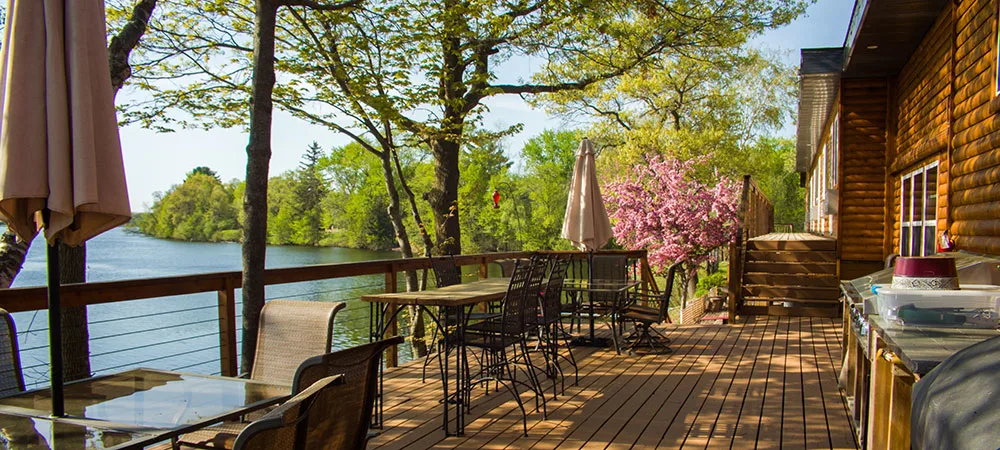 Nr of rooms: 21
Located on the east shore of Rice Lake, the Curriers Lakeview Lodge is the perfect destination for a relaxing vacation. Every room of this lodge is beautifully decorated with artwork and antiques that radiate a quintessential Northwoods charm.
You can enjoy breathtaking views of the lake from its rooms and patio.
This lodge is great for vacation all year round with plenty of activities to indulge in. Guests can use the paddle boats, kayaks, canoes, and rowboats available here for an adventurous water experience.
The evenings here are for gathering around the fire pit, having memorable conversations, and enjoying the picturesque sunset views.
You can also bring your furry friends along as it is one of the best pet-friendly cabins in Wisconsin.
Where: Solon Springs, WI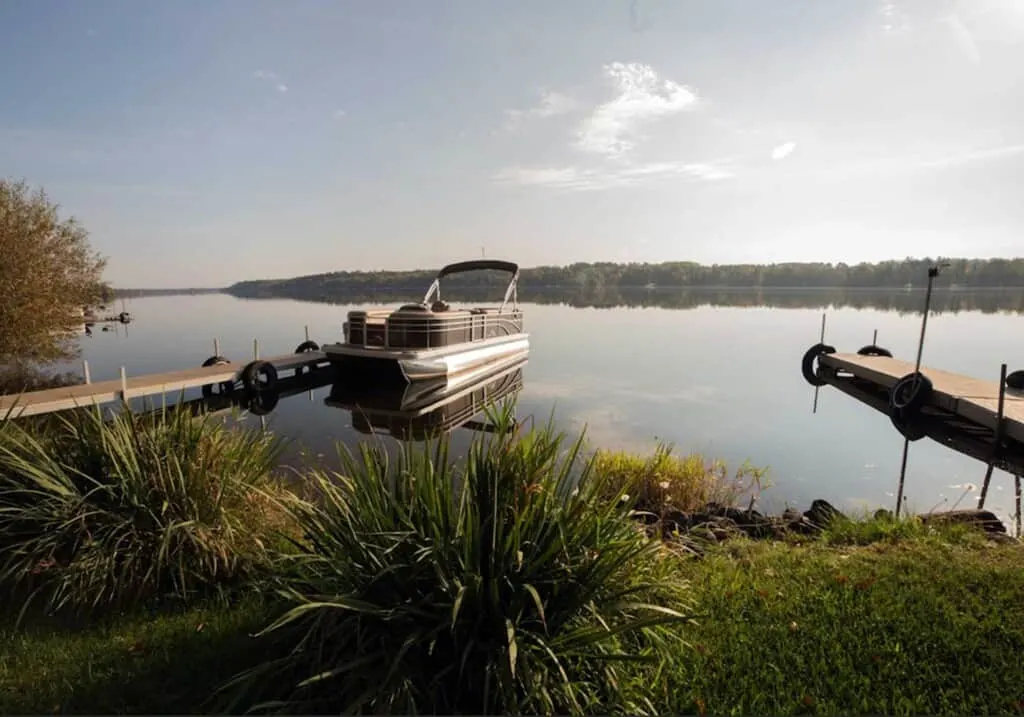 Nr of rooms: 32
A gorgeous 4-star property located in Solon Springs; the St. Croix Inn offers a top-notch lakeside vacation experience.
It ensures that the guests enjoy unforgettable aquatic adventures by allowing free use of canoes, kayaks, and paddleboards.
There is also a wellness center, spa, and indoor heated pool that's great for enjoying moments of complete relaxation.
St. Croix Inn is one of the best spa resorts in Wisconsin.
Every room at the St. Croix Inn features amenities like AC, flat-screen TV, wardrobe, and free WiFi. They also offer a delicious complimentary continental breakfast for a bright start to your day.
It is recommended to make use of the free bicycle available here and explore the beauty of Solon Spring.
Best Lake Resorts in Central Wisconsin
The heart of Wisconsin is popular for its beautiful landscapes, culture, endless outdoor entertainment, and dining options.
It is nothing short of a paradise during winters and has the most fascinating things to do at Christmas in Wisconsin. The most sought-after activities here are enjoying the snow, cross-country skiing, and visiting the rotary winter wonderland.

Staying at lakefront resorts in Wisconsin will take the fun quotient of your Central Wisconsin vacation to the next level.
Where: Elkhart Lake, WI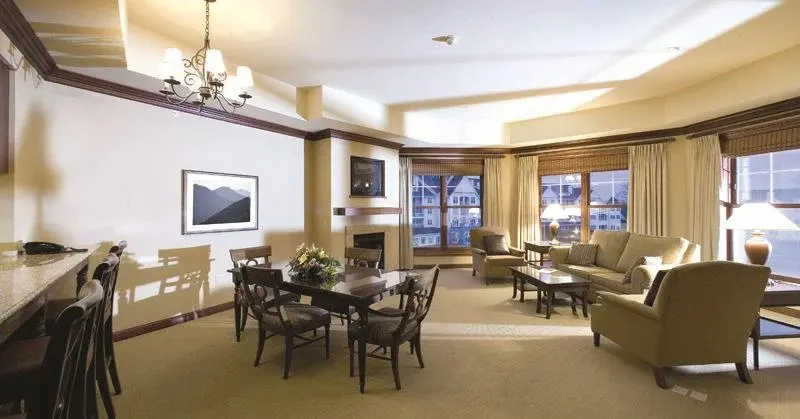 Highlight: Aspira Spa with a wide range of relaxing treatments
When it comes to luxury resorts in Wisconsin, the choices are marvelous and The Osthoff Resort is one of them.
This resort astonishes visitors with the views of the lake or woodland from its comfortable and spacious rooms. You can select from the guest rooms or the suites with up to 3 bedrooms according to your desire.
It is also home to the Aspire Spa which offers rejuvenating treatments for your body and mind. There is an indoor pool and 2 outdoor swimming pools where you can enjoy a relaxing dip.
The Osthoff Resort ranks among the best lake resorts in Wisconsin with its sand beach, dedicated picnic areas, bonfire area, and watersport rentals.
Where: Prairie du Chien, WI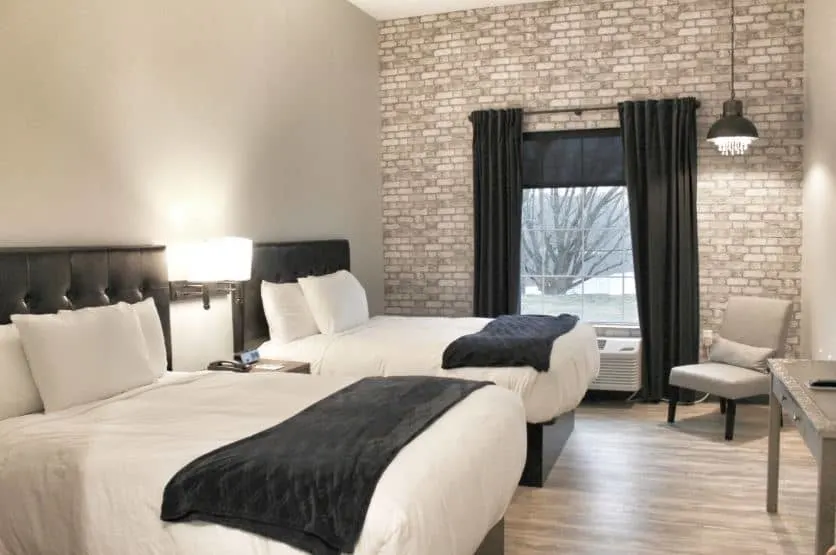 Nr of rooms: 55
A gem in Prairie du Chien, the Waterfront Hotel lets you enjoy your Wisconsin vacation in comfort and style. This boutique hotel is located in proximity to the best attractions that downtown has to offer like the Fort Crawford Museum.
This hotel features 55 beautifully designed guest rooms each with excellent amenities like a microwave, refrigerator, AC, a coffee machine, and a wardrobe.
The Backwater Terrace Bar connected to the Waterfront hotel serves lip-smacking cocktails, beers, and grilled delicacies.
The resort also treats you with mesmerizing views of the Mississippi river that will instantly lift your mood. You can opt for a river view room at the time of booking to wake up to beautiful sunrises.
Where: Oshkosh, WI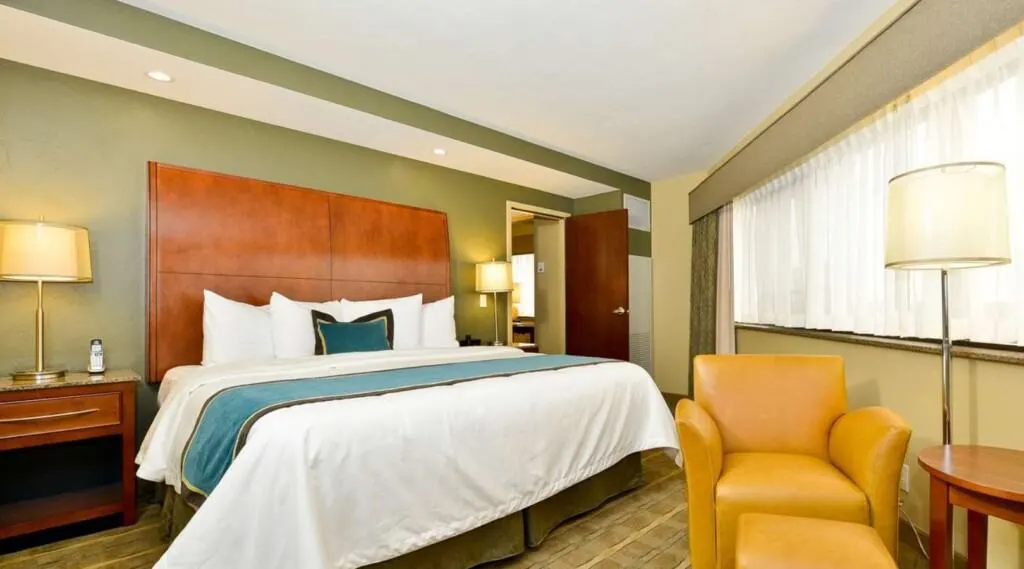 Highlight: Great indoor pool and spa tub
The Best Western Premier Waterfront Hotel in Oshkosh is consistently appreciated by the guests for its impeccable hospitality.
Nestled on the shores of Lake Winnebago, this hotel lets guests choose a room with views of the river or the sparkling city.
It has got fantastic facilities like a spa tub, indoor heated pool, fitness center and a restaurant for waterfront dining.
It is one of the most amazing lake resorts in Wisconsin for couples looking for a romantic escape and by far one of the best resorts on Lake Winnebago as well.
Having said that, it is equally great if you are planning a visit with your family or for a business trip.
There are plenty of fun things to do in Oshkosh, WI, and the surrounding area for families, couples, and solo adventurers!
Make sure to also check out some of the best things to do in Central Wisconsin while you're here!
Gathering by the fireplace near the river walk is an experience that should not be missed here.
Where: Sheboygan, WI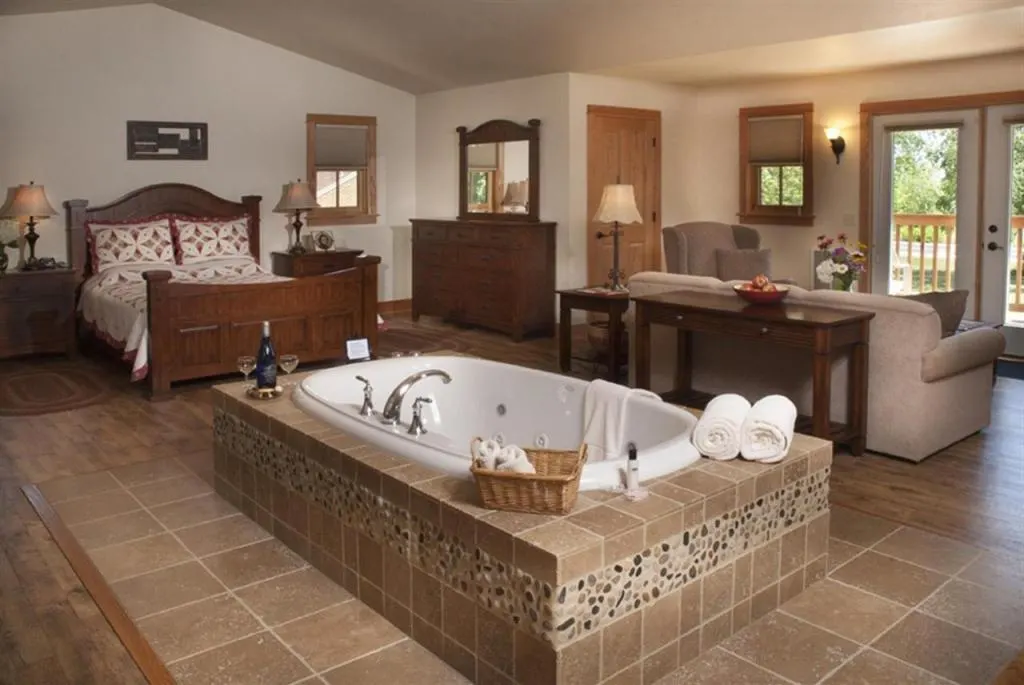 Highlight: Excellent hiking options nearby
Your search for the most charming Wisconsin resorts on Lake Michigan ends at the Lake Orchard Farm Retreat in Sheboygan.
This sixth-generation farm is the perfect destination to unwind by escaping the hustle of city life and unwind and is one of the best hotels in Sheboygan.
The Bed & Breakfast is perfect for a romantic getaway in Wisconsin while the cottage is the apt choice for families.
The facilities offered like complimentary farm breakfast, kitchen, and patio depend on the type of accommodation that you choose.
The retreat is surrounded by vibrant fruit orchards, and natural woods and pleases the eyes with majestic views of Lake Michigan.
The nearby areas offer a plethora of things to do in Sheboygan, including opportunities for recreation like hiking, biking, and snowshoeing.
Best Lake Resorts in Southern Wisconsin
Lake resorts in Southern Wisconsin redefine the meaning of comfort, tranquillity, and fun all at once.
This part of Wisconsin is blessed with the beautiful Lake Geneva which offers a visual delight to the visitors.
People come from all over the USA for romantic getaways in Lake Geneva and stay at lakeside resorts.
This area is also home to some of the best ski resorts in Wisconsin where you can enjoy a snow adventure like never before.
Where: Lake Geneva, WI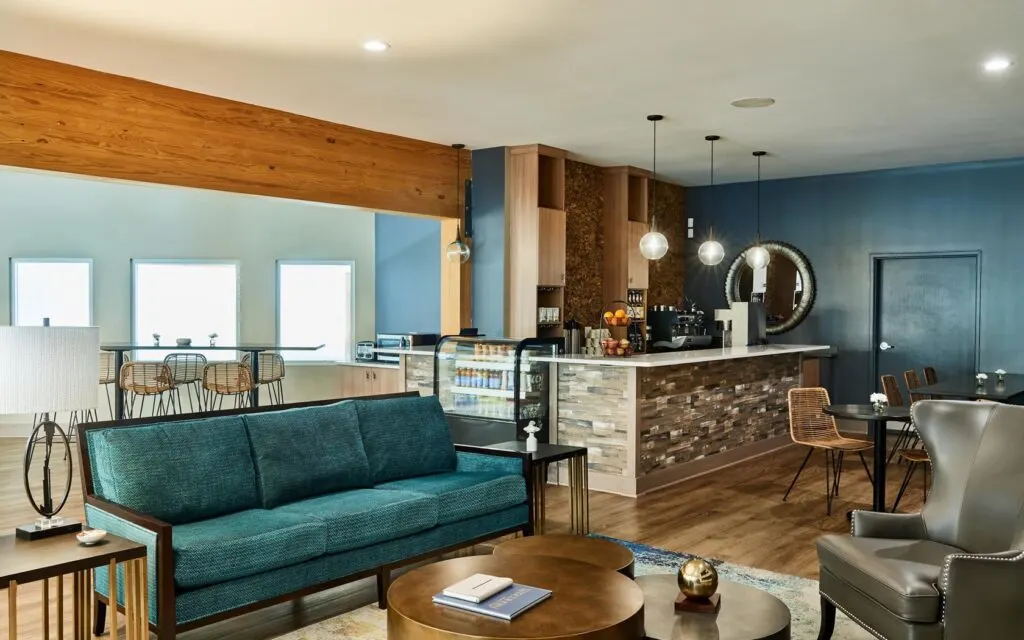 Nr of rooms: 194
The Cove of Lake Geneva is a destination set apart where premier hotel amenities come together with condo-style living.
It is located just off the shores of Lake Geneva which provides great opportunities for cruising, skiing, and beach bathing.
A stroll along the Shore Path, one of the best Southern Wisconsin hiking trails, is perfect for couples.
The hotel is designed to offer an unmatched family vacation experience with features like a kitchenette, fireplace, patio, outdoor pool, and arcade room.
It is one of the best places to stay in Lake Geneva as there are many dining and shopping options nearby.
The onsite restaurant and poolside cabana bar are other reasons for it to be among the best resorts in Lake Geneva.
If this isn't exactly what you're looking for, check out my guide on where to stay in Lake Geneva!
Where: Delevan, WI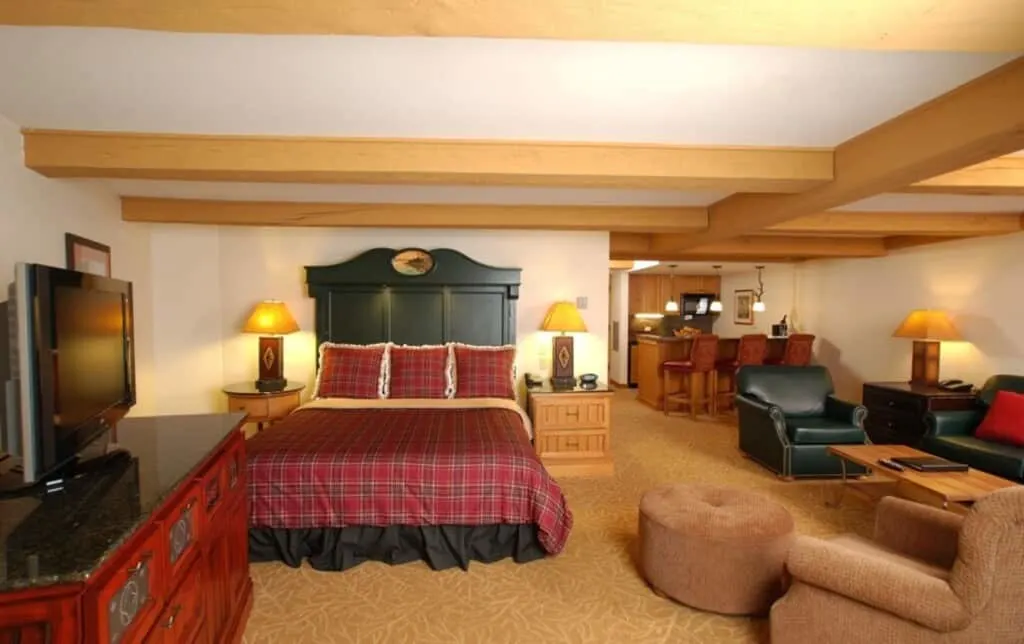 Nr of rooms: 271
Adorning the shores of Delavan Lake, The Lake Lawn Resort is admired for its tastefully decorated rooms with upscale comfort.
The resort has been exceeding the expectations of guests with its service since it came into existence 140 years ago.
It is a step ahead of other Wisconsin resorts in terms of the scrumptious dining options it provides
This Lake Geneva resort, WI boasts myriad options for both relaxation and recreation for all age groups.
The golf course, spa, water sport rentals, live music, and daily planned activities will keep you entertained throughout your stay.
They also arrange lake tours on a cruise boat for you to witness the unparalleled beauty of Delavan Lake.
Where: Milwaukee, WI
Nr of rooms: 307
Constructed in 1893, The Pfister Hotel is the pride of downtown Milwaukee and an epitome of elegance and style. It's also one of the most romantic hotels in Milwaukee.
The blend of old-world charm and modern amenities makes it one of the most amazing luxury resorts in Wisconsin.
It never fails to leave the guests spellbound by its extraordinary architecture and Victorian art collection.
A spa offering revitalizing treatments and a bar on the 23rd floor offering spectacular views are the hotel's highlights. It is also home to a classic American grill and a café that serves delicious treats.
Lake Michigan is just 3 blocks away from this amazing hotel where you can enjoy boat trips and surfing.
Where: Fontana, WI
Nr of rooms: 348
The Abbey Resort & Avani Spa is spread across 90 acres of artfully manicured grounds on the shores of Lake Geneva. Every room here is designed and furnished in a way to let you completely soak up the lakeside vacation vibe.
The rooms offer views of either the pool, the harbor, or the resort and are equipped with all modern facilities.
The waterfront dining options make it one of the best resorts on the lake in Wisconsin. The Avani Spa with whirlpool and sauna offers refreshing treatments that will take all your stress away.
Whether you are visiting with your partner, family, or friends, you are sure to have a memorable stay here. However, it's perfect for couples as one of the best romantic resorts in Wisconsin.
The Abbey Resort is the perfect place to stay if visiting Lake Geneva in winter as the relaxing spa treatments will warm you up and rejuvenate you after a day of fun winter activities!
Best Lake Resorts in Door County
Anyone looking for fun and unique vacation ideas in Wisconsin should move Door County to the top of their list.
There are so many amazing things to do in Door County you might just find yourself coming back year after year.
A destination adored for its gorgeous beaches and shoreline, Door County also has some of the best lake resorts in Wisconsin.
These resorts rest along some of the best beaches in Door County to ensure a relaxing vacation in the sun.
Whether you seek an adventurous vacation, a relaxing one, or an entertaining one, Door County has a lot to offer.
It also has some of the most amazing Wisconsin cabins with hot tubs which will let you unwind.
Where: Egg Harbor, WI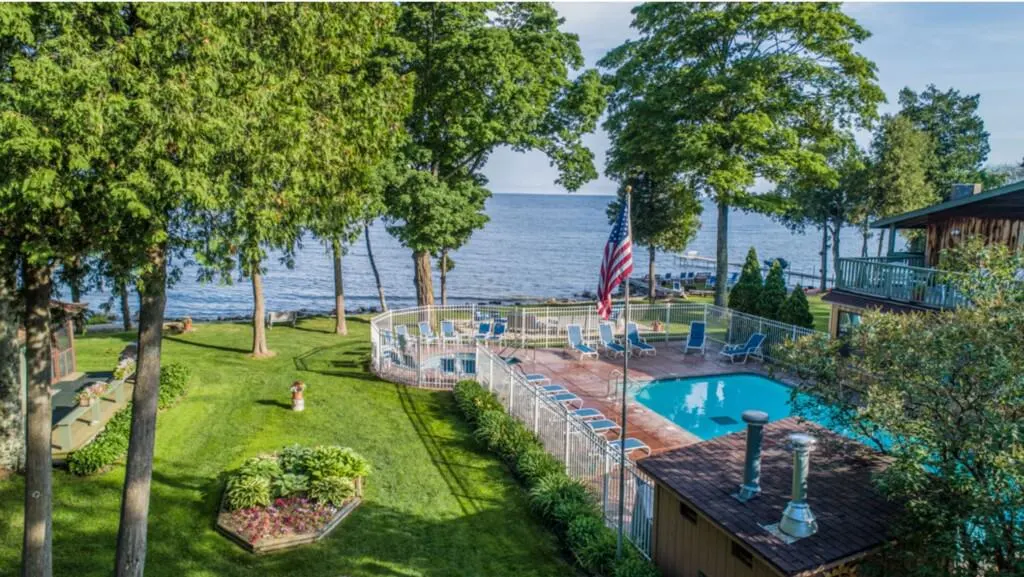 Highlight: Allows complimentary use of resort bicycles, kayaks, and canoes
The picturesque Door County is home to some of the best resorts in Wisconsin and The Shallows Resort proves this.
Considered one of the best resorts in Northern Wisconsin, it's no surprise that The Shallows attracts people from all over the world!
Located on the shores of Green Bay, this beautiful resort allows access to 400 feet of private shoreline. The views are particularly stunning if you're able to visit Door County in October.
The beach has got 2 bonfire areas where you can gather with your group to make your evenings special.
The type of accommodation ranges from shoreside rooms, wood view rooms, cottages to luxury homes.
Guests at The Shallows can enjoy great facilities like a heated pool, hot tub, play area, tennis court, and much more. You can enjoy fun times at the lake with the use of complementary canoes and kayaks.
Where: Sturgeon Bay, WI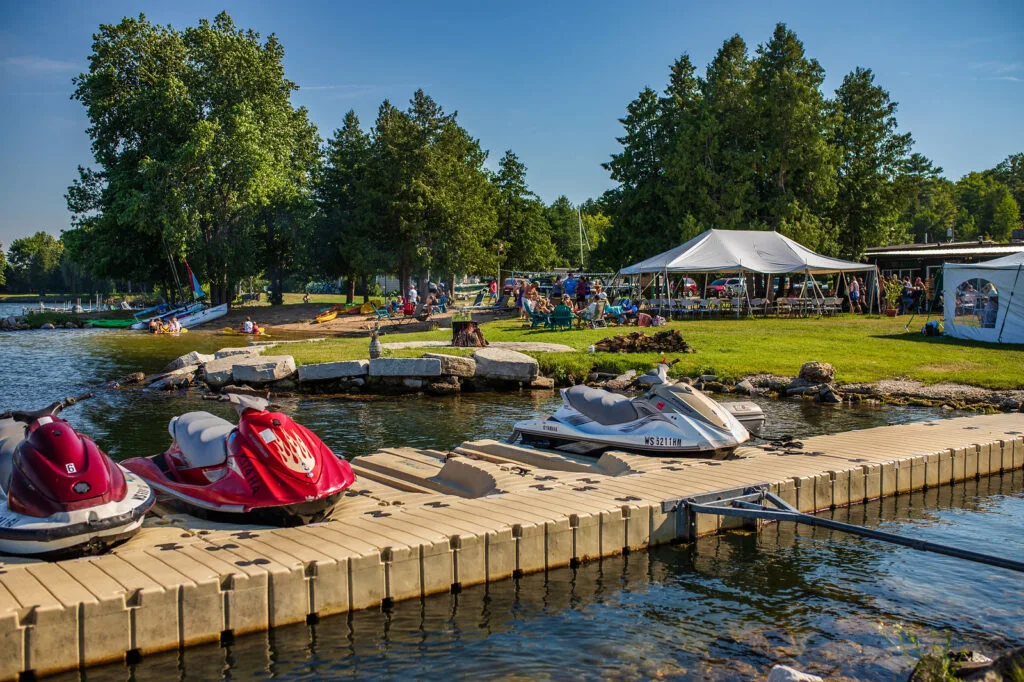 Highlight: Budget-friendly rooms with comfortable amenities
The Beach Harbor Resort is located next to the popular Potawatomi State Park in Sturgeon Bay. It is counted among the best lake resorts in Wisconsin in terms of affordability and recreational activities.
From fishing, biking, hiking, stand-up paddling, kayaking to simply relaxing on the beach, the opportunities are abundant here.
This family-owned resort has cottages and motel rooms with all facilities like WiFi, cable TV, mini-fridge, microwave, and air-conditioning. You can also head to the Waterfront Mary's Bar & Grill to relish some delectable cuisines.
Do not miss spending your time around the fire pit for the fish boil, and a chance to enjoy the serene lake views.
Where: Ephraim, WI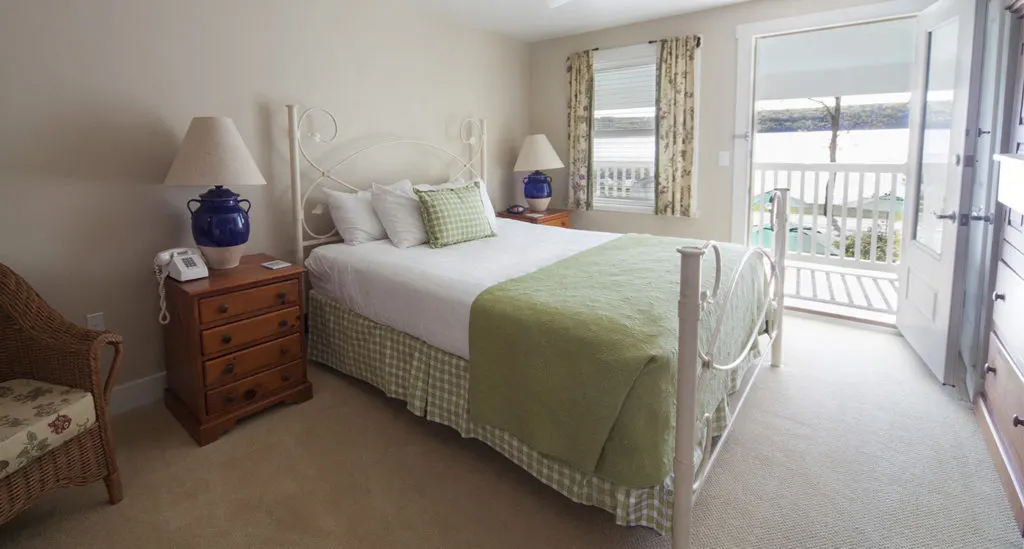 Highlight: Opportunities to personalize your stay with add-ons like dozen roses and box of truffles
Perched on the shores of the enthralling Eagle Harbour, the Edgewater Resort is an ideal destination for a relaxing stay. It is located in the heart of Ephraim where you'll find many impressive historic buildings, art galleries and restaurants nearby.
Guests can choose to stay in the luxurious waterfront suites or the cosy and private cottages.
The Suites comes with superb features like a whirlpool tub, fireplace, full kitchen and spectacular views. If you choose to stay in the cottages, you can also bring your pets as the rooms are pet-friendly.
Make sure to watch the magnificent sunsets from the veranda and take a stroll along the shoreline.
If you're here for a romantic getaway, make sure to check out some of the best wineries in Door County.
Where: Sturgeon Bay, WI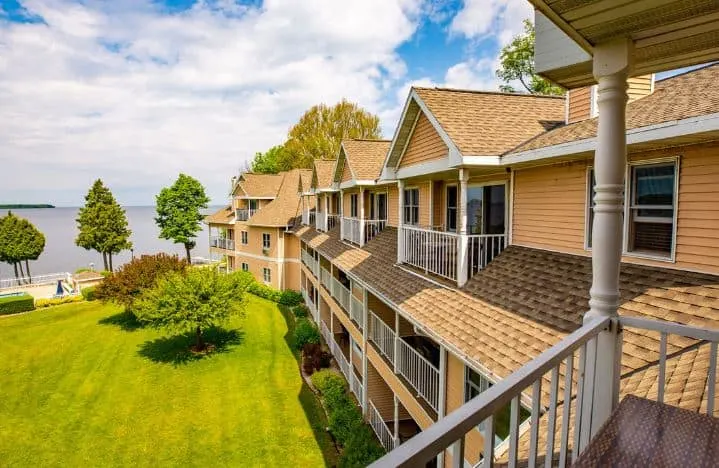 Highlight: Complimentary paddle boards and plenty of opportunities for outdoor recreation
The list of the best Door County resorts on the water is incomplete without the mention of the Westwood Shores Waterfront Resort.
Situated in Sturgeon Bay, every suite of this resort greets you with captivating views of the water. With outstanding features like private balconies, whirlpool tub, fully-equipped kitchen, and fireplace, it is ideal for all types of getaways.
Guests can relax in the heated pool or enjoy a workout session at the fitness center. The resort also provides complimentary paddleboards and rowboats for a fun water experience.
There is also a shorefront picnic area with gas grills for escaping into nature.
Best Lake Resorts in Wisconsin Dells
Exciting water parks are the first things that come to mind when one hears of Wisconsin Dells.
The best part is that the opportunities for fun are not just limited to the waterparks – although many Wisconsin Dells resorts offer their own!
You are unlikely to run out of fun things to do in Wisconsin Dells. From hiking, snowboarding, to skiing there are limitless activities available in this beautiful destination.
The Lake resorts here offer stunning views and are filled with delightful amenities to make your stay comfortable. They are also ideal for romantic getaways in Wisconsin Dells.
Where: Wisconsin Dells, WI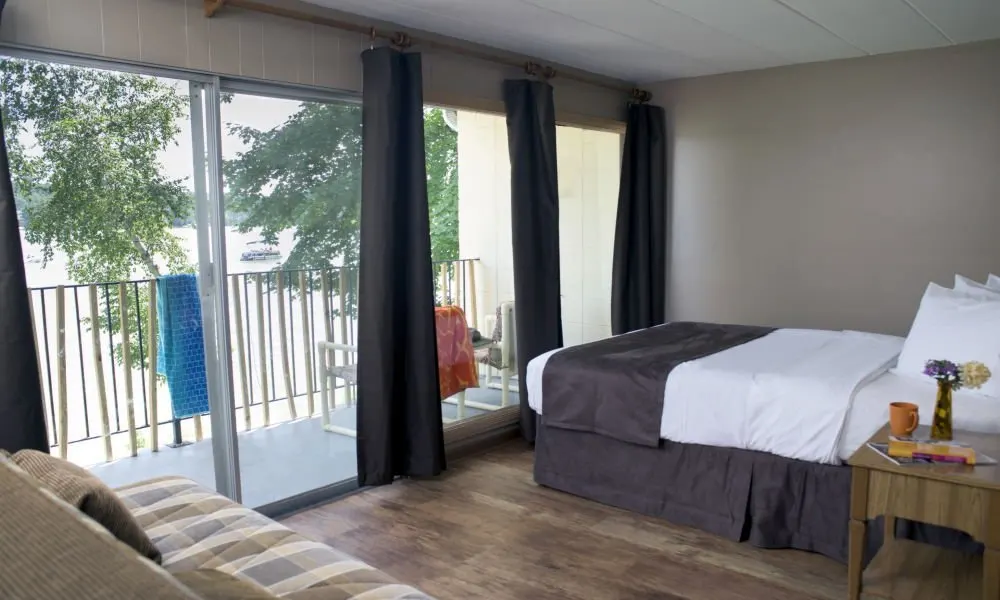 Highlight: Beautiful private sandy beach and dock
The Delton Oaks Resort is undeniably one of the best lake resorts in Wisconsin for a family vacation.
Located on Lake Delton, this family-operated resort features cabins, villas, and studio condos that'll make you feel at home.
The lakeside villa accommodates up to 20 guests and is perfect for hosting a reunion or for a celebration.
The amenities at the Delton Oaks Resort *** depend on the room that you opt for. However, the common features include kayak rentals, fire pits, and BBQ grills.
The resort is just a short drive from Noah's Ark Water park which is filled with exciting activities for the whole family.
Where: Wisconsin Dells, WI

Highlight: Picnic area with barbeque grills for enjoying a memorable family time
If you fancy staying in villas surrounded by nature, do not think twice before booking the Mirror Lake and Tamarack Resort.
The resort is located opposite the Mirror lake natural area, just minutes away from Mt. Olympus Water & Theme Park. The villas feature adorable country decor and have seating areas and private decks to enjoy eye-catching sceneries.
There is a fully-equipped kitchen, flat-screen TV, fireplace, and other brilliant amenities in every suite. Guests can also make use of the picnic area, tennis courts, hot tub, indoor and outdoor pools.
Hiking, cycling, and boat tours are some of the most popular activities that impress guests here.
For those looking for couple getaways in Wisconsin Dells, this is one of the most romantic hotels in Wisconsin.
Where: Wisconsin Dells, WI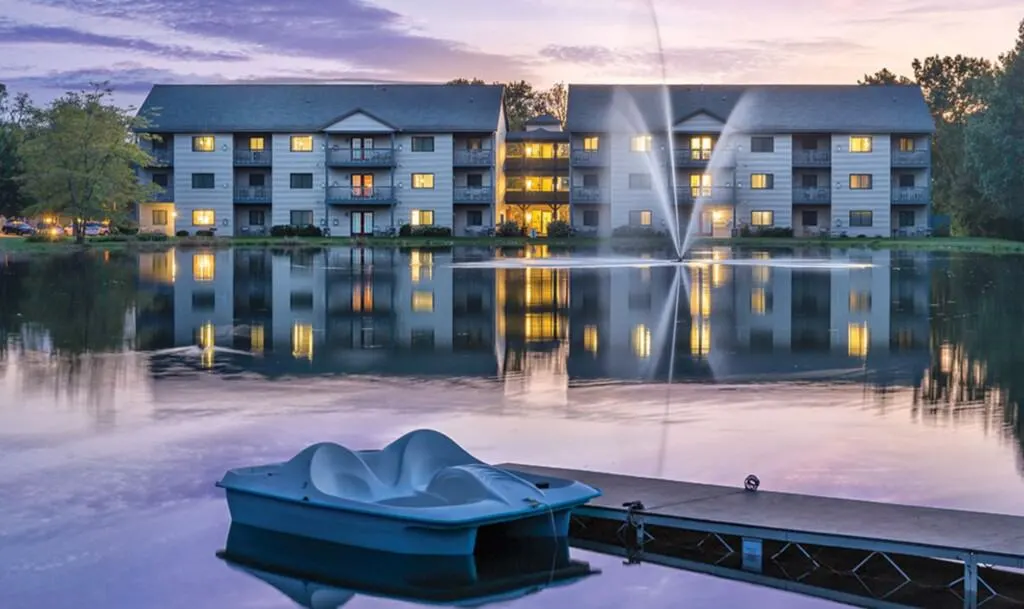 Sleeps: 4
Nr of Bedrooms: 1
Looking for the best vacation rentals and Airbnb's in Wisconsin Dells, WI near popular tourist destinations?
Head straight to the Club Wyndham Tamarack as it is located close to the Noah's Ark, Deer Park, and Mt Olympus Water Theme Park.
America's largest indoor park Kalahari is also just a short drive from here.
The hotel's great location makes it a popular lake resort in Wisconsin.
The facilities in the spacious rooms include television, internet connection, full kitchen, patio, and fireplace.
Make time for a hiking adventure nearby and then take a relaxing dip in the hot tub at the resort.
---
Short FAQ About the Best Lake Resorts in Wisconsin
What is the best part of Wisconsin to vacation in?
Although this will depend greatly on what kind of vacation you want, but Wisconsin Dells, Door County and Lake Geneva are some of the most popular destinations for lake resorts in Wisconsin.
What are the best Wisconsin lake resorts for families?
The Waters of Minocqua, The Cove of Lake Geneva, Lake Orchard Farm Retreat, and Delton Oaks Resort are some of best lake resorts Wisconsin lake resorts for families.
Are there boats that can take you between Wisconsin and Michigan via Lake Michigan?
Yes! If you are planning to stay at one of the lake Michigan resorts in Wisconsin, but are interested in a day trip to Michigan you can easily do so with the Lake Michigan fast ferry shortcut.
---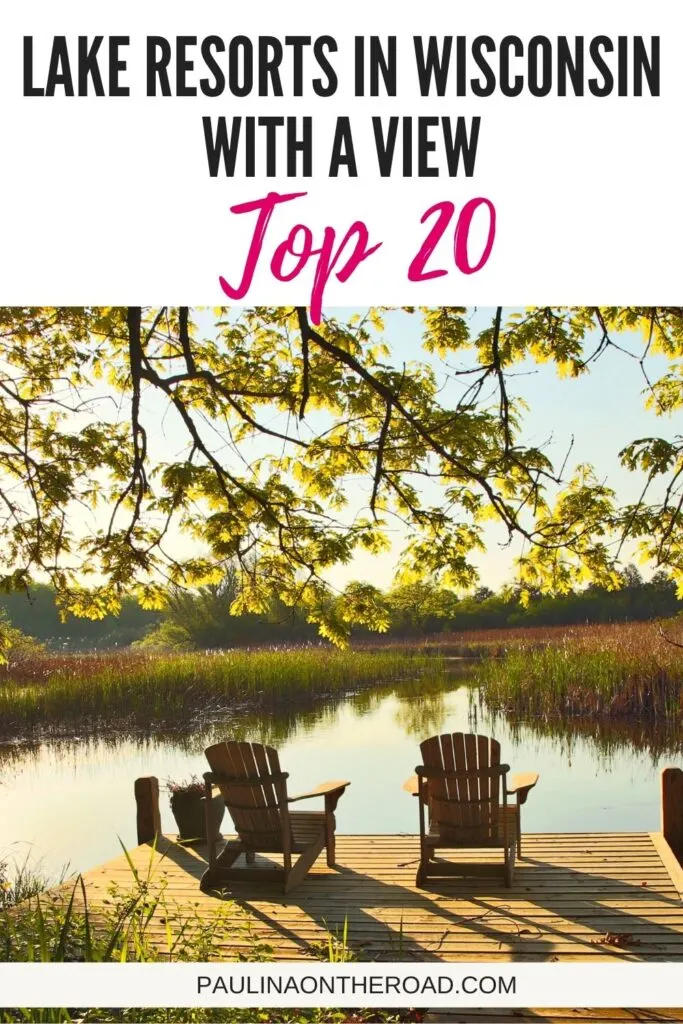 Hola! I am Paulina, a fervent travelette who crossed the Atlantic Ocean by Boat HitchHiking. On my blog, you'll find all the tips to make the most of your holiday. Get ready to enjoy outdoor and sustainable travel like hiking, cycling or sailing. Let's hit the road together!