Guide to the best Minocqua lodgings, including Minocqua hotels, budget motels and luxury resorts
Do you want to know how to make the most of your trip to Wisconsin regardless of the season?
All you need to do is visit the gorgeous Minocqua, and book a stay at one of the best hotels in Minocqua!
Located in Northern Wisconsin, the city has beautiful lakes and trails to stay closer to nature.
The nightlife, shopping, and dining scene in Minocqua are also exceptional.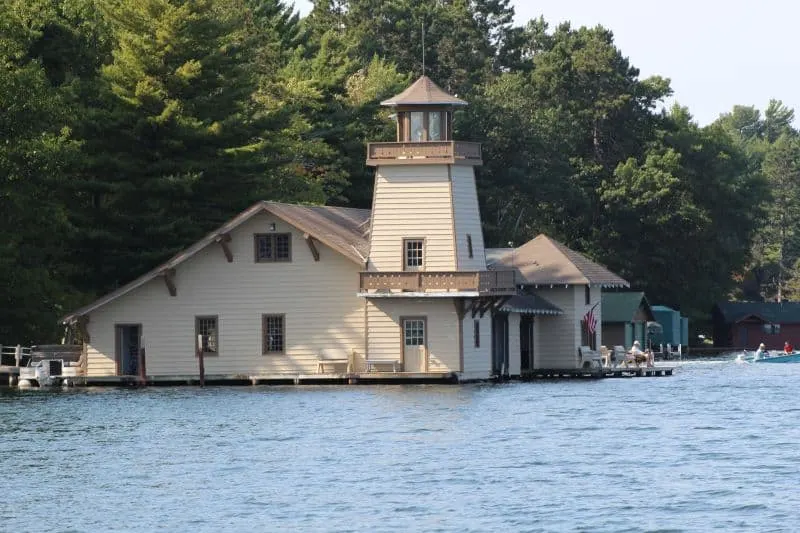 This is why the city is admired by couples, families, kids, and even solo travelers alike.
Whether you want to enjoy a peaceful vacation or enjoy thrilling outdoor activities, this destination is perfect for both.
It has something to offer in every season for visitors of all ages; in summers hiking and fishing are popular, while winters are for snowmobiling and ice skating.
Here I have made a list of some of the best hotels in Minocqua
This blog is supported by you, dear reader. If you purchase through a link, I earn a small commission. As an Amazon Affiliate, I earn from qualifying purchases.
Top resources to travel Wisconsin
✎ Plan the ultimate Wisconsin road trip (no backtracking!) with the Perfect Wisconsin Road Trip itinerary – Buy now for less than 12$

✈ Find the best hotel deals in Wisconsin with Trivago

➳ Book vacation rentals in Wisconsin with VRBO

✔ Book tours in Wisconsin with Viator

☘ Get the best discounted outdoor gear (outlet) at REI.com

$ Get Wisconsin hiking guides and maps at REI.com

✎ Never leave without travel insurance. I get mine at SafetyWing. It is easy to set up, cheap, and reliable.
Overview: 4 Best Hotels in Minocqua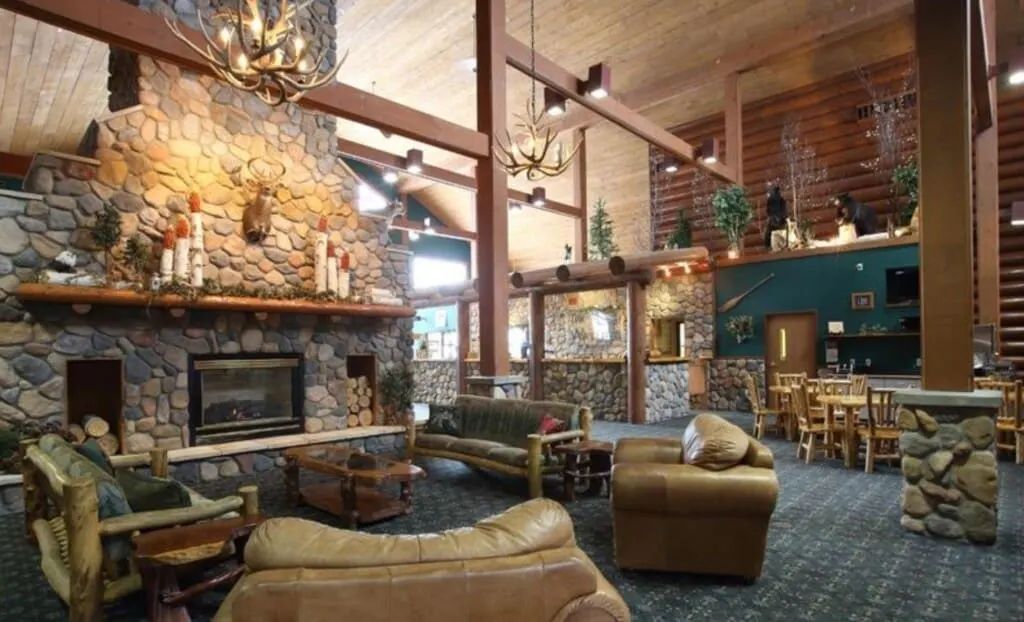 Highlights: Home to Northwood's largest indoor waterpark
The Waters of Minocqua combines the rustic charm of Northwoods with modern amenities for a memorable experience.
Throughout this hotel, you'll find stunning rooms with handcrafted wooden furnishing and private balconies.
There is also the option to stay in suites with fireplaces and whirlpools to make your stay even more special.
It is one of the most exceptional Minocqua resorts in terms of recreational facilities offered, which is one of many reasons it's one of the best luxury resorts in Wisconsin.
Guests can enjoy an indoor waterpark with exciting rides, activity pools, a hot tub, and a kid's play area. There is also a redemption arcade with many fun games to choose from.
The resort treats its guests with a complimentary continental breakfast.
But during the day, you can also enjoy made-to-order pizzas, delicious burgers, and appetizers at the restaurant and lounge.
If you are a fan of Starbucks, you can head to the water's coffee shop for your favorite beverage.
Due to its great amenities, it's easy to see why The Waters of Minocqua is ranked among the best family resorts in Wisconsin.
There are plenty of adventurous activities for all age groups near this resort, but The Northwoods Zipline and Wildwood Wildlife park are the most popular attractions nearby.
If you are looking for things to do in Wisconsin in winter Minocqua is a great option, and The Waters of Minocqua is one of the best places to stay this time of year.
Some of the best snowmobile trails in Wisconsin are also located close to the resort, making it the perfect wintertime destination.
If you are looking for the best winter resorts in Wisconsin, look no further!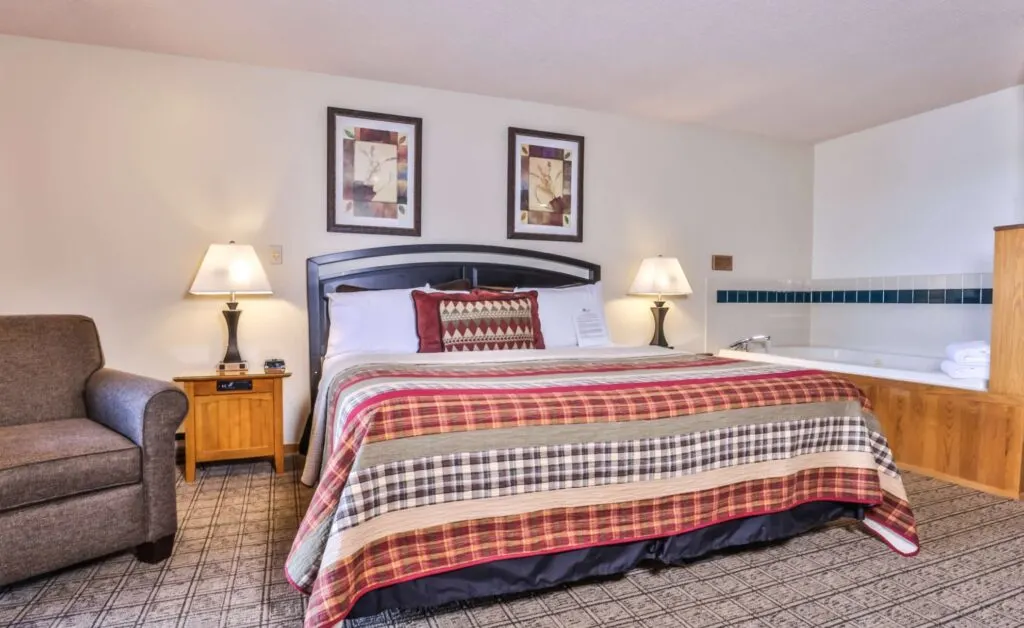 Highlights: Amazing recreation center with a swimming pool, whirlpool, and sauna
The Point Hotel and Suites adorn the shores of the gorgeous Lake Minocqua and offer beautiful condominiums with a private balcony or patio for enjoying mesmerizing views.
This is one of the best resorts in Minocqua that's ideal for both families and couples and is ideal if you are looking for the best lake resorts in Wisconsin.
Continental breakfast is included with the stay to make your mornings special.
Guests can also choose condominiums with a full kitchen if they wish to cook their own delicious meals while on vacation.
Additionally, the resort has a recreation center with a swimming pool, whirlpool, and sauna that is excellent for indulging in moments of relaxation.
There is also a fitness center with treadmills, a stationary bike, and a weight lifting machine for enjoying a workout.
You must stay at this resort if you are looking for Minocqua, Wisconsin resorts to enjoy a lakeside picnic experience.
They offer firepit patios and grills to enjoy an outdoor cookout and create cherished memories with your loved ones.
It is one of the places to stay in Minocqua if you love outdoor adventures as you can get kayaks, canoes, and bicycles for rent at the resort.
Highlights: 100% smoke-free hotel
Located just across from the popular Torpy Park, the Best Western Plus Concord Inn overlooks the beautiful Lake Minocqua and offers breathtaking views from its lakeside rooms.
They also have cozy single queen bedrooms, family suites, and rooms with fireplaces.
The complimentary breakfast here is one of the best that the hotels in Minocqua, Wisconsin has to offer.
It includes everything from a specialty bakery, bread, waffles, scrambled eggs to sausages, and more.
The Revere's cocktail lounge at the hotel is frequented by guests for their signature ice cream drink. The lounge is also popular for its hot gourmet pizza.
Guests will have access to the business center which caters to anyone who travels for work.
But when you need to unwind and relax, the hotel has an indoor heated pool and hot tub to offer.
The hotel is great for families or those with allergies as it is one of the 100% smoke-free hotels in Minocqua, WI.
Guests can enjoy fishing, hiking and biking here, which are some of the best things to do in Minocqua.
Additionally, Bearskin State Trail is just a short walk away from the hotel and is one of the best hiking trails in Wisconsin.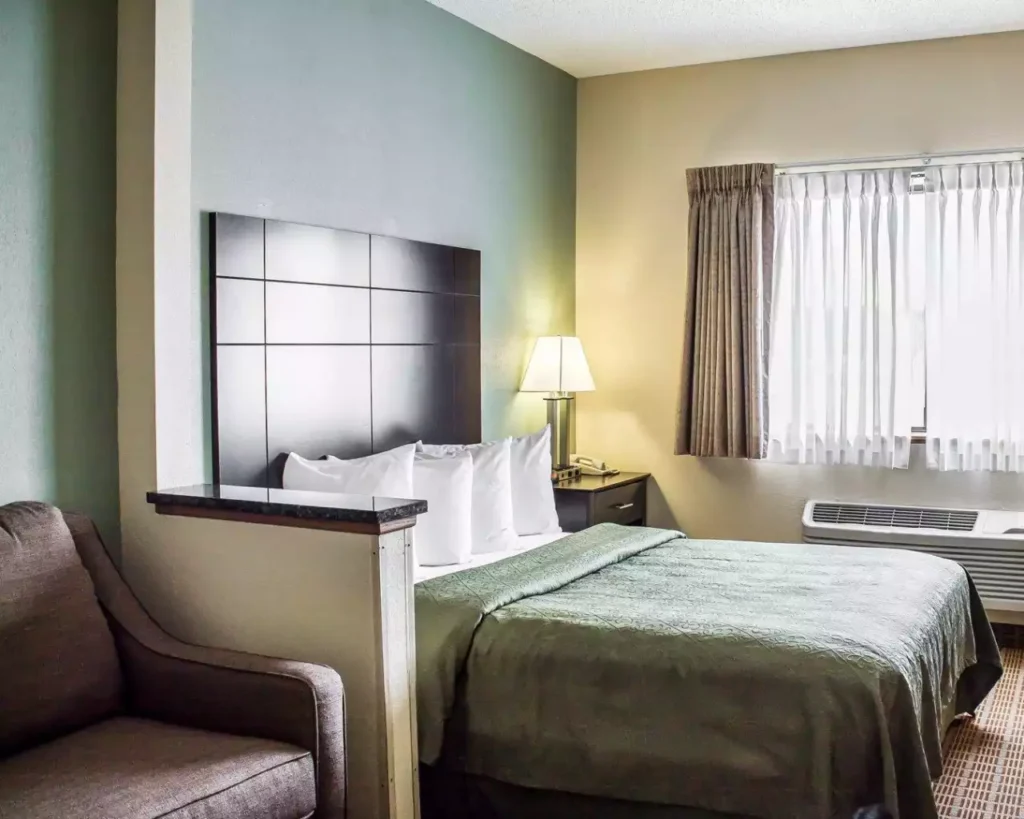 Highlights: Pet-friendly hotel
Quality Inn features rooms with thoughtful amenities to offer a pleasant stay.
The rooms all have cozy beds with premium mattresses and plush blankets that will make you feel at home.
Other features like microwave, refrigerator and coffee maker in the rooms ensure that your stay is comfortable.
The continental breakfast served every morning will make your stay even more delightful.
It is also one of the best hotels in Wisconsin in terms of location.
Some of the best mountain bike trails in Wisconsin are just a few minutes away and guests can visit Hiawatha and Bearskin State trails for fun outdoor activities.
The central location of the hotel makes it close to many local restaurants and supermarkets while the Minocqua Winter Park and Torpy beach are also just a short drive away.
After a busy day of exploring the city, you can take a relaxing dip in the hotel's indoor heated pool.
Quality Inn is also one of the most pet-friendly hotels in Minocqua. It allows a maximum of 2 pets in a room, so do not hesitate to take your furry friends along!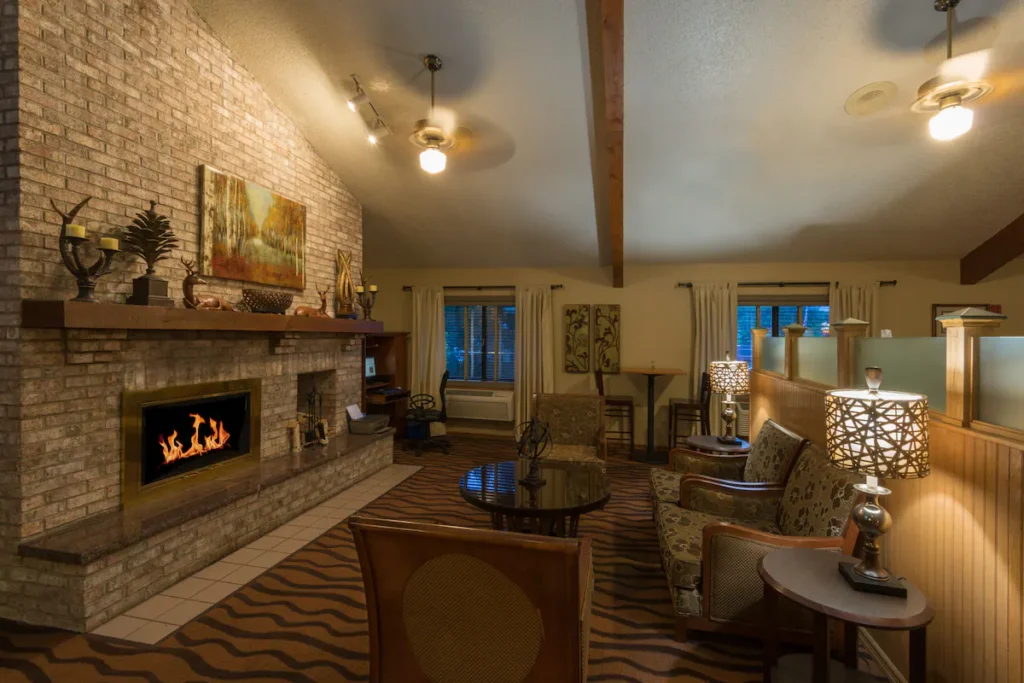 Highlights: Complimentary homestyle breakfast
If you're looking for Minocqua hotels that offer scenic lakeside views, then AmericInn is a perfect choice!
The hotel boasts rooms with state-of-the-art amenities like a microwave, coffee maker, and mini-refrigerator.
There is even a suite with a fireplace and whirlpool to make your stay extra special and relaxing.
However, no matter what room you stay in, there is a heated indoor pool, hot tub, and sauna at the hotel for guests to relax after a long day.
It is also one of the best Minocqua, WI, hotels that offer a free homestyle breakfast, which will definitely get you ready for a full day of sightseeing.
This stunning property is located off highway 51 and has many parks, lakes, and trails to be explored nearby.
You can enjoy fishing, water skiing, boating, and swimming near the hotel. Kayaks and canoes are also available for rent nearby to enjoy some fun water activities.
At a short distance from the hotel, you can enjoy mesmerizing water ski shows.
Alternatively, take a short drive to witness the entertaining Fred Scheers Lumberjack Shows, a totally unique Minocqua experience.
If you are visiting with kids, do not miss visiting the Wildwood Wildlife Park and Nature Center. You can also take them to the miniature golf courses nearby for a joyful experience.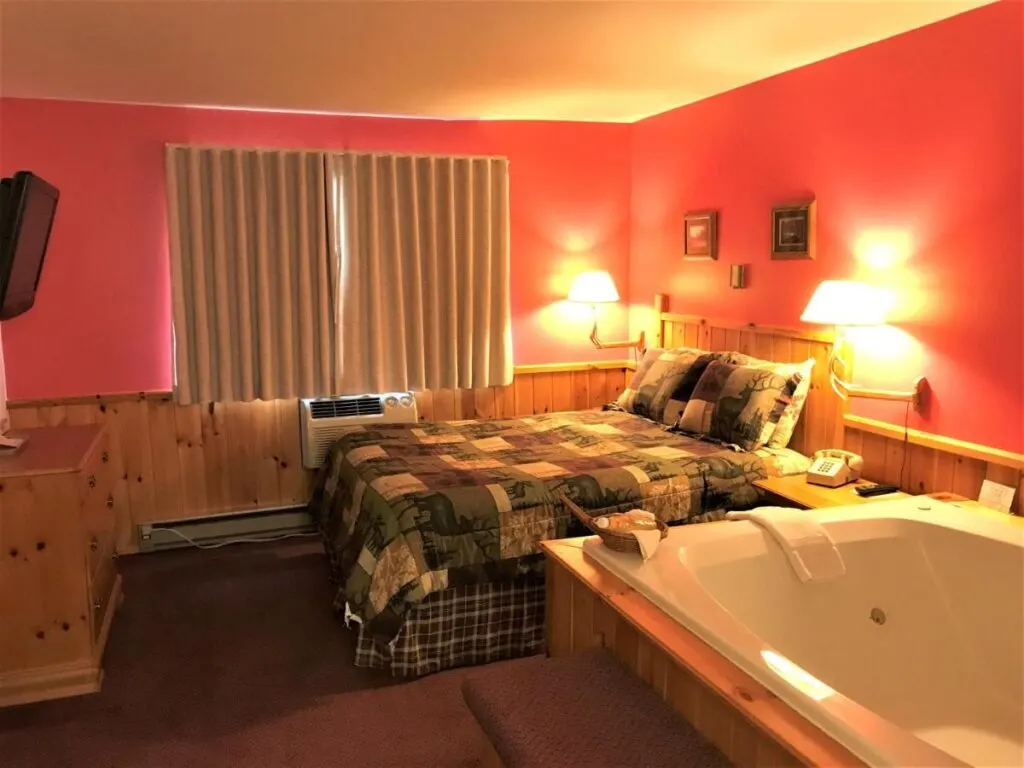 Highlights: Many snowmobile trails nearby; Large parking space
Located close to downtown Minocqua, Northwoods Inn & Suites offers impressive family-friendly accommodation.
Book your stay here if you wish to experience Minocqua, WI, lodging in quintessential Northwood style.
All of the rooms have modern amenities like cable TV and some even have a microwave.
Plus, it stands ahead of other Minocqua, Wisconsin hotels in terms of location. There are many great attractions, fine restaurants, and plenty of outdoor recreational activities nearby.
It is a paradise for snowmobilers as there are many trails nearby for their adventures.
The Bearskin State Trail is also near this Minocqua lodging and is a popular spot for walking and bicycling during summers.
The hotel's parking space is large enough to accommodate your boat and RV. – Check RV rental prices here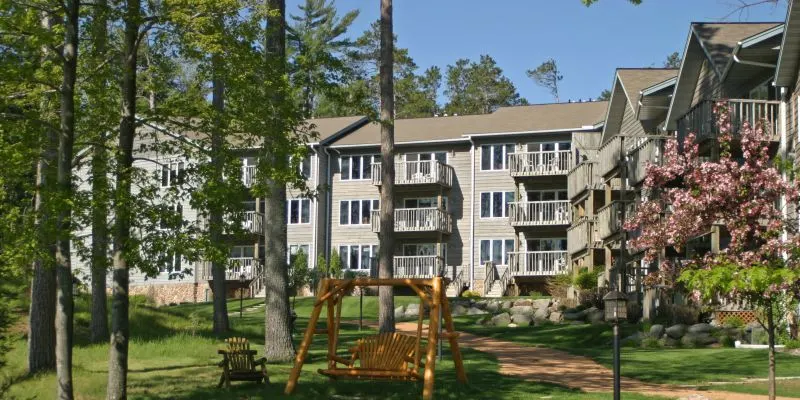 Highlights: Surrounded by nature; Plenty of opportunities for indoor and outdoor recreation
If you're on the lookout for places to stay in Minocqua, WI amidst nature, head straight to The Beacons.
This resort is surrounded by 13 acres of serene pine forest and guarantees a tranquil stay during your time in Minocqua.
When it comes to Minocqua, WI, resorts on the lakeside, this stunning property is a class apart, which is why it's one of the best resorts in Northern Wisconsin.
The lodging choices are diverse and cater to every vacation need. The resort has everything from hotel room suites, log cabins, to cottages to make your stay memorable.
The log cabin accommodates up to 10 guests making it ideal for fun weekend trips in Wisconsin with family.
The condominiums with private balconies and fireplaces are excellent for those planning any romantic getaways in Wisconsin.
The amenities that make The Beacons one of the best hotels in Minocqua that include a pool, hot tub, and sauna.
Guests can also enjoy brilliant lake views while relaxing around the fireplace in the greeting room.
It is also one of the best Minocqua area resorts with expansive grounds for outdoor recreation and guests can enjoy water skating, lakeside barbeque nights, boating, and fishing onsite.
There are games rooms and movie rentals to enjoy with your family indoors.
If you want a true American experience, check out some of the best Airbnbs in Minocqua, Wi.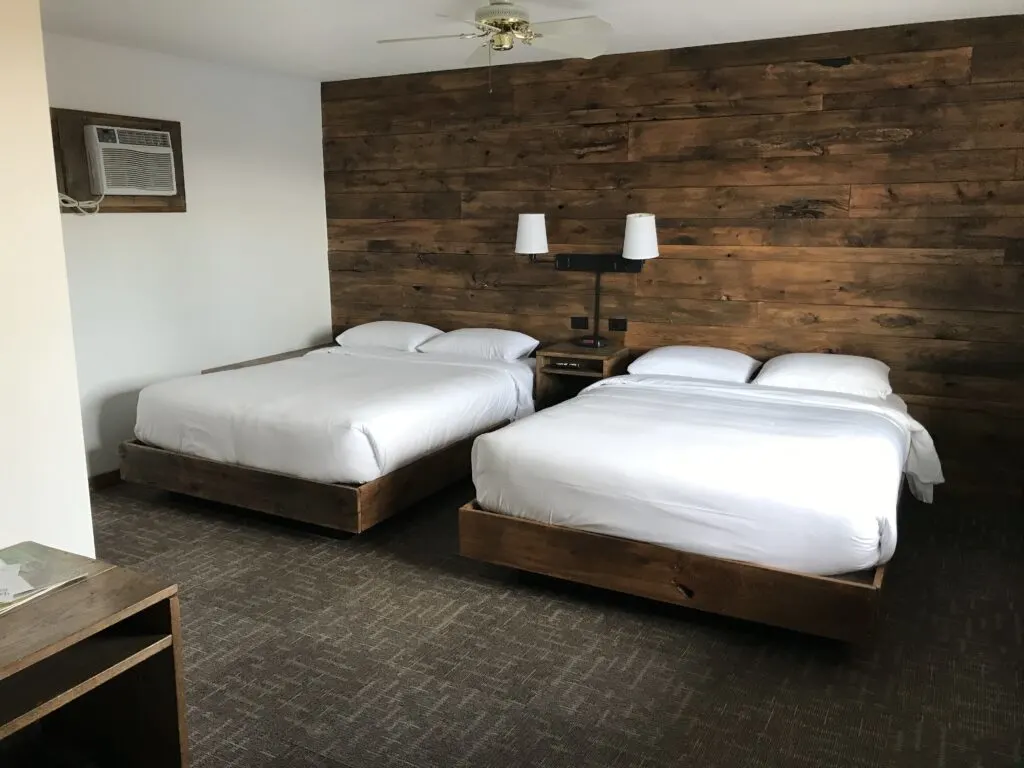 Highlights: Beautiful views of Lake Minocqua from every room
Aqua Aire Motel is located right across the street from Torpy Park and its public beach.
This puts the motel just 2 blocks away from a downtown Minocqua that brims with fantastic shopping and dining options.
However, the rooms themselves feature simple and rustic décor to give you the perfect Northwoods feel.
All the rooms are at ground level and offer spectacular views of Lake Minocqua. The rooms also feature amenities like a mini-fridge, microwaves, TV, and Wi-Fi.
The motel cabin makes Aqua Aire one of the best hotels in Minocqua for extended stays.
It offers two bedrooms, a full kitchen, and a sitting area, and accommodates 6 guests making it perfect for family stays.
Aqua Aire is also one of the best hotels Minocqua, WI has for its visitors who wish to stay with pets.
You can enjoy some of the best outdoor activities in Wisconsin nearby such as hiking, biking, and fishing.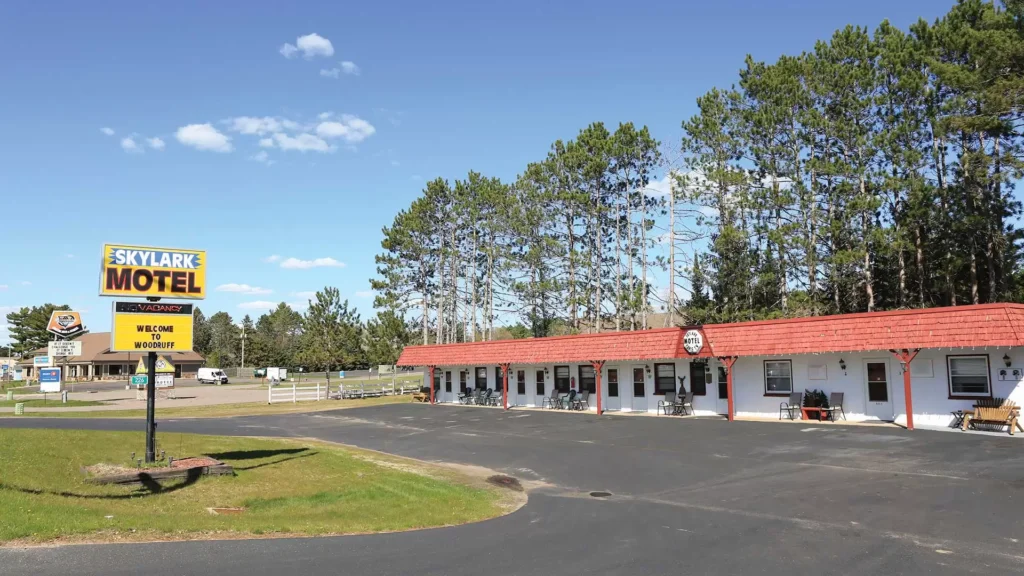 Highlights: Budget-friendly motel
Skylark is a charming mom-and-pop-style motel located in the Woodruff area.
Although a basic motel, guests will love the pristine rooms with Northwoods-inspired décor which exudes a welcoming vibe and is perfect for a cozy stay.
If you prefer affordable Minocqua motels, you must book your stay at Skylark It has eight rooms that boast modern facilities like Wi-Fi, refrigerator, AC, TV, and microwave.
Skylark is also a great choice if you are searching for pet-friendly motels in Minocqua, WI.
If you enjoy fishing, this motel has more reasons to make you happy as there are many lakes nearby for enjoying your fishing trip with your family.
As an added bonus, there is also a fish cleaning area with a freezer at the Skylark for your catch.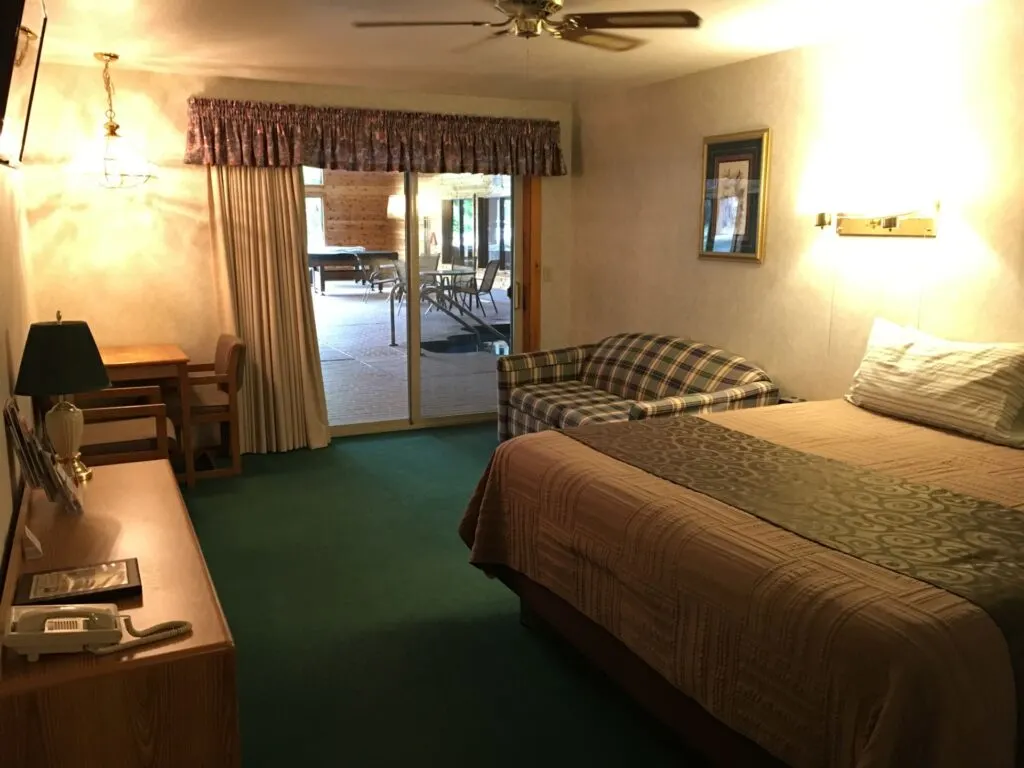 Highlights: Large outdoor picnic areas with barbeque grills
Despite its location in nearby St. Germain, Rustic Manor is considered one of the best hotels near Minocqua, WI for a family vacation.
The accommodation type here ranges from deluxe rooms, luxury rooms, whirlpool suites to house rentals.
All the rooms are equipped with comfortable amenities like a coffee maker, refrigerator, TV, heating, and A/c units.
The hotel also has pet-friendly rooms to make your four-legged friends feel at home.
You can have fun times with your family at the large outdoor picnic areas. Make use of the BBQ grills to enjoy s'mores!
The pool table, children's playground, basketball hoop, and volleyball court make sure that you never have a dull moment here.
For those who love outdoor recreation, the town of St. Germain is also one of the best places to vacation in Wisconsin.
The hotel is surrounded by plenty of opportunities for biking and snowmobiling, and you will also find some of the best trails for hiking in Northern Wisconsin nearby.
Bicycles are available for rent on a daily or hourly basis at Rustic Manor.
This makes it easy for visitors to explore the trails, and in autumn you can witness the beautiful fall colors in Wisconsin!
St. Germain is also a great base for traveling and seeing all the best waterfalls in Northern Wisconsin.
Snowmobilers who visit in the winter will appreciate the ample parking space available at the hotel for their equipment.
---
Short FAQ about Best Hotels in Minocqua
What are the best pet-friendly hotels in Minocqua?
What are the best family-friendly hotels in Minocqua?
What are the best hotels in Minocqua, WI, for couples?
---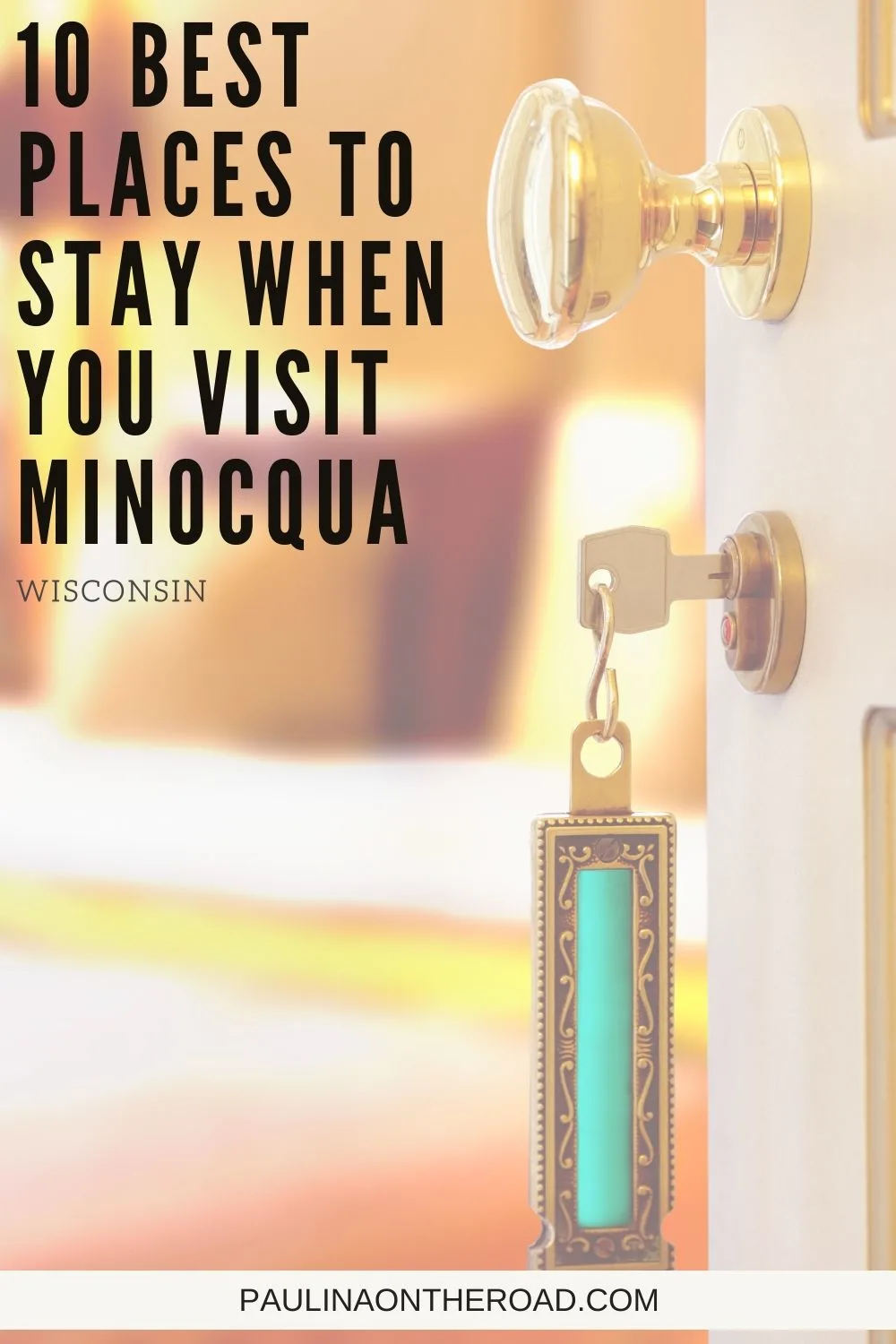 ---
Hola! I am Paulina, a fervent travelette who crossed the Atlantic Ocean by Boat HitchHiking. On my blog, you'll find all the tips to make the most of your holiday. Get ready to enjoy outdoor and sustainable travel like hiking, cycling or sailing. Let's hit the road together!