18 Romantic Getaways in Wisconsin
The ultimate list of romantic getaways in Wisconsin with romantic cabins, romantics hotel and spas
Looking for a romantic couples getaway in Wisconsin? Look no further! In this article, I'll introduce you to the best ideas for spending time with your significant other in beautiful Wisconsin.
Romantic getaways in Wisconsin come in many shapes and forms: whether you're into outdoor sports and hiking, relaxing together at a spa, sampling local food and drink, or simply enjoying each other's company in the gorgeous scenery, there's something here for you!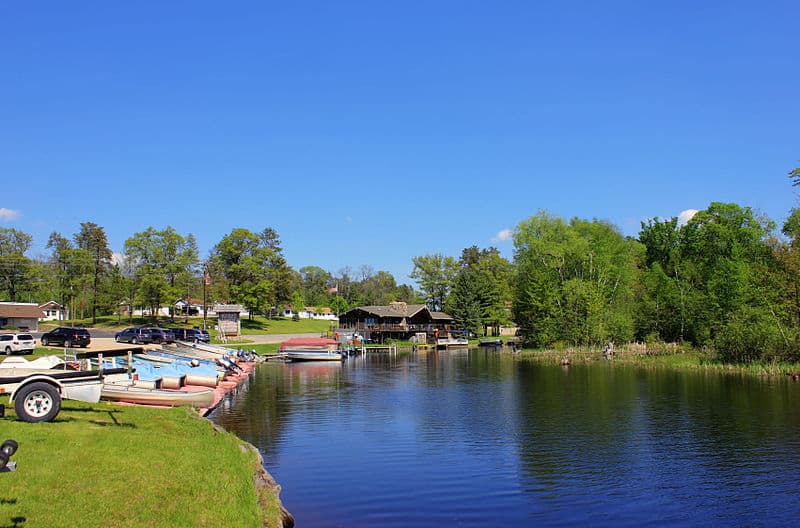 Thanks to affiliate links, I pay my bills. If you make a purchase through them, I may receive a small commission (for which I'm deeply grateful) at no cost to you. All opinions are always mine. Merci!
Useful Travel Information for Wisconsin
✎ Plan the ultimate Wisconsin road trip (no backtracking!) with the Perfect Wisconsin Road Trip itinerary – Get it here

✈ Book cheap flights to Wisconsin with Skyscanner

✔ Book tours in Wisconsin with Viator

➳ Book holiday and vacation rentals in Wisconsin with VRBO

❖ Rent a car at the best rates with DiscoverCars

☘ Get the best discounted outdoor gear (outlet) at REI.com

$ Get Wisconsin hiking guides and maps at REI.com

✎ Never leave without travel insurance. I get mine at SafetyWing. It is easy to set up, cheap, and reliable.
1. Book a romantic cabin in Wisconsin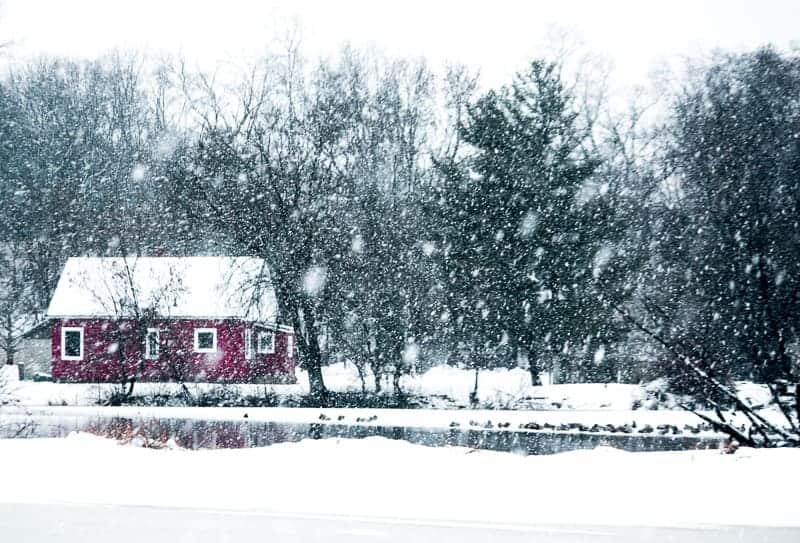 Nothing says 'romantic getaway' like a remote cabin for just the two of you, complete with gorgeous scenery and a crackling fire in the evening.
There are plenty of luxury cabins in Wisconsin, scattered around the state's endless woodland.
Whether you're looking to hike or snowshoe together, enjoy some birdwatching, go sightseeing, or simply relax in a remote location far from everyday troubles, you won't be disappointed.
Where to stay
There are tons of romantic cabin getaways in Wisconsin to choose from. One location worth recommending is the Hugel Hutte in Hubertus, just a 30-minute drive from Milwaukee.
This cozy cabin is a great choice any time of the year, with both an indoor fireplace and an outdoor fire pit. Although the property is mostly surrounded by scenic woodland, the historic Fox & Hounds Restaurant is only steps away.
If you enjoy romantic walks together, you'll be pleased to know that the beautiful Friess Lake is just a 15-minute walk away, and there are several nature parks in the area. – Check rates here
2. Go on a romantic weekend getaway to Wisconsin Dells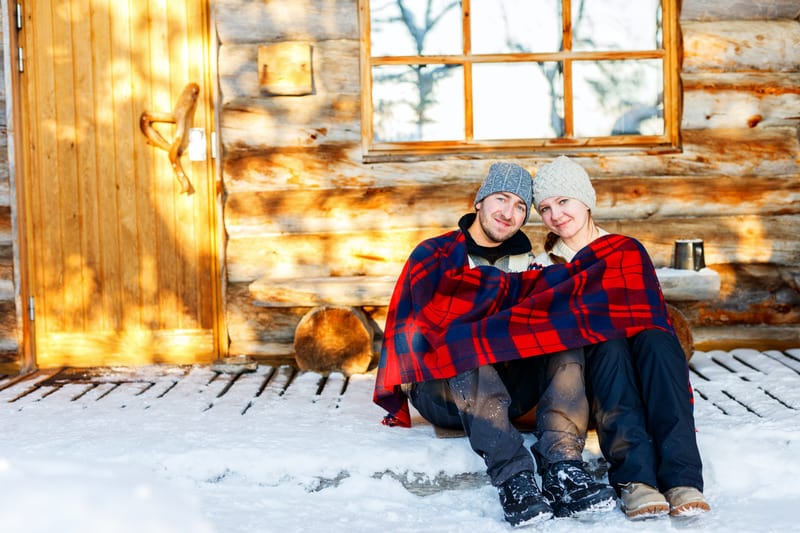 Wisconsin Dells is a versatile destination for romantic getaways in Wisconsin, with something to suit everyone.
The city is home to several resorts and spas, offering couples packages as well. You could enjoy a massage together or a visit to a sauna.
After your luxury spa treatment, consider a visit to one of the many wineries, breweries, or distilleries in the area to sample local food and drink.
The Wollersheim Winery & Distillery, for instance, offers locally produced wine and spirits and a bistro.
If you're looking for a more active romantic getaway, Wisconsin Dells lies close to several nature parks, including Mirror Lake State Park and Devil's Lake State Park, with scenic lake views, kayak rentals, and miles of hiking trails to conquer. – Check activities in Wisconsin Dells
Wisconsin Dells in winter is also great for a romantic getaway as there are so many fun things to do.
In the winter, visit Christmas Mountain Village just outside the city for skiing and snowboarding.
If the weather is not on your side, you can take the fun indoors and enjoy bowling and go-karting together, or try out one of the best escape rooms in Wisconsin.
Alternatively, rent a snowmobile and take a ride together on some of the best snowmobile trails in Wisconsin.
And of course, no list of romantic getaways in Wisconsin Dells would be complete without a mention of waterparks!
There are over 20 different waterparks in Wisconsin Dells, with most of the biggest attractions being indoors, which makes them suitable for a visit any time of the year, even during the coldest weeks of winter.
Where to stay
Lighthouse Cove is one of the best romantic cabins in Wisconsin Dells, giving you access to an entire condo just for the two of you.
The building is literally a few steps from the lake, and guests have free use of kayaks and seasonal pontoon rides. The large deck overlooking the lake is the perfect place for making romantic memories together!
The complex also features indoor and outdoor pool access and a hot tub, and the condo is outfitted with an indoor fireplace. – Check on Airbnb
Wisconsin Dells is also home to some of the most romantic hotels in Wisconsin, some of which offer luxury spa treatments
3. Book a spa getaway in Wisconsin
For a thoroughly relaxing experience during your couples' getaway, plan a visit to a spa in one of the many resorts in Wisconsin.
The Sundara Inn & Spa near Wisconsin Dells, for instance, has over 15 different massage experiences on offer, as well as body and bath treatments and a salt room.
You can also book a couples package that combines a bath, a massage, and facial treatments for the two of you.
A spa visit is among the most popular romantic getaways in Wisconsin, suitable for any weather and sure to leave both of you relaxed and pampered!
And there are plenty of Wisconsin destinations to choose from for your perfect romantic getaway, have a look at these amazing spa resorts in Wisconsin.
Where to stay
To stay close to the spa and other amenities at the Wilderness Resort, consider booking on-site accommodation.
For instance, this fully-fitted condo only steps away from all of the attractions the resort has to offer, and there's even a shuttle service to take you directly to select locations within the resort.
Alongside the superb spa, the Wilderness Resort also features lots of other activities to spruce up your romantic stay and have some fun together, including waterparks, rides, mini-golf, and several restaurants and bars. – Check rates here
4. Stay in a Remote Wisconsin Resort
Though the term 'resort' usually makes us think of large condo buildings and spas, there are plenty of remote, quaint, cabin-style lake resorts in Wisconsin perfect for a romantic trip for two.
For example, the Blue Lake Pines Resort near Minocqua is the perfect site for romantic getaways in Wisconsin for nature-lovers and those looking to escape the hustle and bustle of city life.
The Blue Lake is only a few steps away, with plenty of hiking, kayaking, fishing, and boating opportunities nearby.
If you're looking for a quiet, remote spot for a cozy getaway with some outdoor activities thrown in, Blue Lake Pines is the place for you!
Where to stay
The lakeview 4 lodge with gorgeous lake views is the perfect size for two, with a large bedroom and a cozy living room area.
If weather permits, you can take advantage of the complimentary kayaks, canoe, or rowboats to head out for a romantic Wisconsin adventure together! – Check on VRBO
5. Have fun in a Wisconsin Waterpark
If you're both adrenaline-seekers who enjoy the thrill of adventure, there's no better place to head for romantic weekend getaways in Wisconsin than the Waterpark Capital of the World, Wisconsin Dells!
The city is home to over 20 different waterparks, including the biggest one in the state; the famous Noah's Ark, spread over a whopping 70 acres and including the famous quarter-mile Black Anaconda ride, named America's Most Thrilling Water Coaster.
Having fun together in a waterpark will be a great way to unwind and make some incredible memories.
Where to stay
This beachfront condo is located on Lake Delton, just a few steps away from the popular sandy beach, perfect for relaxing in the sun together and for long sunset walks!
Noah's Ark is only a block away from the spacious luxury condo, and unlimited-use Noah's Ark wristbands are included in the rental price during the waterpark's operating season.
There is also a spa next door and easy access to several of the other waterparks Wisconsin Dells has to offer. – Check rates here
6. Go Hiking in Door County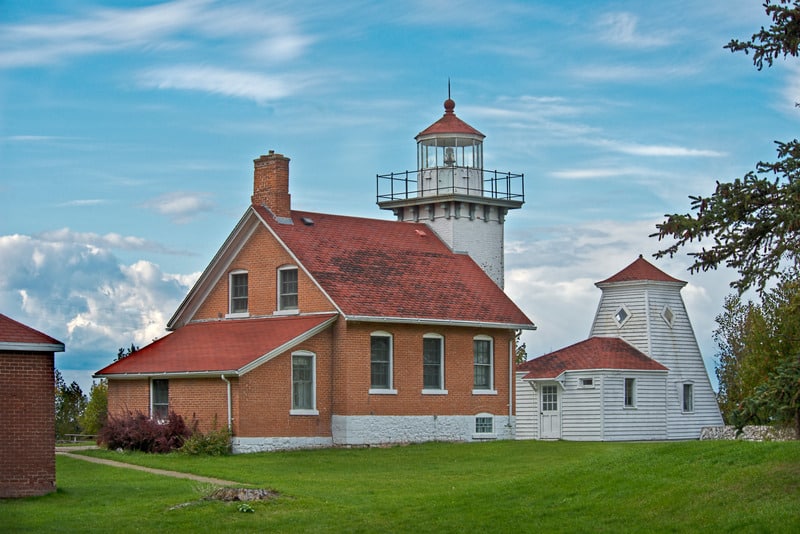 Door County in eastern Wisconsin is famous for its incredibly scenic views and varied terrain, with distinctive bluffs towering over Lake Michigan – definitely in the top three on every list of places to see in Wisconsin.
If you love hiking and exploring areas of natural beauty together, there's no better destination for romantic getaways in Wisconsin. This area has some of the best outdoor activities in Wisconsin for couples.
Peninsula State Park is one of the most popular state parks in Wisconsin, offering unrivaled scenery and miles of trails of varying difficulties.
If you opt for an active couples retreat, Wisconsin's Eagle Trail won't disappoint you. The path will take you along the top of the bluff and down towards the beach at Ephraim Harbor.
If you time it right, you can reach the beach in time for a romantic sunset walk along the shore!
If you're already in Door County, make sure to check out some of the coolest things to do in Green Bay. There are also some wonderful romantic resorts in Green Bay.
Where to stay
Door County is one of the best vacation spots in Wisconsin, so there are plenty of accommodation options to choose from.
For a cozy, secluded stay, have a look at our lists of the best Airbnbs in Door County.
Country House Resort is one of the best resorts in Door County for romantic getaways. This is because it is adults on, making it extra quiet and cozy.
This place is especially perfect if you want to visit Door County in winter, and is one of my favorite winter resorts in Wisconsin.
For both quick romantic getaways and longer couple vacations, consider renting this Log Cabin in Egg Harbor, just a couple of miles from the trailheads at Peninsula State Park.
This Log Cabin is a stylish, quaint cottage with a queen bed, a gorgeous deck, and a fire pit. Close to both hiking trails and the village, but remote enough to give you all the privacy you need – it's the perfect getaway spot! – Check prices here
7. Plan a romantic getaway to Lake Geneva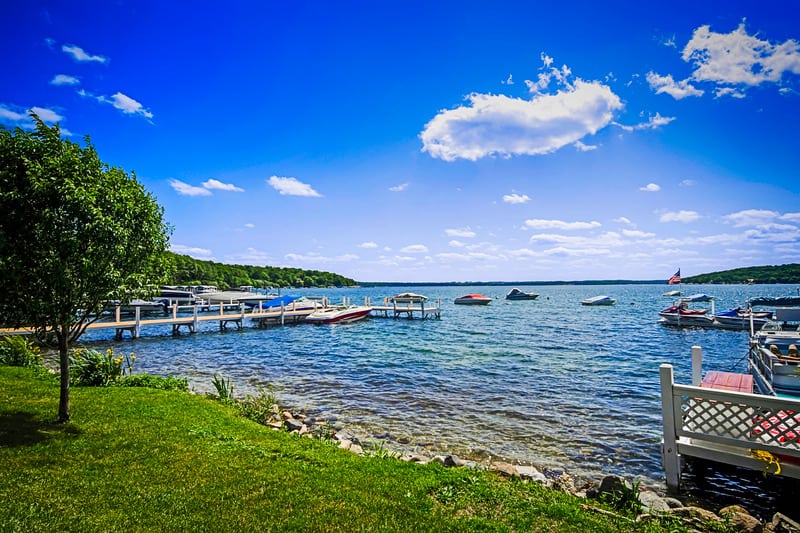 A well-known vacation town, Lake Geneva is home to some of the best resorts in Wisconsin.
There's always something going on in the city, so whether you're looking for a quiet weekend getaway or a fun-packed romantic trip, there's something here for you!
That's why romantic getaways in Lake Geneva are so popular.
There are several water parks in Lake Geneva, as well as other attractions for active types: hiking, biking, boating, horseback riding, zip-lining, and more.
Visitors looking for more laid-back activities can head to nearby orchards for romantic walks, visit wineries for sampling the local produce, enjoy a spa day, or take a memorable cruise.
The area surrounding the lake is one of the most romantic places in Wisconsin.
While here, don't miss the Lake Geneva Shore Path, a walking trail that follows the beach, with gorgeous views of the lake and quaint scenery.
It's one of the best things to do in Lake Geneva, but it's also one of the most romantic Southern Wisconsin hiking trails.
If visiting in winter, be sure to see the magical Ice Castles, one of the best things to do in Lake Geneva in winter!
Where to stay
Great for both weekend getaways for couples and longer stays, the Lake Geneva Beach House is located on Lake Como, only a short drive from Lake Geneva downtown.
The interior is extremely cozy, perfect for a luxurious and romantic getaway in Wisconsin.
With a spacious, modern interior and a cozy feel, the villa will be a stylish home away from home while you enjoy your romantic vacation. – Check on VRBO
You can also check out my guides on where to stay in Lake Geneva and the best lake resorts in Wisconsin.
8. Book a romantic hotel in Milwaukee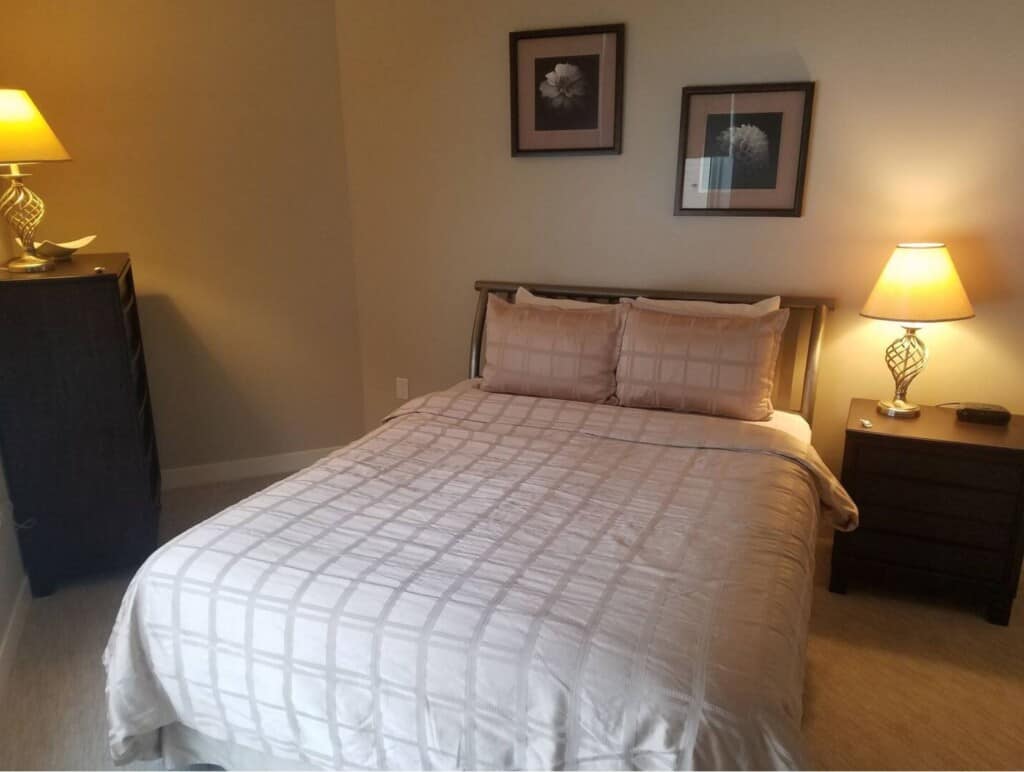 Romantic getaways in Milwaukee will suit any type of traveler, with a wide variety of activities available in the city.
There are so many fun date ideas in Milwaukee, you can't go wrong!
Visit Veteran's Park for beautiful views of Lake Michigan and the city skyline during your evening walks, enjoy shopping and dining together in the Historic Third Ward, see a play or enjoy a gig at one of the city's many venues, and simply have fun exploring Wisconsin's largest city!
Where to stay
Though there are several romantic hotels in Milwaukee, the Dubbel Dutch Hotel is bound to be the most unique of them all.
Built in 1898 and renovated in 2020, the historic hotel combines elements of its original architecture and interior design with modern fittings and facilities. The decorative wall paneling will take your breath away! – Check prices here
9. A Romantic City Trip to Kenosha
Kenosha is a great destination if you're looking for relaxed, laid-back romantic getaways in Wisconsin with a bit of sight-seeing.
There are several museums to visit as you wander the city, including the Kenosha History Center, Public Museum, and Dinosaur Discovery Museum.
In the evening, you can take long romantic walks together on Simmons Island Beach, along the Kenosha Sculpture Walk and around the Petrifying Springs Park.
Kenosha is not a busy destination for most of the year, so you can easily get away from the crowds and spend some time alone.
Foodies will find plenty of things to do in Kenosha during a couples getaway, too. Don't miss the Mars Cheese Castle, Jelly Belly Visitor Center, and the local pubs, breweries, and fine-dining restaurants!
Where to stay
Located within walking distance of most of Kenosha's attractions for couples, this stylish apartment features beautiful modern decor and all of the amenities you'll need during your stay.
The quiet neighborhood will provide a relaxing respite from everyday life as you enjoy your time together in Kenosha. – Check rates here
10. A Foodie Trip to Appleton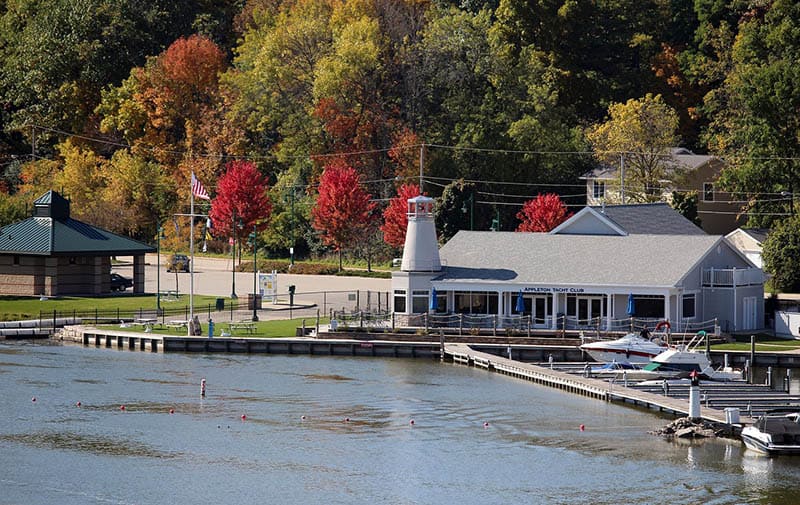 Appleton in eastern Wisconsin is rapidly gaining a stellar reputation as a great foodie destination. The quaint town is also perfect for Wisconsin getaways for couples, so if you and your S.O. enjoy fine dining, there's no better place to be!
Some of the top picks for restaurants in Appleton include Apollon, serving excellent Greek cuisine, Italian-themed Carmella's, and Cena; an experience in innovative fine-dining, with gorgeous interior design.
There are also several breweries and brewpubs to visit after dinner!
Of course, there are other things to do in Appleton for couples on romantic getaways, such as taking a cruise along Fox River or renting kayaks, or visiting the famous Hearthstone Historic House Museum.
Where to stay
Bright and airy, with a modern semi-industrial design, this apartment will make for a perfect couples getaway in Appleton, offering the comfort and privacy of having the entire place to yourself.
Located in the downtown area, it's only a short walk away from the best restaurants in town and other Appleton attractions. – Check prices here
11. Stay in a Luxury Resort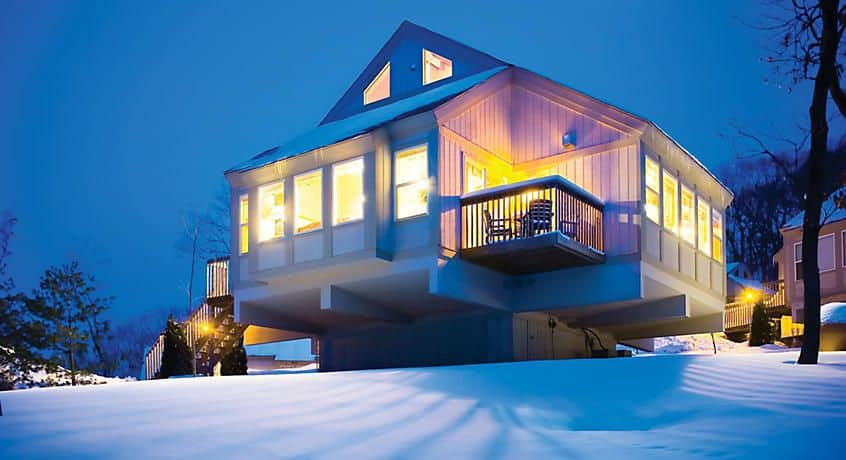 If you're looking to enjoy a spot of splendor together during your romantic Wisconsin getaway, consider booking a stay in one of the state's many luxury resorts.
There are plenty of resorts in Wisconsin for couples, with some of the most sumptuous located in Lake Geneva, the unofficial capital of luxury resorts in Wisconsin.
The Grand Geneva Resort & Spa **** is an excellent recommendation, with everything you'd expect from a romantic, luxury stay.
The resort is located within 1300 acres of woodland featuring a spa and fitness center, indoor and outdoor pools, a waterpark, and lots of activities to enjoy, such as horseback riding, tennis, and an adventure center.
Where to stay
Renting a one-bedroom villa is the best way to enjoy your romantic stay at one of the most romantic resorts in Wisconsin.
The Deluxe Villa at the Grand Geneva Resort features a spacious living room with a kitchen area, a beautifully outfitted bathroom, and of course, a huge comfy bed! – Check on VRBO
12. Get active in Apostle Islands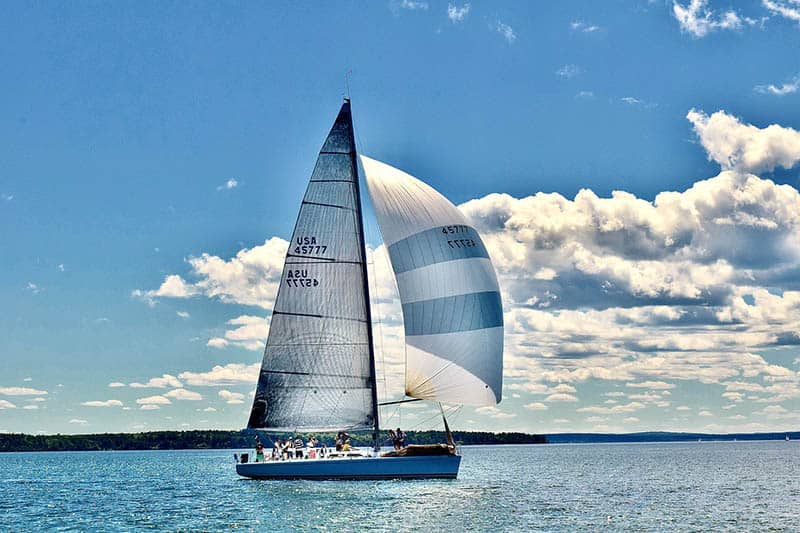 Just about every list of the best places to vacation in Wisconsin includes Apostle Islands, thanks to their unique topography, beautiful views of Lake Superior, and dedicated tourism infrastructure.
If you like spending time outdoors as a couple, Apostle Islands will be an excellent destination for weekend trips in Wisconsin.
There are always lots of things to do in Apostle Islands. Kayaking is the go-to activity for couples in Apostle Islands during the warmer months. It's by far the best way to see the famous sandstone sea caves.
Go hiking, take a cruise to see all of the islands, shipwrecks, and lighthouses, and hop on the ferry to explore Madeline Island.
For a truly unique romantic adventure, consider camping at one of the many campsites on the islands.
All but one of the Islands are a Nature Reserve, so you don't need to worry about traffic or crowds. It'll be just the two of you, surrounded by nature in all its glory.
Where to stay
Bayfield, the town that serves as the access-point to the Islands, has plenty of accommodation options on offer, including romantic cabins for couples' getaways.
This remote Woodland chalet features a cozy lofted bedroom that will make you feel as if you're the only two people on earth!
The screened porch will make for a perfect spot to relax after a long day of active fun together, as will the charming indoor fireplace. – Check on VRBO
13. Explore State Parks of Wisconsin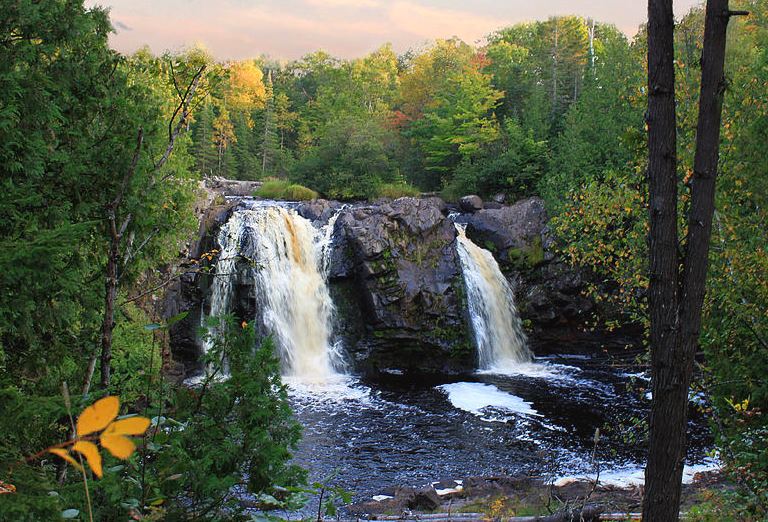 Did you know that Wisconsin is home to 66 state parks? Devil's Lake in the south of the state is the largest of them all, with 29 miles of hiking trails – some of which are also sections of the legendary Ice Age Trail.
If you're looking for things to do in Central Wisconsin, it's worth visiting the Black River State Forest, a 68,000 acres of pine and oak woodland.
If you're looking for a romantic hike in northern Wisconsin, check out Copper Falls State Park, which features several impressive waterfalls to discover together.
You can reach them by hiking the 1.7-mile Doughboy's Nature Trail, known as one of the best hikes in Wisconsin.
Most larger state parks in Wisconsin allow camping in certain areas, as well as offering kayaking, canoeing, and fishing opportunities.
If you're both nature lovers, you definitely won't get bored, and you'll make some wonderful memories together during your romantic trip!
Where to stay
What better way to complete a romantic hiking trip than with a stay in a rustic log cabin? This remote retreat is perfect for romantic getaways in Wisconsin, all while being located only 13 miles from the Copper Falls State Park trailheads.
The cabin is set next to the lakeshore, so you can be sure you won't be disturbed. As an added bonus, there's a private hot tub for you to relax in together!
While here, don't forget to check out the nearby Potato River Falls, another amazing nature area with a waterfall and a popular spot for day trips in Wisconsin. – Check availability here
14. Do a romantic Northern Wisconsin Road Trip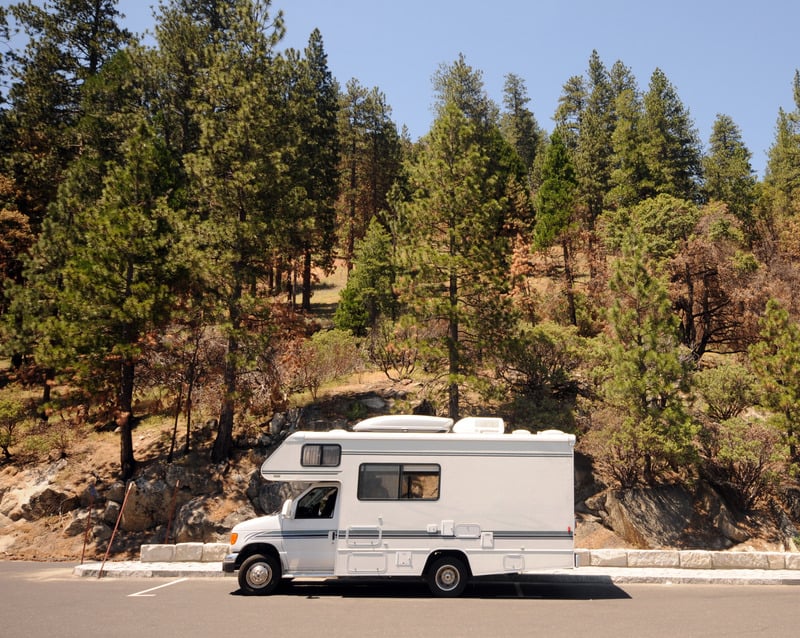 Just you, your beloved and the open road, surrounded by the gorgeous lakefront scenery of northern Wisconsin. If this sounds enticing, it's time to start planning your romantic road trip!
Consider taking the Great Northern Wisconsin route, the king of Wisconsin getaways for couples.
The trip starts in Superior, near the border with Minnesota, and takes the form of a 100-mile loop leading along the shore of Lake Superior and through the towns of Cornucopia. Bayfield, and Ashland.
There are plenty of things to do in northern Wisconsin along the way, so do get out of the car every now and then! You'll be driving past the Apostle Islands National Lakeshore, which is well worth a day-visit at least to explore the islands on a cruise or by kayaks.
There are several resorts in northern Wisconsin, so if you're not looking for active fun, consider stopping at a spa for a relaxing massage.
Where to stay
A Lake Superior Beach Home near Duluth will be the ideal place to prepare to head out on your romantic road trip adventure or relax together after an exciting day.
You'll have the gorgeous lake cabin to yourselves, complete with a double bedroom, bathroom, living area, and kitchen. – Check prices here
15. Go on a Couples Retreat in Madison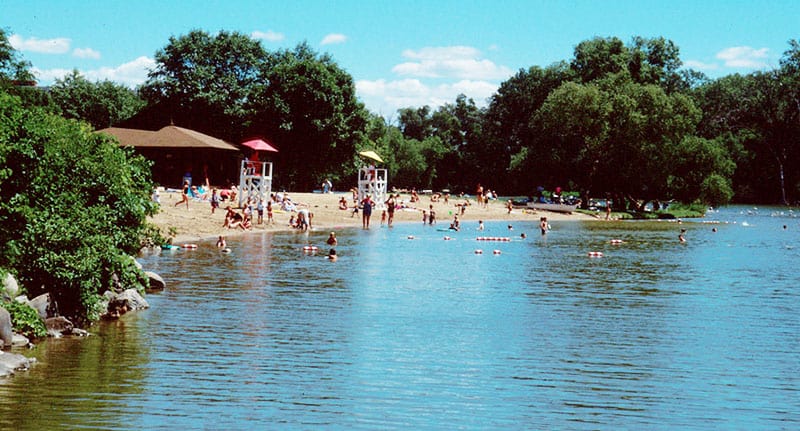 Weekend getaways in Wisconsin don't get much better than the city of Madison, the ideal site for a romantic trip for two.
Whether your common interests include history, nature, art, or shopping, Madison won't disappoint.
There are several historical museums and art galleries to explore, hiking opportunities just outside the city, and botanical gardens and a zoo for nature enthusiasts.
If you're looking for a more laid-back romantic getaway, Madison is a great city for exploring on foot as you look for the best dining spots together.
Where to stay
Though Madison is home to several romantic hotels, what's more, suitable for a romantic getaway than a secluded Lakefront Home?
By staying at the Lakefront Home, you can combine privacy with a great location close to the main attractions. The cabin features a large patio and private access to the beach. – Check rates here
16. Relax in Kohler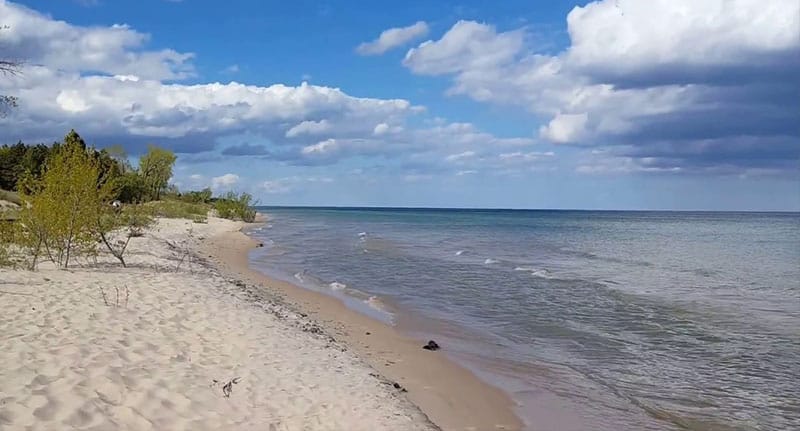 Take a break from city life with a relaxing weekend in Kohler, a charming village just over 50 miles north of Milwaukee.
In Kohler, you can take long walks to admire the historic architecture, visit the Blind Horse Winery to sample delicious local wines, play golf together, and visit Kohler Waters Spa for a series of relaxing and rejuvenating treatments for two.
Where to stay
This modern, yet cozy lake cabinis located directly on the shore of Lake Michigan.
In summer you'll enjoy the beach and tranquility, in fall the autumnal colors and in winter the frozen lake.
All of the attractions in the village are well within walking distance, as are restaurants and the American Club Resort with its spa and golf course. – Check rates here
17. Do a Wine Tasting in Wisconsin Wineries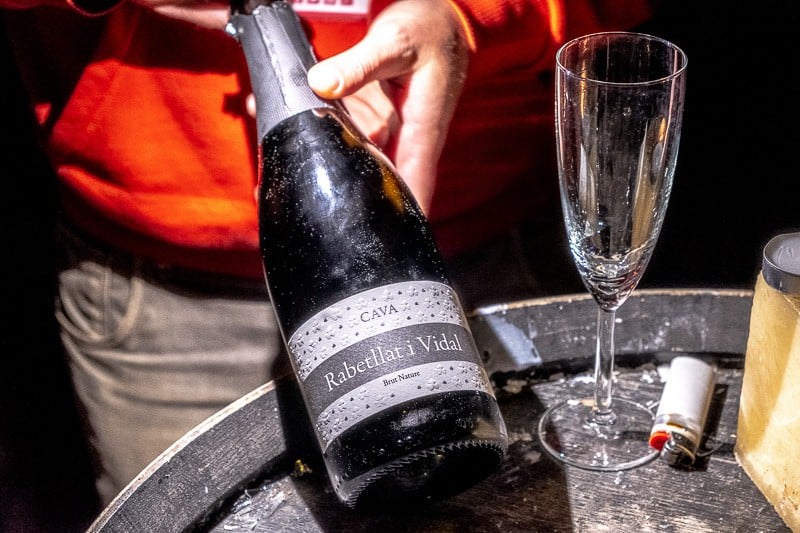 If you and your partner are wine enthusiasts, you'll be thrilled to hear that Wisconsin is home to over 80 wineries!
Wine tastings are a must-do for Wisconsin getaways for couples, and you'll never be far away from the nearest vineyard.
The village of Prairie du Sac 25 miles from Madison is one of the best wine-tasting destinations in Wisconsin.
Prairie du Sac's Wollersheim Winery & Distillery is Wisconsin's top-rated winery, with picturesque limestone buildings dating back over 150 years. You could hardly ask for a more scenic backdrop to your romantic getaway!
There are also several other wineries in the area, including three in the nearby town of Baraboo: Balanced Rock Winery, Von Klaus Winery, and Baraboo Bluff Winery.
You can also check out my guide on the best wineries in Door County, one of Wisconsin's top wine regions.
Where to stay
Stay in a cabin on the scenic Baraboo Bluffs. This one comes with pet peacocks! Despite the rustic feel, this cabin is modern and spacious inside, with beautiful wood paneling. Quirky detail: the cabin comes with peacocks!
Outside, there's a large deck and a fire pit, perfect locations to continue your wine sampling after getting back from the vineyards! – Check rates here
18. Go Kayaking in Door County
A scenic peninsula on Lake Michigan, Door County is a top-rated destination for kayaking trips in Wisconsin, and the ideal site for romantic getaways for couples!
At Cave Point County Park, you and your special one can rent kayaks and head out in search of adventure together.
Alongside stunning views of the lake and the bluffs, you'll also get to see the Door County sea caves, and if you opt for a trip with a guide, you might even get to kayak inside the caves!
You might want to have a look at my guide to the best inflatable whitewater kayaks. – Check prices here
Where to stay
The cottage at Plum Bottom is only a 20-minute drive away from Cave Point County Park.
Set in a beautifully landscaped garden and outfitted with everything you'll need during your stay, this rental consists of a queen bedroom, bathroom, living room, and kitchen, so you'll have plenty of space to yourselves! – Check rates here
---
Short FAQ about Romantic Getaways in Wisconsin
What are great romantic getaways in Wisconsin winter?
You can have romantic weekend getaway to Wisconsin Dells, do a city trip to Kenosha, or get a couples massage in Milwaukee.
What are the best romantic getaways in Wisconsin on Lake Michigan?
Hiking, explore areas of natural beauty together, and romantic sunset walks on the beach are the best romantic getaways in Wisconsin on Lake Michigan.
What are the best cheap romantic getaways in Wisconsin?
Going hiking, walking on the beach, or go for a road trip in Northern Wisconsin are some of the best cheap romantic getaways in Wisconsin.
---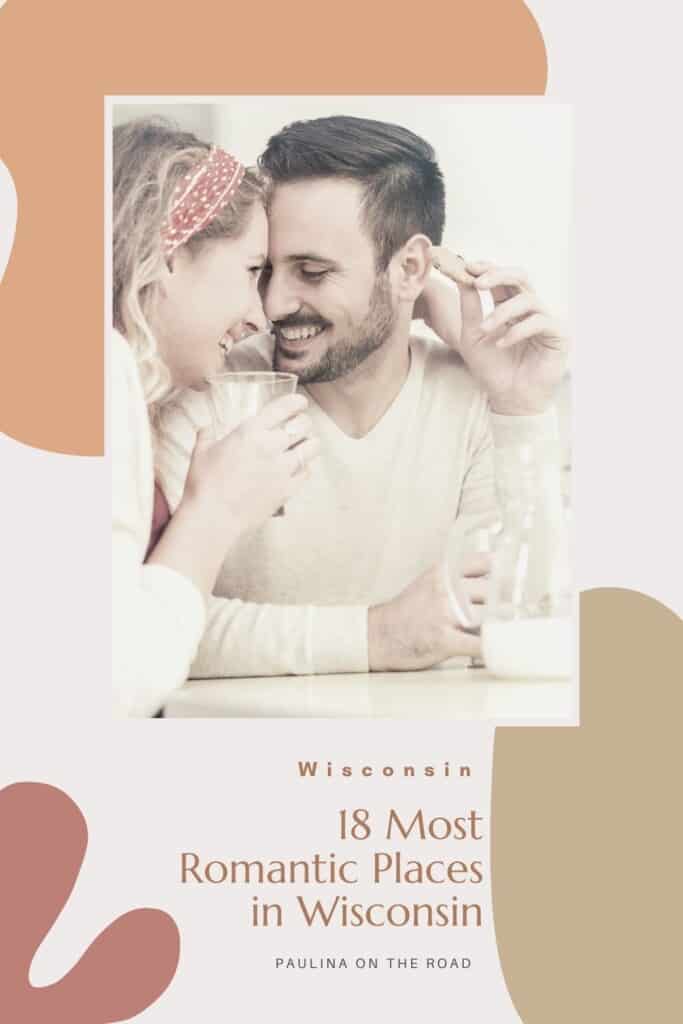 ---