The ultimate guide to the best Airbnbs in Door County, WI with luxury Airbnbs, cheap Airbnbs, and gorgeous cabins in Wisconsin
Door County is one of the most popular vacation destinations of Wisconsin that's enjoyed by travelers of all ages alike.
Whether you visit Wisconsin for family fun, to rekindle romance, or to enjoy nature, this destination will never disappoint.
From witnessing serene views, hiking, paddling, to biking, there are a plethora of fun things to do in Door County.
To get closer to the best that Door County offers, a stay in an Airbnb is the perfect decision! Let's dive right into a selection of the best vacation rentals and Airbnbs in Door County.
"Paulina on the Road" is supported by you, dear reader. As you buy through my links, I earn a small commission. As an Amazon Affiliate, I earn from qualifying purchases. Thank you for your support
Top resources to travel Wisconsin
✎ Plan the ultimate Wisconsin road trip (no backtracking!) with the Perfect Wisconsin Road Trip itinerary – Buy now for less than 12$

✈ Find the best hotel deals in Wisconsin with Trivago

➳ Book vacation rentals in Wisconsin with VRBO

✔ Book tours in Wisconsin with Viator

☘ Get the best discounted outdoor gear (outlet) at REI.com

$ Get Wisconsin hiking guides and maps at REI.com

✎ Never leave without travel insurance. I get mine at SafetyWing. It is easy to set up, cheap, and reliable.
Overview: The Top 5 Airbnbs in Door County
---
$$
2 Guests
Forested backyard with barbeque
1000 acres of Shivering Sands State Natural Area behind the property
A cozy paradise located in the eastern shoreline of Door County: the One-of-a-Kind Rustic Retreat lets you stay amidst the greens. It's the perfect destination to escape the hustle-bustle of city life and enjoy calmness and privacy.
This cute little home that accommodates 2 guests features cathedral ceilings and has huge windows offering scenic views of the forest.
The best of Door County like restaurants, hiking, and biking trails is easily accessible from this gorgeous Airbnb. This place is also close to the best hiking trails in Wisconsin.
Lake Michigan is just across the road where you can witness breath-taking sunrise. Popular destinations like Whitefish Dunes State Park and Cave Point County Park are just 5 miles from the Rustic Retreat.
At this vacation rental, you can find many books to learn about the sites and activities in door county. The kitchen is stocked with all essential cookware, a dishwasher, and even a refrigerator.
2. Best Airbnb in Sturgeon Bay, Door County – Arbor Suite
$
4 Guests
Great location in Downtown Sturgeon Bay
Astonishing décor and furnishing
The Postcard Suite is adored by travelers for its prime location in the heart of Sturgeon Bay`s Third Avenue Historic District. Right from the bay to amazing shopping centers, everything is within 2 minutes walking distance.
The house doesn't have a kitchen, but there are splendid dining options nearby to take on an exciting gastronomic journey.
This house traces its history to 1867 and has gained a spot on the National Register of Historic Places.
It has been thoughtfully remodeled to suit the needs of contemporary times. The suite features modern décor, furnishings, and all essential amenities.
This Airbnb in Sturgeon Bay is the best bet for couples and small families as it can accommodate 4 guests.
3. Best Cheap Airbnb In Door County – Snug Harbor Inn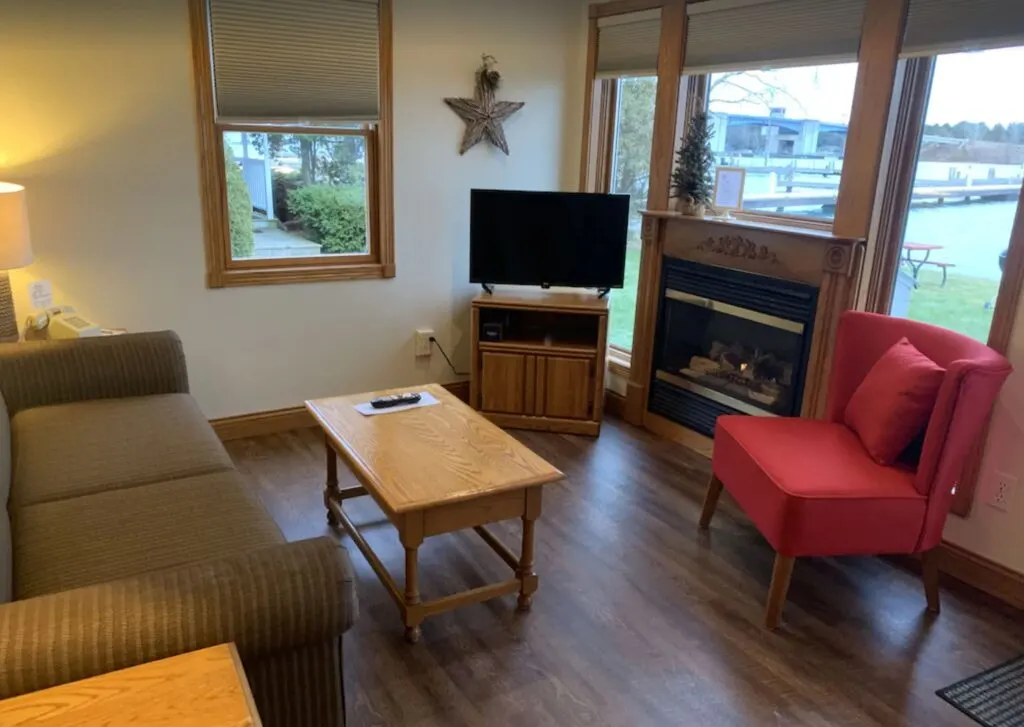 $
3 Guests
Great value for money – entire apartment!
Wheelchair accessible and child-friendly studio
Finding an Airbnb that offers you comfort, amenities, and still fits in your budget can be a tough job. However, if you are visiting Door County, this search is a cakewalk with the presence of Snug Harbor Inn
This open concept studio apartment can accommodate 3 guests looking for a memorable and budget-friendly stay.
This Airbnb is also ideal for a couple with small children. From pack and play with bedding, high chair, toys to books, it has everything to keep the little visitors entertained.
In addition to separate designations for living, sleeping, and dining, it also has a full-stocked kitchen.
Located at a short distance from Sturgeon Bay's iconic downtown, it offers splendid options for dining and shopping nearby.
Further, it is also easy to reach hiking areas like Crossroads and Door County Land Trust from the countryside studio. On your trip to Door County, a stay at the Sturgeon Bay Countryside Studio can prove to be your best decision.
$$$
10 Guests
Perfect for a family get together
A few minutes away from Peninsula State Park
Luxurious Lakefront Home is the right choice if you are looking for a perfect relaxing getaway. Located on Lake Michigan, this Airbnb offers an excellent lakefront experience with 230 feet of beach and shoreline.
This luxurious and spacious property can host up to 10 guests, making it perfect for a family get-together.
Guests admire this Airbnb for the breathtaking views it offers from the huge windows and the deck. It also has a beautiful fireplace to enjoy cozy evenings as you listen to the music of the waves.
The kitchen has everything you'll need including dinnerware for 10. You can stay here and visit nearby located best state parks in Wisconsin as it is just a few minutes away from this place.
5. Best Farmhouse Airbnb in Door County – Country Farm House
$$
8 Guests
Unique stay amidst a farm
Chance to witness daily farm activities
If staying at a farm and relaxing is on your bucket list, it's time to check the box. The Farmhouse Stay in the Northern Door County, near Fish Creek, offers exactly what its name suggests.
It is nestled in the Gray-Aire Dairy Farm just outside Bailey Harbor's main town.
This farmhouse is amidst a scenic landscape and is perfect for a group of up to 6 guests. It has 2 bedrooms, a full kitchen and a living space with a brilliant wood-burning fireplace.
You can head to the deck to enjoy gorgeous sunsets and spend some memorable time with your loved ones.
Guests here enjoy activities like feeding the farm animals, playing with the dogs, and gathering farm-fresh eggs. It's a destination that kids and adults would love alike.
6. Best Airbnb in Door County for a Group of Friends – Modern Craftsman Home
$$$
10 Guests
Modern Décor
Walking distance from great restaurants
A stunning example of elegance, style, and luxury, the Modern Craftsman Home is perfect for a gathering of friends.
Located in Egg Harbor, it allows easy access to anywhere in the Door peninsula. Moreover, the city's most sought-after destination Sturgeon Bay is just a 20 minutes' drive from here.
This beautiful Airbnb features contemporary décor and boasts all amenities for a comfortable stay.
The large backyard with a patio and firepit is a great location to hang out with friends and share memorable conversations. 10 guests can easily be housed in this spacious property.
You can cook delicious meals in the fully-stocked kitchen or walk to the great restaurants located within walking distance. Enjoy cherished memories with your friends in the Modern Craftsman Home.
$$
9 Guests
Easy access to hiking trails
Spectacular views of nature
Escape into a world of comfort, adventures, and mesmerizing views all at once by booking your stay at Swedish-style Log Cabin. Located on Sand Bay Point, this beautiful Airbnb greets guests with 101 feet of water frontage.
The cottage accommodates 9 guests and is child and dog-friendly, making it a great choice for spending time with family.
This charming log cabin is conveniently located just seven miles west of the city of Sturgeon Bay and the gateway of Door County.
Each of the23 bedrooms offers magnificent sunrise views so you wake up to happiness. Spending time outside is a delightful affair here as it has 4 patios and a dock that extends way out into the bay.
Make use of the charcoal grill and the fully stocked kitchen to cook your family's favorite delicacies.
8. Best Door County Airbnb for Solo Travelers – Peaceful Sunny Studio
$
3 Guests
Comfortable furnishing
Easy to reach downtown Sturgeon Bay and the beach
Solo traveling to Door County just got so much more fun with the Peaceful Sunny Studio. It's a charming home located within walking distance from the beach and downtown Sturgeon Bay.
This cozy one-bedroom Airbnb offers stunning views of the sunny, wooded yard from the huge windows.
This home from the 1930s has been thoughtfully renovated to offer you superior comfort and make you feel at home.
Having said that, it has also kept alive the old-world charm of a typical Sturgeon Bay home. It boasts comfortable furnishings and offers free parking space to make your stay hassle-free.
The apartment does not have a kitchen, but scrumptious snacks and beverages are provided here. There are also great cafés and restaurants within walking distance. Besides, you can find an outdoor barbeque grill and oven in this home.
9. Best Door County Vacation Rental for Couples – Merry Breeze Cottage
$
4 Guests
Located near cross-country skiing trails
The ideal place to unwind
A cute little home in the beautiful Sturgeon Bay, Merry Breeze Cottage promises a splendid stay amidst nature. Located at a distance of just 4 minutes from Potawatomi State Park, it is just a short drive from the best of Northern Door County.
It is also near to many cross-country skiing trails where you can delve into fun adventures.
Sitting atop a private bluff, this Airbnb with 2 bedrooms features a warm and inviting vibe. It can rightly be called one of the most romantic cabins in Wisconsin. Spend some quality time with your partner around the beautiful fire pit and the deck.
Thanks to it's close location to some of the best wineries in Door County, this adorable hotel is absolutely perfect for a romantic getaway.
While indoors cook some delicious meals in the kitchen and relish them in front of the electric fireplace. There is also a smart tv for you and your loved ones to watch your favorite movies.
10. Best Airbnb in Door County with Lake Views – Peace of Beach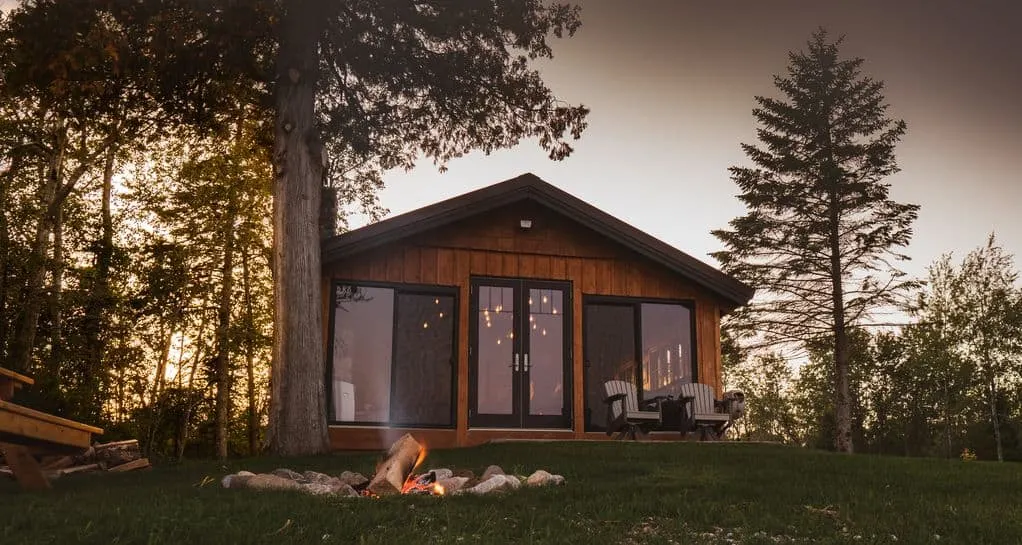 $$$
8 Guests
Offers Scenic lake views
Excellent outdoor seating
If staying amidst nature is what you are looking for while booking an Airbnb, Sturgeon Bay has a spectacular option. Peace of Beach is located on the shores of Lake Michigan and is perfect for a tranquil vacation.
It lets you enjoy 200 feet of mesmerizing shoreline and offers a panoramic lake view… close to some of the best beaches in Wisconsin.
This beautiful lake cabin features an open concept living room, 2 bedrooms, and houses up to 8 guests. It has a fully-equipped kitchen with high bar dining to make every meal a memorable affair.
Here you can relax around the wood-burning fireplace or enjoy marvelous sunsets from the outdoor seating.
11. Best Door County Airbnb in Sister Bay – Waterview Condo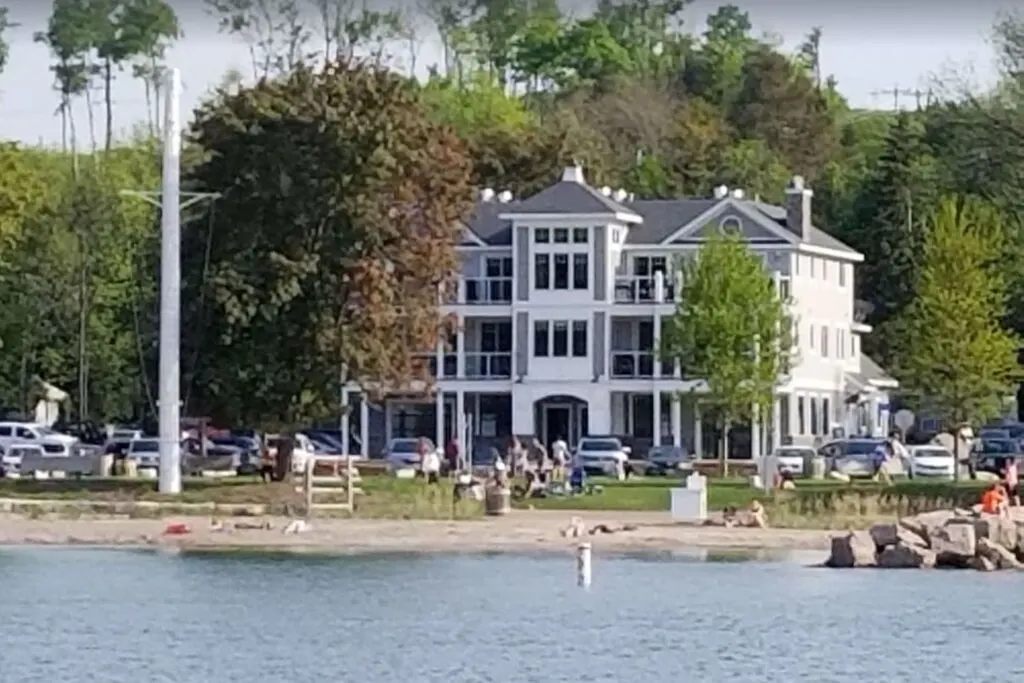 $$
6 Guests
Located less than 1 mile from Downtown Sister Bay.
Lake views and cozy interior
The meticulously designed Waterview Condo is a beautiful Airbnb Sister Bay takes pride in. This gorgeous property is perfect for 6 guests looking for a relaxing weekend getaway.
The Airbnb is just a few minutes away from the beach, Bailey's Harbour, Fish Creek, and many great restaurants.
The fully-stocked kitchen with an honor bar and Sonos is one of the major attractions of this cottage. The brand-new hot tub is another outstanding feature of this Airbnb.
You can also spend some great time outside as everything from the barbeque grill, firepit, to the deck is superb. Here you can also find a cozy patio and even a fireplace. It's just perfect when looking for a beachfront rental in Door Couny.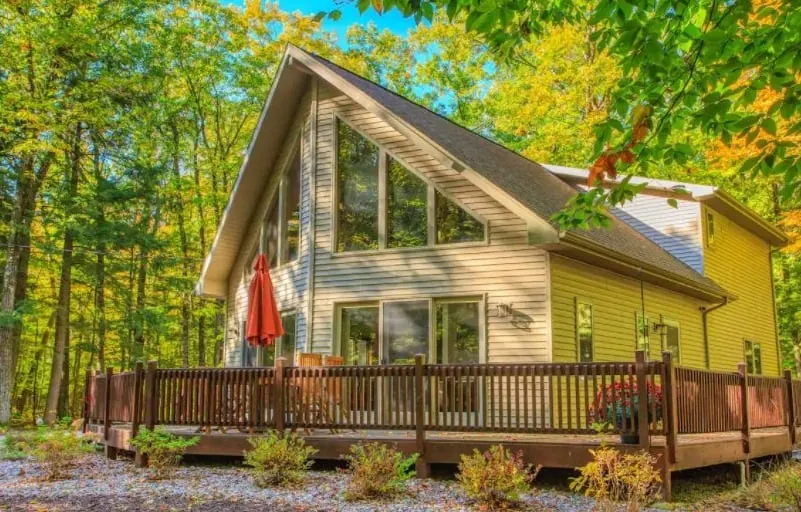 $$$
8 Guests
Pet-friendly cabin
Secluded yet near Door County attractions
An abode of peace and serenity, Secluded Cabin in the Woods is phenomenal during every season. This charming getaway is nestled in a private road just a few miles from Egg Harbour.
The best part is that it is so tranquil, yet near to everything great that Door County has to offer.
The 3-bedroom log cabin is perfect for a vacation of up to 8 guests. The stylish décor, large deck, fire pit, and brilliant amenities always manage to leave the visitors in awe. It also has a well-equipped kitchen that will bring out the chef in you.
It is also one of the best pet-friendly cabins in Wisconsin that your pets will love as much as you do.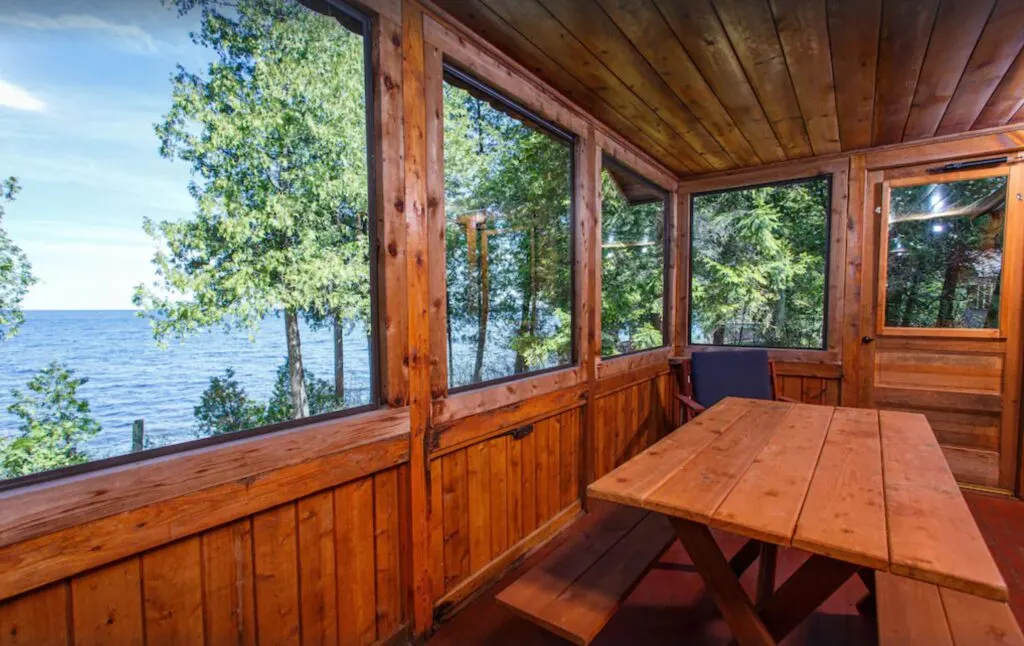 $$
6 Guests
Great relaxing getaway
Access to a private beach
For a quintessential lake house experience head straight to this Airbnb located close to Sturgeon Bay. From incredible sunset views, private beach to amazing outdoor seating, it has everything to make your stay special.
This stunning 2-bedroom cabin is a destination unto itself that's perfect for couples and families. What's quainter than waking up to a stony beach?
If you are looking for winter cabins in Wisconsin, this is a remarkable choice with its great indoor fireplace. You can also enjoy a bonfire to keep yourself warm and to spend some cherished time with family.
It's also close to many of the best things to do in Door County in winter, especially if you are interested in winter sports, or trying out some of the best snowmobile trails in Wisconsin.
This vacation rental also has a full kitchen with all cooking essentials to prepare piping hot meals.

14. Best Airbnb in Door County for Relaxation – Sand Beach Cottage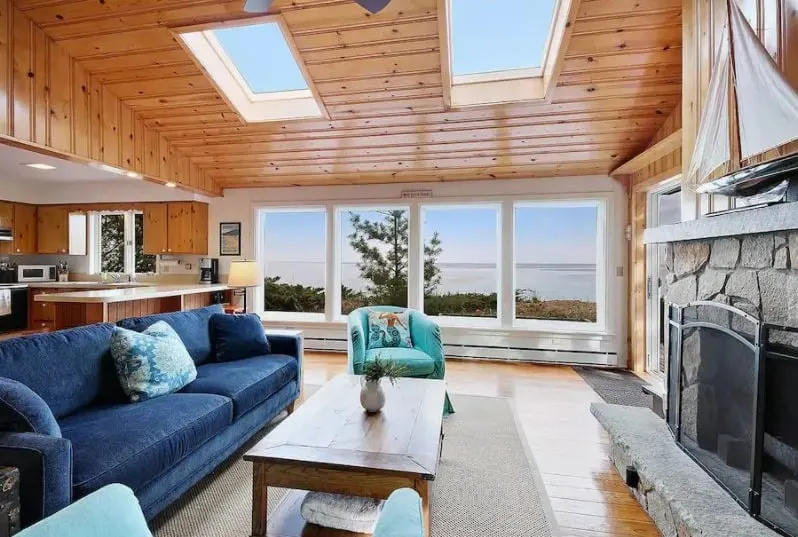 $$$
4 Guests
Breath-taking sunrise views from the deck
Tranquil setting
An Airbnb that redefines the meaning of relaxation, Sand Beach Cottage is a must-visit in Door County. Nestled on the banks of Lake Michigan, this waterfront cottage treats your eyes with phenomenal views of Whitefish Bay.
This secluded cottage is 30 minutes' drive from Sturgeon Bay making it a perfect escape from the madness of city life. This is one of the best places to vacation in Wisconsin.
It's wooded on one side to ensure ultimate privacy and on the other side is the beautiful lake. Whether you are cooking a meal in the kitchen or relaxing in the living room, you can listen to the music of waves.
Besides natural light shines through the windows and makes the décor of this vacation rental stand out. This is also a great place to stay for an amazing Wisconsin fall getaway.
15. Best Door County Airbnb for Nature Lovers – Hidden Bear Cabin
$$
8 Guests
Nestled in the woods
Hand-hewn log cabin
A part of the popular Hidden Bear Cabin in Egg Harbor, this log cottage is a perfect getaway for 2 or more. By being nestled in 5 acres of hardwoods, this vacation home guarantees a pleasant stay.
It is equipped with all amenities you would require for a comfortable stay and also has a kitchen. And, why not visit some of the amazing Wisconsin yoga retreats close by?
The best part about staying here are some great extra features such as an area game table with games or a charcoal BBQ grill.
Kayaking and biking are some of the must-do activities near this gorgeous log cabin.
---
Why Stay in a Door County Airbnb?
Local Experience
Door County has 19 unique communities and many splendid experiences awaiting visitors. Staying in an Airbnb is a great way to interact with locals and get the best recommendations from them.
It lets you immerse yourself in the history, culture, cuisines, and local lifestyle of the destination in the most incredible way.
Safety
Safety is one of the prime reasons for the massive popularity and success of Airbnb in Door County. Whether you stay in a secluded area, in the downtown, or in the woods, the safety measures are always on point.
I always prefer Airbnb for its enhanced safety features and for the fact that hosts are just a call away.
Affordability
For travelers that prefer budget-friendly options in Door County, Airbnb is a great choice. Whether you are looking for luxury cabins in Wisconsin or accommodation amidst nature, an Airbnb won't burn a hole in your pocket.
If you are traveling with friends or family, it's a great idea to book an Airbnb to make your vacation affordable.
---
Best Airbnbs in Door County: Areas Map
---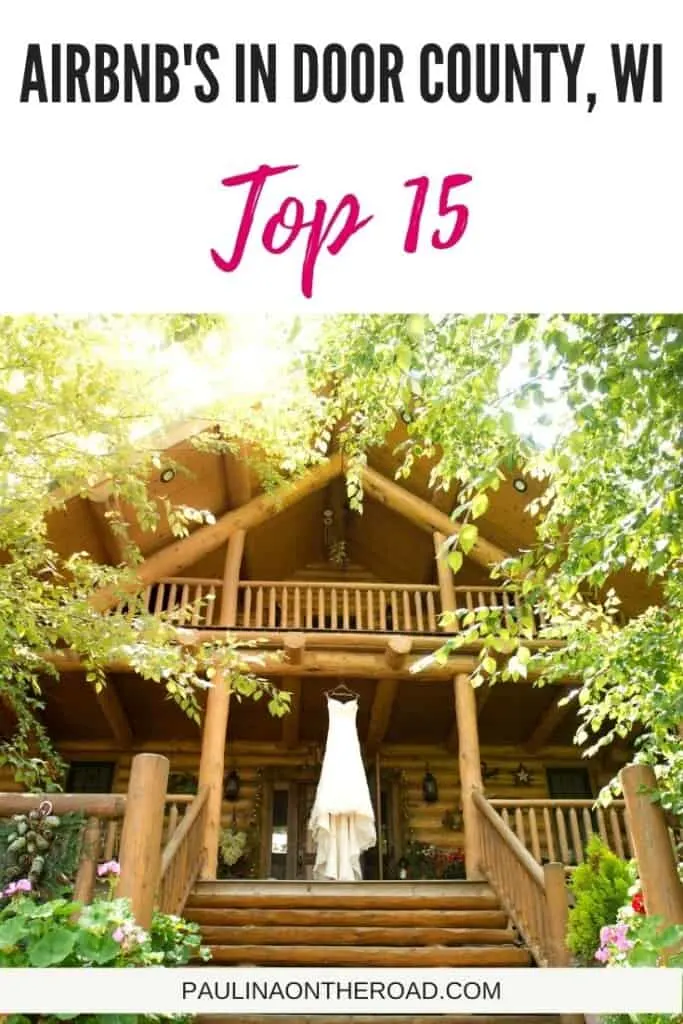 ---
Hola! I am Paulina, a fervent travelette who crossed the Atlantic Ocean by Boat HitchHiking. On my blog, you'll find all the tips to make the most of your holiday. Get ready to enjoy outdoor and sustainable travel like hiking, cycling or sailing. Let's hit the road together!