The Best Beaches in Wisconsin to Cast Away your Worries
A guide to the best beaches in Wisconsin and lakeside beaches to enjoy a fabulous Wisconsin vacation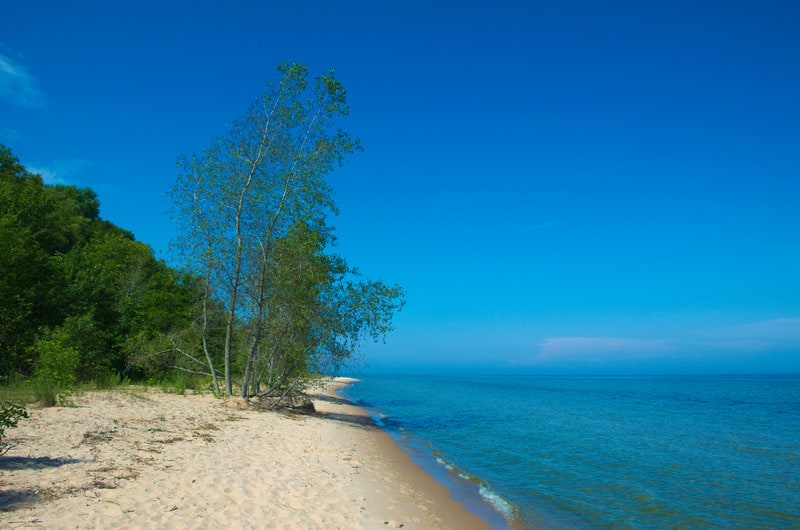 You don't have to head to the Atlantic or Pacific to enjoy a beach vacation. Often, there are plenty of places nearer where you can enjoy a beach holiday. When looking for a Wisconsin vacation, you will be surprised by the amount of gorgeous lakeside beaches and clean lakes in the dairy state of Wisconsin.
This midwest state of the USA is home to several picturesque beaches and beautiful great lakes' coastlines. Whether you are looking for a small, quiet beach to revel in peace, or a recreational beach exuding excitement and activity, the beaches in Wisconsin are the place to be!
Wisconsin offers a surprising variety of waterfront getaway options too. The best way to enjoy the gorgeous natural surroundings is by staying in a romantic cabin in Wisconsin and enjoy your vacations on the beach. There are several beaches to choose from and enjoy your day.
Let's find out what Wisconsin's coastline has in store for you all! Do you have a favorite beach in Wisconsin? Let me know about it in the comment section!
This post contains affiliate links. If you buy through them, I will earn a small commission that will help me run this blog. With no extra cost for you. All opinions are always mine. Merci!
Useful Travel Information for Wisconsin
✎ Plan the ultimate Wisconsin road trip (no backtracking!) with the Perfect Wisconsin Road Trip itinerary – Get it here

✈ Book cheap flights to Wisconsin with Skyscanner

✔ Book tours in Wisconsin with Viator

➳ Book holiday and vacation rentals in Wisconsin with Airbnb

❖ Rent a car with at the best rates with DiscoverCars

☘ Get the best discounted outdoor gear (outlet) at REI.com

$ Get Wisconsin hiking guides and maps at REI.com

✎ Never leave without travel insurance. I get mine at SafetyWing. It is easy to set up, cheap, and reliable.
Best Beaches in Southern Wisconsin
1. Racine Wisconsin Beach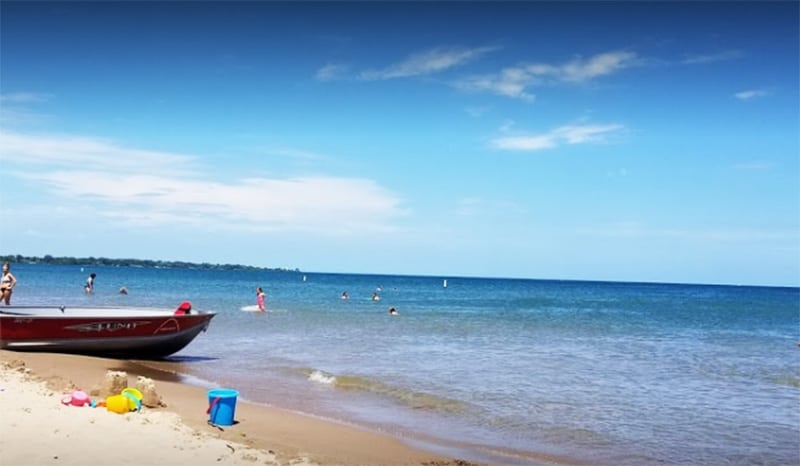 Racine Beach is located on the Lake Michigan waterfront in southeast Wisconsin. It is one of the nicest beaches in the USA and even rated as one of the top beaches in Wisconsin!
Racine Beach. Wisconsin is the first beach to be designated as a "certified Blue Wave clean beach" by the National Clean Beaches Council.
Its national accolades include being "one of the 51 Great American Beaches" by USA Today, "Top 10 Family Friendly Beaches" by Parents Magazine, and "Top City Beach" by Midwest Living Magazine. Read more here about amazing Midwest weekend getaways.
This acclaimed destination spans 2,500 feet of shoreline and opens to the public for swimming, fishing, and picnics. The beach is open from the first week of June through the first week of September.
Lifeguards are on duty daily and there is free parking in designated lots or along nearby streets. It is one of the best lakes in Wisconsin for swimming and enjoying a fabulous day outside.
Enjoy a snack or beverage and catch live music under the palm trees at Beachside Oasis. You can find many Wisconsin attractions near Racine Beach, Wisconsin like EVP professional beach volleyball, the ironman 70.3 Racine triathlon, and the Bikes, Boards & Beach Series.
Book a lake cabin near Racine, WI
2. Simmons Island Beach, Kenosha, Lake Michigan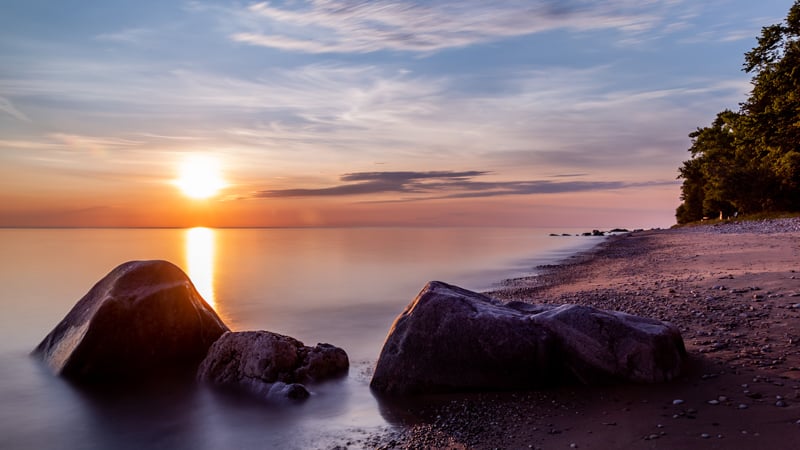 Simmons Island Beach is the only beach in Kenosha. It is a sandy beach and one of the best Lake Michigan beaches in Wisconsin where visitors can find bike trails, 2 historic lighthouses, playgrounds, and opportunities for picnicking in an open-air pavilion.
This beach has a boardwalk located near the paved bike trail leading to the lighthouse pier. You can also rent a bike to explore Kenosha itself, but if you want to spend a relaxing and lazy day at the beach, just pitch a tent nearby.
There are also various attractions like the Southport Light Station Museum, the Kenosha History Center, and the Kenosha Lighthouse Studio at North Pier Lighthouse. There are thus plenty of things to do in Kenosha.
The beach is not staffed with lifeguards so please be careful while swimming! Pets, fire, and grills are not allowed on the beach, and no flotation devices can be used in the swimming areas!
Spend the afternoon fishing on the beach and then take your catch to the nearby Boat House Pub and Eatery. They will smoke your fish for you!
Simmons Island Beach is also a great destination for a cabin getaway. – Check cabins in Kenosha here
Best Beaches in Northern Wisconsin
3. Schoolhouse Beach, Washington Island, Lake Michigan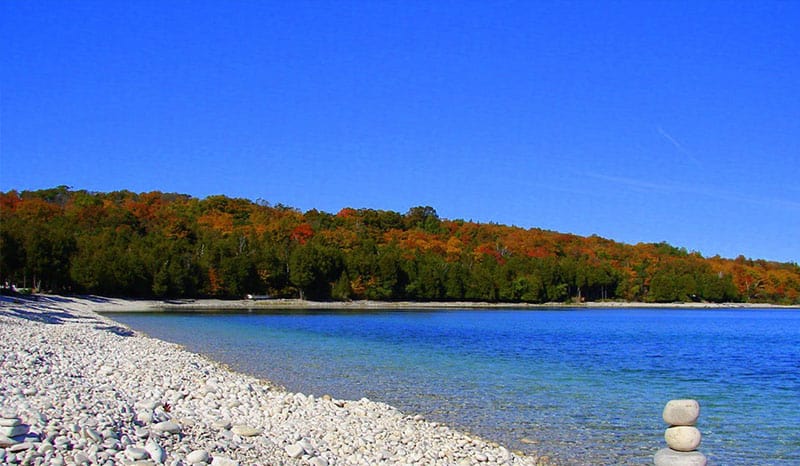 Schoolhouse Beach located on Washington Island is the hands-down coolest and most unforgettable beach in Wisconsin!
Instead of sand, the beach is made of smooth limestone pebbles that pleasantly massage one's feet while walking. It is considered a geographical wonder because of its unusual make-up.
While Schoolhouse Beach is not the best beach for sunbathing, it is a great location for swimming and diving as it has a 225 feet deep popular spot.
If you don't want to get into the water, there is a quaint spot for a picnic in the park with a great view of the shoreline. It is hard to believe that any beach so beautiful and so unique could be right here in Wisconsin!
No wonder that it's considered one of the top things to do in Northern Wisconsin!
Please don't take any rocks with you when you leave as it's against the law! Lovely handmade signs remind you of that at each turn. Enjoy a picnic or BBQ here for a fantastic day out.
4. Big Bay Beach at Town Park, Madeline Island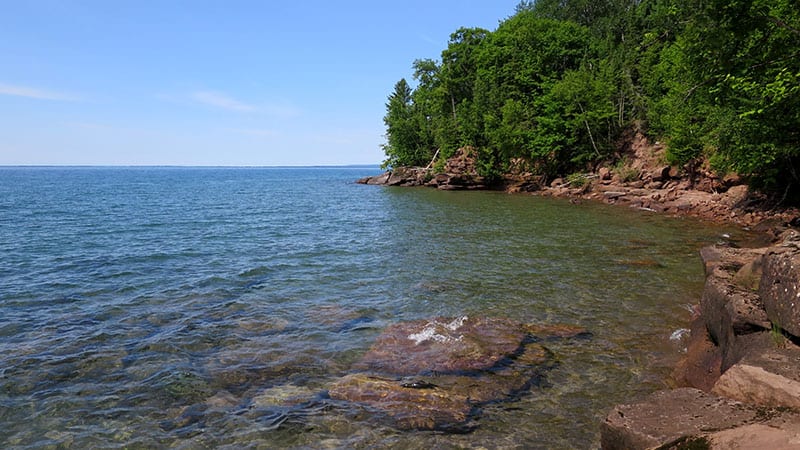 Located on the northernmost tip of Wisconsin, Madeline Island, Big Bay Beach at Town Park is the largest.
The island has boardwalks that provide guided walks along Big Bay Beach, allowing you to enjoy the sound of the waves and a spectacular view of Lake Superior through the trees.
The sandy beach stretches around 2 miles offering swimming and fishing. Perfect thus to bring your inflatable fishing kayak.
For visitor's convenience, there is an organized parking area, a picnic shelter with a fireplace, a woodshed, and 900 ft. of new beach boardwalk to reach the beach.
You will also find a new comfort station with a park attendant office, free WiFi, a drinking fountain, pay showers, and clean toilets.
Whether you want to relax, swim or fish, this beach offers all you can ask for. It's secluded and the entry is free. The surfing conditions are good and you can try stand-up paddleboarding, canoes, or kayaks.
It's the perfect place to bring your own inflatable kayak! – Check prices here
Enjoy a cold beer and a sunset view at Tom's Burned Down Cafe located on the beach.
It's the perfect place to spend a cabin getaway too! – Check rates & reviews here
5. Meyer's Beach, Cornucopia, Lake Superior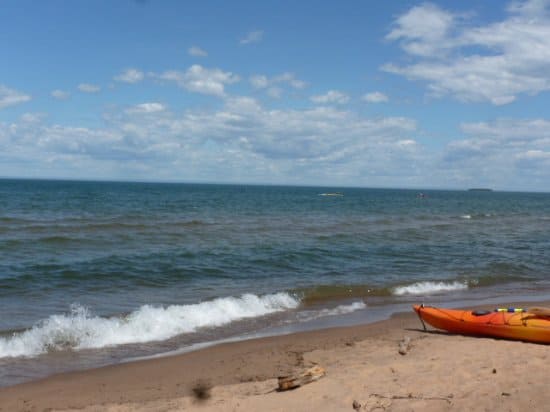 Meyer's Beach on Apostle Islands National Lakeshore is one of the most scenic beaches in Wisconsin. The beach is operated by the National Park Service and is located on Lake Superior near Cornucopia.
It is a great gateway to the Apostle Islands and their famous sea caves. The beach is comfortable with plenty of space to swim or relax by the waters. If you want to read more about things to do near the Apostle Islands, check out my full guide here.
The sea caves of the Bayfield Peninsula are a must-see when you visit Meyer's Beach. If you don't want to see the caves, just head off to kayak or go hiking further down the coastline.
The beach offers amenities like parking lots and clean toilets.
From fine dining and haute-cuisine to cozy breakfast spots and classic ice cream shops, there are many enticing restaurant options. If you want to enjoy a beach with good food and few people around, Meyer's Beach is the perfect choice for you!
Check rates & reviews for lake cabins at Apostle Islands
6. Newport State Park, Ellison Bay, Lake Michigan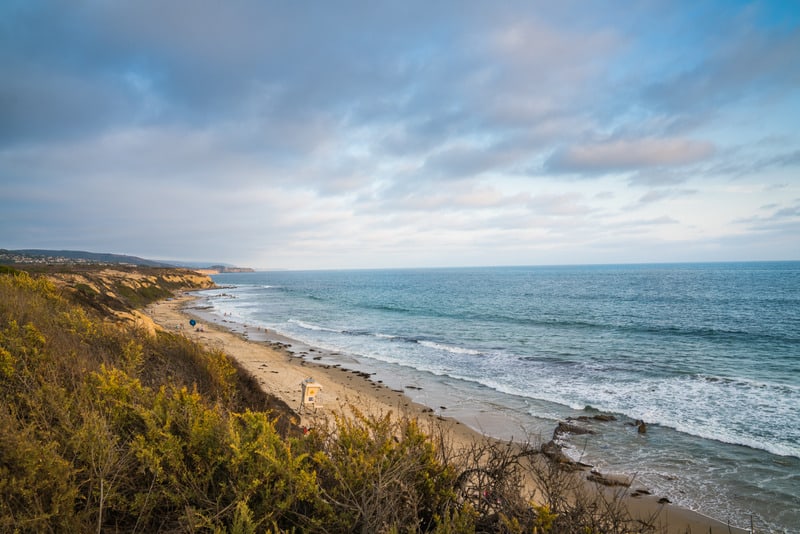 Located just northeast of Ellison Bay, Newport State Park in Door County is the only formally designated wilderness park. It is one of the best places in the country to enjoy a full day of outdoor adventure.
Newport State Park offers 30 miles of trails for hiking along the Lake Michigan shoreline, with evergreen and hardwood forests, wetlands, upland meadows, and a rocky coastline. It's thus a great place to vacation in Wisconsin.
Newport State Park has beautiful waterfront locations providing plenty of opportunity for kayaking. You can spend the entire day paddling through the waves and enjoy the coastal Wisconsin breathtaking scenery.
The park is also a designated spot for viewing the dark sky as it offers an unobstructed view of the eastern night skies. During the summer months, Newport State Park is a prime place to see the aurora borealis northern lights. It is truly a sight to behold!
The Newport State Park is open all year-round and has restrooms, a shelter, and picnic areas. It's a quiet, off-beaten destination, so if you like to get away, it's a great place to visit! – Check lakefront cabins here
7. Peninsula State Park Beach
Located along the bay, Peninsula State Park is one of the largest state parks in the area covering 3,776 acres! It is often considered as one of the best state parks in Wisconsin.
The park is open all year-round and there is always something to do.
The warmer months are perfect for kayaking, swimming, fishing, and golfing on the 18-hole course. During the cooler months, the park offers perfect conditions for snowmobiling and sledding.
In Peninsula State Park, you will find Nicolet Beach which is great for swimming and sunbathing. It has a snack bar and kayak as well as other watercraft rentals.
There is a boat launch nearby for anyone looking to explore the state park's 8 miles of shoreline. The beach area also has picnic spots, playgrounds, and sand volleyball courts.
The park also offers the Eagle Bluff Lighthouse and the White Cedar Nature Center. Both attractions are considered some of the best things to do in Door County, WI.
There are many Wisconsin resorts on Lake Michigan and pets are allowed in the park but must be on a leash and under control at all times! There are several great resorts in Northern Wisconsin nearby where you can enjoy your stay.
8. Pattison State Park Beach, Lake Superior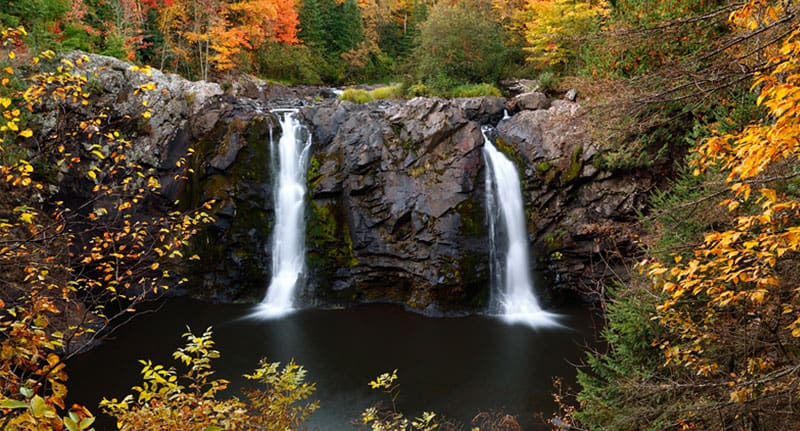 Pattison State Park is located on Interfalls Lakes and is a 1,436-acre park.
It has a 300-foot sand beach offering nature programs, guided hikes, a nature center, a camping, 9-miles of hiking trails (one of the best hiking trails in Wisconsin!), and abundant wildlife.
The park also has one of the highest waterfalls in Wisconsin and the fourth highest waterfall east of the Rocky Mountains-Big Manitou Falls.
Pattison State Park has 59 regular camping sites (18 of them with electric hookups) and 3 backpack sites. There is a sanitary dumping station but no sewer or water hookups.
You will find a bathhouse and a picnic area on the beach along with ample parking. The park has over 9 miles of hiking trails offering a breathtaking view of the waterfalls in North Wisconsin.
Showers and flush toilets are available during the summer.
Best Beaches in Central Wisconsin
9. Wisconsin Dells Beach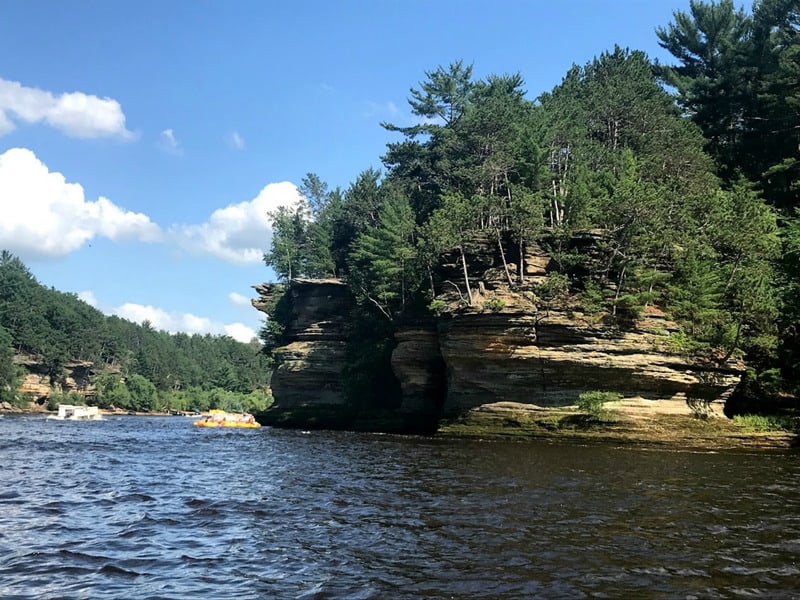 Shaped by the curves and currents of the Wisconsin River, Wisconsin Dells Beach has been a favorite family holiday destination for more than a decade!
An explosion of indoor water parks has turned Wisconsin Dells from a summer hot spot to a year-round destination.
Wisconsin Dells is located around 1,000 miles from the nearest ocean, and there are several options for both natural and man-made beaches. For instance, Lake Delton is a man-made lake supplied by Dell Creek.
Adventure Lagoon at the Chula Vista Resort has a sand beach and is suitable for kids. It is outfitted with beach chairs, a tiki bar, and private cabanas.
The Wisconsin River has sandy beaches and I recommend staying at a resort close to them in order to enjoy to the fullest.
You might consider resorts in the Dells' such as the Holiday Shores Camp-Resort, the Cedar Lodge & Settlement, and the River's Edge Resort. When looking for things to do in Wisconsin Dells, you might consider enjoying watersports and get active with outdoor sports.
If you are planning weekend trips in Wisconsin, you should consider this place for sure!
The beaches near Wisconsin Dells have plenty of lodgings and dining spaces. – Check rates for vacation rentals near Wisconsin Dells
10. Beach of Kohler-Andrae State Park, Sheboygan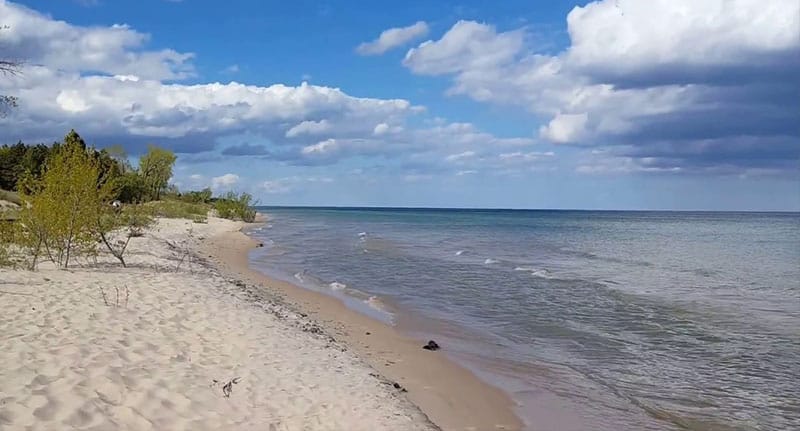 Kohler Andrae State Park, located in Sheboygan in Lake Michigan, Wisconsin, is home to majestic dunes, miles of golden beach, and shimmering blue Lake Michigan water, making it one of most popular beaches.
The large dune along Wisconsin's Lake Michigan coastline and the unique wetlands within it are breathtaking.
It provides a habitat for many rare plants, some of which are only found on great lakes shorelines. You can spot waterfowls, shorebirds and many warblers.
You can spend a day swimming or exploring the dunes. There are refreshments served locally and many grocery stores if you want to prepare your picnic.
Fork Café located on the beach serves breakfast and lunch with wholesome, natural ingredients from local farmers. Also, take some time and explore the John Michael Kohler Arts Center closeby.
It's also perfect for a cabin getaway! – Check prices of Lake Michigan cabins here
11. Devil's Lake State Park Beach, Baraboo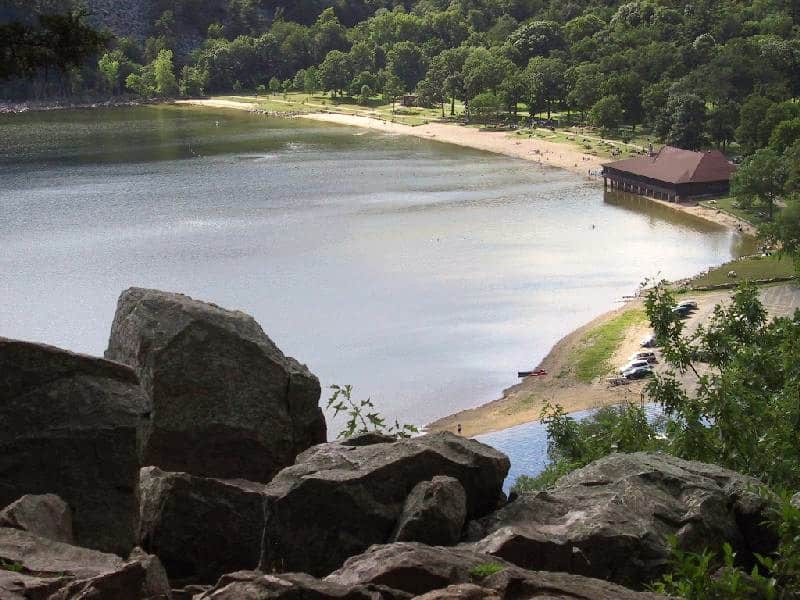 Devil's Lake State Park is located in Baraboo, Wisconsin, and is the most popular state park with about 3 million visitors each year!
The park covers over 9,000 acres of area and anchors more than 27,000 acres of parkland and natural areas open to the public!
This state park has everything! A pretty beach, pleasant water, and hiking trails so you don't have to choose between a mountain or beach destination.
Cool down in the refreshing lake after a mountain hike or stretch out on the sandy beach. In addition to this, you get an amazing view from the 500-foot quartzite bluffs and have access to a 360-acre lake that offers picnic areas by the lake.
Birdwatching, swimming, and canoeing are other things you can do. The Wisconsin beach resorts offer concessions and bedding during summers. Thus, don't forget to bring your own inflatable kayak. – Check rates here
Thrill-seekers can try their hand at rock climbing or scuba diving at their own risk as there are no lifeguards on the beach! Picnic areas, grills, and children's play areas are located throughout the park.
If you're a fan of Airbnb, check my guide on the best Airbnbs near Wisconsin Dells.
12. Point Beach State Forest, Two Rivers, Lake Michigan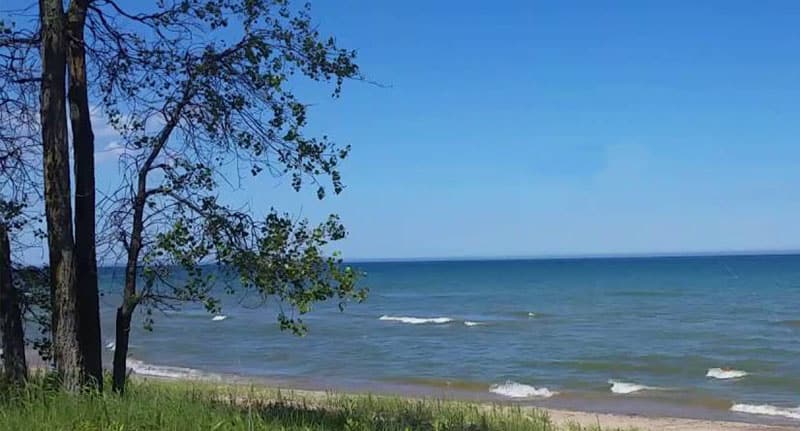 Point Beach State Forest is located close to Lake Michigan and is a family-friendly beach. Point Beach in Wisconsin is a lovely stretch of sand and an ideal place to relax or enjoy some activities.
There are a few walking and cycling trails. The Rawley Point Recreational Trail to the Rawley Point Lighthouse is an interesting trail to try. Don't forget to bring your Wisconsin hiking guide!
If you are more into cycling, ride 6 miles on the Mariners Trail in Two Rivers and Manitowoc.
There are various nice spots for a picnic, and the beach house is open during summers, offering concessions to its visitors. There are various hotels on Lake Michigan in Wisconsin to enjoy dinner or grab refreshments.
13. Lion's Den Gorge Nature Preserve, Grafton, Lake Michigan
Lion's Den Gorge Nature Preserve represents one of the last stretches of undeveloped bluff land along the Lake Michigan shoreline, from Mequon up to Port Washington.
Many nature trails cut through the woods, marshland, and bluffs, and the hilltop trail provides stunning views of Lake Michigan.
At the end of the trail, you can descend into the gorge via a long staircase to the rocky beach. It's thus perfect to bring your Wisconsin hiking guides along!
Lion's Den Gorge Nature Preserve is great for kids as they will love to collect and skip stones. You will also enjoy walking along the lake, with waves crashing to shore.
Together, you can all bask in the peace of this local beach. Mornings are often less busy, so you'll have even more privacy if you go to the beach early. This 73-acre park offers boardwalks through wetlands, picnic areas, scenic views, and restrooms.
If you are looking to enjoy the shores of Lake Michigan in a unique way, have a look at these Lake Michigan cabin rentals. – Check prices here
Urban Beaches in Wisconsin
14. Vilas Beach, Madison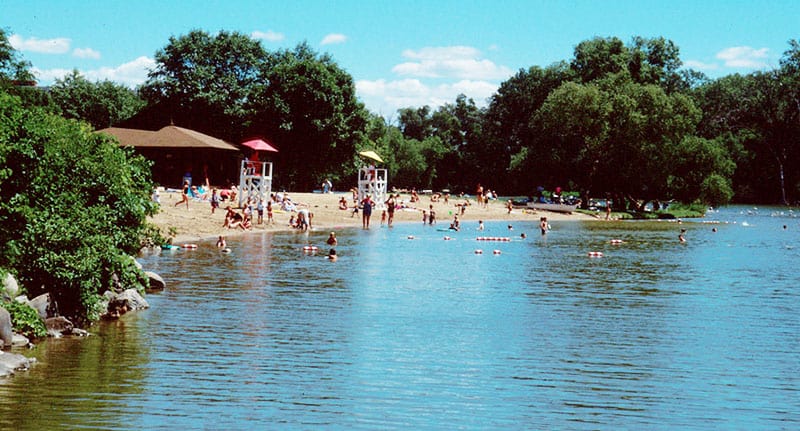 One of Madison's oldest parks, Vilas Beach curves along the northern shore of Lake Wingra. It is a sandy beach for summer swims and has numerous fishing sites, including two accessible piers on almost 46 acres.
There are six tennis courts, places for picnics, and baseball games in the large grassy play area adjacent to Henry Vilas Zoo.
Children can choose between two playgrounds. One with the famous Old Woman in a Shoe slide, a playground with dinosaur play equipment, and a large Indian mound on the secluded hilltop portion of the park on Erin Street.
In the winters, you can skate on the frozen lagoon, or play ice hockey on one of the rinks near the shelter house. This expansive park is a great place to walk, pausing on one of the beautiful arched bridges to watch for blue herons and other wildlife that thrives in this urban greenspace.
Want to learn more about Madison? – Check guided tours here
15. Bradford Beach, Milwaukee, Lake Michigan
Located on Lake Michigan, Bradford Beach is Milwaukee's most popular beach! This is due to its numerous events, like beach volleyball tournaments, and music festivals.
The beach offers frequent family day events, making it a great destination for families, and is one of the best public beaches in Wisconsin! The beach has daytime lifeguard supervision during the summer months.
There are washrooms and concessions available at the beach as well.
This beach has the Bradford Beach Buoy (B3), which is a joint project between the University of Wisconsin and the City of Milwaukee Health Department.
The buoy monitors water quality and weather conditions offshore from Bradford Beach in real-time to let the visitors know when is the right time to go swimming. This makes Bradford Beach a great idea when looking for day trips from Milwaukee.
Want to learn more about Milwaukee? – Check guided tours here
So, these are the beaches in Wisconsin to cast away your worries and relax. What is your favorite one? I can't wait to hear about it in the comment form!
---
Short FAQ about the Best Beaches in Wisconsin, USA
What are the best beaches in Northern Wisconsin?
The best beaches in Northern Wisconsin are Schoolhouse Beach, Big Bay Beach and Meyer's Beach.
What are the best beaches in Wisconsin?
The best beaches in Wisconsin are Wisconsin Dells Beach, Vilas Beach, and Bradford Beach.
What are the best beaches near Milwaukee?
The best beaches near Milwaukee are Bradford Beach, Grant Park & Beach, and Lakeshore State Park & Beach.
---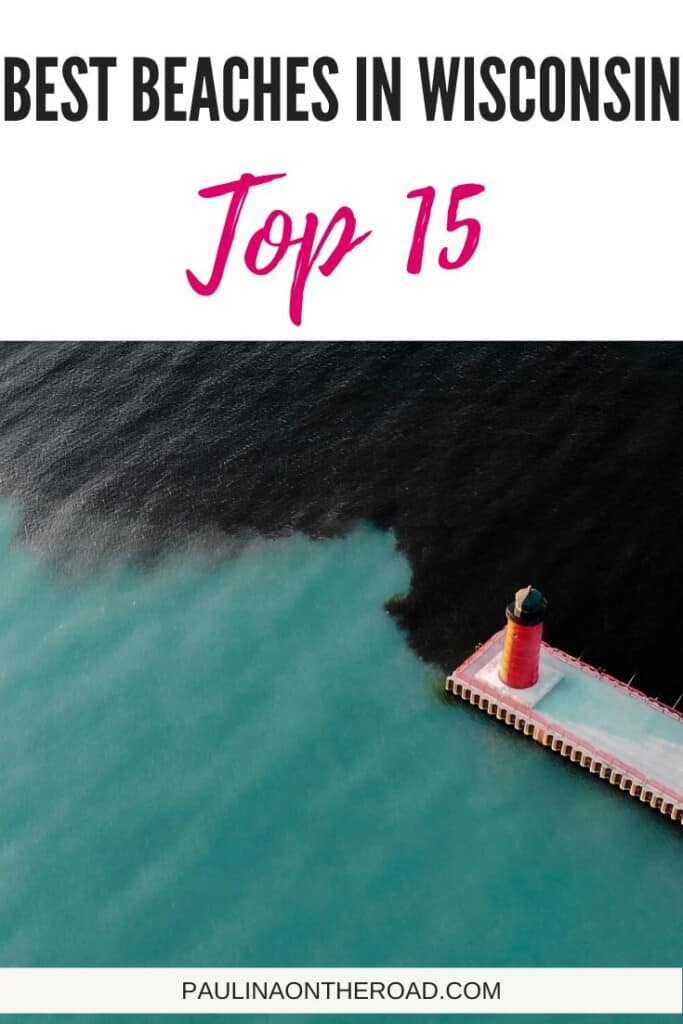 ---