15 Best Ways to Enjoy your Weekend Trips in Wisconsin
A personal selection of the best weekend getaways in Wisconsin, US
Bordered by Lake Michigan and Lake Superior, the state of Wisconsin offers an array of diverse landscapes that are an absolute pleasure to explore. From outdoor activities to quiet romantic getaways, the state of Wisconsin has whatever you need for a vacation in all seasons.
While many consider that the majority of the activities are located in Madison or Milwaukee, some of the most exciting spots are actually located in specific regions of this beautiful state. Learn about them, and other interesting spots with our list of the very best attractions and beautiful places in Wisconsin.
Useful Travel Information for Wisconsin
Book cheap flights to Wisconsin with Skyscanner or Kayak

Book holiday and vacation rentals in Wisconsin with Flipkey – Wisconsin

Find the best Hotel Deals in Wisconsin with TripAdvisor Hotels – Wisconsin

Best tours and activities in Wisconsin with Viator

Rent a car with the best discounts at RentalCars.com

The best discounted Outdoor Gear at REI.com – Outlet

✎ Never leave without travel insurance. I get mine at WorldNomads.

⚘ Get a travel guide in order to prepare your trip, I recommend Lonely Planet Guides (get -10% off with code "PAULINA10")
This post contains affiliate links. if you buy via them, I'll earn a small commission which helps me to keep this blog running. I received services for free for an honest review. All opinions are my own.
1. Day Trip in Big Manitou Falls
For those looking for: Sightseeing and picture-taking
Among all the top attractions in Wisconsin, The Big Manitou Falls is especially known for its waterfalls, lakes, and rivers. In this popular destination in Wisconsin, you will find some of the most unique visual sights you will ever come across. Big Manitou is home to the highest waterfall in the state, clocking in at over 160 feet.
When you first look at the waterfall, you will notice that the water is of a brownish color rather than a crystal blue color. The reason? The water is uniquely colored due to the assortment of minerals found in the water- known as tannins.
When deciding to visit Big Manitou Falls, you will come across a ton of exciting walking paths. Expect quite a bit of walking, so pack comfortable shoes and a camera with you. It is truly a sight to see, since you will be surrounded by beautiful greenery everywhere you go.
You will be taking a ton of pictures, so prepare yourself for a new screensaver and loads of selfies!
There are 2 types of falls you will need to see: small and large falls. Luckily, the falls can be viewed from any of the viewpoints located at the park. Expect a good 30 minutes walk from where you park your car, in order to reach a viewpoint to see the falls. If you have little ones with you, they will be also able to see it with relative ease.
Overall, walk around, enjoy the beautiful sights, and take some beautiful pictures. It will be well worth it!
2. Wisconsin Weekend at Devil's Lake State Park
For those looking for: A visit to one of the largest parks you will ever see for a Wisconsin family getaway
The largest state park in Wisconsin; the Devil's Lake State Park, is an extremely popular spot for fishing, boating, and swimming. A must-see for all ages, Devil's Lake is easily one of the most beautiful spots for taking photos in Wisconsin. An absolute must-see when visiting Wisconsin, and luckily you will be able to as it is open all year round! No wonder, that it is considered one of the best Wisconsin State Parks.
As soon as you arrive, you will notice extremely wide picnic areas with people relaxing and enjoying the weather. Overlooking the park is a massive lake; over 300 acres of beautiful water. As such, you will have the opportunity to engage in Wisconsin's finest activities: fishing, boating, and rock-climbing!
The hills around the lake, known as Baraboo Hills, make it especially easy to do some rock-climbing. You can enjoy the experience by climbing slowly and peering across to the lake or challenge yourself with more complex climbs.
You can also decide to entertain yourself and your family with some hiking, stopping for a mini-picnic, or taking some memorable photos. If you are willing enough, you can take one of the more difficult paths in order to reach a spectacular viewpoint overlooking the lake. Once you find the spot that is to your liking, you certainly won't regret it. The key is to just enjoy the experience, and just stop whenever you feel like it.
Otherwise, take the time to simply soak in the scenery and experience true Wisconsin nature at its finest. The nature changes in winter, that's why the area is a great Wisconsin winter getaway too!
Book here your National Park pass
3. Mini Vacation at Apostle Islands National Lakeshore
For those looking for: Adventure
If you want an adventure when visiting Wisconsin, look no further than the Apostle Islands National Lakeshore. With a collection of 21 islands alongside a lakeshore, this is one of the most adored spots by tourists and locals. You are free to enjoy the lakeshore how you like. By enjoying the views, listening to music, or watching the assortment of the birds in the sky.
You will be hard-pressed to find a more relaxing experience. Always among one of the top 10 things to do in Wisconsin, the Apostle Islands is one of the best places to go in Wisconsin.
Book here your cabin getaway in Wisconsin
But the beauty of this lakeshore lies in the variety of activities that are available for you to explore. Consider renting a kayak, so you can venture from island to island. Do not let this opportunity go to pass: it is very enjoyable to reach each island and enjoy the variety of amenities and recreational there.
Many islands offer scuba-diving and fishing activities for a very good price!
Book here your National Park pass
If you really want to make it an adventure, try camping at one of the 19 available islands. Don't worry, each island offers great camping sites with excellent amenities. If you want to stay on a budget, there are remote camping sites for you as well.
What makes these islands so wonderful is the freedom and options it offers. Many tourists decide to camp out on these islands, and you will surely make a couple of friends if you do decide to stay!
4. Enjoy a Romantic weekend at Elkhart Lake
For those looking for: A resort experience
For a wonderful resort experience, consider Elkhart Lake in the south of Wisconsin.
Elkhart Lake is home to the famous Road America race dating back to the '50s. Every year, you will find many races being hosted; with the most popular ones hosted in summer. Being an international event, you will find people coming from all across the United States to enjoy the events.
Elkhart Lake is home to some of the most beautiful resort experiences in Wisconsin. Whether you want an option to relax or be adventurous on your stay, this is the place to be.
Book here your lake cabin in Wisconsin
Elkhart Lake resorts have some excellent live theatre and music at night, along with great food. For a purely positive experience, consider the "Victorian Village Resort"– where you will have excellent service, food, and lovely swimming centers. It has an old-fashioned feel and an excellent choice for a relaxing resort.
When it comes to water experiences and some family fun in Wisconsin, enjoy one of the best getaways in Wisconsin by checking out Broughton Sheboygan Marsh Park or Fireman's Park.
Fireman's Park offers a typical picnic area with a sandy beach, while Broughton Sheboygan Marsh Park offers more of a variety of activities including campsites, fishing, and picnic areas.
Most resorts in the region also offer access to similar picnic areas and sites that are in close quarters to both of these parks.
5. Wisconsin Road trip at Door County
For those looking for: A truly relaxing experience
Door County is a popular spot for tourists and locals from Wisconsin and even neighboring states such as Illinois. As a result, Door County is one of the best places to visit in Wisconsin.
Door County offers a variety of opportunities to relax and enjoy the sunset. The reason? Door County has multiple state parks that tourists flock to during their off-days, such as on Memorial Day. Typically, the acres of land offers wonderful hunting, camping, fishing, and hiking opportunities.
It's particularly quaint when in fall foliage and considered one of the best things to do in Wisconsin in fall.
Quite frankly, Door County may simply end up being one of the most memorable visits when it comes to these activities. There are seemingly endless acres of land for you to enjoy, so definitely give it a try if you love the great outdoors.
Book here your wood log cabin in Door County
Almost limitless hunting, camping, and fishing capture the majority of things to do in Northern Illinois and southern Wisconsin. It is no wonder why tourists visit from across these two states.
For some more northeast Wisconsin activities, Door County has an assortment of beaches and resorts that are more than a safe bet. Some beaches have pebbles and rounded rocks which make it difficult to walk but are very relaxing with plenty of amenities nearby for a picnic. Other beaches offer softer sand, perfect for kids to swim in the nearby shallow water.
Two excellent hotels and resorts to consider are the Bay Shore Inn ** and Bay Breeze Resort. The Bay Shore Inn is a fantastic option to retire in when returning from the assortment of Wisconsin road trips from Wisconsin. Book here your stay in Bay Shore Inn.
The Bay Breeze Resort offers comfortable sleeping and wonderful access to private beaches. Book here your stay in Bay Breeze Resort
6. Marinette County a Fun Place to Stay in Wisconsin
For those looking for: A unique touristic experience in the state of Wisconsin
When deciding on the fun places to go in Wisconsin, Marinette County is a great choice.
You will find a host of communities that cater to the tourism experiences available in Marinette County. From outdoor activities to unique food and dining, Marinette County is one of the best places to vacation in Wisconsin
For all you foodies out there, there are a host of options for some good-old Wisconsin fun and Wisconsin activities. The Fire Winery and Seguin's House of cheese will be some of the best Wisconsin stops you will have!
The House of Cheese offers lots of creamy curds. Ranging from sweet to spicy; along with fantastic wines and fresh fish. Prepare your taste buds for a memorable dairy and wine-filled experience! The Fire Winery is a fantastic choice for a variety of wines to help end an entertaining afternoon with your loved one.
Book here your cabin getaway in Wisconsin
If you get the chance, take a day to visit Dave's Falls in the south of Amberg. It is an excellent choice for a wonderful outdoor experience and gives you another chance to view Wisconsin's beautiful waterfalls. It is picture-worthy and certainly memorable.
Easily one of the best vacation spots in Wisconsin; Marinette County offers great food, and a beautiful waterfall experience.
7. Amnicon Falls State Park, South Range
For those looking for: A big park and even bigger Waterfalls!
Amnicon Falls State Park is one of the top Wisconsin vacation destinations. In the Amnicon Falls Park, you will find an absolutely stunning park, as if it was made out of a drawing. You will find varying watercolors in the waterfalls, once again due to the minerals from the rocks.
When you decide to go see the Falls, you will find both an upper and lower falls. In both falls, you are more than welcome to have a dip or go for a swim. The streams are pure and the rocks dot the park beautifully.
You will eventually reach Amnicon Falls State Park bridge, connecting two parts of the park. Get a chance to take some pictures, and learn a part of its historical significance.
If you go in winter, prepare for a different experience in one of the best places to visit in Wisconsin in winter. Prepare to walk across soft snow-covered trails, with an opportunity to reach the famed snow-covered bridge. It is a truly exceptional experience and a chance for a Wisconsin winter weekend getaway.
While swimming is out of the question, there are still possibilities for catered hiking and exceptional opportunities to take pictures.
For a Wisconsin winter vacation, a trip to the Amnicon State Falls Park may be an underrated and exceptionally beautiful experience.
Book here your National Park pass
8. Lake Geneva is perfect for a Romantic Weekend Getaway
For those looking for: A wonderful time at a major state park
Lake Geneva often tops the list of Wisconsin lake vacations. The reason is greatly due to the fact that it is a resort city-based along Geneva Lake. It is greatly popular with tourists from Illinois and neighboring cities in Wisconsin. It's the ideal getaway from Milwaukee.
Read more about the best day trips from Milwaukee
How about deciding on one of the romantic weekend getaways in Wisconsin? Enjoy the fresh air and cool breezes coming from the Geneva Lake. From the assortment of beaches, cruises, and water sports, Lake Geneva is an exceptionally relaxing experience for you and your loved one. You can also spend a day at Lake Geneva State Park, where you can have a lovely picnic or take a long stroll. Book here your lake cabin in Lake Geneva
For a bit more excitement; try zip lining! For the first time, it can be an unbelievable experience, and a must-try if you want to make it a part of your memorable mini-vacations or cheap vacations in Wisconsin. The staff are very helpful, and will gladly answer any questions you may have. But the activity is quite simple: hop on and have a ride of your life!
For an excellent choice of Wisconsin lake vacation rentals or a chance of romantic day trips in Wisconsin cabins, check out the Ridge Hotel. The Ridge Hotel offers a variety of packages for love-birds. This includes spa, massage, and chocolate and flower deliveries to your room.
Within the area of the hotel, you have close access to Kettle Moraine, shopping centers, and a myriad of excellent bars and restaurants. Book here your stay in the Ridge Hotel
Related: Where to stay in Lake Geneva
9. Day trip in Madison
For those looking for: A visit to the capital for some exciting moments
Being one of the most vibrant scenes in Wisconsin, you will find an assortment of touristic activities and some beautiful scenery in the city of Madison. In the warmer months, Madison is great for the outdoors. Cycling along the excellent trails is a great option to work your leg muscles and enjoy a long, relaxing ride with your loved ones.
Madison is one of the most quaint and safest cities in the United States, so this is truly one of the most enjoyable experiences you can have.
Find here the best tours and activities in Madison, WI
In colder months, things to do in central Wisconsin include joining the majority of tourists by skating or playing hockey. People are really friendly in Madison and very welcoming. It is a very natural and relaxed culture and a great place to vacation.
For some proper touring, head to the Wisconsin State Capitol for a view of a massive white dome, and a chance to see some beautiful murals. Also, take the time to check out the Henry Vilas Zoo for a view of some amazing animals including bears, pandas, and an assortment of underwater creatures.
Otherwise, definitely head over to the Madison Museum of Contemporary Art for some interesting architecture and famous landmarks that make it one of the best places in Wisconsin. As a result, Madison is normally a top choice for Wisconsin vacation ideas.
10.Best Road Trip at Milwaukee
For those looking for: An exciting trip to the largest city in Wisconsin
Fear the deer! A city with many exciting spots, Milwaukee is one of the cool and fun places to stay in Wisconsin. What is there to do? Well, you can hit up a massive 200-acre zoo, or plan a day to view the Harley Davidson Museum . How about dining at one of the most popular steakhouses in the city? The options are plentiful, so get ready for a fun time in your one day trip in the largest city in Wisconsin!
Read more about things to do in Milwaukee
Among the many southern Wisconsin, attractions include the Milwaukee County Zoo, one of the most famous zoos in the United States. The Milwaukee Zoo combines an assortment of rare breeds of animals with really fun events. It is perfect for a family visit, or a trip with a significant other.
You probably won't believe it, but there are seasonal days where admission is absolutely free! This zoo is really a must-see if you find yourself in Milwaukee.
For meat-lovers out there, consider the "Rare Steakhouse" for delicious cuts of meat and fine wines. Easily one of the best steakhouses you will go to, with an older-school vibe and excellent service. A must-try for the hungry carnivores looking for a tasty dinner.
If you are looking for something unique in Wisconsin, what to do besides hitting up a Harley museum? The museum certainly contains hundreds of motorcycles but also sports a fantastic cooler vibe with a chance to see proud owners showing off their own personalized bikes. Even if bikes aren't your cup of tea, this museum gives you an opportunity to see how intense the passion is.
For a bike-lover, this very well could be your heaven.
Find here a selection of the best tours in Milwaukee
11. Peaceful Wisconsin Getaways at Kettle Moraine
For those looking for: Outdoor family fun
Kettle Moraine, or the Kettle Range, is one of the best Wisconsin weekend packages. You will find yourself learning more about geography, and experiencing one of the most popular spots in all of Wisconsin. Kettle Moraine is essentially a massive moraine; glacier and boulder-formed debris, with kettles all around it.
Quite simply, you will have the experience of seeing a massive state park with a variety of different moraines. Naturally, there is a variety of outdoor activities for you to entertain while visiting Kettle Moraine including fishing and camping.
Read more about the best day trips from Milwaukee
For an excellent fishing experience, definitely make your way to Ottawa Lake where there is a wide area for you to fish, swim, and hop on a boat. There is excellent accessibility for any impaired, along with wide, vast areas for you to enjoy in your time.
For a unique weekend trip to Wisconsin, have a shot with target shooting or even hop on a snowmobile if you are there in winter. The target shooting is located in a sports center in Kettle Moraine State Forest, and provides you with either guns or bows to fire some ammunition. An exhilarating experience!
Otherwise, make an initiative to go snowmobiling if you visit in winter. You will twist and turn your way along beautifully shaped trails, among tall trees and boulders around you. Most of the time, you will receive an immediate city-wide notification if there is available snowmobiling at the time depending on the weather or other circumstances.
In Kettle Moraine, The Tiki Beach Resort on Kettle Moraine Lake is one of the cool places to stay in Wisconsin. It has wonderful ambiance and is perfectly located. It is the perfect place to stay if you want more of a variety of activities when you stay in Kettle Moraine. It is also one of the very best romantic places to stay in Wisconsin, thanks to its fun ambiance and relaxing layouts.
Book here your stay at the Tiki Beach Resort on Kettle Moraine Lake
Whether you decide to fish, go hunting, or just relax under the sun, outdoor activities in Kettle Moraine is one of the best Wisconsin things you can do.
12. Romantic trip at Bayfield
For those looking for: Restaurants, Hotels, and an enjoyable Cruise.
A city in Bayfield County, Bayfield was originally a fishing community that is now home to an assortment of tourist activities. In Bayfield, you can expect to find cheap getaways in Wisconsin, along with some of the excellent romantic places in Wisconsin.
A popular event in Bayfield is known as the AppleFest that is hosted in October. It is a celebration of Bayfield's cultural heritage, where you can find stands or booths offering tons of food and refreshments. Furthermore, you can expect a variety of shows, events, and even an amusement park.
Book here your cabin getaway in Bayfield
In other sunny months, consider registering for a Grand Tour Cruise Service for at least a 4-hour long cruise and tour. The captain will show you the assortment of rocks, sea-caves, and islands scattered around from Bayfield onwards. You will also come across some unique wildlife, and get close-up views of nature at its finest. Consider this a romantic experience, or an adventure worth taking.
For those looking for a northern Wisconsin vacation rental, consider the Bayfield Inn. The Bayfield Inn is one of the best places to stay in Wisconsin considering the service, location, amenities, and excellent help for wherever you need to go.
13. Family getaway at Wausau
For those looking for: A green weekend getaway
If you ever really want to know whats in Wisconsin, Wausau offers a host of affordable romantic getaways in Wisconsin for families and vacations for couples.
A city right next to the Wisconsin River, Wausau is best visited in summer (due to the beautiful weather and soft sunshine) or winter (a chance for walking on snowfall trails).
In summer, take the time to visit the Rib Mountain State Park for a chance to go hiking on beautifully formed trails or to view unique habitats that surround the park. You also have an opportunity to hop on a ski lift, in order to see the beautiful colors of the natural forest all around you. This is also an excellent option for fall, where you can see the ever-changing colors of nature.
Nonetheless, you will have the opportunity to soak up some sun, and enjoy a relaxing day in nature. One of the best choices you can make in Wausau.
Hitting the slopes at Granite Peak for some skiing fun is also one of the best Wisconsin trips in winter. This lodge is just the perfect skiing spot for anybody in the midwest.
Find here the best hotels in Wausau
They have everything you need, from wide slopes to a beautifully formed drop for you to enjoy. Be sure to get your tickets a few weeks in advance if you want to get up there without a problem. It is a very popular ski resort so be on time!
Other things to do involve hitting Wisconsin Dells, right next to the Wisconsin River. Things to do near Wisconsin Dells include heading to a water park, for fun rides and family experience. Mt. Olympus is your safest bet here, and is large enough to accommodate the floods of tourists and locals in summer.
RELATED: Fun Things To Do in Wisconsin Dells
When you are near Wisconsin dells, what to do besides hitting another water park? Noah's Ark is another great option, and anyone who loves water parks will know why. The rides are fun and expect less traffic than in Mt. Olympus. Either way, you are going to have a wail of a time!
Find here the best hotels in Wausau
14. Fun Kayak Activity at Chippewa Valley
For those looking for: A Great valley, with some fun summer activities
If you decide to head to Wisconsin this weekend, Chippewa Valley offers the Big Falls and opportunities to fish or paddle alongside the Chippewa River. Two great options for some summer fun and entertaining activities in Chippewa Valley.
Look at any of the map of attractions in Wisconsin, and the Big Falls of Chippewa Valley will surely come up. Big Falls offers what you would expect: tumbling waterfalls on rock ledges surrounded by small islands everywhere you go. Chippewa Valley and Falls were named originally by the Indian settlements, and you can clearly see the cultural and historical remnants of these lands.
Next, take the opportunity to fish or paddle alongside Chippewa River, or do both! You will find many canoers or kayakers strolling across the river, which flows on at about 180 miles. It is an extremely popular spot for fishermen looking to land their next batch of sea bass.
For more fun stuff to do in Wisconsin, check out Irvine Park; home to the Irvine Zoo which is a very popular attraction for locals and tourists.
15. Hike at Chequamegon-Nicolet National Forest
For those looking for: A massive forest for a memorable adventure
If you find yourself wondering what to see in Wisconsin, look no further than the Chequamegon-Nicolet National Forest. Over a million acres of wide forest land for you to explore, so make sure you have a small map and your car nearby at all times! The National Forest is one of the fun places in Wisconsin, and certainly one of the top things to do in Wisconsin.
Book here your National Park pass
The Chequamegon-Nicolet National Forest is home to remote areas of pure natural forest including a vast array of bogs, rivers, meadows, and giant trees. Expect to see some interesting animals, such as owls, raccoons, and chipmunks as soon as you arrive. The forest is so vast, that it is very easy to get lost.
Always have your map handy, and keep the car closeby so you can retrace your steps. Luckily, you will most likely find similar tourists around no matter where you decide to venture in this massive park.
Book here your National Park pass
Naturally, the National Forest is home to a variety of recreational activities including camping and fishing. If you decide to go in winter, expect hiking on snowy trails and seeing the forest in a completely different light. It is up to you to decide which experience you prefer, but know that there will be thousands of tourists similar to you!
Be sure to carry an excellent camera with you, in order to snapshot the forest's heritage and natural history. The Chequamegon-Nicolet National forest is easily an excellent option for fun day trips in Wisconsin, whether you decide to go in June or November.
---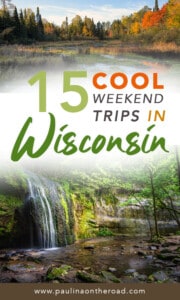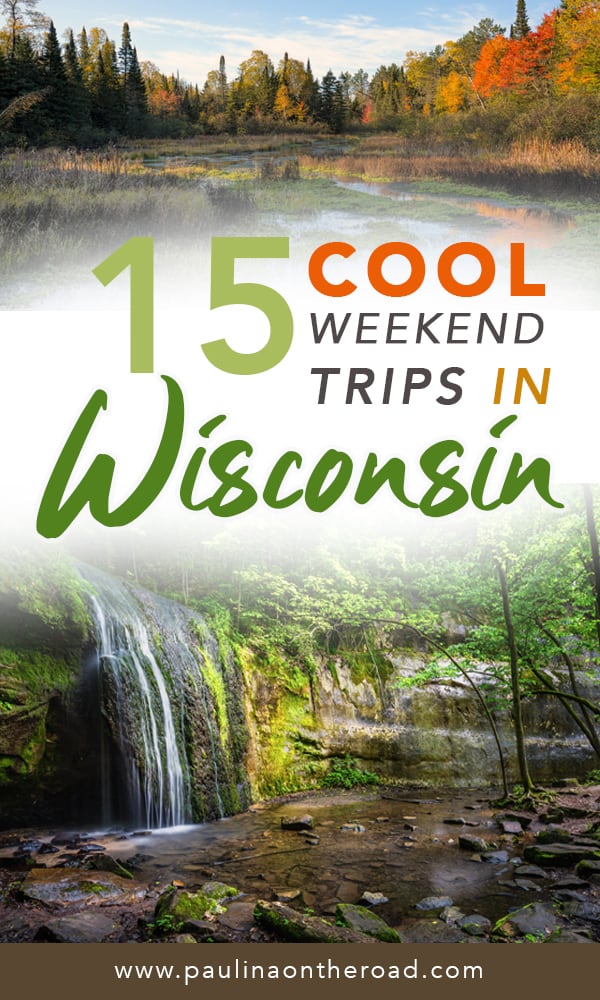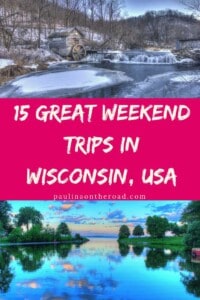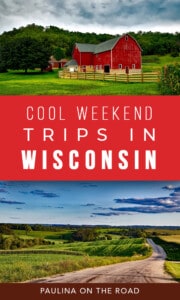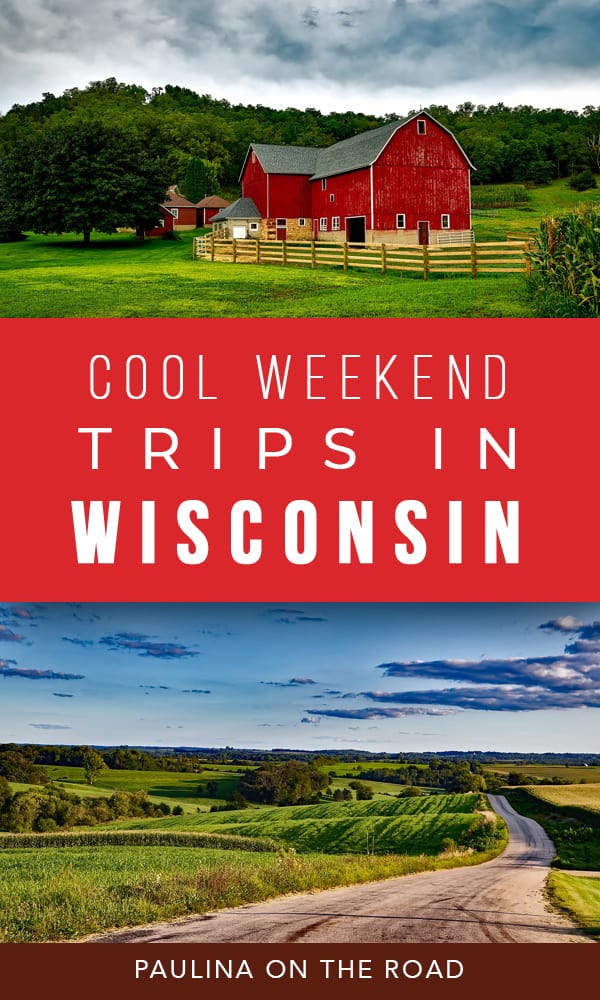 ---
Before You Go: Top Tips for your Trip
To make the most of your trip, I recommend Lonely Planet Eastern USA (get -10% off with code "PAULINA10")
---
---