Best Vegan Hiking Boots For Her & Him
A buying guide for the best vegan hiking shoes for men & women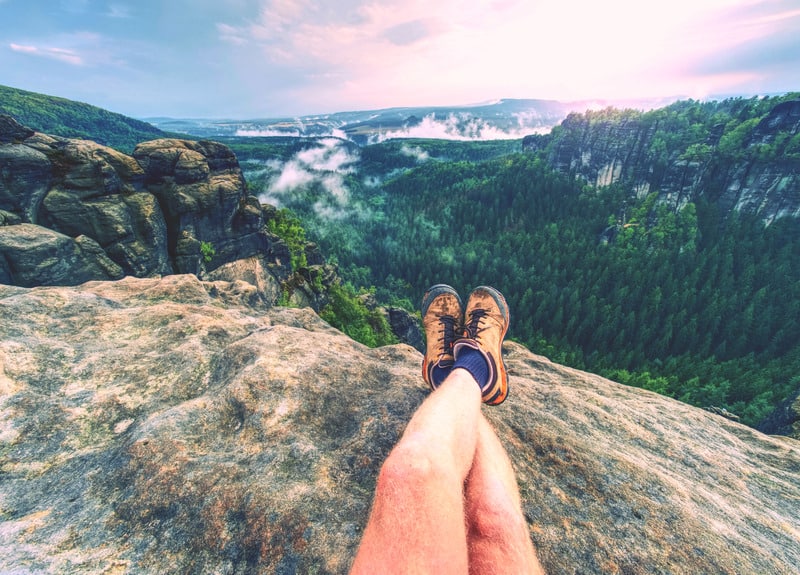 Implementing ethical standards, and more precisely conserving the environment, is becoming more and more a key element when producing or buying outdoor gear. The focus of customers has also shifted from harsh leather products to vegan ones.
If you are an outdoor lover and looking for vegan hiking boots, this guide will introduce you to the best vegan hiking shoes… all of them 100% free of any animal products!
Not only will these boots last for the lifetime but they will also make sure that you get the same level of comfort every time you use them. Such products not only keep the environment preserved but in many cases also clean it by using recycled material.
Are you wondering about the best vegan hiking boot brands? This article will provide you informative insights that will help you to find the best vegan hiking boots for men and women.
What are Vegan Hiking Boots?
Regular hiking boots are often made with regular leather, which means that animals had to die for it. In 2019, about 240 million animals were killed for leather and by 2025, this number is expected to rise to 430 million!
Vegan-friendly hiking boots and shoes are made without any animal ingredients or byproducts.
Very comfortable, vegan boots are also known to last longer and fulfill ethical standards that traditional boots cannot. As per the standards, there is no animal leather used in the making of such boots.
How to choose Vegan Hiking Boots?
Some brands label the entire sections as leather-free so that the potential customers get to know the products that are animal and environment friendly. More and more brands are also using faux leather to replace standard leather.
When buying hiking boots online, there are 3 things you need to keep in mind.
Fit: online sellers provide great insights to find the perfect fit.
Material and components: understand what materials have been used for uppers, lowers, midsoles, outsoles, and other parts of a boot.
Type: Decide on what activity you want to do with the shoe you're buying. From mountaineering to easy trails, there's a type of shoe for almost each hiking activity.
The good news is that Gore-Tex®, a lightweight, windproof, waterproof, and yet breathable membrane used in countless hiking boots, is completely vegan!
Vegan boots are generally lightweight and durable. On top, vegan hiking boots don't necessarily need to be expensive. This article will provide you plenty of options for smaller budgets too. As this is a relatively new field, work is being done constantly to improve the design of vegan options.
Vegan Hiking Shoes: is it worth the investment?
The answer is certainly yes! Your purchase will have a positive impact and that alone is worth the investment!
You'll do good to the animals but also to the environment as the processes that are associated with vegan boots create minimal pollution. The carbon footprint of these shoes is almost negligible too.
Nowadays, vegan boots are widely accepted in the fashion, outdoors and sports industry. In many cases, vegan shoes last much longer as compared to the synthetic ones, so this is definitely worth the investment!
Best Vegan Hiking Boots & Shoes for Women
Ethical Aspect: Gore-Tex® lined inner sole and bootie
The inner bootie can be removed and this makes this boot one of the best on the market. This boot has a superior performance in all environments, wet or dry.
Though the price is a bit high, it does not fall short on metrics. The stability that it provides has been tested by independent reviewers and is found to be perfect! These warm vegan boots never let cold air reach your feet and you never feel your feet damped either.
Check rates & reviews on:
REI.com – Amazon
---
Ethical Aspect: Double Injection DynaPU and LOWA vegan rubber
Price range: $$
PROS:
Lightweight materials that provide good stability
Breathable which means that your feet never get clammy
CONS:
A flat lower sole that may become hard over time
The optimal stability makes this hiking shoe one of the best for light treks. It's a great fit for women that love hiking and trekking. It's ideal for outdoor activities and therefore, some of the best shoes that are on the market! Among vegan hiking boots, this is a great companion for women as it provides protection to feet and keeps the ankles stable.
Check rates & reviews on:
REI.com – AlpineTrek (UK)
---
Ethical Aspect: Vibram mega grip rubber, thermoplastic polyurethane, and EVA, all of them environmentally friendly
Price range: $$
PROS:
3D-molded insoles which provide a great fit for any feet
Ideal in wet weather as they are covered by Gore-Tex® membranes
CONS:
The tongue could be a bit wider
The Konseal FL GTX Approach hiking shoes are the best for variable terrain as they support the ankles. The shoes are lightweight kudos to the developers that have kept the minimalist design. With the best material usage and long-lasting durability, this shoe will give you a lifetime experience!
Check rates & reviews on:
REI.com – AlpineTrek (UK)
---
Ethical Aspect: Gore-Tex® breathable membrane, polyester mesh, thermoplastic urethane, and Vibram mulaz rubber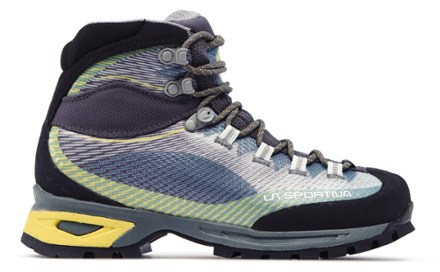 Price range: $$$
PROS:
Extremely lightweight
Durable
3 D flex supports the ankle and its mobility
CONS:
The rubber under the toe and heel that may wear out over time
Though a bit pricier, the La Sportiva Trango TRK GTX Hiking Boots get you the comfort that is beyond words! The best part is that their soles can be renewed which means that you never have to look for another pair!
La Sportiva is a popular brand among the alpinists and they gave this product a good rating because of its viability on rough terrain.
These vegan hiking boots for women are considered among the best on the market!
Check rates & reviews on:
REI.com – Amazon
---
Ethical Aspect: EVA, Quantum gripped rubber and Gore-Tex® membrane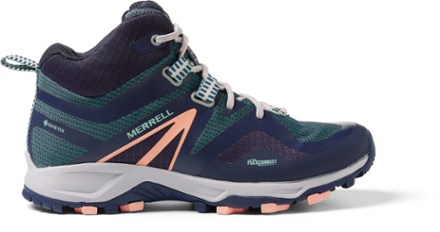 Price range: $$
PROS:
Great traction on uneven terrain thanks to the quantum gripped rubber
Air cushions beneath the sole that provide stability and do not let shocks reach your body
CONS:
The mesh-based upper and lower soles keep your feet dry in a wet environment while the shoes still being breathable. The insoles can be removed to increase the flexibility of the product.
It's a product for rocky terrain and trekking. The Merrell MQM Flex 2 Mid Hiking Boots have been designed to keep the debris out all the time. On top, Merrell is known for being one of the best vegan shoe brands.
Check rates & reviews on:
REI.com – Amazon
---
Ethical Aspect: Water repellent nylon and quantum gripped rubber
Price range: $$
PROS:
4 season protection with the thermal sole
Great minimal design
Lightweight
Durable
CONS:
Sole protection may wear out
The fabulous Tracker FG Women's by Vivobarefoot are vegan friendly as waste plastic has been used in the production process. They also integrated thermal regulation to get the protection thrice as normal boots.
The traction and durability have been added with the help of high abrasion outsole.
The best part of this pair is that it comes with 100 days of guarantee! If you change your mind within the timeframe, you'll get a 100% refund!
Check rates & reviews on:
VivoBarefoot
---
Ethical Aspect: Made of recycled polyester and plastic waste
Price range: $$$
PROS:
Quick dry which makes them ideal for all-weather and trails
The 5 mm lugs integrated make it ideal for any terrain and add to the comfort
CONS:
The Astral Women's TR1 Junction Minimalist Hiking Shoe is perfect for hikes with rivers or waterfalls since it's a hiking and water shoe in one!
The polygene that is used drains the water quickly, resulting in zero smell, and vent holes on the front and back keep the feet cool.
The footbed has been leveled so that stability is provided. The boots are lightweight so they never hamper your performance.
Check rates & reviews on:
Backcountry – Amazon (UK)
---
Best Vegan Hiking Boots & Shoes for Men
Ethical Aspect: Gore-Tex® lining and recycled polyester and they are 100% vegan shoes!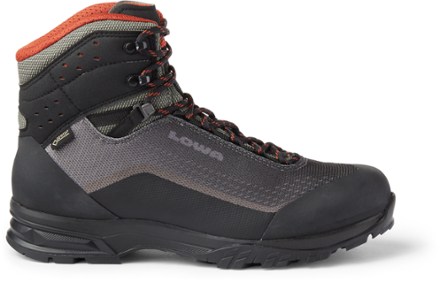 Price range: $
PROS:
Athletic design
Highly breathable
Awesome draining to keep your feet protected
CONS:
Non-replaceable rubber sole
As per the developers, the Lowa Irox GTX Mid Hiking Boots are exclusively developed for hill walking, hiking, and trekking.
The rubber soles and heel bumpers were added to this new athletic design to make sure that you get maximum protection against shocks.
The upper sole and protection have been especially emphasized to take the concept of development to the next level.
Check rates & reviews on:
REI.com – Amazon (UK)
---
Ethical Aspect: TPU film, recycled polythene, Gore-Tex® membrane, injected thermoplastic, and synthetic materials such as nubuck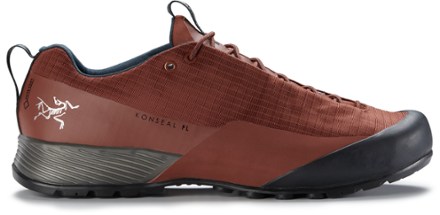 Price range: $
PROS:
Injected EVA covering both the top and the bottom of your foot
Integrated 3D models (consisting of Ortholite) on the sides to provide maximum comfort
No matter the terrain, the Arc'teryx Konseal FL GTX Approach Shoes have been designed to provide great ankle support. The all-weather support is enhanced with the help of Vibram mega grip rubber which also keeps the feet warm.
The product is a great option as it is waterproof and becomes sticky on tricky trails due to the TPU film. It means that even on the rough tracks, this product performs at its very best!
Check rates & reviews on:
REI.com – AlpineTrek (UK)
---
Ethical Aspect: Made up of mesh and polyurethane tech lite, EVA, recycled trek rubber
Price range: $$
PROS:
Extremely long-lasting
STB control system to ensure stability
CONS:
Two variations are made for this product. The La Sportiva Stream GTX Hiking Boots are perfect for both rock climbing and intense treks. They provide an amazing level of comfort during both activities.
The flawless performance and durability of these boots are all that you need to get going on extensive hiking trips. Many users love them for their great functionality and everlasting ankle support.
Check rates & reviews on:
REI.com – AlpineTrek (UK)
---
Ethical Aspect: Recycled plastic mesh tongue, polyurethane insole, EVA foam, and G15 rubber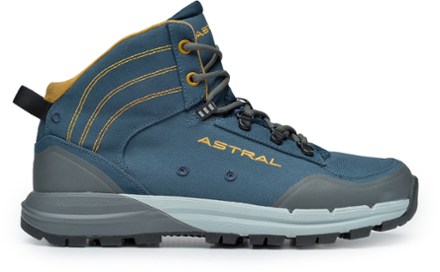 Price range: $$
PROS:
Extra protection to save the foot from shocks and fatigue on rough trails
Natural walking and barefoot positioning ensure that you get a natural walk
CONS:
Be careful with sizes as they tend to come smaller!
If you want to make your hiking easier than ever, you must get your hands on the Astral TR1 Merge Boots! They are extremely lightweight and do not let water damp your feet.
The G15 rubber integration makes the grip very sticky and tight on the ground. The materials used are soft and give maximum protection to the feet.
Many wearers swore by the extraordinary lightness of the TR1 Merge!
Check rates & reviews on:
REI.com – eBay (UK)
---
Ethical Aspect: Polyurethane toes, Gore-Tex® membrane, EVA foam inserts, and Vibram XS trek rubber
Price range: $$$
PROS:
Nano 2.0 mesh that provides breathability to your feet
Extra tough exterior to protect feet under all circumstances and terrains
The La Sportiva Spire GTX Hiking Shoes have been designed keeping in mind the protection from mud, rain, and streams. Vents are patented which means that you will never find your feet sweaty and damp.
Comfort has been taken to the next level thanks to the Vibram trek soles that provide extra stability and responsiveness.
The Gore-Tex® membrane makes it perfect for waterproof hiking trips!
Check rates & reviews on:
REI.com – AlpineTrek (UK)
---
Ethical Aspect: Recycled nylon, recycled thermal insole, virgin rubber, and EVA foam.
Price range: $$
PROS:
Abrasion-free
Long-lasting
Highly durable materials used
Thermal insole integrated makes sure that your feet remain warm in extremely cold environments
CONS:
They need a little longer to dry
The Magna Trails perform equally well on rocky and wet surfaces. The animal-free materials, as well as the durability of the product, make it one of the best vegan hiking shoes on the market!
The highlight is the no-sewing construction which makes this boot durable and flexible, with a fabulous minimal design.
Check rates & reviews on:
VivoBarefoot
---
Ethical Aspect: Waterproof recycled nylon, eVent, dual EVA foam, Vibram rubber, and dual polyurethane cushioning
Price range: $$
PROS:
Breathable eVent to get your feet and boots dried in no matter what circumstances
25mm under sole height thus ultimate comfort feeling
The Altra's Lone Peak hiking boots have been granted the APMA seal. The American podiatric medical association certifies that the product is sure to deliver the best results to your feet!
The gaiter trap can also be purchased separately to ensure that you get the gaiter support. For underfoot protection, you get a stone guard which is just like the bones in the foot to maximize guard.
Check rates & reviews on:
Amazon (US) – AlpineTrek (UK)
---
Interested in sustainable fashion? You'll love these:
---