A guide to the best things to do in South West Portugal incl. stunning beaches and tasty wine
Are you the type of traveler who likes to venture off the beaten path? If so, then a road trip along Portugal's Costa Vicentina is just for you!
Located on the country's southern coast, this stunning coastline has some of the best-kept secrets in Europe.
From beautiful beaches to secret coves and vibrant villages that still hold true to their culture, there's something for everyone!
So if you're ready to explore somewhere new and exciting, pack your bags and hop on board — we're going on an adventure through one of Old World Europe's most well-preserved landscapes!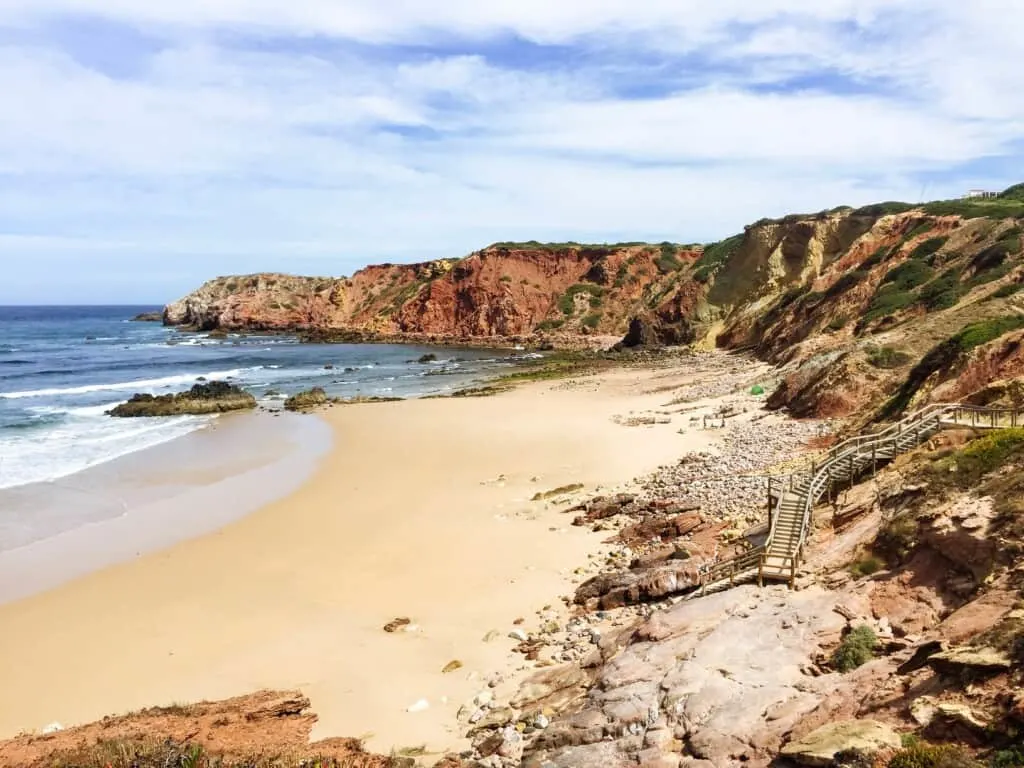 Pssst…!! You can't get enough of Portugal? Have a look at the other posts I wrote about Portugal:
"Paulina on the Road" is supported by you, dear reader. As you buy through my links, I earn a small commission. As an Amazon Affiliate, I earn from qualifying purchases. Thank you for your support
Useful Travel Information About Portugal
✈ Book cheap flights to Portugal with Skyscanner

✔ Book tours in Portugal with Viator

➳ Find the best hotel deals in Portugal with Trivago

❖ Rent a car with the best discounts at Discover Cars

☘ Get the best discounted outdoor clothes (outlet) at REI.com

✎ Never leave without travel insurance. I got mine at HeyMondo. It is cheap and easy to set up.

$ Withdraw money without hidden fees and avoid exchange rates with Wise (you'll get a free card!)
Top things to Do on a Costa Vicentina Road Trip, Portugal
The Costa Vicentina is incredibly diverse and merges, both the Alentejo countryside with the impressive and rugged coastline, and beaches that line this stretch of coast.
It's a true paradise for nature lovers and outdoor enthusiasts who want to escape the crowds and visit a part of Portugal that is still very much undiscovered.
Here are some of my top recommendations for things to see and do in and around this region, the South West coast of Portugal, also known as the Costa Vicentina.
Related: 7 Reasons Why You Need to Visit Alentejo
1. Enjoy the Breath-Taking Beaches of Costa Vicentina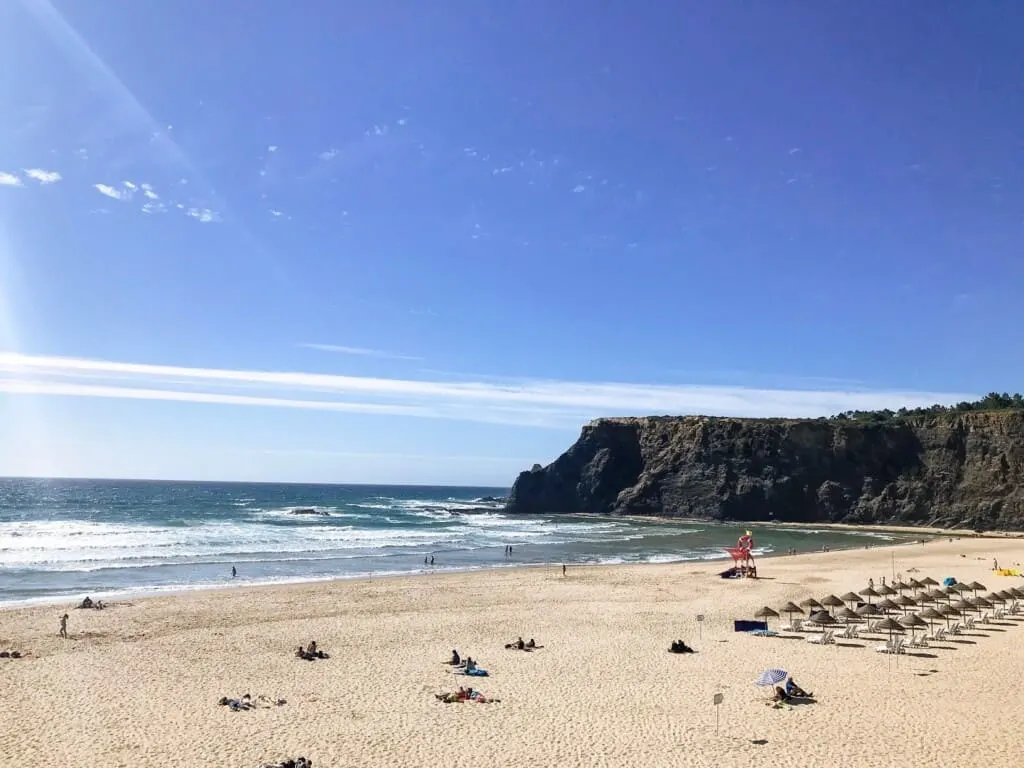 The glimmering coastline of the South West Coast of Portugal stretches along for miles on end and offers up some of Portugal's most beautiful untouched beaches.
From the popular surfing beach of Praia de Amado, with its colorful rock formations and cliffs, to the large and expansive Praia de Odeceixe, flanked on either side with rugged cliffs and at the back with its own lagoon flowing into the sea.
Traveling along this coast, you'll find a beach on the beach, some more deserted than others, but each one uniquely different too!
Do you want to learn to surf? Check out the Surf Seixe Academy based on Praia de Odeceixe. Here you can take part in both group, private or even family surfing classes, and learn to surf like a pro!
2. Hike Rota Vicentina – Historical Way
One of the biggest drawcards to the region is undoubtedly the Rota Vicentina that offers, both hiking enthusiasts and cyclists, the opportunity to take advantage of several different walking and cycling routes.
They range in level of difficulty and length, with each offering a different vantage point and landscape from which to enjoy this region.
The cycling trail includes 38 different circular routes that span over 1.000 km and includes a long-distance and mountain-bike trail too.
On the other hand, the hiking routes offer up 3 different options to choose from that covers approximately 750 km in total!
Not surprisingly, Rota Vicentina has some of the best Algarve hikes in the whole region.
The Rota Vicentina routes offer a truly spectacular way of exploring this region. Where else will you be able to cycle along the stunning countryside, passing cork plantations, or hike along gorgeous cliff tops overlooking the Atlantic Ocean?
If you're not particularly keen on cycling or hiking, don't rule this area of Portugal out though!
There are tons of other great outdoor activities ranging from horse-riding, surfing, and kayaking, as well as a host of other water sports and land-based experiences.
It's also the perfect occasion to bring your vegan hiking boots or backpack made from recycled material.
3. Exploring whitewashed villages near Rota Vicentina
One thing that you'll notice fairly quickly when visiting the Costa Vicentina is that this region oozes charm and still retains its authentic slow-paced Portuguese way of life.
When visiting this region, I love to explore all the gleaming white-washed villages and fisherman towns.
Here you'll be able to get a real sense of Portugal as you'll explore the gorgeous towns, sample the incredible traditional cuisine or simply take in the changing landscape as you'll hop from one town to another.
Some of my favourite villages to explore in and around Costa Vicentina are
Vila Nova de Milfontes
Zambujeira do Mar
Odemira
Aljezur
4. Head down to the nearby Algarve
Of course, you don't have to stick to the countryside roads or beaches of the Costa Vicentina either!
Given its locality, you can easily embark on your own Southern Portugal road trip, starting in Lisbon, heading to Costa Vicentina, and then continuing on towards the pristine beaches of the Algarve.
From the southernmost tip, Sagres, it's only a mere half an hour to the popular beach town of Lagos in the Algarve.
Lagos is undoubtedly one of my favorite Algarve destinations and has, in my personal opinion, some of the most stunning beaches in the Algarve too!
There is a myriad of things to do in the Algarve, and in case you're wondering where to stay in the Algarve, I recommend Lagos or Faro. Algarve is a great travel destination all year round.
However, if you want to escape the crowds, you should consider Algarve in winter. Make sure to have a look at the best Airbnbs in Algarve to explore Algarve like a local.
5. Go Horse Riding in South West Portugal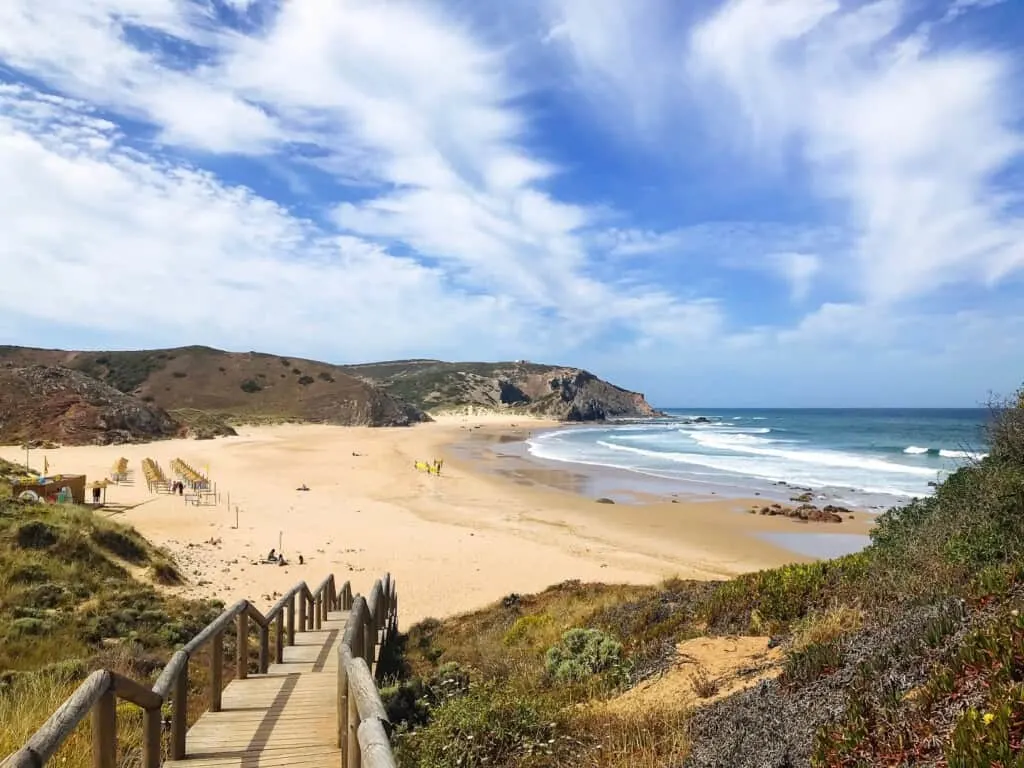 The Costa Vicentina region is not only about hiking, cycling or exploring the stunning coastline, nature, and traditional villages and towns. It's so much more than that!
In fact, the entire region offers a truly spectacular array of unique experiences and tours, suited to each preference.
Do you love horse riding? Do you love fancy a ride along the beach or through the dunes and mountain trails?
Then, be sure to head to Porto Covo and sign up for one of Herdade do Pessegueiro's equestrian!
These include either a 1 h horseback ride, or for more experienced riders, a full 1-week horseback tour where you'll get to ride through and explore some of the most scenic spots in this region.
6. Visit a Gin Distillery in Alentejo
Whilst gin may not be the quintessential traditional Portuguese drink, it has grown in popularity over the years.
This has resulted in new gin distilleries popping up around the country, and the Costa Vicentina is no exception!
Located in Vila Nova de Santo André, lies one such distillery; the Black Pig Alentejo. Here you'll be able to sample and buy not only their Black Pig Gin but also the traditional Portuguese firewater (also called "Medronho").
When visiting the distillery, you can partake in some gin or rum (medronho) tastings or even walk through and explore the farm where the distillery is located on.
It's only one of many reasons why you should visit Alentejo.
7. Go Wine-tasting in Alentejo, Western Coast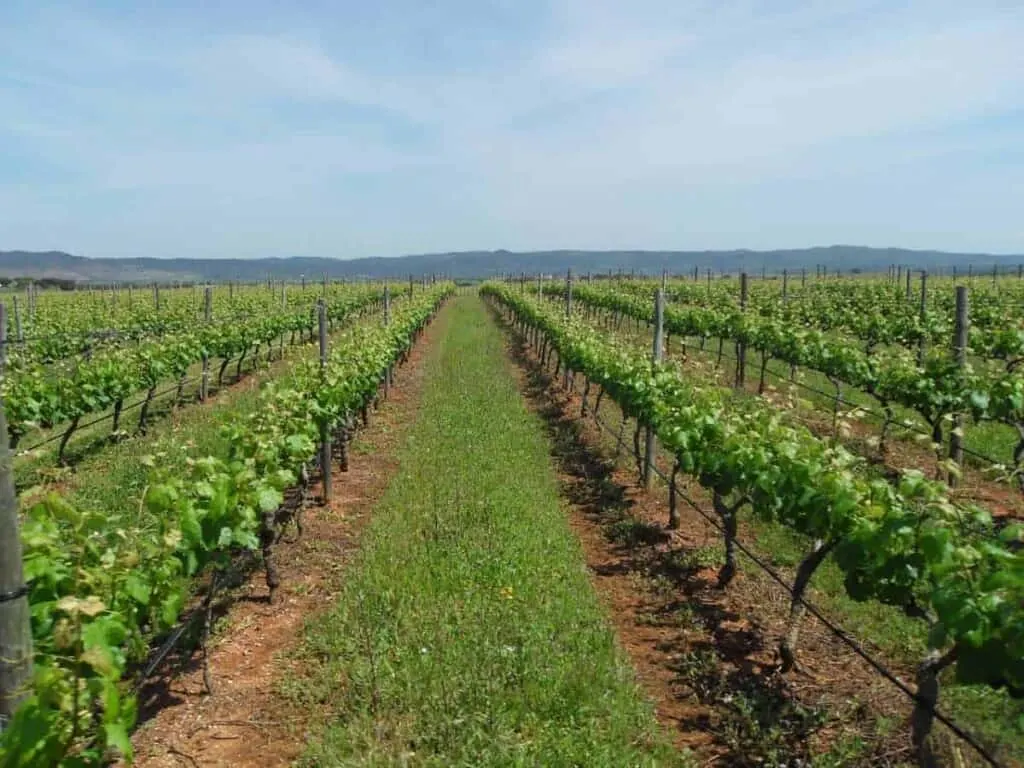 Following on my theme of Portuguese drinks, let's talk about wines! Yes, Portugal has long since been regarded as a top wine-producing country.
But many visitors and wine lovers don't realize that Portugal boasts several different wine regions, all offering their own distinct and award-winning wines.
And this part of Portugal is no different! Located a short 30 min drive from Porto Covo, you'll come across the Herdade do Cebolal wine farm, a family-run farm that dates back to 1876.
Since the farm is located around only 10 km from the ocean, the fresh sea airprovides a fresh and acidic wine.
Infusing new technologies, and with a key focus on preserving the environment, this wine farm is definitely worth a visit when exploring the region!
Phone ahead and book your wine tasting (a minimum of 2 people!) or book a lunch or dinner (a minimum of 6 people!) and sample some of Portugal's best wines. – Check tours here
Ready to hit the West Coast of Portugal?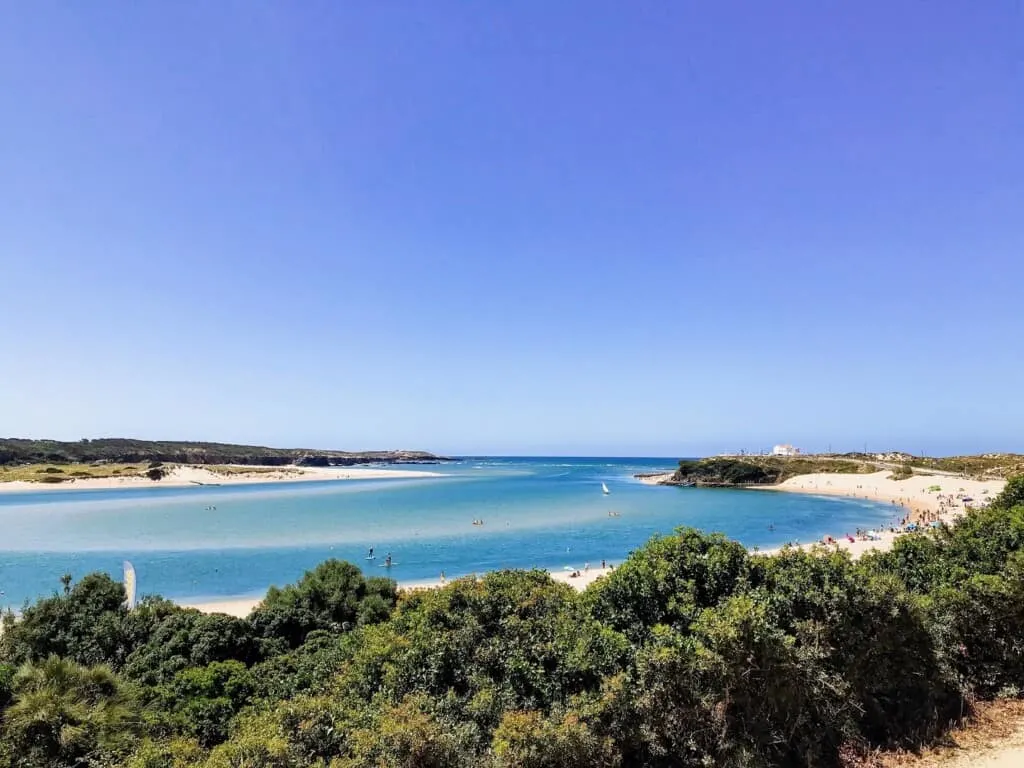 I've absolutely no doubt in my mind that you'll love exploring this unique and diverse part of Portugal!
Given that there's so much to see and do in and around the region, and that it's still fairly hidden from the mainstream tourists visiting Portugal, it's the ideal place to visit now, before everyone else gets in on the secret too!
How to get to Costa Vicentina:
The Costa Vicentina, located along the South West coastline of Portugal, is situated between a 2-3 hrs drive south of Lisbon and only around a 01h30 drive from the Algarve, depending on where you travel to, and from within the region.
Considering that this small corner of Portugal is still very rural and unexplored, you'll definitely need to hire a car in order to travel around freely. – Check the best deals here
---
About the author: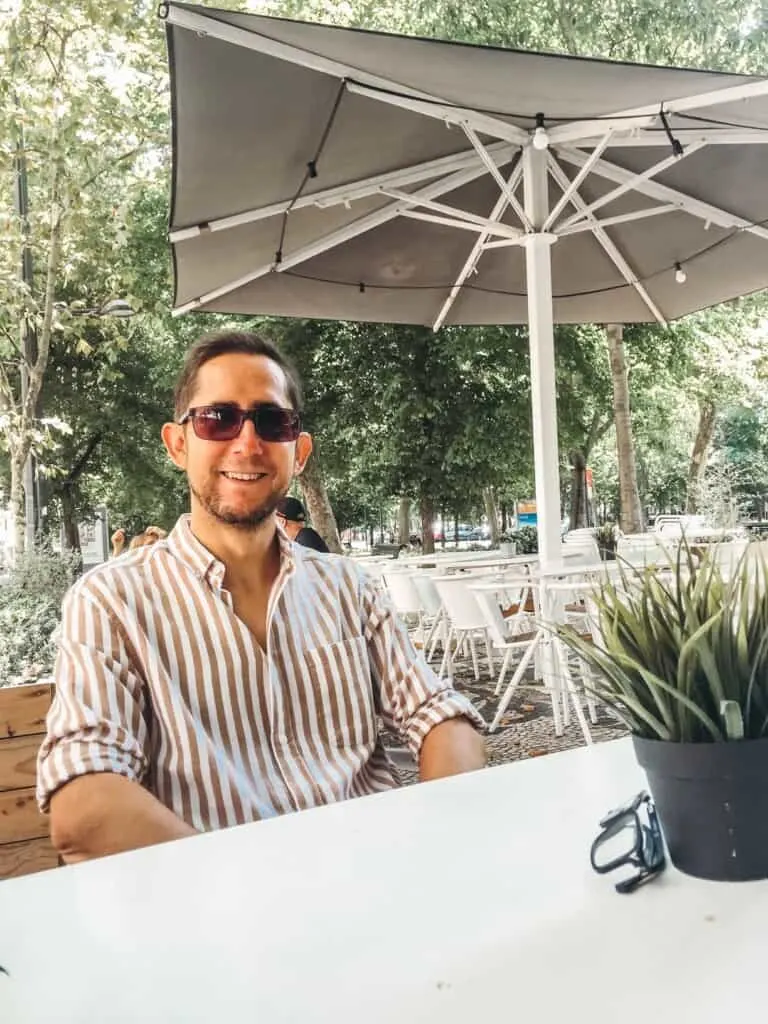 Born and raised in South Africa, Marco Santos from Travel-Boo moved, together with his partner, to sunny Lisbon over 2 years ago. With an absolute love for Europe, he's on a mission to rediscover his own Portuguese heritage along the way. Marco has set out to blog and share his passion for travelling through and exploring both Portugal, Spain and throughout Europe, through his blog Travel-Boo.
---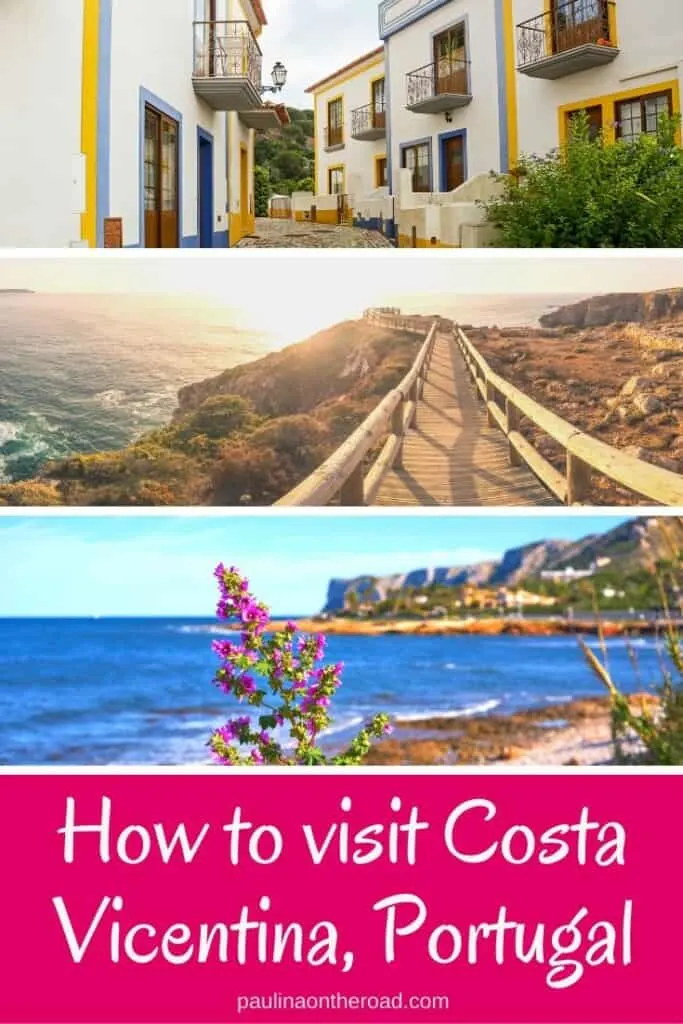 ---
Hola! I am Paulina, a fervent travelette who crossed the Atlantic Ocean by Boat HitchHiking. On my blog, you'll find all the tips to make the most of your holiday. Get ready to enjoy outdoor and sustainable travel like hiking, cycling or sailing. Let's hit the road together!