17 Fun Things To Do in Algarve, Portugal
What to do in Algarve, Portugal: all the best Algarve activities, attractions, and things to do in South Portugal
Portugal has become one of the hottest travel destinations on this planet.
Although it was once one of the poorest and most isolated countries in Europe, the end of dictatorship and the introduction of democracy in 1974, lead to significantly increased prosperity.
Nowadays Portugal is one of the best value destinations in Western Europe and its highlight is the Algarve. This guide will tell you the best things to do in Algarve.
This little country definitely has got it all: breathtakingly green mountains in the North, covered with vines, an almost desert landscape in the Alentejo region and finally the spectacular golden beaches in Algarve.
There is a lot of stuff to do in Algarve, you certainly won't run out of things to do.
Thanks to affiliate links, I can pay my bills. If you make a purchase through them, I may receive a small commission (for which I'm deeply grateful) at no cost to you. All opinions are always mine. Merci!
Useful Travel Information About Algarve, Portugal
⚘ Avoid tourist traps with the customizable "Algarve Like a Local" itinerary. – Get it here for 9.99€

✈ Book cheap flights to Algarve with Skyscanner

✔ Book tours in Algarve with GetYourGuide

➳ Find the best hotels in Algarve with TripAdvisor

❖ Rent a car with the best discounts at Discover Cars

☘ Get the best discounted outdoor clothes (outlet) at REI.com

✎ Never leave without travel insurance. I got mine at HeyMondo. It is cheap and easy to set up.

$ Withdraw money without hidden fees and avoid exchange rates with Transferwise (you'll get a free card on top!)
Why visit Algarve, Portugal?
Algarve, Portugal is the country's most popular tourist destination with breathtaking cliffs, sandy islands, and delicious food. Its golden beaches with awe-inspiring rock formations and scalloped bays made it a coveted destination among ocean lovers, watersport fans and even foodies.
Especially in winter, the Algarve is a real gem.
Deciding what the top things to do in Algarve, Portugal can be quite an overwhelming task. So I compiled a variety of travel bloggers' favorite things to do in Algarve, Portugal.
Do you wonder what to do in the Algarve, Portugal? This guide will tell it all, as well as recommendations for where to stay in Algarve and the best tours to take!
Spoiler: there's lots of swimming, so don't forget to pack your sustainable swimwear!
You'll find a map with all the spots at the end of the post.
---
1. Praia da Marinha Beach
If you see a photograph of the Algarve coast, chances are high that it's showing the Praia de Marinha.
The wild beach with its iconic limestone formations, the steep cliffs, and the turquoise water… it's one of the most beautiful beaches in Europe and a top destination in Portugal. You really don't wanna miss it!
Although Praia de Marinha is somtimes listed as one of the top things to do in Albufeira, it is quite outlying between Portimão and Albufeira, and it's advised to get there by car. Even though this isn't too handy, it almost guarantees that you will never find this beach as too crowded.
From the car park, long stairs are leading you down to the shore and you can take a nice long walk along the beach. With its crystal clear waters, it makes an excellent snorkeling spot as well.
If you have more time than just stopping by, the cliff path between Carvoeiro and Praia de Marinha (12km roundtrip) is the insider tip for everyone who enjoys a good hike. It's not the easiest walk though but great for those in need of a bit adventure and some spectacular views.
Best Place to Stay Near The Sight : Suites Alba Resort & Spa *****
Top Activity To Do: From Lagos: 2-Hour Kayak Cave Explorer Tour
2. Boat Trip from Lagoa to Praia da Marinha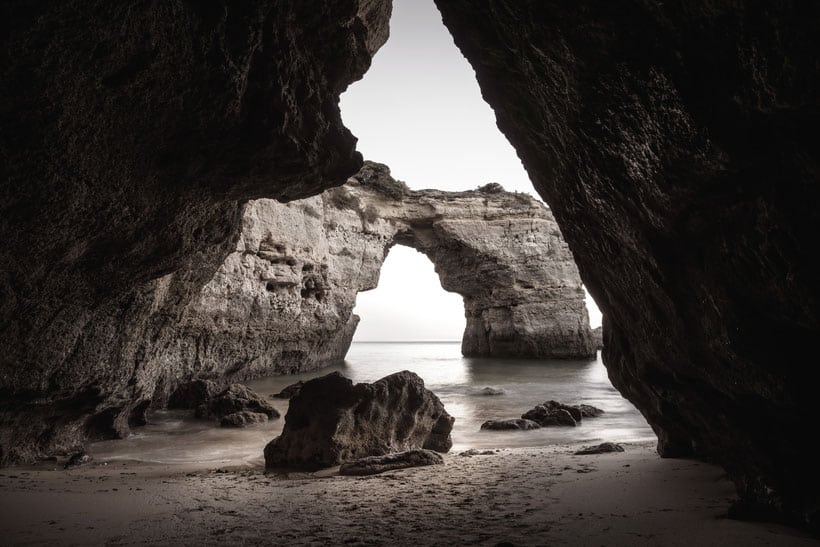 Covered with soft golden sand, and surrounded by steep cliffs and stunning rock structures Praia da Marinha is a beautiful and quiet beach situated very close to Lagoa.
Often referred to as one of the top beaches in Portugal, it is certainly the best beach in Algarve. With that said, it is definitely something that you don't want to miss when visiting.
Despite being a top recommendation of things to do in Algarve, Praia da Marinha is surprisingly quieter than most of the other beaches in Algarve.
This makes the experience of visiting this gem even better as you snorkel through it's calm and clear waters with just you and the amazing marine life that swim close to the enclosing cliffs.
The cliffs surrounding the beach also present an outstanding walking trail and opportunities for countless breath-taking views of crystal clear turquoise water and magnificent landscape views.
Once that's done you can follow the coastline of Lagoa by boat. A boat trip here is a must, you won't be disappointed. While cruising the still North Atlantic waters you'll discover some impressive caves and grottoes that are great for a bit of adventurous exploration and diving.
Best Place to Stay Near the Sight: Villa Vale Formoso
Top Activity To Do: From Lagos: Algarve Golden Coast 4-Hour Cruise
3. St. Vincent's Lighthouse – Sagres
If you're headed to Portugal, odds are you love beaches and the ocean. And if you love the ocean, you'll enjoy visiting the most southwesterly point in Europe, which happens to have a majestic lighthouse on it and is one of the top things to see in Algarve.
The St. Vincent lighthouse, in its current form, was built in the 1800s and serves as a guide to large and small ships heading toward Spanish and Portuguese ports in the area.
Visiting the lighthouse is a treat that shouldn't be missed. The history of lighthouses on that the point stretches back 500 years, nearly to the time Columbus sailed toward the New World.
Entrance to the lighthouse is free (donations gratefully accepted) and the views from the top of the lighthouse stretch out for miles up and down the coast. These views are the best thing. The second best is the deep history surrounding you.
You can see how the lighthouse functions with its new technology and how different it was from the old ways of oil lamps.
After you've soaked in the views, you can peruse souvenirs and produce or grab some nearby ice cream. You can also stop by the fortress for a bite to eat or soak in the history. And when you're finished with all of that, you can resume your vacation on a sunny beach.
So pack a bag and get busy creating memories on a day trip to St. Vincent's lighthouse.
From here it is only a short drive to the Costa Vicentina which is famous for its spectacular beaches. Have a look at the things to see on a Costa Vicentina roadtrip.
Best Place to Stay Near the Sight: Sagres Time Apartamentos ****
Top Activity To Do: Algarve Full-Day Jeep Safari Tour with Lunch
4. Faro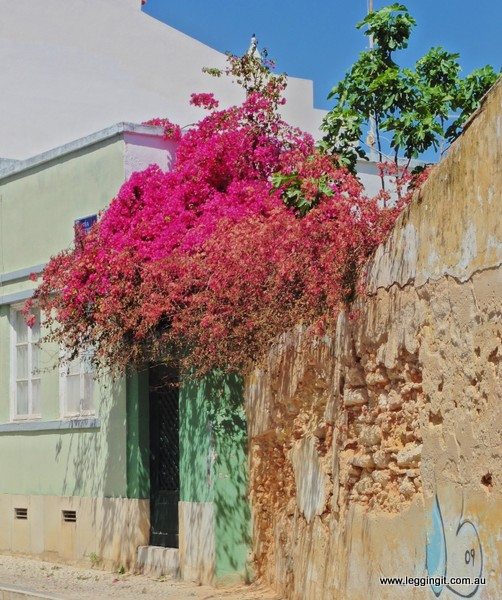 By Legging It
One of my favorite parts of the Algarve was Faro a small city in the south.
It has a fascinating Moorish and Jewish history with lots of interesting buildings to explore. The old walled town also has many run-down buildings too these give it a certain edge when you are wandering around.
We really enjoyed visiting the Santa Maria Church (Faro Cathedral) with its unusual curved style carriage ceiling and views from the bell tower. While it is not high you can get a real perspective of how the town was set out with the town radiating around the church.
It also houses one of two Ossuaries (Bone House) in Faro, the other a very ornate one at San Francisco Church.
Here you are welcomed with a sign in Latin saying: Stop here and think of the fate that will befall you – 1816, as a reminder that we are all mortal. Faro is a great stopover while you are in the region, with plenty to keep you busy for a couple of days.
If you get the chance, winter in Faro Portugal is truly magical.
Best Place Place to Stay Near The Sight: Quinta do Lago Country Club ****
Top Activity To Do: From Faro: From Faro: Private Ria Formosa Sailing Trip
5. Pego do Inferno – Tavira
By ThisTravelGuide
The Algarve is a unique place: while seaside resorts like Albufeira and Praia da Rocha are as touristy as they come, head inland a little and you can still find a few lesser-known gems.
One of my favorites of these is the Pego do Inferno waterfall near Tavira in the Eastern Algarve.
This waterfall makes a nice change from the beach. It's less crowded, there's more shade, and there's no sand to try and wash off at the end. Be sure to bring something to eat and drink, though; there's absolutely nothing around for miles.
Getting to these waterfalls can be difficult, but that's part of the challenge. You'll need to follow the Google Map to the car park nearby, find the no-longer-maintained entrance, and then take a short hike (possibly involving a walk up a stream) to get there.
During the summer months, you'll probably bump into a few other people on the same expedition. This isn't the hidden gem that it once was, but it's still something that 99% of tourists never ever hear about.
Favourite Place to Stay Near the Sight: Pousada Convento de Tavira ****
Top Activity To Do: Faro Bike Tour through the Beautiful Ria Formosa
6. Castelo de Castro Marim – Vila Real de Santo Antonio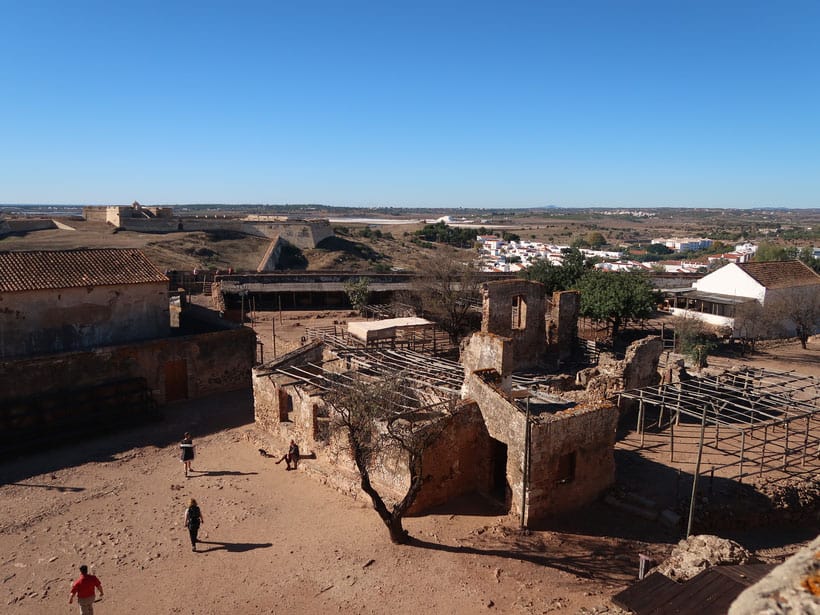 There are many castles to visit along the Algarve, but if you happen to be in the East, near Tavira or Vila Real de Santo Antonio, then a visit to Castelo de Castro Marim is recommended.
A medieval castle sitting formidably on a hill overlooking the town, it consists of a rectangle with four round corner towers and two entrances.
Castro Marim Castle once formed part of the defensive line controlled by the Knights Templars. While most of the castle is a ruin, there are spectacular views from the top of the castle across the Guadiana River, and the nearby salt pans, towards Ayamonte in Spain, and down to the coast past Vila Real itself.
You can also see across to the Fort São Sebastião which sits on the opposite hill. Within the castle walls, you can get a feel for what life must have been like with the horse stables, market area and more to explore.
There is a small museum within the castle, and also the beautiful Church of Santiago dating back to the 14th century, which strangely houses a display of equipment and items of torture, thought to have been used during the Spanish Inquisition.
The entrance fee is less than €2.00 and is worth it to spend an hour or two roaming this medieval castle. And should you happen to be visiting in late August, you might be lucky enough to catch the medieval festival held there every year.
Favorite Place to Stay Near the Sight: Monte Rei Golf & Country Club
Top Activity To Do: From Algarve: Best of the East
7. Surfing in Lagos
By The Road Trip Guy
Algarve is a surf mecca, known for having an amazing surf scene for beginners and more experienced surfers. You can visit several locations like Lagos, Sagres, and Albufeira. In each of these beach towns, there are dozens of surf schools available that can teach the fine art of wave surfing.
Lagos is one of the best locations for surfing and surfing is by far one of the best things to do in Lagos, Portugal.
For just 20 €/h, you can rent a surfboard, and for 5 € extra, you can also get a wetsuit. – Check surf classes here
If you have never surfed before it is important you at least take a beginners course on how to surf. Remember, you are working side by side with Mother Nature here and she can be dangerous at times when it comes to the weather conditions and strong currents.
Most surf teachers will show you have to successfully catch a wave, stand up and enjoy the fun ride that is called surfing.
Best Place to Stay: BelMar Spa & Beach Resort ****
Top Activity To Do: Take a Surf Lesson
8. Feasting on Portuguese Food
By A World to Travel
Being able to taste authentic Portuguese flavors and dishes like sapateira, cataplana de marisco or peixe is, without doubt, one of the best things you can indulge in while visiting the Algarve.
After you are done with all the sightseeing, surfing, shopping, sun tanning, and partying, do not forget and include in your list towns like Tavira, Silves, and Sagres. These are populated with small restaurants like Marisqueria Rui in Silves, where I tasted one of the best cataplanas ever.
Their fresh products, welcoming chefs, and affordable prices are worth checking out. Here's proof of how great Portuguese cuisine is. Enjoy!
Favorite Place to Stay: Vila Vita Parc Resort & Spa *****
Top Activity To Do: Algarve Food Tour
9. Tavira
When most people think of the Algarve, they typically picture the beaches of Lagos.
However, the eastern area of the Algarve is just as beautiful and the small city of Tavira is not to be missed. We spent a few days walking the beaches, swimming in the ocean, and exploring the area. Tavira isn't far from the larger city of Faro and can be reached via train.
You can stroll along Gileo River, and through the cobbled streets admiring the beautiful and unique Portuguese tile. Most of the buildings here are whitewashed which makes from some incredible Instagram opportunities.
Tavira is big enough that there is an abundance of restaurants to choose from with a large variety of food types. One evening after dinner we randomly stumbled upon a small night market with many local vendors selling everything from jewelry to pastries to preserves.
If you go, don't miss the Castelo (Castle) de Tavira, where you can walk the old castle walls for some of the best views overlooking the city.
Best Place to Stay: Vila Gale Albacora ****
Top Activity To Do: Tavira Tours
10. Praia Do Camilo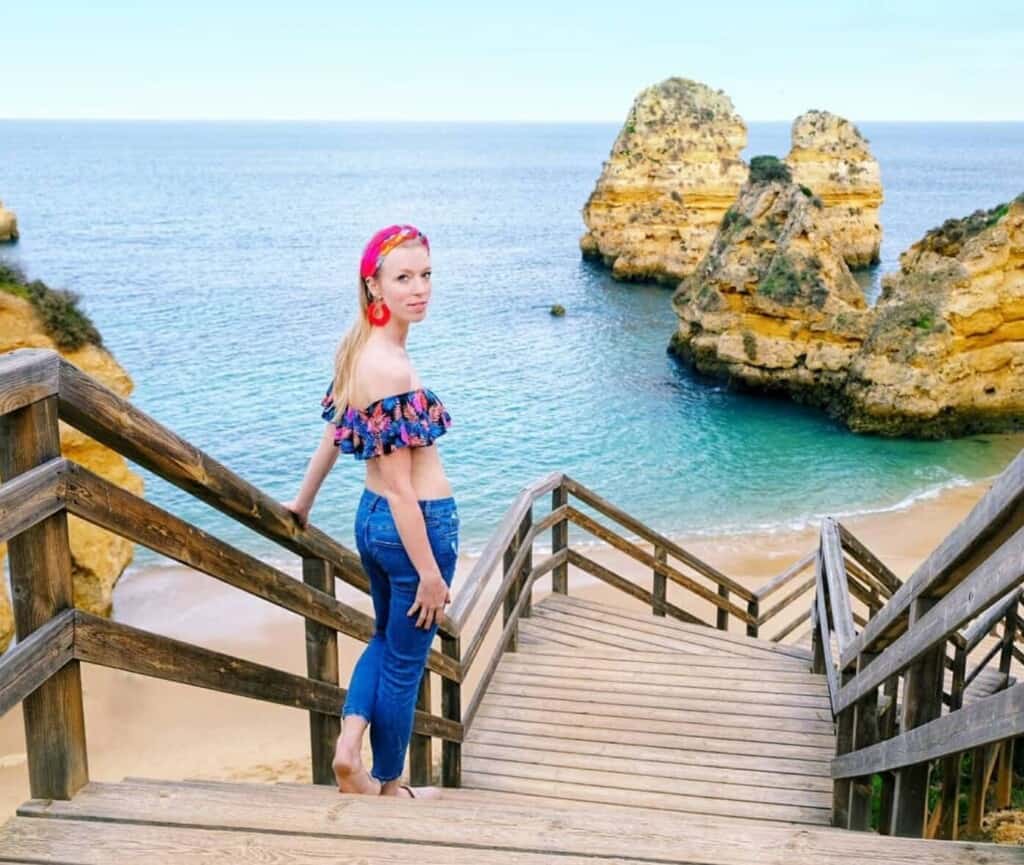 By TravelTomTom
Lately, on my road trip through Portugal, I stumbled upon the most gorgeous beach in the Algarve. Praia do Camilo is a little off the beaten path as it is located Southwest of Lagos and in contrary to most beaches in the Algarve, Praia do Camilo is facing East.
Therefore this place is the ultimate sunrise beach. Mornings are obviously best at this little tourist spot. You can only reach the sand if you take the almost 200 steps down the huge staircase.
The beach itself is only about 80 meters long but there is a tunnel carved out in the rocks that will lead you to another hidden beach. Make sure you bring your waterproof camera, but not only for snorkeling.
If you swim around the rocks you will get to the famous hidden beach that is almost completely covered by a cave.
Unfortunately, it is not allowed to camp here or stay in your campervan on the parking lot, but there are loads of opportunities within just a couple minutes' drive, so you are perfectly in time for the sunrise.
Favorite Place to Stay: Villas D.Dinis – Charming Residence (adults only)
Top Activity To Do: Algarve Mountains Full-Day Tour
11. Tavira
By Happiness Travels Here
Tavira is a sandpit more that 10km long sitting off the coastal town of Tavira, a town of white-washed houses, cobbled streets and pretty squares lined with planter boxes filled with flowers.
Tavira can be reached from the mainland by ferry or a small footbridge on the outskirts of the town. On the Island are long stretches of fine sandy beaches, calm turquoise waters and restaurants serving fresh traditional seafood dishes.
The area is untouched by package tourism with a small campground on the Island and low rise, local run, accommodation in the town.
The main beach on the Island is called Praia de Tavira, here you will find eateries serving fresh seafood, including Cataplana, a special Portuguese seafood stew of crabs, shellfish and fish in a garlic tomato broth. This beach also has a beach bar, parasols and sun lounges for hire.
If you are looking for fewer crowds then head to Praia de Terra Estreita and Praia do Barrie. At the latter you can visit the sculptural Anchor Graveyard, decaying anchors emerging from the white sands create a dramatic display.
Best Place to Stay: Vila Gale Albacora ****
Top Activity To Do: Visit Benagil Cave
12. Praia da Batata – Lagos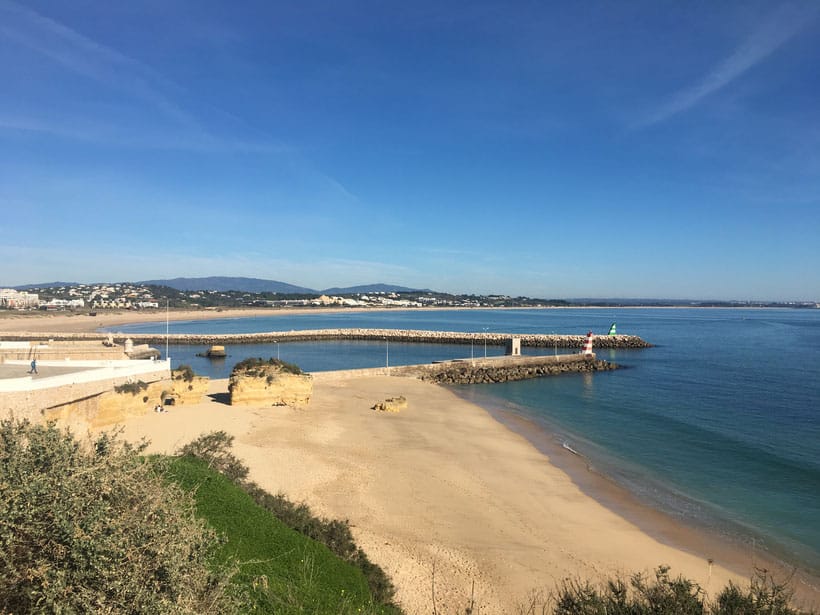 Affectionately known locally as the 'potato beach', Praia da Batata is located next to Bandeira Fort in Lagos, just a stone's throw away from the heart of the town center and around a 10-minute walk from Lagos Marina.
Praia da Batata isn't the biggest beach in Lagos and it gets pretty busy over the summer months, but its location makes it ideal for a quick trip to the beach, and there's plenty of shade if you need to get away from the sun.
Water sports enthusiasts can take part in a number of activities through the tour operators perched on the beachfront, including kayaking, snorkeling, scuba diving, and paddleboarding.
If you prefer to take things easy when you travel, don't miss out on the opportunity to take a boat tour of the beautiful caves and grottoes that make up the Lagos coastline. It's definitely one of the best things to do in Lagos, Portugal.
If all that sea air makes you hungry, tuck into a sandwich or light meal in the beach café. The milkshakes are delicious!
Best Place to Stay: BelMar Spa & Beach Resort ****
Top Activity To Do: Algarve Boat Tours
13. Visit Benagil Cave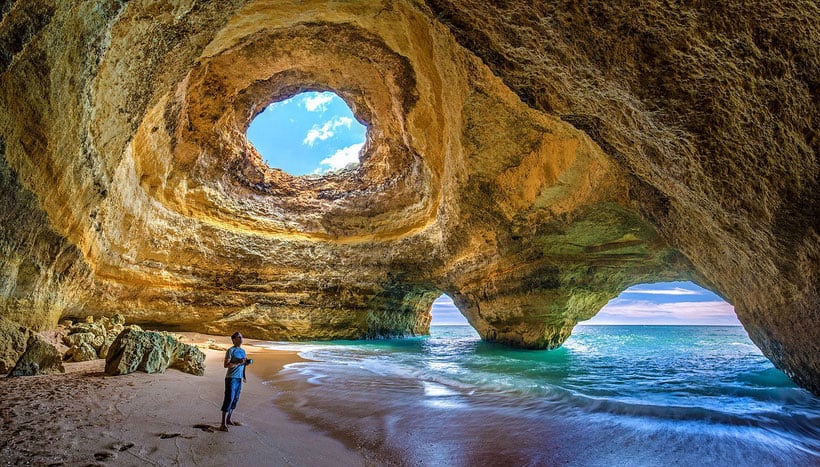 It's impossible to read an Algarve travel blog without reading about the beautiful insta-famous Benagil Cave. The cave truly is stunning and definitely one of the best things to do in the Algarve.
Although the Benagil Cave is near to the main coastline beach, it is not advisable to swim to it.
Instead, it is best to get a boat there. Be careful because the waters can be quite rough and there are lots of sharp rocks just beneath the surface.
Top Activity To Do: Benagil Cave Tours
14. Watch the Sunset at Cabo Sao Vicente
Whenever I'm asked about what to see in Algarve, my top recommendation is watching the sunset at Cabo Sao Vicente! It is really something spectacular.
Arrive early and have a look around the old lighthouse, then find a place to sit and enjoy the sunset. This is one of the best sunsets I have ever experienced due to the panoramic view over the ocean.
It's definitely a great place for sightseeing in Algarve.
Top Activity To Do: Algarve Boat Tours
15. Explore the town of Carvoeiro
Even though it's a small town, there are a surprising amount of things to do in Carvoeiro, Portugal. In fact, there is so much to do here, it's one of my favorite tourist attractions in Algarve.
While in Carvoeiro, you can go surfing, dolphin watching and even wine tasting. There is also the Slide & Splash water park in nearby Lagoa which is great for families, or anyone sick of the beach, but still wanting to cool down.
But the top things to do in Carvoeiro are to explore the Alfanzina Lighthouse and Algar Seco Caves (one of which is the Benagil Cave).
Top Activity To Do: Visit Benagil Cave by boat
16. Learn about Olhao's History
Olhao is a charming coastal fishing town near Faro in Algarve, Portugal. Things to do in Olhao tend to revolve around learning about the town's interesting fishing history. For example, this is where the first canning factory was established in 1882, and Olhao remains one of Portugals's main fishing ports.
But it isn't all about fish! One of the best Algarve activities, and Olhao is home to some of the quietest beaches in the region, making a visit here one of the best things to do Algarve, Portugal.
The old quarter is full of beautiful Moorish buildings, so it is also recommended you walk around and appreciate the architecture.
Top Activity To Do: Algarve Boat Tours
17. Shop at Loulé Market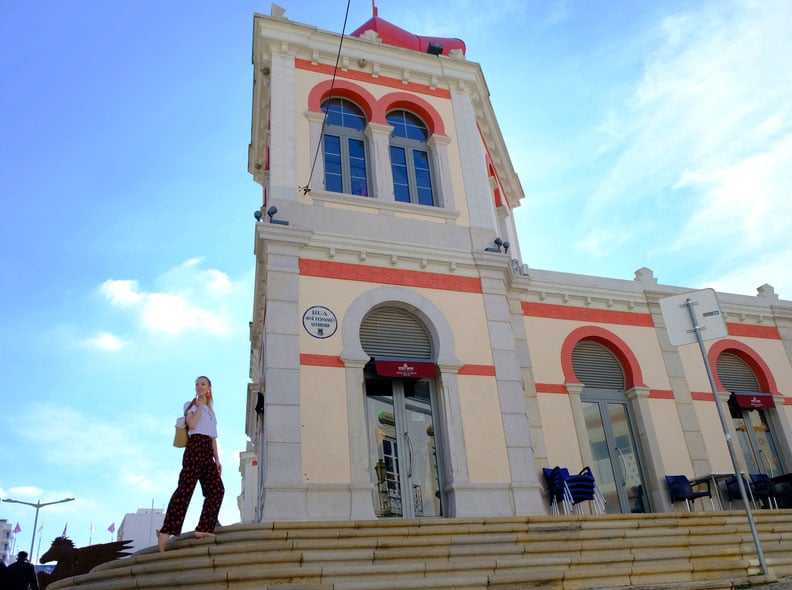 In case you are sick of the beach and you're wondering what to do in Algarve that doesn't involve swimming, you should go shopping at the Loulé Market.
Here there is a beautiful Middle Eastern-inspired covered market that sells local handicrafts and is one of my favorite attractions in Algarve.
Loulé is a popular market town and day trip. However, it is one of the few towns in Algarve whose primary focus is not tourism. This makes it one of the best things to do in Algarve, Portugal if you want to get off the beaten path and experience everyday Portuguese life.
The best day to visit Loulé is Saturday as there are extra markets up that day. Unfortunately on Sunday, all the markets are closed, and on Monday most museums are shut.
Top Activity To Do: Guided Market Tour
---
Fun Activities in Algarve:
---
Map: Algarve Highlights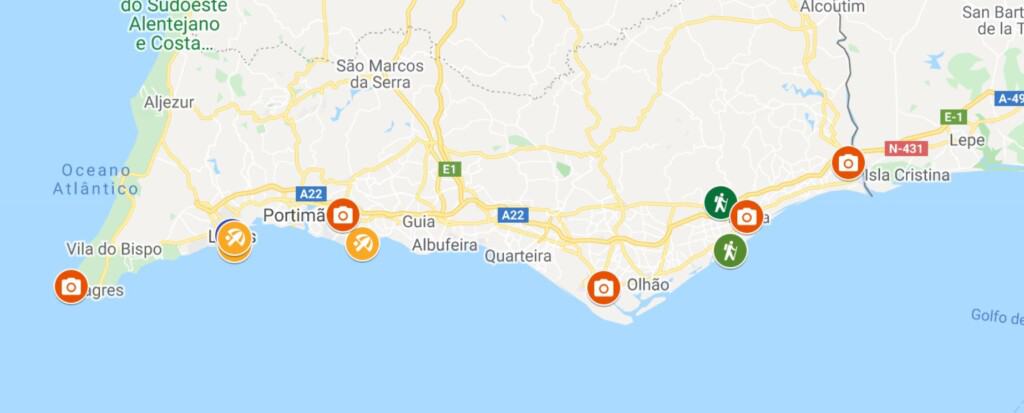 ---
Short FAQ
What are family things to do in Algarve Portugal?
Algarve, Portugal is very family friendly. Many of the beach activities and water sports are family friendly. Faro, in particular, is a great destination for families.
What are unusual things to do in Algarve?
Faro is also great if you want something unusual to do in Algarve as it has several unique museums, and the Santa Maria Church is very unusual. Loulé is also very different since it isn't centered on tourism, and has a beautiful Middle Eastern inspired open market.
What are cultural things to do in Algarve?
The fishing industry is an important part of Portugal's culture and history, so Olhao is the perfect destination if you are looking for cultural things to do in Algarve as you can learn all about this history and explore the Moorish old quarter.
---
---