Guide to the best Algarve hiking trails and walking trails in the Algarve region of Portugal
Do you dream of conquering epic trails with stunning views in one of Europe's most vibrant destinations?
Algarve is an awe-inspiring corner of the world that offers its visitors a wide variety of breathtaking hikes to explore.
From coastal adventures and rolling vineyard landscapes to lush inland forests, hiking in Algarve will allow you to delve into some truly unforgettable experiences.
Hikes in Algarve offer a bit of everything, from traditional sand dunes, cliffs, and lagoons on the coast to blossoming orchards in the Barrocal and scrub woodland in the uplands.
Here are 15 amazing Algarve hikes not to be missed in this Portuguese paradise – so let's slip on our hiking shoes, hit the trails, and discover all that travel Algarve, Portugal has to offer!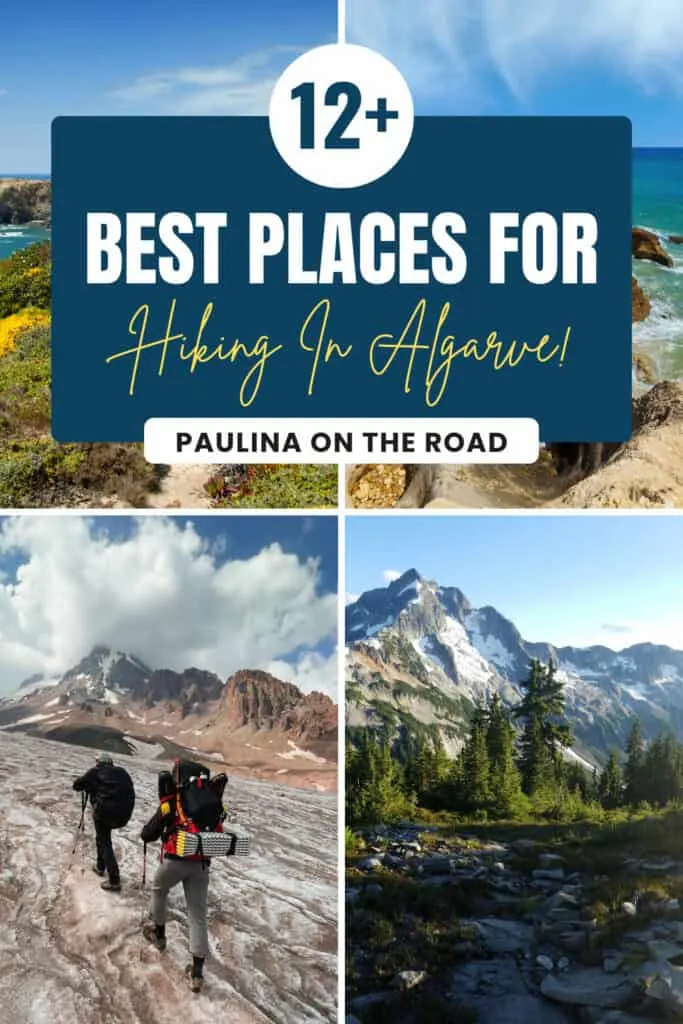 This blog is supported by you, dear reader. If you purchase through a link, I earn a small commission. As an Amazon Affiliate, I earn from qualifying purchases.
Top resources to travel Algarve, Portugal
⚘ Avoid tourist traps with the customizable "Algarve Like a Local" itinerary. – Buy here for less than 10€

✈ Book cheap flights to Algarve with Skyscanner

✔ Book tours in Algarve with GetYourGuide

➳ Find the best hotels in Algarve with Trivago

❖ Rent a car with the best discounts at Discover Cars

✎ Never leave without travel insurance. I got mine at HeyMondo. It is cheap and easy to set up.

$ Withdraw money without hidden fees and avoid exchange rates with Wise (you'll get a free card on top!)
1. The Seven Hanging Valleys
The Seven Hanging Valleys Trail has long been the most famous and popular of the Algarve hikes and encompasses some of the region's most stunning scenery.
This 5.7-kilometer route connects Praia da Marinha to Praia de Vale Centeanes.
Although you can begin from either end, it's more common to start at Praia da Marinha and head west.
Seven watercourses that have carved seven tiny valleys within the coast over thousands of years give this path its wonderful name.
The path winds along the shore, providing vistas of natural arches, caverns, and gorges, as well as various bird species that nest on the steep cliff cliffs.
Hikers with keen eyes may glimpse gulls, cormorants, and doves.
The incredibly popular Benagil Beach, in the third of the seven valleys, has spectacular cave formations, including one with a natural "skylight."
This is one of the top things to do in Algarve, and the opening in the cave's roof is a popular spot for photographers, so you are unlikely to have the cave to yourself.
Other attractions include Carvalho Beach, the Alfanzina lighthouse, and Centeanes Beach.
You'll also pass through a pinewood valley, where the pines can grow tall and provide a sheltered location for resting and refueling.
If you want to hike Algarve, you really can't miss the epic Seven Hanging Valleys trail!
If you want to avoid the crowds, I definitely recommend visiting the Algarve in October or March.
Book here the best tours to Benagil Cave
2. Sintra Coast: Cabo da Roca to Azenhas do Mar Coastal Trail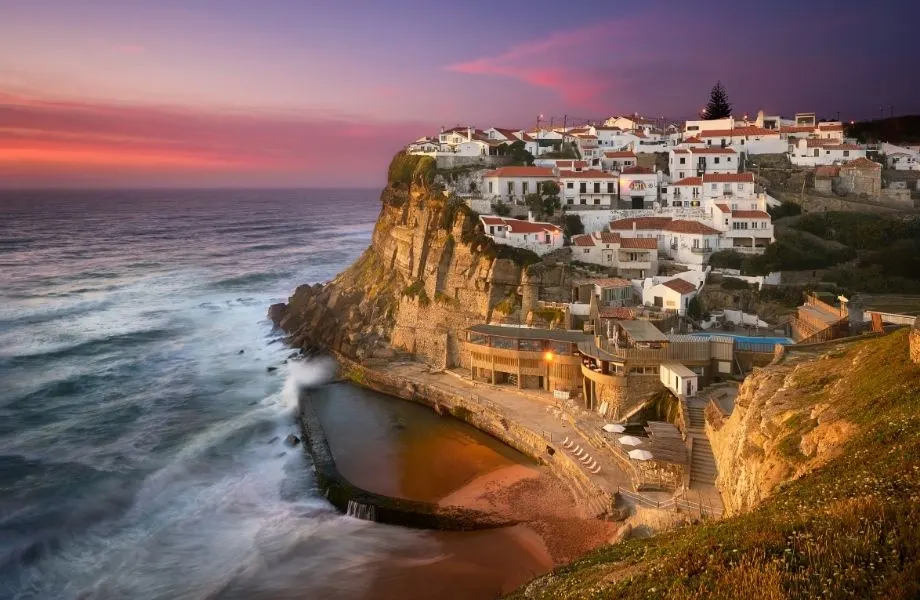 The Sintra-Cascais Natural Park in Portugal is home to several national monuments such as Pena Palace, the Moorish Castle, and Monserrate Palace.
Most day-trippers from Cascais and Lisbon flock to Sintra's architectural treasures, oblivious of the stunning Sintra coastline.
If you want to get away from the crowds and enjoy Sintra in a different manner, I suggest trekking from Cabo da Roca to Azenhas do Mar.
Explore this 10.8 km trail, starting from Cabo da Roca and finishing the adventure to Azenhas do Mar.
Generally considered a moderately challenging route, it takes an average of 5 hours, plus plenty of snack and picture breaks.
This trail is perfect for enjoying the full beauty of hiking in Algarve, Portugal.
The beautiful beaches of Praia do Aroeira, Praia da Ursa, Praia da Adraga, Praia Grande and Praia das Maçãs are highlights of this Sintra coastline trip.
But if you want something less challenging, or have limited time, there is also a shorter route.
As an alternative, the section between Cabo da Roca and Praia da Adraga offers spectacular landscapes.
To complete this path, head to Praia do Adraga. This is an excellent place to conclude your journey because it has a tasty restaurant right on the beach.
Book here the best boat rentals in Algarve, Portugal
3. Fonte da Benemola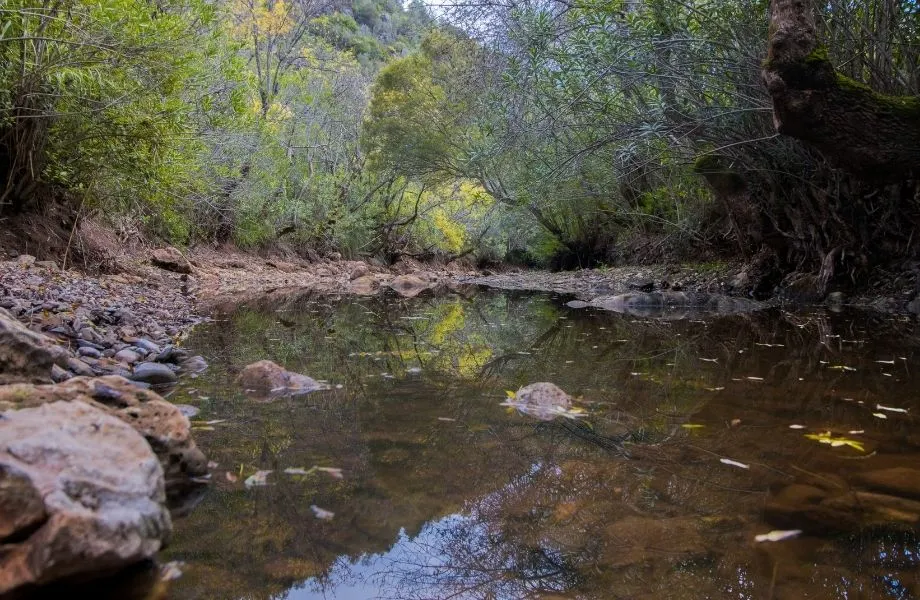 The Fonte da Benémola Trail is a short circular trek that begins on a dirt road and leads to the little town of Fica Bem.
If you want some more relaxed walking in Portugal, this trail is a great option.
Instead of the breathtaking landscaping views of the previous two Algarve hikes, this rural countryside trail at Fonte da Benémola is serene, attractive, and quite pastoral.
This route winds through a Protected Landscape of woods, meadows, and traditional farms on the banks of the Menalva River, deep in the Algarve's Barrocal.
Starting in Fonte da Benémola, this 4.4-kilometer round route is a fairly demanding course that takes an average of 2 hours to complete.
This road is perfect for some quiet and relaxing walking in the Algarve as you won't see many other people while exploring.
Visitors must walk on small square pylons to cross the narrow river and finish the route. In addition to these stepping stones, there is a small ford nearby.
Crossing the river during the winter or when there is a lot of water, however, is not recommended as it can be quite dangerous.
There's also a longer and more difficult authorized trail that leads you deeper inland.
You'll definitely need strong footwear if you want to explore this craggier route, which provides excellent opportunities to observe raptors such as the Buzzard or the Short-toed Eagle.
Spring is the best season to visit Fonte do Benémola, but summers and autumn are also great options.
Book here the best tours of Algarve, Portugal
4. São Lourenço Trail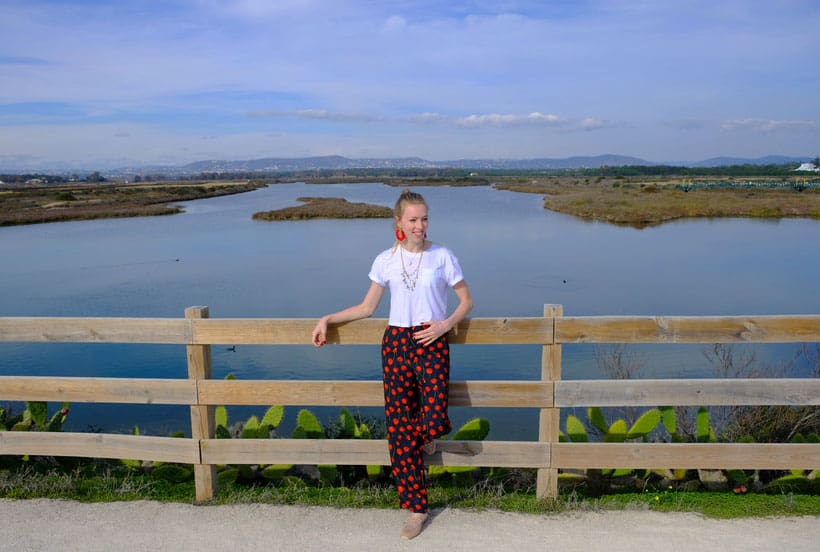 This walk is one of the greatest ways to see the tranquil lagoons and salt marshes of Ria Formosa, a natural reserve and one of the most significant wetlands on the Iberian Peninsula.
The lagoons, which are protected from the open sea by a vast length of sandy islands, provide a habitat for a variety of waders and long-legged birds.
The wetlands are also home to many shellfish and significant fish species, including two endangered species of seahorses.
It's a fantastic morning trek, but it's also an underappreciated sunset location in Algarve.
The trek is 3.3-kilometers there and back, and takes an average of 1.3 to hike and is one of the best things to do in Tavira.
However, this is one of the Algarve hikes where you definitely want to take your time and enjoy all the amazing wildlife.
Book here the best boat tours near Ria Formosa
5. Monchique trail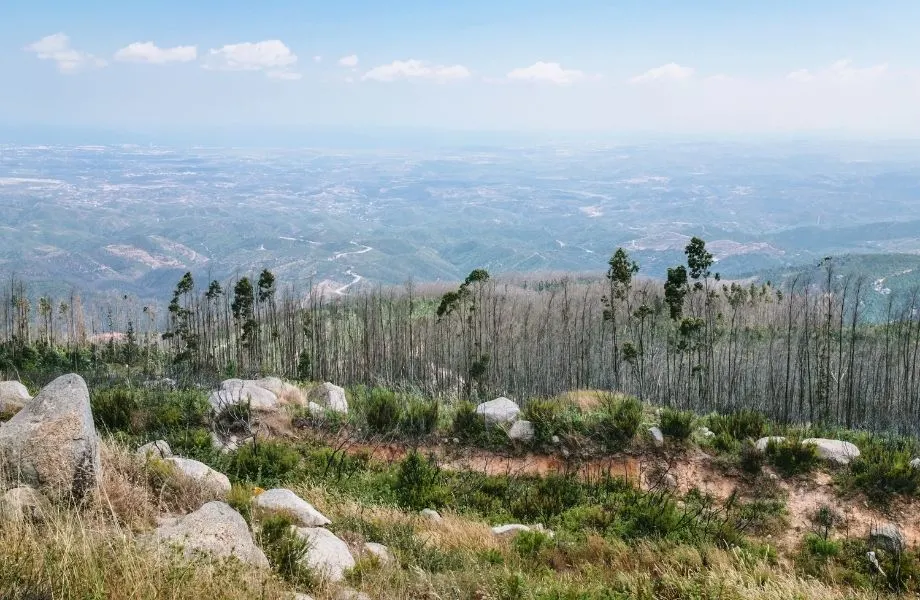 Nestled within the Serra de Monchique's mountain range and dense woodlands is a little village that has clung to its more traditional past.
The lovely tiny village of Monchique is surrounded by nature and, in contrast to the surrounding seaside, is much less developed.
Monchique has a population of roughly 6000 people and is popular with visitors looking for a more rural experience during their Algarve walking holidays.
Hiking, nature, and some fantastic and traditional Portuguese food and drink are all available in the village.
Monchique is also remarkable in that it is basically perfect no matter what time of year you visit.
During the summer, the area provides a chilly and occasionally windy respite from the sun-baked shore.
Conversely, during winter in Algarve, despite the temperature, there are warm fireplaces, substantial meals, and cozy restaurants to warm up in after a hike.
In the spring, there is a plethora of wildflowers that make the trails beautiful and your hiking experience extra memorable.
It's truly a destination that may be visited at any moment.
There are several routes perfect for hiking Monchique trail, but Monchique to Foia is the most popular, and this is maybe the finest way to experience it.
The typical trip follows a stretch of the famed Via Algarvana hiking trail and includes a little detour to the summit of Foia.
The trek is around 12 kilometers long (6 kilometers each way) and takes about 6 hours.
Book here the best vacation rentals in Algarve, Portugal
6. Ponta da Piedade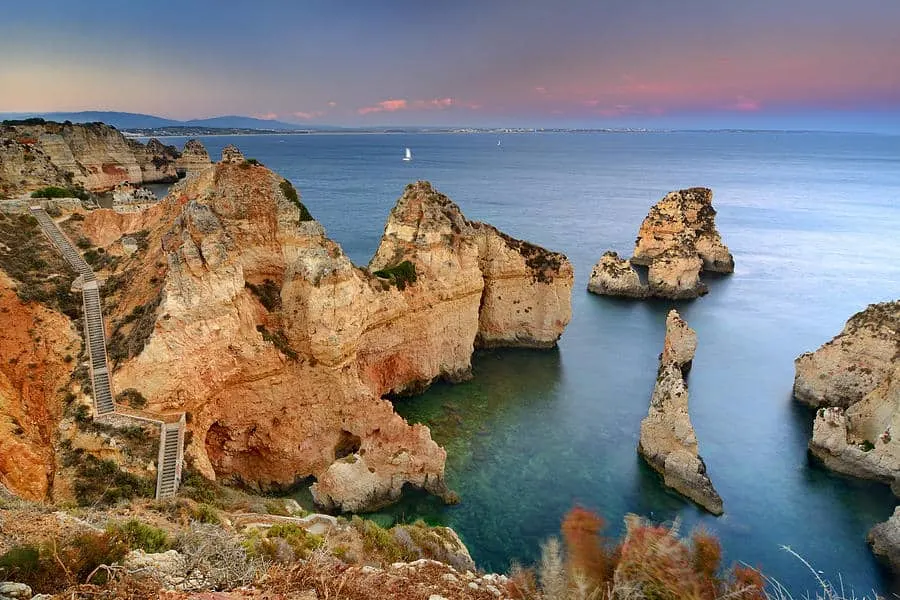 Hiking Ponta da Piedade is one of the most popular things to do in Lagos due to its unique rock formations and breathtaking views of the clear blue waters below.
The hike is full of rock formations, sea arches, grottoes and carvers, all of which have formed over thousands of years from sea erosion.
The hike itself is around 5 kilometers (round trip) and weaves along the coast through naturally occurring caves and tunnels.
This is definitely one of the most unique hikes in Algarve, and a must no matter what time of year you visit.
Just 3 kilometers south of Lagos, Ponta da Piedade is a beautiful coastal hike that passes through the best beaches in Algarve, such as Praia dos Estudantes, Praia do Pinho, and Praia Dona Ana.
However, if you visit in the summer, the beaches are likely to get crowded – so come early for the best seats and experience!
Plus, the stunning views make up for the crowds, and there will be no doubt why this is one of the best places in Algarve to hike.
Book here the best boat rentals in Algarve, Portugal
7. Trail of Headlands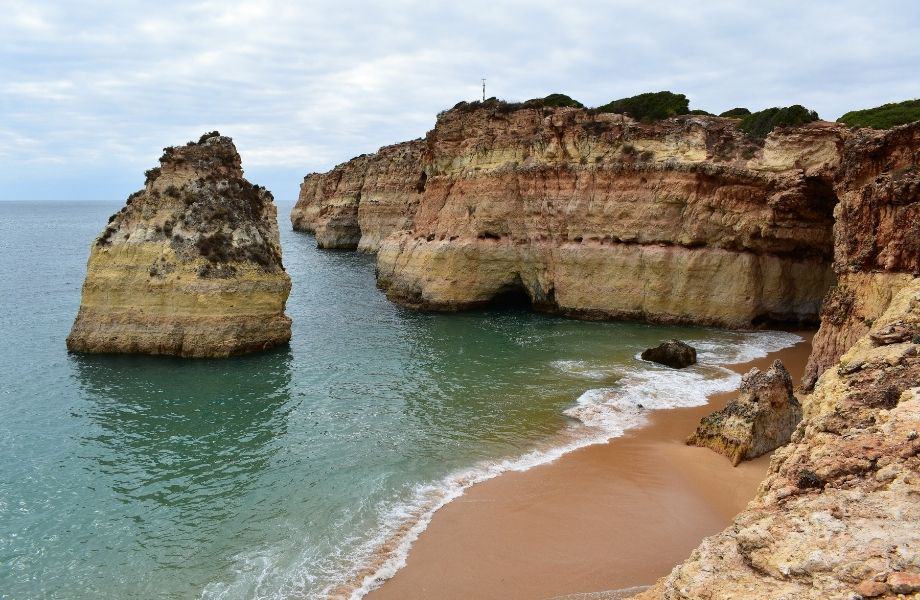 The headlands walk is a point-to-point or return hike in the Algarve, and is a great substitute for the Seven Hanging Valleys Trail.
Because it is less well-known, there are much fewer hikers along this path than the Seven Hanging Valleys trail.
This breathtaking climb begins at Praia dos Caneiros in Ferragudo or Praia do Carvoeiro in Carvoeiro.
We started at Praia dos Caneiros beach because our hotel, Caneiros Luxury House & Suites, was only a 5-minute walk away.
From here, the route begins with the parking lot at Praia dos Caneiros and heads east; as you walk along the headlands, follow the yellow and red route markers.
The hike offers breathtaking views of towering cliffs and secret coves.
Unfortunately, there aren't many options to go to these coves on foot – unlike the Seven Hanging Valleys Trail – so instead, this stroll is all about taking in the scenery.
And what scenery it is!
You'll pass Praia do Paraiso on your way to Carvoeiro where a steep stairway leads down to this little beach.
Carvoeiro is a seaside town that strives to strike a balance between development and natural beauty.
While here, grab a bite to eat and relax on the town's gorgeous beach, Praia do Carvoeiro. Earth Café is a great place to go for a healthy meal and wonderful smoothies.
Book here the best tours of Algarve, Portugal
8. Castelejo Environmental Trail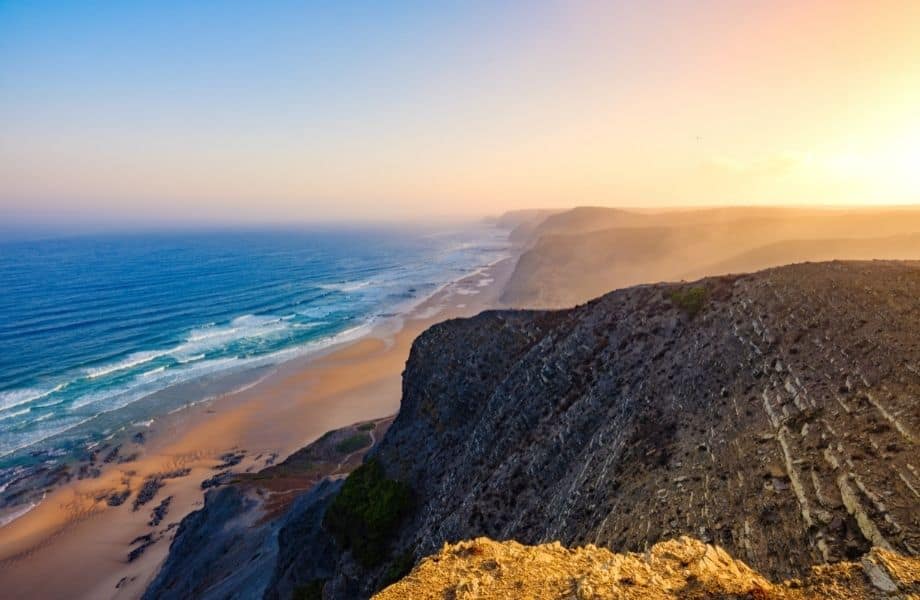 This easy trip lasts little under two hours and travels through Vicentine Coast Natural Park, passing through pine forest and shrubby vegetation along the route.
Depending on the season, the route descends to a gully where you could see a Western spadefoot toad.
Other fauna includes the spotted woodpecker, Eurasian jay, and great tit, as well as wild boar, foxes, and rabbits.
This is one of the greatest Algarve walking trails, ideal for photographers as well as people who enjoy nature.
As the route rounds back, you may get spectacular views of the Atlantic Ocean and Castelejo beach, which is one of the many great sites for hiking in Portugal.
Book here the best family activities in Algarve, Portugal
9. Ludo Trail, Faro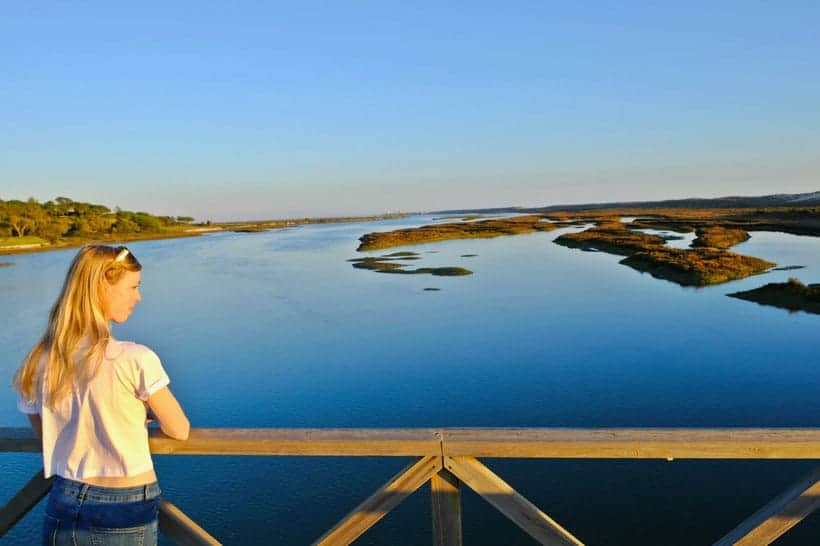 To give you a short overview of the Ludo Trail in Faro: it is a 7-kilometer graded route that runs across Faro's western end of the Ria Formosa.
The trail can be finished in about 3-4 hours, but you definitely don't need to complete the whole trail if you just want to enjoy the local wildlife.
In fact, as soon as you start the walk, you'll see a natural lagoon on one side of the path and brackish water and man-made saltpans on the other.
This means that those with small children, accessibility concerns, or simply a lack of time can still get a sense of the lagoon and its fauna without completing the trail.
For those who do want to hike the whole trail, you'll pass through a tiny access gate that restricts car access to the route and be met by a few explanatory signs.
The official trail is 7 kilometers long, however, it can be extended or shortened.
The extended version takes you to Quinta da Lago and the settlement of São Lourenço Village.
There is a bird hide on the São Lourenço Village side, but if you don't want the longer version of the trip, there is still plenty of potential for animal observation within just a short stroll.
The trail is relatively straightforward for the first kilometer or so with brackish water (a combination of freshwater runoff and saltwater) is on the right, while a natural lagoon is on the left.
These bodies of water provide a variety of landscapes as well as flora and animals.
After the first kilometer, you'll have the option of turning right or continuing straight ahead.
If you take a right, you will arrive at the man-made salt ponds, a favorite foraging spot for the flamingos, which may frequently be spotted here.
Alternatively, if you keep going straight, you'll come upon São Lourenço Village and the São Lourenço Trail.
This starts a completely different Algarve hike that begins in Quinta de Lago and includes the previously described bird hide.
Book here the best tours in Faro, Portugal
10. Fisherman's Trail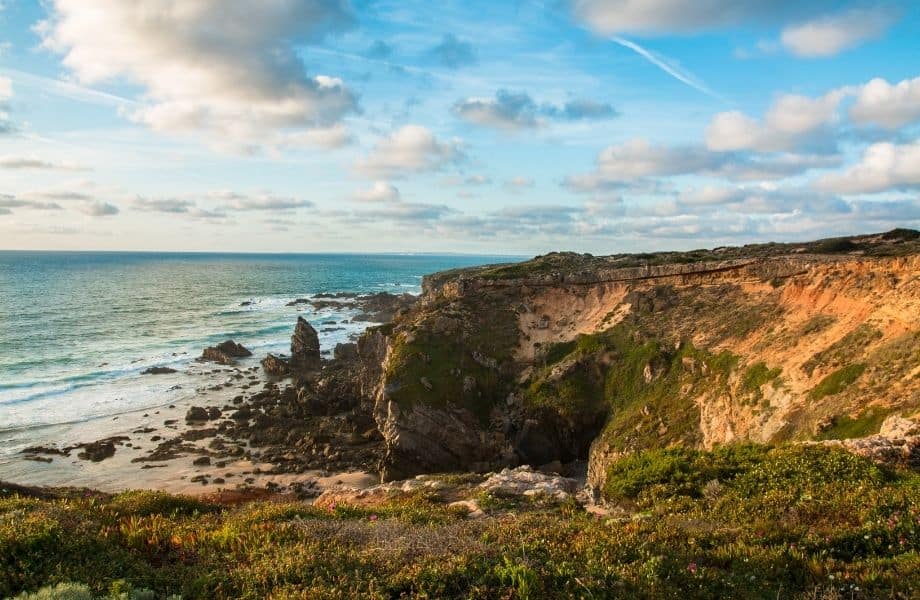 The Rota Vicentina Fisherman's Trail is a four-day excursion along the Vicentina Coast. The route begins in Porto Covo, Alentejo, and concludes in Odeceixe, Algarve.
This amazing multi-day journey in Portugal provides you access to secluded beaches and secret coves by clinging to the coast virtually the entire time.
Without a doubt, this is one of my favorite trekking spots in Portugal.
The seashore is wild and rough. The air smells strongly of salt and wild plants. And it appears like the shore is falling into the Atlantic in a never-ending attempt to join the sea.
It's pretty easy to see why the track is regarded as one of the world's most beautiful coastline trails.
The landscape along the road is beautiful, with rocky cliffs, sandy beaches, breathtaking lookouts, lovely villages, clear Atlantic Ocean seas, and lots of wildlife.
The beauty of the place is that when you're beside the water, follow the residents' trails to the beaches and fishing areas.
It is a single trail navigable only on foot, along the cliffs, with a lot of sand and hence more physically difficult.
A test of endurance, while hiking in the Algarve, in the face of constant contact with the wind of the sea, the roughness of the coastal environment, and the presence of wild and relentless nature.
Book here the best boat tours in Algarve, Portugal
11. Venta Moinhos Wetlands Trail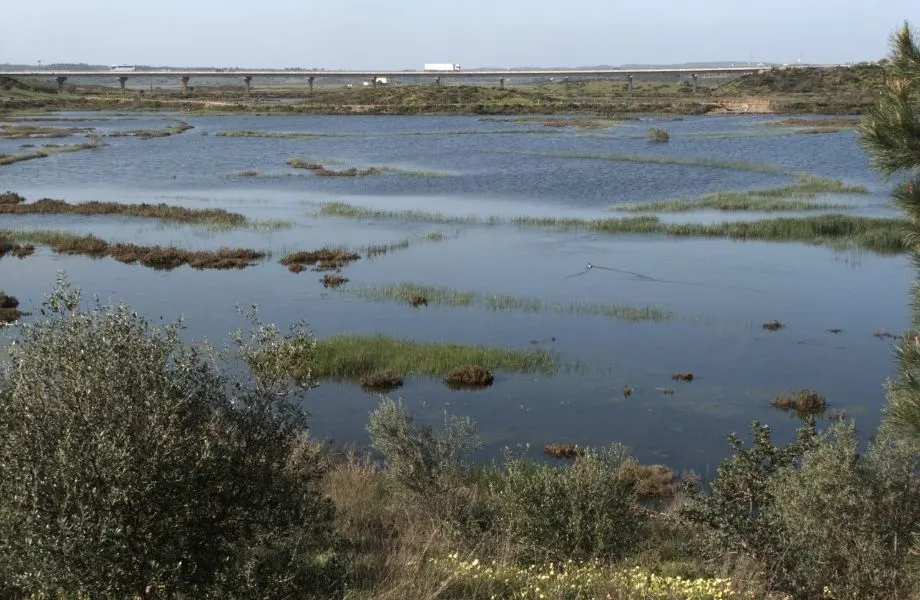 The Guadiana River runs through the Castro Marim Nature Reserve, crossing saltmarsh, saltpans, arable farmland, freshwater, brackish, and saltwater lagoons.
This is another circular path option for hiking in the Algarve. The 7 km travel there and back takes an average of 2 hours to finish the path.
This pathway connects to the walkway that leads to the Nature Reserve's Interpretation and Information Centre and, to the north, to the former Fiscal Guard building.
A short section of the walk goes south of the Centre and is explained, allowing you to observe the wetland habitats: salt marshes, salt ponds, permanent and temporary ponds.
The trail connects the dryland fields to the north (primarily carob and scarce areas of olive trees with rye undergrowth) and the wetland to the south, with its salt marsh ecosystems, traditional salt ponds, and the huge tidal creek that channels the tide's waters.
The Interpretation Centre is surrounded by pines and broom, which are typical of the southeast Algarve's shoreline.
The Centre houses displays as well as information and publications concerning the Reserve.
There are wonderful viewing areas for the wetlands within the structure.
Climbing to the Casa Abrigo just south of the Center, the horizon opens up over the salt pond complex, the entrance of the Guadiana, and the salt ecosystems.
Within the reserve, you'll also find a considerable number of aquatic birds.
There's the black-winged stilt (the Reserve's symbol), the spoonbill, the flamingo, the white stork, the pied avocet, or even the tiny tern, which is typically seen in the winter or during migration.
The statistics indicate that around 170 bird species occur on a yearly basis.
This Algarve walking trail is leading to the old Fiscal Guardhouse, which overlooks the river that forms the border with Spain.
It also passes through meadows for bovine cattle and goats, as well as ephemeral lakes concealed among the rush and bulrush beds of these saline grounds.
The riverbank is also right next to the house; the Guadiana estuary and Castro Marim's salt marsh are key habitats and nesting grounds for aquatic birds as well as a variety of fish, mollusks, and crustaceans.
Book here the best tours of the Algarve region
12. Rota Vicentina trails
The Rota Vicentina, which runs from the southwest coast to Cabo de So Vincente, is divided into two sections: one coastal and one inland.
The coastal walk (called "the Fishermen's Trail" which is mentioned above) follows paths cut by beachgoers and fishermen and takes in some of the harsher, yet stunning, coastal sceneries and fauna.
However, the "Historical Way," which runs through the interior, is equally wonderful.
It runs through the Parque Natural do Sudoeste Alentejano e Costa Vicentina, rural towns and villages, cork forest, and valleys.
Both trails are segmented, and the distance between communities where you may spend the night is rarely more than 15 kilometers (thus no need to bring camping gear).
The Fishermen's Trail is broken into 13 sections totaling 226 kilometers, with the trek becoming substantially more difficult owing to crossings through dunes and thigh-tiring sands.
It occasionally travels along the cliffs, mostly on singletrack, and only hikers are authorized.
The longer Historical Way is also broken into 13 sections, but totals 263 km in length.
The paths are also wider, and the walks are often shorter; mountain bikes are permitted.
If you have a car, it's also worthwhile to take a break from hiking in Algarve and enjoy the view on a Costa Vicentina Road Trip.
Book here the best car rental in Algarve, Portugal
13. Pontal da Carrapateira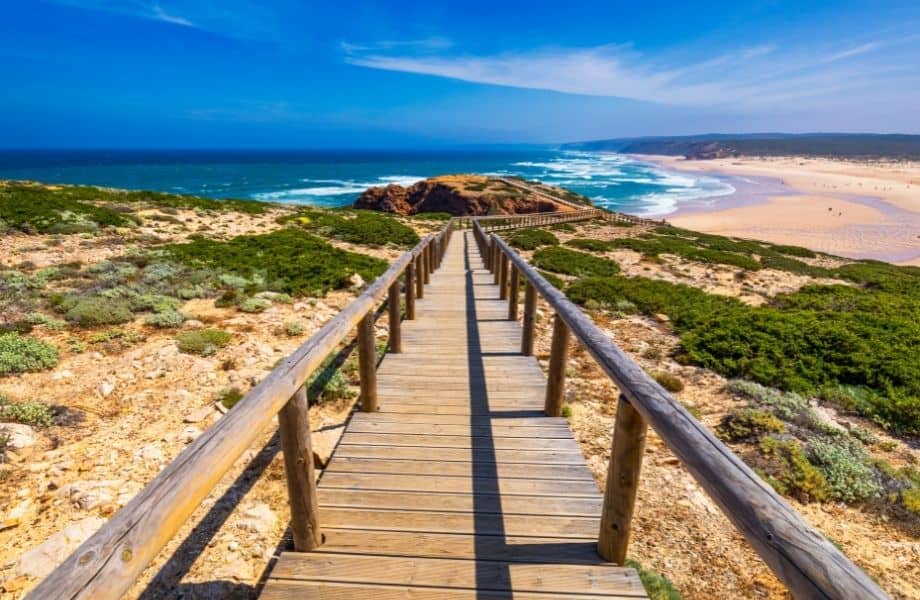 While hiking in Algarve, you'll definitely want to check out this 10.30 km, loop trail near Bordeira, Faro.
Generally considered a moderately challenging route, it takes an average of 3 hours to complete.
This trail is great for hiking, walking, and other nature trips, and it's unlikely you'll encounter many other people while exploring.
The trail is open year-round, but the best times to visit are September through June.
This circular walk starts in the village of Carrapateira.
Along the circuit, you will see various viewpoints, escarpments, Bordeira, Amado, and also the ruins of an ancient Islamic fishermen's settlement.
Also known as the 'Trail of Tides', this walk spans a pretty headland on the Vicentine Coast with somber escarpments and gorgeous coastal scenery.
Book here the best boat rentals in Faro, Portugal
14. Masmorra Trail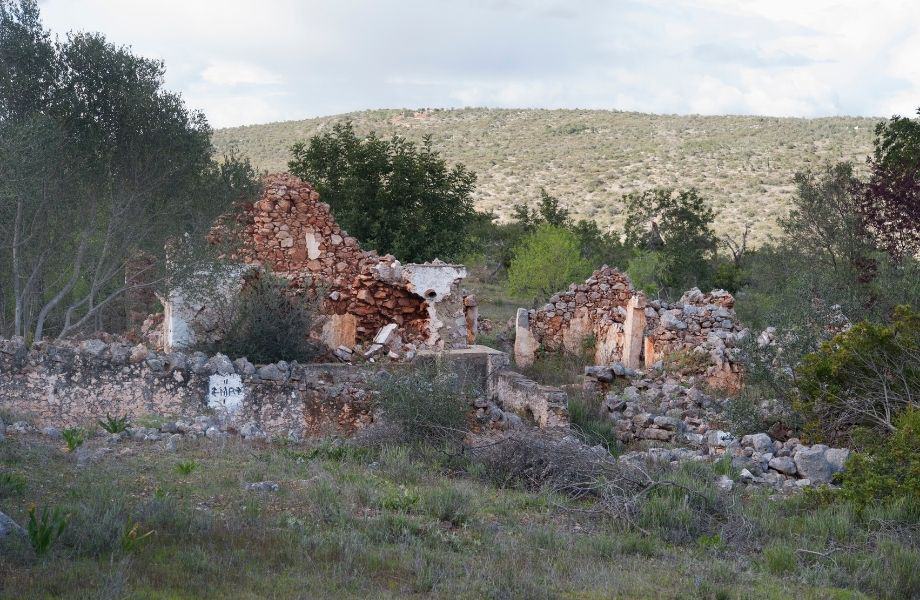 If you want to explore a hiking trail in Algarve off the beaten path, head to the small village of Mealha.
Here, in the beautiful Algarve countryside, you'll find a 5.5-kilometer Algarve hiking trail of medium difficulty.
The trailhead starts near a building that was apparently once an elementary school, and takes you past local homes, farms and agriculture, and miles of green fields.
You'll also see plenty of old ruins as the area offers a peek into the lives of ancient Algarvians and the region's unique history.
Luckily, everything is clearly signposted the whole way, so you don't have to worry about getting lost as you meander along the Algarvian countryside.
This is one of the more laid-back and scenic hikes in Algarve, and can be completed in 2 hours for those who are particularly fit.
This Algarve hike is best in the spring as the fields of flowers are in full bloom and truly something to admire.
It is also a great hike in fall and winter, but not great just after heavy rainfall as much of the hike will turn to mud.
Avoid this one in summer as it is so exposed, and you don't want to get sunstroke!
Book here the best vacation rentals in Algarve
---
Where to Stay in Algarve, Portugal
In addition to hiking and other activities to do, you'll also need to figure out where to stay.
Luckily, the area has many wonderful accommodation options. There are a lot of great AirBnbs in Algarve for longer stays or a more home-like feeling.
Alternatively, if you prefer a hotel, my top recommendation is the Quinta do Lago Country Club****, which is my favorite hotel in the region.
You can read my full Quinta do Lago Country Club review, or check prices here.
You can check out my full guide on where to stay in Algarve, Portugal, for even more amazing options.
For those looking to enjoy a luxury getaway, check out my guide on the top 5-star hotels in Algarve.
---
If you are interested in scene hikes and exploring beautiful areas you can't go wrong with walking in the Algarve region.
The numerous hikes Algarve has to offer make it a great hiking destination for your next trip.
Pack your bags and say yes to hiking Algarve and fantastic new adventures!
---
Short FAQ About Hiking in Algarve
Does Portugal have good hiking?
There is fantastic hiking all over Portugal, but the hiking in Algarve is some of the best in the country.
Is the Algarve good for walking?
Yes! The Algarve region has some of the best walking trails in Portugal.
How do I get to Seven Hanging Valleys trail?
You can start the Seven Hanging Valleys Trails from either Carvoeiro or Praia da Marinha. Once in either Carvoeiro or Praia da Marinha, head to the beach and follow the signposts for the trail.
Where to stay in Algarve for hiking?
If you are wondering where to stay in Algarve for hiking, you might want to consider Monchique, Ria Formosa Natural Park and Serra de Monchique. The towns of Olhão, Fuseta, and Tavira are all good bases for exploring the park and offer a variety of accommodations.
---
Before You Go: Top Tips for your Trip
---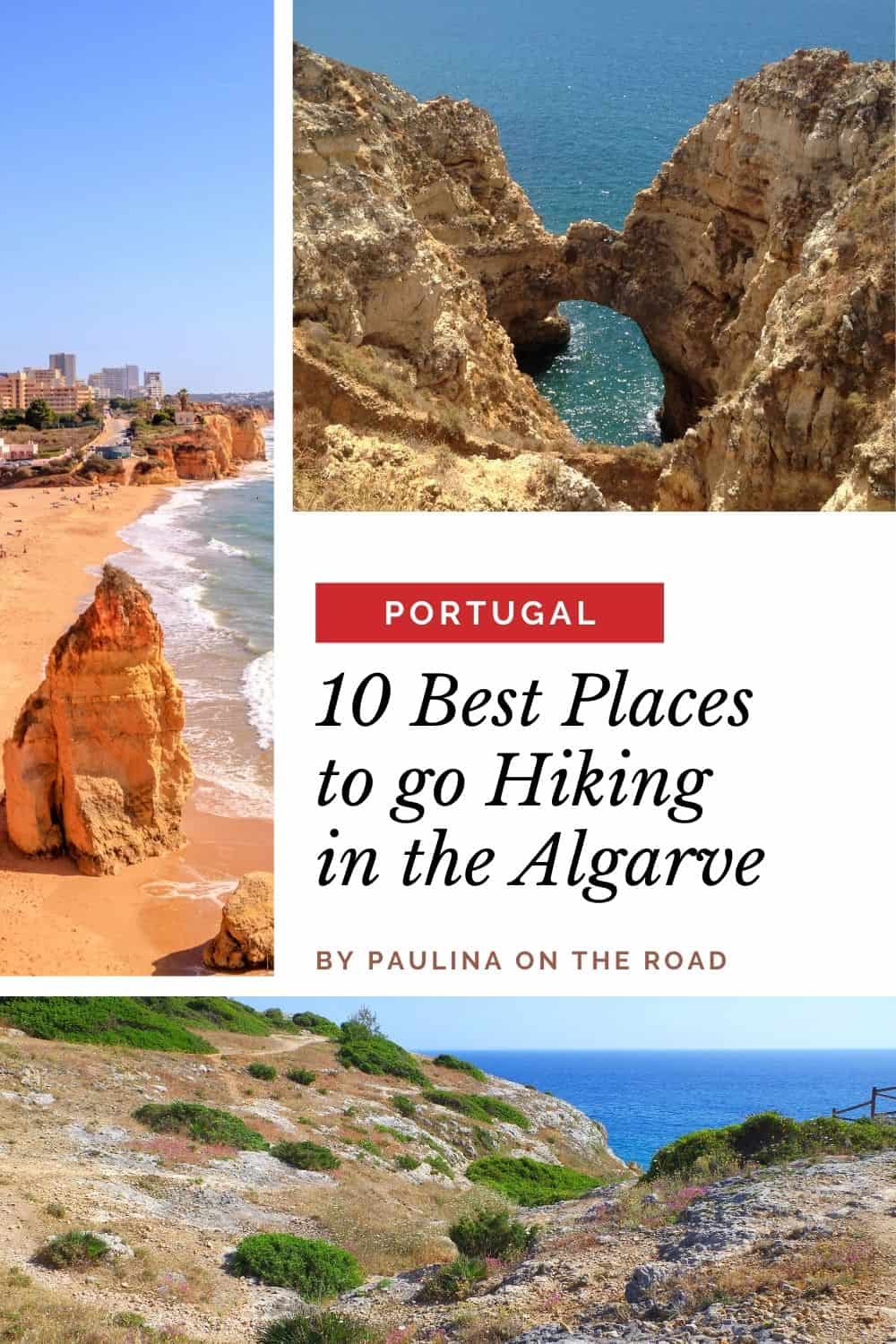 ---
Hola! I am Paulina, a fervent travelette who crossed the Atlantic Ocean by Boat HitchHiking. On my blog, you'll find all the tips to make the most of your holiday. Get ready to enjoy outdoor and sustainable travel like hiking, cycling or sailing. Let's hit the road together!