Guide to the best organic clothes brands where you can buy dresses, including maxi dresses, wedding dresses & summer dresses
Dresses are a reliable staple of every woman's wardrobe as you can wear them for any occasion.
This versatile piece of clothing in your closet can make your everyday fashion a lot easier.
Cotton dresses have long been a solid go-to, but as brands become more eco-friendly, the options for organic cotton dresses have grown significantly.
Making the switch to natural cotton dresses is both ethical and environmentally friendly as organic cotton is grown without using any harmful synthetic chemicals and toxic pesticides.
Many brands across the globe are using this fabric as it is soft and durable and also produces less CO2 and requires less water than regular cotton.
Below is a list of the best organic cotton dress brands I admire. These brands will make your decision to shift to sustainable fashion even more worthwhile.
This blog is supported by you, dear reader. If you purchase through a link, I earn a small commission. As an Amazon Affiliate, I earn from qualifying purchases.
Overview: The Top 5 Organic Cotton Dress Brands
Organic Basics collections are all about Innovation, simplicity, quality, and sustainability.
To ensure sustainability, they thoughtfully handpick the fabric based on its durability and environmental impact.
Their collection features a beautiful and versatile range of organic cotton clothes, including dresses.
The stylish shirt dresses can be worn on their own or used as a layering piece or long shirt.
Ethically made in Europe, these dresses are also vegan-approved by PETA.
The organic cotton they use is GOTS certified and grown on the coast of the Aegean Sea. This is considered one of the world's softest and most long-lasting cotton.
Organic Basics also work only with trusted and certified factory partners to ensure ethical production.
In addition to dresses, Organic Basics make all the essentials, including sustainable socks and t-shirts.
They also make amazing sustainable yoga clothes and swimwear.
The brand is also a great place to get simple gifts for outdoorsy people under $50.
WVN takes sustainable chic fashion a step higher with its high-quality clothing.
This brand aims to inspire people and the fashion industry with its environmentally and socially responsible manufacturing.
As a Certified B corporation, WVN works with fair trade certified factories which ensures that all products are made with love in happy and healthy working conditions.
When it comes to the fabric, they use only Global Organic Textile Standard (GOTS) certified raw materials.
They have beautiful and lightweight white cotton dresses, warm neutrals, and wrap dresses with gorgeous patterns.
WVN makes the best use of traditional techniques like block printing for their fabulous designs.
The natural dyes, natural woods, artisanal skills, and care pouted in make every piece even more special.
In addition to cute organic dresses, WVN also has a movement line that makes some of my favorite sustainable yoga pants.
The organic cotton dress collection of PACT is versatile, super trendy, soft, and sustainable.
You can check this brand for beautiful party dresses, patio dresses, and maxi dresses. It is also one of the best brands for adorable organic cotton dresses for girls.
Their mission is to be Earth's favorite ™ clothing company and they are genuinely committed to it.
PACT only uses sustainable crops, organic farming techniques, and chemical-free dyes for the apparel.
Additionally, the products are certified Organic by the Global Organic Textile Standard (GOTS).
If you are looking for gifts for kids, organic clothes are a splendid choice and PACT has comfortable dresses, bodysuits, and sleepwear that the little ones will love.
To ensure maximum sustainability, PACT ships all of its orders in a reusable box that you can even use to return your old clothes to them.
The brand also runs a donation campaign to give back to the community and reduce waste.
While their organic cotton dresses are amazing, that isn't all they sell. PACT does pretty much all types of clothes for men, women, and children.
I love their incredible range of clothing options, and they're one of my favorite sustainable underwear brands.
The first thing that I love about Made Trade is that it's a woman-owned family-run small business.
The next feature that I adore is that it ardently supports slow fashion, and promotes brands that share the same values.
Made Trade brings a variety of ethically made and sustainably sourced goods under one roof and has partnered with more than 150 brands, small businesses, makers, and artisan collectives.
Carefully curated from sustainable brands from around the world, Made Trade's splendid collection of women's cotton dresses will spoil you for choice.
The simple cotton dresses, wrap dresses, t-shirt dresses, and organic cocktail dresses are stunning.
Made Trade meticulously conducts detailed research about the sustainability of the products before bringing them to you. It also ensures to provide true transparency about all the ethically-made products.
It also has a beautiful range of vegan backpacks and shoes which are great outdoor gifts for women.
Eileen Fisher creates timeless and effortless organic cotton dresses to glam up your wardrobe.
Started in 1984 and now has more than 65 stores in the US, Canada, and the UK and is committed to sustainable fibers that assure a soft and luxurious feel.
No matter what the occasion is, Eileen Fisher has an organic dress to make you feel joyful.
The organic cotton jersey dresses, zip-up dresses, and stretchy tank dresses are excellent.
The most impressive feature of this brand is its take-back program to support circular fashion by allowing you to send in your old pieces and they will give them a new life.
At present, Eileen Fisher has collected over 1.4 million pieces and either found them a new home or transformed them into new designs.
Back Beat Co. is a California-born brand that focuses on low-impact and high comfort clothing.
This WOC-owned brand prioritizes the planet and people before its profits and always keeps social and ethical responsibility in mind while sourcing sustainably farmed fabrics.
Their GOTS certified Organic Cotton patch dress is a perfect addition to your everyday essentials as it is easy to style and goes perfect with a pair of sneakers and a puffer jacket.
The shipping process is also planet-friendly as Back Beat Co. only uses recycled paper mailers, recycled plastic poly bags, and home compostable bags.
Ninety Percent is a London-based organic clothes brand that launched in 2018 with a mission to give only the best to its customers, producers, and the planet.
Their organic cotton dresses are perfect for every occasion and enable you to feel comfortable and confident everywhere, from your formal events to evening parties.
The elegant and effortless garments are made from 100% organic cotton certified by GOTS.
As the name suggests, Ninety Percent shares 90% of its profits with charitable causes and the people behind the collections.
They even allow you to choose which cause you want to support by casting a vote online.
If you are looking for affordable eco-friendly clothing brands, then this is the brand for you.
Founded in 1991, People Tree is a pioneer in the world of sustainable fair-trade fashion.
The brand uses luxuriously soft and lightweight cotton certified by GOTS for its comfy, awe-inspiring apparel.
The combination of traditional skills and innovative technologies has always made its organic cotton women's clothing a class apart.
You will find the best cotton dresses here for the summer and spring casual looks.
The designs showcase the exemplary skills of the artisans like hand embroidery and hand block printing.
I love the fact that all of People Tree's clothes are hypoallergenic, so they're good for your skin AND the planet.
People Tree is also one of my favorite sustainable activewear brands, and one of my go-to vegan clothing brands (although a few of their products are made with wool, so always double-check materials).
Reformation is an eco-friendly brand that started in 2009 in Los Angeles and focuses on sustainability in every step (quite literally as they are one of the top sustainable shoe brands).
Besides planet-friendly materials, this eco-friendly brand use strategies to improve energy savings and water efficiency.
Many of their products are made using recycled materials, and they're one of the best recycled clothing brands.
They also aim to reduce wastage by initially producing small quantities of a product and only making more based on feedback and request.
However, Reformation never lets sustainability get in the way of fashion and innovative design, and they have some of the trendiest designs on the market.
Their limited editions collection ensures that you get unique organic cotton dresses for your ethical, slow-fashion wardrobe.
Additionally, if you are looking for organic cotton wedding dresses, Reformation has got you covered!
Whether you are looking for a classic long white cotton dress or something extra fancy, their collection will impress you.
Reformation also has eye-catching styles to make your bridesmaids look and feel fabulous.
ABLE is a women's clothing and accessories brand that offers thoughtfully crafted products.
The brand's mission is to empower both the women who make the products and the ones who wear them through forward-thinking fashion.
More than 90% of the staff at ABLE are women who are given opportunities to experience dignity, equality, and safety.
Due to incredible craftmanship, their high-quality products are stylish and stand the test of time.
You can find excellent choices of natural cotton dresses that are versatile and ideal for everyday fashion.
I particularly love the GOTS-approved organic cotton sweater dress with a belt that allows for multiple styling options.
But there are organic cotton dress styles to fit any taste and occasion.
Besides using eco-conscious materials in manufacturing, ABLE is also moving towards using 100% recyclable materials in packaging.
ABLE also makes sustainable jewelry, shoes and belts, and cute sustainable backpacks.
Outerknown is popular for its signature button shirt collection that redefines comfort and softness.
Already one of the best organic cotton clothing brands, they have now taken the collection to the next level by adding cool and colorful dresses.
The dresses are cut from 100% organic cotton heavyweight twill and feature buttons made from nuts.
The dresses are versatile and can be worn as an oversized shirt paired with sustainable jeans for a casual look.
All of Outerknown's planet-friendly clothes are made consciously by diligently following fair trade standards.
The brand encourages circular fashion and allows its users to sell any pre-loved clothes on their online marketplace.
You can also buy beautiful pre-loved items at very affordable prices from their website.
If the summer heat is getting you down, treat yourself to one of their sustainable winter coats to get in a colder mindset.
Christy Dawn makes an effort to honor the planet with its ethically made organic dresses.
Every dress by the brand reflects effortless style, timeless designs, and a comfortable fit.
The collection features stunning midi-dress, maxi dresses, and bohemian dresses inspired by vintage styles.
All of Christy Dawn's organic cotton dresses are created in partnership with Oshadi Collective in India and dressmakers from Los Angeles.
Natural dyes and block printing techniques by hand are used to create iconic patterns and designs.
Christy Dawn believes that along with sustainability, it is also important to follow regenerative practices.
To do this, they have a farm-to-closet collection that features dresses made from regeneratively grown cotton using ancient methods.
In addition to dresses, Christy Dawn is also one of my go-to brands for cute sustainable boots.
Thought boasts a flattering collection of sustainable clothing that's high on style and quality.
The brand came into existence in 1995 and has been inspiring its customers to make considered choices ever since.
All of Thought's easy-to-wear organic dresses stand out because of their unique designs and prints.
The GOTS certified organic cotton ensures that the clothes are extra soft and comfortable.
Because Thought has huge respect for the planet and uses only natural, sustainable yarns that create less CO2.
In addition to organic cotton, Thought uses many other sustainable materials and is one of the best bamboo clothing brands.
Additionally, they are also very careful about reducing waste and upcycling leftover fabric to create new products.
Thought believes in making a positive impact on the environment wherever possible.
Because of this, Thought ensures zero-plastic packaging, the use of vegan glue, and 100% biodegradable garment bags.
In addition to amazing organic cotton dresses for warm weather, can also get stunning vegan winter coats here to pair with your dresses in colder weather.
Thought is also the perfect place to grab super fun and durable socks if you are looking for cool gifts for outdoor lovers under $20.
Amour Vert offers sustainable clothes that are chic, comfortable, and durable all at once.
They have gorgeous organic clothing for women for every occasion and you can find everything from soft bodycon-styled mini dresses, sweater dresses, to flutter sleeves dresses.
The best part about Amour Vert is that they partner with mills to create sustainable fabrics.
Their ethical and highest production standards make it the best organic clothing made in the USA.
The brand is also committed to a zero-waste policy and aims to keep its garments away from landfills.
To ensure this, Amour Vert has a resale marketplace named ReAmour to buy and sell their pre-loved clothes.
If you love wearing denim, Kings of Indigo has a lot to offer to delight you.
Launched in 2011, this brand has made sustainable fashion and simplicity a stylish affair.
They offer stunning organic cotton summer dresses here that are perfect for any casual outing.
You can also pair an organic cotton maxi dress with your favorite accessories to create a style statement.
Kings of Indigo pay attention to detail in every step to use only planet-friendly material.
For example, they use Corozo buttons, which are biodegradable, in their garments.
They also work towards making the planet better through clean transport, waste consciousness, less water use, and responsible production.
Transparency to prove sustainability is important to Kings of Indigo, and they aim to stop greenwashing with AWARE™ technology that allows tracing the fabric from crop to closet.
---
Buying Guide: What to look out for when buying organic cotton dresses
Check the label
The major factor that differentiates between organic cotton and regular cotton is the way it is grown.
Organic cotton is free from chemicals and toxic pesticides.
But to identify this, you must check the label to see if it is Global Organic Textile Standard (GOTS) certified, which ensures the credibility of the fabric used in the dresses.
Check the brand's other sustainability efforts
The use of organic fabric is just one step in the way of sustainability.
While buying organic cotton dresses, you can check the other eco-friendly efforts taken by the brand.
For example, you must opt for brands that use natural dyes and traditional printing techniques for designs.
You can also check if they follow sustainability practices in the packaging and shipping process.
Durability
Genuine organic cotton dresses are supposed to last long and even aid in a circular fashion.
You can check with the seller about the product's life expectancy and check reviews.
Look for the take-back options
You can check with organic clothing brands if they have an option to take back their old clothes.
This can be for selling or for transforming into new designs, and will ensure minimum wastage while you add more styles to your wardrobe.
---
A Short FAQ about Organic Cotton Dresses
---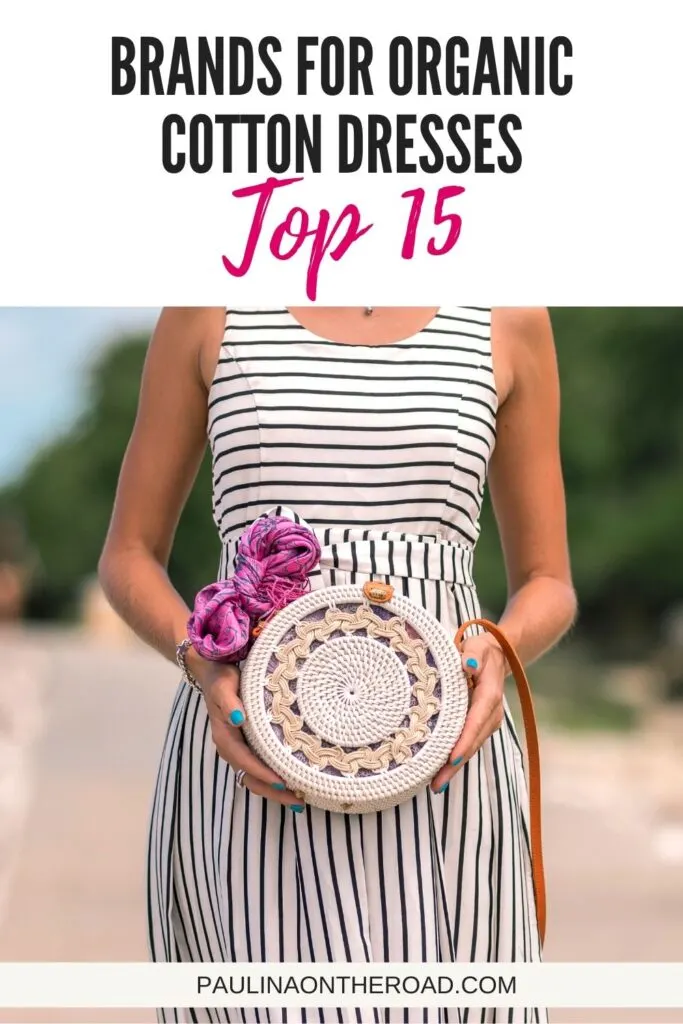 ---