A guide to the best brands making clothing from recycled materials
While the resources used for manufacturing clothes or garments are becoming scarce, most companies are now giving importance to recycled clothing ideas.
With time, recycled clothing brands are getting more and more popular.
Am I mistaken or does it seems like, finally, the days of fast fashion are counted?
Nowadays, you can get almost everything made from recycled materials: recycled or vegan hiking boots, backpacks made from recycled materials, and sports apparel made from recycled materials.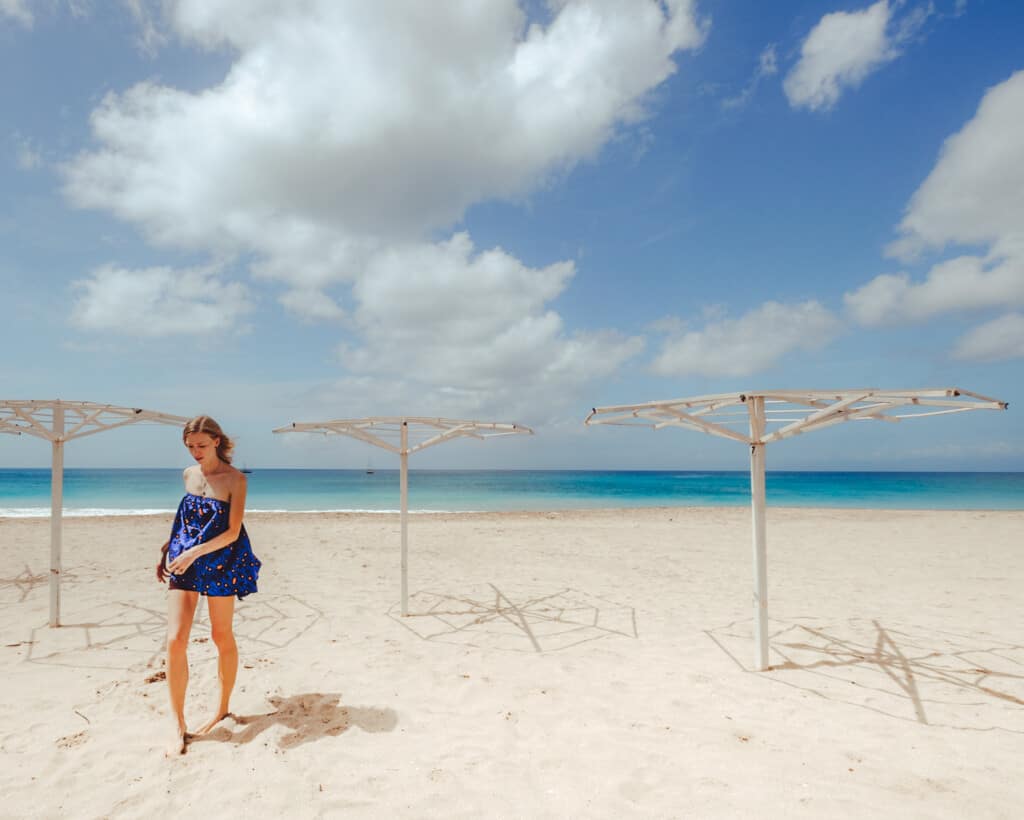 You name it and there's a recycled alternative!
If you love ethically made clothes, you should also check out my article about the best organic cotton clothing brands or my guide on affordable, sustainable fashion.
In this article, I will walk you through some of the best and most well-known recycled clothing brands producing gorgeous clothes from waste or recyclable and recycled material.
Thanks to affiliate links, I pay my bills. If you make a purchase through them, I may receive a small commission at no cost to you. As an Amazon Associate I earn from qualifying purchases. All opinions are always mine. Merci!
Reformation is famous for developing effortless silhouettes that enhance the feminine figure.
What I like most about this is the fact that most of the clothes are designed around 12 to 18 months before their release program.
Their items are the best fit for women between 5'6 to 5'10, but they also have launched a unique Petites collection.
They use TENCEL Lyocell fabric, TENCEL X REFIBRA, and Viscose, as well as ECONYL regenerated nylon, which is a gorgeous fabric!
Reformation is a great choice when looking for trendy, sustainable clothing with a sensual touch.
Girlfriend Collective is a well-known athleisure company that is committed to producing its clothes using sustainable materials in safe, ethical processes.
I love their leggings made from recycled materials since they feel super comfortable.
The comfy and functional ReSet Collection is made of recycled & recyclable heavyweight jersey and is perfect for being active or lounging.
As per the company, some leggings are made of 25 post-consumer recycled plastic bottles that are collected from Taiwan.
Girlfriend Collective is also one of my favorite sustainable underwear brands, they make some of the most comfortable sports bras1
Women who love good workouts will fall in love with the gorgeous pieces of Girlfriend Collective.
If you are looking for one of the reputed and best-recycled shoe brands, then VivoBareFoot is for you.
The brand is popular for producing super lightweight shoes that can offer you a maximum level of comfort.
All the shoes are perfectly shaped for your foot and let you enjoy more natural movements.
As one of the best sustainable shoe brands, all of their shoes are made of high-quality recycled PET plastics and come with the bio-based Bloom EVA performance insole to offer a great level of comfort.
VivoBareFoot is great whether you are looking for sustainable running shoes or everyday hiking shoes.
Mara Hoffman gives major importance to workers and artisans to ensure a positive working environment.
But the brand's primary aim is to lower the overall waste and energy utilization in the process of manufacturing clothes.
You can trust Mara Hoffman when it comes to buying top-quality eco-friendly swimwear.
They utilize a massive range of earth-conscious materials covering recycled polyester, recycled nylon, as well as GOTS-certified superior-quality cotton.
Their swimwear feels very comfortable and doesn't create any skin issues and is thus great when looking for sustainable swimwear!
If you are looking for recycled cotton clothing, then ADAY has something for you.
While contributing to sustainability, the brand always prioritizes creating recycled clothing as they believe in maintaining simplicity as well as versatility.
They have their own custom fabric called Recycled Scuba, which is developed using Repreve Yarn, and made out of post-used water bottles.
ADAY's first recycled product was Waste Nothing Jacket, made of 41 bottles.
So it's no wonder the brand is famous for its clothing made from recycled plastic.
After trying the T-shirts of Alternative Apparel, I feel satisfied and safe for saying that I think organic cotton is quite better and softer than conventional garment material.
With each wash, it gets softer, which is why the brand develops timeless worn-in styles that you will love to wear, all day long.
Alternative Apparel claims that more than 80 percent of its products are made from sustainable materials.
For their products, they recycle around 1.8 million plastic bottles every year and create Alternative Eco fabric.
To protect sensitive skin, they use around 60K LBS of organic cotton.
This California-based fashion brand is here to promote the trend of recycled clothing: Sustainability is the DNA of prAna.
To promote sustainable clothing, the company has partnered with world-famous organizations such as Responsible Down Standard, Fair Trade, Textile Exchange, Bluesign, etc.
They use recycled wool instead of virgin wool to prevent any direct harmful impact on the sheep.
prAna imports recycled wool fabric from Prato, Italy, and processes it organically for a safe product.
Thanks to its large range of items made from recycled materials, I'd say this is one of the best recycled clothing companies out there and perfect when looking for zero-waste fashion brands!
They're also one of my favorite sustainable yoga clothes brands and make some of the best eco-friendly yoga pants.
If you are looking for high-quality hiking boots, this brand has a great collection for you!
North Face has been around for a while and they're famous for their quality hiking gear made of sustainable material.
The brand works hard to promote sustainability and many of its pieces respect the latest eco-fashion standards.
I love their warm winter jackets made of recycled materials.
The North Face is also one of my favorite vegan winter boot brands as they have several cruelty-free options.
Ecoalf is a well-known Spanish clothing brand that was established on the principle of recycling to create a truly sustainable fashion and recycled clothing brand.
They utilize post-consumed plastic bottles, fishing nets, post-industrial cotton, worn-out tires as well as coffee grinds to develop swimsuit and outerwear lines.
To maintain quality and 100 percent transparency, they carefully manage the process of developing recycling technology, product design, and manufacturing.
Ecoalf is thus perfect when looking for sustainable clothing brands that want to improve the current fashion industry.
Their women's recycled polyester clothing is some of my favorite sustainable clothing available.
Patagonia has been manufacturing quality sustainable activewear and outdoor products since 1993.
They are leading the way with recycled polyester, which is developed using post-used soda bottles.
In fact, Patagonia might be the first company to convert this type of trash into fleece!
Now the company develops fibers from manufacturing waste, worn-out apparel, and soda bottles.
They also have some of the best vegan winter coats made from recycled materials.
We all know ASOS, right? But did you know that this online fashion imperium has a collection made of recycled materials?
The brand offers products in more than 30 sizes and is committed to offering all sizes under a single price tag.
More than 34 percent of the fibers used in ASOS' Reclaimed Vintage collection come from sustainable sources.
They make sure that animals are not suffering from fashion, and for this, they follow very strict sourcing guidelines for leather and when developing animal-free products.
By partnering with the popular denim brand Levi's Jeans, RE/DONE offers a huge selection of upcycled Levi's jeans under different categories.
They have many styles such as belly-button skimming high-waist jeans, mid-rise, or boyfriend jeans.
RE/DONE is specialized in recycled denim clothing…and there are so many models to choose from!
This makes the collection a great option when looking for recycled clothing brands.
They utilize old jeans, then mix and match them to create a unique product and some of the best sustainable jeans available.
To save water, the brand utilizes a water-conserving manufacturing process.
Urban Outfitters is known for making nature-inspired innovative clothing that is designed to offer the maximum level of comfort.
However, their collection Urban Renewal goes so much further and sets new standards for recycled clothing brands.
They use deadstock fabric to create brand-new designs, all made in the USA.
Their team re-designs, up-cycles, and tweaks unique vintage find to suit current trends. Every piece is thus unique!
In fact, sustainability and recycling are the backbones of Urban Renewal.
Even though it offers both men's and women's clothing, Thought clothing is most popular for its sustainable socks.
All of the socks are made with some combination of recycled polyester (22%), bamboo, and organic cotton.
But all of the materials used in all of their socks are antifungal and antibacterial.
In addition to being one of my favorite recycled clothing brands, they're also a cruelty-free company and one of the best vegan clothing brands.
Along with socks they also have gorgeous recycled clothes for men and women in different categories.
The packaging material is also recyclable and most of the products are developed using certified global recycled methods.
Amour Vert gives absolute importance to sustainable practices and is popular for recycling unused materials back into their products.
They use 100 percent sustainable fibers and maintain the most sustainable production processes possible.
They have partnered with mills to obtain sustainable fabrics, such as TENCEL Model, Certified Organic Cotton, and TENCEL Lyocell.
ABLE works with fabric with mills that have developed different types of sustainable denim and their denim products require less water to wash than the average denim.
Because they source materials from the Western Hemisphere they can keep their carbon footprint lower.
The denim-making process is 100 percent eco-friendly as they don't use harmful chemicals such as Potassium Permanganate.
Starting in 2020, ABLE also started manufacturing sweaters from 100 percent organic cotton and now makes some of the cutest organic cotton dresses.
It's hence a great option when looking for ethical recycled clothing brands – and sustainable backpacks – that use organic materials.
EVERLANE is working to eliminate virgin plastic from its supply chain and have currently reached 90%.
Virgin plastic is produced by using natural gas or crude oil so they have decided to eliminate it in order to keep the environment safe.
Through this initiative, EVERLANE have introduced the Re:Down&ReNew collection, where you will get quality outerwear made of used plastic bottles.
They launched ReNew in just two days, which is made of 3 million recycled plastic bottles.
Additionally, other fabrics used in their clothing like acrylic, nylon, polyester, and other types of synthetic fabrics are made of new plastics.
EVERLANE is definitely one of the most stylish recycled clothing brands out there!
REI.com is famous for outdoor clothing, gear, and backpacks made from recycled materials.
The brand follows its own Product Sustainability Standards, and also ensure other brands they work with meet these standards.
REI.com has a fair trade certification and contributes to sustainable livelihoods and safer working conditions with fair wages.
Although not all their products are made from recycled materials, they have many that are, including clothing, shoes, and many vegan backpacks.
You can choose among several brands offering outdoor apparel or travel gear, making REI.com one of the largest online shops for recycled clothing brands.
The company is also committed to using packaging materials that are recyclable as well as recycled.
Outdoor Voices is on a mission to make comfortable outdoor wear for men and women as sustainably as possible!
Because all of Outdoor Voices' products are designed with the planet in mind, they create products that last.
But they also believe in circular fashion, which is why they are committed to providing high-quality recycled fashion products.
And as part of this circular fashion commitment, Outdoor Voices manufactures many of its products from recycled plastics.
In addition to being one of the best recycled clothing brands, many of their products are also vegan-friendly.
As one of the top brands that use recycled materials, you'll find products with innovative materials like CloudKnit, RecPoly, and Sweatee.
Oh, and they ship everything in 100% recycled (and recyclable) packaging, though if you shop in-store you'll get a cute reusable tote.
Taylor Stitch creates eco-friendly fashion for men using fabrics that are developed using recycled products or deadstock materials.
To create these fabrics, they use a blend of used apparel, plastic bottles, and manufacturing waste materials.
Some of the products even use ECONYL, which is made entirely from ocean and landfill waste, as recreated nylon fabric.
But just because they're made from waste, doesn't mean they are stylish – and incredibly comfortable!
Any guy who has worn a Taylor Stitch jacket or shirt can tell you just how soft, lightweight and breathable they are – which is why it's one of the best recycled clothing brands for men!
Taylor Stitch clothing is also designed to resist sunscreen, sea salt, and chlorine, which ensures it lasts longer.
Additionally, every single one of their products is 100% vegan and cruelty-free.
PACT has always strived to create sustainable, long-lasting clothing that people love.
All of their clothes are made with organic materials in fair trade factories and are carbon neutral thanks to offset programs that PACT works with.
If you are looking for recycled material clothing brands, PACT is a great choice as many of their products are also made with recycled synthetic materials, such as nylon and polyester.
In addition to their recycled clothing options, all of PACT's packaging is 100% recyclable, and are one of the best clothing brands with recycling programs.
PACT promotes circular fashion with The Give Back Box, which allows people to send in ANY of their old clothes (it does not have to be from PACT).
These boxes of clothing – and accessories – are then forwarded onto charities to be given new lives with those in need.
With a name like this, it's no surprise that this is one of the most sustainable recycled clothing brands available.
Started in 1992, the ethos behind American Recycled Clothing is that people should be able to buy secondhand clothes without having to forego high-quality fashion.
American Recycled Clothing curates a selection of secondhand clothes from the 1970s through to the Y2K era up to 2010.
I love that you can find a range of cute vintage and retro clothes, but the true gems are from their Rework collection.
They make clothes that have been recycled into something completely new and it's one of my absolutely favorite recycled clothing lines!
You can even shop for individual items, or shop wholesale, depending on your needs.
Shop AMERICAN RECYCLED CLOTHING
Wolven is one of the best brands that use recycled materials for activewear and most of their active tops and bottoms are made using recycled PET fabrics.
Their process is to break down BPA-free plastic bottles into non-toxic pellets, which become yarn that is then woven into their beautiful and colorful patterns.
Every single pair of Wolven leggings is made with an average of 27 recycled plastic bottles.
Additionally, the brand uses recyclable packaging and is completely carbon-neutral.
Although Wolven mostly caters to women, they also offer a handful of recycled fashion products for men too.
Rapanui is one of the best UK companies that use recycled materials to make clothes.
Established on the Isle of Wight, Rapanui's mission is to make clothes as sustainable as possible.
That's why they are a 100% circular brand and are proud to make some of the best recycled fashion products available with their Remill program.
Every single Rapanui product is designed to be easily sent back to the company at the end of its life where it will be recycled into a fantastic new product.
As Rapanui puts it, they're proud to say their products are rubbish!
They even recycle their water into a closed-loop system for their dyeing processes so that they are not wasting excess amounts of water.
In addition to their circular fashion model, all Rapanui clothes are initially made from the best all-natural organic materials – be that recycled materials or organic cotton.
Shipments come in plastic-free packaging that is completely recyclable and super cute – you can even buy some for yourself to send your own gifts!
This trendy Latinx-owned recycled clothes company operates on a closed-loop production system.
All of their products are made in ethical factories with sustainable and responsibly sourced materials.
Some of the recycled synthetic materials used in their products include nylon, polyester, and mesh.
This is one of the best recycled clothing brands for anyone who wants something totally unique, while still being very stylish!
---
My personal notes: Why consider Recycled Clothing Brands?
Recycled clothing is about taking worn out, damaged, or old materials and converting them into new clothes.
Hence clothes made from recycled materials utilize less amount of raw materials, lowering the harmful effect of modern fashion production.
Fewer carbon emissions, less water utilization, and using fewer chemicals are some major benefits of recycled clothing.
---
I hope you liked this very personal selection of recycled clothing brands. Do you know any other brand that is not featured in the list? Just drop me a message or a comment below!
Now it's all about you: take your steps and contribute your effort towards developing a sustainable world.
---
Short FAQs About Recycled Clothing Brands
---