Guide to the best brands to buy quality vegan winter coats for women and men
When the first burst of cold air hits you in the Autumn season, you know the snowy days are around the corner, and it is time to find yourself some winter coats.
However, finding a chic yet cozy winter coat is a struggle, to top it off, if you want vegan winter coats, it adds another layer of difficulty. Usually, winter coats are made of goose down, wool, fur, and leather.
The animals are raised and killed in cruel conditions, and some are trapped in the wild for the sake of their fur; all this suffering is unnecessary just for a piece of clothing.
Luckily, as the demand for ethical and cruelty-free fashion grows, it is easy to find a functional and warm vegan winter coat.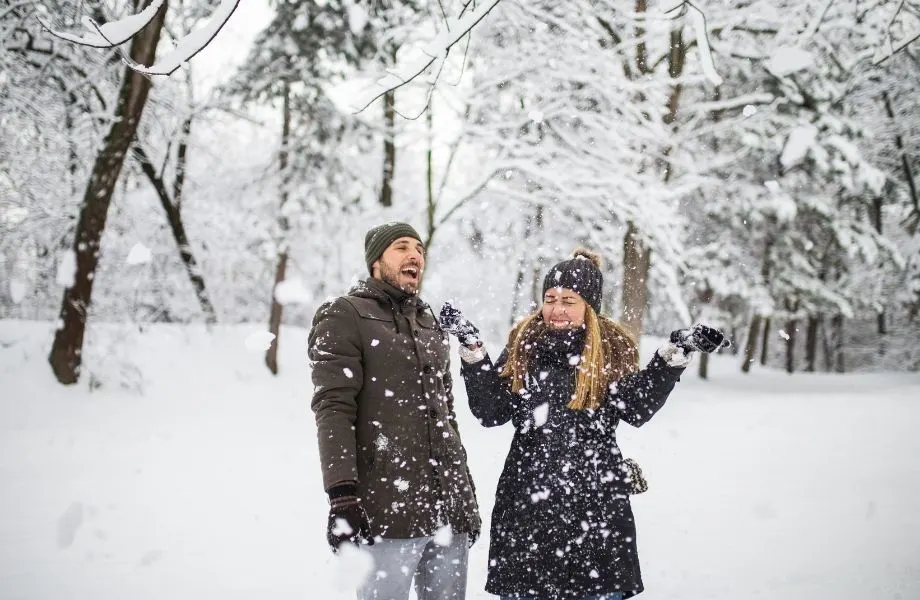 There are many brands out there that make warm vegan coats of highly engineered synthetics to materials from recycled plastic.
These vegan coats or vegan jackets are designed to keep you warm and insulated through the winters but without cruelty.
Also, if you are in the market for a new coat, jacket, or parka to gift to someone, then shopping for ethical winter coats is the best.
A gift of ethical clothing is a gift from the heart and is not only a beautiful present for the recipient but the animals as well who are spared an ugly fate.
It can be difficult to find quality cruelty-free winter coats but don't worry, I've done all the work for you!
In this article, I have curated the best brands for vegan winter coats to help you decide on the best vegan winter coats to keep you warm and cozy while looking chic.
This blog is supported by you, dear reader. If you purchase through a link, I earn a small commission. As an Amazon Affiliate, I earn from qualifying purchases.
Overview: The Top 5 Vegan Winter Coat Brands
Based in Montreal, Canada, Noize is PETA-approved, and one of the best vegan clothing brands in the world.
The brand is most popular for its vegan outerwear clothes with a great selection of vegan parka, vegan puffer, and vegan winter coats for all occasions.
All the vegan winter coats for women and men have insulation fill made from reclaimed and repurposed recycled plastic bottles.
Noize also makes super cute (and warm) vegan winter coats for dogs because they want your furry friends to stay as warm as possible.
The fill is of their coats is lightweight but keeps you warm no matter how cold it is.
If you need a warm waterproof vegan winter jacket, the fabric of Noize coats is water and wind-resistant.
Many of the vegan parka styles offered by Noize come with removable vegan fur trim or a detachable hood for extra versatility.
When it's not winter, you'll also find some of the most comfortable vegan sandals here.
A luxurious Australian ethical fashion clothing brand, Unreal Fur specializes in vegan fur coats.
The brand is on a mission to end the use of real fur and animal products in the fashion industry and design their vegan winter coats with no-animal derived materials of the best quality.
All styles are made with quality and longevity in mind to be worn season after season.
Unreal Fur is PETA-approved and makes the warmest vegan winter coats with synthetic material, like modacrylic.
The ethical fashion brand is also working on more sustainable material options like hemp and PET fibers.
What I like about Unreal Fur is that they recycle fabric scrap to create their accessories and kids' collection.
Matt + Nat began its operations in 1995 in Canada and is one of the most affordable eco-friendly clothing brands.
The founder of this vegan clothing brand was inspired by veganism and decided to create sustainable and eco-friendly clothing, footwear, wallets, and bags for like-minded people.
The brand offers backpacks made from recycled materials and a vegan puffer coat with 100% recycled polyester.
The lining of many of their products, including their vegan winter coats is made of 100% recycled plastic bottles.
Matt + Nat uses a variety of vegan materials like polyurethane (PU), polyvinyl butyral (PVB), rubber, cork, nylon, and recycled plastic bottles.
Additionally, the company has a Purity collection where all the products' outer body is made of PVB.
Stay extra warm with their vegan winter boots, which are just as stylish and sustainable as their vegan coats.
Thought is one of the best UK-based ethical fashion brands that strongly believes in sustainable and contemporary fashion.
Their garments are made to last incorporating trendy yet classic designs and gorgeous prints with the use of natural, organic, and recycled fabrics.
Thought creates stylish men's vegan winter coats and vegan women's coats, knitwear, and light jackets using sustainable materials like sustainably sourced organic cotton, and modal.
There are so many beautiful styles, eye-catching prints, patterns, and weather-ready layers to choose from.
Additionally, Thought also has a men's capsule collection and makes sustainable men's beachwear made of natural hemp.
You can also get in the summer spirit and will the warm weather back with their cute organic cotton dresses.
Thought uses many innovative plant-based materials in their clothing.
Because of this, they are also one of the best hemp clothing brands and one of the leading bamboo clothing brands in the world.
Just be sure to check their materials used as several of their cute winter coats have wool, so are not vegan-friendly.
ThokkThokk is an environmentally conscious brand with a transparent supply chain, and they carry social responsibility.
The brand is PETA-approved vegan certified and uses kapok fabric in their sustainable winter coats.
Kapok fiber is hollow and insulates excellently and keeps you super warm in the chilly cold weather.
The other innovative vegan materials used to create the clothing are GOTS certified organic cotton, recycled plastic, and Tencel.
ThokkThokk produces GOTS and Fairtrade certified fashion clothing for women and men. This brand offers a mix of classic street styles and great designs.
Due to their standard for organic-fair textile production, ThokkThokk is one of the best organic cotton brands.
I like the brand because they work with the Indian NGO SAVE to combat child labor and strengthen the rights of women and workers in the textile industry.
When the sun comes back out, ThokkThokk is also one of the best sustainable swimwear brands with lots of cute designs.
Established in 1966, the American brand, The North Face is a leader in outdoor equipment and activewear with a dedication to sustainability.
The newest innovation by the ethical brand is the reinvention of the existing product line, ThermoBall made entirely with recycled materials.
The ThermoBall Eco range is one of the best options for vegan winter jackets and vegan parkas.
It is made utilizing recycled polyester fabric and recycled Primaloft insulation made from plastic bottles diverted from landfills.
The vegan coats made by The North Face are water-resistant, highly compressible, and equipped with innovative technology to keep your body warm.
What I like the most about The North Face is that they are making progress with the renewed line, a collection of refurbished clothing.
LOVECO is Berlin's best vegan clothing brand and your one-stop destination for ethical and sustainably made fashion, and super warm vegan parks.
The company is 100% vegan with all products certified with GOTS (Global Organic Textile Standard) and Fair Trade.
This vegan clothing brand sells products made with sustainable materials like organic cotton, Modal (cellulose), hemp, recycled polyester, Refibra, and other eco-friendly materials.
Their vegan coats and jackets are made of recycled polyester obtained from the old PET bottles.
All the materials in LOVECO's vegan winter jackets are insulating and water-repellent to keep you warm through the colder months.
Additionally, the same durable material is used in their leather-free shoes, bags, and vegan backpacks.
LOVECO offers sustainable clothes, shoes, and accessories for men and women from 80 carefully curated fashion brands under one roof.
And they are one of the best places to find sustainable underwear brands in Europe.
Patagonia is known as an outdoor and adventure wear brand that leads the way in caring for the planet Earth.
The brand makes some of the best vegan winter coats and other sustainable activewear products that cause no unnecessary harm to the environment.
Their line of cold-weather coats and vegan winter jackets are ideal for those who like to spend their weekends camping, hiking, or enjoying Mother Nature without the negative environmental impact.
Patagonia is all about using recycled materials, and they are one of the best recycled clothing brands.
The American clothing brand uses 100% renewable and recycled materials like polyester, nylon, and wool to make the winter coats.
They also offer lifetime repair guarantees and is fair trade certified for factory workers.
Additionally, Patagonia has several hemp clothing products as well and great sustainable backpacks.
Hemp offers a natural drape, high breathability, and durability to the clothing, thus making them the best hemp clothing brands out there.
Moreover, the brand uses cotton that is certified organic by the Global Organic Textile Standards (GOTS) and some of the fabrics are Bluesign certified.
If you love winter treks, Patagonia also has some of the best water bottles for hiking.
Frank & Oak is a Canadian clothing brand for men and women that also offers a cool subscription Style Plan.
When it comes to quality and eco-friendly clothing made with recycled and organic materials, Frank & Oak is making a splash.
The vegan women's winter coats offered by Frank & Oak are created using recycled polyester sourced from discarded plastic bottles and cotton.
Their men's vegan winter coats are equally eco-friendly – and warm!
Many of their vegan winter coats are waterproof, and can keep you warm in temperatures below -25°C, making them ideal for cold snowy winter conditions, and have featherless insulation.
Frank & Oak is also a great option if you are looking for cool gifts for outdoor lovers under $20.
Taylor Stitch is a menswear brand headquartered in San Francisco. The brand creates men's shirts, denim, outerwear, footwear, and accessories with a sense of longevity in mind.
All of their products are manufactured using fibers and fabrics that do not harm the animals or rely on harmful chemicals and cultivation practices.
If they can't find the right fabric, Taylor and Stich develop it.
Taylor Stitch makes high quality and comfy vegan men's coats, made of sustainable materials like hemp, recycled polyester, organic cotton, and spandex.
They also have 100% recycled nylon lining with 100% recycled polyester fill. Each of their products is made exclusively with deadstock fabrics.
In addition to this, Taylor Stitch's clothing resists sea salt, sun, and chlorine making it extra versatile and long-lasting.
Save the Duck is a cruelty-free, animal-friendly outerwear brand launched in 2012 to little fanfare, but now produces 600,000 jackets a year.
They are an ethical company equally committed to style and comfort as they are to living in an animal cruelty-free world.
All the vegan winter jackets created by Save the Duck are 100% animal-free and do not utilize real feathers, leather, hide, or fur.
Instead, the products are made using various materials like polyester, nylon, cotton, 100% recycled polyester (PFCEC – perfluorocarbons), polyurethane, and viscose.
The padding in Save the Duck's vegan winter coats is of recycled Plumtech from plastic bottles which are breathable, lightweight, and thermal keeping you warm through the chilly winters.
Founded in 2006, Nanushka is Budapest-based womenswear, menswear, and accessories brand.
The ethical brand focuses on craftsmanship, detail, and fabric, creating an elegant, modern wardrobe with a dedication to responsible production.
Nanushka creates cruelty-free winter coats and vegan leather puffer jackets made with polyester and polyurethane and has a lining of 100% viscose.
Their vegan coats have padding made of 100% recycled polyester that will keep you extra warm through the cold iwnters.
Also, some of the vegan winter coats are made of Econyl and recycled, traceable wools, polyesters, and Dribbled Ribbon.
The brand is also one of the best to purchase unique gifts for outdoorsy people under $50.
Superdry crafts premium outwear products sustainably. The brand believes that animals should not suffer in the name of fashion or cosmetics.
Although Superdry is not 100% vegan, they do have many products that are 100% vegan, including their Original & Vintage jackets, which are PETA-approved.
Their vegan winter coats are designed using recycled materials and responsibly sourced synthetics.
Superdry make some of the warmest vegan winter coats, all of which are incredibly comfy and durable.
Stella McCartney launched in 2001 with the intent of reating fashion-forward vegan luxury clothing.
It was one of the first vegan luxury brands to introduce garments made from Mylo leather, and has since created unique vegan silk and vegan wool materaials.
So it's no surprise that the brand creates stylish women's vegan winter coats collection season after season.
All Stell McCartney vegan jackets are fur-free and fitted to keep you warm while looking cool.
These vegan coats are also made of eco-friendly materials like polyester fur and sustainable viscose lining.
Born from a love of wildlife and a vision of warm, animal-free alternatives, Wuxly creates the highest-quality vegan winter jackets.
Wuxly jackets are created using innovative sustainable fabrics and implement the most stringent fair labor practices.
The Canadian 100% vegan brand creates the warmest vegan winter coats, and once you try them you'll never miss animal products like down.
The vegan jackets and parkas from Wuxly allow you to be both stylish and warm, even in the harshest of conditions.
The insulation used in their winter jackets holds 98% heat retention keeping you warm. Wuxly also uses military-grade Primaloft Gold Insulation.
Their vegan winter coat line is made using sustainable materials without compromising heat, and by limiting the carbon footprint, and reducing CO2 emissions to support wildlife.
---
Buying Guide: What Materials to Avoid When Buying Vegan Winter Coats
Wool
Whenever you look for winter coats, wool is the first material that comes to mind, but it is not vegan-friendly. Wool often comes from sheep under unethical circumstances. Even if sourced ethically, wool is an animal byproducts so not vegan.
Mink Fur
Mink Fur is found on winter jackets, coats, and hats. It is obtained from foxes, Chinchillas, lynxes, and raccoon dogs by raising them in the factory and killing them. Thus, if you are looking for vegan winter coats avoid the ones made with mink fur.
Feather and Down
Feathers are found in insulation or fill for jackets and winter coats. Feather is plucked from animals like geese and ducks which cause pain and distress to the animals.
Leather
Leather is another material to avoid when looking for vegan coats. Leather is sourced from cows, alligators, pigs, sheep, and deer under cruel conditions.
---
Short FAQ about Best Vegan Winter Coats
You can't get enough of vegan winter coats? Have a look at my Google Story here.
---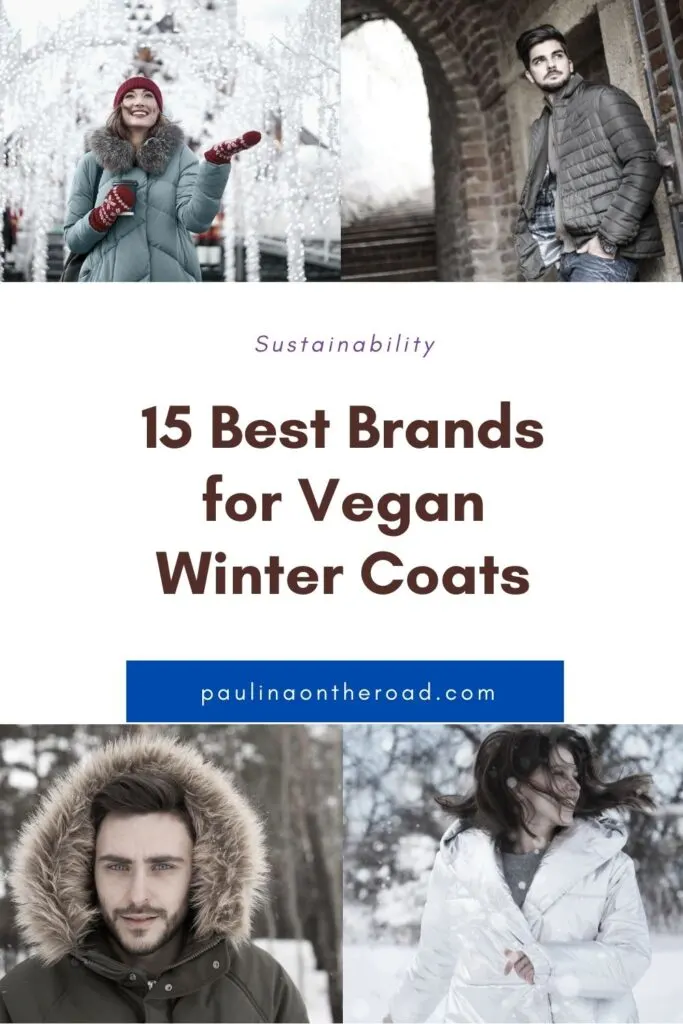 ---