Guide to the best romantic Milwaukee hotels for unforgettable romantic getaways in Milwaukee
Striving to find a unique destination for enjoying a romantic getaway?
Wisconsin's unique city of Milwaukee is waiting for you!
I adore this city as it offers exceptional ideas for enjoying a romantic vacation, and there are lots of amazing romantic hotels in Milwaukee.
On the one hand, it's lively with events, while on the other it is peaceful with splendid views of nature.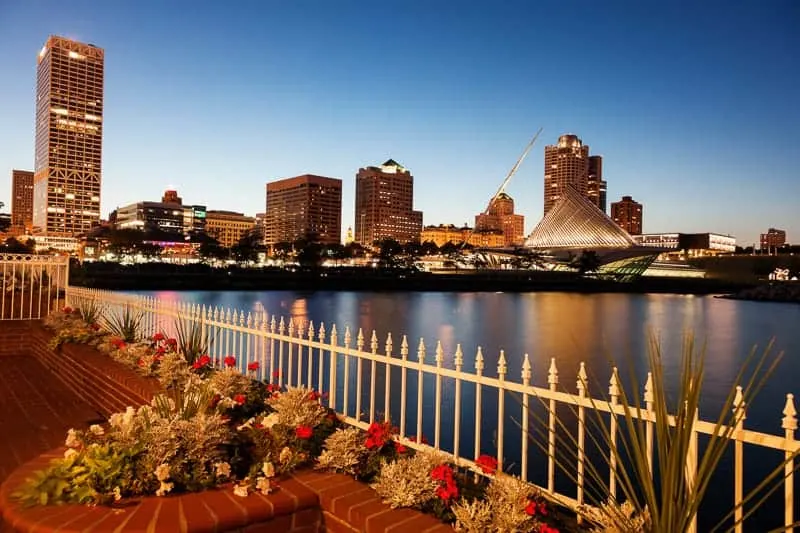 From sporting events, musical concerts, museums, and historical sites to gorgeous lakes, it has something to amaze every visitor.
Whether you want to pop the question, enjoy your honeymoon, or anniversary, or simply spend time together, this place is perfect.

And if you're wondering where to stay in Milwaukee during your romantic getaway, the city is home to some of the most romantic hotels in Wisconsin.
There are also some great AirBnbs in Milwaukee that a perfect for a couples' trip away.
However, the romantic hotels in Milwaukee are top-notch, and they endeavor to make your stay memorable with their luxurious amenities and hospitality.
Some even offer special romantic packages for the ultimate pampering experience.
This blog is supported by you, dear reader. If you purchase through a link, I earn a small commission. As an Amazon Affiliate, I earn from qualifying purchases.
Top resources to travel Wisconsin
✎ Plan the ultimate Wisconsin road trip (no backtracking!) with the Perfect Wisconsin Road Trip itinerary – Buy now for less than 12$

✈ Find the best hotel deals in Wisconsin with Trivago

➳ Book vacation rentals in Wisconsin with VRBO

✔ Book tours in Wisconsin with Viator

☘ Get the best discounted outdoor gear (outlet) at REI.com

$ Get Wisconsin hiking guides and maps at REI.com

✎ Never leave without travel insurance. I get mine at SafetyWing. It is easy to set up, cheap, and reliable.
Overview: The Best Romantic Hotels in Milwaukee, WI
Most Romantic Hotels in Milwaukee
Highlights: Couple massages at the spa
The pride of downtown Milwaukee, The Pfister Hotel came into existence in 1893.
The hotel is known for its magnificent architecture, superior accommodations, and gracious service.
It has the best honeymoon suites Milwaukee has to offer with modern luxuries and gorgeous lake views, which is why the Pfister is one of the best lake resorts in Wisconsin.
It is also a great option if you are searching for romantic hotels in Milwaukee with a jacuzzi in room.
The hotel offers a top-notch dining experience with a café, grill, and lobby lounge.
Additionally, there is a bar on the 23rd floor that serves signature cocktails and wines, making The Pfister one of the most romantic resorts in Milwaukee for enjoying a memorable date night.
For those planning romantic getaways in Milwaukee, this hotel has excellent packages to offer.
You can book the luxury all-inclusive stay that includes chilled champagne, spa treatments, and late-night dessert.
The Pfister is also ranked among the best spa resorts in Wisconsin and offers amazing relaxing couple massages.
If you and your honey are looking for a spooky getaway, the Pfister is also said to be one of the most haunted hotels in Wisconsin!
But don't worry if ghosts aren't your thing, just avoid the second floor and you should be paranormal activity free!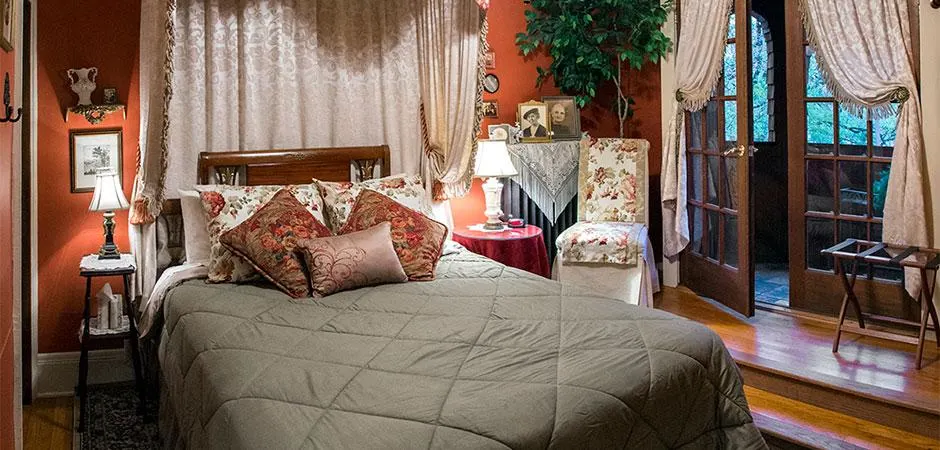 Highlights: Free access to Victorian Garden
Schuster Mansion B&B is the best bet for one of the most romantic weekend getaways in Wisconsin.
With a history that traces back to 1891, this charming mansion hotel is an architectural masterpiece and perfect for an extra-special romantic stay.
All of the gorgeously decorated rooms with rustic furnishing here exude warmth.
The luxurious Richard's den in the mansion is great for couples to immerse in a feeling of royalty.
Couples will cherish the experience of cuddling up together in front of the decorative fireplace, espcially in the colder months.
Further, if you are looking for the most romantic suites in Milwaukee, this B&B has great options.
The Victorian Garden here is one of the most romantic places in Milwaukee for having an unforgettable breakfast. This aesthetically pleasing garden is filled with flowers and has an old-world fountain.
Additionally, it has a firepit, and you can get S'more supplies for a small charge to make your date night extra memorable!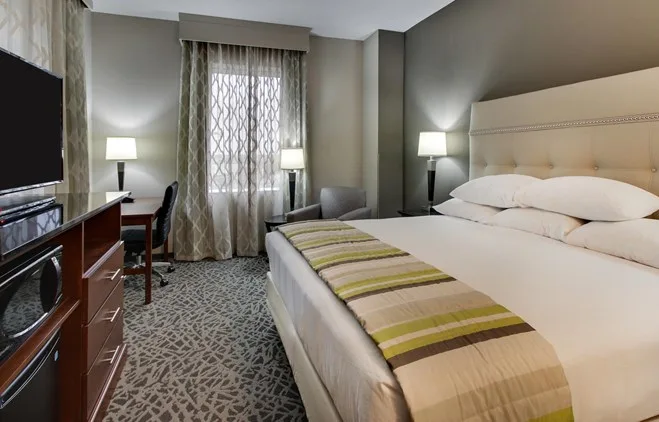 Highlights: Free breakfast, snacks, and beverages
Drury Plaza Hotel is a result of the skillful renovation of the iconic First Financial Centre constructed in 1928 and stands a step ahead of other hotels in downtown Milwaukee with its convenient amenities.
It is an exceptional choice for couples seeking romantic hotels with jacuzzi access in Milwaukee. There is also an indoor pool.
Additionally, the Drury Plaza Hotel offers all the comforts of home with facilities like a refrigerator, microwave, TV, and Wi-Fi in every room.
A complimentary hot and fresh breakfast is served each morning for a bright start to the day. In the evening, guests can also enjoy free snacks and cold beverages.
In addition to being one of the most romantic hotels downtown Milwaukee has to offer, Drury Plaza is just one mile away from the Veteran's Park along Lake Michigan.
The paved section of the Oat Leaf Trail lets you witness scenic views.
Take a romantic walk here and enjoy fall colors, which is one of the best things to do in Milwaukee in October.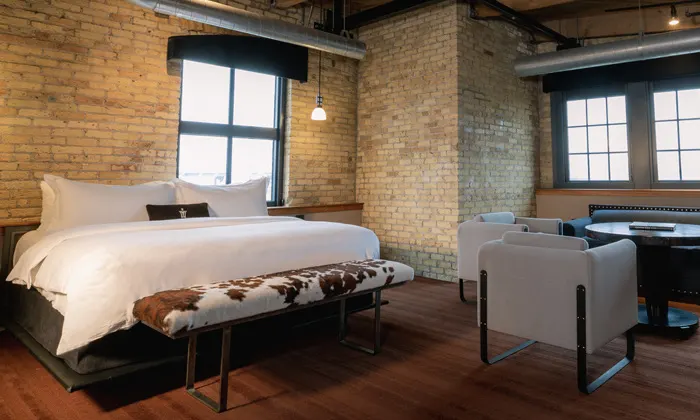 Highlights: Koss Music station
Located near the Wisconsin Centre, The Iron Horse Hotel is a restored century-old warehouse building.
The hotel features spacious loft-style guest rooms with plush beds, fine art photography, and fabulous amenities.
Most of the rooms here feature original posts and brick walls that will remind you of the gone-by era.
This is one of the most romantic resorts in Milwaukee that offers special packages to celebrate love.
Guests will find that The Iron Horse Hotel offers everything from a bottle of sparkling wine, chocolate truffles to stunning roses to enhance the romantic experience.
Additional options for customization and late checkout facilities are also included in this package for your convenience.
The guests of the hotel can even enjoy free yoga classes in the yard.
For a relaxing but romantic experience, the hotel also has a spa treatment room where you and your partner can enjoy massages.
You won't have to step out of the Iron Horse for a delicious meal as the dining options here are marvelous.
There is a restaurant that emphasizes open-hearth cooking and a bar that serves classic cocktails and local beers.
And there is also an outdoor setup with firepits and cozy lounge furniture perfect for a date.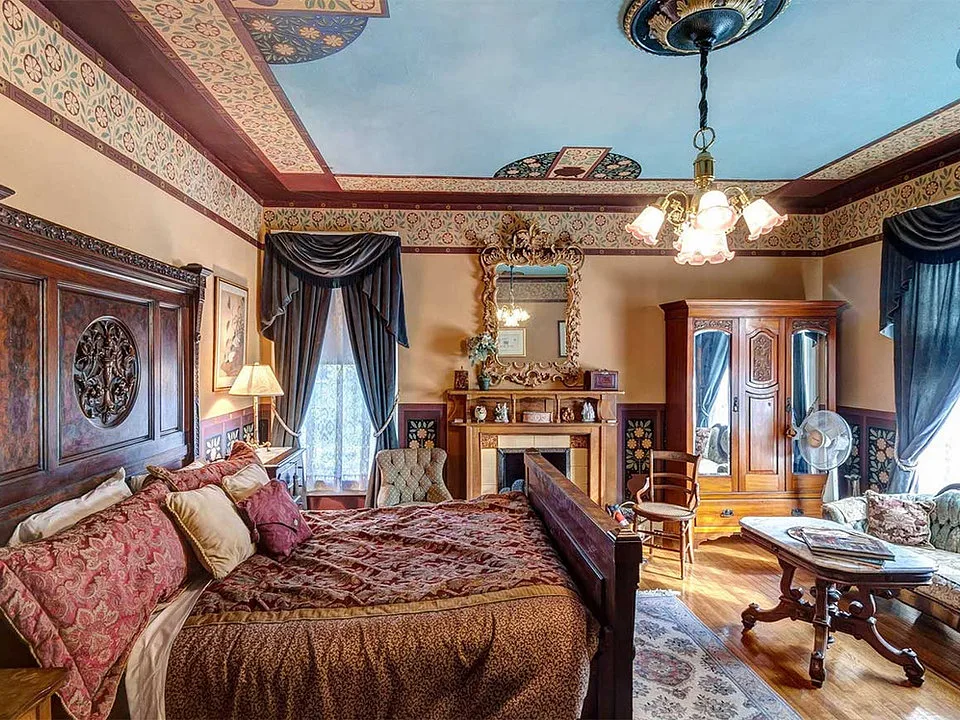 Highlights: Romantic-candle-lit breakfast
Located in Concordia, Manderley Bed and Breakfast Inn redefines the meaning of elegance and grace.
The hotel occupies a home built in 1886 and enchants guests with its vintage charm, which has earned it a place in the National Register of Historic Places for its exceptional architecture.
The unique features like hand-painted walls, intricate woodwork, and glowing stained-glass windows create a warm and romantic ambiance.
Guests can spot antique furniture and art in every room of this magnificent house!
If you are looking for wonderful winter getaways in Wisconsin, then a stay at the Manderley is an excellent choice.
Most of the rooms have fireplaces and whirlpool tubs to cozy up with your partner. To make your mornings special, a romantic candle-lit breakfast is arranged every morning.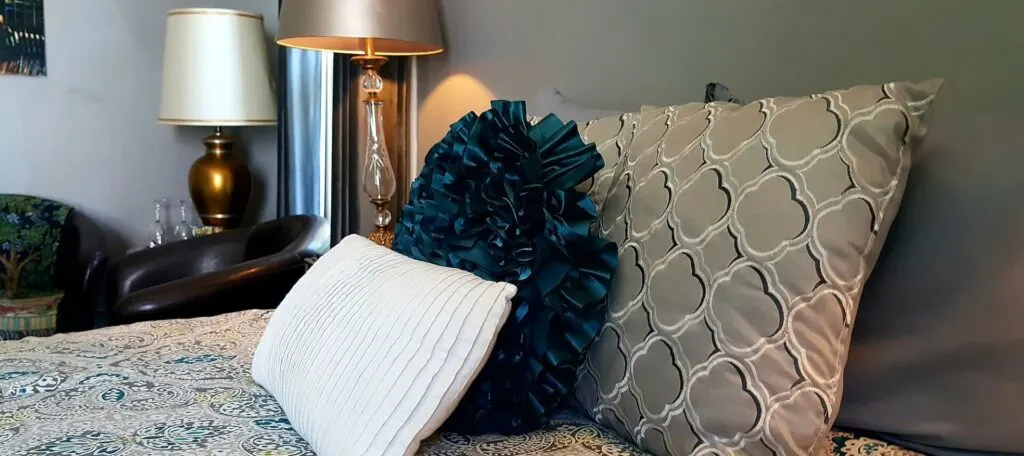 Highlights: Room with 2-person spa tub
The Muse Gallery Guesthouse is a stylish B&B and vacation rental home in Milwaukee's trendy Bay View neighborhood.
For those who love old homes, the guesthouse occupies a Victorian-style house that traces its history to 1889.
The blend of antique and modern décor in the luxury guest rooms offers a treat to the eyes.
Julia's room with an excellent two-person spa tub is perfect for enjoying romantic moments with your partner.
The gourmet breakfast served here is consistently appreciated by the guests.
The accommodation also includes complimentary beverages, homemade treats, wine & cheese welcome hour to make your stay special.
Guests can also access the fully-equipped community kitchen and off-street parking.
For those looking for amazing outdoor activities in Wisconsin, there are plenty of options nearby.
There are many parks, shopping venues, restaurants, microbreweries to be explored at walking distance from The Muse Gallery Guesthouse.
Make use of the bicycles available here for a ride to Lake Michigan which is just a mile away.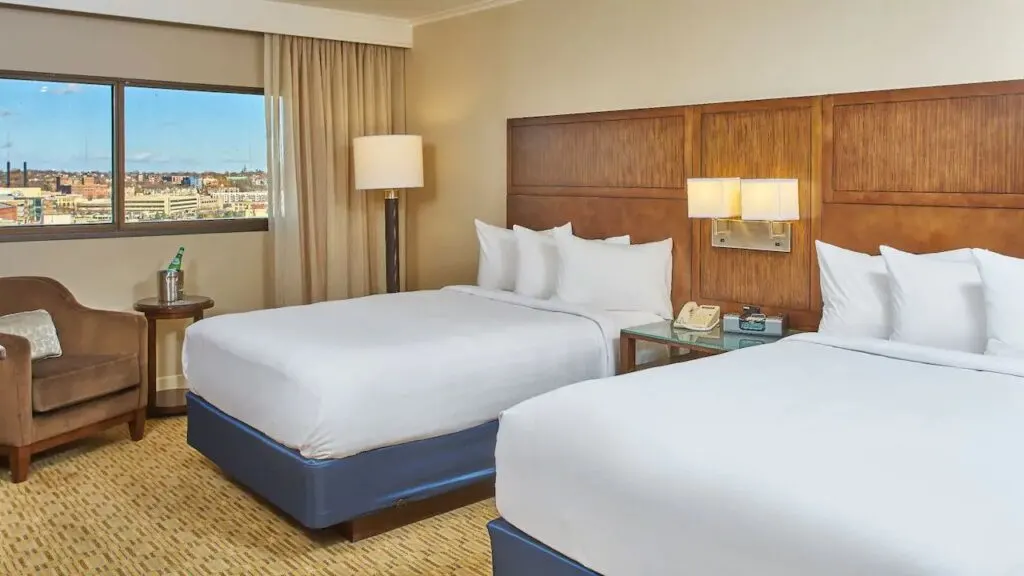 Highlights: In-house restaurant, bar, and Starbucks
For one of the most romantic getaways in Wisconsin, a stay at the Hyatt Regency in downtown Milwaukee is a perfect choice.
The hotel boasts spacious rooms with contemporary décor and modern amenities.
The city views from the rooms are spectacular and some rooms even offer views of the Milwaukee River.
For adventurous couples, consider kayaking down the river, one of the most fun outdoor activities in Milwaukee!
It is one of the most romantic hotels in Milwaukee for making your wedding a magical event.
For special events like weddings, the hotel has elegant ballrooms and even a rooftop venue with panoramic city views for a memorable celebration.
You can even book special wedding packages with personalized services and earn free nights for your honeymoon.
Of course, the Hyatt Regency has some of the best honeymoon suites Milwaukee has to offer!
The hotel is connected to the Wisconsin Centre and the shops on Grand Avenue through the skywalk.
The Finserv forum that hosts brilliant sporting events and concerts is also just a few meters away from here.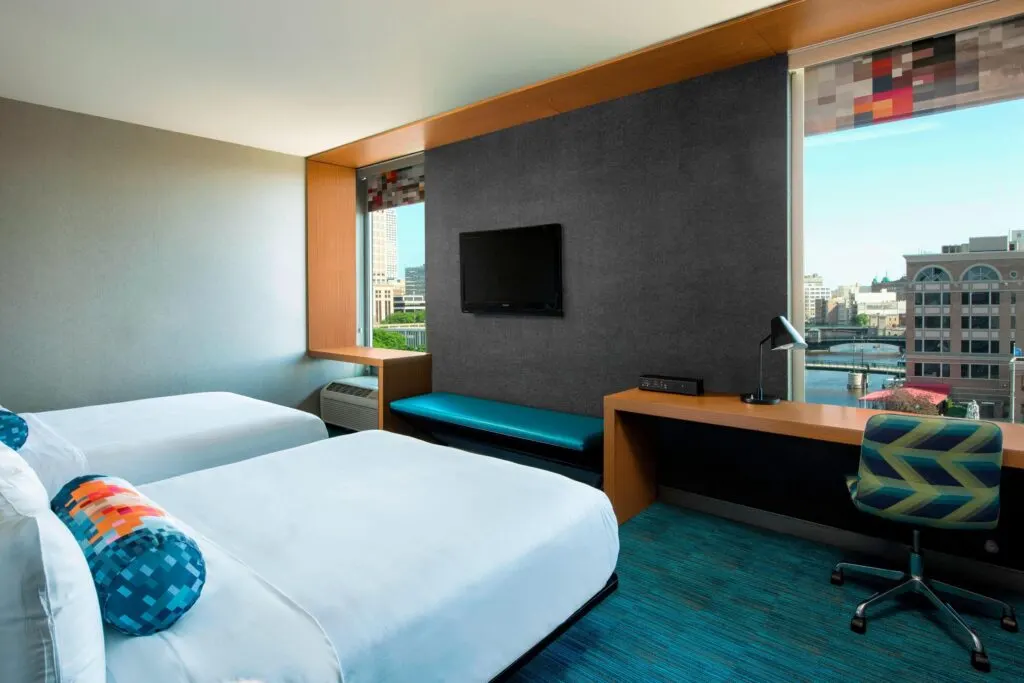 Highlights: Scenic river-view rooms
In terms of location, aloft Hotel is one of the best romantic hotels Milwaukee has to offer.
This boutique hotel is situated on downtown's stunning Riverwalk, which is perfect for a romantic stroll during the day or night.
The loft-style rooms feature high ceilings, plush platform beds, a refrigerator, a TV, and a coffee machine.
Guests can also make use of the complimentary amenities by Bliss Spa.
The hotel also has rooms that offer breathtaking water views to make your Milwaukee romantic getaways extraordinary.
Gathering around a fireplace is one of the best things to do in Milwaukee in winter, and this hotel makes sure that you enjoy the experience as it has an outdoor fireplace.
It also has an indoor pool, fitness center, and games room to keep the guests occupied.
Spend your day indulging in activities like boating and kayaking nearby.
The vibrant Deer District that's popular for sports and entertainment events is just a few minutes from the hotel.
You can also find some of the best mountain bike trails in Wisconsin less than 3 miles from here.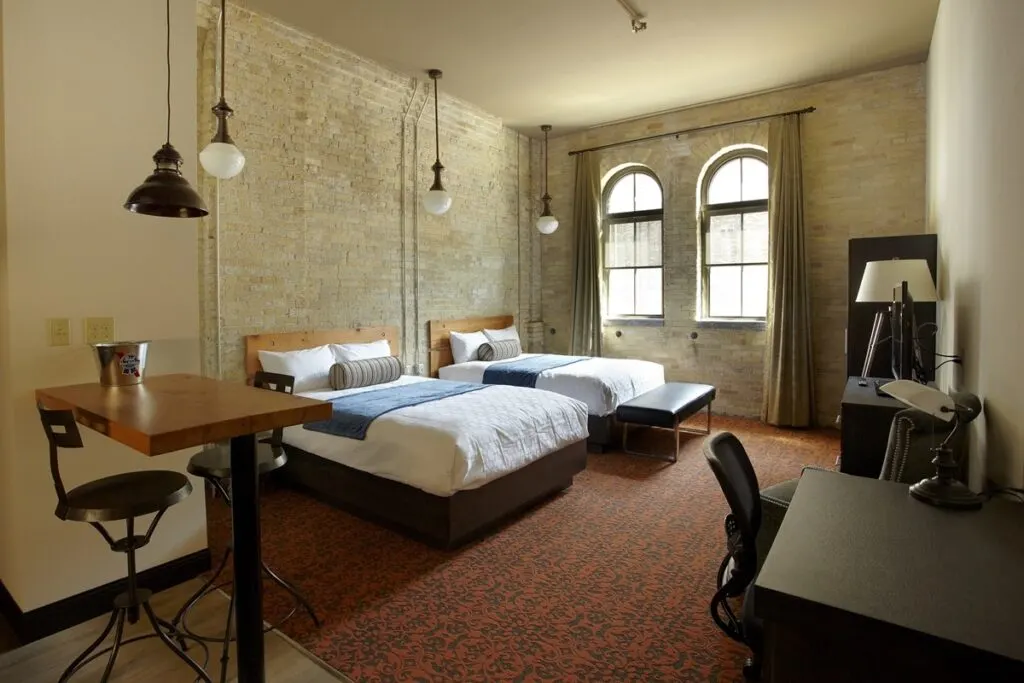 Highlights: Suites with full-kitchenette
Brewhouse Inn and Suites is a destination unto itself where history and grandeur meet modern amenities.
Nestled within the original Pabst Blue Ribbon Brewery, the hotel has retained some of the building's iconic features.
The suites here feature extra-high ceilings, and enormous windows and some even have cream brick walls. Plush bedding, full kitchenette, spacious bathrooms, and flat-screen Tv makes way for a pleasant stay.
It's easy to see why the Brewhouse Inn is one of the best romantic Milwaukee hotels for an extended stay of its courteous hospitality.
Guests can enjoy a complimentary buffet breakfast along with the option of grab-n-go breakfast bags.
The hotel also has a restaurant, bar, fitness center, and gift shop.
Make sure to book the Beer walking tour to know more about Milwaukee's incredible beer history!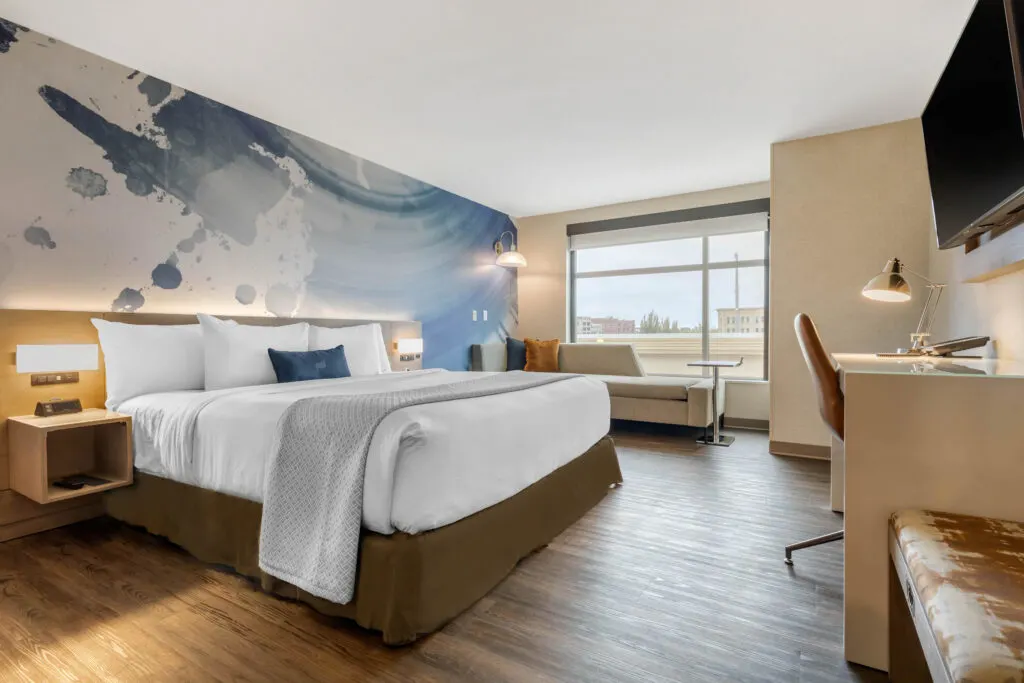 Highlights: Heated-indoor pool
Wondering where to stay in Milwaukee to make the most of your vacation with your partner?
Do not think twice before heading straight to the Cambria Hotel in downtown Milwaukee.
This hotel is popular among couples for its prime location and thoughtfully curated rooms that are brimming with style.
Additionally, the Cambria further delights its guests with superior amenities like cloud-like bedding, Bluetooth bathroom mirror, and spa-inspired bath products.
There is an outdoor patio with a fire pit where you can indulge in cozy conversation with your partner.
If you are looking for romantic hotels with pools in Milwaukee, the Cambria is exactly what you're looking for.
Enjoy a delicious breakfast served at the in-house restaurant with specialty coffees and teas.
You can spend your day exploring the city's popular cultural attractions and shopping venues nearby the hotel.
A romantic walk hand-in-hand with your partner along the scenic Milwaukee Riverwalk is an experience that you shouldn't miss here.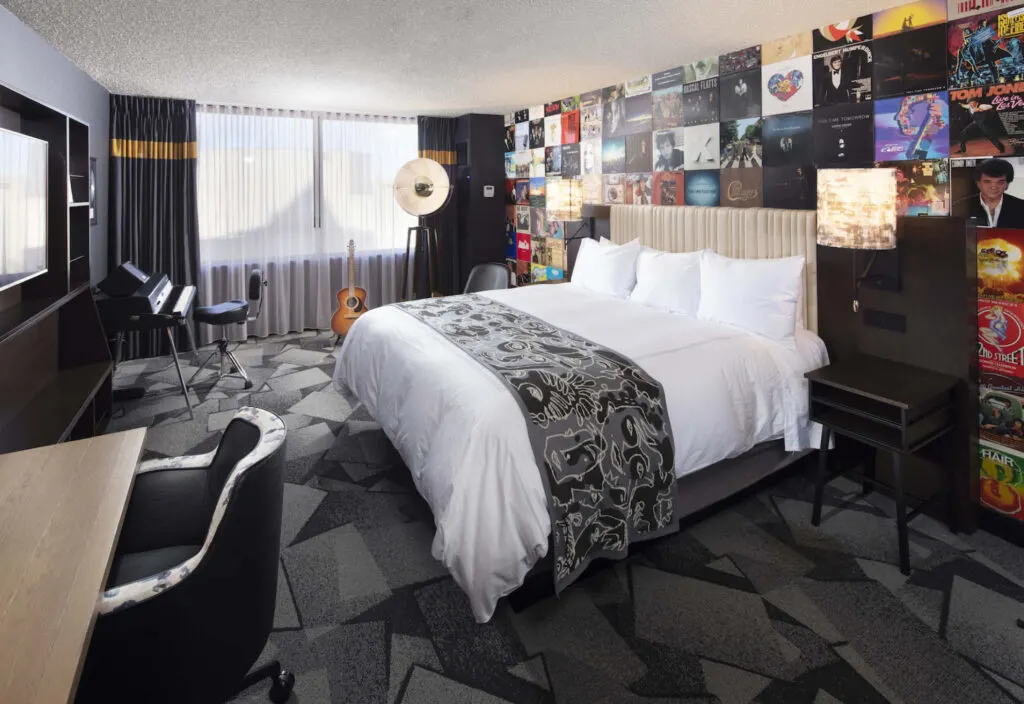 Highlights: Rotating special exhibitions and contemporary art collection

Saint Kate, the Arts Hotel in downtown Milwaukee lets you experience luxury like never before!
With rooms inspired by music, painting, and design, this unique hotel is a paradise for every art lover.
Book your stay here if you are looking for the most unique things to do in Milwaukee with your partner.
Every room at Saint Kate has surprising features like a ukulele, record player, classic vinyl collection, and color pencils.
The brilliant amenities include luxury bed linens, spa-inspired bath products, flat-screen TV, and high-speed internet.
Additionally, the gallery and exhibition spaces with curated art collections ensure that you never have a dull moment here.
This hotel also promises an unforgettable culinary experience with its in-house restaurants. From American Cuisine, Neapolitan-style pizza, craft beer, and cocktails, to sparkling wines, you will be spoilt for choice.
The Dark Room here is perfect for an intimate romantic dinner date with your partner.
Grab unique souvenirs from the shop at Saint Kate and treasure the memories forever!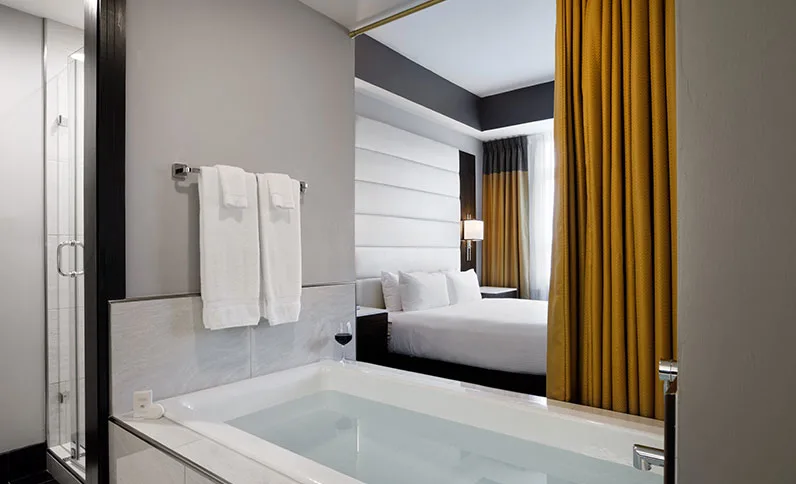 Highlights: Indoor and outdoor rooftop space for witnessing phenomenal views of the city.
When it comes to romantic hotels, downtown Milwaukee has some exceptional choices to offer. Hotel Metro, conveniently located in the heart of the city is one such example.
It's within a walking distance of popular restaurants, museums, and the gorgeous Lake Michigan waterfront.
This chic hotel features an Art Deco-inspired style along with modern décor and is one of the best boutique hotels in Milwaukee for a romantic stay.
All rooms here are equipped with state-of-the-art amenities and are designed to offer ultimate relaxation.
Couples can opt for guest rooms with large soaking tubs and fireplaces to fuel up the romance.
There is an in-house restaurant that serves modern European cuisines to pamper your taste buds.
Additionally, the hotel provides room service for you to enjoy food and drinks in the privacy of your room.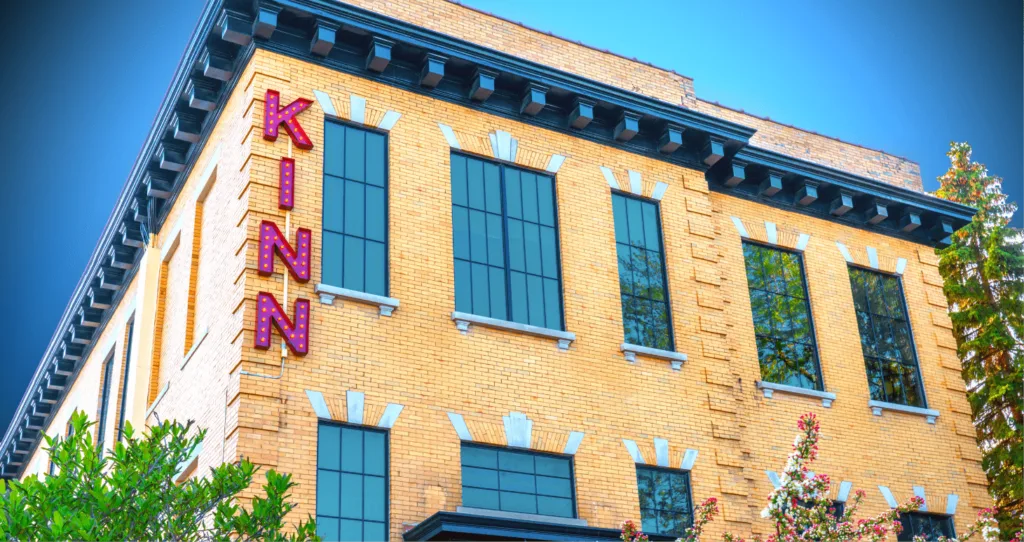 Highlights: Access to communal kitchen
The list of the most romantic hotels in Milwaukee is incomplete without the mention of Kinn Guesthouse.
It features spacious and well-furnished rooms with premium amenities like brook linen bedding and Waterworks® fixtures.
Every romantic hotel room here makes sure that you feel at home with its creative comforts.
Guests at Kinn Guesthouse can access the chef's kitchen to cook something special to surprise their partner.
For supreme privacy and extended stays, you can book the master suite that comes with its kitchenette.
The hotel also has a restaurant that serves lip-smacking Italian cuisines and wines.
It's the perfect choice for couples who desire relaxation and also those who want to explore the city.
Located in the trendy Bay View neighborhood, it has plenty of cafes, breweries, shops, and pubs nearby.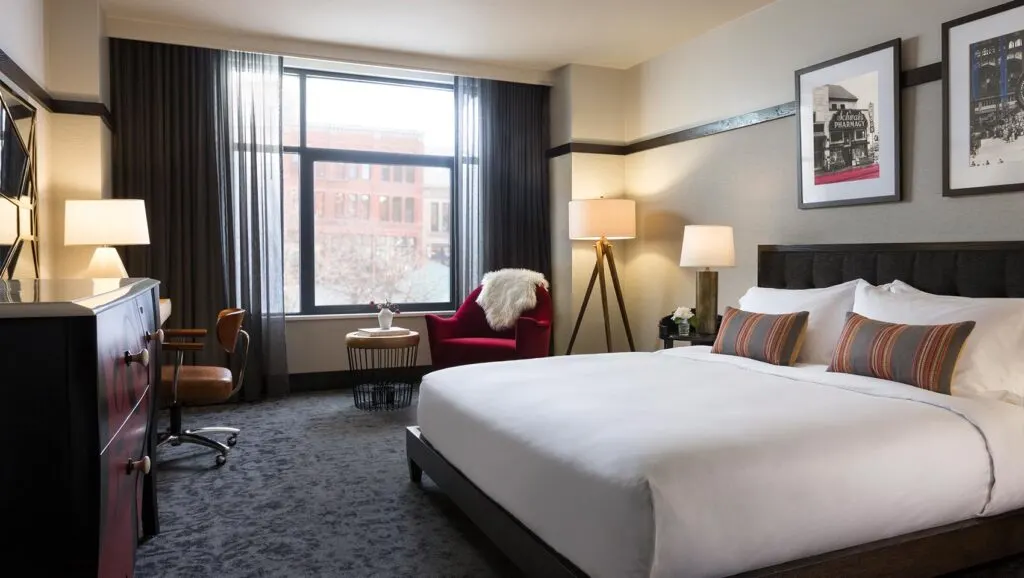 Highlights: Wonderful rooftop restaurant and bar
Kimpton Journey Hotel is the perfect example of comfort, luxury, and midwestern Charm.
If you are looking for fancy hotels in Milwaukee for a romantic stay, Kimpton is a must. The warm hospitality and cozy furnishing here make sure that you feel at home.
Its suites with oversized soaking tubs and luxurious amenities make the Kimpton Journey Hotel one of the best romantic hotels in Milwaukee.
The dining scene at this hotel is magnificent with the presence of the popular Tres Rivali restaurant.
You can relish Mediterranean-inspired modern American cuisine and crafted cocktails here.
There is also an elegant yet exciting rooftop restaurant and bar with glass walls at the hotel, and grabbing a night here is one of the most romantic things to do in Milwaukee at night.
The hotel is located in the historic third ward district which is one of the best places to visit in Milwaukee.
This neighborhood is home to the famous Summerfest and boasts fantastic art galleries.
It is also one of the best places for fall colors in Wisconsin with many beautiful parks nearby.
Highlights: On-site spa offering therapeutic massages
The Plaza Hotel in Milwaukee's lower-east side impresses guests with its eclectic charm.
It's a classic 1920s art-deco-style hotel with modern amenities for an ultra-comfortable stay.
Every room at The Plaza Hotel exudes a cozy vibe and is equipped with features like a full kitchen, comfortable beds, and a seating area.
For couples looking for an extended stay, this is one of the best boutique hotels in Milwaukee.
This vintage hotel is also popular for its splendid café with a traditional menu.
Here you can also experience the joy of a lovely courtyard dining with your partner.
Additionally, the hotel is near the best of downtown including amazing restaurants, art galleries, sports venues, and boutique shops.
Lake Michigan is just a few steps from here, so make sure to enjoy a romantic stroll with your partner.
The Plaza Hotel is also considered one of the best pet-friendly hotels in Milwaukee, so you don't have to leave your furry friends at home!
---
Why Visit Milwaukee for a Romantic Getaway
Milwaukee is a city that's known for its vibrant entertainment and cultural events, and it is undeniably one of the best places to vacation in Wisconsin.
It also has some of the best experiences that will keep alive the romance, and you'll find lots of fun and unique date ideas in Milwaukee.

Couples can enjoy a romantic walk on scenic trails or have a date night in amazing restaurants.
For active couples, Milwaukee and the surrounding area are also home to some of the best southern Wisconsin hiking trails, such as the Seven Bridges Trail.
For even more of the best hiking trails in Wisconsin, you can also consider a day trip.
There are lots of amazing day trips from Milwaukee that are perfect for romantic days out with a partner.
From shopping, boating, biking, to attending festivals, the possibilities are endless.
The city is even perfect for film buffs, as many of the movies set in Wisconsin were filmed in Milwaukee.
Milwaukee is perfect for a romantic trip any time of the year and is even one of the best Wisconsin fall getaways for couples.
The Milwaukee romantic hotels recommended places will elevate your experience and I want to make sour you also check out my guide on the most romantic getaways in Wisconsin with pool in-room.
A Short FAQ About Romantic Hotels in Wisconsin
Is Milwaukee a good destination for couples?
Yes, absolutely! If you are looking for a romantic city break in Wisconsin, Milwaukee is one of the best options. There are lots of romantic spots and things to do in the city for couples on any budget.
Which romantic hotels in Milwaukee are located downtown?
If you want a romantic hotel in downtown Wisconsin, there are quite a few options. My personal favorites are the aloft Hotel located on the Riverwalk, the art hotel Saint Kate, and the amazing Pfister Hotel.
Do any romantic hotels in Milwaukee allow pets?
---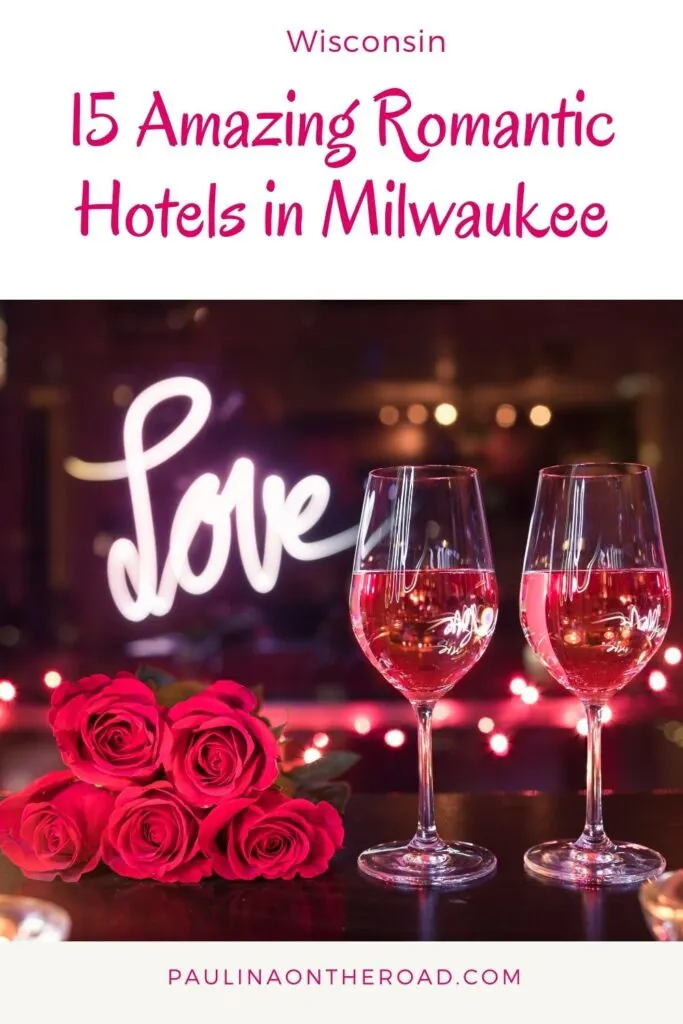 ---
Hola! I am Paulina, a fervent travelette who crossed the Atlantic Ocean by Boat HitchHiking. On my blog, you'll find all the tips to make the most of your holiday. Get ready to enjoy outdoor and sustainable travel like hiking, cycling or sailing. Let's hit the road together!