A travel guide to things to do in Milwaukee in October, with the best festivals and hotels for a fall getaway to Milwaukee, WI
Ah, October in Milwaukee!
The leaves are changing to glorious oranges and reds, the air is crisp and cool, and it's time to grab your coat, travel Wisconsin and explore all that this Wisconsin city has to offer.
Whether you're looking for outdoor fun or indoor adventure – there's something for everyone here in "Mighty Mke." You just never run out of things to do in Milwaukee in October.
With a variety of things on offer – from charming festivals celebrating seasonal flavors to unique sightseeing opportunities – you'll love exploring Milwaukee during the month of October!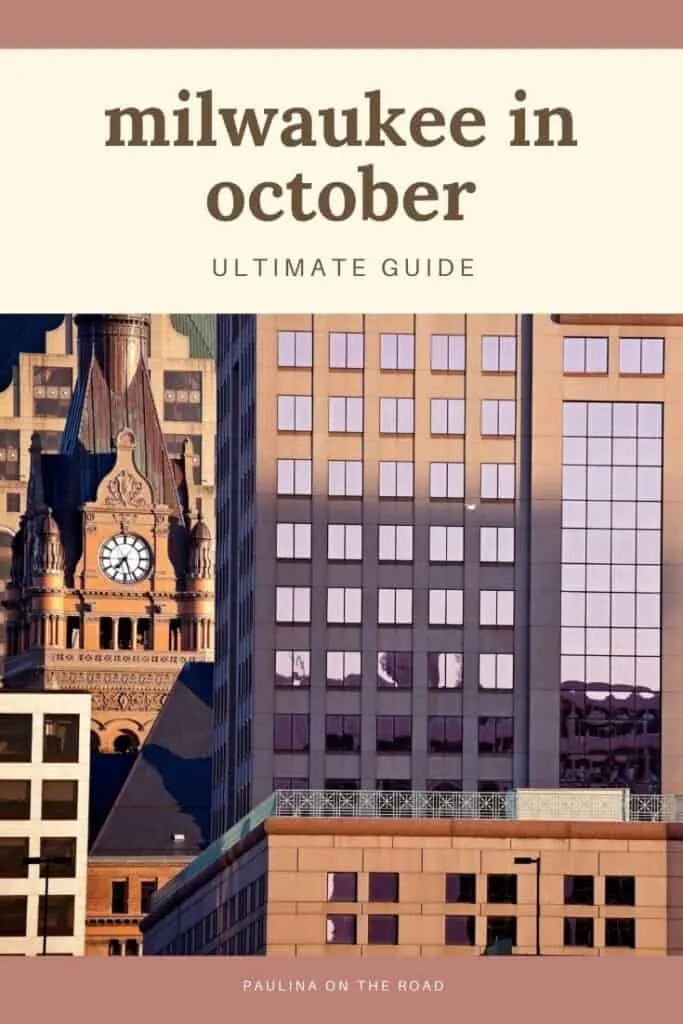 This blog is supported by you, dear reader. If you purchase through a link, I earn a small commission. As an Amazon Affiliate, I earn from qualifying purchases.
Top resources to travel Wisconsin
✎ Plan the ultimate Wisconsin road trip (no backtracking!) with the Perfect Wisconsin Road Trip itinerary – Buy now for less than 12$

✈ Find the best hotel deals in Wisconsin with Trivago

➳ Book vacation rentals in Wisconsin with VRBO

✔ Book tours in Wisconsin with Viator

☘ Get the best discounted outdoor gear (outlet) at REI.com

$ Get Wisconsin hiking guides and maps at REI.com

✎ Never leave without travel insurance. I get mine at SafetyWing. It is easy to set up, cheap, and reliable.
If you're still wondering where to stay in Milwaukee, have a look at my curated list of the most unique and best Airbnbs in Milwaukee.
1. Celebrate Halloween in Milwaukee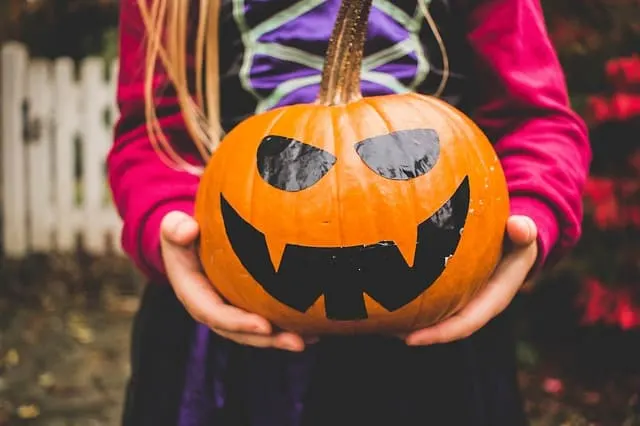 If fall entertainment equals Halloween celebrations in your book, Milwaukee in October is the place to be!
The city offers a series of spooky annual events for participants of all ages and tastes and this is definitely one of the best things to do in Milwaukee with kids in the fall.
Families will enjoy the Boo at the Zoo event in Milwaukee County Zoo, located on the western edge of the city.
This is actually one of the most popular events for Halloween in Wisconsin! It's also perfect for fall weekend getaways in Wisconsin for the whole family.
You'll have a chance to visit the zoo adorned with Halloween decorations and take part in a series of activities, including arts and crafts and a haystack maze.
Older visitors looking for spooky Milwaukee fun may be more interested in the Ghouls & Spirits Adult Trick or Treat bus tour. – Check tours here
This unusual city tour involves pizza, ghost stories, a Day of the Dead celebration, and lots of fun local Halloween-themed trivia.
The exact time and location for the start of the tour vary from year to year, so make sure you check out the website ahead of time and book your place in advance!
For an extra spooky getaway, book a night at one of the most haunted hotels in Wisconsin and see if you run into any ghosts.
If spooky hotels aren't for you, there are still plenty of creepy haunted places in Wisconsin for you to explore on Halloween in Milwaukee!
2. Hit the trails in Milwaukee to enjoy fall colors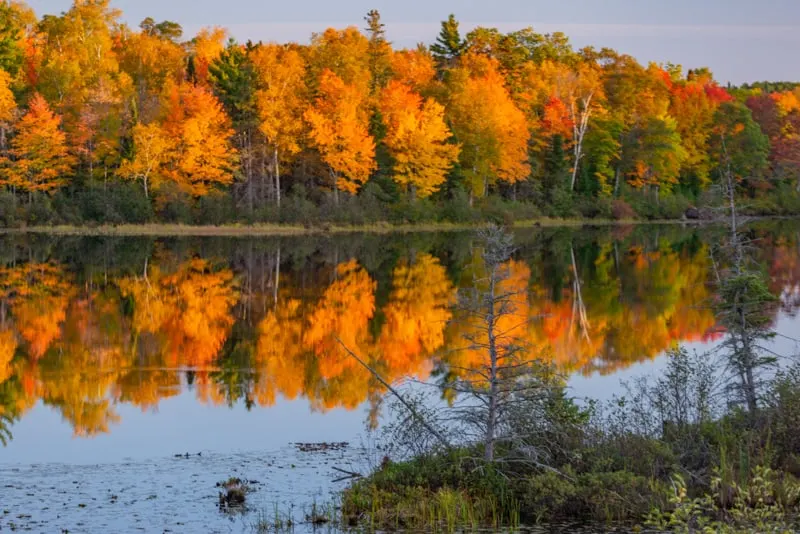 Looking for romantic date ideas in Milwaukee? October is when Wisconsin enjoys the most spectacular foliage colors with leaves blazing red, orange, and yellow at the height of fall.
These are best viewed while hiking in Milwaukee, or enjoying one of the many Milwaukee bike trails.
Milwaukee's hiking trails are some of the most popular hiking trails in Wisconsin and one of the best ways to enjoy gorgeous fall colors here.
The Oak Leaf trail is the most spectacular of all, measuring 100 miles in a loop encircling the entire county. You can join the trail at any point for walking, running, or biking.
The wooded section along the Milwaukee River in particular offers the best views of the fall colors.
Another one of the best places to see fall foliage in Wisconsin is the Seven Bridges trail, covering two miles of woodland in Grant Park, on the shore of Lake Michigan.
Seven Bridges is one of my favorite Southern Wisconsin hiking trails, so even if you don't visit in the fall, it's worth a hike!
The Wehr Nature Center in Whitnall Park and Havenwoods State Forest in northern Milwaukee also offers several miles of trails each, mostly covering scenic wooded areas perfect for observing the arrival of fall.
Don't get lost on the trail and get your Wisconsin hiking guides and maps at REI.com.
3. Stay in a Luxury Resort near Milwaukee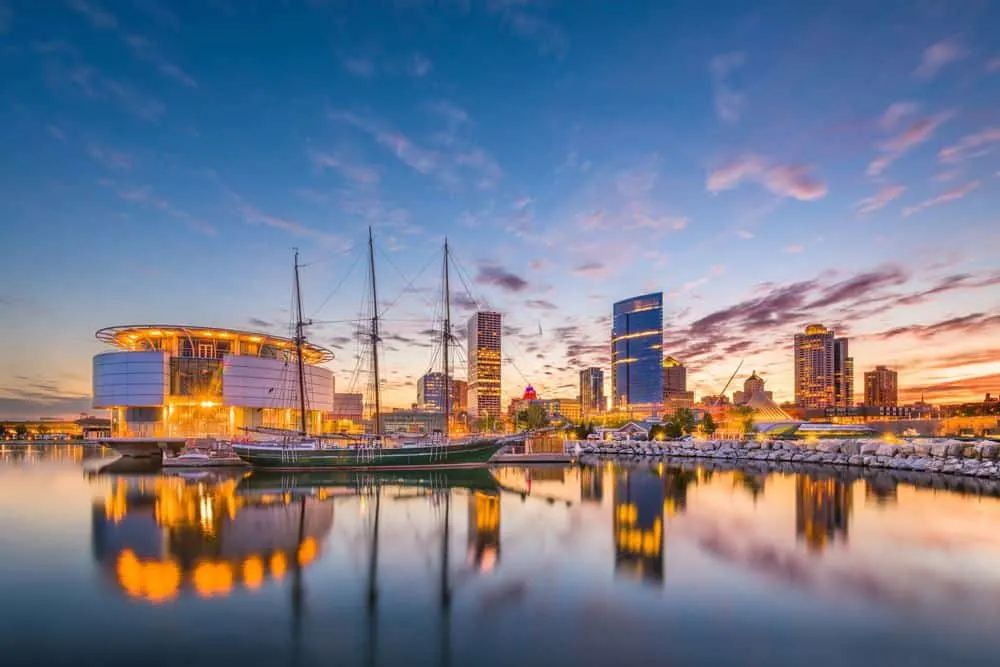 Once the weather turns cooler and the summer crowds disperse, why not take a weekend off and pamper yourself at one of the many luxurious resorts in Milwaukee?
If you are wondering where to stay in Milwaukee, Wisconsin, why not splurge and treat yourself with a fabulous, 5-star stay?
For a spot of luxury without leaving the city, The Pfister Hotel will be a great choice. Located in downtown Milwaukee, this high-end resort features a spa, an indoor pool, and a Martini bar on the 23rd floor with gorgeous views of the city. – Check prices here
If you'd rather head to a quieter location, set your sights on Delavan, around 40 minutes' drive from Milwaukee city limits. The Lake Lawn Resort will be well worth the trip. – Check reviews here
With an on-site spa, a golf course, and a private beach, it's one of the best luxury resorts in Wisconsin. It's thus perfect for a weekend trip in Wisconsin and to indulge!
For those going on vacation with their furry companions, there are also a lot of great luxury pet-friendly hotels in Milwaukee that offer special packages for pets.
4. Enjoy seasonal beers made in Milwaukee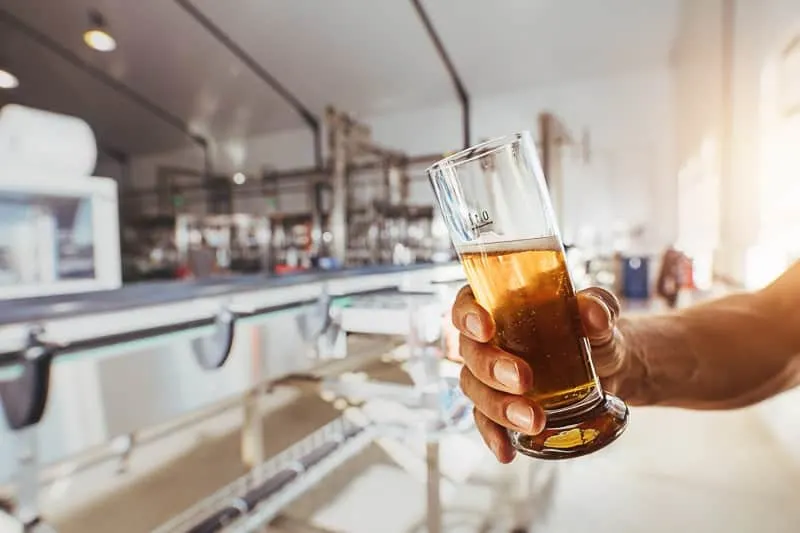 For a while in the first half of the twentieth century, Milwaukee was home to not one, but four of the largest breweries in the world.
Nowadays, the beer culture in Milwaukee keeps thriving, with plenty of local breweries to visit and unique beers to taste!
Consider visiting Good City Brewing on Milwaukee's East Side for a tour of the brewery, and an opportunity to taste craft beers and local food, either in the venue's taproom or on the rooftop patio.
For a truly unique Milwaukee beer experience, don't miss the Miller Brewery tours.
You'll get to see both the historic brewing areas and modern production lines, as well as caves once used for chilling beer, all with a helpful guide and a cold brew in your hand!
Another great place to enjoy local brews is in the Historic Third Ward district. It's full of bars serving amazing beers made in Wisconsin.
5.Book a romantic cabin near Milwaukee
Few settings can be more romantic than a remote cabin for just the two of you, with fall colors all around you, and a warm crackling fire.
There are plenty of romantic cabins in Wisconsin, and the Milwaukee area offers some great choices.
An hour's drive west from downtown Milwaukee, you'll find the Fort Atkinson Cottage small, quaint cabin in a quiet location, complete with a deck on Lake Koshkonong. – Check rates here
The Sugar Creek Lakehouse is another great recommendation. It's located in Elkhorn on the shore of Lake Wandawega, less than an hour away from Milwaukee. – Check rates here
If you prefer to stay more central, there are also lots of great romantic hotels in Milwaukee, some with on-site spas and massage parlors!
Check romantic cabins near Milwaukee
6. Attend a Packers Sports Bar Party to celebrate Football Season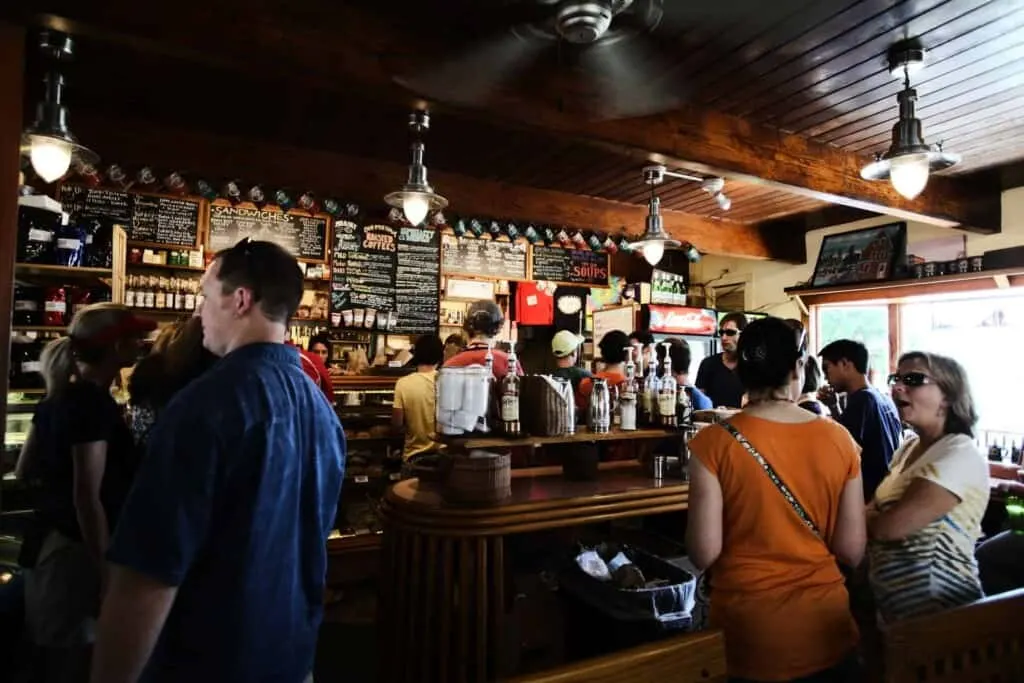 By October, the NFL season is in full swing. If you're visiting Milwaukee, make sure you spare some time to cheer on Wisconsin's own Green Bay Packers in one of the many sports bars in the city.
And the good news is, you don't need to travel to Green Bay to have a great football atmosphere!
Milwaukee boasts over a dozen sports bars, each with its own vibe and unique advantages. The Mecca Sports Bar and Grill, for instance, features a high-definition 42-foot screen, so you can feel as close to the action as possible.
The Coffee Shop at Best Place Milwaukee, meanwhile, is located in the legendary Pabst brewery. As if that wasn't enough to make it stand out, it also offers shuttles to all major sporting events in Milwaukee.
Check tickets to Milwaukee Sports events
7. Do a weekend getaway to Lake Geneva
Lake Geneva is one of the most popular resort towns in southern Wisconsin, and it's only an hour's drive away from downtown Milwaukee.
In October, the lakeside town is just as charming as in the summer but far less busy and more relaxing to visit.
While you're here, take advantage of the fall season and visit one of the four apple orchards in the area. Apple Barn is one of the best things to do in Lake Geneva, and it includes a winery and bakery as well as an orchard.
For those up for a long walk, the Shore Path around Lake Geneva will be a huge treat.
The 26-mile loop will give you the best views of the lake and the town's most beautiful estates, as well as taking you through scenic wooded areas.
If you're wondering where to stay in Lake Geneva, consider The Cove of Lake Geneva *** or check out the Mill Creek Hotel **** for a slightly more budget-friendly option. – Check hotels here
Families will love the Timber Ridge Lodge and Waterpark ***, featuring on-site attractions for kids and adults alike. – Check reviews here
8. Eat out in a Farm-To-Table Restaurant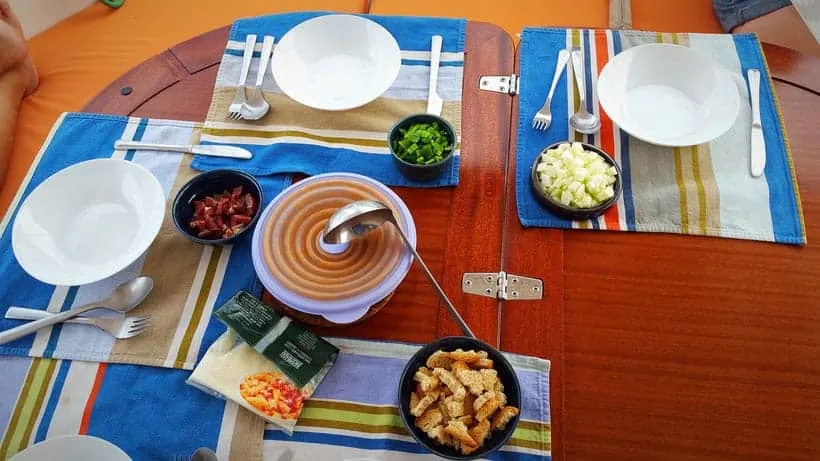 Among other things, Wisconsin is known for its strong tradition of small, authentic, family-owned restaurants.
Despite the fact that Milwaukee is a huge, modern city (the largest in the state), the heritage prevails even among its busy streets.
To enjoy healthy, authentic, farm-to-table food in Milwaukee, head to one of the many restaurants offering hand-crafted meals. Morel in eastern Milwaukee, for instance, offers seasonal menus composed of locally sourced produce.
Parkside 23, meanwhile, located on the western side of town, is the only restaurant in Wisconsin with an on-site farm, ensuring full source consciousness for all ingredients.
October is when many of the locally farmed fruits and vegetables are in season, including cucumbers, potatoes, and sweet peppers, among others, so it's the perfect time to enjoy authentic fine dining.
9. Attend Milwaukee Oktoberfest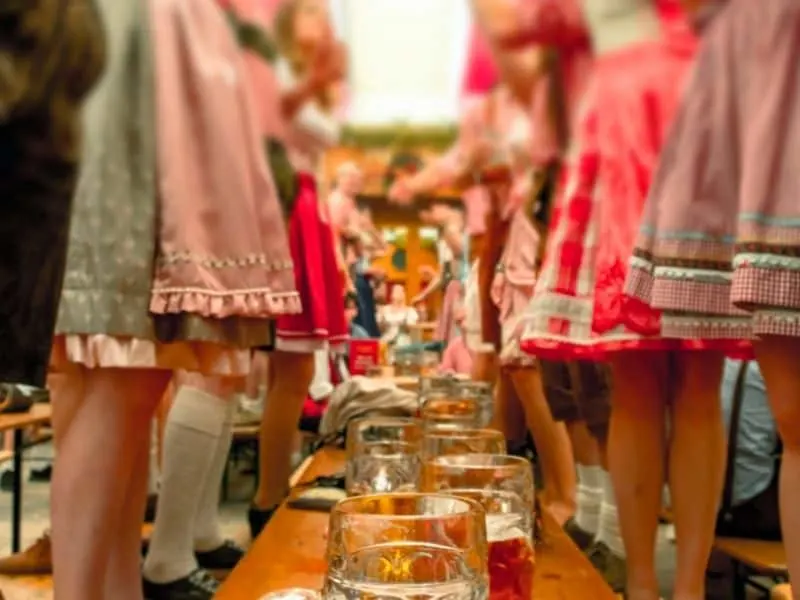 "German craft beers, sauerkraut, lederhosen, bratwurst, and live polka musik"; sound familiar? Thanks to Milwaukee's annual Oktoberfest, you can enjoy all of these things without having to travel to Munich.
Taking place during the first weekend of October, the Milwaukee Oktoberfest features everything you'd expect from a German beer festival.
The family-friendly event features tons of activities, including folk dancing, live bands, and customary contests, including Miss Oktoberfest, Dachshund races, and a brat eating competition. It's definitely a great idea when looking for fun Wisconsin vacation ideas in October.
The Milwaukee Oktoberfest provides some of the best entertainment in Milwaukee and it's free to attend, so there's no excuse to miss out on all this fun!
Related: 20 Cool Fall Festivals in Wisconsin
10. Do a day trip to Weston's Antique Apples to enjoy the Apple Fest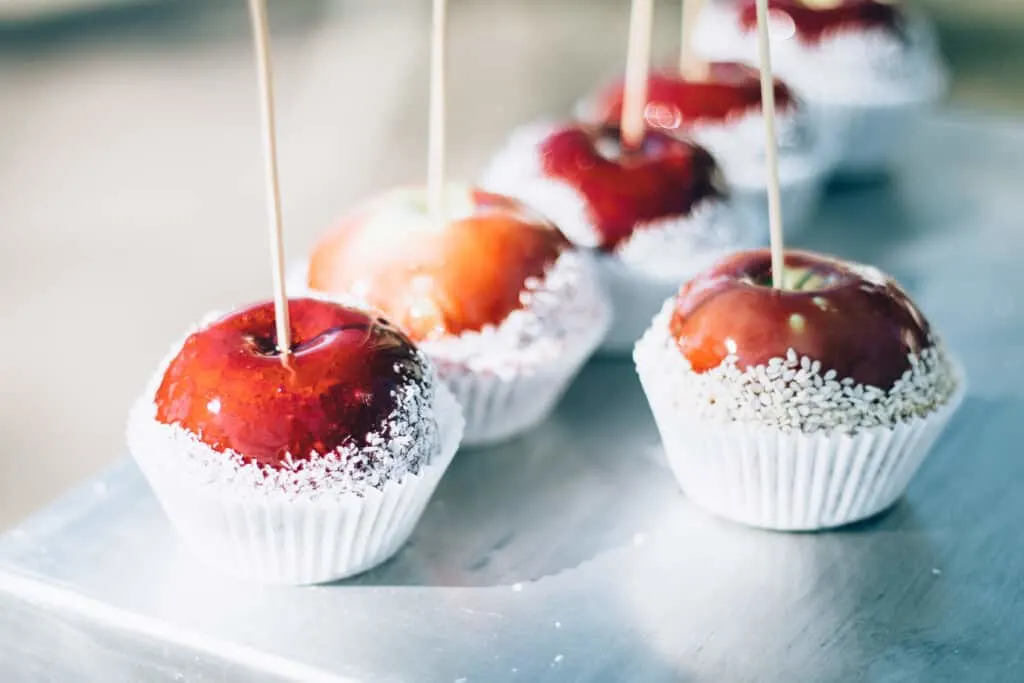 Weston's Antique Apples is an unusual orchard located in New Berlin, less than 20 miles southwest of Milwaukee.
The historic property features mostly antique apple trees dating back to the 1930s, so it's a must-see for all orchard enthusiasts.
There's no apple picking allowed at Weston's due to the historic nature of the orchard. It's definitely one of the best things to do in Milwaukee in October.
However, you can take part in a fascinating tour and leave with tons of new information about the traditional way to run an orchard and about the dozens of varieties planted here. It's thus perfect when looking for fall getaways in Wisconsin!
Plan your visit for the first week of October and you'll get to enjoy the Weston Apple Fest, one of the most unique among Milwaukee fall festivals and without any doubt one of the best fall festivals in Wisconsin.
With many rustic attractions, from barrel trains to square dancing in the barn, you won't have time to get bored!
Related: The Ultimate Wisconsin Itinerary
11. Enjoy Fall Farmer Harvest at Farmer Markets in Milwaukee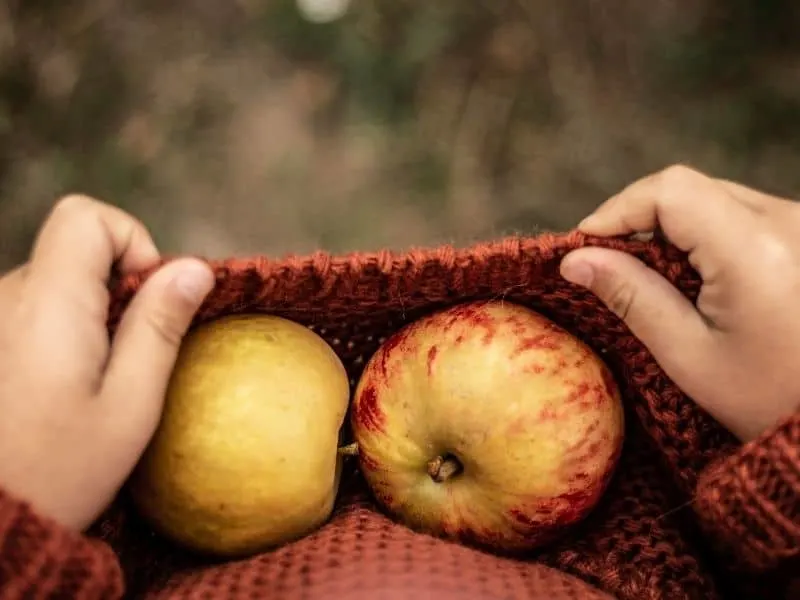 There are literally dozens of farmer markets in the Milwaukee area, and all of them are still available to visit in October.
The festivals take place on different days of the week, so whether you visit on a weekend or midweek, you won't be leaving Milwaukee empty-handed.
The South Shore Farmers Market on Saturday mornings is among the most popular, offering standard farmer market fare: baked goods, fresh fruit and vegetables, and hot beverages Don't miss the West Allis Farmers Market, too, open three times a week.
Keep in mind that the Milwaukee Public Market, Milwaukee, is open every day, and also offers plenty of local produce.
Related: Best Fall Activities in Wisconsin to enjoy This Year!
12. Do a Sunday Drive to enjoy the fall colors near Milwaukee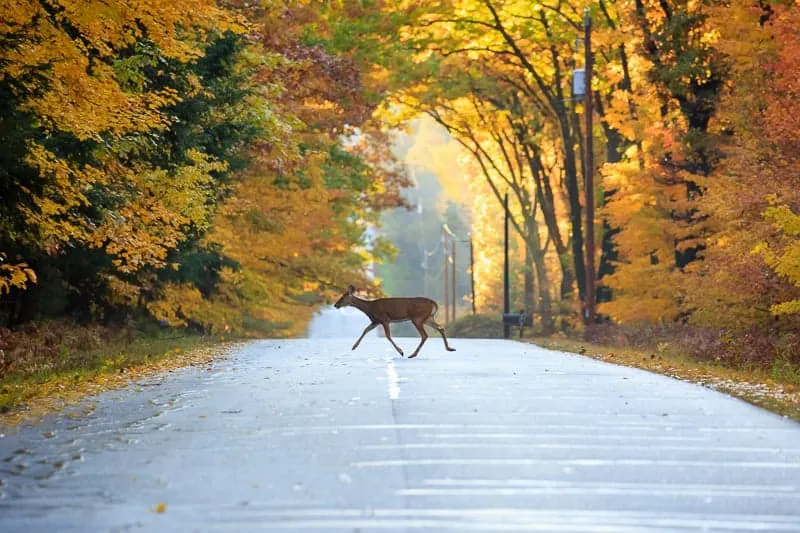 If you find driving a car or riding a motorbike relaxing, Milwaukee is the perfect place to spend an easy Sunday enjoying the October fall colors at their most glorious.
The Kettle Moraine Scenic Drive is perhaps the most well-known route in the area and a popular entry on the list of fall activities in Wisconsin.
The full drive covers 115 miles of mostly wooded glacial terrain, though of course, the experience will be no less enjoyable if you only drive part of the route. To get started, head west from Milwaukee.
Motorcycle enthusiasts in particular will likely be interested in rustic roads. Wisconsin roadways that feature scenic views and are not heavily trafficked.
A great way to make the most of your time nd indulge in gorgeous fall colors is by renting an RV and hit the roads! – Check RVs near Milwaukee
Racine County, south of Milwaukee, is particularly rich in these, boasting a total of 7 routes.
Check RV rentals near Milwaukee
13. A Day trip to Mukwonago to enjoy for Autumn Harvest Festival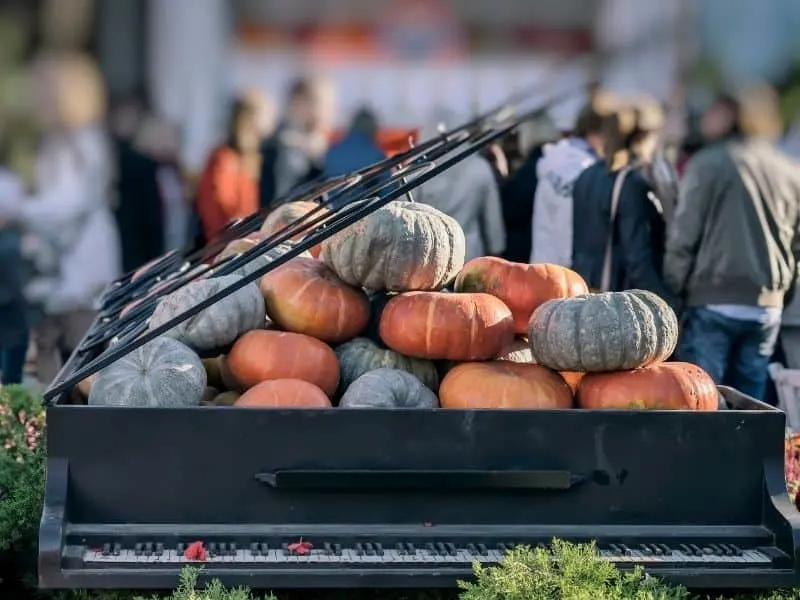 Take a break from the bustling city to visit Mukwonago, a small village 30 miles southwest of Milwaukee. It is one of the best places to vacation in Wisconsin.
Mukwonago is home to one of the best Autumn Harvest Fests in the area, open every weekend from mid-September until the end of October.
Here, you'll find a farmers market, a fun corn maze for visitors of all ages, hayrides, pony rides, vintage train trips, and much more to keep you busy during your stay!
Related: 15 Cool Fall Festivals in Wisconsin
14. Visit Old World Wisconsin to enjoy Fall Fun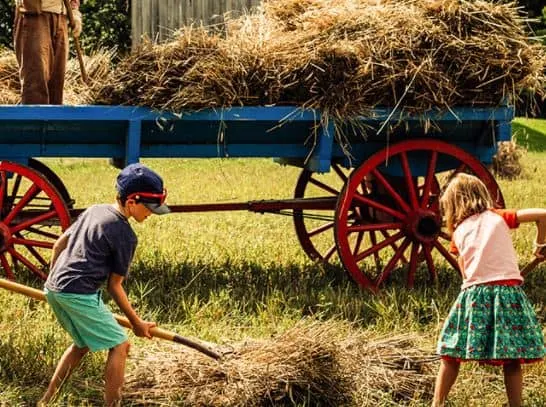 If you've ever wondered how life might have looked like in Wisconsin in the 19th century, Old World Wisconsin will provide all the answers.
The open-air museum will introduce you to the traditions and daily life of Wisconsin settlers through exhibitions and activities.
During fall, Old World Wisconsin offers interactive events such as making pickles and preserving meat, just as the 19th century settlers would have done this time of year.
The site is located near the town of Eagle, only about 40 miles from downtown Milwaukee.
Related: 15 Amazing Wisconsin State Parks you should visit at least once!
15. Do a Film Night with a Movie Set in Wisconsin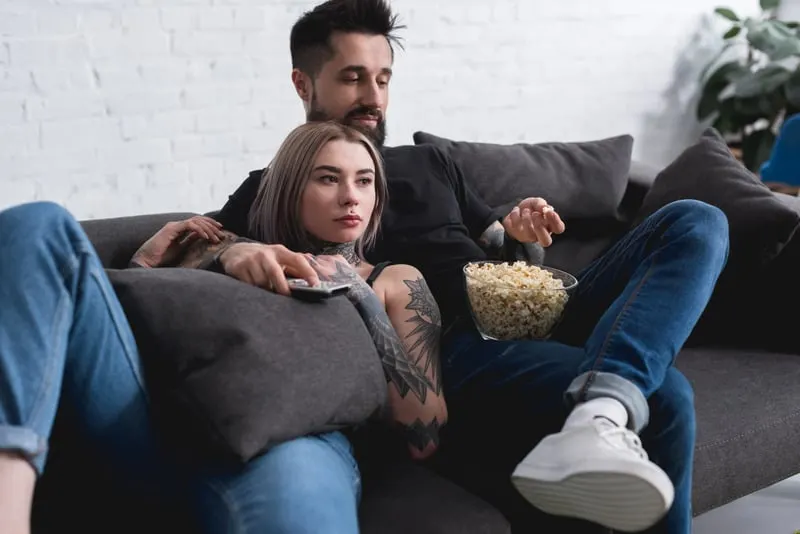 What better way to spend a chilly October night while on vacation in Wisconsin than to watch a movie set in the area?
For instance, Dawn of the Dead, Tommy Boy, and Dogma, among others, all make references to Wisconsin. There are several best movies set in Wisconsin that make for a great movie night like Bridesmaids, Love Actually, and many more.
For the ultimate challenge, watch a movie filmed in Milwaukee itself and see if you can recognize any of the landmarks during your visit! It's thus perfect to spend a chilly night at home when in Milwaukee in October.
Love Actually Transformers: Dark of the Moon, and the legendary classic The Blues Brothers all feature Wisconsin's largest city.
Related: Best Movies Set in Wisconsin
16. Go Apple Picking near Milwaukee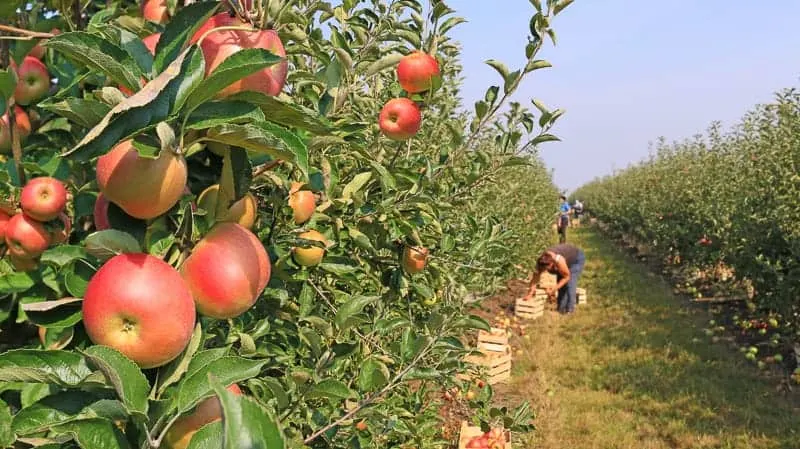 October is by far the best time to go apple picking. Luckily, the Milwaukee area is rich in orchards open to visitors and full of fun things to do.
The Peck & Bushel Organic Fruit Company in Colgate, 30 miles northwest of Milwaukee, is one such orchard.
You can pick over 25 varieties of organic apples, enjoy the tasty snacks at the on-site bakery, and drink freshly pressed apple cider.
If you're looking for a quieter experience without crowds and additional activities, consider Nieman Markets Inc. in Cedarburg or Awe's Apple Orchard in Franklin, both fairly close to Milwaukee.
It's thus a great idea when looking for day trips from Milwaukee in October.
If you're still looking for the right equipment for your outdoor adventure, have a look at these vegan hiking boots and day backpacks made from recycled materials.
Related: The Ultimate Wisconsin Itinerary
17. Visit Holy Hill to enjoy Fall Colors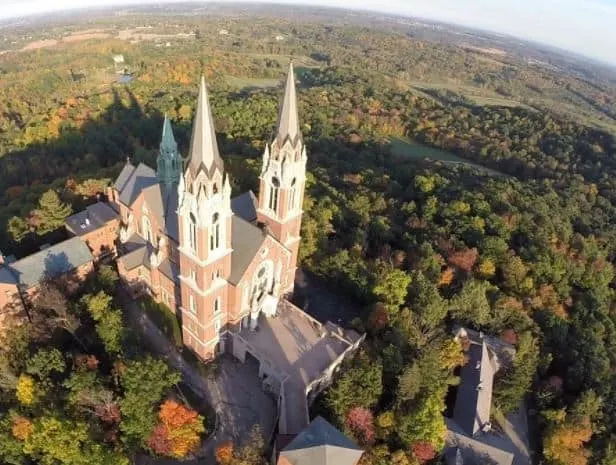 The Holy Hill church has been built on the peak of a glacial hill, at one of the highest points this side of Wisconsin.
Views of the church are breathtaking any time of the year, as the stark gothic architecture contrasts sharply with the surrounding natural landscape.
In October, however, the view is particularly beautiful thanks to the colors of the foliage. As the fresh shades of green give way to blazing oranges, the church seems adrift in a sea of bursting fall colors.
To reach Holy Hill, head to the town of Erin near Hubertus, just over 30 miles to the northwest of Milwaukee.
Related: 20 Best Day Trips from Milwaukee
18. Do a Food Tour in Milwaukee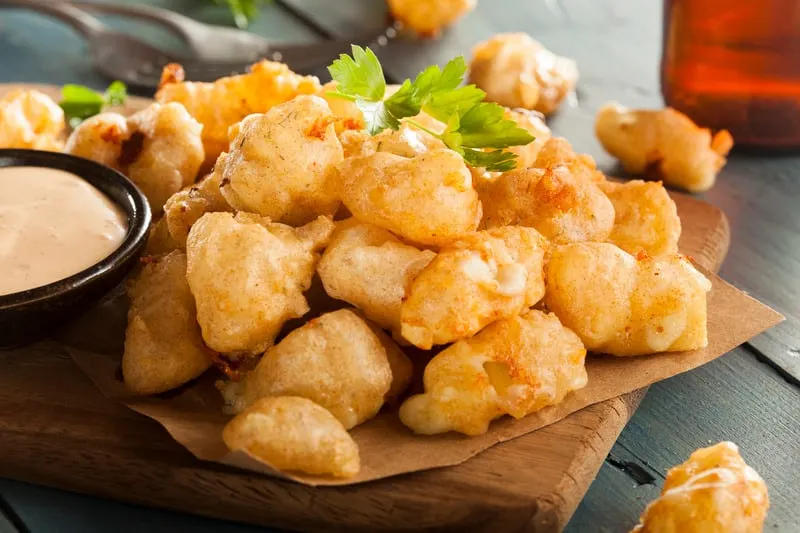 If there's one thing everyone knows about Wisconsin, it's that it's the land of cheese and brats. An October trip to Milwaukee can't be complete without indulging in authentic local comfort food.
The best way to make sure you don't miss out on any of the local tastes is to join a private food tour, where a guide will take you to the best restaurants in town and tell you a bit more about the city's history along the way.
The Secret Food Tours Milwaukee is well worth recommending. Over the course of the 3+ hour lunch, you'll get to taste Wisconsin's finest fried cheese curds, beer brats, fish fry, and other local delicacies. – Check reviews here
Check all food tours in Milwaukee
19. Do a Corn Maze near Milwaukee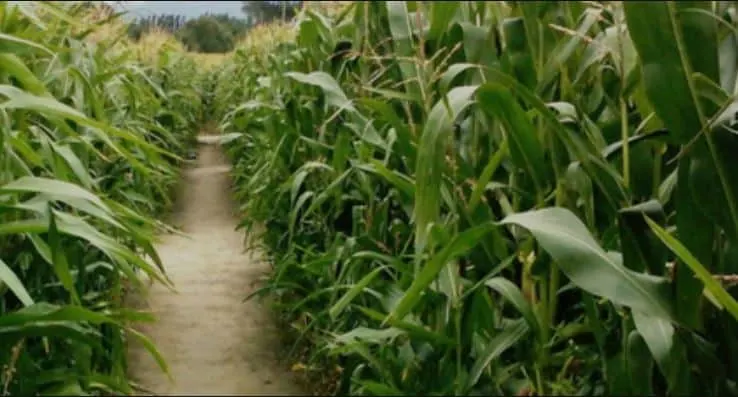 A corn maze is exactly what it sounds like: a maze, or a labyrinth, cut into a large corn field.
Most of the mazes around Milwaukee are open only in October, so don't miss this chance to get some exercise, enjoy the outdoors, and have tons of fun as you try to find your way through the maze!
For an easy corn maze in Milwaukee suitable even for the youngest visitors, head to New Berlin on the outskirts of the city and enjoy the corn field at the Lindner Pumpkin Farm.
The Homestead Animal Farm in Hartland, less than 30 miles from the city, will provide a tougher maze and lots of other fun, including a petting zoo and hayrides.
If you're looking for a truly unique experience, consider the Spooky Stalks Haunted Cornfield on the northeastern edge of Milwaukee.
This is a maze-like no other, where you'll be chased and spooked by vampires, ghosts, and monsters!
20. Do a foodie day trip to Kenosha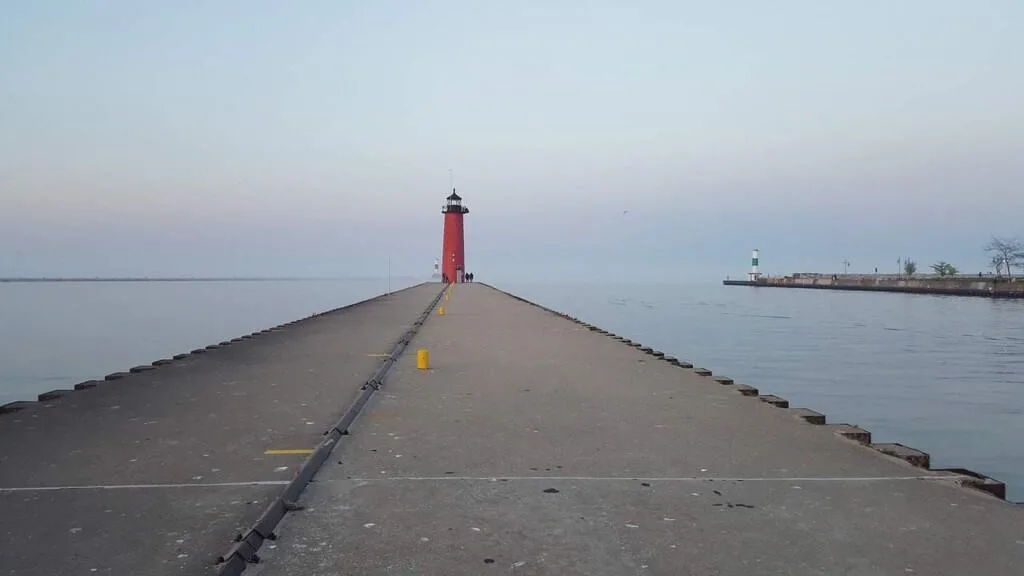 40 miles south from downtown Milwaukee lies the small city of Kenosha, boasting a rich and fascinating history, a gorgeous waterfront, and plenty of must-visit restaurants and cafes.
Doing a foodie day trip to Kenosha makes a great day trip from Milwaukee no matter whether you are traveling with your beloved one or with your family.
October is a great time for a foodie getaway to Kenosha. No matter what the weather is like, you'll get to make some wonderful memories and enjoy local tastes.
For delicious pies, cookie dough, and homemade jams, visit Elsie May's Canning and Pies on 5819 6th Ave.
The Waterfront Warehouse on 3322 Sheridan Road offers wonderful dinners, including seasonal dishes made from local ingredients.
No foodie trip in Wisconsin would be complete without sampling local cheeses, and Kenosha's got you covered here, too.
Visit the Mars Cheese Castle on 2800 W. Frontage Road (yes, it's really a castle!) for a chance to taste hundreds of different cheese varieties, complete with craft beers and other snacks.
There are plenty of more things to do in Wisconsin in winter as well like enjoying the traditional food which is, among many things, one of the best things to do in Kenosha.
---
Short FAQ about things to do in Milwaukee in October
What are fun things to do in Milwaukee in October?
Enjoying Octoberfest, do foodie day trip to Kenosha, visit Holy Hill to enjoy fall colors are only a few of the best things to do in Milwaukee in October.
What to do in Milwaukee in the fall?
Attend fun fall festivals, go hiking to enjoy fall colors near Milwaukee, go apple picking are only a few things to do in Milwaukee in the fall.
What are the best fall events in Milwaukee?
During the fall, Old World Wisconsin offers interactive events such as making pickles. Other cool fall events in Milwaukee are Oktoberfest and apple fests in the near surroundings.
---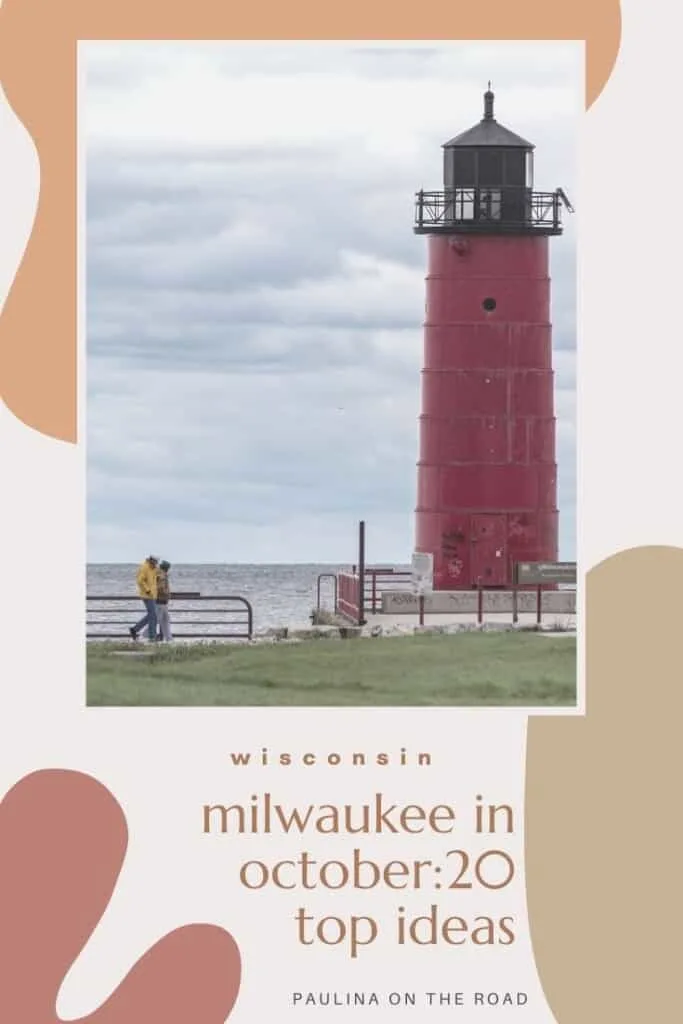 ---
Hola! I am Paulina, a fervent travelette who crossed the Atlantic Ocean by Boat HitchHiking. On my blog, you'll find all the tips to make the most of your holiday. Get ready to enjoy outdoor and sustainable travel like hiking, cycling or sailing. Let's hit the road together!