A Guide to the best pet-friendly hotels Milwaukee has to offer for couples, families and budget travelers
Are you a pet parent who wants to make your loyal companions a part of your travel plans?
Do you find it challenging to find the right place where your furry buddies are made to feel special?
Then it's time to pack your bags and head straight to Milwaukee with your pets by your side.
The pet-friendly hotels in Milwaukee are some of the best in the entire state, offering excellent amenities and services for your furry friends.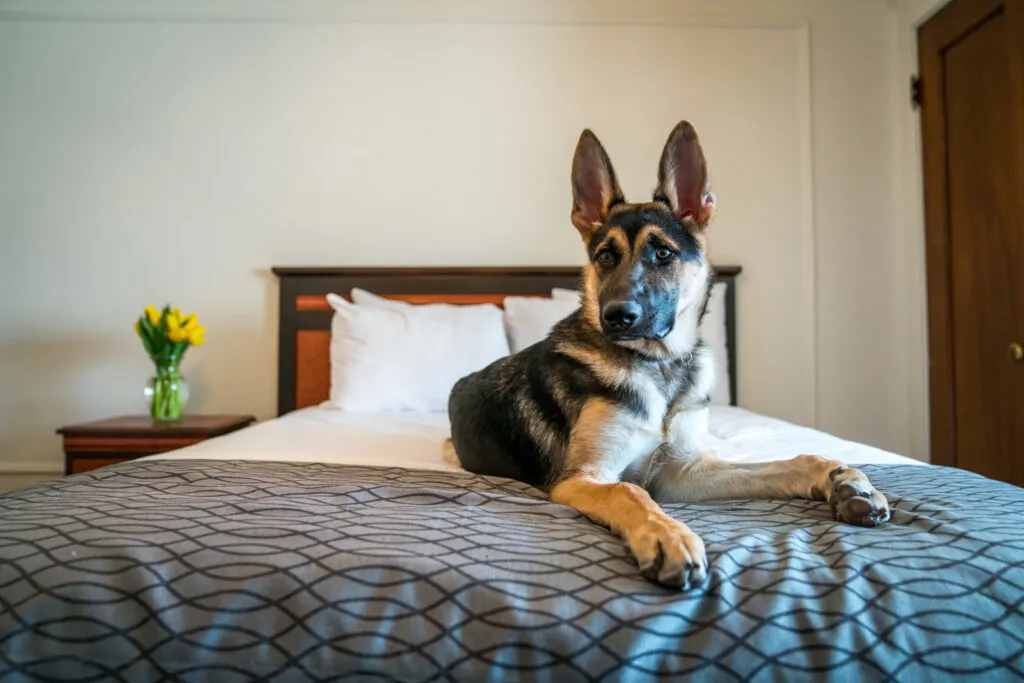 Milwaukee is also a generally pet-friendly city, and one your pets will enjoy visiting as much as you will.
This vibrant destination is also referred to as the city of festivals and even hosts special pet-focused events.
It has numerous parks, hiking trails, restaurants, and even breweries where your pets can accompany you.
There are also many great outdoor activities in Milwaukee that you and your furry friends will love!
And of course, the friendly pet hotels make the whole experience extra special for them.
If you're wondering where to stay in Milwaukee for pet-friendly accommodation, luckily you have plenty of options.
Not only will you have your pick of hotels, but you'll also find some of the best Airbnbs in Milwaukee, wonderful pet-friendly cabins in Wisconsin, or the best pet-friendly hotels in Lake Geneva.
You can also find great pet-friendly resorts in Wisconsin Dells or the best pet-friendly resorts in Wisconsin if you find yourself visiting other places other than Milwaukee.
Let's take a look at the top pet-friendly hotels Milwaukee, Wisconsin has in store for its visitors.
This blog is supported by you, dear reader. If you purchase through a link, I earn a small commission. As an Amazon Affiliate, I earn from qualifying purchases.
Top resources to travel Wisconsin
✎ Plan the ultimate Wisconsin road trip (no backtracking!) with the Perfect Wisconsin Road Trip itinerary – Buy now for less than 12$

✈ Find the best hotel deals in Wisconsin with Trivago

➳ Book vacation rentals in Wisconsin with VRBO

✔ Book tours in Wisconsin with Viator

☘ Get the best discounted outdoor gear (outlet) at REI.com

$ Get Wisconsin hiking guides and maps at REI.com

✎ Never leave without travel insurance. I get mine at SafetyWing. It is easy to set up, cheap, and reliable.
Overview: 5 Top Pet-Friendly Hotels in Milwaukee, WI
Highlights: Special pet package for Fido
The Plaza Hotel is the pride of Milwaukee's historic lower east side.
Guests love this hotel for its vintage charm, modern comforts, and its exceptional service.
And for your furry friends, the Plaza Hotel promises a comfortable and unforgettable stay – in fact, the whole hotel is designed to be pet-friendly.
The hotel features spacious rooms with fully-equipped kitchens and seating areas.
They also offer special pet packages with extra treats and toys for your four-legged friends.
It's easy to see why this is one of the best pet-friendly hotels in Milwaukee, Wisconsin for an extended stay.
The gorgeous Lake Michigan is within walking distance of this hotel, as are several great mountain bike trails in Wisconsin.
Do not miss taking a stroll along this scenic route with your pet, you might even see one of the best lighthouses of Wisconsin.
There are also many impressive dog-friendly restaurants Milwaukee has to offer in the neighborhood.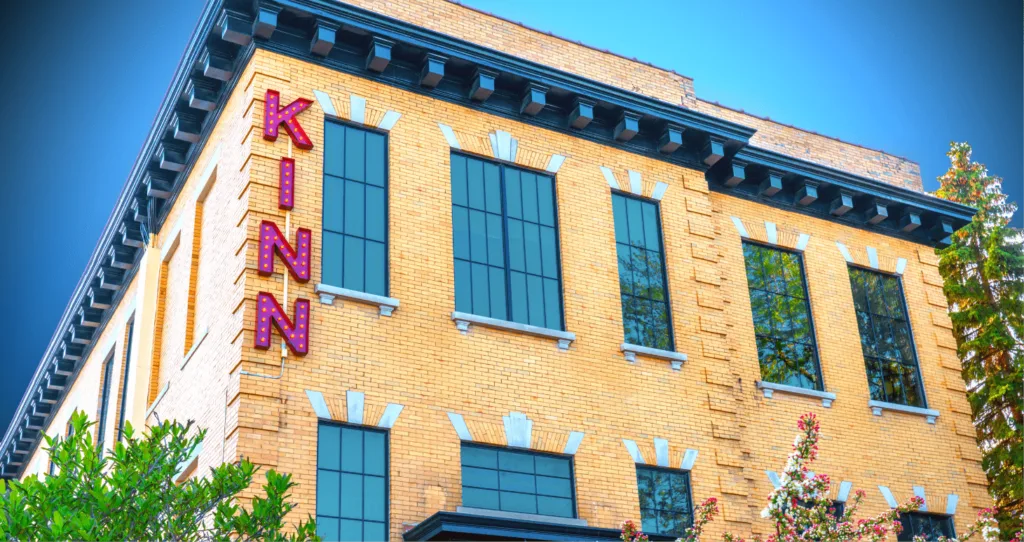 Highlights: Fully furnished communal kitchen
Wondering where to stay in Milwaukee while you have 2 pets along with you on your vacation?
Do not think twice before booking your stay at the Kinn Guesthouse Bay View.
Located just a short drive away from the downtown, the hotel boasts all the comforts to be your home-away-from-home.
The carefully curated rooms feature high ceilings, beautiful furniture, luxury bedding, and artworks.
Guests here get access to a communal kitchen and a fully-equipped local gym.
This dog-friendly Milwaukee hotel features hardwood and tile flooring throughout that makes it great for pets.
They also provide dog bowls and also allow up to 2 pets in a room.
There are many trendy shops, restaurants, and pubs right outside the hotel.
Visiting the dog-friendly Beer Garden nearby is one of the most unique things to do in Milwaukee with your pet
Highlights: Spa offering rejuvenating hydrotherapy
The Pfister Hotel in downtown Milwaukee redefines the meaning of elegance and luxury.
Guests have been visiting and impressed by the hotel's architecture, Victorian art collection, and superior service since 1893.
The Pfister ensures to let you immerse in relaxation with its ultra-comfortable furnishing, swimming pool, and sun loungers.
Known as one of the best spa resorts in Wisconsin, it offers Hammam steam shower, mud spa, and hydrotherapy.
If you are planning to take your furry friend along, you can book the Rover night package and watch your dogs jump in joy when they receive the special gift basket with toys and treats.
To make it extra special, the package also includes a map to find the best dog park Milwaukee has to offer.
The hotel is just a few blocks away from Lake Michigan, one of the best places to enjoy fall colors in Wisconsin with your furry friend!
The Pfister is considered one of the most haunted hotels in Wisconsin, so when traveling with furry friends, avoid the haunted second floor as we all know animals are far more tuned into the supernatural!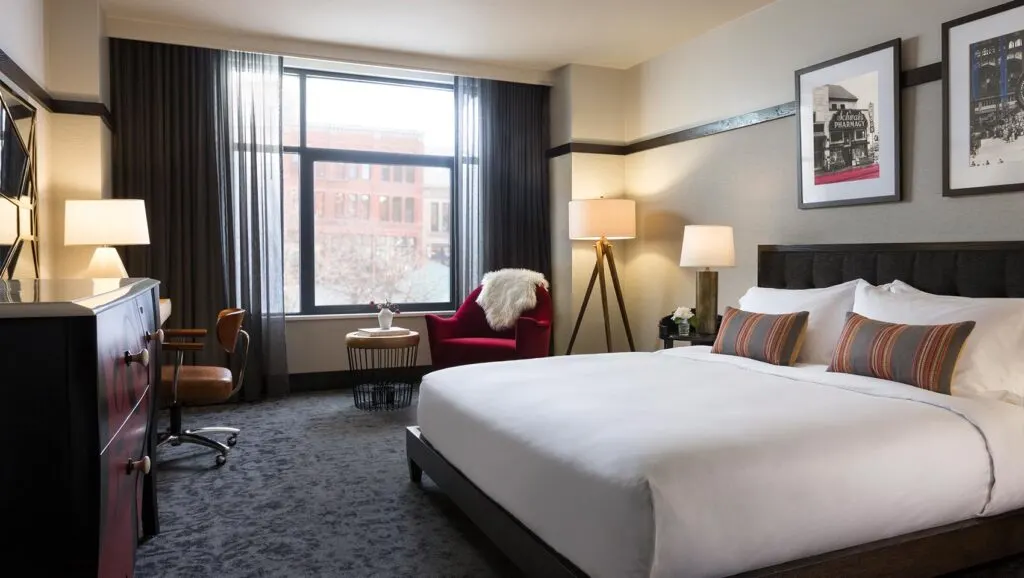 Highlights: Excellent café, rooftop restaurant, and bar.
Kimpton Journeyman Hotel in Third Ward District is a part of the reputed IHG pet-friendly hotels, which is regarded as one of the most wonderful pet-friendly hotel chains.
This boutique hotel welcomes all kinds of pets at no extra charge. The best part is that there is no limit on the number of pets allowed here.
Additionally, the hotel offers thoughtful amenities like plush pet bed loaners, food, and water bowls to pamper your pets.
The hotel has midwestern-style rooms with cozy beds, luxury bath amenities, and a yoga mat for supreme relaxation, so you'll be just as comfy as your pets.
From the hotel, guests and can take a bike for a walk around the town and visit the scenic parks nearby for witnessing stunning fall colors.
Enjoying the fall colors is one of the best things to do in Milwaukee in October, and jumping in the leaves is great fun for pets.
Kimpton Journeyman stands out among other pet-friendly hotels in Milwaukee in terms of services.
You may request dog walking, pet sitting, or pet spa services at the hotel while you are busy exploring.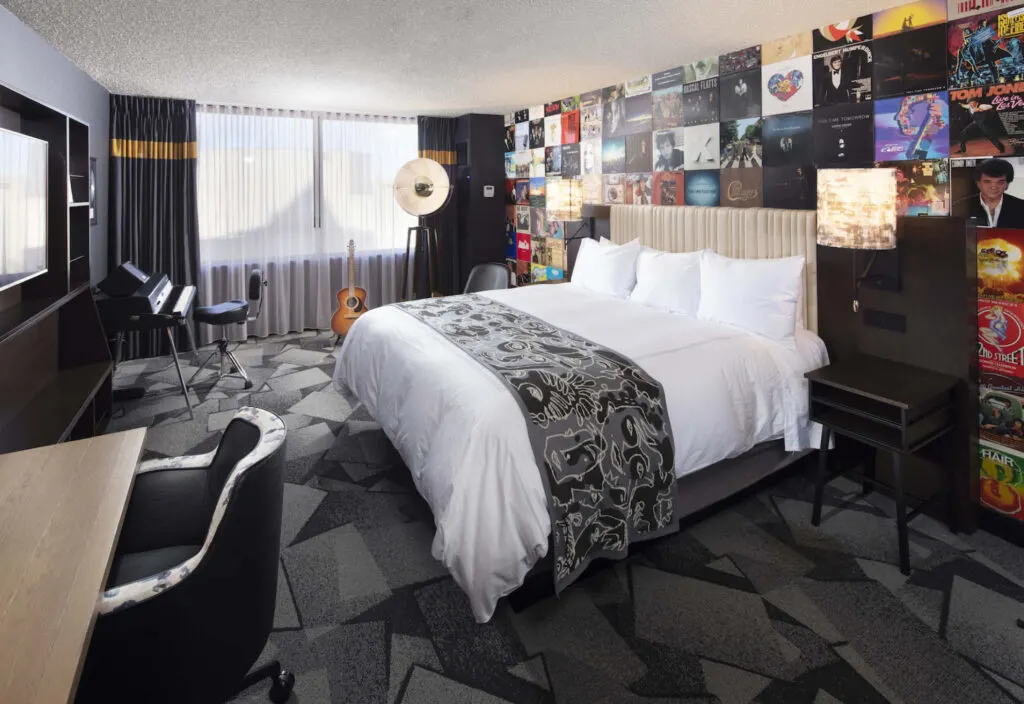 Highlights: Galleries and exhibition spaces with contemporary art collections
Saint Kate is an exceptional choice if you are looking for pet-friendly hotels in Milwaukee near popular attractions.
As a truly pet-friendly hotel, Saint Kate welcomes furry, feather, and scaly pets of all sizes and breeds.
The amenities they offer such as pet bed loaners, mats, food bowls make it rank among the best pet-friendly hotels in Milwaukee.
Additionally, the hotel even provides a list of the best restaurants, groomers, boutiques that allow pets.
This boutique hotel is one-of-a-kind with amenities like a ukulele, record player, drawing paper in the rooms.
For a comfortable stay, the rooms have luxury bed linens, spa-inspired bath products, and a flat-screen TV.
If you are an art lover you will be impressed by the exhibitions in the gallery.
Saint Kate is also one of the best pet-friendly hotels in Milwaukee to host your wedding celebration.
The most special member of your family – your pet – will also enjoy the stay as much as you do.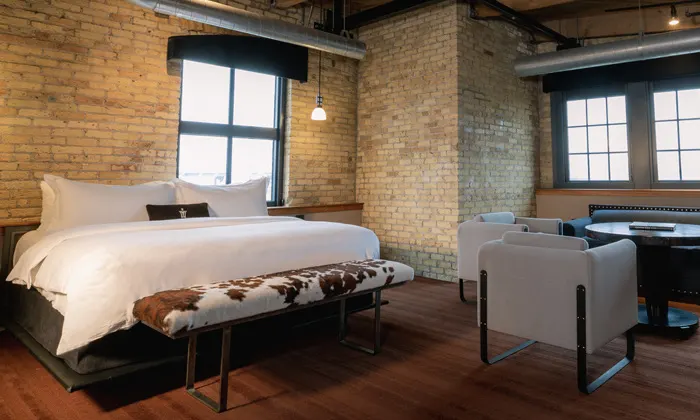 Highlights: Spa treatment rooms and Koss music station
The Iron Horse Hotel showcases the perfect blend of old-world charm and modern facilities.
It's a skilfully renovated 100-year-old warehouse located within a walking distance from the famous Harley Davidson Museum.
The loft-style rooms are suite size by industry standards and are perfect for a getaway with your pets.
Whether you love music, bikes, arts, food, or fitness this hotel has something for everyone.
The Iron Horse is one of the best pet-friendly hotels Milwaukee, WI has to offer because of its dedicated pup-friendly spaces.
You can add on the big dog special package along with your booking to offer your pets an extra special stay.
This package includes in-room plush pet pillows, bowls, delicious treats, and toys.
You will also be delighted when you arrive to find your pet's name on the welcome board.
Additionally, a part of the proceeds of this add-on will go to local animal rescue groups.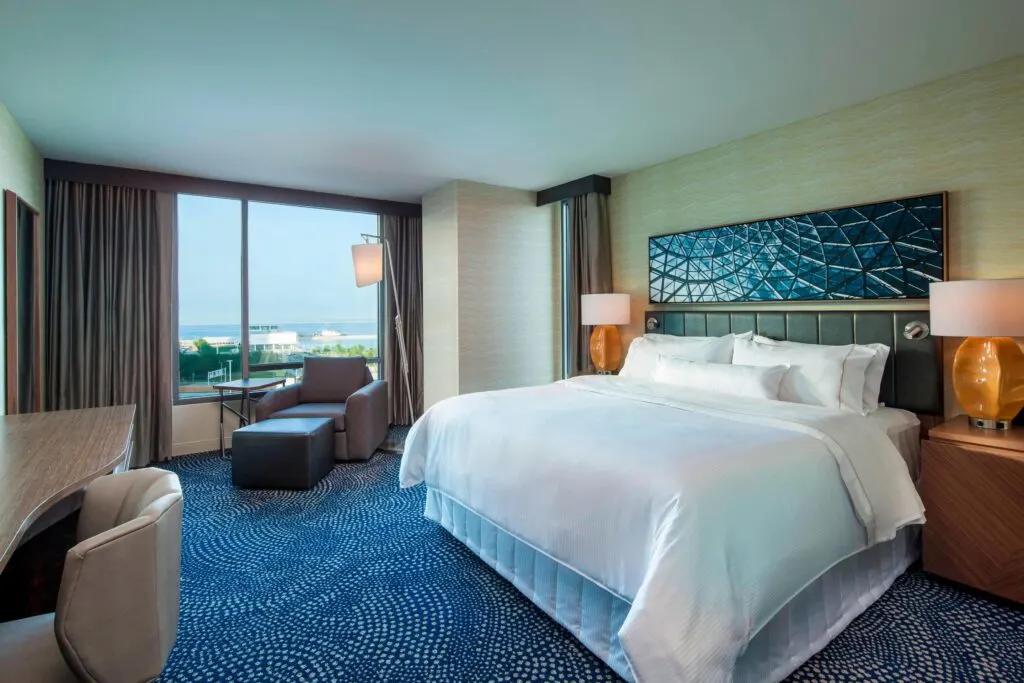 Highlights: Modern Italian-American steakhouse with full bar
In terms of location, The Westin Milwaukee is one of the best pet-friendly hotels in Milwaukee.
The hotel is in the heart of downtown with more than 80 miles of bike and running paths near the hotel.
If you want to enjoy amazing outdoor activities in Wisconsin with your pet, then the Westin is a great choice.
This hotel is just a few steps away from The Third Ward, The Henry Mayer Park, and Lake Michigan.
You can take your pets along to all these places and they are sure to have a great time.
The rooms of the hotel offer great comfort with splendid furnishings. Its large windows let you witness stunning views of the city.

The amenities like heavenly dog beds and treats make it one of the dog-friendly hotels Milwaukee has for its visitors.
They also provide dog bowls and waste bags for making the stay mess-free.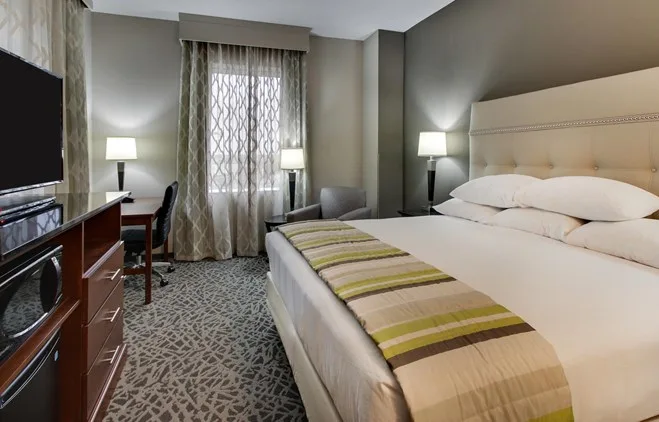 Highlights: Free breakfast, snacks, and cold beverages
A renovated gem in downtown Milwaukee, the building of Drury Plaza traces its history to 1928.
The hotel is connected to Milwaukee's skywalk system and is close to the renowned Wisconsin Centre.
All of the rooms feature superior amenities like free Wi-Fi, Tv, refrigerator, and microwave.
Guests can relish delicious meals, crafted cocktails, wines, and beer at the Kitchen + Bar on-site.
It's a great choice if you are looking for both cat and dog-friendly pet hotels as they allow 2 pets with a combined weight of up to 80 pounds in one room.
The Veterans Park is just a mile away from this hotel where your pets can walk and play and have a great day out.
You can also take them along for a fun pedal boat ride if they're not too scared of the water.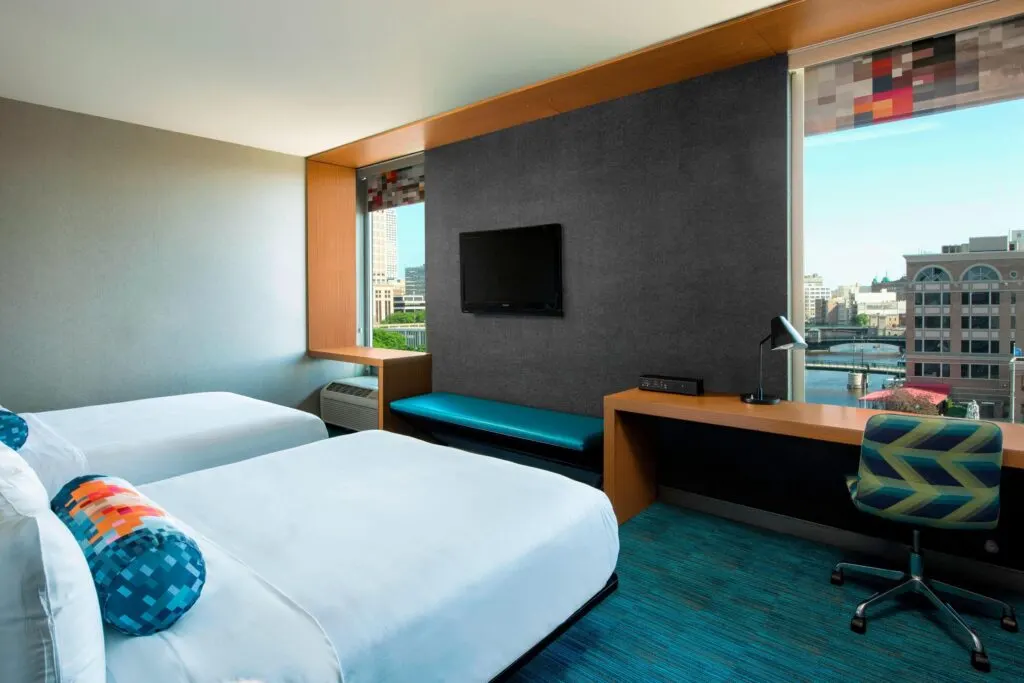 Highlights: Splash indoor pool
Whether you prefer a peaceful stay or a joyful get-together, the aloft hotel is perfect for both.
More importantly, you don't have to leave your pet behind either as it is one of the best dog-friendly hotels in Milwaukee.
The hotel doesn't charge any additional fee for bringing your furry friends and even offers pet baskets on request.
Located along the scenic RiverWalk, the hotel features spacious loft-style guestrooms with a view.
Every room features exceptional amenities like plush platform beds and a walk-in shower.
Guests also get the option to choose the scenic Milwaukee Riverview rooms – a view both you and your furry friend can enjoy!
Near the hotel, you can find fitness trails, which are perfect for dogs. There are also great options for boating and kayaking.
Additionally, aloft Hotel has a splash indoor pool and a well-equipped gym that is open 24 hours a day for guests.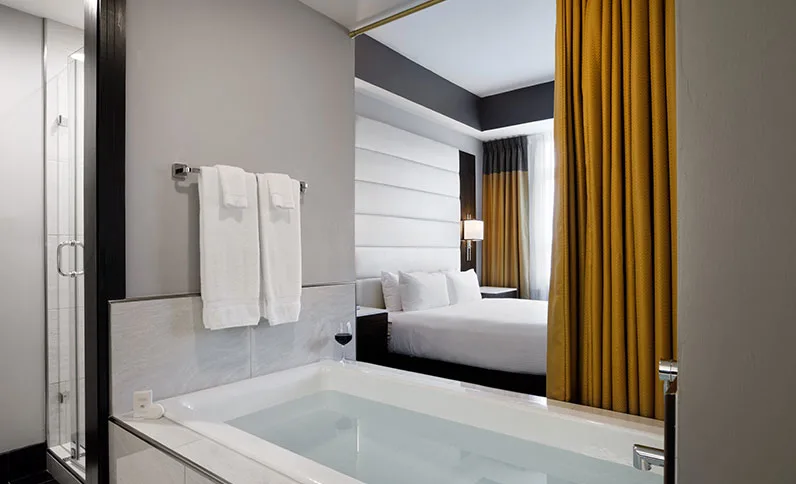 Highlights: Rooms with soaking tubs and fireplaces
Hotel Metro deserves a special mention in the list of pet-friendly hotels in Milwaukee.
This Art-deco inspired boutique hotel is within walking distance of Milwaukee's best attractions.
You can take your pets for a walk to Lake Michigan or go on an adventure with them on one of the best Southern Wisconsin hiking trails.
There is also a park nearby for your pets to roam around.
Dog beds, bowls, and toys are available on request at the hotel for the four-legged guests.
The rooms here are extremely spacious and boast state-of-the-art amenities.
Hotel Metro is also one of the best romantic hotels in Milwaukee with large soaking tubs and fireplaces in select rooms.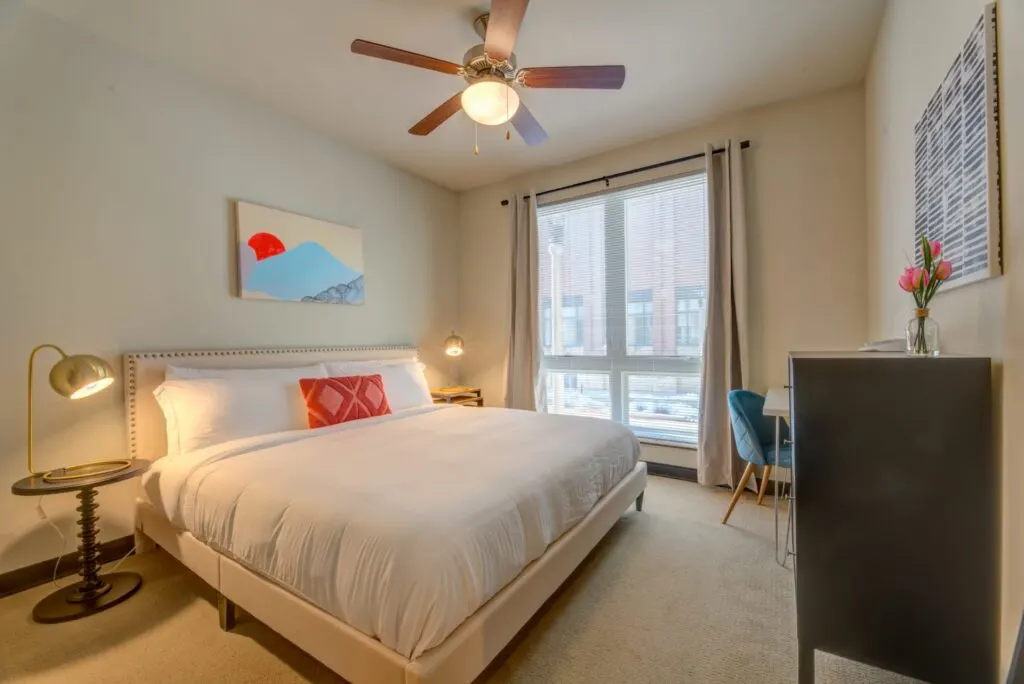 Highlights: Rooftop lounge with grills
Kasa Milwaukee Westown is counted among the best family resorts in Wisconsin for those traveling with pets.
From games rooms, a fitness center, to picnic areas, the hotel has something to delight guests of all ages.
If you are searching for hotels in Milwaukee that allow dogs and cats and can fit the whole family, this is perfect for you.
The hotel offers rooms with kitchen and dining areas to cook and enjoy a meal together.
Plus, it boasts a rooftop lounge where you can hang out and indulge in fun conversations with your family.
Enjoying a barbeque night here is one of the most unique things to do in Milwaukee in winter.
The hotel is surrounded by vibrant restaurants, breweries, bars, and historic buildings, and the neighborhood is great for walking around with your family and pets.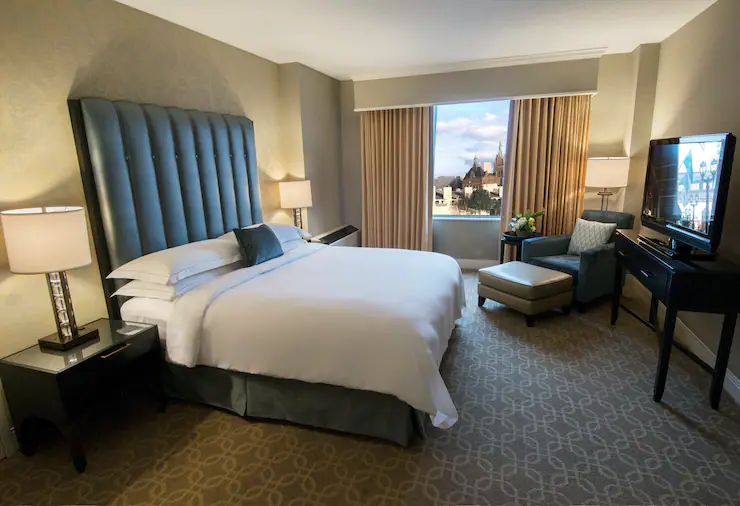 Highlights: Fantastic on-site restaurants
When it comes to pet-friendly hotels, Milwaukee never disappoints with its options, and The Hilton Milwaukee City Centre in the heart of downtown proves this fact.
This Art deco style hotel is connected to the Wisconsin Centre by the skywalk making it easy to get around.
The hotel caters to the needs of every vacation desire with its diverse rooms and suites.
For those planning a family get-together, it even has suites that can accommodate up to 6 guests
The exceptional on-site restaurants make this hotel popular among locals and visitors alike. It is home to the famous Milwaukee ChopHouse, Monarch Lounge, and Miller Time Pub &Grill.
The stunning architecture, scrumptious cuisines, and gracious service will make you come back again and again.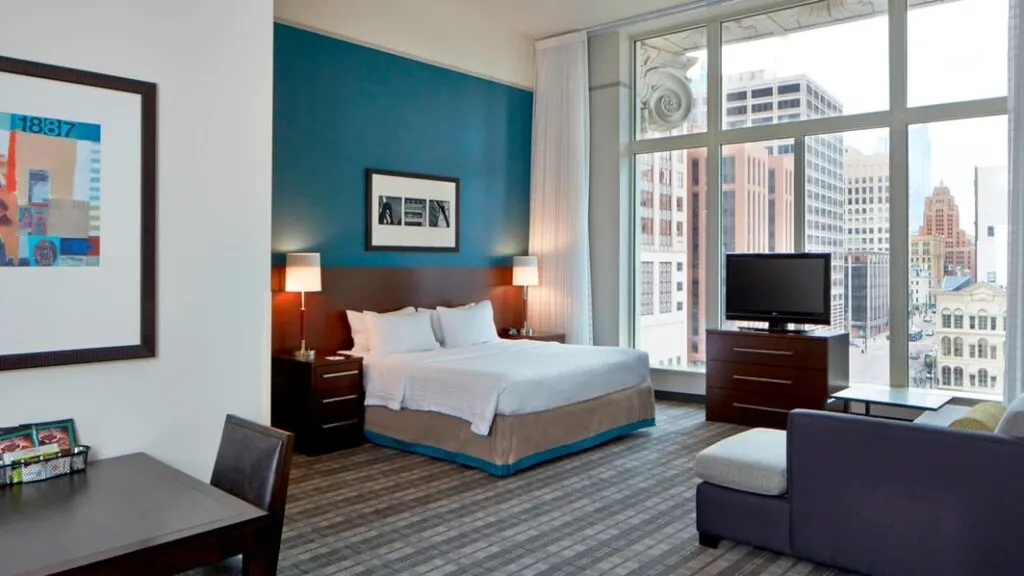 Highlights: Complimentary full-American breakfast
Residence Inn is one of the best pet-friendly hotels in downtown Milwaukee, WI for an extended stay.
All of the hotel suites feature premium bedding, TV, living areas with oversized windows.
Additionally, a full kitchen with a fridge comes in every suite to make it easy and convenient to prepare a feast for your family.
The hotel is close to American Family Field, Riverside Theatre, museums, and historic attractions.
Enjoy great views over the city where you can feel like you're starring in one of the great movies set in Wisconsin.
Activities like water-skiing, jet-skiing, mountain biking, sailing can be enjoyed within 1 mile from Residence Inn, many of which are fun for pets and humans alike.
With plenty of entertainment options nearby, it's easy to see why Milwaukee is of the best places to vacation in Wisconsin.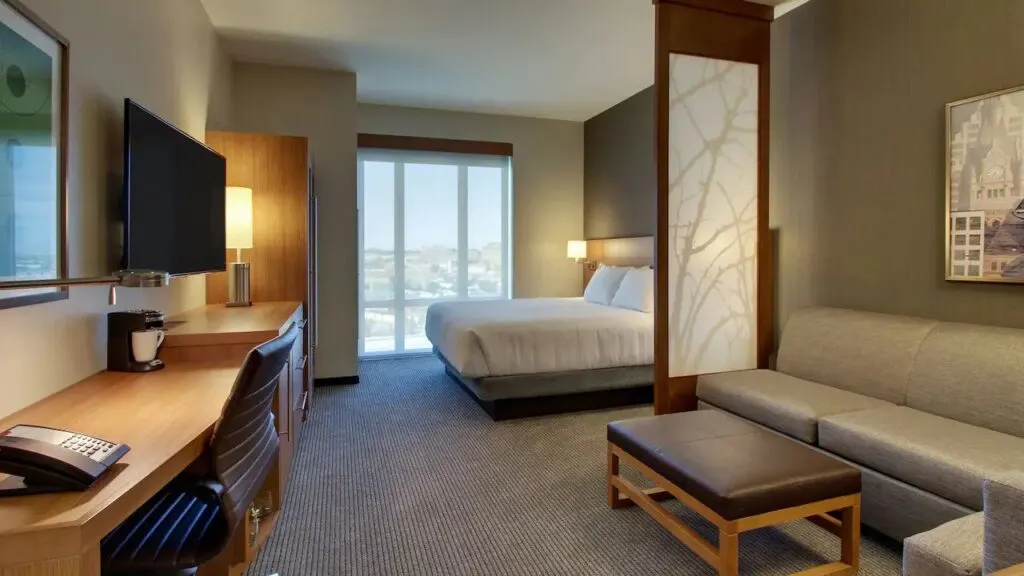 Highlights: Allows two dogs in one room
If you are searching for the best Milwaukee hotels that allow dogs, downtown has some brilliant options.
The Hyatt Place located across the street from Fiserv Forum is one such example as it welcomes all dogs with a maximum weight of 50 pounds and permits two dogs in a room.
All the rooms of the hotel feature the signature Hyatt Grand Beds, cozy corner sofa sleepers, and oversized workstations.
If you are looking for an extended stay, you can opt for the spacious suite with a kitchen.
Just minutes away from the hotel, you can find some unique dog-friendly things to do in Milwaukee.
One of my favorite nearby places is Good City Brewing which features dog-friendly patio seating and is one of the best date ideas in Milwaukee for dog lovers.
You can also take your dog to the Lakefront Brewery and shop for some remarkable dog treats, leashes, and toys.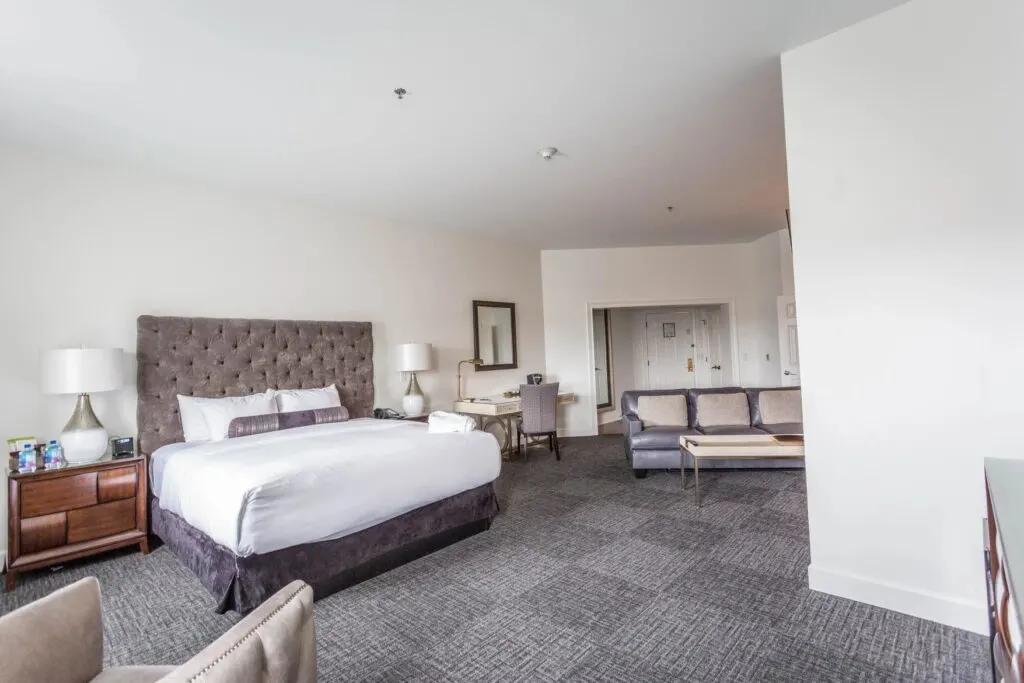 Highlights: Pet mini bar available on request
Located 25 miles west of Milwaukee, The Delafield Hotel is one of the most romantic hotels in Wisconsin.
The hotel is known for making every occasion extraordinary with its impeccable service.
This is a great choice for couples looking for Milwaukee dog-friendly hotels to make their pets a part of their wedding.
Each suite of this beautiful boutique hotel has a cozy vibe. The rooms feature superior technology, furnishings, artwork, and a spa tub.
There is also has an on-site restaurant where guests can enjoy delicious wines and American Cuisines.

The Delafield Hotel is one of the best pet-friendly hotels near Milwaukee, WI that offers a special dog package.
This package includes amenities like a welcome dog hanger, dog treats, and plush dog toys. You may also request a comfortable pet bed, bowls, and pet mini bar for an additional fee.
From Delafield, you will also have easy access to some of the best day trips from Milwaukee without the traffic of the city.
You'll also find some of the best hiking trails in Wisconsin nearby, which are perfect for active dogs.
---
Short FAQ about Pet-Friendly Hotels in Milwaukee, WI
1. Do any pet-friendly hotels in Milwaukee have a pool?
Yes! In fact, The Pfister Hotel, one of my favorite pet-friendly hotels in Milwaukee has a swimming pool AND a hammam. Additionally, the aloft Hotel also has a splash pool.
2. What are the best pet-friendly hotels in Milwaukee?
3. Do any pet-friendly hotels in Milwaukee allow animals other than dogs?
Yes! While dogs are the most common travel companion, most will also allow cats or smaller, caged animals to accompany you, but you should always double-check ahead of time. Saint Kate's welcomes pets of all breeds and sizes.
---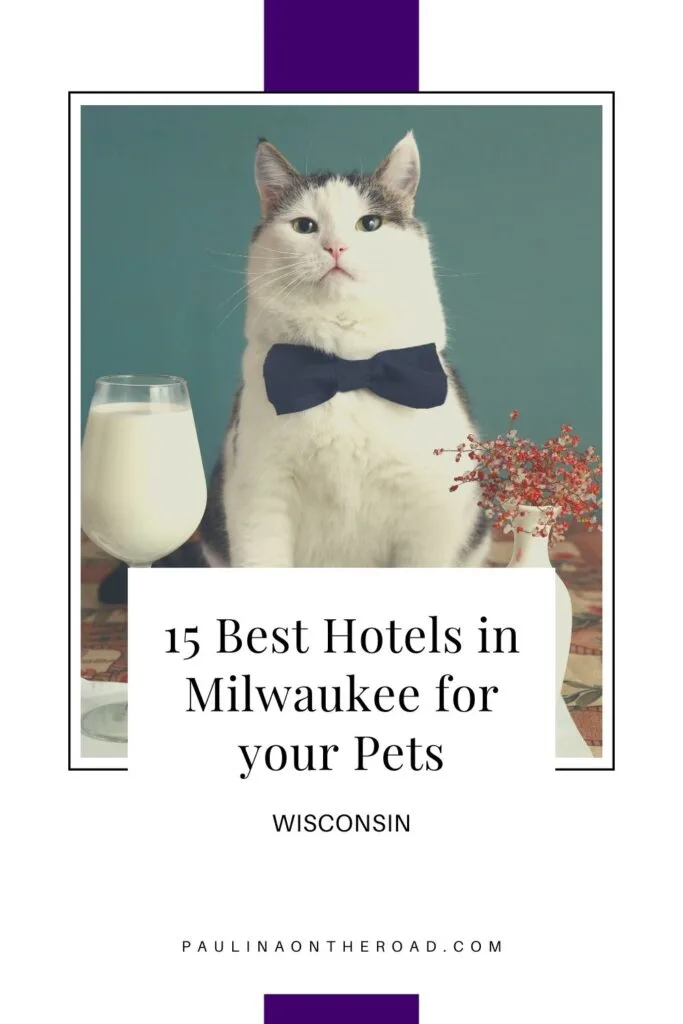 ---
Hola! I am Paulina, a fervent travelette who crossed the Atlantic Ocean by Boat HitchHiking. On my blog, you'll find all the tips to make the most of your holiday. Get ready to enjoy outdoor and sustainable travel like hiking, cycling or sailing. Let's hit the road together!