Here are the best pet-friendly resorts in Wisconsin so you don't have to let your pet alone
If you're looking for a great vacation destination but don't want to leave your furry best friend at home, look no further than Wisconsin.
With many pet-friendly resorts across the state that are ready to welcome you and your four-legged companion, Wisconsin is one of the most awesome places to visit.
From luxury lakeside lodges to quaint countryside cabins, there's something here for every type of animal lover.
So travel Wisconsin and pack up those leashes and treats – I've rounded up some of the best pet-friendly resorts in Wisconsin.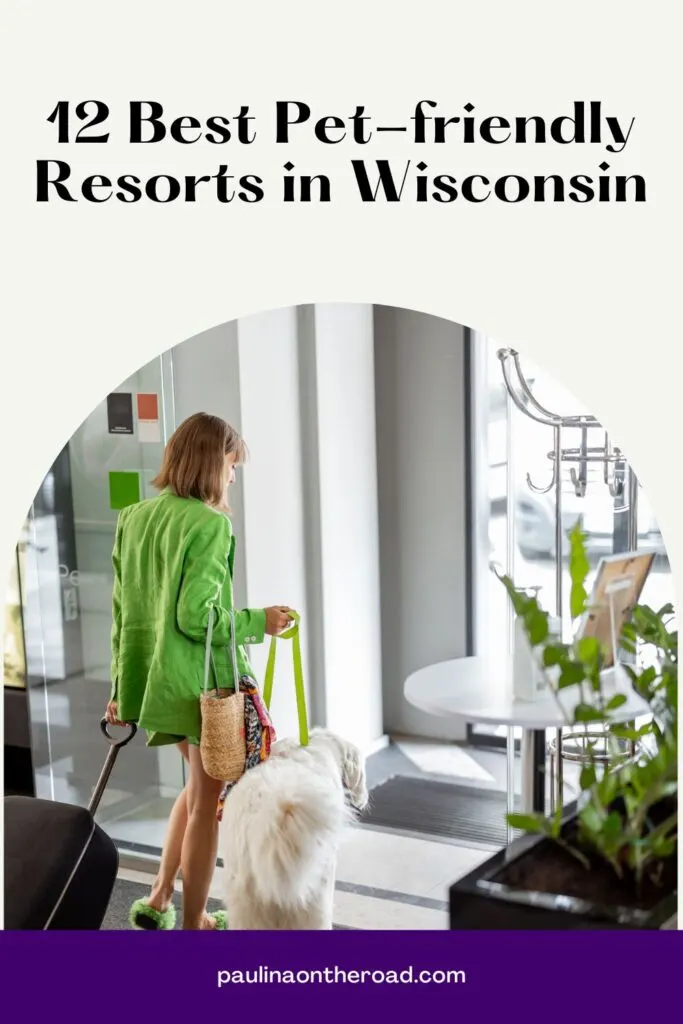 This blog is supported by you, dear reader. If you purchase through a link, I earn a small commission. As an Amazon Affiliate, I earn from qualifying purchases.
Psssst…!!?? You can't get enough of pet-friendly accommodation in Wisconsin? Have a look at my other posts:
Best Pet-Friendly Resorts in Wisconsin
If you're searching for pet-friendly hotels in Wisconsin, look no further than Hyatt Place Madison/Downtown.
As a dog parent myself, finding accommodations that welcome furry friends is always a top priority.
But this hotel goes above and beyond with its pet-friendly rooms. And let's be honest, nothing beats snuggling up with your pup after a day of adventures.
Speaking of which, there is no shortage of fun things to do in Madison – from kayaking and water skiing to relaxing boat tours.
And if you need to unwind after a busy day, take advantage of the indoor pool, 24-hour gym, and onsite bistro. This hotel has it all.
I recently stumbled upon the Holiday Inn Express & Suites Stevens Point, and I have to say, it's the perfect spot for families with pets who are looking for a cozy getaway in Wisconsin.
Not only is it pet-friendly, but it's also loaded with family-friendly accommodations, making it easy to travel with everyone in tow.
And don't even get me started on the amenities—it's got everything, from free continental breakfast to an indoor pool complete with a children's pool and waterslide.
Plus, its location right by Sentryworld Golf Course and Green Circle Trail makes it an ideal place for things to do in central Wisconsin if you're looking to explore the great outdoors.
All in all, I'd say this is one of the best pet-friendly resorts in Wisconsin.
Dog-friendly vacations in Wisconsin just got even more appealing with the Holiday Acres Resort on Lake Thompson.
Not only can dogs tag along on this lakeside getaway, but they can also enjoy luxurious accommodations alongside their owners.
But it's not just about the pooches: visitors can enjoy four seasons of relaxation at this beautiful resort, complete with delicious dining options and an indoor pool and sauna.
And for those looking to add a little excitement to their vacation, the resort offers a variety of activities to partake in, such as horseback riding, fishing, and even billiards.
As someone who loves my furry companions and a good getaway, I can't wait to experience a stay at Holiday Acres Resort for myself.
As a lover of furry companions, finding pet-friendly resorts in Wisconsin Dells can be a challenge.
But look no further than Baker's Sunset Bay Resort. Not only do they welcome your four-legged friend with open arms, but they also offer a range of activities to make your stay enjoyable for both you and your pet.
Take advantage of their sandy beach and free kayaks to enjoy Lake Delton's beautiful scenery.
Join in the fun at their nightly bonfires with entertainment. And for those who prefer to stay indoors, their indoor pool with waterslides, jacuzzi, and sauna will keep you relaxed and refreshed.
Plus, their outdoor pool overlooking Lake Delton and activity pool ensure that you never run out of things to do.
Baker's Sunset Bay Resort truly has something for everyone, furry friends included and if your're interested in dog-friendly cabins in Wisconsin Dells, know there's a wide selection of great cabins here.
Located in the picturesque surroundings of the Northern Highland State Forest, White Birch Village Resort at Star Lake offers a pet-friendly lodging option for outdoor enthusiasts.
As a nature lover, I particularly appreciated the resort's commitment to ensuring guests with furry friends can also enjoy a slice of heaven in Wisconsin.
Apart from the cozy accommodations, the resort boasts amenities such as a picnic area with screened pavilion, and barbecue grill, and a relaxing hot tub.
Guests can indulge in an array of summer activities, such as fishing, paddleboarding, canoeing, kayaking, or even bird watching while strolling along the nature trail.
The best trails for hiking in Northern Wisconsin are sure to give you and your pet fun adventures you won't easily forget.
White Birch Village Resort is the perfect getaway for both humans and their furry companions on an adventure in the Northwoods.
Looking for a pet-friendly vacation in Wisconsin where you and your furry friend can soak up some sun and enjoy some peaceful moments by the lake?
The Beachfront Inn Baileys Harbor might just be the perfect spot.
With bonfires on the beach and pet-friendly rooms that offer stunning lake views, you and your furry companion can enjoy a quiet evening as you watch the sun go down.
But that's not all. The resort also offers barbeque facilities and a free breakfast for you to enjoy.
And if you're in the mood for a swim, you can take a dip in the warm heated pool that overlooks Lake Michigan, or head out on the private sand beach to build sandcastles and take in the beautiful scenery.
Plus, if you're a nature lover, you can explore the various nature trails and birdwatching stations since some of the best things to do in Door County are outside.
In my opinion, this resort is the perfect combination of relaxation and adventure, making it the perfect spot for pet-friendly vacations in Wisconsin.
Heartwood Resort in Trego, Wisconsin is truly a gem among Northwest Wisconsin resorts.
Located in the heart of Northwestern Wisconsin, Heartwood Resort offers the perfect getaway for families looking to stay at one of the best lakefront resorts in Wisconsin.
With a variety of accommodations available, including unique duplex cabins, lakeside cottages, homes, and lakeside hotel lodge rooms, there is a lodging option for everyone.
This resort is pet-friendly and presents amenities such as a fitness center with a gym and a private beach.
Plus, kids stay for free, making Heartwood Resort an ideal destination for a family vacation, and not to mention you can find here the coolest things to do in Northern Wisconsin.
In my opinion, Heartwood Resort is one of the best western Wisconsin resorts for a relaxing getaway with your loved ones, furry friends included,
If you're looking for a pet-friendly resort in Wisconsin, Mont du Lac Resort is the perfect choice!
With stunning views from its glacially carved mountain, this resort offers an array of outdoor activities such as fishing, canoeing, kayaking, and mountain biking.
The lodges, cabins, and RV Resort offer comfortable accommodations with all the amenities you need, including barbeque facilities with picnic areas for some outdoor fun.
You can also try your hand at archery, hiking, and other activities that are sure to make your stay memorable.
From my perspective, Mont du Lac Resort is the epitome of a perfect vacation spot offering some of the best secluded cabins in Wisconsin.
As a travel enthusiast and pet owner, I'm always on the lookout for the best pet-friendly resorts in the USA.
Recently, I stumbled upon the Ingleside Hotel in Pewaukee and it blew me away.
Boasting a range of activities for both families and business travelers, it's perfect for weekend escapes or work retreats.
The Springs Water Park, one of the best indoor water parks in Wisconsin is sure to provide hours of entertainment for everyone.
And if you're in the mood for some exercise, they offer bike rentals and a fitness center too.
Overall, the Ingleside Hotel is definitely one of my top picks for pet-friendly resorts in the country.
Looking for an exciting and unforgettable vacation experience with your furry friend?
The Four Seasons Island Resort in Pembine is one of the most popular and dog-friendly resorts in Wisconsin.
Enjoy relaxing accommodations in riverfront apartments that feature a kitchenette equipped with a refrigerator and a microwave.
Keep your kids entertained by taking advantage of the resort's 2 restaurants, pristine golf course, an indoor pool, and the outdoor hot tub and sauna.
And if you're bringing your furry friend with you, take advantage of the special amenities for your dog, including the opportunity to stay for free.
From my point of view, the Four Seasons is one of the best resorts in Northern Wisconsin, offering top-notch accommodations and amenities for everyone.
If you're planning a family trip to Wisconsin, make your stay even more memorable by booking a room at Hotel Retlaw, Trademark Collection by Wyndham in Fond du Lac.
This pet-friendly resort boasts a charming onsite brasserie and a range of amenities that are perfect for families, including a gym and a 24-hour business center.
For outdoor enthusiasts, the nearby Lakeside Park and Ford Festival Park offer endless opportunities to explore and enjoy the beautiful Wisconsin landscape.
From family-friendly activities to comfortable accommodations, Hotel Retlaw is definitely one of the best family resorts in Wisconsin from my perspective.
As a pet lover, I know how hard it can be to leave your furry friends behind while going on vacation.
That's why I am excited to tell you about Beach Harbor Resort in Sturgeon Bay, Wisconsin.
This pet-friendly resort is conveniently located near the airport and offers its guests access to a private beach.
You'll love hanging out at the beach bar, enjoying the scenery from the terrace, or taking a stroll through the charming garden.
But, the fun doesn't stop there- Beach Harbor Resort also offers exciting onsite activities like fishing, water skiing, and sailing.
All of this combined makes Beach Harbor Resort in Sturgeon Bay the perfect destination for both you and your furry family members, not to mention it is one of the best fishing resorts in Wisconsin.
My final take on the best pet-friendly resorts in Wisconsin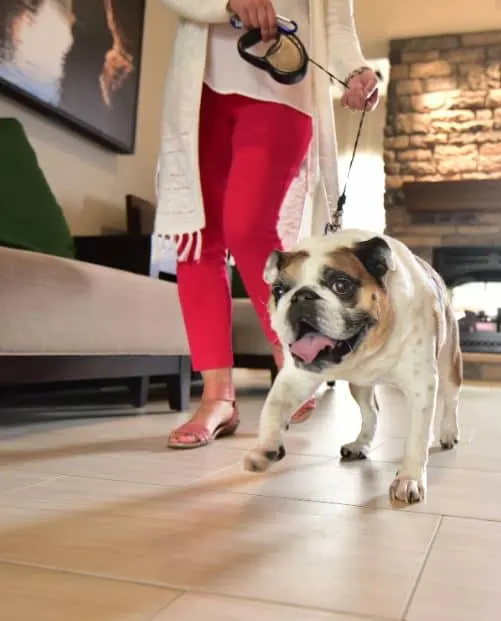 Wisconsin is a wonderful destination when it comes to vacationing with your pet.
Not only does the state offer a plethora of pet-friendly lodging options, but these resorts take great measures to ensure both you and your pet have an enjoyable stay.
With some of the best pet-friendly resorts in Wisconsin, there will surely be something for everyone.
So feel free to take advantage of all the pet-friendly places as you embark on your Wisconsin getaway.
Ultimately, choosing a pet-friendly vacation will reduce stress for both you and your companion, making it worth considering when planning your next trip to Wisconsin.
FAQ about the best pet-friendly resorts in Wisconsin
What are the best pet-friendly resorts in Wisconsin Dells?
Some of the best pet-friendly resorts in Wisconsin Dells are Edge-O-Dells Resort or Delton Grand Resort and Spa.
What are the best pet-friendly cabins in Wisconsin?
Some of the best pet-friendly cabins in Wisconsin are Birchwood Blue Cabin, Wood River Retreat or the Sugar Shack.
What are the best pet-friendly lakefront rentals in Wisconsin?
Some of the best pet-friendly lakefront rentals in Wisconsin are Delta Lodge, Outback Cottages or the Scandinavian Style Cabin on the Lake.
---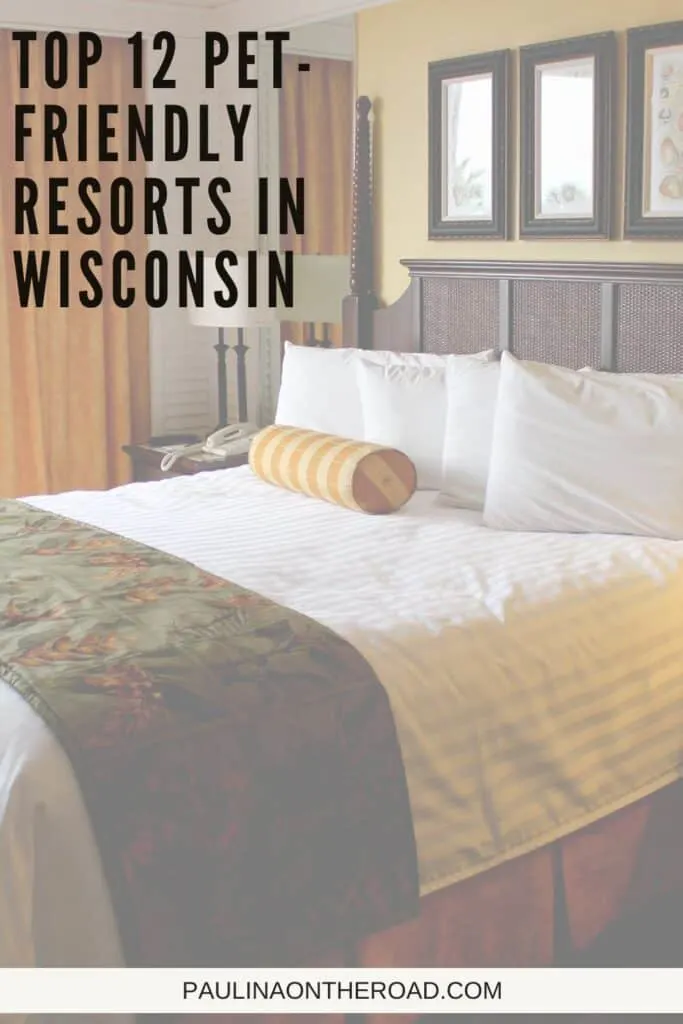 ---
Hola! I am Paulina, a fervent travelette who crossed the Atlantic Ocean by Boat HitchHiking. On my blog, you'll find all the tips to make the most of your holiday. Get ready to enjoy outdoor and sustainable travel like hiking, cycling or sailing. Let's hit the road together!