A guide to help you choose from the best western Wisconsin resorts for your next holiday
Ready to get away and experience the latest in rustic luxury? If you're looking for a great place to vacation, then Western Wisconsin is your best bet!
With its crystal clear lakes, rolling hillsides, and picturesque landscapes, it's no wonder that this region has become increasingly popular among travelers.
It can be hard to choose from all of the resorts available throughout the area, so we've put together a list of the best Western Wisconsin resorts that are sure to make your stay an unforgettable one.
So grab your bags and read on for some fantastic inspiration for when you travel Wisconsin.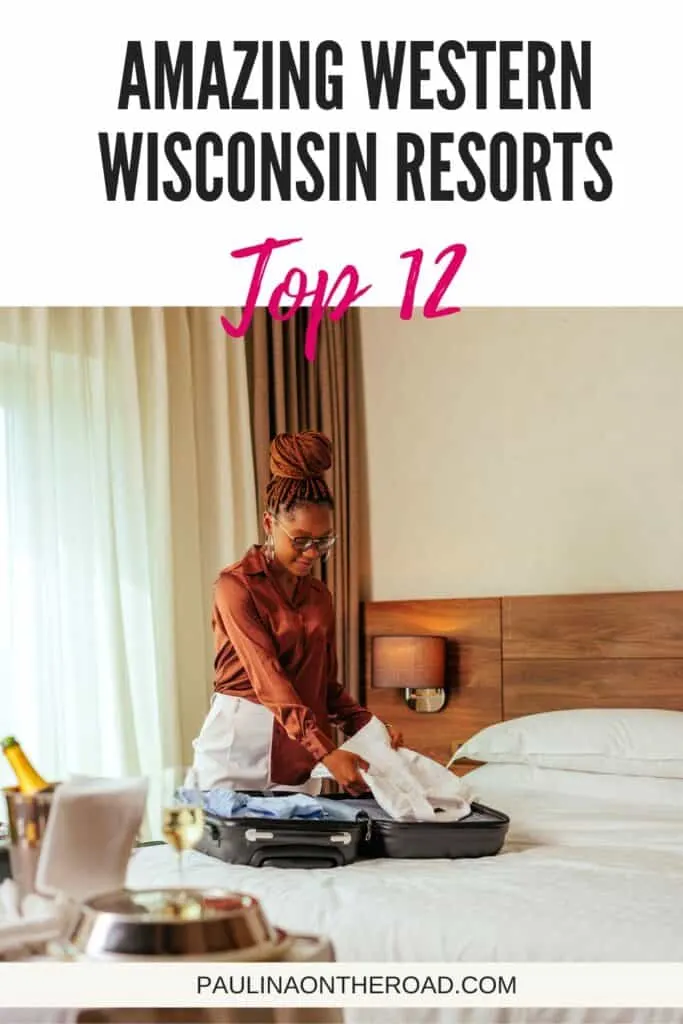 This blog is supported by you, dear reader. If you purchase through a link, I earn a small commission. As an Amazon Affiliate, I earn from qualifying purchases.
Pssst…!!?? You can't get enough of Wisconsin? Have a look at my other posts:
Top Western Wisconsin Resorts
I recently checked into the Country Inn & Suites by Radisson in Platteville, for a weekend getaway and was thoroughly impressed with their unique features and amenities.
The free continental breakfast was a delicious and convenient way to start the day, and the on-site golfing provided some relaxation and exercise.
I also enjoyed browsing through the library during my downtime.
The indoor and outdoor pools were a highlight of my stay, and the accommodations were comfortable and convenient with refrigerators, microwaves, and coffee or tea makers in each of the 49 rooms.
The added bonus of dry cleaning and laundry services made my stay even more stress-free.
I would highly recommend this resort to anyone looking for Wisconsin fall getaways.
I stumbled upon the AmericInn by Wyndham Boscobel and was pleasantly surprised by its location in a picturesque rural area, nestled amongst the mountains.
As a lover of all things outdoors, I was excited to hear about the endless opportunities for fishing and hunting nearby.
The resort also boasts unique features like a lovely terrace, convenient laundry facilities, and a free self-serve breakfast to start your day right.
For those who prefer to stay indoors, the indoor pool and hot tub provide the perfect spot to relax and unwind.
Barbecue grills are also available for those who want to show off their culinary skills. What's more, I was overjoyed to discover that the resort is pet-friendly, making it accessible to all.
The family-friendly services and 49 well-appointed rooms, complete with refrigerators, microwaves, and coffee or tea makers, make the AmericInn by Wyndham Boscobel one of the top pet-friendly resorts in Wisconsin in my opinion.
If you're looking for a comfortable and convenient stay in one of the many resorts in Madison, Wisconsin, then Fairfield Inn & Suites by Marriott Madison Verona may be the perfect option for you.
Located in the heart of the business district and a stone's throw away from the airport, this resort boasts an array of unique features that'll make your stay feel like a home away from home.
Enjoy a refreshing dip in the indoor pool after a long day, work up a sweat in the gym, or engage in an intense tennis match on their state-of-the-art courts.
There are also plenty of things to do in Madison, like hiking, kayaking, or learning about architecture.
As someone who loves discovering new vacation spots, I couldn't help but be intrigued by the Country Inn & Suites by Radisson in Madison Southwest.
Situated in the bustling business district and conveniently close to the airport, this resort boasts a prime location ideal for those who want to explore the area's cultural and scenic attractions.
What's more, the resort's unique amenities such as the indoor pool, gym, and tennis courts make it perfect for those looking for a blend of relaxation and recreation.
With 62 well-appointed rooms that come with refrigerators, microwaves, air conditioning, and free Wi-Fi, this Madison resort is a true gem that is worth checking out.
Welcome to the Edgewater Resort in Madison! The prime location near the Overture Center for the Arts and Wisconsin State Capitol makes it the perfect home base for exploring all that Madison has to offer.
At the Edgewater, they offer unique amenities that set them apart from other hotels, like the delicious free-to-go breakfast and the convenience of on-site golfing and a terrace.
For those in need of some relaxation, Edgewater Spa is the perfect place to unwind, or you can indulge in a fine-dining experience at the Statehouse.
They also understand the importance of pet-friendly options, and they even offer an off-leash area for your furry friends.
The laundry services and luggage storage make traveling a breeze. And for guests who like to stay active, they offer yoga classes at the gym.
With 202 rooms featuring hypo-allergenic bedding, the Edgewater Resort truly is one of the best romantic hotels in Wisconsin.
Located on a gorgeous private beach, Baker's Sunset Bay Resort is one of the best beach resorts in Wisconsin available.
With amenities like a terrace, firepit, and playground, this resort offers a unique and unforgettable experience.
The seasonally available outdoor pool with a waterslide, sun loungers, and pool umbrellas is a perfect spot to relax under the sun.
Moreover, there are two indoor pools where you can go for a swim. If you prefer to relax, the sauna and hot tub here are pretty popular too.
No wonder it's considered one of the best lakefront resorts in Wisconsin.
The resort is excellent for families, with pet-friendly accommodations and family-friendly rooms. You'll never have a dull moment with onsite activities like kayaking and volleyball available.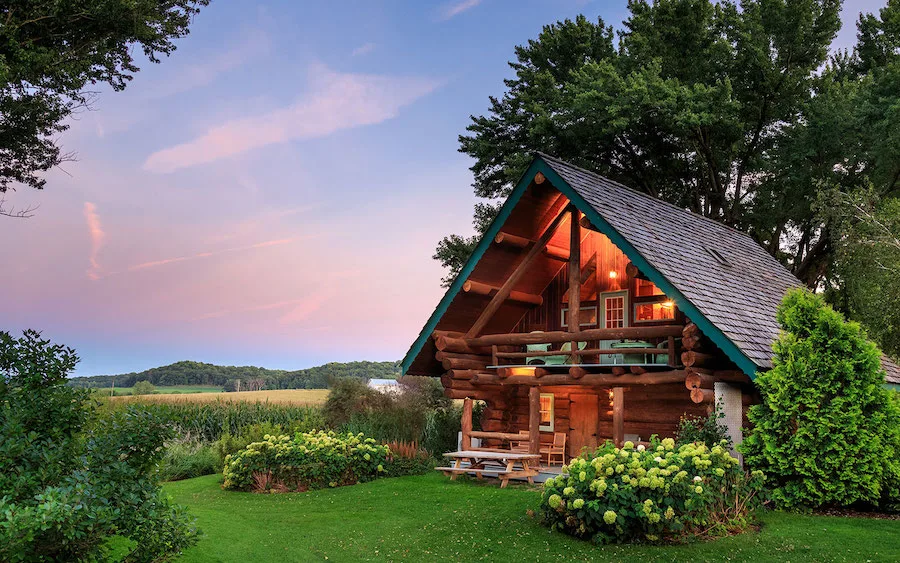 Calling all pet lovers and nature enthusiasts! Justin Trails Resort is the perfect getaway destination for those seeking a serene and picturesque vacation.
Nestled in the heart of rural Wisconsin, this charming resort boasts a myriad of unique features and amenities.
Wake up each morning to a delicious full breakfast, then enjoy your coffee on the terrace while soaking up the stunning views of the surrounding landscape.
After a day exploring the nearby Norskedalen Nature and Heritage Center, come back to the resort to relax by the firepit or challenge your family to a game in the on-site game room.
The resort's secluded garden provides a peaceful retreat, and the guest rooms come complete with private yards, kitchens, and full-sized refrigerators.
With so much to offer, Justin Trails Resort is a hidden gem among resorts in Wisconsin.
If you're seeking a delightful retreat and want to relax in nature while enjoying excellent amenities, consider Three Bears Resort.
Located in beautiful rural Wisconsin, the resort offers a serene atmosphere and a private beach to unwind and recharge.
It boasts exceptional amenities such as seasonal outdoor and indoor pools, a relaxing lazy river, a thrilling waterslide and cabanas for some shade.
You can experience additional luxuries, such as a poolside bar, a playground, and 2 hot tubs to make their stay more fun-filled.
Three Bears Resort is by far one of the best resorts in Wisconsin, with its unparalleled environment and outstanding amenities.
In search of kid-friendly resorts in Wisconsin? I stumbled upon Metropolis Resort & Conference Center.
Nestled in a rural area and boasting a private beach, fun resorts in Wisconsin like Metropolis truly have it all.
From the terrace to mini golf and an onsite restaurant, it's clear that Metropolis is dedicated to providing you with a memorable experience.
And let's not forget the free water park access, bowling alley, and poolside bar – talk about a good time!
Families will especially appreciate the indoor and children's pools, featuring a lazy river, waterslide, and sun loungers.
Plus, with nearby attractions like Chaos Waterpark and Antique Emporium, there's never a dull moment at this incredible resort.
Kalahari Resorts & Conventions is the ultimate destination for waterpark enthusiasts and one of the best western Wisconsin resorts.
As someone who loves to splash around and enjoy good times with family and friends, I must say that this place has blown me away with its unique features.
With a vast 125,000 square feet waterpark, everyone in the family is sure to have a great time at one of the best indoor water parks in Wisconsin.
Their free water park access, gym, and poolside bar are just a few of the many ways guests can benefit from staying here.
Speaking of staying, there's no shortage of accommodation options at Kalahari. Whether you prefer suites, villas, or lakeside cabins, this resort has something to fit your needs.
It's safe to say that Kalahari Resorts & Conventions is the perfect place for endless fun and relaxation.
As someone who loves exploring the outdoors, I highly recommend checking out Heartwood Resort, one of the best lake resorts in Wisconsin.
They offer unique features such as bike rentals and an outdoor tennis court, and you can enjoy the benefits of a playground, a cozy fireplace in the lobby, and a 24-hour gym.
In the winter months, the resort offers exciting activities like ski-in/ski-out access, cross-country skiing, and ski equipment rentals.
But the fun doesn't stop when the snow melts – Heartwood Resort also offers rowing, canoeing, hiking, biking, and even basketball on-site.
Whether you're looking for a relaxing vacation in nature or an action-packed adventure, Heartwood Resort might just be one of the best ski resorts in Wisconsin.
If you're looking for comfortable and convenient western Wisconsin resorts, the Radisson Hotel River Falls might just be your perfect retreat.
With a free full breakfast to start your day and a grocery/convenience store on-site, you won't have to go far for your basic needs.
The terrace offers a great spot for soaking up the beautiful surroundings. But that's not all.
The hotel boasts an indoor pool and an on-site restaurant, making it easy to enjoy some well-deserved downtime.
And with 80 family-friendly rooms, this resort even has highchairs and free infant beds available for those traveling with little ones.
Its proximity to the Wisconsin River Falls and Afton Alps Ski Area makes it an ideal location for endless outdoor activities in Wisconsin.
My thoughts on the best Western Wisconsin resorts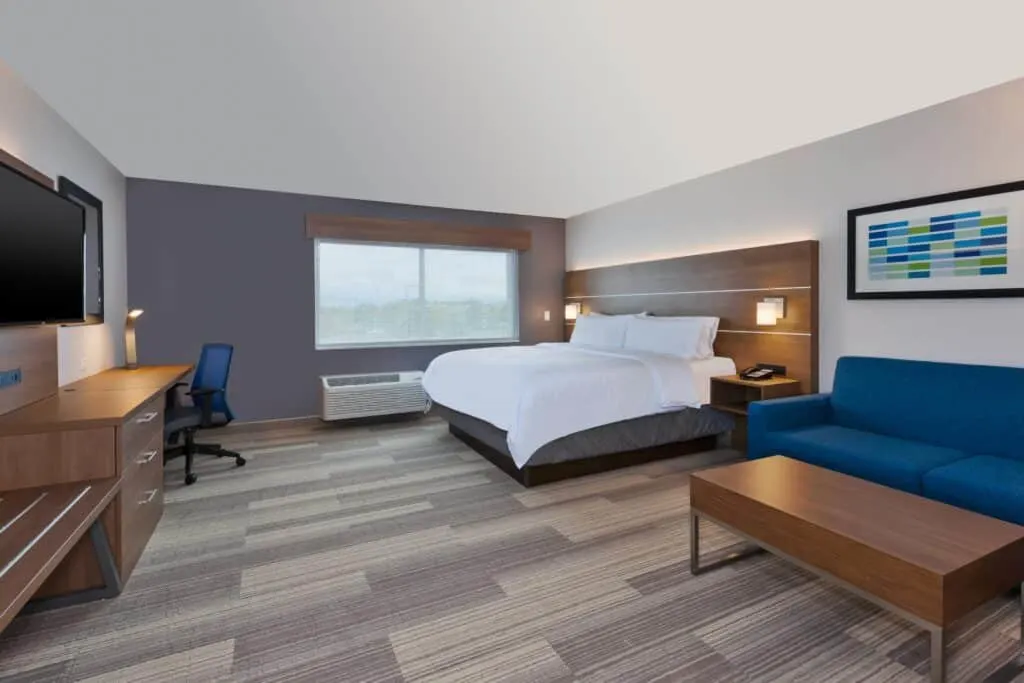 If Wisconsin's western region had a motto, I think it would be "Unending Adventure."
From lakes and fishing spots to trails and camping sites, this stunningly gorgeous part of the country offers a wealth of activities for the outdoor enthusiast.
If you're looking for an unforgettable escape in nature, an exploration of its rich culture and unique places is certain to provide you with experiences you will remember.
Whether a weekend away or a week-long excursion, there's no question you'll never run out of exciting opportunities in Western Wisconsin.
And if all else fails, grab yourself a seat from one of the resorts and just take it all in; beauty like this shouldn't go experienced alone.
Make sure to take some photos to share your memories with friends back home!
FAQ about the best Western Wisconsin resorts
What are the best Northern Wisconsin resorts on lakes?
Some of the best Northern Wisconsin resorts on lakes are Gordon Lodge, Bluefin Bay on Lake Superior, or Northernaire Resort.
What are the best Wisconsin resorts for couples?
Some of the best Wisconsin resorts for couples are Grand Geneva Resort & Spa, Little Sister Resort, or Heidel House Hotel & Conference Center.
What are the best Wisconsin Lake resorts for families?
Some of the best Wisconsin Lake resorts for families are Blue Harbor Resort & Conference Center, the Abbey Resort, or the Osthoff Resort.
---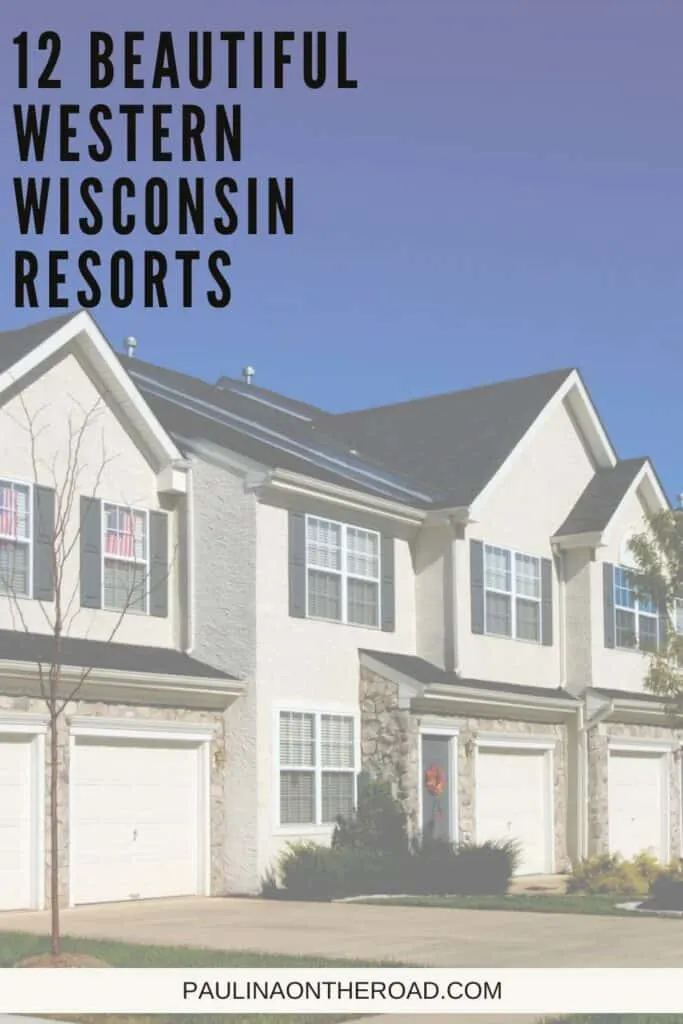 ---
Hola! I am Paulina, a fervent travelette who crossed the Atlantic Ocean by Boat HitchHiking. On my blog, you'll find all the tips to make the most of your holiday. Get ready to enjoy outdoor and sustainable travel like hiking, cycling or sailing. Let's hit the road together!