A guide that will help you chose the best option in terms of kid-friendly resorts in Wisconsin
It's time to start planning that long-awaited family vacation. Kids and adults alike can find something to enjoy in Wisconsin.
But if you've got youngsters along, a traditional hotel may not be ideal.
Check out these 15 kid-friendly resorts in Wisconsin for an unforgettable getaway full of fun and adventure for every age.
From waterparks with all kinds of slides to mini golf galore, each resort offers its own unique spin on exciting activities perfect for both kids and parents looking for some rest and relaxation.
So travel Wisconsin, pack your bags, and read on to find the perfect spot your family will love!
This blog is supported by you, dear reader. If you purchase through a link, I earn a small commission. As an Amazon Affiliate, I earn from qualifying purchases.
Psssst…!!?? You can't get enough of Wisconsin? Have a look at my other posts:
Top Kid-Friendly Resorts in Wisconsin
If you're on the hunt for kid-friendly resorts in Wisconsin Dells, look no further than Mt. Olympus Water & Theme Park Resort.
I really think this resort is designed with families in mind and has everything you need to keep the kids entertained all vacation long.
One of the biggest draws of Mt. Olympus is its waterpark, which features everything from lazy rivers to high-speed slides.
But the fun doesn't stop there – the resort also has thrilling rollercoasters, go-karts, and other amusement park rides for the whole family to enjoy.
When it's time to retire, there are resort rooms as well as cabins at the camp resort to choose from – each with all the amenities you need for a comfortable stay.
Plus, Mt. Olympus offers special packages and events for children, so you can make the most of your family vacation at one of the best places to stay in Wisconsin Dells.
Wisconsin Dells is a fantastic place for kid-friendly vacations, and Wilderness Resort is at the top of the list for family-oriented amenities and accommodations.
With 4 indoor and 4 outdoor waterparks, your little ones can splash around to their heart's content without ever getting bored.
If the water's not their thing, other activities like Lazer Tag, Ropes Course, Mini-Golf, and Go-Karts are available to keep them entertained.
The accommodations are tailored to families, with hotel rooms, villas, condos, and cabins that can fit families of all sizes.
I personally loved the in-room packages, which made our stay even more magical.
At Wilderness Resort, you'll keep your kiddos entertained with fun things to do in Wisconsin Dells and you'll be able to sit back and relax meanwhile.
Discover one of the best family resorts in Wisconsin with Kalahari Resorts and enjoy fun adventures at one of the best waterparks in Wisconsin Dells. Boasting 125,000 square feet of kid-friendly fun, this resort offers something for everyone.
From the exhilarating Tom Foolerys for family entertainment to the cozy suites and villas with free waterpark access, Kalahari Resorts really has it all.
Parents can relax, knowing their kids are having the time of their lives, with special packages and offerings designed for children, including rides and slides, an arcade room, bowling, and much more.
Speaking from my own personal experience, this resort truly has everything you could want for a fun-filled family getaway.
Looking for luxury resorts in Wisconsin that are also family-oriented? The Osthoff Resort in Elkhart Lake is exactly what your family needs.
As someone who has experienced the resort firsthand, I can attest to the incredible amenities and activities available for families.
From the kids clubs where children can learn to paddle on Elkhart Lake to the variety of family-oriented packages available, there is truly something for everyone.
Parents will love the fully equipped suites and guest rooms that offer a homey feel and plenty of space for everyone to enjoy.
Whether you're looking for relaxation or adventure, the Osthoff Resort has it all for the perfect family vacation.
Chula Vista Resort in Wisconsin Dells is the ultimate family vacation destination.
I could sense the excitement in the air from the moment I arrived. With 26 waterslides, you can spend all day splashing around with your family and friends.
It's hard to believe, but the slides span over 1.5 miles long. There's even an arcade room, mini golf, and zipline adventure for the little ones who want to take a break from the water.
When it's time to retire for the day, you'll be pleased to find that Chula Vista Resort offers various accommodations such as rental homes, resort suites, and even villas to suit your family's needs best.
They have a variety of packages and deals to make your family vacation ideas in Wisconsin more affordable and stress-free.
There's a good reason why Chula Vista is considered one of the best Wisconsin Dells resorts and you and your kids will have a blast there.
Grand Geneva Resort & Spa in Lake Geneva is the perfect spot for families looking for the best family vacations in Wisconsin.
With a focus on kid-friendly amenities, guests can enjoy a range of activities such as archery, horseback, and pony rides, and much more.
The resort offers season-tailored activities, ensuring that there is always something fun and exciting to do throughout your stay.
What's more, they offer grand waterpark packages to Moose Mountain Falls Waterpark, which I'm sure it's going to be a hit with the kids.
From the moment you arrive, you'll be greeted with a warm and friendly smile, and you'll feel right at home throughout your stay.
If you're looking for a fun-filled family getaway within driving distance, the Timber Ridge Lodge & Waterpark in Lake Geneva is hands down one of the best vacation spots in Wisconsin.
From their comfy suite resort complete with indoor waterpark to their array of family-oriented amenities, everything about this place screams "kids welcome."
Speaking of those amenities, your little ones will love the arcade rooms, mini golf, bowling, and even getting to meet the resort's mascots.
But it's not just the kids who get to have all the fun – Timber Ridge offers packages tailored for parents and grandparents too.
When it comes to things to do in Lake Geneva, both parents and children will have an experience they won't easily forget.
As someone who's experienced all the excitement firsthand, I can say with certainty that this place is definitely worth the trip.
Lake Lawn Resort in Delavan is the perfect destination for families looking for a kid-friendly resort that's also one of the best lake resorts in Wisconsin.
I can vouch for the resort's family-friendly lodgings, which include resort rooms, suites, and lake cottages as someone who has traveled the region.
But that's not all, with a variety of services tailored for kids like arcade rooms, laser tag, scavenger hunts, and other entertainment offerings, children are sure to have a great time at Lake Lawn Resort.
And if that's not enough, you can opt for other fun activities like boat tours, bike rentals, or ice skating and curling in winter.
If you're looking for fun places for kids in Wisconsin, Lake Lawn Resort is definitely worth checking out!
When it comes to family vacations in Wisconsin, the Abbey Resort and Avani Spa in Fontana is a top choice.
From their lakeside modern cottages to their family-oriented accommodations, everything here is tailored to make your family's stay enjoyable.
There are plenty of outdoor activities to keep the kids busy, including bike rentals and kid-friendly pools.
The resort even offers family packages that bundle dining, lake cruises, and zipline adventures.
As someone who has visited with my own family, I can confidently say that this is one place that won't disappoint being also one of the best spa resorts in Wisconsin.
I recently stumbled upon one of the best family resorts Wisconsin has to offer – Metropolis Resort in Eau Claire.
From my perspective, this kid-friendly resort is worth every penny. The resort has family-oriented accommodations like family suites that cater to the needs of every member of the family.
What's more, Metropolis Resort offers an array of activities tailored for kids, including a trampoline park, indoor water park, and even ninja warrior courses that will surely excite your little ones.
If you're looking for unique things to do in Eau Claire for the entire family, Metropolis Resort has got you covered with a variety of packages for families to enjoy a customized experience.
Searching for kid-friendly places in Wisconsin? Look no further than the Waters of Minocqua, located in the heart of Minocqua.
I can confidently tell this resort is the ideal vacation spot for families.
With family-oriented accommodations, parents can relax while their kids enjoy a variety of services tailored just for them.
Your little ones can splash around in the waterpark, ride down slides, and play in the kiddie play area all day long.
And when they're ready to dry off, there's still plenty to keep them entertained, like the redemption arcade or the complimentary continental breakfast at the Water's Pub.
Head to one of the best hotels in Minocqua with kid-friendly service for a family vacation you won't forget.
You might ask yourself where to stay in Lake Geneva if you're traveling with your family. For the ultimate vacation experience in Wisconsin, you should definitely consider the Cove of Lake Geneva.
In my opinion, this resort offers everything a family could need and more. It caters to families with its family-friendly suites that come with an array of amenities.
Young ones can enjoy themselves in the indoor and outdoor pools, playing areas, and also the kid-friendly pool.
To cater to the whole family, this resort offers a game room that's open 24/7, allowing kids of all ages to have fun.
The Cove of Lake Geneva is one of the best family resorts in Wisconsin, making sure that everyone in the family has fun.
Looking for vacations for large families? The Tundra Lodge Resort and Waterpark in Green Bay will cater to your needs.
This kid-friendly resort boasts the largest waterpark in the city and offers a wide range of family-oriented accommodations, including family-friendly suites.
Services catered specifically for children, like the Gold Rush Arcade and the Polar Bear Pub, make it easy for families to enjoy their stay.
Looking to celebrate a birthday, take advantage of a seasonal offer, or look for fun things to do in Green Bay?
This resort has you covered and I couldn't recommend the Tundra Lodge Resort enough as many people consider it one of the best Green Bay resorts.
When it comes to kid-friendly hotels in Wisconsin, Newport Resort in Egg Harbor takes the cake.
Specially tailored for families, this resort is equipped with family-friendly suites that come with balconies, a fully equipped kitchen, and even a gas log fireplace.
And that's not all – Newport Resort understands that children need to play and offers both indoor and outdoor play areas for their entertainment.
For families looking for a special occasion to celebrate, they also offer birthday packages and seasonal offers.
You can even go on adventures and explore some of the best hikes in Door County and involve the entire family.
Whether you're looking for a fun family vacation or a cozy weekend getaway, I think Newport Resort has everything you need to make your stay comfortable and memorable.
Cranberry Country Lodge is definitely among one of the best family-friendly resorts in Wisconsin.
This resort is the perfect choice for families who are looking for a fun-filled and relaxing vacation.
With a plethora of activities, such as an indoor water park, a game room, and even an indoor mini-golf course, there's never a dull moment at this resort.
The family-friendly suites are an added bonus, offering ample space for everyone to stretch out and relax.
The complimentary hot breakfast was a surprise for me and a great way to start my day and fuel me for all the fun ahead.
The 12,000-square-foot indoor aquatic center is sure to be a hit with kids and adults alike. All in all, Cranberry Country Lodge is the ultimate family-friendly destination in Wisconsin.
My thoughts on kid-friendly resorts in Wisconsin
Kid-friendly resorts in Wisconsin are the perfect place for families to spend quality time together, and provide the resources to make memories that will last a lifetime.
From water parks and mini golf, to bounce houses and ice cream parlors, these resorts are sure to give you the comforts of home and even more fun experiences.
It's my great hope that this article sparks some new ideas for your future family vacations and I think that a lot of fun can be had at these great kid-friendly resorts in Wisconsin.
FAQ about the best kid-friendly resorts in Wisconsin
---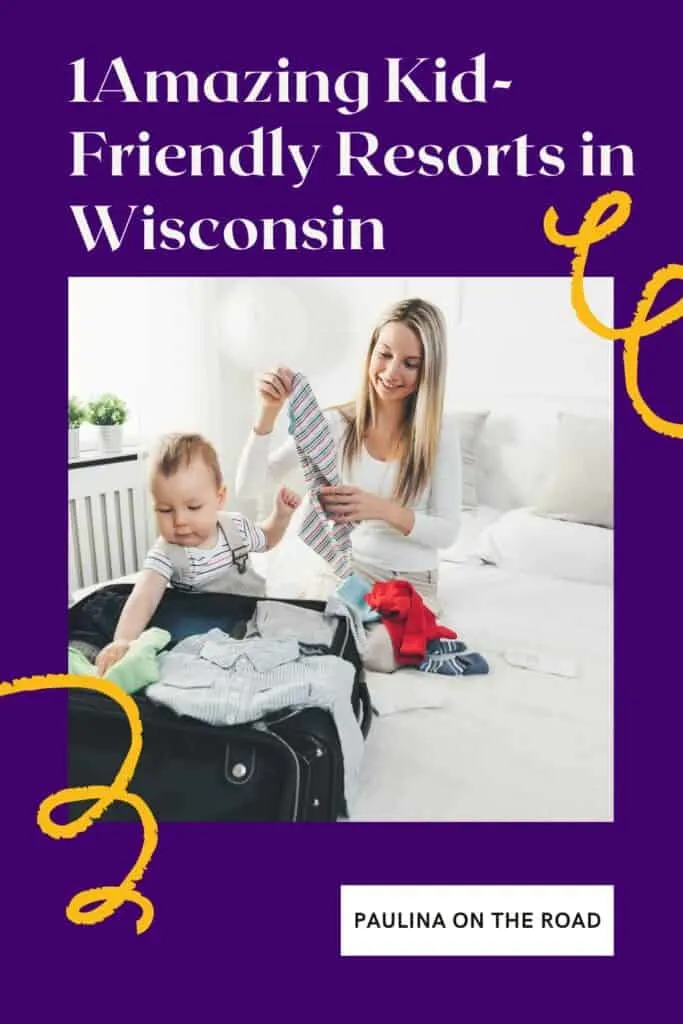 ---