A guide to some of the best Southern Wisconsin resorts for every budget
Do you love the outdoors but don't want to drive for days just to get away from your usual routine? You're in luck!
Southern Wisconsin is full of stunning resorts that provide some of the best outdoor experiences imaginable.
Whether you are looking for a cozy resort with a spa for relaxation or an adventurous waterpark resort there is something for everyone on this list of 10 beautiful southern Wisconsin resorts.
So if your itch to explore has been growing lately, then travel Wisconsin for a perfect getaway.
This blog is supported by you, dear reader. If you purchase through a link, I earn a small commission. As an Amazon Affiliate, I earn from qualifying purchases.
Psssst…!!?? You can't get enough of Southern Wisconsin? Have a look at my other posts:
Top 12 Southern Wisconsin Resorts
The American Club in Kohler is the ultimate vacation spot located in Southern Wisconsin.
Situated near a beautiful golf course and a serene beach, this resort guarantees an unforgettable experience.
From the renowned Kohler Waters Spa to the variety of dining options, there is no shortage of amenities to keep you busy throughout your stay.
One of my favorite features of this resort is the onsite gym that offers yoga classes – the perfect way to start your day.
If you're looking for spa resorts in Wisconsin, you'll find a truly unique and luxurious vacation destination in one of the best Southern Wisconsin vacation spots.
Located on the picturesque shores of Delavan Lake, Lake Lawn Resort is a true gem among fishing resorts in Wisconsin.
As someone who loves being close to the water, I can't help but smile every time I visit this beautiful resort.
Not only does it offer stunning lake views and access to a marina, but it also boasts a wide range of amenities that will satisfy any visitor's desires.
From a luxurious spa to a lively poolside bar, there's something for everyone at Lake Lawn Resort.
And for those who want to keep active, 18 holes of golf coupled with fun water activities like motor boating, kayaking, water skiing, and fishing will definitely do the trick.
At Lake Lawn Resort, you'll never run out of outdoor things to do in Wisconsin, and you'll always feel welcome and at home.
The Grand Geneva Resort & Spa is a fantastic 4-star family-friendly resort situated by the lake in southern Wisconsin.
As a travel enthusiast myself, the premium bedding is a stand-out feature that makes for a comfortable and cozy stay.
The resort offers a range of amenities to enjoy, such as an onsite WELL Spa + Salon, 3 delicious restaurants, a nightclub, and a poolside bar.
In addition to these highlights, the resort features a unique health club that offers both Pilates and aerobics classes.
Have I mentioned this one of the best pet-friendly hotels in Lake Geneva? Yes, that's right, you're allowed to bring you furry friend along.
If you're looking for a peaceful and luxurious getaway in the stunning Lake Geneva area, the Grand Geneva Resort & Spa is definitely worth checking out.
If you're looking for a cozy escape from the hustle and bustle of everyday life, Club Wyndham Sundara Cottages at Wisconsin Dells might just be the southern Wisconsin getaway you need.
Nestled near the exciting Noah's Ark Waterpark, this resort offers so much more than just its convenient location.
Imagine curling up by the fireplace in your guestroom, or relaxing in the sauna after a long day of adventures.
For those seeking more activity, there's even a gym and a hot tub waiting to be used.
Plus, with both an indoor and outdoor pool, there's always a chance for a refreshing dip.
From the captivating scenery to the cozy atmosphere, Club Wyndham Sundara Cottages is sure one fo the best places to stay in Wisconsin Dells.
When I think about family-friendly resorts in southern Wisconsin, the Osthoff Resort in Elkhart Lake immediately comes to mind.
Nestled on the shores of Elkhart Lake, this resort offers a range of amenities that are sure to entertain both kids and grown-ups alike.
Relax with a luxurious massage at the on-site Aspira Spa, or indulge in some delicious dining options.
But that's not all – the resort also boasts live concerts, water sports, golf, and even a kid's club.
With outdoor pools, whirlpools, a fitness center, and arcade room, there's something here for
everyone.
Whether you're looking for a romantic getaway, a fun family vacation or simply want to stay at lakefront resorts in Wisconsin, the Osthoff Resort won't disappoint.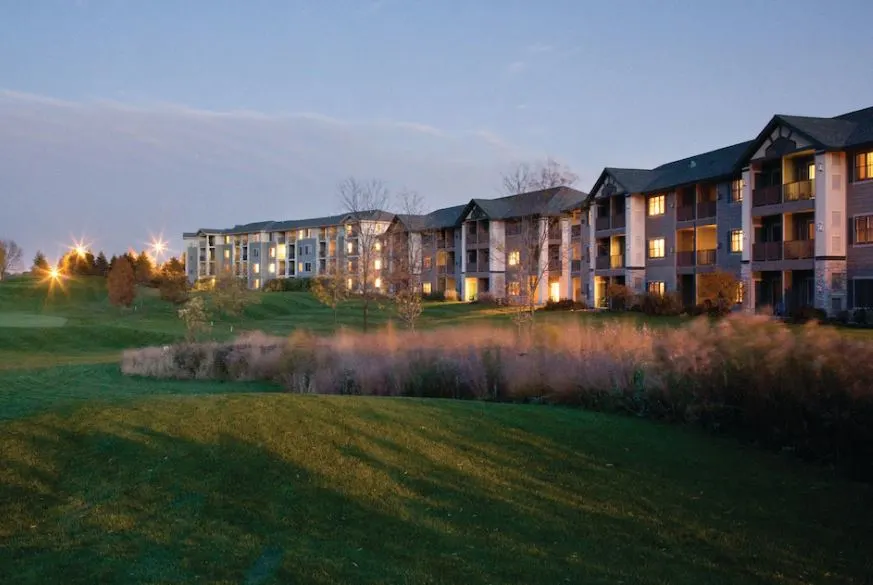 From my perspective, the Holiday Inn Club Vacations at Lake Geneva Resort is easily one of the best Wisconsin resorts around.
Sitting close to the Mountain Top, this resort offers a beautiful, scenic view that is simply breathtaking.
Whether you're a golf enthusiast or just looking to lounge by the pool, this resort has got you covered. With both an outdoor and an indoor pool, complete with sun loungers and a spa, you'll have plenty of opportunities to enjoy the water.
Plus, the 18 holes of golf are perfect for anyone looking to work on their swing. And when it's time for a bite to eat, you can head to one of the resort's 4 onsite restaurants.
And let me tell you, the food is incredible! Not to mention the convenience of having a grocery store right on the property.
All in all, the Holiday Inn Club Vacations at Lake Geneva Resort is a must-visit destination for anyone looking for the best Wisconsin resorts.
When it comes to the top Southern Wisconsin resorts, Wilderness Resort in Wisconsin Dells definitely stands out.
This lakefront resort boasts a huge indoor and outdoor waterparks to keep you entertained for days, offering entrance to one of the best waterparks in Wisconsin Dells.
But that's not all, the resort offers three mega arcades, an 18-hole championship golf course, and a place to unwind at the Sundara spa.
The variety of accommodations available includes hotel rooms, vacation villas, spacious condos, and luxurious cabins that cater to all your needs.
In my opinion, Wilderness Resort is the ultimate family-friendly destination that will keep you coming back year after year.
Escape to the shores of Lake Michigan and experience all that Blue Harbor Resort has to offer!
I can personally attest to the charm and excitement this family-friendly resort in Sheboygan has to offer.
From the moment you arrive, you'll have access to the resort's impressive water park, beach bar, and poolside bar.
Need to unwind? Take advantage of the beachfront location and beachfront dining options.
With sailing, surfing, and body boarding available nearby, there is no shortage of things to do in Sheboygan to keep you entertained throughout your stay in this beautiful Wisconsin town.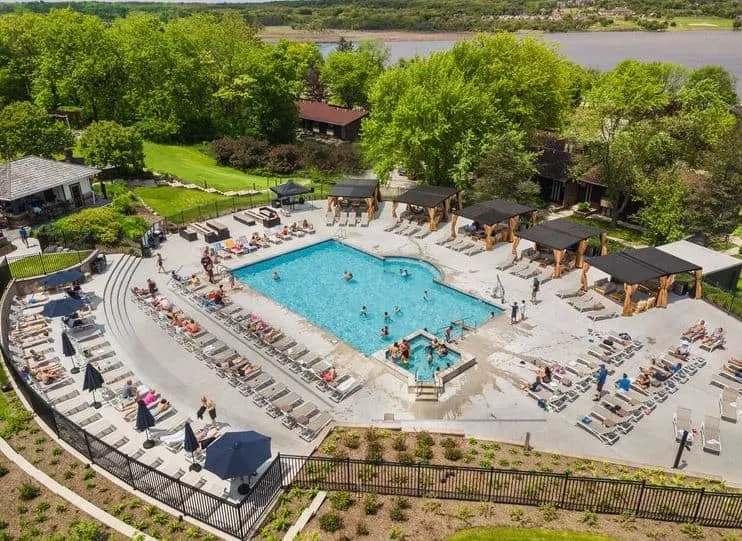 If you're on the hunt for southern Wisconsin lake resorts, the Ridge Hotel in Lake Geneva needs to be on your radar.
The location can't be beaten – it's near both Geneva National Golf Club and Williams Bay Beach, so there's plenty of outdoor fun in the area.
The resort itself has so much to offer. I'm talking about an onsite pizza restaurant with garden views, mini golf, and a cafe.
And when you're ready to take a dip, there's both an indoor and outdoor pool complete with cabanas and sun loungers.
And don't forget about all the nearby things to do in Lake Geneva like Yerkes Observatory and Animal Gardens. You won't be bored for a moment at the Ridge Hotel.
If you're looking for a where to stay in Lake Geneva for a fun-filled vacation spot, then you don't want to miss out on the Geneva National Resort & Club located in Lake Geneva.
As someone who has visited this resort, I can tell you that it is a golfer's paradise, boasting 36 pristine holes to enjoy. But there's more!
Take a dip in their inviting seasonal outdoor pool with a poolside bar or make a splash at their indoor pool. The resort offers 5 onsite restaurants, so you'll never go hungry.
They even provide golf lessons and have a driving range, perfect for those who want to sharpen their golfing skills.
Plus, outdoor enthusiasts can delight in nearby activities such as the best Southern Wisconsin hiking trails, kayaking, mountain biking, and even zip lining.
Geneva National Resort & Club is definitely one of the best resort hotels in Wisconsin, where you are guaranteed a memorable vacation.
Nestled on the beautiful shores of Lake Geneva is the Abbey Resort and Avani Spa – one of the most unique places to stay in Wisconsin.
I've stayed at many Southern Wisconsin resorts around the country but this one truly stands out as regards romantic getaways in Lake Geneva.
Offering indoor and outdoor pools, live music, family activities, and a 35,000-square-foot Avani Spa, this full-service resort has something for everyone.
Whether you're in the mood for lakeside dining or a special one-day event, the Abbey Resort has got you covered at one of the best romantic places to stay in Wisconsin Dells.
And let's not forget about the nearby outdoor activities like golfing, boat renting, fishing, and exploring the Kettle Moraine State Forest – there's never a dull moment at this Wisconsin gem.
Are you looking for a fun and relaxing family getaway in southern Wisconsin? One of the best Wisconsin Dells resorts that await you is with open arms is Chula Vista Resort.
With 200,000 square feet of waterparks, including an outdoor wave pool and lazy river, there's no shortage of aquatic adventures to be had.
And when you're ready to unwind, head to the world-class spa for a massage or other pampering treatments.
But that's not all – the resort also offers a beach bar and five restaurants, ensuring you never go hungry or thirsty during your stay.
Need some excitement beyond the resort? Check out nearby activities like ziplining, ecotours, and volleyball.
I have visited Chula Vista Resort before and I can confidently say it's a fantastic place to go in southern Wisconsin for all ages.
My final thoughts on the best Southern Wisconsin Resorts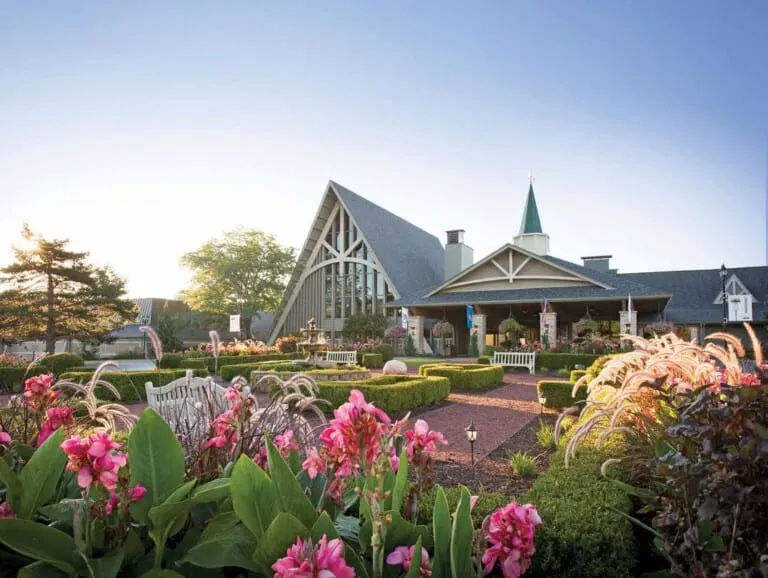 Southern Wisconsin has an abundance of vacation spots that are sure to make your next staycation memorable.
Whether you're looking for a tranquil mountain escape or an exciting beach adventure, these twelve resorts in Southern Wisconsin are must-sees for the perfect break.
From waterpark and golf resorts to all-inclusive family fun, each one has something special to offer.
I guarantee that with a little research and planning you'll find the perfect place for a much-needed getaway.
So what are you waiting for? Pack your bags and set off on the adventure of a lifetime – explore all that Southern Wisconsin has to offer!
FAQ about Southern Wisconsin Resorts
What are the best Wisconsin resorts for couples?
Some of the best Wisconsin resorts for couples are Stout's Island Lodge in Birchwood, Canoe Bay Relais & Châteaux in Chetek or Sundara Inn and Spa, Wisconsin Dells.
What are the best Wisconsin Lake resorts for families?
Some of the best Wisconsin Lake resorts for families are Eagle Harbor Inn, Grand Geneva Resort & Spa or the American Club.
What are the best Northern Wisconsin resorts on lakes?
Some of the best Northern Wisconsin resorts on lakes are Gordon Lodge, Bluefin Bay on Lake Superior or Northernaire Resort.
---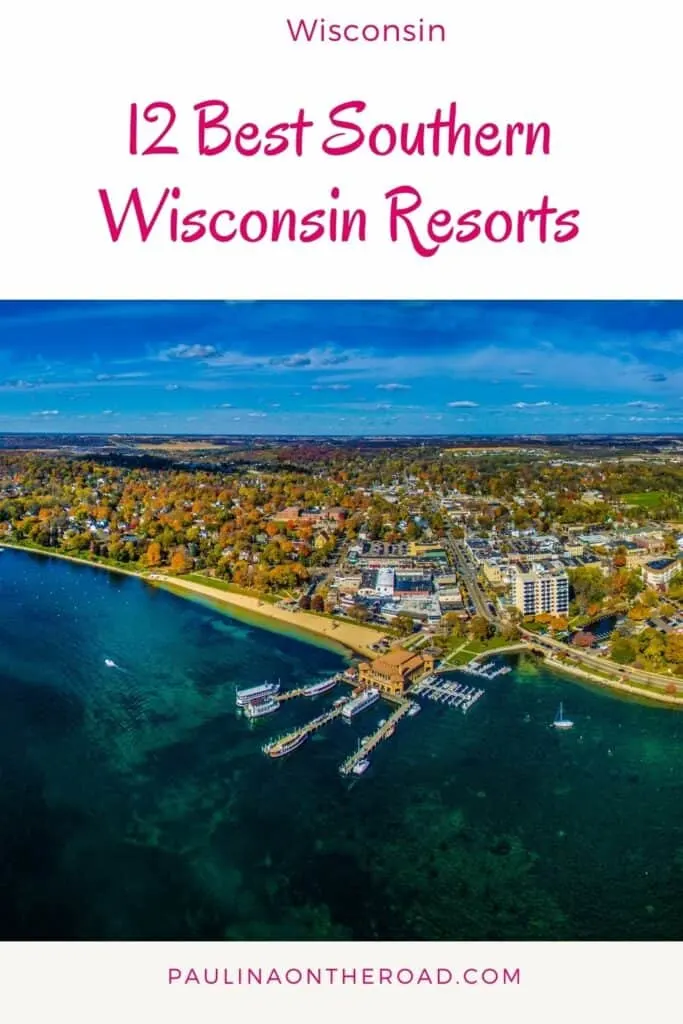 ---
Hola! I am Paulina, a fervent travelette who crossed the Atlantic Ocean by Boat HitchHiking. On my blog, you'll find all the tips to make the most of your holiday. Get ready to enjoy outdoor and sustainable travel like hiking, cycling or sailing. Let's hit the road together!