Wisconsin is bursting with natural beauty and opportunities for outdoor exploration.
No matter what you're looking for there's no shortage of outdoor things to do in Wisconsin.
From hiking through the Ice Age Trail to snowshoeing the trails in Devil's Lake State Park – this blog post will help you create an unforgettable outdoor experience while visiting Wisconsin.
Here are the 10 picks of things to do outdoors in Wisconsin that I think will be enjoyed by every outdoor person.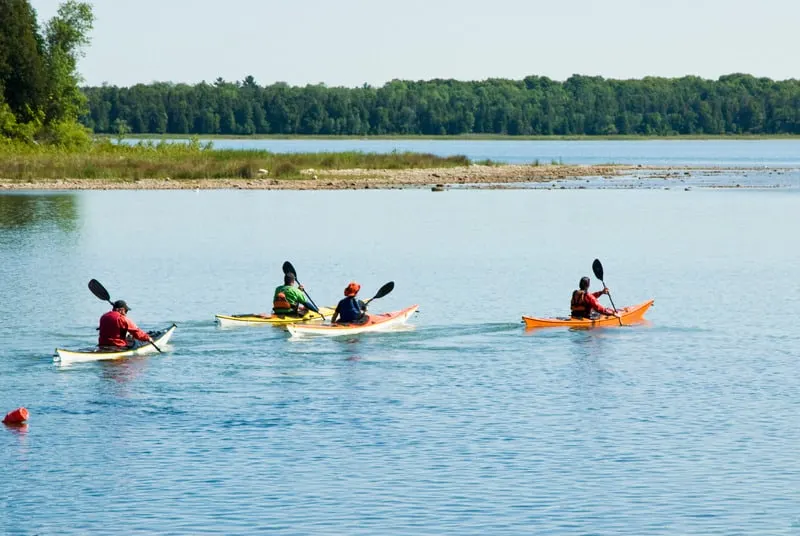 This blog is supported by you, dear reader. If you purchase through a link, I earn a small commission. As an Amazon Affiliate, I earn from qualifying purchases.
Do you want to make the best out of your trip in Wisconsin? Check out other posts for inspiration:
Overview: Top outdoor things to do in Wisconsin
Hiking and backpacking
Biking and cycling
Fishing and boating
Kayaking and canoeing
Camping
Rock climbing
Winter sports
10 Outdoor Things to Do in Wisconsin
1. Birdwatching and Wildlife Viewing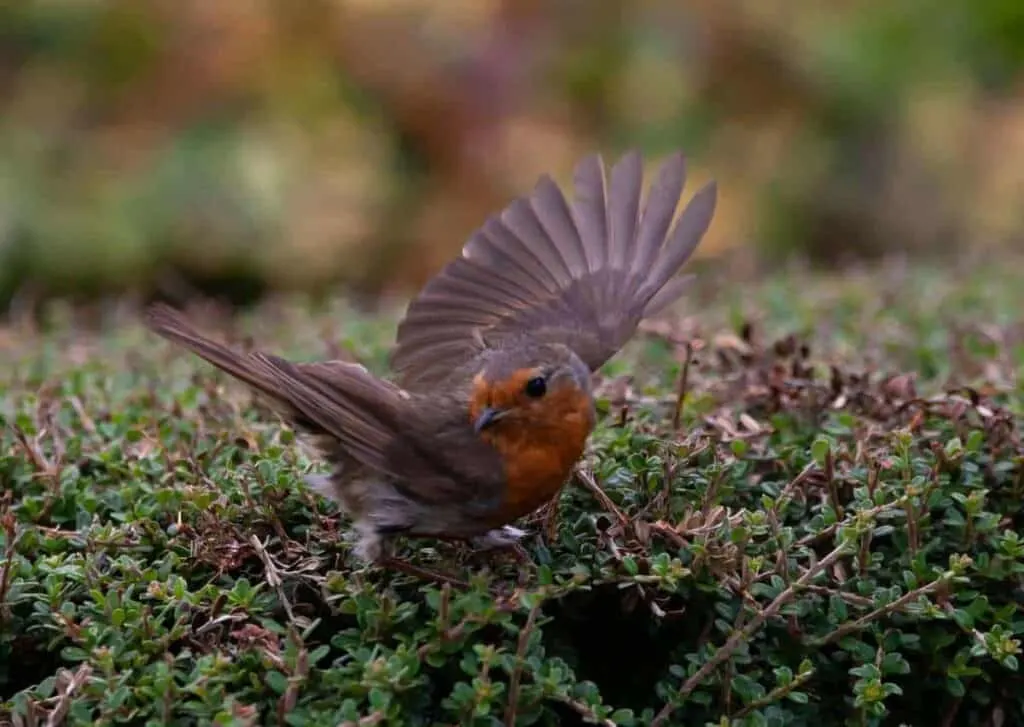 If you're a nature enthusiast, one of the best outdoor things to do in Wisconsin I could recommend to you is birdwatching and wildlife viewing.
From the shores of Lake Michigan to the forests up north, there are countless places to spot some of Wisconsin's most beloved species.
Some of the best locations for birdwatching include the Horicon Marsh Wildlife Area, Devil's Lake State Park, and the Chequamegon-Nicolet National Forest.
And if you're interested in wildlife viewing, keep an eye out for common animals such as white-tailed deer, black bears, and coyotes.
Just remember to approach all wildlife with caution and respect their space. To enhance your experience, it's also helpful to bring along bird guides and binoculars.
With a little bit of patience and some luck, you'll be sure to have an unforgettable time exploring Wisconsin's stunning natural beauty.
2. Golfing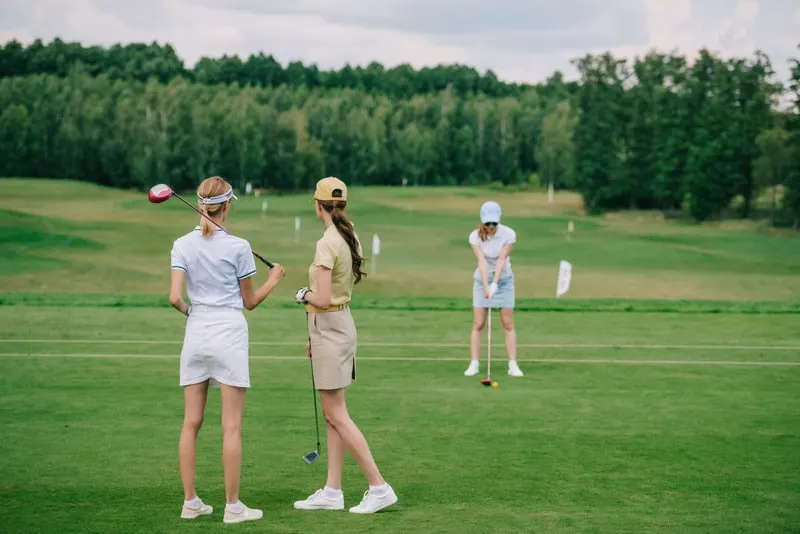 Wisconsin may not be the first place that comes to mind when thinking about hitting the links, but it boasts some of the best golf courses in the country.
Whether you're a seasoned pro or a beginner, golfing might be one of the best outdoor things to do in Wisconsin.
The state's rolling hills and picturesque scenery create the perfect backdrop for a day on the greens. But why limit yourself to just one day?
In my opinion, there are plenty of accommodations available for avid golfers looking to take a trip. An honorable mention with the best amenities is the Grand Geneva Resort & Spa.
When planning Wisconsin road trips, be sure to check out the top courses, like Whistling Straits and Sand Valley.
And don't forget to pack your clubs, because you're in for a golfing experience like no other.
Related: 8 Best Eco-friendly Golf Courses
3. Horseback Riding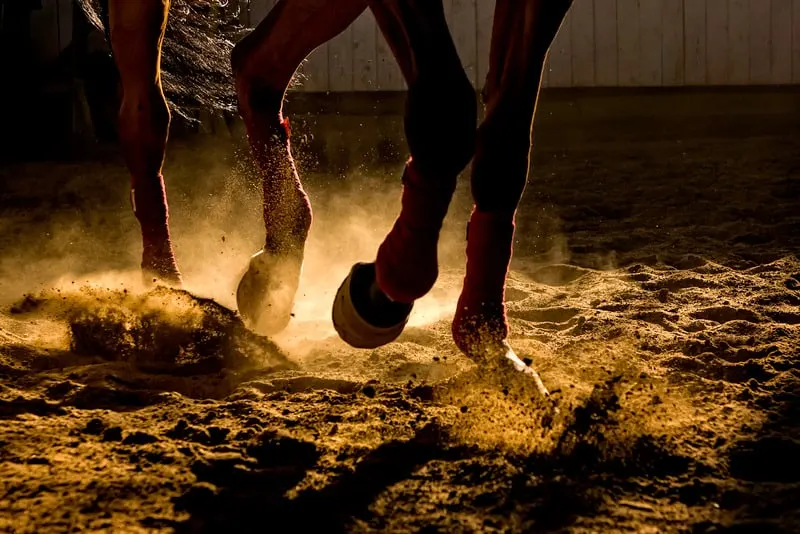 If you're looking for fun outdoor activities in Wisconsin, I would encourage you to go horseback riding.
From scenic trails and beautiful parks to rolling hills and secluded forests, there are plenty of great places to go horseback riding throughout the state.
Some popular destinations include the Kettle Moraine State Forest, Devil's Lake State Park, and the Northern Highlands-American Legion State Forest.
Whether you're an experienced rider or a beginner, there are options for everyone, with a variety of horseback riding tours and excursions available.
And if you're planning a longer trip, there are plenty of accommodations to choose from, including rustic cabins and cozy bed and breakfasts.
4. Hiking and Backpacking
Wisconsin is a hidden gem for hiking and backpacking enthusiasts.
With its lush forests, rolling hills, shimmering lakes in Wisconsin, and clean air, it's no wonder adventurers from all over the country love to come here.
From the famous Ice Age Trail to the stunning Kettle Moraine State Forest, there are cool outdoor places in Wisconsin for beginners and experts alike.
The trail difficulty levels range from easy strolls to steep ascents, so it's essential to plan accordingly and choose the right trail for your skill level.
I always pack appropriately when I go hiking, so I suggest bringing plenty of water and aiming to leave no trace behind.
5. Biking and Cycling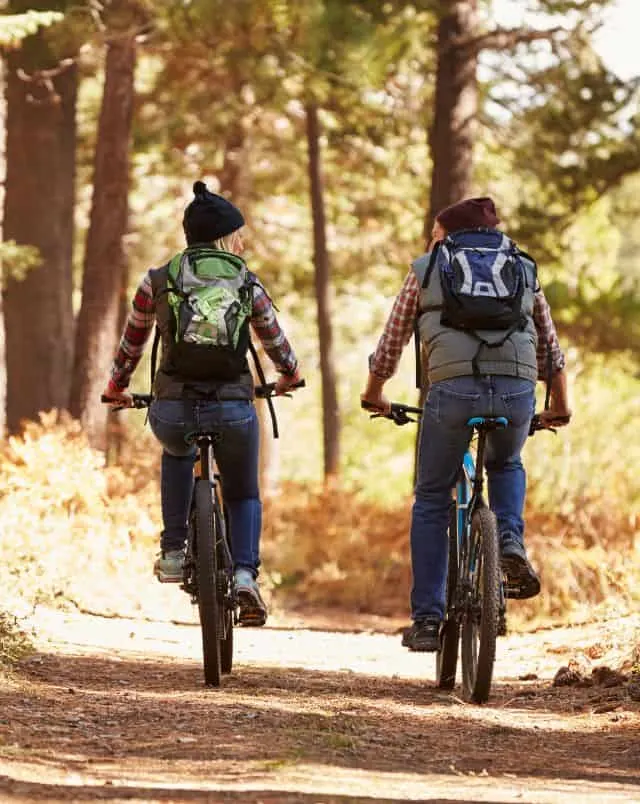 When it comes to fun outdoor things to do in Wisconsin, biking and cycling are top of my list because I love exploring the outdoors on my bike.
With endless trails and routes to choose from, it can be hard to decide where to start.
Some of the best trails in the state include the Elroy-Sparta State Trail, the Great River State Trail, and the Glacial Drumlin State Trail.
These routes offer stunning views of the countryside and are perfect for bikers of all levels.
Whether you're a seasoned cyclist or just starting out, there are plenty of Mountainbike Trails in Wisconsin to suit your needs.
Don't forget to pack plenty of water, sunscreen, and snacks, and always wear a helmet.
6. Fishing and Boating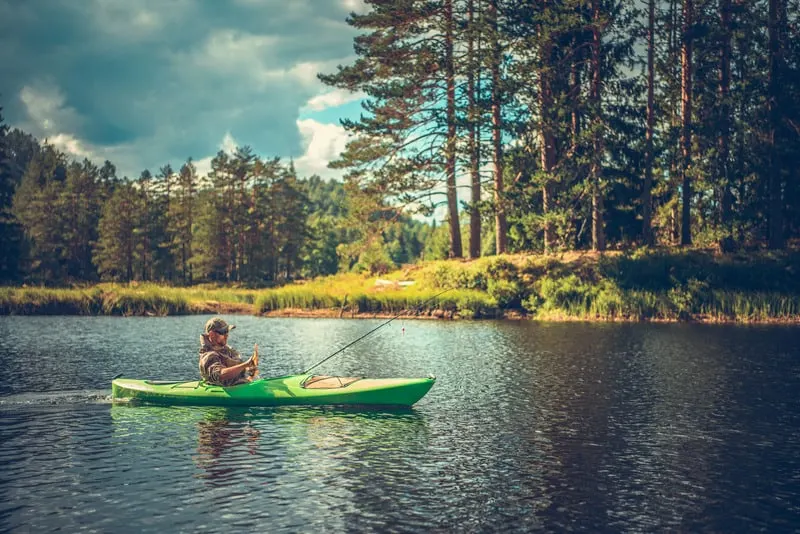 Wisconsin has some of the best places in the US for boating and fishing. There are also some fantastic lake towns in Wisconsin to explore.
The best outdoor places to visit in Wisconsin for fishing are the calm waters of Lake Mendota and the picturesque shores of Door County.
Common fish species found in Wisconsin include largemouth bass, northern pike, and walleye – just to name a few.
But finding a good spot to cast your line can be overwhelming, so here's a tip: check out the Wisconsin Department of Natural Resources' website for a list of stocked waters and regulations.
One piece of advice I would give to you is, to make sure to take in the stunning scenery and enjoy the peacefulness of being out on the water.
Related: 10 Best Inflatable Kayaks for Fishing
7. Kayaking and Canoeing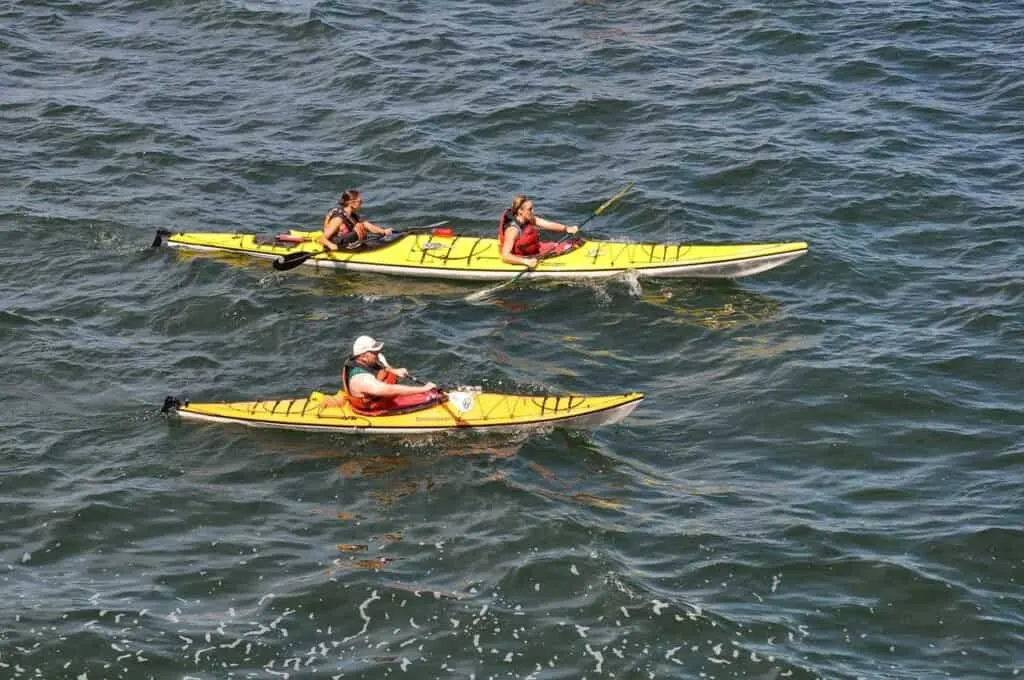 Wisconsin is a dream come true for those who love kayaking and canoeing, making this one of my favorite and best outdoor adventures in Wisconsin.
With over 15,000 lakes, 43,000 miles of river, and 7,446 streams, the Badger State is a haven for outdoor enthusiasts.
From the tranquil waters of Lake Mendota to the raging rapids of the Wolf River, Wisconsin offers a wide variety of waterways for beginners and experienced paddlers alike.
If you're looking for a peaceful paddle, the Wisconsin River and Turtle-Flambeau Flowage are great options.
For a more challenging adventure, the Menominee and the Peshtigo Rivers provide Class III and IV rapids.
Whatever your level of experience, make sure to pack sunscreen, plenty of water, and a sense of adventure before hitting the water.
8. Camping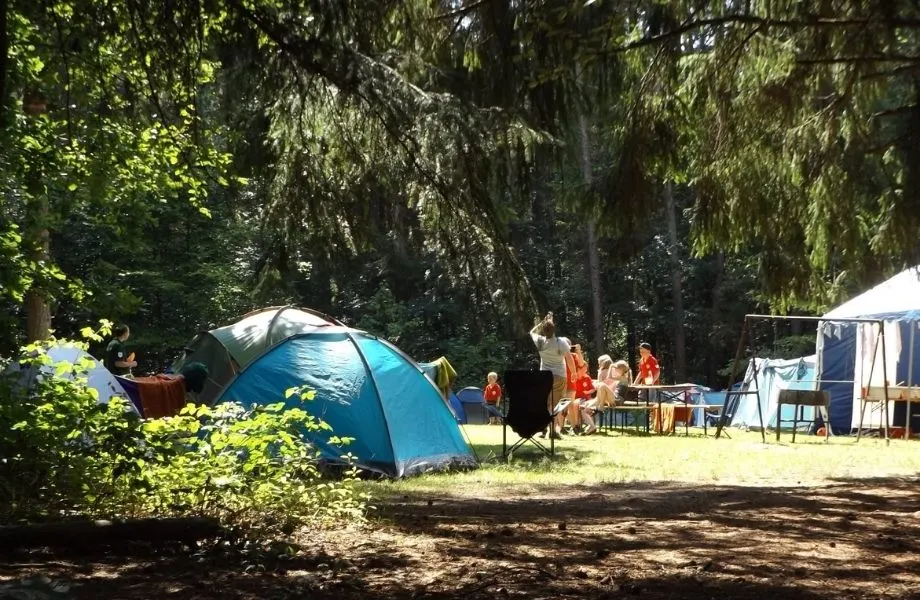 In my humble opinion, Wisconsin is a camper's paradise, with its expansive forests, sparkling lakes, and charming small towns.
When it comes to the best outdoor places in Wisconsin for camping, there are plenty of options to choose from.
Whether you're looking for a secluded spot in the woods or a family-friendly campground with lots of amenities, Wisconsin has got you covered.
Many campsites offer amenities such as picnic tables, fire pits, and even electricity, making it easy to enjoy the great outdoors without sacrificing creature comforts.
If you're planning a camping trip in Wisconsin, be sure to pack warm clothes and bug spray, and don't forget to bring a camera to capture all the stunning natural beauty that this state has to offer.
You can even go winter camping in Wisconsin and those who are brave enough to face the cold conditions will be rewarded with magical scenery.
9. Winter Sports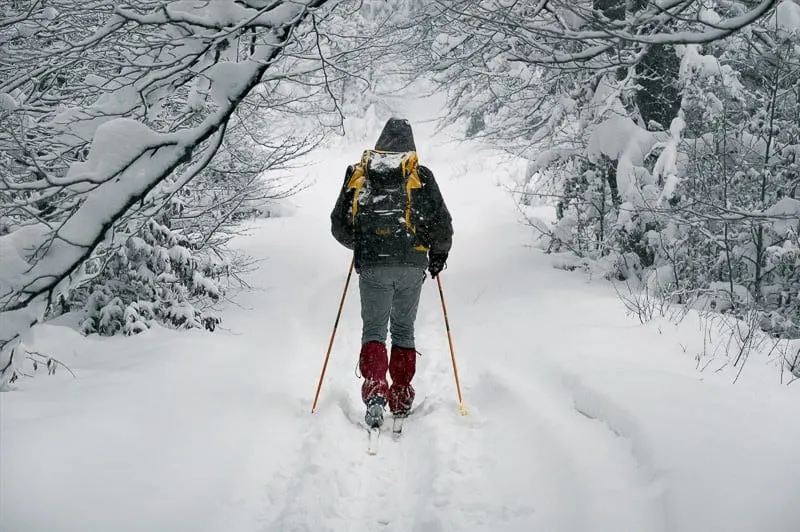 Crisp snow, chilly winds, and gorgeous landscapes—yes, we're talking about winter sports in Wisconsin.
From downhill skiing and snowboarding to cross-country skiing and snowshoeing, I could find the best winter activities in Wisconsin.
If you're into the adrenaline rush of downhill skiing and snowboarding, check out the best ski resorts in Wisconsin and areas like Granite Peak and Cascade Mountain.
But if you prefer a quieter and more picturesque experience, then explore the parks and areas that offer cross-country skiing and snowshoeing like the Kettle Moraine State Forest and Devil's Lake State Park.
Whatever your winter sports preferences, always wear protective gear, a helmet being the most important, and sunscreen.
10. Rock Climbing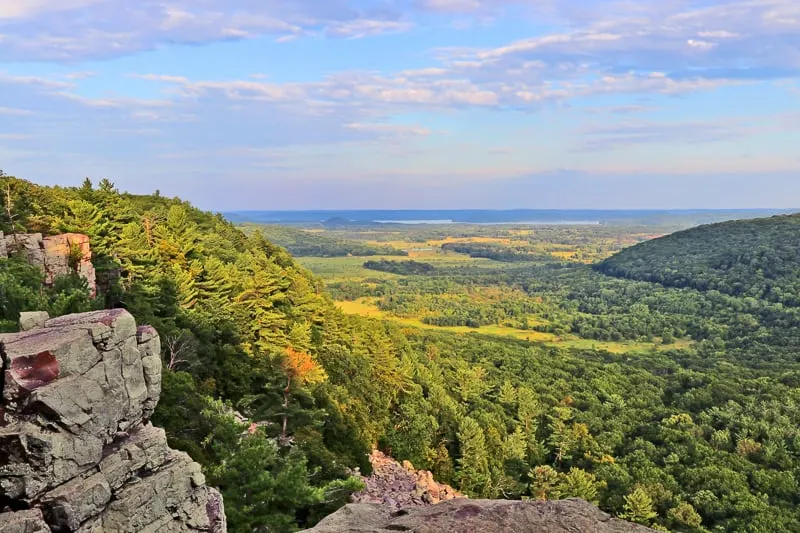 Wisconsin may be known for its cheese and beer, but don't underestimate the state's rock climbing.
With plenty of options to explore, Wisconsin offers rock formations for both beginners and experienced climbers alike.
For those just starting out, like myself, Devil's Lake State Park is a popular destination with its beginner-friendly rock formations.
More experienced climbers can tackle the quartzite rock of the Baraboo Range, an area known for its challenging climbs.
No matter what level you're at, there are plenty of cool outdoor places in Wisconsin for climbing.
I would recommend you always bring the right gear, stay hydrated, and never climb alone.
My Final Thoughts About the Best Outdoor Things to Do in Wisconsin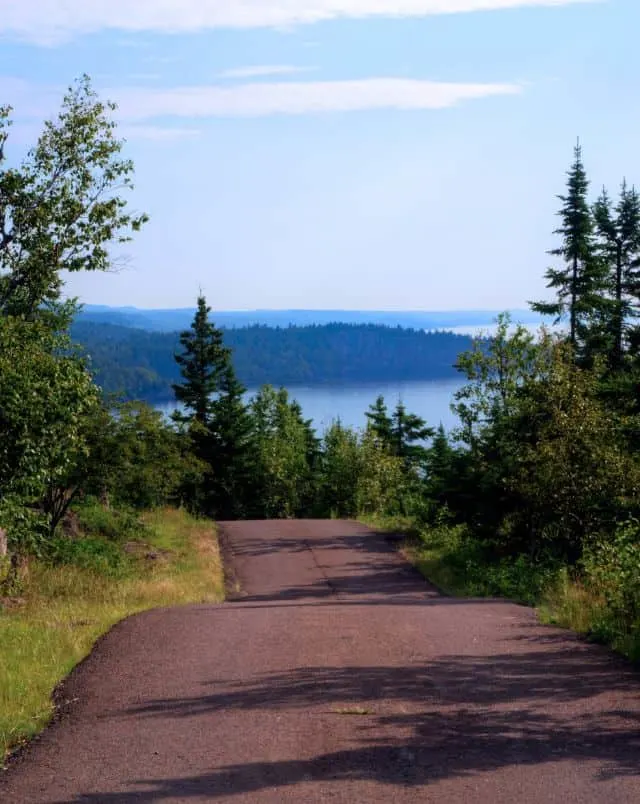 With its diverse array of outdoor activities and breathtaking scenery, you can enjoy cool weekend trips in Wisconsin, as well as longer holidays.
Whether you're an avid hiker, a wildlife enthusiast, or simply an adventurer looking to explore the great Outdoors, you'll find plenty of opportunities in Wisconsin to experience something new.
So gather some friends, family members, or even just your adventurous spirit, and head out on an exciting outdoor journey through the enchanting wilderness of Wisconsin.
I would suggest coming prepared with layers of clothing – depending on the season, weather can significantly vary from one hour to the next – and always watch out for animals along trails.
You may also want to consider bringing along a first-aid kit and some snacks in order to stay nourished while on your adventure.
Finally, be sure to share your stories when you get home; nothing beats recounting all the fun memories that came out of an awesome trip like this one.
FAQ about the Best Outdoor Things to Do in Wisconsin
What are the best adventures in Wisconsin?
Some of the best adventures in Wisconsin are Cave of the Mounds, the Historic Third Ward, or Taliesin Preservation.
What are the best things to do outside in Wisconsin during winter?
Some of the best things to do outside in Wisconsin during winter are Snow tubing at Cascade, ice skating at the Edgewater, or exploring the Illuminated Ice Castles.
What are 2 things Wisconsin is famous for?
2 things Wisconsin is famous for are being America's Dairyland and its Miller Brewing Company.
---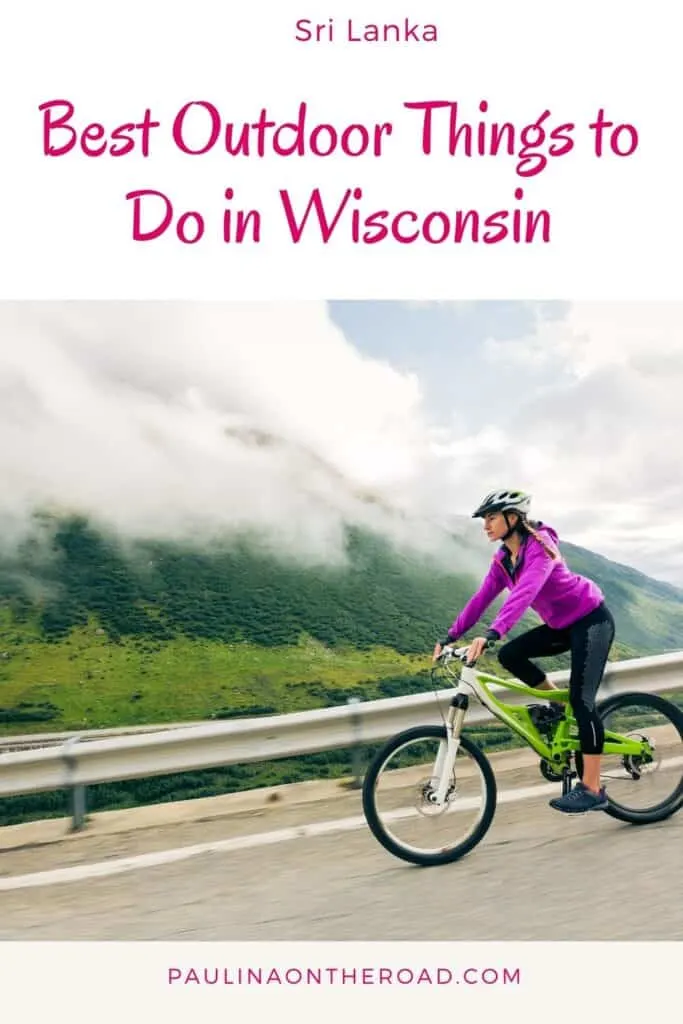 ---
Hola! I am Paulina, a fervent travelette who crossed the Atlantic Ocean by Boat HitchHiking. On my blog, you'll find all the tips to make the most of your holiday. Get ready to enjoy outdoor and sustainable travel like hiking, cycling or sailing. Let's hit the road together!