A guide on the Best Wisconsin Mountain Bike Trails for an amazing getaway in Wisconsin
Though mountains don't exactly come to mind when thinking about the topography of Wisconsin, the state is home to some of the best mountain bike trails in the U.S.
Mountains may be scarce, but the abundance of hills and glacial landforms in the state make for incredibly fun and challenging biking obstacles.
As there is an almost infinite number of Mountain Bike trails in Wisconsin, I decided to curate a list of the most popular ones. However, this Wisconsin biking guide also includes some hidden gems!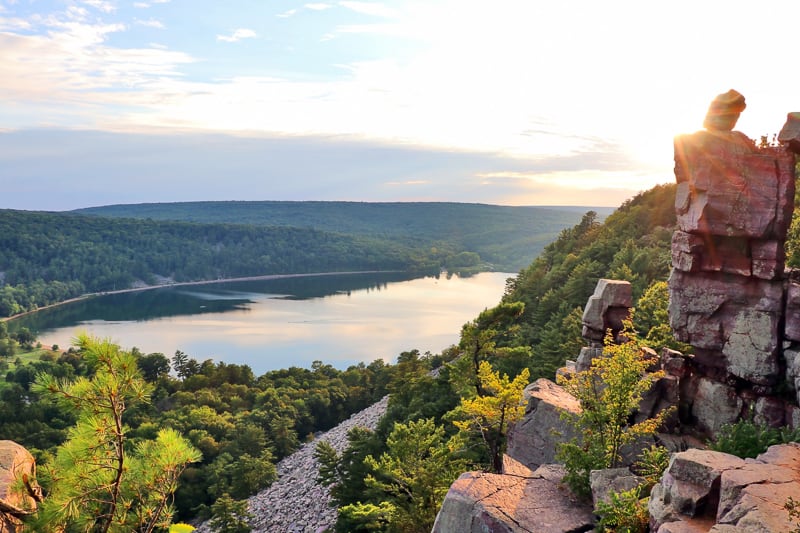 Most Wisconsin bike trails take advantage of the many naturally-occurring winding ridges and mounds, characteristic to the region.
Without further ado, let's look at some of the best places to mountain bike in Wisconsin!
Thanks to affiliate links, I pay my bills. If you make a purchase through them, I may receive a small commission at no cost to you. As an Amazon Associate I earn from qualifying purchases. All opinions are always mine. Merci!
Useful Travel Information for Wisconsin
✎ Plan the ultimate Wisconsin road trip (no backtracking!) with the Perfect Wisconsin Road Trip itinerary – Buy now for less than 12$

✈ Find the best hotel deals in Wisconsin with Trivago

➳ Book vacation rentals in Wisconsin with VRBO

✔ Book tours in Wisconsin with Viator

☘ Get the best discounted outdoor gear (outlet) at REI.com

$ Get Wisconsin hiking guides and maps at REI.com

✎ Never leave without travel insurance. I get mine at SafetyWing. It is easy to set up, cheap, and reliable.
Best Mountain Bike Trails in Northern Wisconsin
1. Nicolet Roche Trail – Langlade County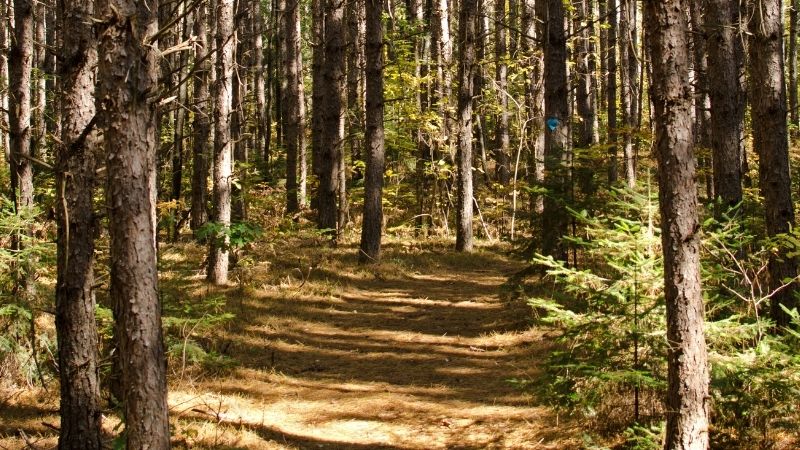 Length: 19.3 miles
Level: Difficult
This mostly singletrack, out-and-back trail is located in the Nicolet National Forest. The technical terrain, natural obstacles, and fair amount of climbing make Nicolet Roche one of the most difficult trails in the area, perfect for experienced bikers looking for a serious challenge.
As you complete this remote trail, you'll be travelling through Nicolet's picturesque forests. Interestingly, many of the trees still growing here were planted in the 1930s by the Civilian Conservation Corps.
The closest city is Langlade, offering accommodation and plenty of restaurants. There are lots of lakes and campgrounds in the area, so it's worth staying here for a couple of days if you enjoy the outdoors.
There's also a series of rapids on the river just south of the trail, where you can complete your Nicolet Roche adventure with swimming or rafting. You can even find amazing Wisconsin cabins with hot tubs for your stay.
This place offers a variety of things to do in Wisconsin in October such as admiring fall colors, Northwoods zip line etc.
2. Lowes Creek Trail – Eau Claire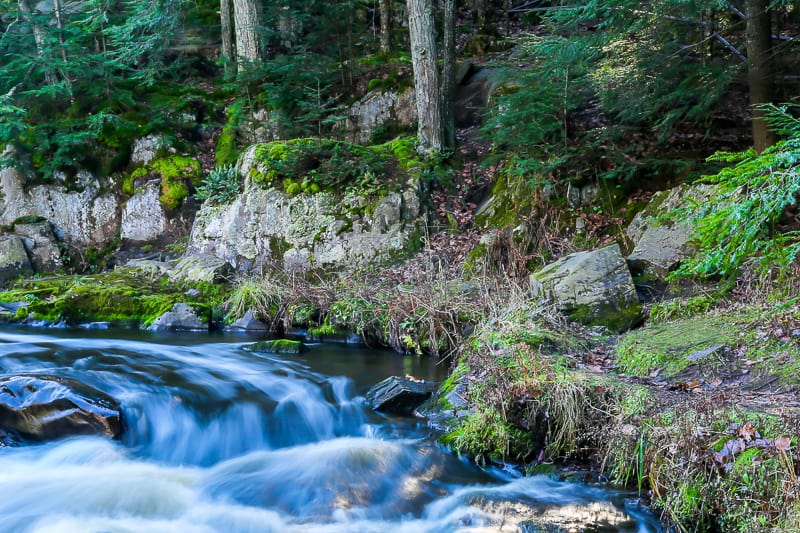 Length: 10 miles
Level: Medium
Within the limits of the city of Eau Claire lies Lowes Creek County Park, where you'll find a network of singletrack mountain bike trails totalling around 10 miles.
They are mostly flat, though bikers will come across minor obstacles such as logs to climb over and creeks to cross.
There is a picnic shelter and a trout stream within the Park, and the trailhead is conveniently easy to reach from Eau Claire.
It's worth noting that Altoona Lake is just a stone's throw away from Lowes Creek, on the other side of the city.
There's a large sandy beach and BBQ area where you can relax and rest up after completing the biking trail.
Biking here is one of my favorite things to do in Eau Claire, WI.
If you're just passing through, there are plenty of great hotels in Eau Claire, WI you can stay at after a grueling day of biking.
3. Namakagon Cluster – Namakagon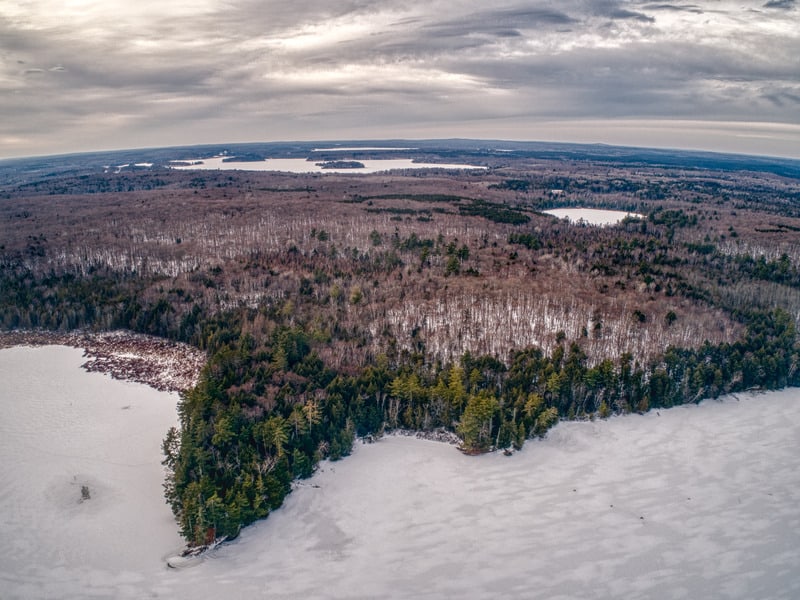 Length: 0.75 to 14.8 miles
Level: Easy to Difficult
A true mountain biking paradise, the Namakagon Cluster features eight trails that have a total combined length of almost 56 miles! Luckily, this network of trails is very easy to navigate, as each intersection is appropriately marked.
The trails vary in length and difficulty level, so both beginners and the most demanding pro bikers will find something of interest here. The two-track Wilson Lake Spur trail is the shortest and easiest, at around 0.75 miles.
Bikers looking for a real challenge should set their sights on the Hildebrand Lake Loop – the most difficult section of the 12-mile Rock Lake trail.
The 2.4-mile hillside loop features rock gardens, a 100-foot-long bridge that's only 18 inches wide, and gorgeous views of the Hildebrand and Frels Lakes.
4. Rock Lake – Namakagon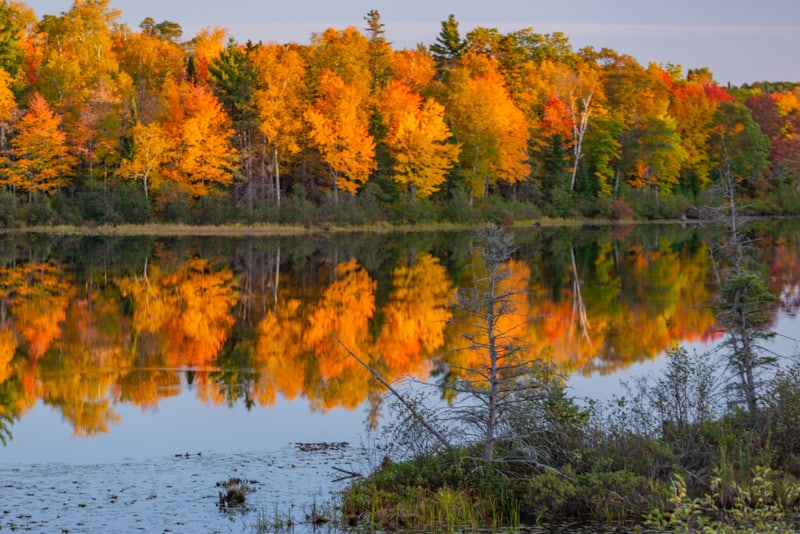 Length: 12 miles
Level: Difficult
Rock Lake, mentioned in the previous entry, is one of the longest trails of the Namakagon Cluster. One thing's for sure: this is a perfect choice if you enjoy a challenge.
Mostly singletrack, Rock Lake starts off fairly easy – but don't let that fool you. Once you get to the start of the Hildebrand Lake Loop (see above), things will get very difficult, very fast! The beginning of the Loop is marked by a short loose rock section.
Once you've finished the Rock Lake trail, it's a great idea to travel north and visit Chequamegon Bay on Lake Superior and the city of Ashland, only 40 miles away.
Bayfield – the access point to Apostle Islands – is another 20 miles further. The Chequamegon area offers plenty of other outdoor activities, including hiking and kayaking.
5. WinMan Trails – Vilas County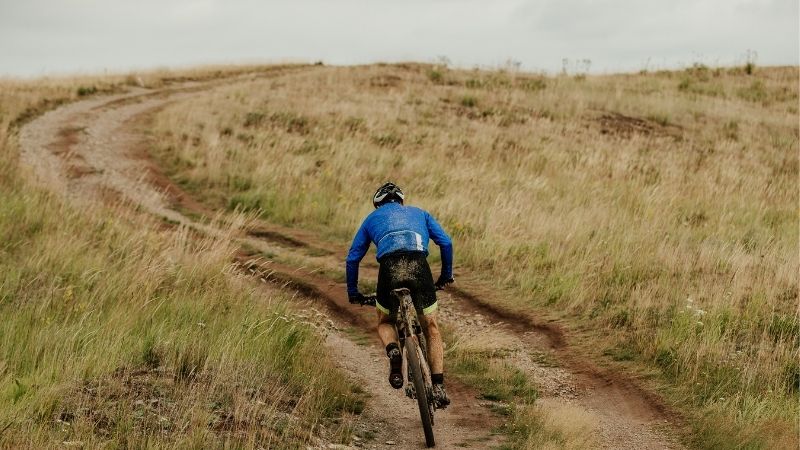 Length: 14 miles in total
Level: Easy to Difficult
Vilas County boasts over 14 miles of machine-built trails, suitable for all levels of experience. Criss-crossing over mixed terrain, most of the trails can be safely navigated even by beginners.
In an interesting move, more difficult, technical trails run alongside the easy ones, ensuring that even the most demanding biker won't be disappointed.
The trails are located to the south of the town of Winchester. Bikers can easily find accommodation in town, and it's definitely worth spending a bit longer here to take advantage of the surrounding natural areas and lakes.
This is also one of the most popular hiking trails in Northern Wisconsin.
6. Ahnapee State Park Trail – Door County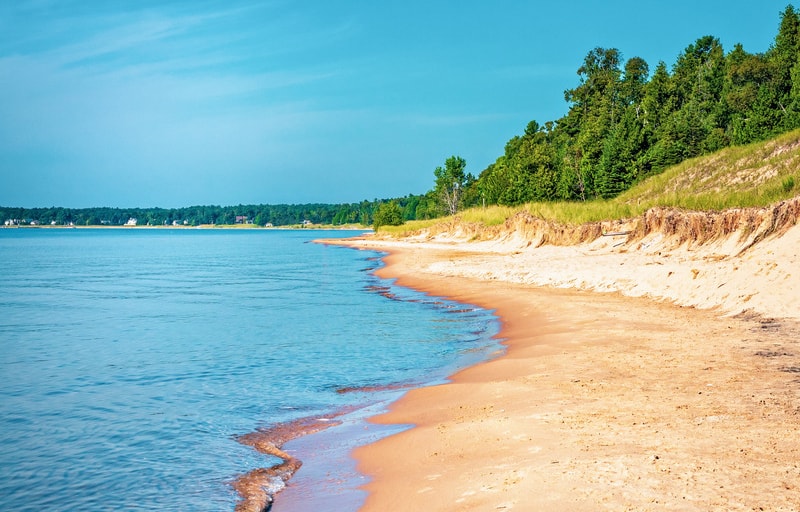 Length: 48 miles
Level: Easy
The Ahnapee Trail is one of the longest Wisconsin mountain bike trails.
Almost 50 miles' worth of a rail corridor has been converted into this multi-purpose trail, perfect for hiking, horseback riding, and of course, biking.
In fact, it's one of the best hikes in Door County, as well as all of Wisconsin!
The trail is mostly flat and averages about 9 ft in width.
If a long, flat trail sounds like it could be boring, think again – there are tons of attractions to enjoy along the way, including some of the best lighthouses in Wisconsin.
See the world's tallest grandfather clock, visit the Bruemmer Zoo, stay in the historic (and allegedly haunted!) Kewaunee Inn, and enjoy the gorgeous views of the Ahnapee and Kewaunee Rivers.
The Ahnapee Trail is well-prepped for visitors, with restrooms and facilities as well as three large campgrounds.
Interestingly, the Ahnapee is the last segment of the Ice Age National Scenic Trail – a 1,200-mile-long hiking trail located entirely within Wisconsin.
It's one of the best things to do in Door County!
During winter in Door County, this is also one of the best snowmobile trails in Wisconsin, making it a perfect winter getaway destination.
Make also sure to check out some of the best cabins in Door County.
7. Hickory Ridge – Bloomer
Length: 15 miles
Level: Medium
Hickory Ridge is a series of loops rather than a single trail, totaling approximately 15 miles. The individual trails vary somewhat in difficulty, but they're considered intermediate on average.
Close to the small town of Bloomer, Hickory Ridge is a very remote singletrack, winding through wild woodlands, climbing over ridges, and passing by several small lakes.
The Chippewa Moraine State Recreation Area is close by, offering fishing, camping, and bird-watching opportunities.
Conveniently, the city of Eau Claire and the Lowes Creek Trail (#2 on this list) are less than 40 miles away – so it's entirely possible to visit both trail networks during a single trip.
Best Mountain Bike Trails in Central Wisconsin
8. Human Powered Trails – La Crosse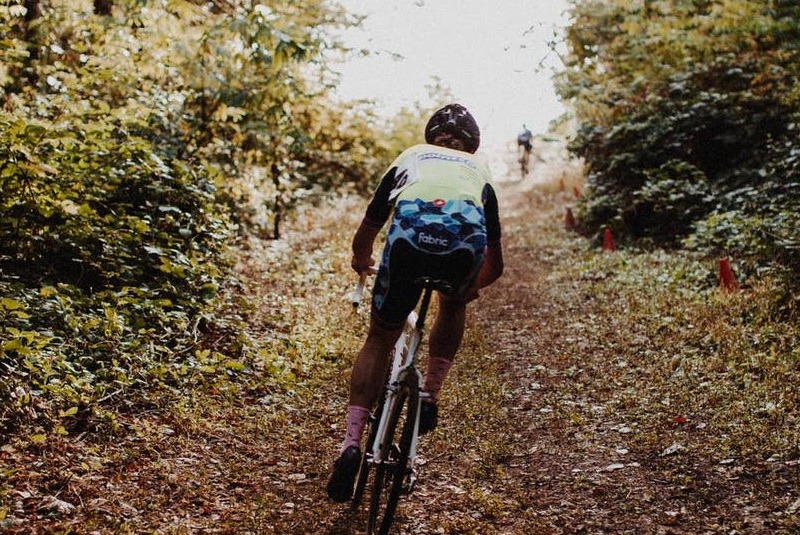 Length: 9 miles
Level: Difficult
Found within 850 acres of beautiful forested land, Human Powered offers 9 miles of dedicated mountain bike trails in the Upper Hixon Forest.
Lower Hixon Forest, meanwhile, has 11 miles of hiking trails to explore and an additional 3.5 miles of a shared trail for bikers and hikers.
The main biking trail starts off easy in open terrain but soon turns into unforgiving singletrack winding through the forest. Expert mountain bikers will be delighted: there are plenty of obstacles to conquer here, tight turns, and lots of steep climbs and descents.
The closest city is the picturesque La Crosse, located on the Mississippi River. If you're up for a longer stay in the area, it's worth spending some time in the city.
Visit the International Friendship Gardens to see landscape styles from around the world, admire the classic cars in the Dahl Auto Museum, or simply take a relaxing evening walk along the river.
9. Nine Mile Forest – Wausau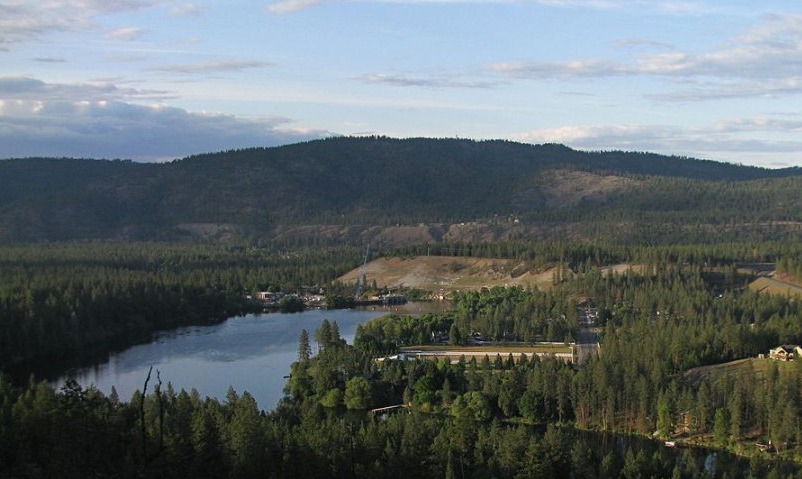 Length: 33.5 miles in total
Level: Easy to Difficult
The Nine Mile Forest is a maintained recreation area, with designated off-road biking trails of various difficulties – ranging from expert loops to sections suitable even for kids.
Singletrack trails in heavily wooded areas make up around 13.5 miles of the total, while the remaining 20 miles are much wider. The South Loop is the most difficult, despite being less than 4.5 miles in length.
Helpfully, brochures available in the Recreation Area include a map that marks all of the trails, complete with the difficulty level.
The Nine Mile Forest is just outside the city of Wausau, close to Rib Mountain State Park and the Wisconsin River. It's is one of the top things to do in Central Wisconsin.
10. Levis Mound – Clark County
Length: 24 miles in total
Level: Easy to Difficult
Levis Mound is another network of singletrack trails in a Recreational Area, the most difficult of which ascend the Levis and Trow Mounds.
Easier trails stick to the woodlands down below, posing a much smaller challenge suitable for beginner bikers. Even from the easier routes, though, you can still admire unique views of the 300-foot tall sandstone bluffs.
The gorgeous woodland is rich in wild animals, including deer, turkeys, and coyotes.
There are several large picnic areas in the vicinity, as well as toilets, showers, and other necessary facilities.
11. Hartman Creek State Park – Waupaca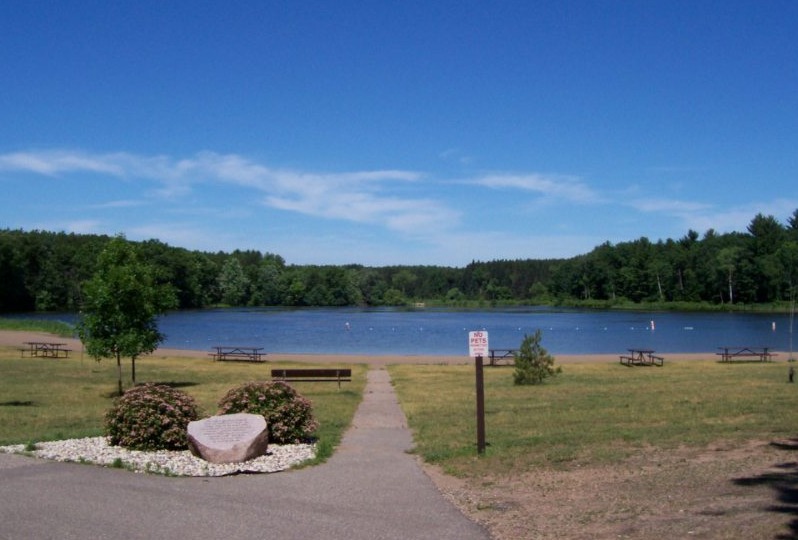 Length: 9.5 miles
Level: Easy to Medium
On the shore of the gorgeous Hartman Lake, beginner and intermediate bikers will find the trails in the State Park a wonderful experience.
Although the full singletrack loop covers just under 10 miles, it is split into several smaller loops of varying difficulties.
The first one – known as the Green Loop – is the easiest. The Black Loop, encountered further down the trail, is the only one with serious obstacles.
The nearby town of Waupaca is the perfect place for an overnight stay, with a series of parks and natural areas around, as well as multitude of lakes.
12. 400 State Trail – Reedsburg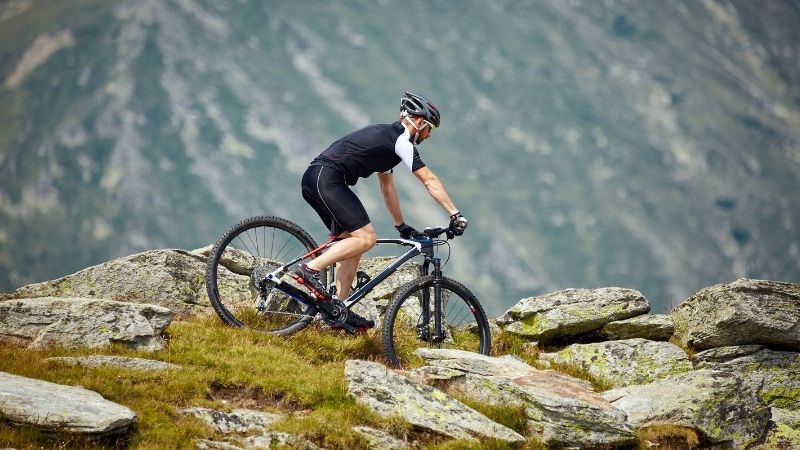 Length: 22 miles
Level: Easy
This trail is another old rail section, converted into a flat, scenic path perfect for biking, hiking, and horseback riding.
It's part of the railroad which once connected Chicago to Minneapolis, named "The 400" after the 400-mile distance between the two cities.
The 400 State Trail will take you through beautiful rural Wisconsin, with frequent views of the Baraboo River and stunning rock outcroppings.
Prairies will give way to woodland now and again, and there are several villages along the trail where you can stop for some rest or a meal.
La Valle is particularly picturesque, with several bars and restaurants on the shore of the La Valle Mill Pond.
13. Badger State Trail – Dane County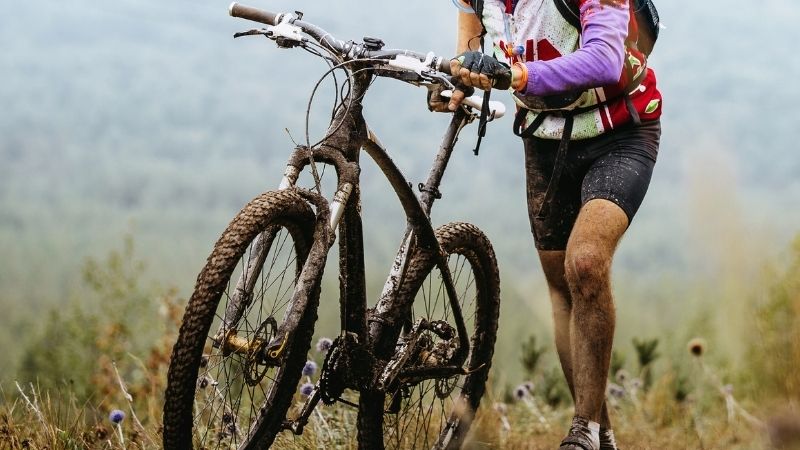 Length: 40 miles
Level: Easy
The charmingly named Badger State Trail also follows the path of an old railway.
Beginning in Madison, the capital of Wisconsin, the trail is a mostly flat journey to the edge of the state, eventually reaching the Wisconsin-Illinois border.
The 40-mile trip will take you through farmlands, meadows, and prairies, passing through ravines and, of course, several small towns.
Near the village of Monticello, you'll find this trail's most unique feature: a 1,200-foot tunnel.
The length of the tunnel is not its only distinguishing feature: because of being built on a curved foundation, when you enter the tunnel, it's impossible to see the opening at the other end!
Be sure to check out the other great trails for biking and hiking in Madison, WI.
14. Woolly Trail – St. Croix Falls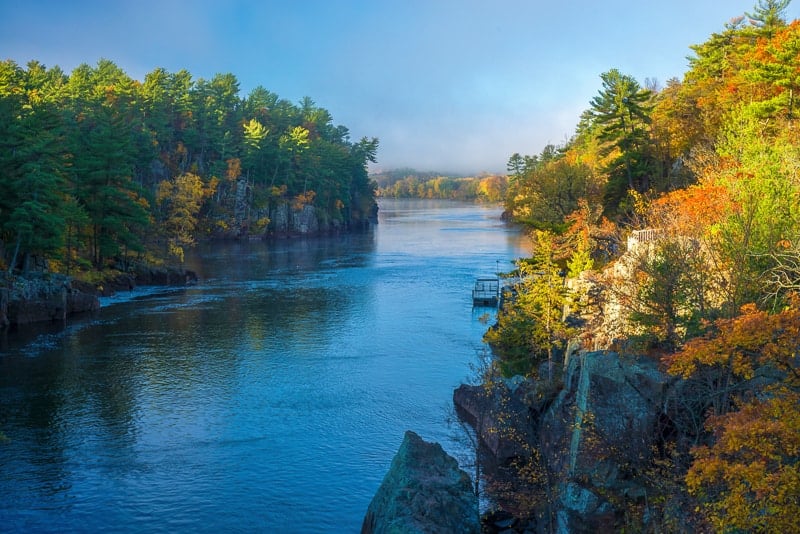 Length: 6 miles
Level: Medium
Conveniently located just outside of the town of St. Croix Falls, the Woolly Trail covers a range of difficulties and landscapes.
Both intermediate and more demanding bikers will find something of interest here. The more difficult parts of the trail involve a moderate amount of technical challenges.
In any case, at each intersection, the difficulty level of the next loop is indicated, making the network easy to navigate.
The town of St. Croix Falls is also home to a National Scenic Riverway, a beautiful natural area with hiking, camping, and canoeing opportunities.
15. Bearskin State Trail – Oneida County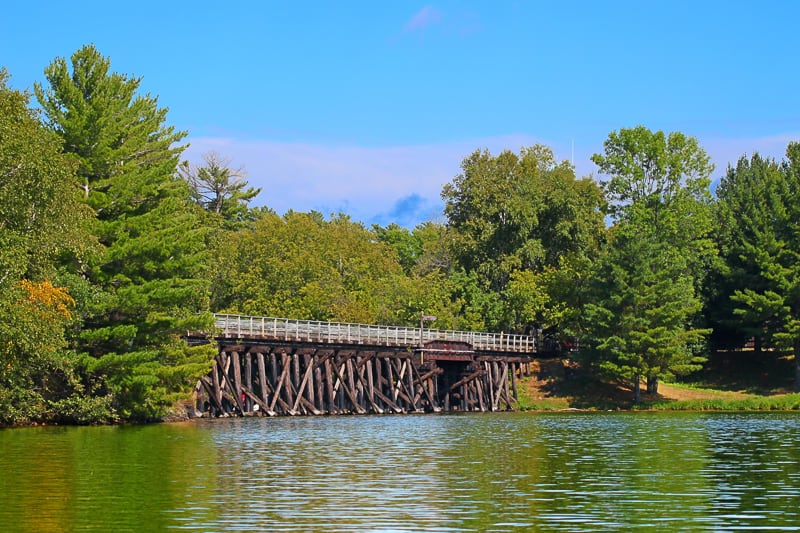 Length: 18 miles
Level: Easy
Considered one of the most scenic trails in Wisconsin, Bearskin stretches for just over 18 miles, between Minocqua and Heafford Junction.
As a former railway, the path is one of the best beginner mountain bike trails – there's only one small hill to conquer along the way. The trail winds through mixed woodland, with views of several lakes, springs, and creeks.
While here, it's worth visiting the Northern Highland-American Legion State Forest for hiking, camping, canoeing, fishing, and plenty of other outdoor activities to complete your Bearskin experience.
If you're looking for other nearby mountain bike trails, consider the Hiawatha Trail – a 6-mile stretch on the same railroad as Bearskin.
For those looking to stay in the area a little longer, check out my guide on the best hotels in Minocqua.
There are also lots of great things to do in Minocqua besides mountain biking!
Best Mountain Bike Trails in South Wisconsin
16. Blue Mound State Park – Blue Mounds
Length: 13 miles
Level: Difficult
Home to one of the most difficult off road bike trails in Southern Wisconsin, the Blue Mound State Park is located close to the town of Blue Mounds, Dane County.
There are three singletrack loops to complete here, and one out-and-back trail. The three loops can be combined into a one large looped trail, known as the Tour of Blue Mound.
The first two sections – amusingly named Gneiss and Overlode – are medium-difficulty trails with multiple points of interest, including remnants of walls from back when the area was inhabited.
The last section – Holy Schist – is the most difficult, presenting a serious challenge even for experienced bikers.
17. Lake Geneva Canopy Tours – Lake Geneva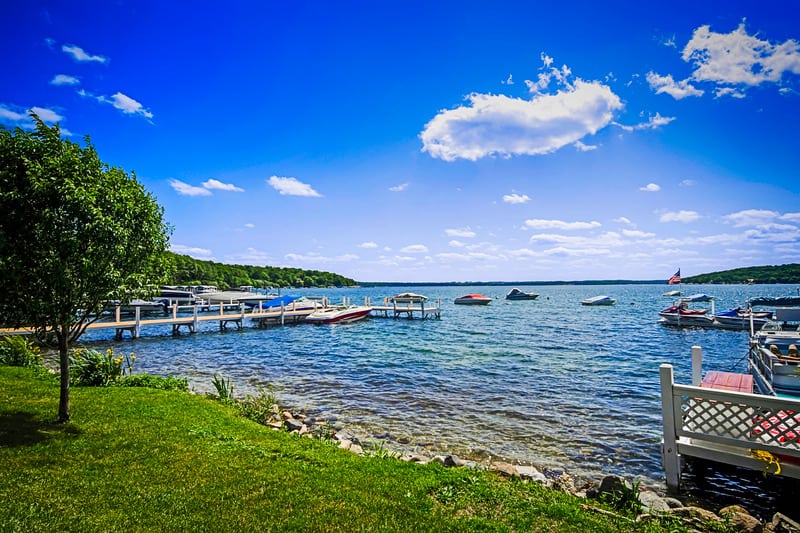 Length: 12 miles
Level: Easy to Difficult
The Lake Geneva bike trails offered by the Canopy Tours adventure park are spread over 100 acres of maintained woodland. The trails are suitable for all ages and ability levels, so it's a great place to start learning!
Because the trails are divided into three sections, it's easy to figure out which one will be best for your experience level.
The easy trail is mostly flat, the medium one includes some obstacles and surprise turns. The expert section will push your skills to the limit, as the short trail is packed with obstacles and challenges.
Canopy Tours offers other activities, like zipline tours and a high ropes course. For more relaxed outdoor fun, visit the nearby golf course.
And of course, the beachy shore of Lake Geneva is just on the other side of town! It's one of the best things to do in Lake Geneva and without a doubt, this one is one of the most popular Mountain Bike trails in Wisconsin.
Make sure to check out my guide on where to stay in Lake Geneva.
Although after a tiring day of mountain biking, I recommend The Abbey Resort, one of the best spa resorts in Wisconsin.
18. John Muir and Emma Carlin trails – Kettle Moraine State Park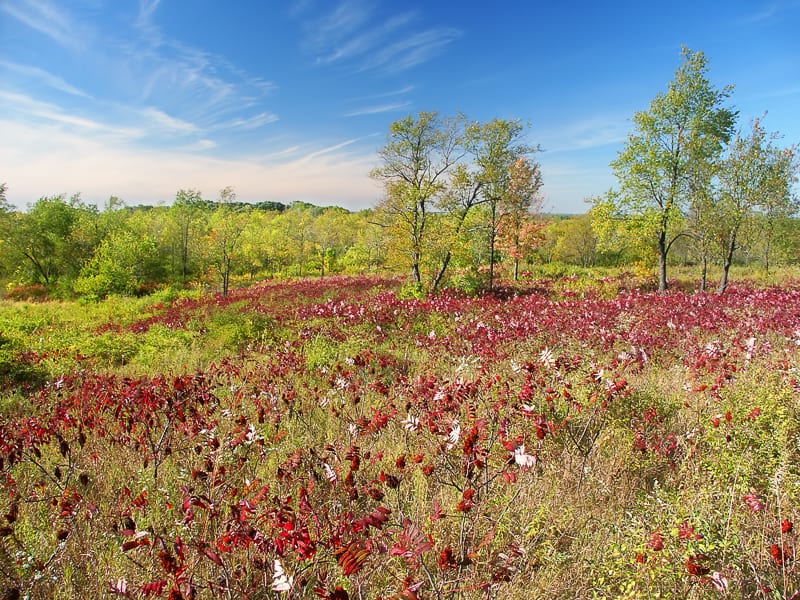 Length: approx. 55 miles in total
Level: Easy to Medium
According to the local president of the International Mountain Biking Association, the trails of Kettle Moraine State Forest are the most ridden Wisconsin bike trails.
It's no wonder: with such a varied terrain filled with plenty of hills and glacial landforms, the Kettle Moraine State Park is a mountain biker's dream.
The two main train networks in Southern Kettle Moraine are named John Muir and Emma Carlin. The former offers five looped singletracks, with the longest measuring 12 miles.
The slightly smaller Emma Carlin network features three loops. It's also possible to complete the 40-mile Kettle Scuttle – a loop covering most of both trail systems.
There are beginner trails available here, suitable for kids. The other trails are moderately difficult on average, with some steep climbs and occasional obstacles.
It's definitely one of the most scenic Mountain Bike trails in Wisconsin.
19. Alpine Valley – East Troy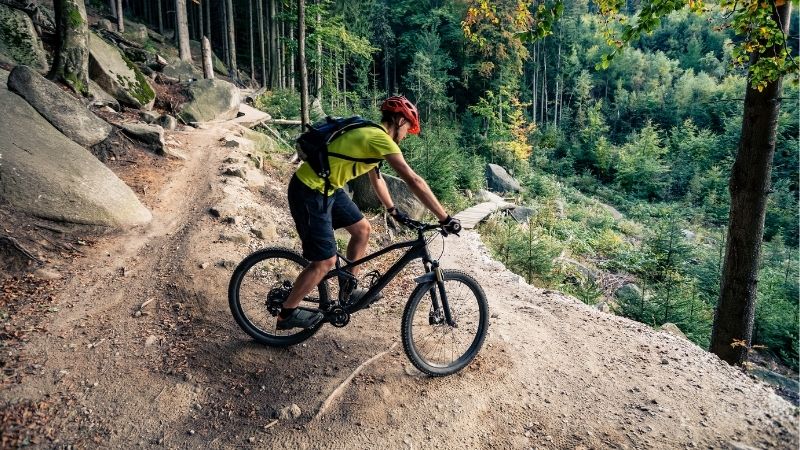 Length: 8 miles
Level: Difficult
One of the more difficult mountain bike trails in Wisconsin, Alpine Valley is a standalone, singletrack loop with a maximum grade of 17 degrees.
Passing through both woodlands and open terrain, the trail starts with a mile-long uphill climb – and it only gets more challenging from there.
If you're looking for an adrenaline-filled mountain biking experience, Alpine Valley is the place to go!
Alpine Valley is close to the town of East Troy, which offers beautiful views of Lake Beulah and a railroad museum – as well as plenty of restaurants and bars to relax in after you've conquered the trail.
20. Rockport Park – Janesville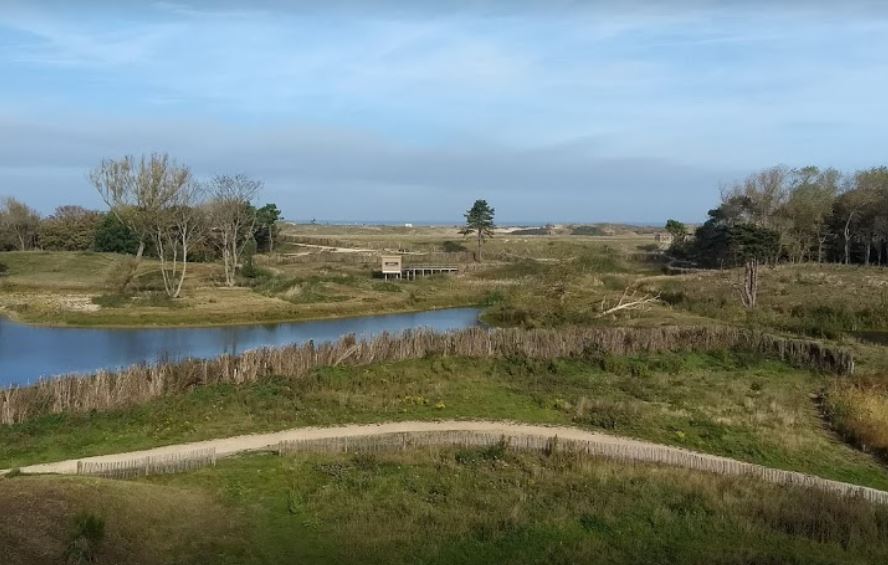 Length: 7 miles
Level: Easy to Medium
Rockport Park has several miles of maintained singletrack trails to offer, suitable for beginner and intermediate bikers. The trails are divided into two main loops, with connectors and smaller loops branching off from the main path.
There aren't many technical sections to overcome here, but prepare for plenty of steep woodland climbs and descents!
Rockport Park offers tons of other activities, so it's a good idea to plan on spending at least a full day in the area. There's a pool with a diving well, hiking trails, and a large playground for kids.
The town of Janesville, where the Park is located, is also fun to explore – with riverside activities, golf courses, and botanical gardens. Janesville is also home to the best ski resorts in Wisconsin.
I hope you liked my selection of the best Mountain Bike Trails in Wisconsin. What is your favorite Mountain Bike Trail in Wisconsin?
---
Wisconsin Bike Trails Map
---
Short FAQ about Best Mountain Biking Trails in Wisconsin
Where to go mountain biking near Milwaukee?
You can visit Kegel Alpha Mountain Bike Trail and Hoyt Mountain Bike Trail are some of the best places to go for mountain biking near Milwaukee.
What are the bike trails along Lake Michigan, Wisconsin?
Calumet Trail and East Bank Trail are best bike trails along Lake Michigan, Wisconsin.
Where are the mountain bike trails in Wisconsin?
Namakagon Cluster, Ahnapee State Park Trail and Nine Mile Forest are some of the best mountain biking trails in Wisconsin.
---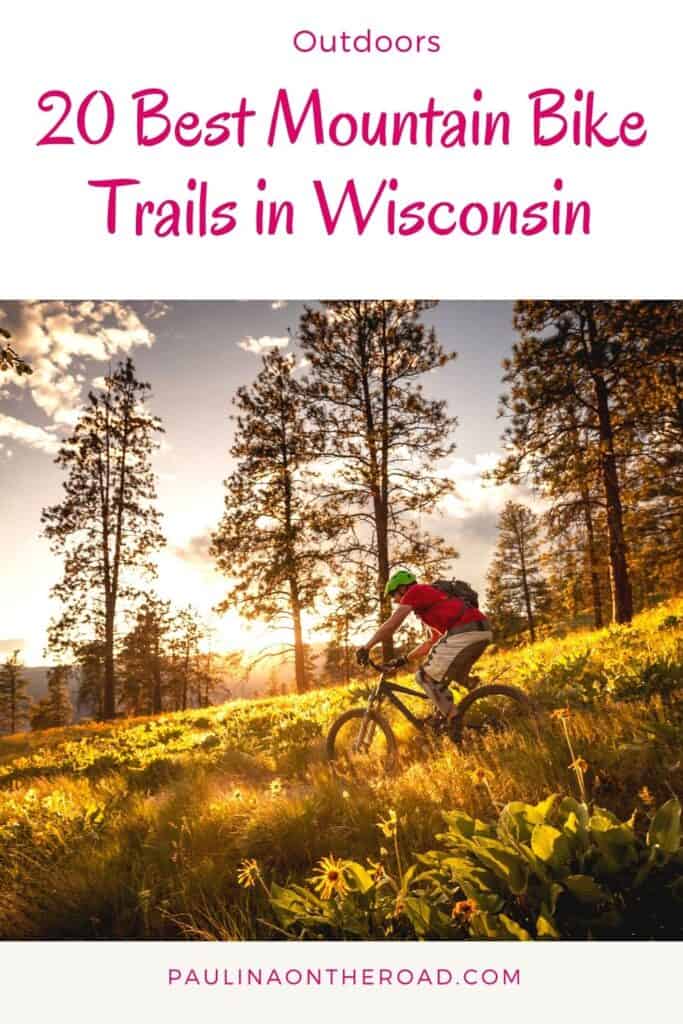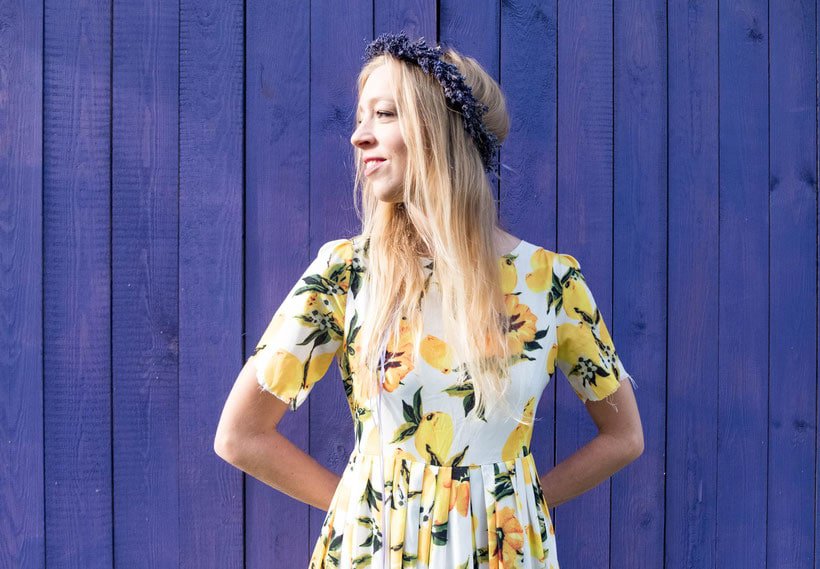 Hola! I am Paulina, a fervent travelette who crossed the Atlantic Ocean by Boat HitchHiking. On my blog, you'll find all the tips to make the most of your holiday. Get ready to enjoy outdoor and sustainable travel like hiking, cycling or sailing. Let's hit the road together!