A guide on the best Cozy Cabins for an amazing getaway in Door County, Wisconsin
If you are craving for a serene and secluded vacation, Door county has a lot to offer. It's a great idea to stay in cabins in Door County to relax, feel at home and enjoy scenic views.
Cabins in door county check the box for everything from an excellent location, impressive décor, and delightful amenities.
I believe when it comes to fabulous cabin rentals, door county spoils you for choice. Here's a list of 15 cosy cabins in Door County that I recommend.
This blog is supported by you, dear reader. If you purchase through a link, I earn a small commission. As an Amazon Affiliate, I earn from qualifying purchases.
Top resources to travel Wisconsin
✎ Plan the ultimate Wisconsin road trip (no backtracking!) with the Perfect Wisconsin Road Trip itinerary – Buy now for less than 12$

✈ Find the best hotel deals in Wisconsin with Trivago

➳ Book vacation rentals in Wisconsin with VRBO

✔ Book tours in Wisconsin with Viator

☘ Get the best discounted outdoor gear (outlet) at REI.com

$ Get Wisconsin hiking guides and maps at REI.com

✎ Never leave without travel insurance. I get mine at SafetyWing. It is easy to set up, cheap, and reliable.
Overview: The Top 5 Cabins in Door County
$$
8 Guests
Secluded location, yet near to all attractions
Excellent outdoor seating
The Cabin in the woods is a tranquil wooded getaway that allows you to unplug yourself from the busy city life.
As it lies centrally between Sturgeon Bay and Egg Harbour, it is also close to all Door County attractions. Country boat launches and some of the best beaches in Wisconsin are just a few minutes from this beautiful cabin.
It features a gorgeous open-concept living room, 3-bedrooms, a well-stocked kitchen and a loft area that's ideal for 8 guests.
The cabin has also got all amenities from WiFi, TV, AC, to an electric fireplace to make your stay comfortable. The wrap-around deck with seating is perfect to relax and enjoy the surrounding views of nature.
You can find many games here that you can play both indoors and outdoors. It is also one of the best pet-friendly cabins in Door County, so you can bring your furry friends along.
$$
4 Guests
Mid-century modern decor
Perfect place to unwind
Located in Sister Bay, the Beachwood Cottage is a beautiful A-Frame home surrounded by Beachwood trees. It is one of the most amazing door county cottages for a peaceful family vacation.
Although nestled in woods, it's just 5 minutes from the best attractions of Sister Bay.
This charming 2-bedroom cottage features modern furnishings and all amenities for a relaxing stay of 4 members.
The kitchen is fully equipped and updated with amazing appliances. There is even a space dedicated solely for relaxation in the loft where you can sit and enjoy reading a book.
A delightful blend of rustic and contemporary decor makes the Beechwood Cottage an epitome of impressive aesthetics. It has an open deck, screened-in porch, and large windows from where you can enjoy picturesque views of nature.
Book your stay here to enjoy a comfortable and memorable vacation away from the city.
3. Best Cottage in Door County, Wisconsin: Peace of Beach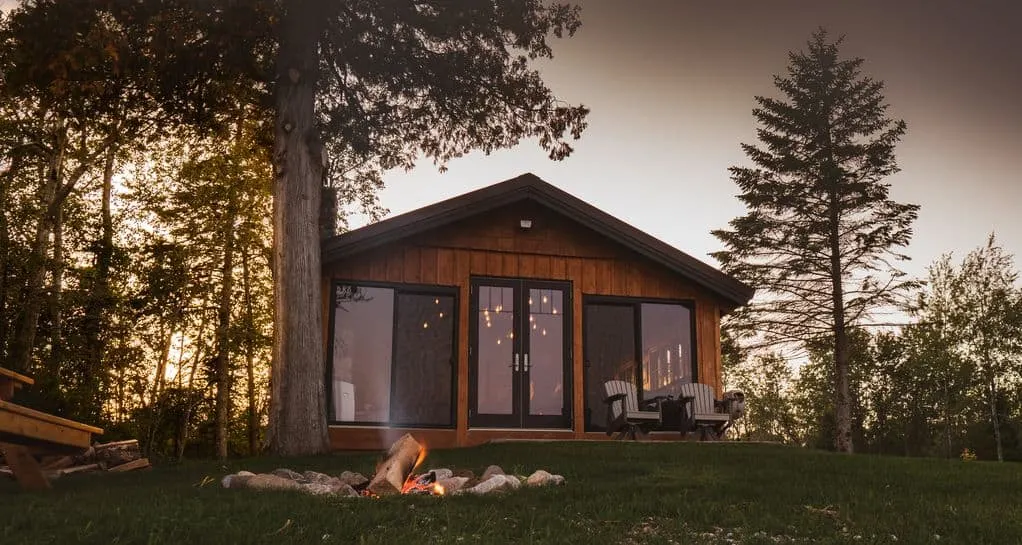 $$
8 Guests
Tranquil location
Perfect getaway for a family vacation
Located on the shores of Lake Michigan in Sturgeon Bay, Peace of Beach is an adorable cottage offering scenic views.
It is just 10 yards from the water and thus ensures a quintessential lakefront experience, and is near to some of the best lighthouses of Wisconsin.
Featuring a large living room, 2 log bedrooms, a fully-equipped kitchen, and high-bar dining, it is perfect for 8 guests.
The large windows allow you to witness break-taking sunsets even if you are in the living room. – Check the views here
The water-front seating near the fireplace is perfect for indulging in some casual conversations and playing games with your family. You can also make use of the barbecue to make some delicious grilled delicacies.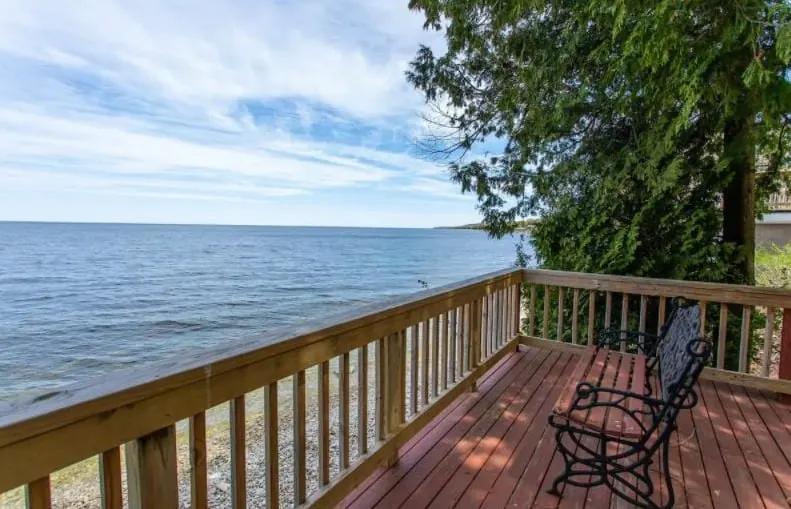 $$
6 Guests
Gorgeous sunset views
Pet-friendly cabin
Located on the Bayshore Drive between Sturgeon Bay and Egg Harbor, Stone's Throw promises an incredible waterfront vacation.
The breath-taking views of the Green Bay make it one of the best door county waterfront rentals. It allows access to the water through rock steps and you can also enjoy fishing from the shore.
This stunning cabin features rustic decor and has comfortable furnishing. With a full-size futon in the living room and 2 queen size beds, it easily accommodates 6 members.
The fully-equipped kitchen here has everything from a microwave, oven, to toaster for you to make a delicious meal.
Waterside deck and a beautiful screened-in porch are other amazing features of this Door County cabin rental.
The cabin is also nearby to some of the best wineries in Door County, including one that share its name!
5. Best Door County Cabin for Couples: Gingerbread Cottage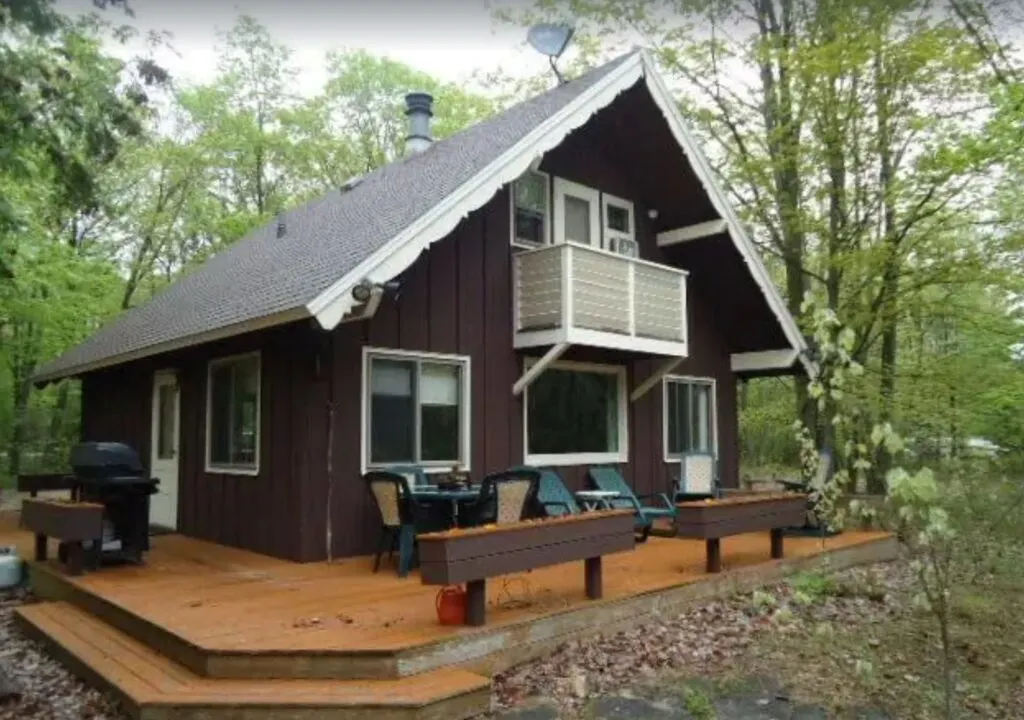 $$
4 Guests
Secluded, yet just 4 minutes from Fish Creek
Amazing electric fireplace
Set on 3-acres amidst nature in Fish Creek, the Gingerbread House is a lovely home perfect for couples. The fact that sits atop a private bluff allows you to enjoy a secluded and romantic vacation.
It is also close to many cross-country skiing trails and just a short drive from the best North County attractions.
The -bedroom home features an adorable decor that eludes a cheerful vibe. It has a fire pit and wrap-around deck where you can sit and have some deep conversations with your loved one.
You will also enjoy cooking in the cute little kitchen here that has all the necessary amenities.
6. Best Cabins with Jacuzzi in Door County: Green Apple Lodge
$$$
8 Guests
Great jacuzzi
Plenty of natural light
Head straight to the Green Apple Lodge, one of the most beautiful secluded cabins in Wisconsin, where you'll have a vacation close to nature. Located close to Egg Harbor village, this home is clean, cozy, and beautifully furnished.
The therapeutic hot tub here makes it one of the best Wisconsin cabins with hot tubs.
This stunning cabin has 3 bedrooms, a well-stocked kitchen, a front porch, a back deck, and a gorgeous fireplace in the living room.
It is perfect for 8 guests getting together for a family vacation or friends' reunion. It is one of those cozy cabins in Wisconsin, that you'll rent again in a heartbeat.
$$
4 Guests
Amazing front porch
Quiet location
When it comes to Door County cabins in the woods, the options are splendid. Located on 1.5 wooded acres just minutes from Egg Harbor, the Log Cabin in the Woods is one such example.
This peaceful cabin is perfect for couples who wish to enjoy a romantic and relaxing vacation.

This 2-bedroom cabin features an open concept living room with a steep ladder to the loft.
The wood-burning fireplace and vaulted ceiling add to the charm of the first floor which also has a sleeping alcove. The cosy deck off the loft is perfect for reading a book or enjoying a cup of coffee.

The full kitchen here is stocked with pots, pans, and cutlery to make your cooking experience delightful. You can also enjoy some grilled delicacies straight from the gas grill placed outside.
The outdoor seating near the fire pit is excellent to spend some quality time with your loved one.
8. Best Camping Cabin in Door County: The Sunset Cabin
$$
5 Guests
Very secluded
Bonfire pit and free WiFi
If you are looking for a perfect escape from the hustle of the city, The Sunset Cabin is the place to be. It is located right next to the beach, which makes your stay truly one-of-a-kind.
Although nestled in the woods, it is just a short drive from many Door County attractions like the Potawatomi State Park.
This 2-bedroom cabin sleeps 5 guests and is a perfect venue for enjoying a small get-together. The kitchen has all amenities like a microwave and toaster oven for preparing a feast.
The fire pit in the backyard and the charcoal grill makes it one of the best Door County camping cabins. Stargazing is another impeccable experience that guests enjoy here.
You can also play lawn games like cornhole here to make your time spent outdoors even more exciting.
9. Best Pet-Friendly Cabin in Door County: Green Apple Lodge
$$$
8 Guests
Impressive furnishing
Availability of therapeutic hot tub
The Green Apple Lodge is a beautiful log home in the woods, just a short drive from Carlsville and Sturgeon Bay. This gorgeously decorated 3-bedroom home accommodates 8 guests.
The distressed pine furnishing and the natural stone fireplace makes it one of the most charming door county cabin rentals.
There are multiple spots for relaxation in the Green Apple Lodge. From the porch, seating by the fire pit, to the couches in the living room, the vibe is warm and welcoming. The best feature of this cabin is the therapeutic hot tub in the back deck.
The kitchen is so spacious that you can cook with your whole family here. It is fully stocked and is adorned with thoughtful touches like a spice rack.
Also, in the list of the most comfortable Door County pet-friendly lodging, this lovely property certainly tops the chart.
$$
8 Guests
Remote but only a short drive from towns
Super clean and stylish
Luxury wood cabins in Door County, WI are always delightful, and this property effortlessly proves this point. Located on Egg Harbor, this home is only 12min away from the next lake and is surrounded by 2 acres of wood.
This is one of the best luxury cabins in Wisconsin for a group of 8 members.
The living room is stunning and the interior decor is one of the prettiest in the area. The kitchen is equipped to cook a complete meal for your family.
Besides, there is a gas grill placed on the deck so you can grill while enjoying the views.
It is also one of the most amazing winter cabins in Wisconsin as there are plenty of activities to do nearby.
You can go snowshoeing, cross country skiing or walk to the state park, all of which are some of the best things to do in Door County in winter.

$$
4 Guests
Private beach access
Onsite bar & grill
Located within walking distance from Potawatomi State Park, this Studio Cottage is admired for its cosy ambiance.
This one-bedroom cottage with a full kitchen is perfect for 4 guests. It has a deck and a private firepit area from where you can enjoy stunning Sturgeon Bay waterfront views.
With a private beach, free access to kayaks and paddleboards, it is one of the best affordable options when it comes to Door County Cottage Rentals.
It can also be considered one of the best pet-friendly cabins in Wisconsin. The onsite bar and grill with live music every weekend will ensure that you have an entertaining vacation.
$$$
10 Guests
Beautiful lake view
Pet-friendly
Located on Clark Lake, one of the best lakes in Wisconsin, this great cabin offers an excellent waterfront experience. It is near to some of the best places to vacation in Wisconsin like the cave point, Lake Michigan and Whitefish dunes.
The H-frame cabin with 3 bedrooms, well-equipped kitchen, loft, deck, and fire pit is perfect for a vacation of 10 guests.
There are great restaurants and wineries nearby, which makes it one of the best cabins in Door County to rent. You can indulge in kayaking, fishing, and paddle boarding which are the best things to do in Door County.
There is a room for enjoying the sun in the cabin as well where you can relax and admire the views.
13. Most Romantic Cabin in Door County, WI: Stony Shore Cabin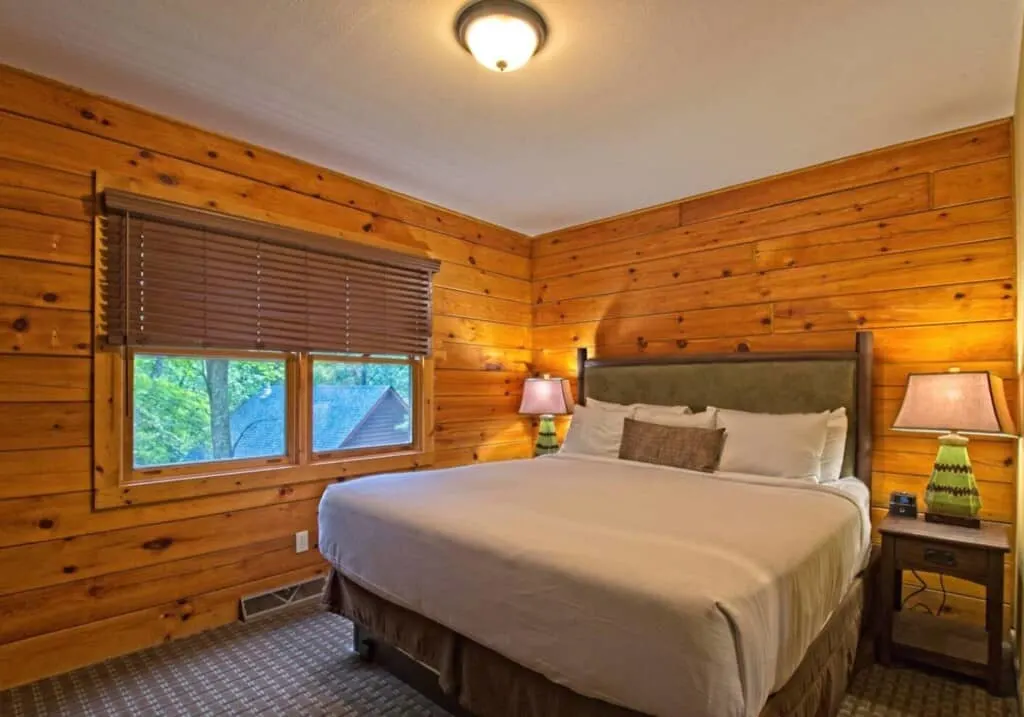 $$
6 Guests
Waterfront property
Comfortable furnishing
Among the most charming and quaint cabins in Door County, the Stony Shore Cabin deserves a special mention. This rustic cabin located between Sturgeon Bay and Egg Harbor is the best place to enjoy the beauty of Green Bay.
The sunset views from the deck and screened-in porch make it stand out among the most romantic cabins in Wisconsin.
Stony shore has 2 bedrooms, a living room with a futon, a full-service kitchen, and a spacious backyard.
This gorgeous cabin accommodates 6 guests and is one of the most relaxing Door County Cabin Rentals.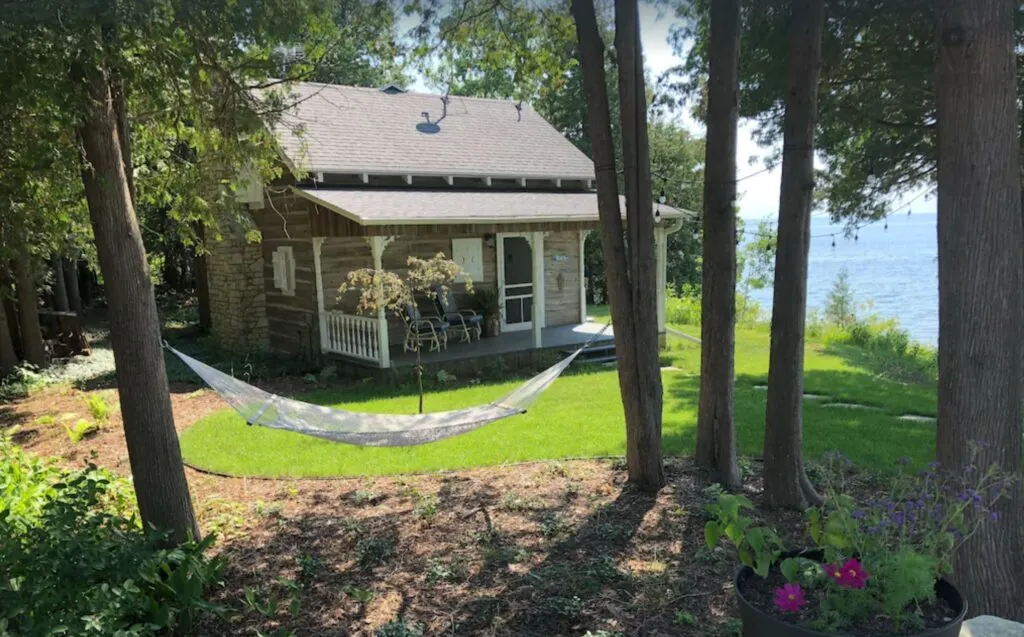 $$$
8 Guests
Rustic decor
Only a few steps from the beach
The 100+year old Historic Cabin on the Riviera, nestled in 2.4 acres of woods takes you closer to nature. It is also very close to Peninsula Players Theater, and just 5 minutes' drive from downtown Fish Creek.
The splash of fall colors in the surrounding makes it one of the most beautiful Wisconsin fall getaways.
The historic cabin from 1877 has 3 bedrooms, a full kitchen, and a gorgeous deck. It's located right at the lakeshore!
If you are looking for peaceful door county cabins for 8 guests, this cosy property is ideal for you. Get comfortable on the couches and enjoy the cozy vibes in front of the wood-burning fireplace.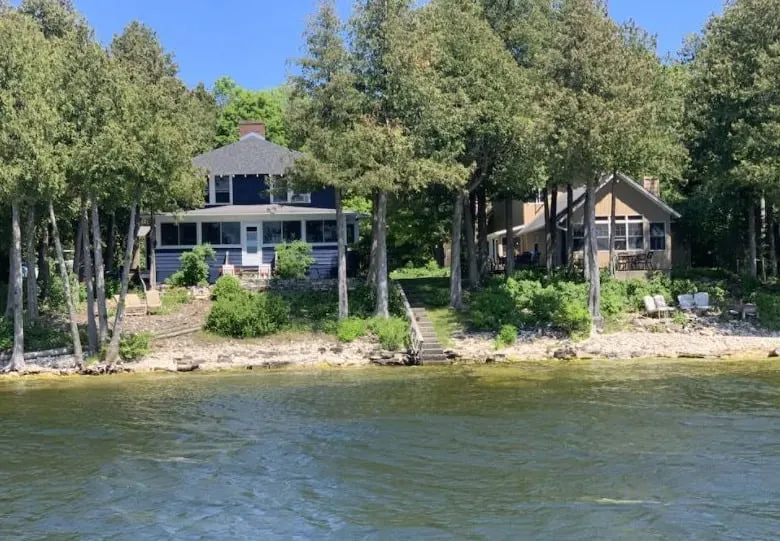 $$$
8 Guests
Access to 128 ft Green Bay shoreline
Amazing firepit with seating
Enjoying the lake views and shoreline is one of the most amazing things to do in Green Bay. This beautiful property has 128 ft of shoreline which makes this one of the greatest cabins for rent in Door County, WI.
The private wooded hideaway is located on Beach Road, just a few minutes from Sister Bay's downtown.
With 2 bedrooms, a kitchen, and amenities like TV and AC. it has everything to be your home away from home. This home is ideal for up to 8 guests.
There are 2 docks from where you can witness scenic sunsets, enjoy fishing, or even go swimming.
Best Cabins in Door County, Wisconsin: Map
---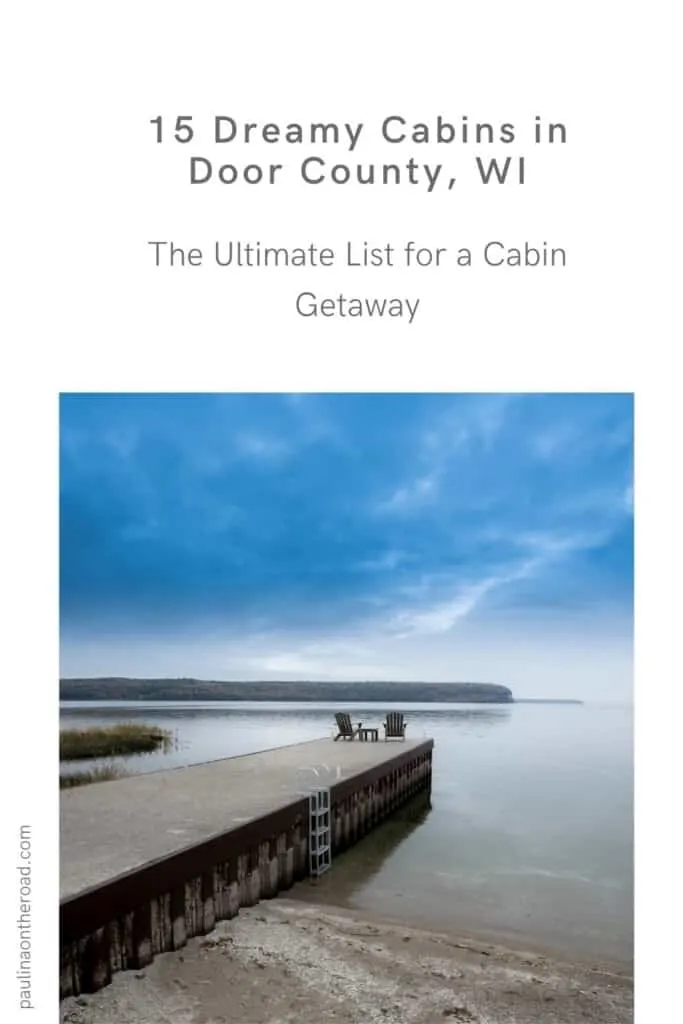 ---
Hola! I am Paulina, a fervent travelette who crossed the Atlantic Ocean by Boat HitchHiking. On my blog, you'll find all the tips to make the most of your holiday. Get ready to enjoy outdoor and sustainable travel like hiking, cycling or sailing. Let's hit the road together!