A guide on the best Wisconsin cabins with hot tubs for for Families, Couples, and kids.
Spending your vacation in Wisconsin is always a great idea owing to its splendid nature, outdoor activities and brilliant accommodations.
If you are looking for an idyllic place to unwind, Wisconsin cabins with hot tubs are a perfect choice.
Whether you visit for a romantic holiday or a family vacation, these cabins will let you relax and rejuvenate.
A relaxing soak in the hot tub with my loved ones always reconnects and strengthens our bond. I cherish the thoughtful conversations and the happy memories that are created by sharing a hot tub.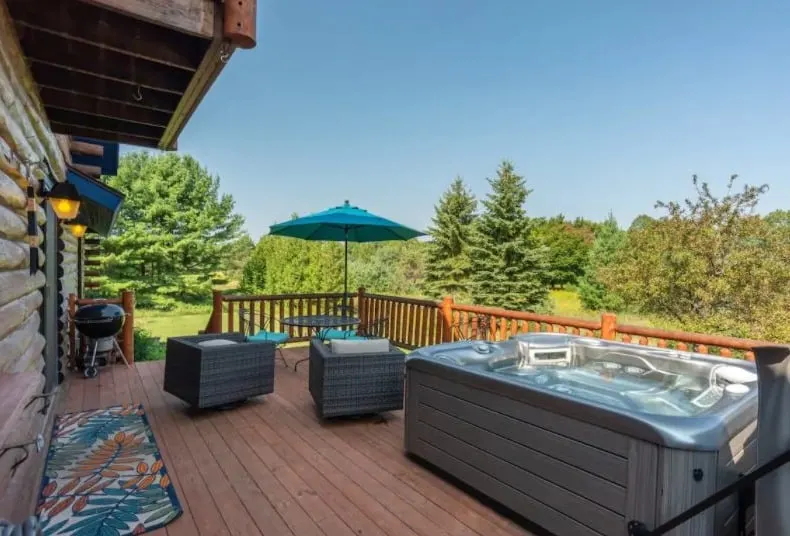 This blog is supported by you, dear reader. If you purchase through a link, I earn a small commission. As an Amazon Affiliate, I earn from qualifying purchases.
Top resources to travel Wisconsin
✎ Plan the ultimate Wisconsin road trip (no backtracking!) with the Perfect Wisconsin Road Trip itinerary – Buy now for less than 12$

✈ Find the best hotel deals in Wisconsin with Trivago

➳ Book vacation rentals in Wisconsin with VRBO

✔ Book tours in Wisconsin with Viator

☘ Get the best discounted outdoor gear (outlet) at REI.com

$ Get Wisconsin hiking guides and maps at REI.com

✎ Never leave without travel insurance. I get mine at SafetyWing. It is easy to set up, cheap, and reliable.
Overview: The Top 5 Wisconsin Cabins with Hot Tubs
Big R's Retreat in the hill road is one of the most gorgeous secluded cabins in Wisconsin. This rustic 2-bedroom cabin is located just a few miles from White Mount State Park.
It's perfect for a small family of 4 members who seek to enjoy a peaceful and cozy vacation.
This cabin features high-tech amenities like a Bluetooth sound system and keypad check-in service. There is also a dedicated workspace, gas fireplace, a hot tub, and a full kitchen with a bar.
You can also enjoy hunting and fishing nearby which is one of the most fun things to do in Wisconsin Dells.
The lakefront log home is nestled on 5.7 acres of wooded area near the Chequamegon National Forest. It is just a short drive from the most iconic waterfalls in Northern Wisconsin like the Potato River Falls and Copper Falls.
With 3 bedrooms, a fully furnished kitchen, a gas fireplace, and a wrap-around deck, it allows a memorable stay for 8 members.
This home is equally admired by guests who prefer a quiet vacation, and also those who love outdoor adventures.
You can indulge in activities like boating, hiking, fishing, and snowshoeing just outside this lakefront property. You'll even find some of the best snowmobile trails in Wisconsin nearby!
The lake views, the sublime interiors, and the amenities like a hot tub make it one of the most sought-after resorts in Northern Wisconsin.
A beautiful home in Wild Rose Lasting Memories Lodge overlooks Kusel Lake, and promises what its name suggests.
With 6 bedrooms, a large dining and a great living room, it is one of the most spacious log cabin rentals in Wisconsin. It can accommodate up to 24 guests and is perfect for large gatherings, reunions, and celebrations.
While at this gorgeous lodge, you can make use of the fabulously-equipped kitchen to cook a feast for everyone. The entire family can play some interesting games on the screened-in porch and yard.
On the lake, you can enjoy activities like swimming, kayaking, canoeing, and paddle boarding. The fire pit, the hot tub, and the pier that offers breath-taking views ensure that the time spent outdoors is equally wonderful.
Inspire your next getaway with great ideas on water park adventures, cultural experiences, and city escapes!
4. Best Cabin with Hot Tub in Southern Wisconsin – The Ready Cabin (Delavan)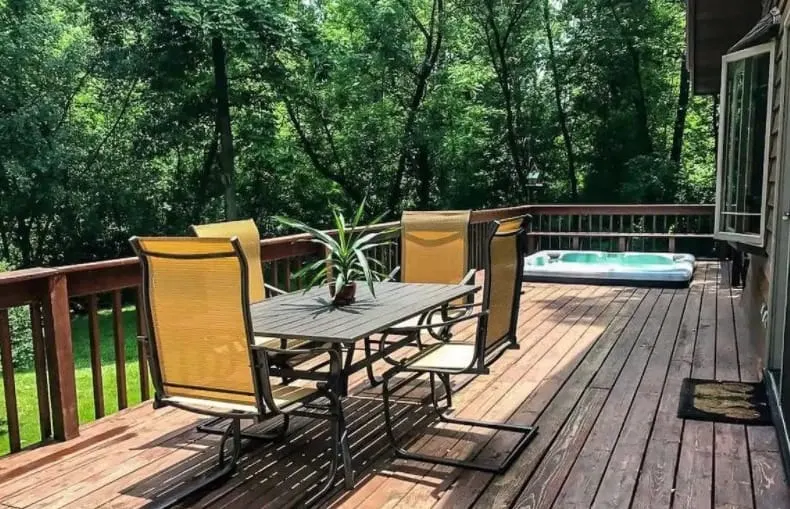 If you are looking for cabins with hot tubs in Southern Wisconsin, Delavan has got a great option for you. The Ready Cabin is a bright, beautiful, and cozy home with 2-bedrooms that can accommodate up to 7 guests.
The stone-stacked fireplace and hand-crafted log furniture make this hot tub cabin one of the most beautiful Wisconsin cabins for rent.

It has a well-stocked kitchen, a loft area, and an amazing stock of games and movies. The fire pit in the yard and the hot tub make this cabin rank among the best winter cabins in Wisconsin.
5. Best Pet-Friendly Cabin with Hot Tub – Castle Rock Cottage
Located on 3 acres near Castle Rock Lake, this Airbnb rental is for those looking for unique Wisconsin vacation ideas. One of the most fun things to do at Christmas in Wisconsin is to host a large get-together with family and friends.
This property is a perfect venue for that as it has 2 bedrooms and can accommodate up to 12 guests.
This comfortably furnished cabin has a well-equipped kitchen and has got something for guests of all age groups.
Hot tub, swings, many indoor/ outdoor games, and 2 campfire pits are a few examples. You can also enjoy snowmobiling nearby which is one of the best things to do in Door County.
6. Best Door County Cabin with Hot Tub – Green Apple Lodge (Egg Harbor)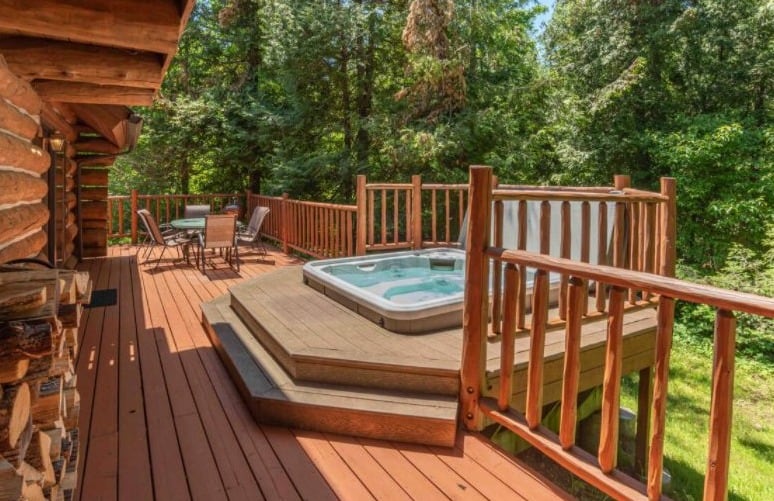 The list of best Wisconsin cabins with hot tubs would be incomplete without the Green Apple Lodge.
Nestled in the woods near Egg Harbour, this cabin is popular for its therapeutic hot tub in the back deck, and perfect for visiting Door County in winter.
It has 3-bedrooms, a large kitchen, a loft area, and many relaxing spaces, ideal for a stay of up to 8 guests.
The home is decorated with barn boards and distressed pine furniture which creates a cozy and inviting ambiance. The living room with a natural stone fireplace takes the beauty of this cabin to the next level.
One of the most gorgeous fall activities in Wisconsin, USA is to witness nature's show of color. You can treat your eyes to splendid fall views by taking a walk or a scenic drive from here.
Sturgeon Bay that plays host to many fall festivals in Wisconsin is also just 15 minutes from this cabin.
Set in a gorgeous setting near Little Chute, this stunning property features woodsy exteriors and homey interiors. With 5 bedrooms, a great room, a loft area, and a backyard with a lot of seating, this home is perfect for up to 12 guests.
It also boasts a large fire pit, vast terrace, and a hot tub.
The best feature of this home is its large windows that let in a lot of sunlight, and offer amazing views. You can choose among activities like kayaking, paddle boarding, swimming or fishing.
The kitchen is well stocked and even has an island with seating for up to 4. On top, you're extremely close to Green Bay and Oshkosh.
You'll find a lot of great things to do in Green Bay for couples or families, and equally fun things to do in Oshkosh, WI.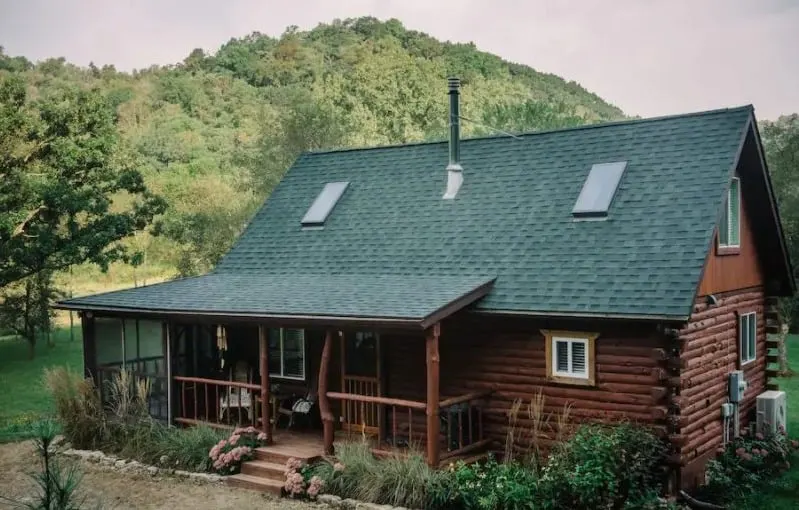 Amongst the most romantic cabins in Wisconsin, the Walnut Creek Cabin in the heart of the Driftless Area tops the list. This secluded cabin features a blend of rustic and modern design.
This scenic cabin has 2 bedrooms, a fully-equipped kitchen, comfortable furnishing, and all modern amenities for a relaxing stay of up to 6 guests.
The fire pit, a screened-in porch, an indoor gas fireplace, and a hot tub offering views of rolling hills make the stay worthwhile.
Furthermore, it is located close to the Mississippi River where you can witness scenic sunsets, and engage in various water sports.
A romantic walk with your partner amidst nature is an experience that should not be missed during your visit here.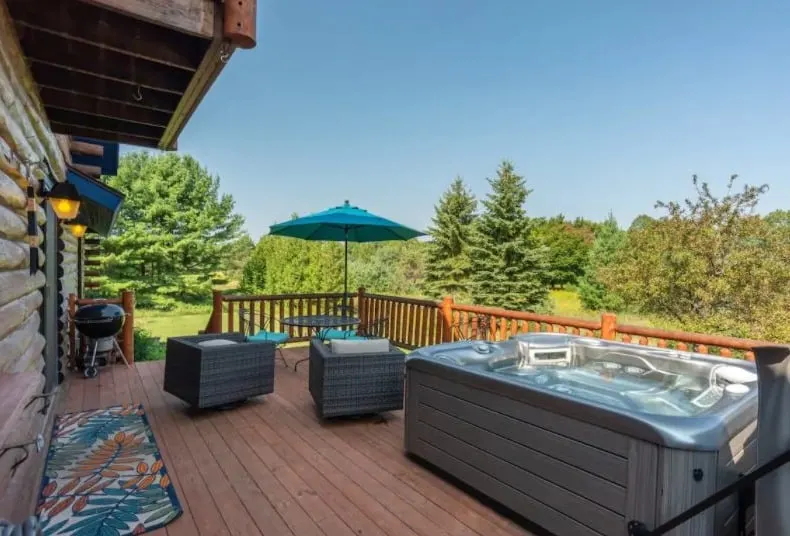 If you are looking for Wisconsin cabins with hot tubs for a family vacation, Serendipity Meadow is the perfect choice!
Located in Ellison Bay, this lovely home with 4 bedrooms, a porch, a family room, and a loft can accommodate up to 12 guests. The highlight of this home is its deck with a grill and a hot tub that's ideal for relaxation.
The antique quilts, modern wood furniture, and local art make it one of the best luxury Cabins in Wisconsin.
Guests also appreciate the kitchen that is well-stocked with everything for preparing a feast. You can also visit the nearby beach which is one of the best things to do in Northern Wisconsin.
For a respite from the busy city life, cottages with hot tubs are always a great choice. Set in 92 acres in Cochrane, the Living Water Cabin Getaway is one such brilliant destination to stay.
This cute little home with a spacious bedroom and a kitchen can accommodate up to 3 guests.
There is a pond within the property where you can enjoy fishing, swimming, and paddle boating. With 2 decks, a patio with a fire pit, and hiking trails closeby, you are sure to have a great time outdoors.
You can also roast marshmallows around the campfire or try your luck trout fishing on our stocked, on-site trout stream.
If you love staying in cozy cabins in Wisconsin, the Cabin in the Woods is going to be your new favorite.
Located in New Lisbon, this tranquil cabin lets you witness nature at its best. Just outside the cabin, you can enjoy the fall colors which is one of the best things to do in Wisconsin in October.
The cabin with 3 bedrooms, a fire pit area, a loft area, and a full kitchen can accommodate up to 10 guests. Out of all the brilliant amenities here, it's the charcoal grill and a 6' hot tub that steal the show.
If you are looking for peaceful Wisconsin cabins with hot tubs, book your stay here and you won't be disappointed!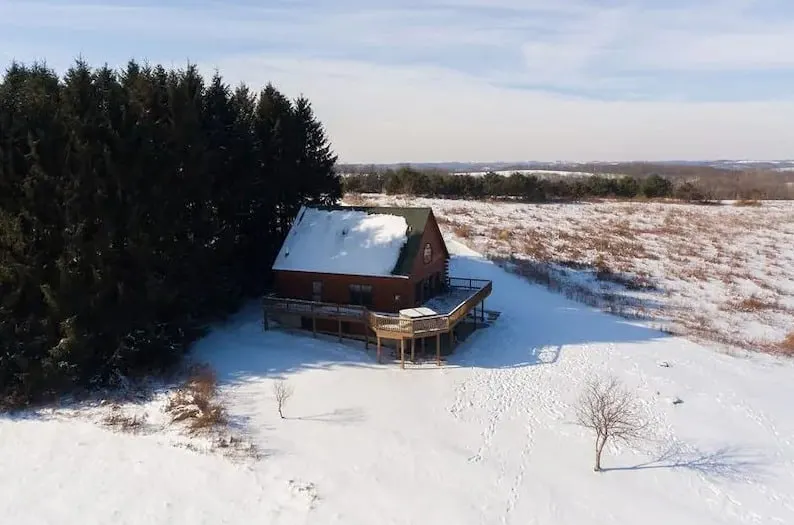 The Pines Cabin in the upper Mississippi bluff country is an idyllic destination to escape the hustle of city life.
Equipped with best-in-class amenities, it also offers gorgeous views of the wooded countryside. It is perfect for weekend trips in Wisconsin as you can experience activities like snowshoeing, hiking the woods, and cross-country skiing nearby.
This cabin has 3 bedrooms, a full kitchen, and a large deck for offering a delightful stay for up to 8 guests.
The elegant decor and furnishing create a warm and welcoming ambiance. It is also one of the most comfortable cabins with outdoor hot tubs in Wisconsin.
13. Best Hot Tub Cabin in Wisconsin Dells – Timber Lodge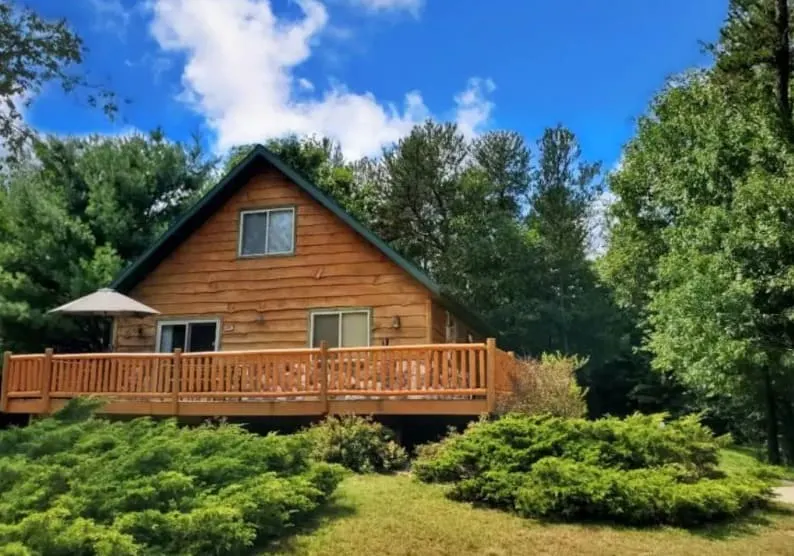 Located in Wisconsin Dells, Timber Lodge is a beautiful 6-bedroom home that exudes a real north woods vibe.
It is ideal for large gatherings of up to 16 guests who wish to spend a memorable vacation, making it one of the best Wisconsin Dells cabins with hot tubs.
Visiting the Noah's Ark is one of the best things to do in Wisconsin Dells, and it takes just 5 minutes from here.
This cabin has a spacious deck, an indoor fireplace, and an outdoor fire-pit where you can gather for some unforgettable conversation. You can also cook some delicious meals for your family in the well-equipped kitchen.
The games and Jacuzzi in the basement are what make this one of the best Airbnb's in Wisconsin Dells.
Lasting Memories is an amazing lakeside home on Kusel Lake that offers mesmerizing views and superior comfort. It is one of the best winter getaways in Wisconsin for large gatherings as it accommodates up to 24-guests.
The cabin has 6 bedrooms, a large kitchen with all amenities, a spacious dining area, and a well-furnished great room.
To let you create lasting memories outdoors, it has a hot tub, a private pier, and a beautiful yard with a fire pit.
You can also indulge in amazing lake activities like kayaking and paddle boarding here. It is one of the most pet-friendly cabins in Wisconsin, so you can take your furry friends along.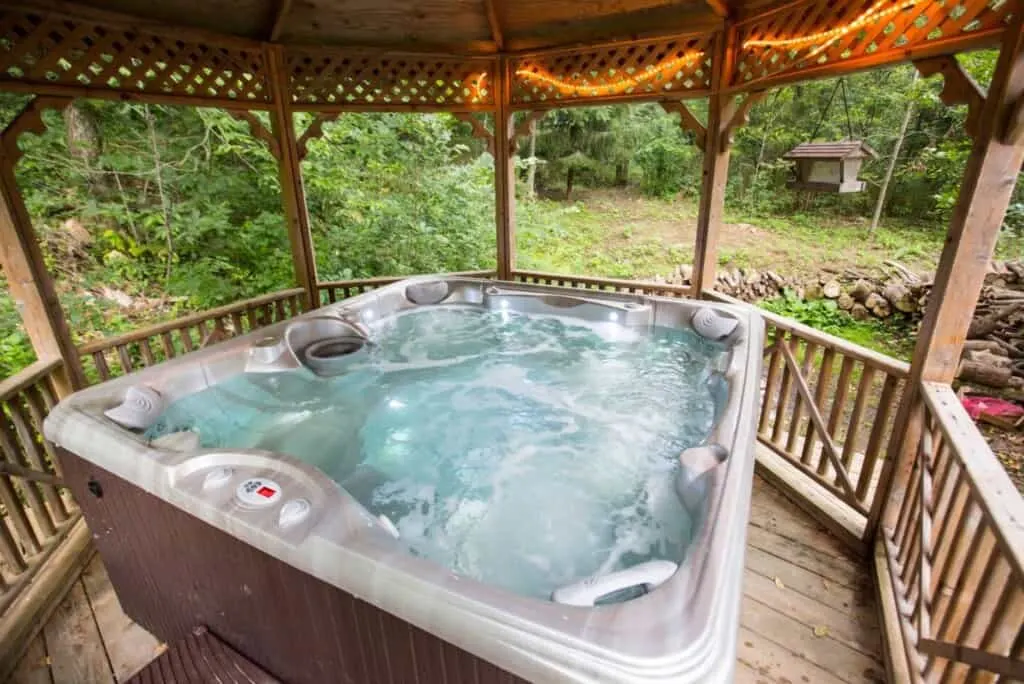 Your search for Wisconsin cabins with hot tubs that guarantees privacy and relaxation ends at the Secluded Log Cabin. This gem in the Driftless Area is perched at the base of a hill, just a few miles from the Mississippi River.
This cabin follows an open concept plan with a well-stocked kitchen, and has 3-bedrooms for up to 8 guests.
The best part about log cabins with private hot tubs is that you can take a revitalizing dip whenever you want to. It's thus perfect when looking for Wisconsin vacation rentals in the woods!
Since this cabin is surrounded by nature, the experience gets exceptional. It also allows gathering around the fire pit which is one of the best things to do in winter in Wisconsin.
---
Best Wisconsin Cabins with Hot Tubs: Map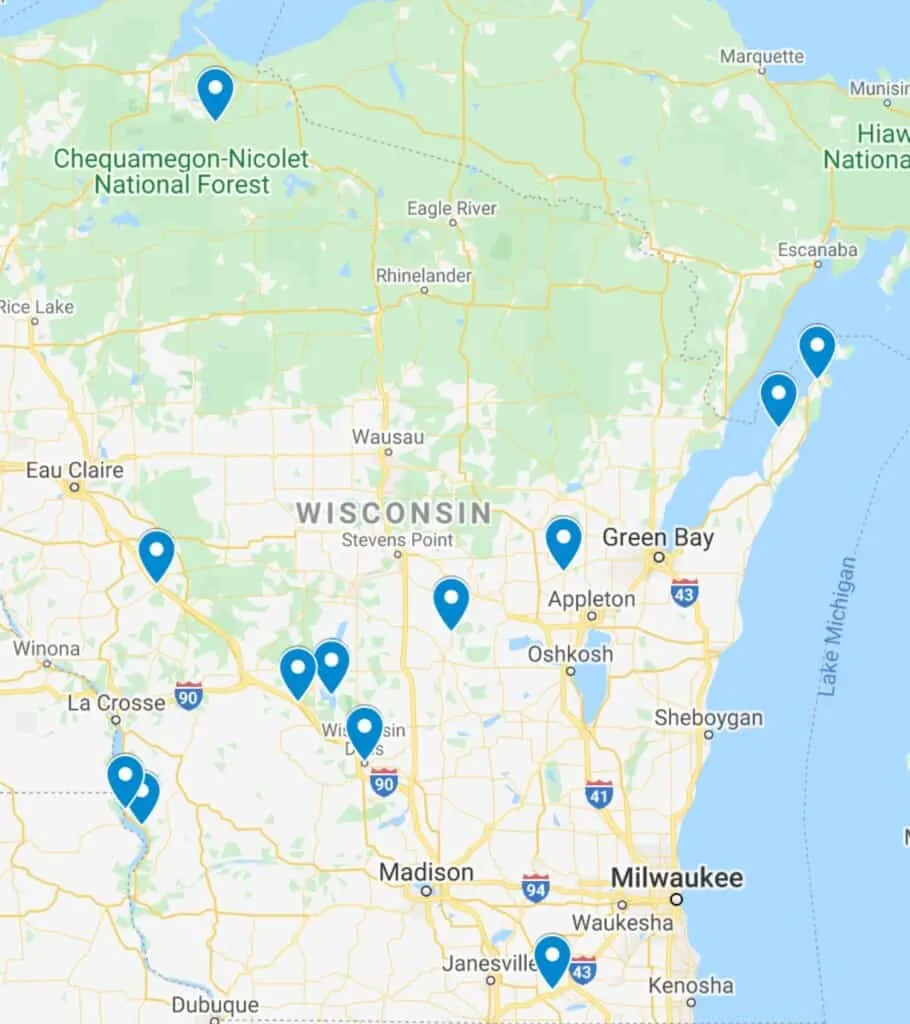 ---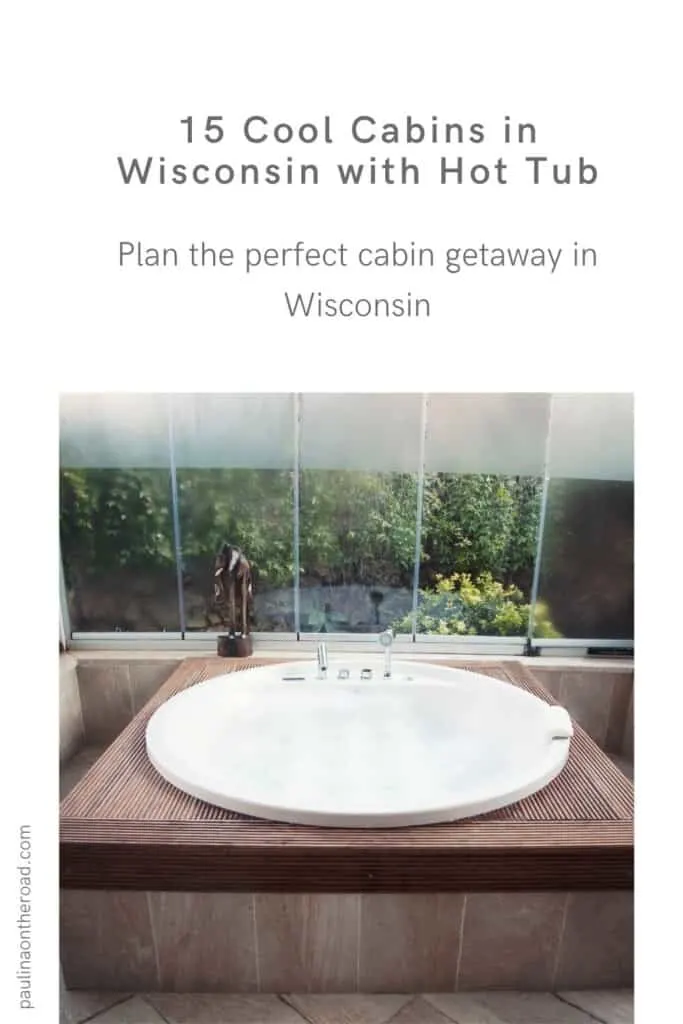 ---
Hola! I am Paulina, a fervent travelette who crossed the Atlantic Ocean by Boat HitchHiking. On my blog, you'll find all the tips to make the most of your holiday. Get ready to enjoy outdoor and sustainable travel like hiking, cycling or sailing. Let's hit the road together!