20 Cool Things to do in Wisconsin in October
A travel guide fora trip to Wisconsin in October incl. amazing fall festivals in Wisconsin
If you're looking to visit Wisconsin in October, you'll likely be surprised at the amount of different activities and attractions the state has to offer.
From breathtaking views of fall colors surrounding the many lakes, waterfalls and rivers, to unique harvest festivals and Halloween fun, there's no shortage of things to do in Wisconsin in October.
Avoid the summer crowds, and relish everything fall brings to Wisconsin!
Thanks to affiliate links, I pay my bills. If you make a purchase through them, I may receive a small commission (for which I'm deeply grateful) at no cost to you. All opinions are always mine. Merci!
Useful Travel Information for Wisconsin
✎ Plan the ultimate Wisconsin road trip (no backtracking!) with the Perfect Wisconsin Road Trip itinerary – Get it here

✈ Book cheap flights to Wisconsin with Skyscanner

✔ Book tours in Wisconsin with Viator

➳ Book holiday and vacation rentals in Wisconsin with VRBO

❖ Rent a car at the best rates with DiscoverCars

☘ Get the best discounted outdoor gear (outlet) at REI.com

$ Get Wisconsin hiking guides and maps at REI.com

✎ Never leave without travel insurance. I get mine at SafetyWing. It is easy to set up, cheap, and reliable.
1. Enjoy Wisconsin fall colors at their best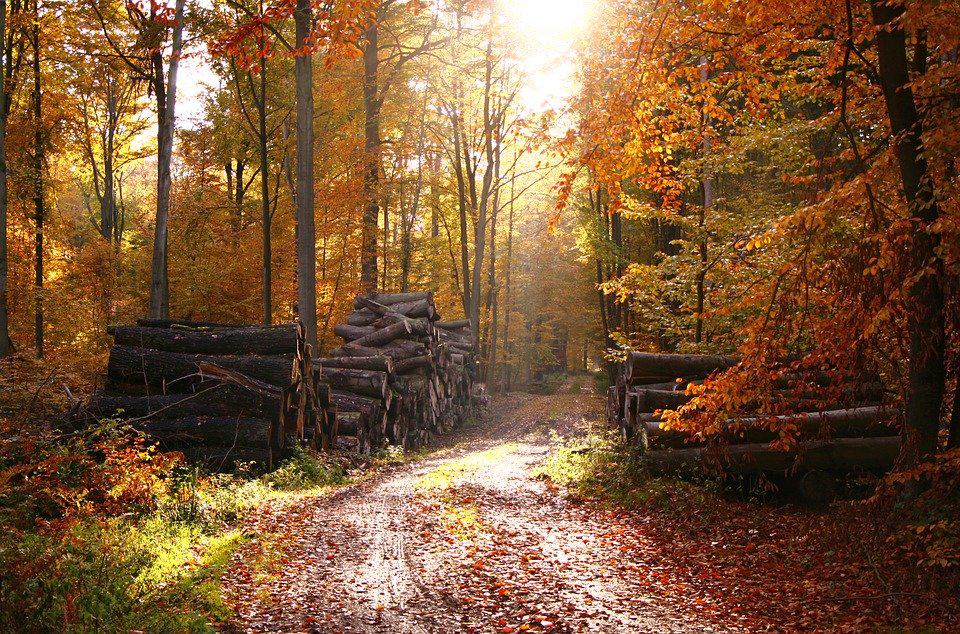 Home to over 17 million acres (almost 70 thousand square kilometres) of forests, Wisconsin is one of the best states in the U.S. to witness the arrival of fall in all its colorful glory.
To see Wisconsin's fall colors by car, consider taking the Marinette County Waterfall Tour. It's one of the top attractions of Wisconsin in October!
The loop, covering 125 miles, will take you through some of the states most beautiful woodland, complete with the opportunity to see 14 waterfalls along the way. Fall colors peak here in the third week of October.
For a more active adventure, hike one of Wisconsin's thousands of trails. The Seven Bridges Trail in Grant Park is considered one of the best choices.
Located just 10 miles south of Milwaukee, on the shore of Lake Michigan, the trail measures two miles in length.
The best time to visit Wisconsin to see the leaves turning red, orange, and yellow will depend on the specific area.
In general, foliage changes color in late September to early October in the northern regions of the state.
The southern reaches of Wisconsin are at their most colorful in mid- to late October. They are just perfect when looking for weekend trips in Wisconsin during October.
Helpfully, there is a fall color report available online where you can view updates on the current state of each county's foliage.
The best way to enjoy Wisconsin's fall colors is by a road trip with an RV. – Check RV rentals in Wisconsin here.
2. Stay in a sumptuous luxury cabin in Wisconsin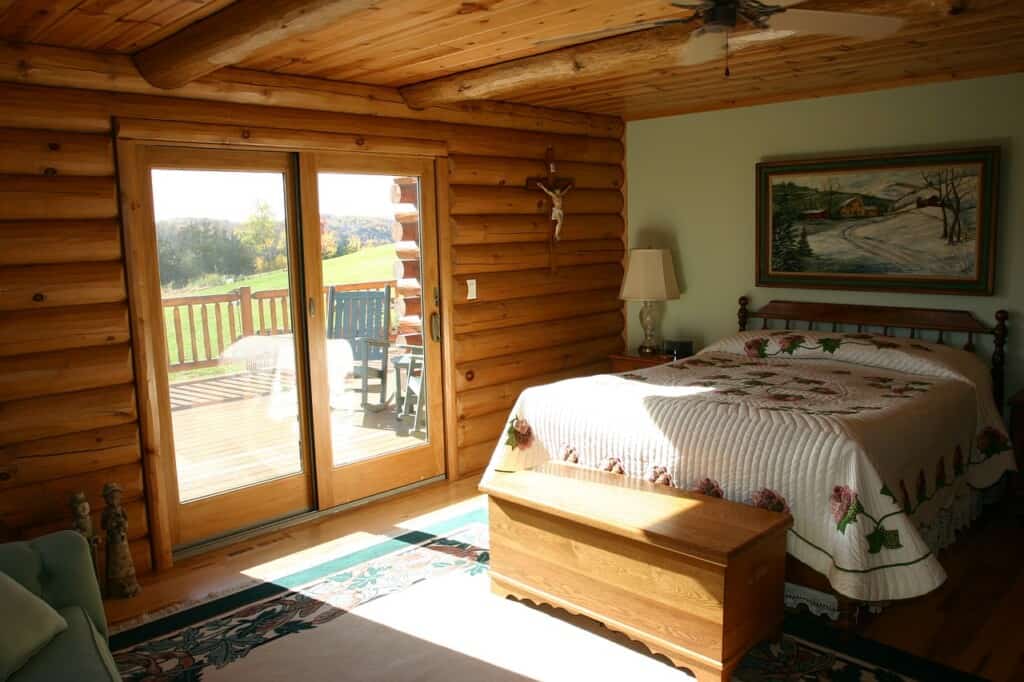 Mild weather, gorgeous fall foliage, and a hot chocolate by a warm, crackling fire; what more could you want? October is the perfect time for a peaceful getaway in one of the many luxury cabins in Wisconsin.
For beautiful views of Lake Superior, consider the Mission Springs Lake House in Ashland. – Check rates here
The close proximity of the Apostle Islands and Wisconsin's famous sea caves will ensure that there'll be no shortage of relaxing and memorable activities.
The Northwoods Paradise cabin in Eagle River offers an equally luxurious, but more remote experience with views of the Wisconsin River, complete with a picturesque deck. There are plenty of hiking opportunities in the area. – Check rates here
The Spacious Luxury Cabin with Deck and Dock on Bone Lake near the town of Luck in western Wisconsin is another great choice. The unassuming building boasts a luxurious interior and a perfect location to enjoy fall in Wisconsin. – Check rates here
Check the best cabins in Wisconsin
3. Attend a Wisconsin October festival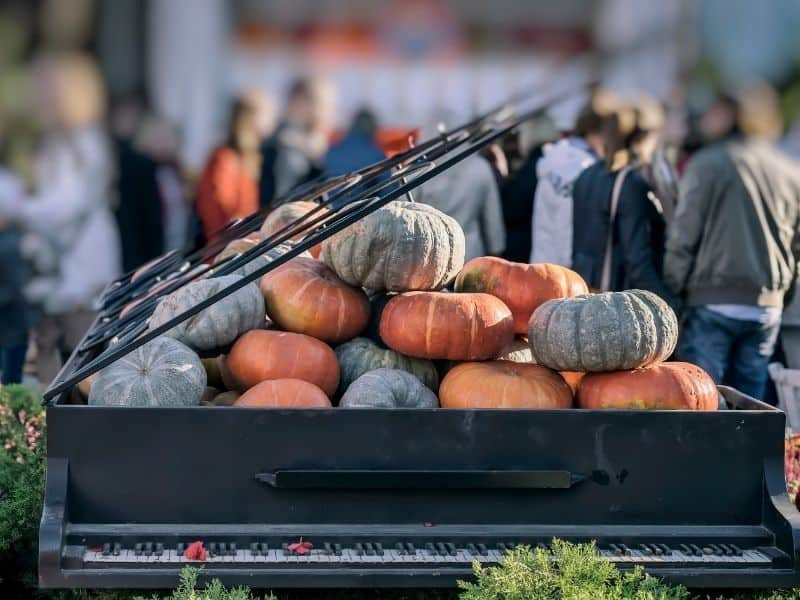 Wisconsin is home to dozens of rustic fall festivals, most of which take place in October.
You'll find plenty of classic fall celebrations, with live music, arts and crafts, lots of fun contests and activities, and locally produced food and drink. Some towns also hold "Oktoberfest-style" festivals with polka music and German beer.
The Madeline Island Fall Fest in La Pointe is one of the biggest October celebrations in Wisconsin, with lots of fun for the whole family, from pumpkin carving to learning how to make apple cider.
For a more unusual entry on the list of Wisconsin October festivals, attend one of Wisconsin's Halloween-themed celebrations, such as the Jack O'Lantern Days in Fish Creek, in the heart of famously stunning Door County. While you're in Fish Creek, be sure to check out Lautenbach's Orchard Country Market and Winery, one of the best wineries in Door County.
Fall festivals in Wisconsin are the perfect idea when looking for great Wisconsin vacation ideas in October. They make October in Wisconsin so much more fun!
4. Do an October getaway in a romantic cabin in Wisconsin
Once the tourist traffic dies down, the weather turns cooler, and the leaves turn red, Wisconsin becomes a wonderful place for a romantic Wisconsin fall getaway.
Even if it's just one weekend in October, renting a quaint cabin is a great way to make some wonderful memories.
There are many romantic cabins in Wisconsin to choose from.
Here a list with some of the most romantic cabins in Wisconsin in October:
For a remote yet easy to reach location, consider the shore of Lake Michigan in the Milwaukee area.
For a more active experience with memorable outdoor activities for the two of you, visit Green Bay or the Apostle Islands. There are plenty of things to do in the Apostle Islands, including hiking, cycling, and, weather permitting, kayaking opportunities.
If you are looking for a day trip from Milwaukee, Green Bay is just perfect! You can find many cool things to do in Green Bay like visiting the wildlife sanctuary, or taking a tour of Lambeau Field.
Check romantic lakefront cabins here
5. Do the Northwoods Zip Line in Minocqua
For an unforgettable, adrenaline-filled experience, head to the town of Minocqua in Oneida County and visit Northwoods Zip Line Adventures.
The adventure park features Wisconsin's longest zip line, with 13 lines suitable for participants of all ages.
The shimmering fall colors in the surrounding woods make October a perfect time to take part in this activity. The park, open all year, experiences lower traffic in fall.
While you're here, check out other attractions in Minocqua, known as "Island City", thanks to being surrounded by lakes.
As well as tons of fishing and boating opportunities, and a well-maintained water park, the town features plenty of other attractions.
Minocqua offers a museum, a wildlife park and nature center, biking and some of the best hiking trails of Wisconsin, and golf courses. There are also lots of interesting restaurants, including the famous Norwood Pines Supper Club offering authentic local cuisine.
6. Do a tour in a cranberry marsh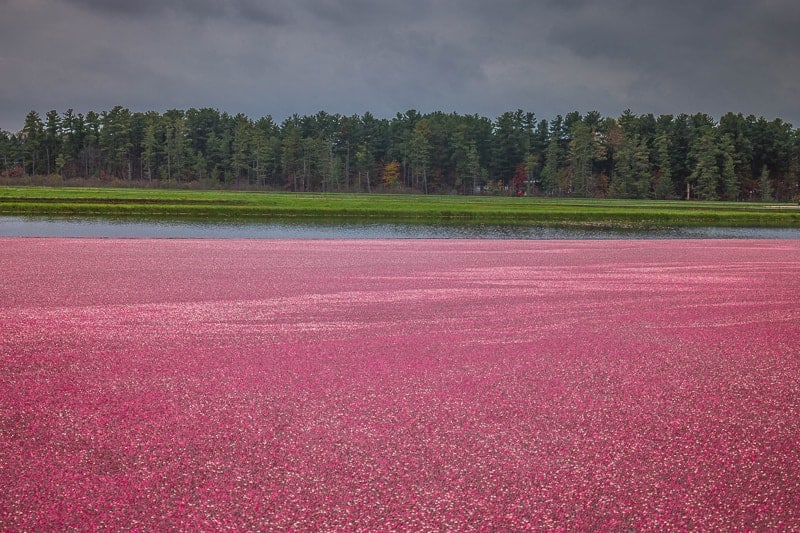 Not everyone knows that Wisconsin is the leading producer of cranberries in the U.S. Around 60% of all American cranberries grow here!
You can learn more about cranberry growing and harvesting by taking a cranberry marsh tour in one of the available locations in Wisconsin.
Cranberry marshes are a truly astonishing sight, forming a sea of bright red against the backdrop of the surrounding woodland.
The guided tours take you directly through the marshes, typically ending with a sampling of local cranberry-based delicacies.
Most of the tours are available only in October, as this is when cranberry harvest takes place.
The towns of Pittsville and Warrens are the main destinations for all things cranberry in central Wisconsin. While in Warrens, make sure to include a visit to the Cranberry Museum, one of the top things to do in Central Wisconsin.
In the northern region of the state, set your sights on Manitowish Waters and Eagle River.
7. Pick apples in the best Wisconsin apple orchards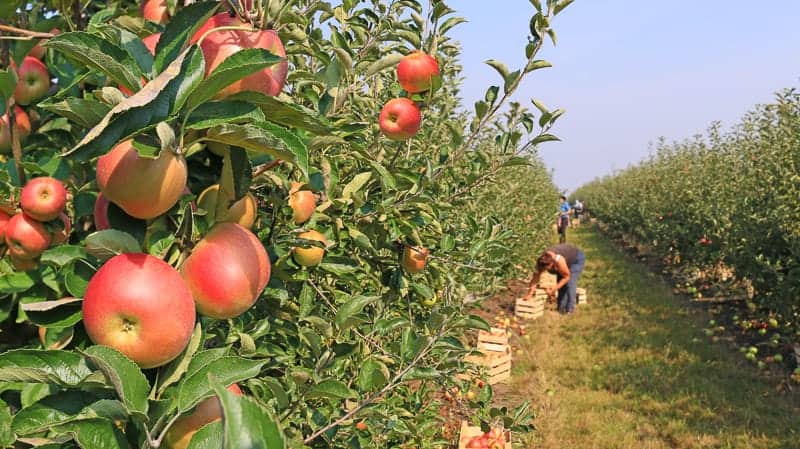 For many, nothing says "fall fun" better than a trip to an apple orchard. If you haven't yet had the chance to celebrate Wisconsin fall with a visit to an orchard, October's the perfect time to make it happen!
No vacation in Wisconsin will be complete without an orchard tour.
As well as picking your own apples, you can take part in other fun activities for the whole family, like hayrides or making your own cider.
There are tons of orchards in Wisconsin, so wherever you go, you're likely to be within driving distance of an orchard.
The Erickson Orchard and Country Store in Bayfield is well worth a recommendation, particularly if you visit during the Bayfield Apple Festival (first weekend of October), and not just because of their famous apple cider doughnuts.
It's also the perfect occasion to rent a rustic cabin in Bayfield, near the Apostle Islands. – Check reviews here
8. Enjoy Wisconsin Dells in October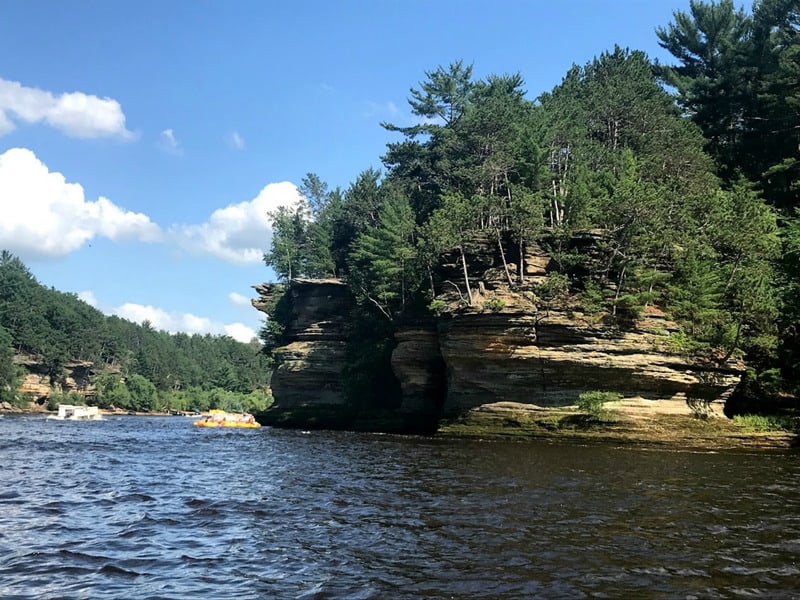 Famous for its unique glacial sandstone formations, Wisconsin Dells is a great destination for short getaways in Wisconsin any time of year. In October, you can enjoy the mild weather and fall colors without the usual summer crowds!
Hike in Devil's Lake State Park, get your adrenaline going on the BigFoot Zipline Tours, take a relaxing boat tour with stunning views of the cliffs, or travel along the bottom of sandstone gorges in a horse-drawn carriage at the Lost Canyon Tour.
The Haunted Tour in Wisconsin Dells is just perfect to get the Halloween feels! – Check reviews here
If you're a fan of Airbnb, check my guide on the best Airbnbs in Wisconsin Dells.
9. Marvel at the mass migration of Canada geese
Every fall, Canada geese embark on a 3,000-mile journey south, to spend the winter in the inland of the U.S. before returning to Canada again during spring.
As it happens, Wisconsin is one of the best places to observe the glorious spectacle of these birds' mass migration.
Horicon Marsh on the border of Dodge and Fond du Lac Counties is where many geese stop on their way to rest before continuing their journey.
Migration happens between mid-October and mid-November. Naturally, the birds don't fly all at once, so there's a large window of opportunity to see them.
Avid bird-watchers and amateurs alike will be astonished at the sight of hundreds of these birds flying in their signature "V" formation.
Helpfully, there is a visitor's center near the marsh, where you can get bird-watching tips and tourist information.
The nearby city of Fond du Lac on the southern shore of Lake Winnebago offers other points of interest, such as a lighthouse and a lakeside park.
Check cabins near Lake Winnebago
10. Celebrate Halloween in Wisconsin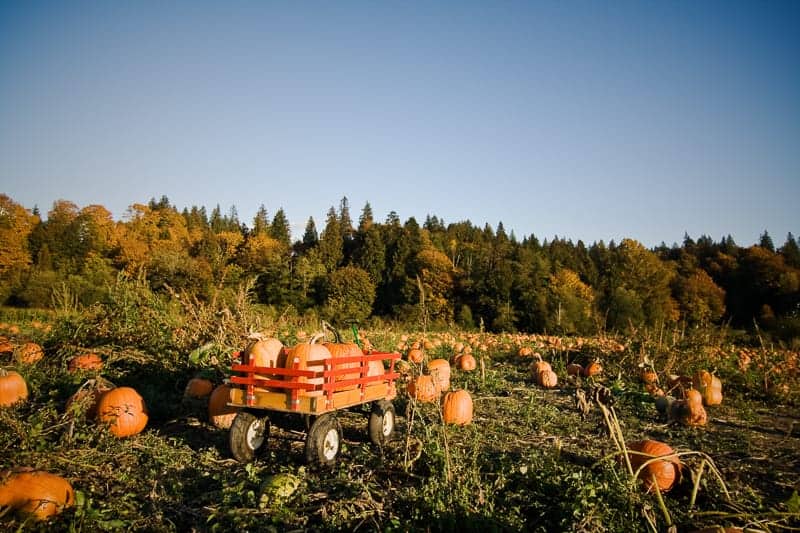 If October is synonymous with Halloween celebrations in your mind, Wisconsin is the place to be for a unique celebration of this unusual holiday.
Haunted houses, pumpkin patches, ghost tours, and town-wide trick-or-treating are just some of the main attractions to look forward to!
Die-hard fright-fans can head to Appleton's Burial Chamber, the largest haunted house complex in the Midwest, with four full horror experiences on site.
A sister complex named Abandoned is located near the town of Racine, and also features a total of four terrifying Halloween experiences.
Halloween thrill-seekers over the age of 21 can't miss a night in Dead by Dawn, a unique B&B in Manitowoc.
This horror-themed "dead and breakfast" promises that guests won't get a good night's sleep as the haunted horror experience also takes place in your room at night!
For a family-friendly Halloween celebration in Wisconsin, head to Wisconsin Dells and visit the Ghost Outpost Haunted House, or take part in the Egg Harbor Jack O'Lantern Days. You can't miss either the legendary Haunted Tour in Wisconsin Dells! – Check reviews
11. Do a weekend getaway in a luxury resort
Although bustling agriculture and glacial terrain are the main characteristics of the state, there's no shortage of luxury resorts in Wisconsin to satisfy even the most demanding visitors.
October is the perfect time to do this. Not only are the summer crowds gone, but you also don't need to worry about the weather while you're relaxing in a heated pool!
Pamper yourself in the Lake Lawn Resort ***** in Delavan in southern Wisconsin, taking advantage of the on-site spa with massages and a steam room. The lakeside resort also offers boat rentals and a fine dining restaurant. – Check rates here
If you are in Delavan, don't miss out on the Fred Jones House And Gatehouse built by Frank Lloyd Wright.
If you're looking for luxurious resorts in Wisconsin, The Harborview ***** in Port Washington is a great choice as well. There's a wellness area and a hot tub available, as well as a fine dining restaurant. The resort is only a half-hour drive away from Milwaukee. – Check reviews here
12. Attend the Oktoberfest in Milwaukee
As it turns out, you don't need to travel to Munich to enjoy an authentic Oktoberfest.
With live polka music from local bands, folk dancing, and of course, authentic German food and beer, the annual festival held in Milwaukee is just as fun!
Taking place on the first weekend of October, the family-friendly festival also includes classic Oktoberfest contests like brat-eating competitions and Weiner dog races. No wonder that it's one of the best things to do in Milwaukee in October.
And while you're in Milwaukee, make sure you check out the city's unique Harley-Davidson Museum.
Related: Where to stay in Milwaukee
13. Stay in a resort in Northern Wisconsin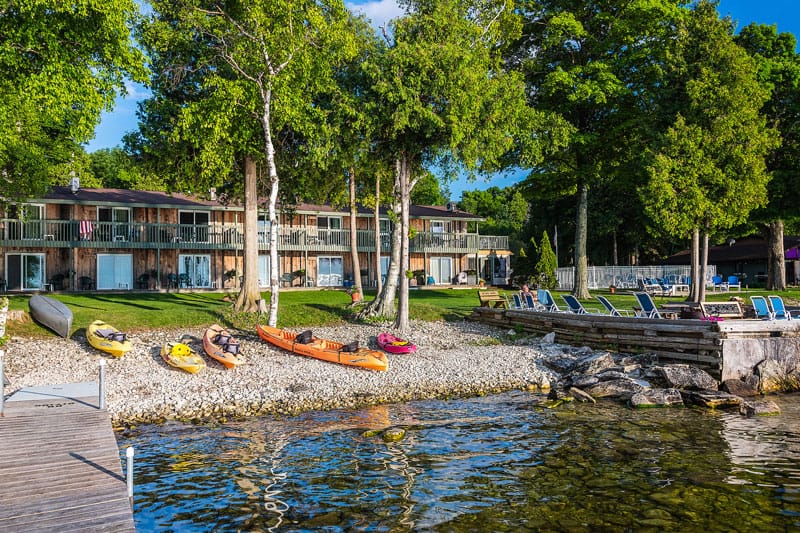 If the north side of the state is more up your alley, there are plenty of resorts in northern Wisconsin to choose from.
For instance, The Shallows Resort ***** in Egg Harbor is located in gorgeous Door County, with stunning views of Lake Michigan which is without any doubt one of the most famous lakes in Wisconsin.
Take a swim in the heated pool, play tennis, or simply take some time out for yourself and relax. For more active types, the resort also offers kayaks and boats for hire, and you can enjoy a spot of fishing right there on site. – Check rates here
If you love the great outdoors, why not go on a kayaking tour near the Apotle Islands! It's considered one of the best things to do in the Apostle Islands, and the area has plenty of great resorts.
Check cabins in North Wisconsin
14. Go lighthouse hopping in Door County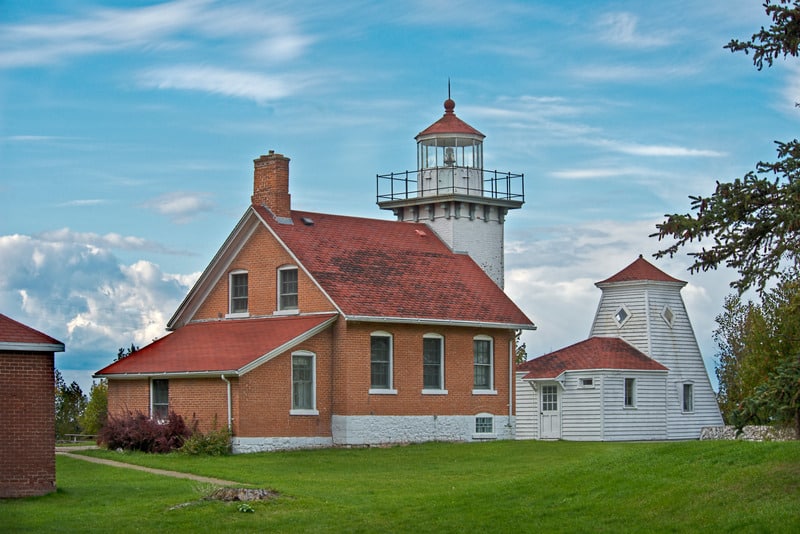 Despite its relatively small size, Door County boasts an impressive 11 historic lighthouses, the oldest of which, Pottawatomie Light, dates back to 1858.
As it happens, October plays host to the Fall Door County Lighthouse Festival which is an awesome fall activity to do in Wisconsin, during which a series of the land, boat, and adventure tours take place, giving visitors exclusive access to otherwise closed lighthouses.
This year, the festival will also include an airplane lighthouse tour, making it one of the most unique and exciting things to do in Door County.
If you happen to miss the festival (which usually takes place on the first weekend of October), don't worry; you can still take part in one of the regular tours.
For instance, the lighthouse tour operated by Door County Trolley is available throughout October. The guided, old-timey trolley trip is well worth booking and one of the best things to do in Door County.
To see the Door County's lighthouses, you can also take part in one of the Door County Boat Tours, featuring shipwrecks and caves.
15. Go hiking near the best waterfalls in northern Wisconsin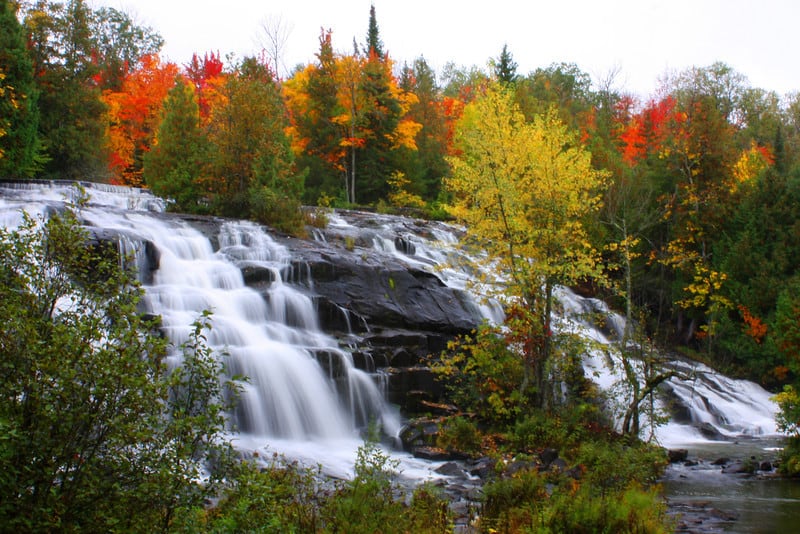 Hiking enthusiasts will be delighted to hear that northern Wisconsin offers literally hundreds of miles' worth of scenic trails.
To make your hike even more memorable and give yourself a goal, choose a trail that features one of the states' many impressive waterfalls. Waterfall tours are definitely one of the most memorable things to do in north Wisconsin.
To see the tallest waterfall in all of Wisconsin, head to Pattison State Park. This falls under the category of best state parks in Wisconsin you should visit in October.
The 4-mile loop trail along the Black River will guarantee the most scenic views of Big Manitou Falls which reaches the height of 165 feet! You can also see smaller waterfalls, such as Small Manitou, along the way.
Another worthy recommendation is Copper Falls State Park near the town of Mellen, featuring several waterfalls including Copper Falls and Brownstone.
Considered to be one of the most scenic parks in Wisconsin, this area is even more beautiful in October, with the blazing red of the foliage standing out sharply against the bustling water of the Bad River.
Check cabins in North Wisconsin
16. Celebrate the Green Bay Packers by making a visit to Titletown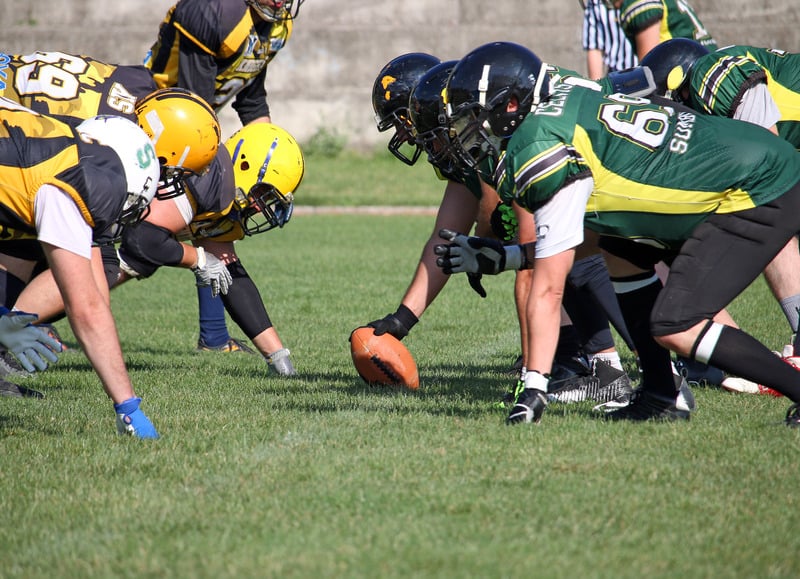 Titletown District is a must-visit for all Packers fans, but you don't have to be a football enthusiast to have a blast here.
The entertainment district was developed by the Green Bay Packers, and it features a football field, a large playground, plenty of shops, and tons of other fun activities for the whole family.
As you plan your visit, make sure you check out the event schedule on Titletown's website.
There are all sorts of activities to enjoy and skills to learn, including arts and crafts workshops, zumba classes, and line dancing. October sees much less traffic than the summer months, so you'll have more room for yourself!
The complex features a hotel, so you can easily stay on-site for a whole weekend out with the family. There are also several restaurants. Enjoy fine dining at the Taverne in the Sky or indulge in a snack board at the Leaps and Bounds.
The weather in Green Bay, Wisconsin in October is still mild, with few rainy days and daytime temperatures reaching around 50°F on average.
17. Go mountain biking in Wisconsin's colored woods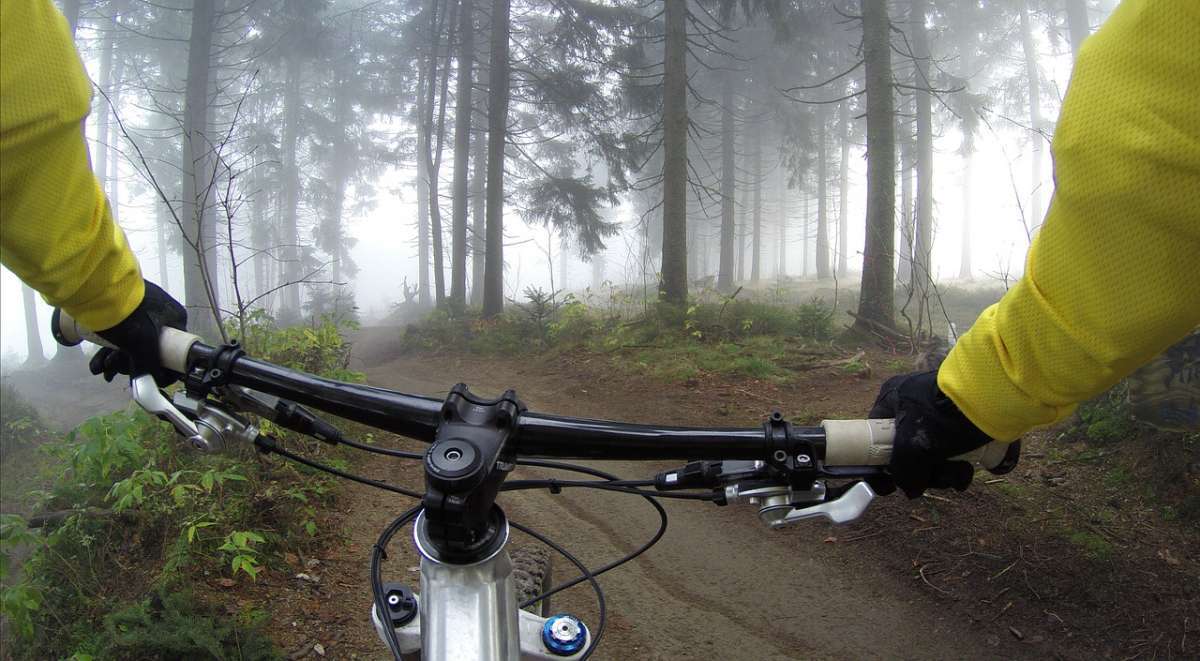 Much of Wisconsin features glacial terrain, with plenty of hills, ravines, lakes, and waterfalls. This makes it the ideal destination for mountain bikers, with miles of trails of all difficulties.
As the vast majority of biking trails are in the woods, October trips will be especially memorable thanks to the arrival of fall colors in Wisconsin.
For a real challenge, head to Namakagon in Bayfield County where you'll find a network of trails with the combined length of over 50 miles, including the notoriously challenging Rock Lake trail.
If you're looking for a more relaxed experience suitable also for kids, pick one of the converted rail corridor trails, all of which are wide and flat, usually featuring points of interest and attractions along the way.
For instance, the 50-mile Ahnapee State Park Trail in Door County features a zoo and a haunted mansion!
Related: Best Mountain Bike Trails in Wisconsin
18. Do an October getaway to Lake Geneva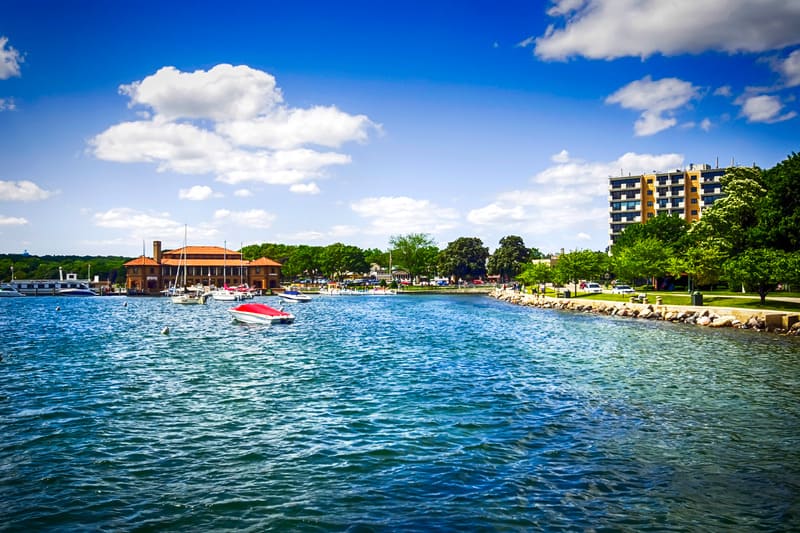 Lake Geneva is a city in southeastern Wisconsin, on the shore of, unsurprisingly, Lake Geneva.
The resort town, once a popular getaway for wealthy Chicagoans, is a picturesque location with all sorts of attractions for just about everyone.
For adventurous types, there are scooter tours and ziplines in the area. Meanwhile, one of the best things to do in Lake Geneva with kids is the Big Foot Recreation District.
Visitors looking for a more relaxed experience can enjoy a trip to the beach or a scenic cruise.
Particularly if you visit near the end of October, you may be interested in the Lake Geneva Ghost Walks to spruce up your Halloween fun, a guided walking tour of the most haunted spots in the city.
October is also the perfect time to enjoy a trip to the local orchard, Elegant Farmer, and take advantage of the Autumn Harvest Fest. Just perfect when looking for Wisconsin fall getaways!
If you're wondering where to stay in Lake Geneva, consider the Mill Creek Hotel **** in the center of town or The Cove of Lake Geneva ***, just a few minutes' walk away from the lake's beach.
The Geneva Wells Motel ** is a great option when looking for budget hotels in Lake Geneva, WI. – Check rates here
Read more about where to stay in Lake Geneva here.
19. Do a foodie getaway and enjoy the tastes of Wisconsin
The 19th-century Germanic influence on the Wisconsin region lives on in the state's traditional delicacies. Beer, cheese, and bratwurst are all key parts of the local cuisine.
If you're curious to experience authentic Wisconsin dining, take one of the many food tours available in the state.
For instance, the Milwaukee Secret Food Tours will take you on a three-hour walk, during which you'll get to sample cheese curds, traditional Wisconsin fish fry, and locally produced sausages, among other local foods.
20. Go on a football weekend in Madison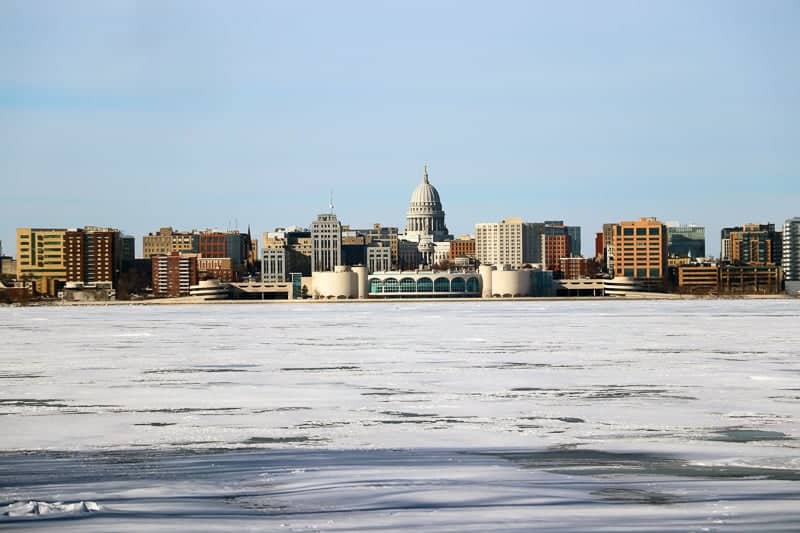 October is the peak season for the NFL, and one of the best months for football enthusiasts to visit Madison, home to the Wisconsin Badgers.
The city's Camp Randall Stadium holds a game practically every Saturday, so any weekend in October is sure to deliver plenty of sport-fueled adrenaline!
Since Madison is the capital of Wisconsin, you can find lots of other attractions without having to leave the city. With plenty of museums, a zoo, and botanical gardens, there's no reason not to bring the whole family.
Make sure you complete your football fun with some hearty Wisconsin food. Joining one of Madison Eats Food Tours will help to ensure you don't miss a single dish! – Check tours here
The guided food tour will take you to Madison's best restaurants, where you can sample local delicacies. It's the best way to spend a cozy October in Wisconsin.
---
Short FAQ about best things to do in Wisconsin in October
What are fun things to do in Wisconsin in October?
Attend the Oktoberfest in Milwaukee, go lighthouse hopping in Door County and hiking are fun things to do in Wisconsin in October.
What are things to do in Wisconsin Dells in October?
Hike in Devil's Lake State Park, get your adrenaline going on the BigFoot Zipline Tours, and take a relaxing boat tour with stunning views of the cliffs are things to do in Wisconsin Dells in October.
What are things to do in northern Wisconsin in October?
Enjoy you stay in a resort take a swim in the heated pool, and play tennis are things to do in northern Wisconsin in October.
---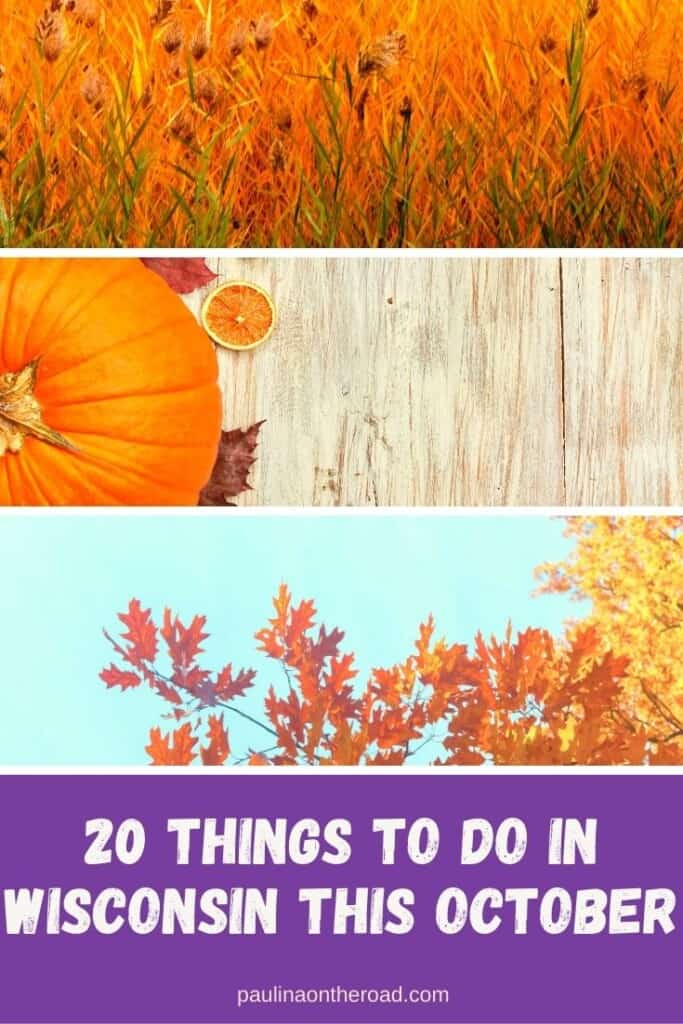 ---