20 Best National Park Coffee Table Books
The United States has loads of incredible places, fun cities, and cultures to explore.
However, few places stir wonder for the natural world quite like the National Parks in the US.
From majestic peaks to endless deserts, national parks landscapes have inspired writers to advocate for their protection and photographers to capture the view to create stunning pictures.
These travel coffee table books show that very beauty!
The centerpieces of any outdoor adventure traveler's living room, coffee table books are filled with in-depth information.
And in the case of these National Park Coffee Table books, they contain several stunning pictures and information that take you on a journey to the wonderland.
However, to properly plan a national park trip, you need a good national park guide book.
The wealth of information found in travel coffee table books makes them fantastic planning resources and the best gifts for outdoorsy people.
And, of course, they are also make ideal gifts for national park lovers in your life.
Here, I have curated a list of my favorite national park coffee table books that make for the perfect national park inspired gifts for those park lovers in your life.
If I have missed any national park coffee table book, do let me know in the comments.
This blog is supported by you, dear reader. If you purchase through a link, I earn a small commission. As an Amazon Affiliate, I earn from qualifying purchases.
Overview: Beautiful National Park Coffee Table Books
The companion book to the legendary 12-hour PBS series, The National Parks: America's Best Idea is an immersive and beautifully illustrated coffee table book that dives into the history of the national parks.
From the first time that settlers explored that amazing sites that later on would become National Parks, to the creation of the world's first national park to splendors of the individual parks, and much more, this glorious national park coffee table book covers it all.
This also makes it a great travel coffee table book to gift to your outdoor enthusiast friends or display in your living room.
Dimensions: 9.65 x 1.25 x 11.17 inches
Having won various national and international book awards, Treasured Lands is one of the best coffee table books to own. It is brimming with more than 600 breathtaking photos from canyons and deserts to glaciers and reefs.
QT Luong, America's greatest large-format national park photographer captures the majesty and unique beauty of the nation's preserved habitats into a collection of a scenic masterpiece.
This book pays tribute to millions of acres of protected wilderness and historical heritage to all 62 national parks in the US, including the three designated.
This photography coffee table book is a must-have, as well as a great gift for your national park lover friend.
Dimensions: 12.5 x 2 x 10 inches
Whether you are looking for long-distance treks, short day trips out of town, or an extended weekend escapade, Wanderlust USA will spoil you with inspiration. It is a book that serves as a blueprint for adventurous people in search of new trails.
From the depths of the Grand Canyon to the slopes of Denali, this travel coffee table book takes you to the trailhead of 30 unforgettable hikes.
This book offers expert advice, overview maps, spectacular photography, and a section highlighting 20 additional trails from around the country, making it an ultimate guide to the Great American Hike.
Dimensions: 8.86 x 1.26 x 11.42 inches
National parks are the greatest national treasures and some of the most beautiful natural resources in the US. They are timeless, opening a door into another era.
This national parks book gives you a photographic tour of 59 US national parks, and briefly describes each park with its flora and fauna. The pictures are captivating and so surreal that they make you wish to visit all the locations.
I love this handy national park coffee table photo book as it is a great resource to know some more about US national parks, and is also a perfect outdoor gifts for women.
Dimensions: 8.5 x 8.5 x 0.31 inches
59 Illustrated National Parks is an award-winning coffee table book created to honor the 100th anniversary of the National Park Service. This beautifully designed book takes a different approach than many nature-themed coffee table books.
It features dozens of works by several 20th-century artists who captured the beauty of America's natural landscapes in stylized form. This national park coffee table book also features 12 oil paintings, a map of the USA, travel tips, and interesting facts about national parks.
This must-have book for National Park lovers is a sublime union of the art and the natural world making it a timeless keepsake.
Dimensions: 9.1 x 0.7 x 12 inches
A beautiful gift to keep or give, The National Parks: An Illustrated History offers an incredible tour of America's natural treasures.
This national park coffee table book is a lavish celebration of the 100th anniversary of the National Park Service showcasing the best of National Geographic's photographs combined with their history.
It makes a great travel coffee table book to give to outdoor enthusiasts and nature photographers.
Dimensions: 9.5 x 1.25 x 11.15 inches
I have hiked many trails of the PCT, and let me tell you that they are lovely.
But don't take it from me! Instead, flip through the pages of The Pacific Crest Trail: Exploring America's Wilderness Trail, a coffee table book filled with awe-inspiring pictures of the West Coast's most iconic hiking trails.
Along with all the gorgeous 250 contemporary images, this book also features great information about the trail, the natural history of the region, maps, and much more.
Dimensions: 10.4 x 1 x 10.4 inches
Author: Cam Honan
Wanderlust: A Hiker's Companion from the Wanderlust USA coffee table book publishers demonstrates some of the most beautiful and awe-inspiring trails around the world.
From the spectacular Spain's El Caminito del Rey to the Zion National Park's Canyon Trail to Machu Picchu off the beaten path trail, this travel coffee table book is perfect for trail lovers and nature photographers.
With easy to follow maps, practical tips, and inspiring photographs, I bet you will be getting your hiking boots on before you turn the last page!
Dimensions: 9.75 x 1.1 x 12.13 inches
The Great Smoky Mountains: A Photographic Journey is a beautiful national park coffee table book that tells you the wonder and beauty of the park, with an engaging historical narrative.
This is a one-of-a-kind national park guide book depicting each section of a park with full-page wildlife and scenic photography, essential travel tips and trail tours, illustrated park map, former ranger quotes, and historical photos.
Keep it or offer it to your travel enthusiastic friends.
Dimensions: 9 x 12 inches
Glacier Unforgettable is a wonderful national park coffee table book that enables you to experience the Glacier National Park's massive knife-edge peaks, splendid waterfalls, and lush wildflower valleys.
The renowned landscape photographer Chuck Haney, with his 136 stunning photographs, takes you on a journey through the rugged, storied landscape of the "Crown of the Continent".
It is one of the best travel coffee table books on the market to see incredible photographs, and makes a great gift for kids and adults alike.
Dimensions: 10.83 x 0.65 x 12.17 inches
Yellowstone: A Land of Wild and Wonder is a stunning collection of contemporary photos revealing the beauty and diversity of Yellowstone National Park.
Believe me, this national park coffee table book is so wonderful and inspiring that it takes you right away on a remarkable journey of discovery. Straight from your couch or where you happen to be reading from.
This coffee table photo book features dramatic landscapes and mesmerizing geyser photos to intimate wildlife portraits inspiring a new sense of wonder for Yellowstone's timeless majesty.
Dimensions: 10.2 x 10.8 inches with dust jacket
To celebrate 100 years of America's wonderful national parks, Lonely Planet's National Parks of America takes you on a lovely and informative tour of the 59 national parks in the USA.
This lavishly finished hardcover gift national park guide book is packed with detailed itineraries and tips on what to do and see in each park.
The book is full of timeless marvels, spectacular landscape photography, wildlife illustrations, and highlights the best activities and trails to help you plan your next adventure.
Dimensions: 8.19 x 10.56 x 1.13 inches
Combining awesome photos, useful planning information, itineraries, some of the best insider recommendations, and facts and tips of all the 59 US national parks, Roaming America will set your wanderlust into overdrive.
For nature and travel enthusiasts, this national parks coffee table book is a stunning and ultimate practical guide to embark on an epic road trip.
Dimensions: 8.48 x 1.41 x 11.07 inches
Home to exquisite rock formations and majestic stone arches, Utah's national parks evoke a sense of awe. With the national park coffee table book, Utah's Greatest Wonders discover the beauty of five national parks from the comfort of your living room.
Filled with the stunning collection of extraordinary landscape photographs, the book educates you about the area's history and early inhabitants.
If you are itching for a quick armchair journey to the desert, this travel coffee table book is well worth your time.
Dimensions: 10.2 x 0.6 x 8.1 inches
National Geographic: Atlas of the National Parks showcases America's spectacular park system from coast to coast with richly illustrated, inspiring, and informative collection of maps, graphics, and fabulous photographs.
This national parks coffee table book tells the stories of America's 61 national parks through striking imagery and fascinating history.
This book can contemplate to your national park bucket list book to plan your next adventurous national park trip
Dimensions: 10.6 x 13.5 x 1.4 inches
If you are looking for a book to add a pop of color and personality to your home décor, Glacier: A Decorative Book is what you need.
This book is a simple yet sophisticated way to make a statement and highlight your tastes and interests. Stack 3 to 5 books to add visual interest to your space.
This national park book series is perfect for display on coffee tables, bookshelves, dorm rooms, and night tables. The book also makes a perfect housewarming or Christmas gift for outdoor lovers.
Dimensions: 8 x 10 x 0.68 inches
America the Beautiful: A Story in Photographs will make you fall in love with the USA all over again.
Showcasing the stunning places with more than 250 photos of all 50 states and 6 territories, this photography coffee table book is for people who have marveled at the beauty of the United States of America.
Additionally, the book features a foreword by best-selling historian Jill Lepore. It is profound and inspiring.
Dimensions: 10.25 x 1.25 x 10.25 inches
Winner of various book awards, Wild Light celebrates the magnificence of Rocky Mountain National Park through mesmerizing photographs.
This national park coffee table book is a stunning beauty that is a result of decades of exploring and photographing the unique wilderness by Erik.
When I flipped through the pages of this book, it captured my heart, making me feel at the mountains and you too have to get to experience that!
The images of the lofty mountains, wildflower meadows, streams, and glassy alpine lakes make you want to go there.
Dimensions: 11 x 12 inches
Joshua Tree: A Decorative Book is perfect for stacking on coffee tables and bookshelves. This decorative book adds a simple, yet sophisticated backdrop to your living room and personality to your home decor.
I have combined 3 books along with a black and white coffee table book, one on top and below, and placed a bowl over it.
This is just an idea to style your coffee table books. You can search the internet for more coffee table book ideas.
Dimensions: 8 x 0.68 x 10 inches
Millions of people travel to the northern Rockies just to catch the glimpse of the powerful grizzly bears, but only some are successful.
Grizzly: The Bears of Greater Yellowstone gives you glimpses of the grizzly bear's remarkable clan.
With an incomparable photographic portfolio and inspiring and harrowing story of Mother Grizzly 399 and her generations of offspring, you will be amazed to know how they live in the Rockies.
It is a perfect coffee table book to gift to your outdoorsy friends.
Dimensions: 13.5 x 1.05 x 10.83 inches
---
These are some of the best coffee table book ideas for you to display and they also make great gifts any time of the year.
I hope you like my collection of national park coffee table books and please do check my post about my favorite Beach coffee table books and surf coffee table books. They are great gifts for outdoorsy people or people who love outdoor adventure books.
Related:
---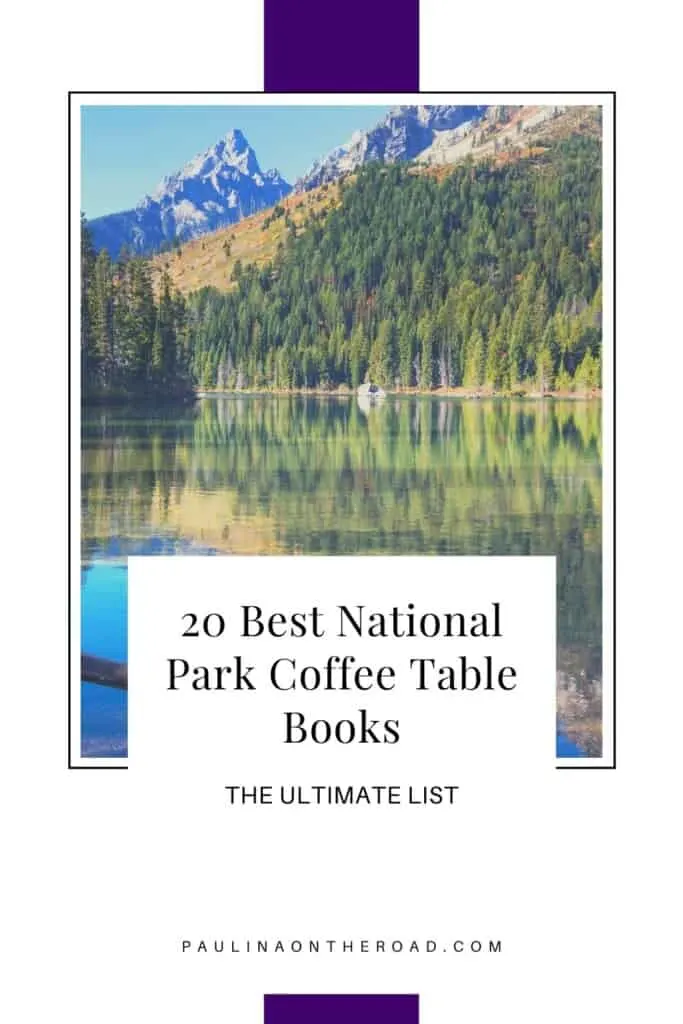 ---