20 Best Beach Coffee Table Books
No matter whether summer is around the corner or not. You're surely browsing the depths of Instagram for your next beach vacation.
However, there is something special about the old-fashioned way of finding new places for a getaway. Like flipping through beautiful beach photos in a beach coffee table book.
If like me you are an avid traveler who also loves decorating your home with reminders of travels, you might enjoy displaying some of the best travel coffee table books around your home. They also make perfect gifts for outdoorsy people to inspire their next beach vacation.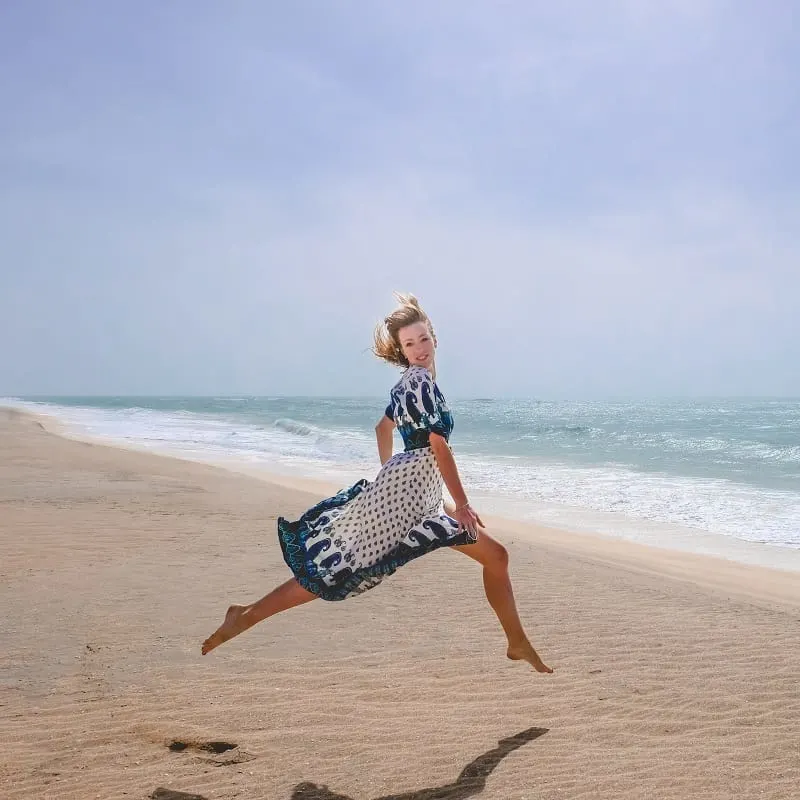 Here, I have rounded up my favorite best coffee table books that will ignite your mind and soul, and will make you want to get off the couch. Let me know about your favorite beach coffee table book in the comments!
This blog is supported by you, dear reader. If you purchase through a link, I earn a small commission. As an Amazon Affiliate, I earn from qualifying purchases.
Overview: Beautiful Beach Coffee Table Books
Gray Malin's awe-inspiring Beaches coffee table book is a 150 pages book adorned with photographic prints of pristine beaches around the world.
This New York Times bestseller coffee table book explains the synergy between wanderlust and adventure, creating an ultimate visual escape.
Featuring twenty cities across six continents, it is the best coffee table book that makes a beautiful accessory for your coffee table, or a gift idea for your beach lover friend.
Dimensions: 10.5 X 0.75 X 13.5 inches
After the success of his incredible beach photography in the book Beaches, Gray released his second art photography book, Escape. When I saw this book, I instantly fell in love.
This 144 pages book not only makes for the choicest piece of coffee table decor, but the astonishing images are absolute bliss.
Escape features conceptual photography of more than 22 destinations across 11 countries, highlighting the exuberant colors and striking forms making each location unique.
This photography coffee table book captures the spirit of dozens of unbelievable vacation spots, and will inspire every travel lover to plan an escape of their own.
Dimensions: 13.5 X 10 X 0.94 inches
This is one of my favorite coastal coffee table books. Coastal Blues offers a decorative inspiration for all of us who love the ocean or dream of living by the sea.
This glorious decor book by Howard features gorgeous photos of beach houses, seacoast getaways, and vacation cottages. Its luxurious seaside manors reflects the ease and casual elegance of shoreline living.
The author in this 272 pages book provides information on blue paint palettes and color schemes to coordinate each look in your home.
Dimensions: 8.88 X 1.25 X 10.38 inches
The Life and Love of the Sea offers a breathtaking tour of the ocean's great diversity through beautiful underwater photographs.
While flipping through this #1 best seller underwater photography book, you will be taken on a journey from the depths of great barrier reefs to dramatic island coastlines, as well as know the mighty power of the ocean waves.
This 216 pages book is one of the best nautical coffee table books that present incredible images of the ocean's fascinating inhabitants.
The book also features scannable QR code footage from award-winning underwater cameraman Steven Hathaway.
Dimensions: 12.5 X 1 X 12.5 inches
Meditative Questions, inspired by Zen and Taoist principles and written by Selena Sage during her travels around Asia, enhances mind, body, and spirit.
This 140-page coffee-table book includes thought-provoking questions with preceding page color, providing a full sensory experience, pulling the reader into the moment. The book is great for anyone who may be experiencing stress or uncertainty in their life.
This coffee table book does not instruct on how to live, but the beautiful collection of questions inspires the readers to discover the answers within themselves.
The author is currently living in Cape Verde which makes this coffee table book a great souvenir from Cape Verde.
Dimensions: 11.3 X 0.7 X 8.8 inches
Bliss: Beaches is a full-color picture beach coffee table book that transports you to the oceans across the globe.
Whether you are spending the weekend working at the office, or finishing those household chores, this best coffee table book will help you find a little bit of beach vacation.
Open the Bliss: Beaches book, and soon you will smell the salty air, and hear the calls of seagulls. This 41 pages book is filled with 35 full colors, high definition images offering something for every beach lover.
Perfect for gifting to young and old or who just loves beaches.
Dimensions: 8.5 X 0.1 X 11 inches
Ranging across the beautiful coasts of the world, Australia's Great Barrier Reef, the quaintness of Bahamas Love Beach, and the metropolitan shoreline of Brazil's Copacabana, this coffee table book has beautiful illustrations of the 100 most stunning beaches in the world.
This 264 pages book offers a unique perspective for travelers with its off the beaten destinations transporting you on a trip of a lifetime.
I love Beaches: 100 Ultimate Escapes as it includes maps and website references, making it easy to find the beaches, and make travel plans accordingly.
It is also one of the greatest surf coffee table books that make it a perfect book for the armchair traveler.
Dimensions: 7.6 X 1.1 X 7.6 inches
Be The Ocean is one of the best coffee table books around.
Written by two sea admirers, this 66-page hardcover book has rustically textured words about living fully, feeling deeply, and embracing one's true self just like the ocean.
This beach coffee table book shows you to be calm, still, but let yourself get wild and lost in a storm.
Like the sea, this book is both full of wisdom, and naturally decorative in the simplest ways.
Dimensions: 7.99 X 0.31 X 7.99 inches
We all have certain things in mind that we want to accomplish one day, but work, responsibilities, and money stops us.
The Bucket List: 1000 Adventures Big & Small is an invaluable guide to fantastic and life-affirming activities, featuring a range of ideas.
This 496 pages coffee table book has activities specific to the location and geographically unique like glassblowing in the Czech Republic, swimming with Dolphins in New Zealand, bird watching in Kenya, driving through clouds in Sri Lanka, and many more things around the world.
It's a perfect idea when looking for gifts for outdoorsy people.
This book is a perfect gifting option for people who want to achieve their goals, and complete the bucket list as it offers advice on that.
Dimensions: 6.99 X 1.46 X 9.22 inches
100 Dives of a Lifetime is the best beach coffee table book that takes you for a dive to 100 breathtaking scuba sites across the globe through stunning National Geographic photography.
Filled with 350 beautiful images, this 400 pages book offers marine life guides, cutting edge travel tips, and expert diving advice.
This is one of the best ocean coffee table books as it has diving sites organized by diving experience and certification level, offering a once-in-a-lifetime opportunity to explore the magic of the ocean.
Either from your armchair or with your scuba gear.
Dimensions: 8.77 X 1.3 X 8.81 inches
Whether you live near the coast or not, Beach House Happy enables you to discover the mood-boosting power of some of the most beautiful homes by the sea.
This 224 pages coffee table book reveals six routes to happiness found in beach houses.
One of the best coastal coffee table books, it covers how exposed walls and windows, doors and floors, decor and architecture combine to create an atmosphere where you can breathe easier and be your best self.
It makes a perfect gift for people who want to decorate their homes with beach vibes.
Dimensions: 10.33 X 1.13 X 12.25 inches
Highlighting the old world charm and sophistication of Palm Beach, Aerin Lauder provides her take in this coffee table book.
Featuring some of the favorite places of the author, like Renatos and Nandos restaurants to scenic Lake Worth trail and many more places of interest, this 272 pages book delves the reader into the history of the iconic destination.
The 250 stunning images make this book an attractive gift and the best coffee table book.
Dimensions: 9.8 X 1.3 X 13 inches
A big wave surfer, Evan Slater has an intimate understanding of the ocean, and his Swell: A Year of Waves captures the essence of waves in breathtaking wave photography.
The author characterizes four distinct waves in this 144 pages book, and traces their journey throughout the year from storm to seashore.
This is one of the best ocean coffee table books with a gorgeously photographed guide of hundreds of waves frozen in time. Flipping the pages, you can hear waves splash against a nearby shore.
Dimensions: 9.25 X 0.75 X 10 inches
This 272 pages beach coffee table book highlights the laid back home of surfers.
With vibrant photographs of design details and bright beaches, this book is one of my coffee table essentials.
The book captures the soulful milieu of a lifestyle we all aspire for, and it makes a perfect gift for travel enthusiasts and decorators who want to bring the same vibe to their homes.
Dimensions: 8.29 X 1.22 X 11.27 inches
Dogs on the Beach is a breathtaking series photographed by Lara combining two universally popular subjects, dogs and beaches.
You will be treated to a vibrant, pleasure packed journey in this 178 pages coffee table book.
The author captures the primal joy of the dogs rolling in the sand, splashing in the water, and lounging in the sun.
It offers a timeless treasure to be gifted to a friend who is a dog and beach lover. On top, it's really fun to watch!
Dimensions: 9 X 0.75 X 7 inches
If you're looking for a beautiful beach coffee table book, you can't skip The Beachcomber's Companion!
Some of the critics compare this book to the sensation of strolling near the waves with a dear friend.
Indeed, this illustrated coffee table book is not only pretty to look at, but it's also a guide to help to identify coastal treasures out there. Every page contains informative descriptions and fascinating tidbits about life in the sea.
Perfect for those who want, both an educational and beautiful coffee table book at home! Shop it on Amazon here.
Dimensions: 6.38 x 0.75 x 8.5 inches
Stones on the beach are distinctively shaped and multi-hued.
They are objects of contemplation and beauty. I love collecting them and most of you also would. This coffee table book is a nature guide presenting more than 200 exceptional stones describing the fascinating process that produced them.
Art lovers and beach enthusiasts will cherish this beach coffee table book. It will definitely increase the interior design of your home.
Dimensions: 7.3 X 0.8 X 7.4 inches
Shells are nature's exquisite creation,s and many of us are super excited to find one or two unique looking on the beach. However, few of us know how they are formed.
In this beautiful beach coffee table book, the author with a detailed photographic study gives a unique window into these secret lives of the ocean.
The book has short selected quotes from the literature, and is perfect for gifting to a travel enthusiast.
Dimensions: 9.52 X 0.73 X 10.87 inches
Whether you are on the beach or at home hosting a gathering of friends and want to have thirst-quenching flavored cocktails, this beach coffee table book will help you do that.
With this 288 pages, Beach Cocktails book you get delicious cocktail recipes with beautifully photographed coastal scenery to delight you and your guests.
Dimensions: 8.37 X 1.1 X 8.37 inches
This is my absolute favorite coffee table book, and I really recommend that you buy it or gift it to your friends. It is by far one of the best coastal coffee table books when looking for coastal home decorating ideas.
This soft colored book shares the magic and charm of living by the sea.
The pages are filled with gorgeous photographs of coastal home interiors, from classic to modern, vintage, and farmhouses.
Dimensions: 11 X 11.1 X 0.9 inches
I hope that you loved my selection of beach coffee table book,s and please make sure to check my favorite national parks coffee table books too!
They're great outdoor gifts for women or for people who love outdoor adventure books.
---
Short FAQ about Beaches Coffee Table Books
---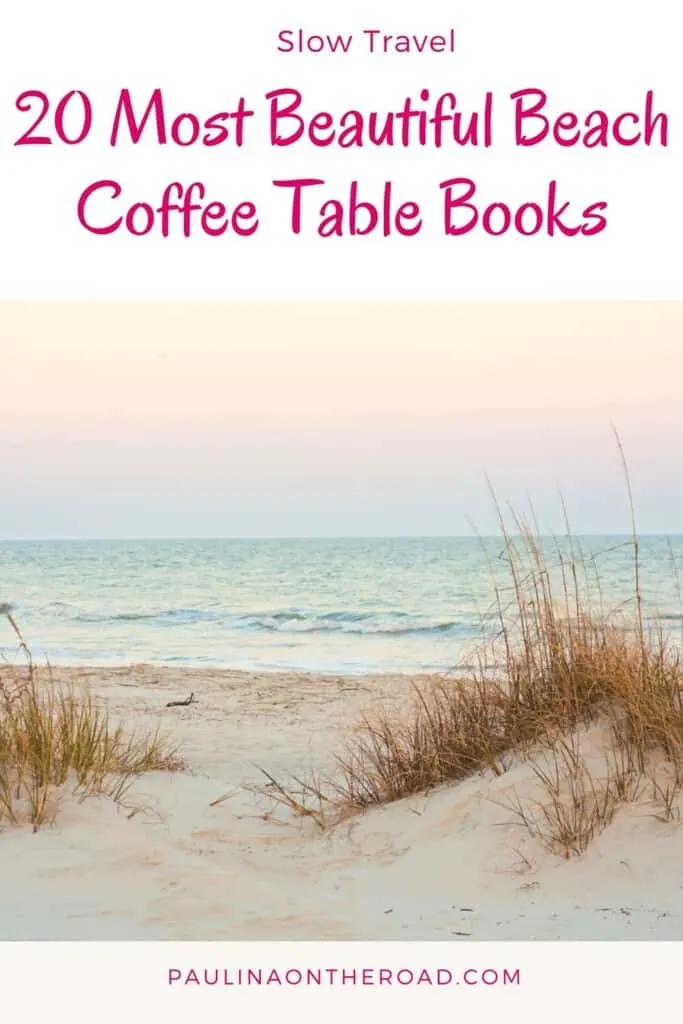 ---