Do you want to discover the beauty of Belgium beyond Brussels?
Whether it's a break from the hustle and bustle of city life, an exploration of culture and history or simply time for some fresh air, there are so many great day trips from Brussels that will leave you with lifelong memories!
From picturesque villages to stunning castles and religious sites, this small country is full of wonders waiting to be explored.
So grab your bags and let's take a closer look at what Belgium has in store for day trippers!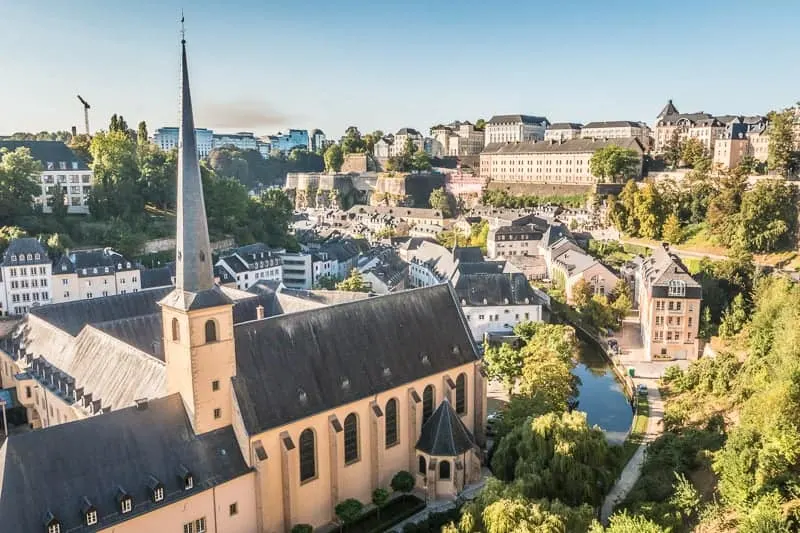 Pssst…!! You can't get enough of Brussels? Have a look at other posts I've written about the Belgian capital:
This blog is supported by you, dear reader. If you purchase through a link, I earn a small commission. As an Amazon Affiliate, I earn from qualifying purchases.
Top Resources to travel Belgium
⚘ Avoid tourist traps and get the "Belgium Like a Local" itinerary for less than 10€. Buy here

✈ Book cheap flights to Belgium with Skyscanner

✔ Book tours in Belgium with GetYourGuide

➳ Find the best hotel deals in Belgium with Trivago

❖ Rent a car with the best discounts at DiscoverCars

✎ Never leave without travel insurance. I got mine at HeyMondo. It is cheap and easy to set up.

$ Withdraw money without hidden fees and avoid exchange rates with Wise (you'll get a free card on top!)
Best Day Trips from Brussels to Flanders region
1. Bruges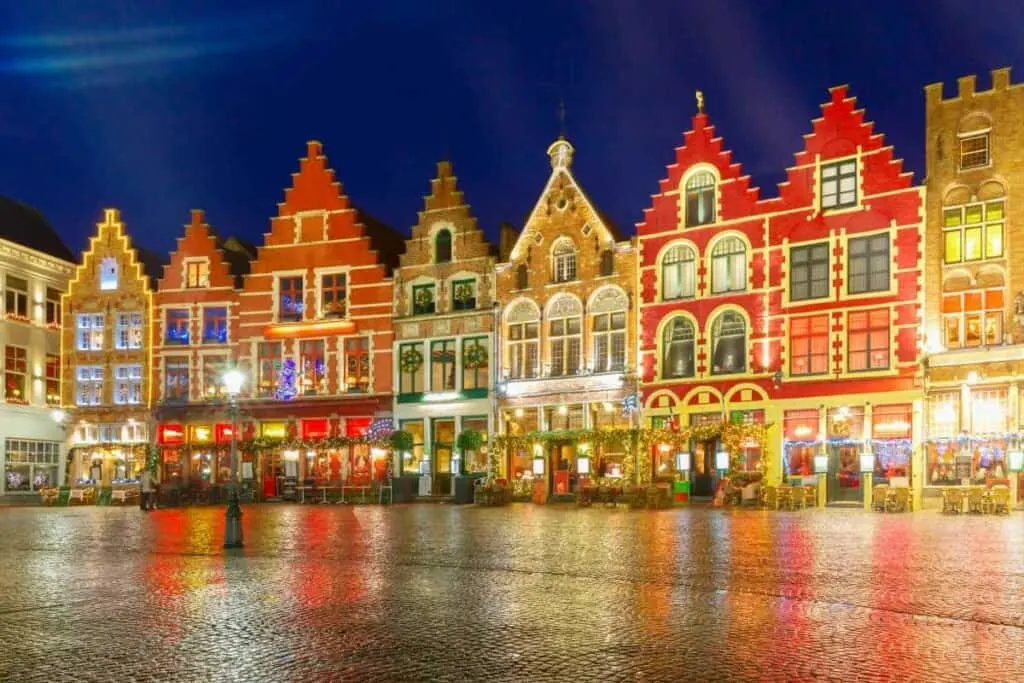 Bruges is probably one of the most popular day trips from Belgium. It's located at 1 hour 20 minutes drive from Brussels and it takes 1 hour and 10 minutes to get there by train.
The train station is within walking distance of Bruges city center.
You can easily see the most important attractions in Bruges in one day. One of my favorite things to do in Bruges discovers the best photo spots in Bruges.
Some of the most emblematic places to see in Bruges are:
The Market Place with the emblematic Belfry Tower. Since 985, markets have been held here! You can also climb up the Belfry, but I highly recommend booking your tickets in advance.
The Basilica of the Holy Blood is only 5 minutes walk away, and is yet another place you cannot miss in Bruges.
If you are in the mood for walking, I recommend heading to the windmills which are at 15 minutes from the town center.
The Minnewaterpark. For me, it is one of the best places in Bruges! The park and the cloister are an oasis of peace, and the medieval, spiritual ambiance is very well preserved.
There are several quirky museums in Bruges that you might want to include in your day trip to Bruges. The most quirky museums in Bruges are the Torture Museum and the Fries Museum.
You cannot leave Bruges without indulging in waffles, chocolate, and fries! I don't recommend eating at the Marketplace though. Prices are very high and the quality is not necessarily the best.
Some of my favorite places to eat in Bruges are Park Restaurant, Pomperlut, De Stove (famous for its seafood) or Petit Maxim.
From Brussels to Bruges is one of my favorite day trips, as the medieval town is one of the most picturesque ones I have seen so far.
If you only have 1 day in Bruges, make sure to check my guide on what to do in Bruges in 1 day.
2. Ostend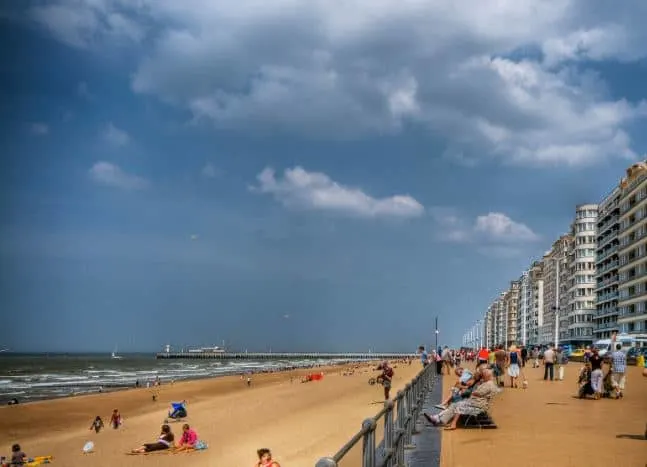 From Brussels to Ostend: 1 hour and 20 minutes by train. Book here your train tickets.
Every time I can, I head to the Belgian seaside in order to enjoy the beach and some sea views.
Even though the weather cannot be compared to the Mediterranean, and you'll always need to bring a jacket, just watching the sea already relaxes me.
Ostend (Oostende) is probably the closest beach to Brussels, and the one that is to reach the easiest. It takes about 2 hours by train to travel from Brussels to Bruges.
That being said, Ostend is not necessarily the prettiest seaside resort.
However, if you're just looking for a walk along the beach, some ice-cream and that holiday feeling, Ostend will fulfill your requirements. Built in the 60s and 70s, Ostend is the largest town on the Belgian coast.
It's thus a great place for some shopping and fun when you're traveling with friends. I recommend renting a bike or one of the numerous go-karts in Ostend and ride on the beach promenade.
There are also several museums in Ostend that make a great back-up plan in case of bad weather. I invite you to have a look at the Royal Galleries, the Museumschip Amandine and the impressive Zeilschip Mercator.
You cannot leave Ostend without having some seafood and shrimp croquettes. They are delicious and the most traditional food to eat in Ostend.
Some of the best restaurants in Ostend are:
3. Knokke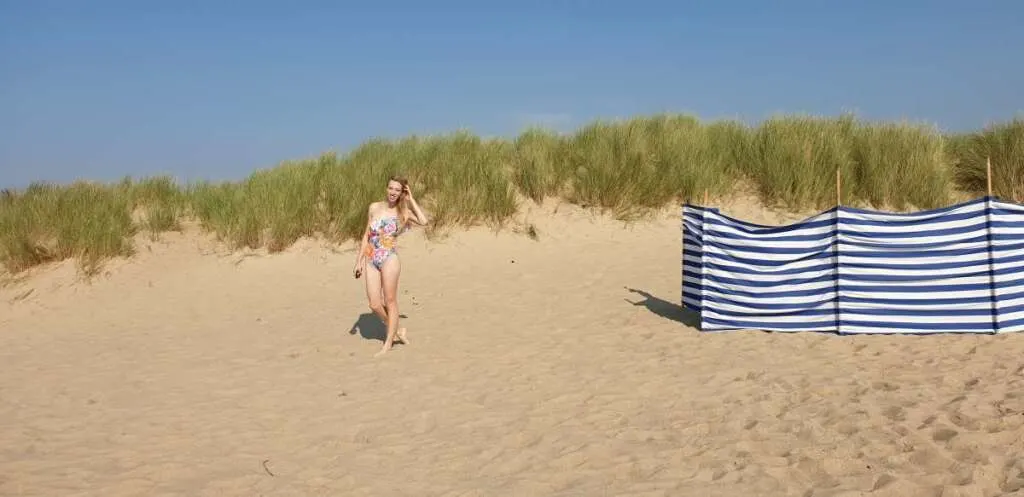 Knokke is the more fancy and chic seaside resort on the Belgian coast. I really enjoy Knokke as it is laid-back without the bustle of Ostende. Sometimes, I even feel like I am in a village.
Due to the more sophisticated atmosphere in Knokke, one of my favorite things to do is definitely people-watching!
Many are super dressed up and if you are a sports car lover, you'll be in heaven in Knokke- Zoute (5 minutes walking from the city center). The closer you get to the Zwin natural park, the more sophisticated the people.
Knokke downtown is more laid-back though and has great shopping places. If you are more of a nature person, I recommend you the Zwin natural park which is great for long walks. There is even a surfing school if you want to improve your surfing skills!
If the weather is bad, I recommend visiting the For Freedom Museum, the Absolute Art Gallery or the Sincfala: Museum van de Zwinstreek which documents the hard life of fishermen in Knokke in the old times.
This is only a quick overview of the best things to do in Knokke.
You'll be spoilt for choice when it comes to eating out in Knokke! Some of the best restaurants in Knokke are:
4. Nieuwpoort
One of my favorite things about the Belgian coast is that every city or village has a very different vibe.
Whereas Ostend is more bustling, Knokke very chic, and De Panne for families, Nieuwpoort is for nature lovers.
The town is located close to the French border and is the perfect place to visit with a day trip from Brussels. Nieuwpoort is located a bit away from the coast, but within 10 minutes drive, you'll reach the vast, gorgeous beach.
The town is famous for its fish shops, and I love to get my fish sandwiches here and eat them on the beach! No wonder it's one of the best beach resorts in Belgium.
However, the real highlight of Nieuwpoort is the red-white lighthouse which you can reach from the beach.
It's located in a natural park with pristine beaches and dunes. Nature seems absolutely untouched here.
Many also visit Nieuwpoort for its World War 1 museums.
Related: Glamping in Nieuwpoort and Ibis Styles Nieuwpoort Hotel ***
Best Things to do in Nieuwpoort:
Rent a bike and cycle along the marina, the largest in Northern Europe.
Visit the unique Nature reserve De IJzermonding and its emblematic red-white lighthouse.
Visit the monument to King Albert I in honor of the victims during WWI
Do some beach sailing.
Visit the west front of Nieuwpoort.
How to get from Brussels to Nieuwpoort:
by train (2 hours 40 minutes) or by car. – Book here your train tickets
5. Ghent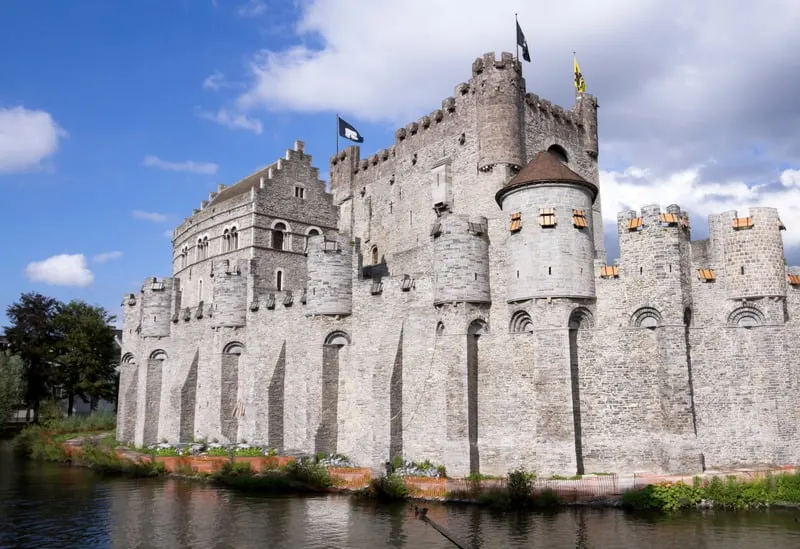 How to get from Brussels to Ghent:
Ghent (Gent) is one of the most popular day trips from Brussels. It is not far away and has some of Bruges' vibe.
However, many say that Ghent is less stiff and more vibrant due to its large student community.
Indeed, the town is bustling, and during spring and summer, you can find many people having their drinks on the canal banks.
I love getting lost in its narrow streets and taking a boat tour on its canals. It's here where you'll realize that Ghent is one of the prettiest cities in Belgium.
Best Things To Do in Ghent:
Some of the best restaurants in Ghent are De Rave, The House of Eliott and Publiek. There are also loads of cool hotels in Ghent.
6. Leuven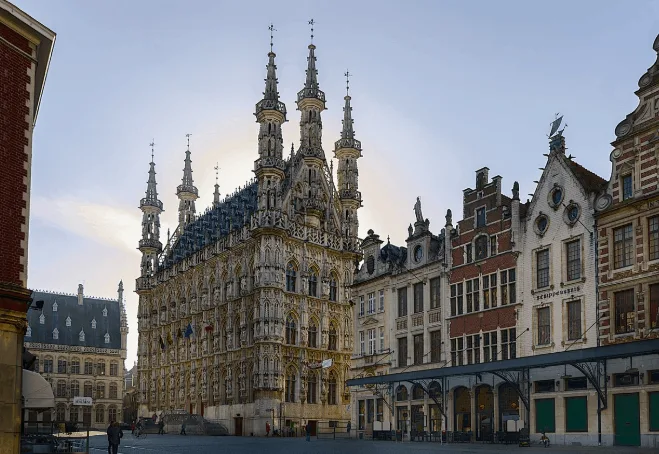 Leuven is probably one of the closest day trips from Brussels. But still, the quaint town will surprise you with its very different vibe from Brussels.
Despite its limited size, Leuven has a very lively atmosphere due to its large student community. The historical market place will be full of students on a sunny day.
Leuven was founded in the 9th century, and is traditionally home to both Dutch-speaking (Flemish) and French-speaking students.
However, after a long discussion about linguistic quarrels in the 60s, the French-speaking students needed to leave, and founded the nearby Louvain La Neuve ("New Leuven").
Today, Leuven is Dutch-speaking and a great place to unwind and explore some cute shops.
Best Things To Do in Leuven on a Day Trip:
Stroll through the small and big Beguinage.
Have a beer on the marketplace.
Marvel at the town hall (Stadhuis).
Visit the University buildings: Leuven is one of the oldest Catholic universities and thus its buildings, particularly the library, are worth a look.
How to get from Brussels to Leuven:
7. Antwerp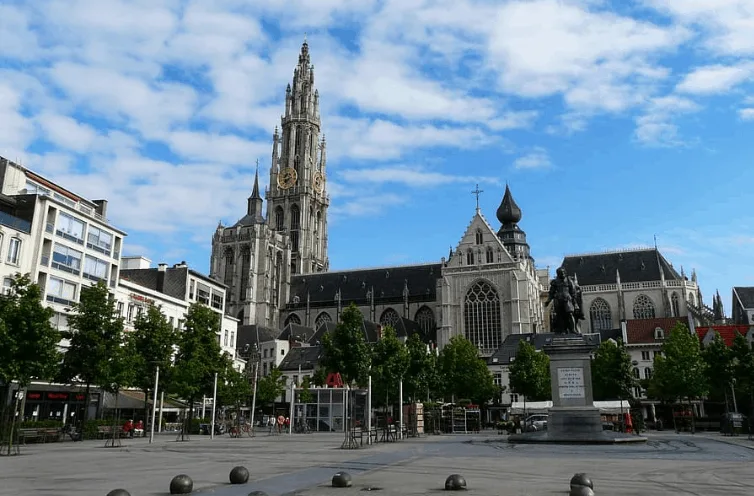 If you want to visit a large city on a day trip from Brussels, Antwerp is the place to go! I love visiting Antwerp for many reasons.
First, it has a very lively atmosphere and despite its large size, it managed to preserve the feeling of a small town.
Full of ancient buildings and world-class museums, the historic city center is a delight to visit.
Nowadays, Antwerp is one of the most fashionable cities in Europe. World-famous designers such as Dries Van Noten, Ann Demeulemeester or Dirk Van Saene started from Antwerp.
Antwerp is thus definitely a heaven for design and shopping lovers, and one of the prettiest cities in Belgium.
Antwerp is also the capital of the diamond industry. Over 80% of the uncut diamonds are traded in Antwerp!
So, there are definitely plenty of things to do in Antwerp. A tip: consider staying more than 1 day!
Best Things To Do in Antwerp on a Day Trip:
How to get from Brussels to Antwerp:
Train: the fastest way to reach Antwerp is by train. It takes 45 minutes to reach Antwerp from Brussels. – Get tickets here
Tours from Brussels: there are tons of day tour options from Brussels to Antwerp. It's the perfect way to explore Antwerp in a more relaxing way. – Get tickets here
8. Mechelen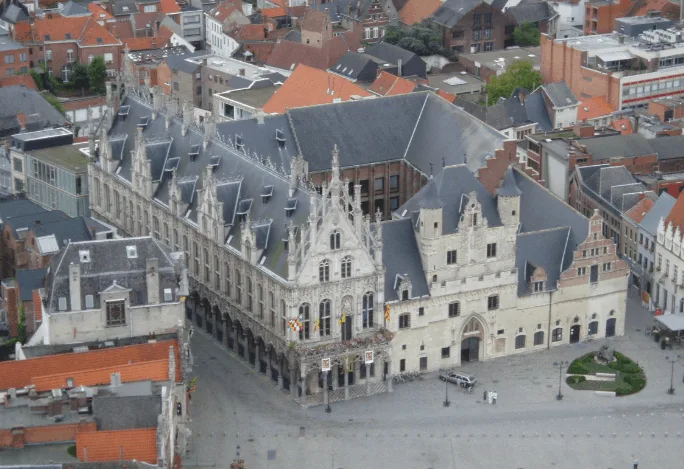 I must admit that Mechelen is probably quite underrated. However, if you want to explore a less-known gem and not such a touristy place, Mechelen will be a great option for a day trip from Brussels.
Located at only 20 minutes from Brussels, Mechelen is nowadays famous for its entrepreneurial spirit and young population.
Indeed, Mechelen has been designated one of the 10 European towns of the future by the Financial Times!
However, Mechelen also boasts a gorgeous historic city center, and comes with many shopping options. Mechelen is thus a vibrant mix of trendy and traditional.
Best Things To Do in Mechelen on a day trip:
How to get from Brussels to Mechelen:
Train: the fastest way to reach Mechelen is by train. It takes 25 minutes to reach Mechelen from Brussels. – Get tickets here
9. Ypres
If you're into history and particularly WW1 history, Ypres is a must! But even if you're not such a history buff, you'll learn a lot when visiting Ypres (Ieper) with a day trip from Brussels.
The entire town and surroundings are a monument against wars!
3 battles took place in Ypres during WWI, and the city was completely destroyed.
Almost nothing of the former vibrant town was left! During huge construction works, medieval city buildings were reconstructed.
Nowadays, it's hard to realize that all of these beautiful constructions are only 100 years old.
Best Things to do in Ypres
Ypres Cloth Hall: the most emblematic building of Ypres was rebuilt, and hosts the Flanders Field Museum. It's an exact replica of the cloth hall of the 13th century.
The Menin Gate: an impressive war memorial for the fallen soldiers of the Commonwealth. Every night at 20.00, the "Last Post" is played by the bugles. This ceremony started in 1928, and just stopped during WWII. It's definitely a touching experience.
War Graves: thousands of war graves can be found in the surroundings of Ypres. The most impressive ones are in Langemark German war cemetery and Tyne Cot.
How to get from Brussels to Ypres:
Train : the train ride to Ypres from Brussels is 2 hours. – Get tickets here
Tours (Recommend): tours include return trip to Brussels and historical guided tour. Tours are highly recommended to Ypres for a great experience. – Book your Ypres guided tour here
Brussels Day Trips to Wallonia
10. Waterloo Battlefield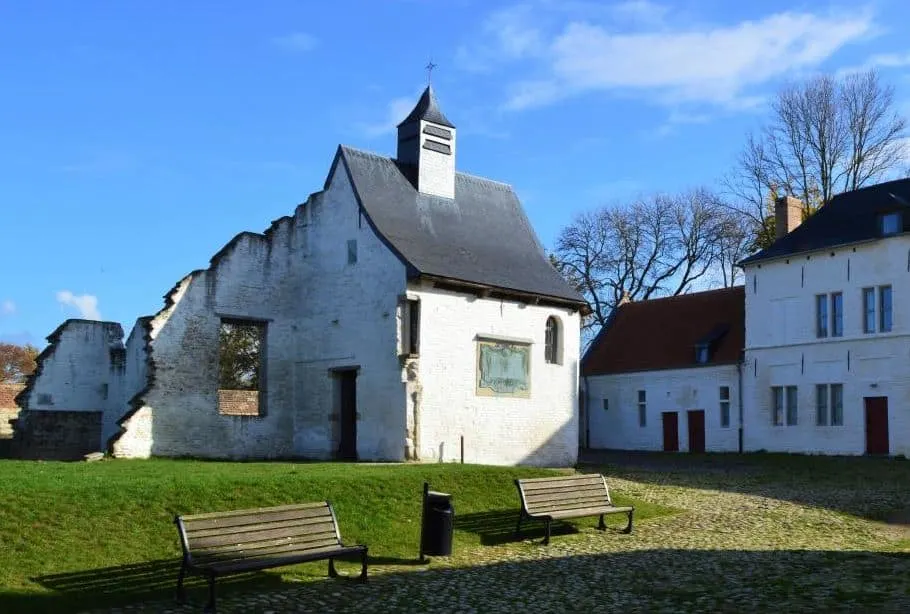 The battlefield of Waterloo is one of the most popular day trips from Brussels.
Not only is it very close to the Belgian capital, but on top, it is a unique historical sight.
The village of Waterloo is famous for being the place of the last, final battle where Napoleon was defeated the last time. The emblematic battle took place in 1815.
Whereas many of the things to do in Waterloo are related to history and the Napoleonic battle, there are plenty of other attractions that make Waterloo the perfect destination for your day trip from Brussels.
Butte du lion (Lion's Mound): the most obvious and striking attraction in Waterloo. Many stairs lead up to the lion's statue and from here, you'll have panoramic views over the former battlefield. The memorial stands at the place where supposedly, King William II was knocked off his horse.
The Panorama: right below the lion's monument, you'll notice a big, circular building. It's home to the vast panorama painted in 1912 which provides an immersion into the battlefield. The painting is 110 m long, and the sounds of canons and cries enhance the visitor's experience. It can be visited in combination with the Memorial 1815 which proved to you all the background information about the battle.
Wellington Museum: dating back to 1700, this building hosted Wellington and his staff before the battle. The museum is in honor of Wellington and his room can be visited.
The headquarters of Napoleon: the place where Napoleon spent the last night before heading out to the battle. His former farm was converted into a museum, and holds among others weapons, a lock of Napoleon's hair, and his bed among others.
Castle of Argenteuil: if you want to get away from the battle theme, I recommend visiting the beautiful castle of Argenteuil.
Musée de la Ferme d'Hougoumont: this little shed is said to be crucial for the battle of Waterloo. The building was converted into a museum and some of the graves and monuments provide an enriching insight into that moment of history.
How to visit Waterloo from Brussels?
Train: the train will take you to Waterloo in 25 minutes. – Book here your train ticket from Brussels to Waterloo
Tours: several tours are available from Brussels to Waterloo on a day trip itinerary. If you want to learn more about the history and background of Waterloo, a guided tour is the best option. – Book your day tour from Brussels to Waterloo here
11. Namur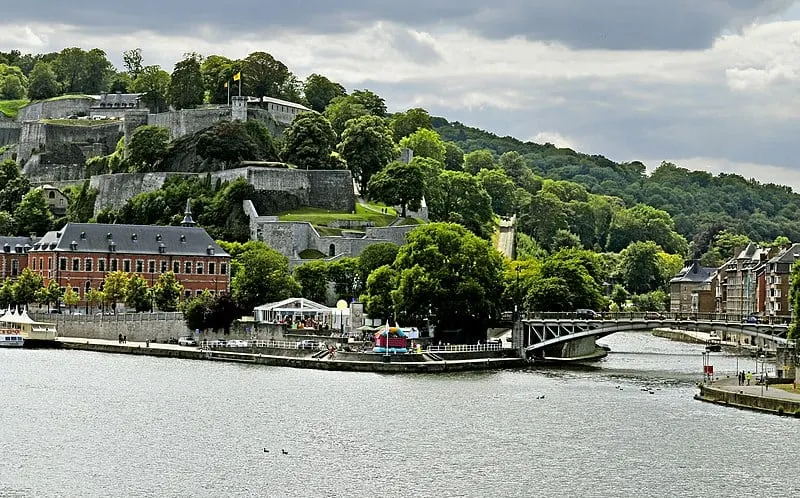 You want to visit a smaller town in Belgium, and the capital of Wallonia on a day trip from Brussels? Well; then visiting Namur is the best thing to do!
The atmosphere of Namur is enchanting as it is characterized by the winding rivers Sambre and Meuse, an impressive citadel and a castle.
This atmosphere is topped by its bustling student community. There are thus loads of terraces and quaint cafés which make a day trip from Brussels to Namur very enjoyable.
Things to do in Namur:
Citadelle (Citadel): the most impressive sight of the Wallonian capital. Built in the 10th century, it is considered nowadays one of the best preserved ones in Europe. It also offers the prettiest panoramic views on the confluence of the Meuse and Sambre river.
Abbaye de Maredsous (Maredsous Abbey): home to the famous Trappist beer bearing the same name. Although the beer is not made anymore by the monks, this place invites relaxation.
Place d'Armes: the center of Namur and along with impressive buildings such as the Palais de Congrès and the Belfry, it's a must-see in Namur. There is also a funny sculpture representing a snail and 2 comic figures by Jean Legrand. The snail is the unofficial symbol of Namur, which is despite this a very bustling student town!
How to visit Namur from Brussels?
Train (Fastest): the train ride to Namur from Brussels is 45 minutes. – Book here your train ticket from Brussels to Namur
12. Liege
Liege was one of my favorite discoveries last year! The city looks rough somehow, but still has a lot of very interesting buildings, especially for architecture lovers.
And the food (and beer!) culture in Liege is legendary!
My favorite sight in Liege is the gorgeous train station. Built by the legendary Spanish architect Santiago Calatrava, the bright white structure is definitely an eye-catcher.
The city is located at the Meuse river which invites you for river cruises.
Related: Things to do in Liege
Things you cannot miss in Liege:
Gare de Liège-Guillemins (Liege train station): a must, even if you travel by car!
Eat waffles: the typical Liege waffles come from here, and that's only 1 reason from 100 why you should indulge!
Parc de la Citadelle (Citadel): offers the best panoramic views of the city, and the narrow streets are truly enchanting. It's the perfect place to get lost.
Palais des princes-évêques (Palace of the prince bishops) and La Violette (town hall): probably the 2 most impressive buildings in Liege-
Montagne de Bueren: this legendary staircase with its 350+ stairs war voted "most extreme staircase" by the Huffington Post!
How to visit Liege from brussels?
Train : the train ride to Liege from Brussels is 1 hour. – Book here your train ticket from Brussels to Liege
13. Charleroi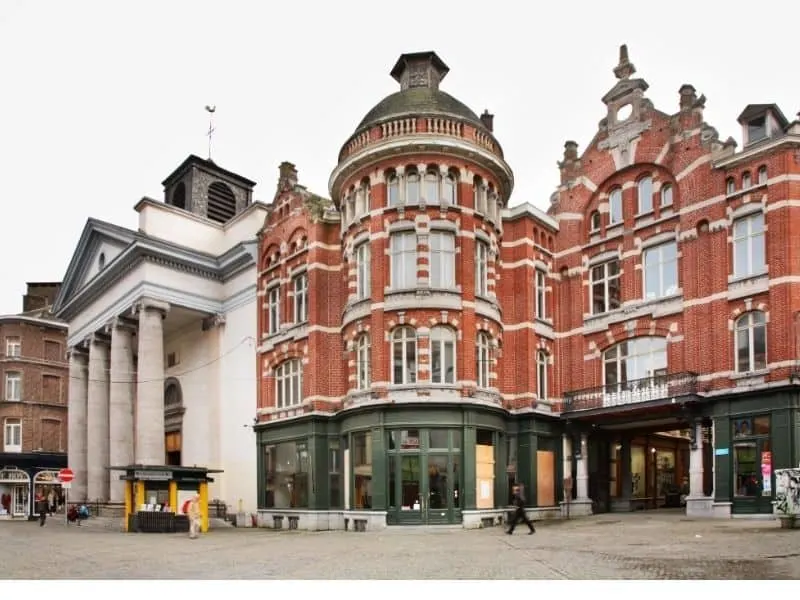 When you opt for a day trip from Brussels to Charleroi, you'll visit a less known tourist destination in Belgium.
Due to its industrial past, the Belgians themselves see Charleroi often as a poor, polluted and dark city. Indeed, Charleroi used to be a booming center due to its mining activities.
However there are many attractions that will lure visitors. The city center can be easily visited by walking.
Things to do in Charleroi are:
Place Charles II: the center of Charleroi with its beautiful town hall and famous Église Saint-Christophe (Saint-Christophe church).
Palais des Beaux-Arts: hosting the Museum of Fine Arts
Walking the Upper town: fall in love with the buildings of the 19th century, also known as the golden age of Charleroi. Some of the most famous buildings are Maison Dorée (15, Rue Tumelaire) and Maison des Médecins (40, Rue Léon Bernus).
Walking along the Sambre river: the best way to enjoy the city and the best views of Charleroi.
Musée de la Photographie (Museum of Photography): internationally acclaimed museum.
How to visit Charleroi from Brussels?
Train: the train ride to Charleroi from Brussels is 50 minutes. – Book here your train tickets from Brussels to Charleroi
The city center is the best to explore by foot.
14. Dinant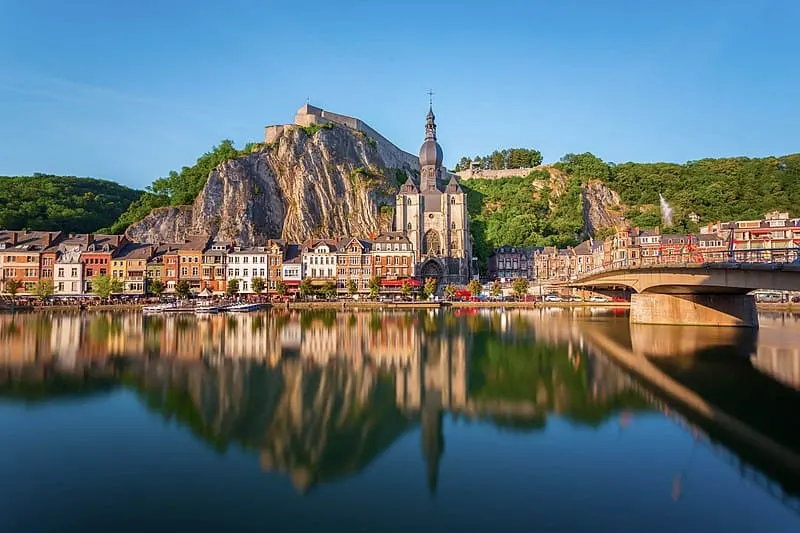 As a saxophone player, Dinant is one of my favorite places in Belgium. Why?
Because it's here where the saxophone was invented by Adolphe Sax. On top, Dinant will lure you with its charming location on the Meuse river, its imposing citadel, and quaint streets. Not to forget; you'll eat heavenly Belgian food!
The city was destroyed several times during the wars of the 20th century, but it was reconstructed from scratch.
Nowadays, Dinant will enchant you with its laid-back, romantic vibe.
Things To Do in Dinant on a day trip from Brussels:
Maison Adolphe Sax (Saxophone museum): Sorry for putting this on top of the list. The Maison Adolphe Sax will introduce you to this fascinating character that invented one of the most popular instruments in the world.
Citadelle de Dinant (Citatel): its dramatic position on top of the city is a must-do! Towering on a cliff above the Meuse river, it offers the best views of the city. Its roots go back to the fourth century, but the actual remnants are from the early 19th century. You can go up by cable car, or by walking the 400+ steps.
Collégiale Notre-Dame de Dinant: the most prominent building in Dinant. The interior is gorgeous and definitely worth a look.
Grotte de Dinant la Merveilleuse: only a few kilometers from Dinant downtown, the cave was discovered in 1904, and is one of the prettiest in Belgium, especially due to the waterfalls.
Maison Leffe (Leffe Abbey): famous for its beer and splendid organ!
Food: the couque de Dinant: the traditional sweet from the town. It can be compared to gingerbread.
How to visit Dinant from Brussels?
15. Tournai
Tournai is not the most known city for a day tour from Brussels. However, you'll not regret a visit.
The town boasts an impressive historic legacy, and is the only Belgian town that was ruled by the English.
The best thing to do is stroll through the city center of Tournai and get lost in time.
Best things to do in Tournai:
Cathédrale Notre-Dame de Tournai: listed as UNESCO World Heritage Site, this building is a must-see on any visit to Tournai. The romanesque naves are some of the best-preserved in Europe.
Grand-Place: the central square of Tournai with many restaurants.
Pont des Trous ("Bridge with holes"): part of the medieval and military architecture on the de Schelde river, with motorized freight barges passing through the narrow central arch
Beffroy de Tournai (Belfry): Belgium's oldest belfry, about 72 meters high. If you want the best panorama views on Tournai, climb up it 250+ steps!
How to visit Tournai from Brussels?
Train: the train will take you to Tournai in 1 hour and 10 minutes. – Get tickets here
Tours: the city center can be explored by foot.
16. Bouillon
Bouillon is a fabulous day trip from Brussels that not many know about. This little town in the Ardennes region has a beautiful setting with its dramatic castle, the quaint Semois river, and tiny houses.
The region surrounding Bouillon is known for its countless hiking trails. Some of them are considered the best hiking trails in Belgium.
When in Bouillon, I highly recommend having lunch at BOM Food and Drinks and a gastronomic dinner at Hotel de la Poste – Relais de Napoleon III ****.
Both institutions make Bouillon a heaven for Foodies.
Here more things to do in Bouillon:
Château de Bouillon (Bouillon castle): goes back to medieval times, and is linked to the crusaders. From here, you have the best views of the town and there is a falcon show every day.
Musee Ducal (Ducal Museum): this museum displays the eventful history of Bouillon, its link to the crusaders, and has a large folklore section too (open in summer)
Kayaking on the Semois river: super quaint and perfect for a summer escape. You can rent your kayaks and paddleboats directly in Bouillon. Read more about outdoor activities in the Ardennes here.
Strolling through the old town: you'll find many quaint corners that are very photogenic.
How to visit Bouillon from Brussels?
18. Durbuy
Along Bouillon, Durbuy is one of the most fairy tale-like cities in Belgium.
It is also known as the smallest town in Europe, and a real tourist gem. It lies a bit off-beat but that only enhances the town's charm. Despite its size, there are plenty of things to do in Durbuy.
The city center consists of cobblestone paved, narrow streets, and the houses look straight from a fairytale.
Durbuy is a great destination all year round, but I particularly recommend visiting during winter as Durbuy has one of the best Christmas markets in Belgium.
On top, there are many day trips from Durbuy, that make the cute town a great getaway in Belgium.
Some of the best things to do in Durbuy are:
Stroll through the medieval city center: it only has 50 inhabitants and looks absolutely like a fairy tale. It's also the perfect place to stock up on local Belgian goods like in Durbuy Z
Anticline: one of Durbuy's most characteristic attractions. It is more than 300 million years old!
Parc des Topiaires (Topiary Park): located just across the river bank, and a fun way to spend your afternoon in Durbuy. This space is dedicated to the art of pruning trees into complex shapes, and there are over 250 topiaries.

Confiturerie Saint-Amour

: famous for its jams. You should definitely pay a visit to Confiturerie Saint-Amour which is located only a 10 minutes drive from the city center. They're making their jams according to family recipes that date back several generations. The dandelion jam is a tasty curiosity. – Read more about jams in Durbuy here
How to visit Durbuy from Brussels?
By train: Durbuy is 2 hours and 15 minutes from Brussels by train. You're most likely going to need to transfer in Liege.
By car: Durbuy is only 1 hour and 35 minutes from Brussels, making it the perfect day trip from Brussels.
19. Torgny
When you enter Torgny in the Gaume region, also known as the southernmost village of Belgium, you might feel like in Southern France for a second.
Nestled in one of the most remote, southern corners in Belgium, close to the French border, Torgny is famous for its Mediterranean-like charm.
But Torgny is not only reminiscent of the Mediterranean by the outside, but it also boasts a very particular micro-climate that allows the cultivation of wines.
The best way to explore and enjoy the beauty of Torgny is by strolling around and absorbing the Mediterranean vibe.
International Day Trips from Brussels
20. Luxembourg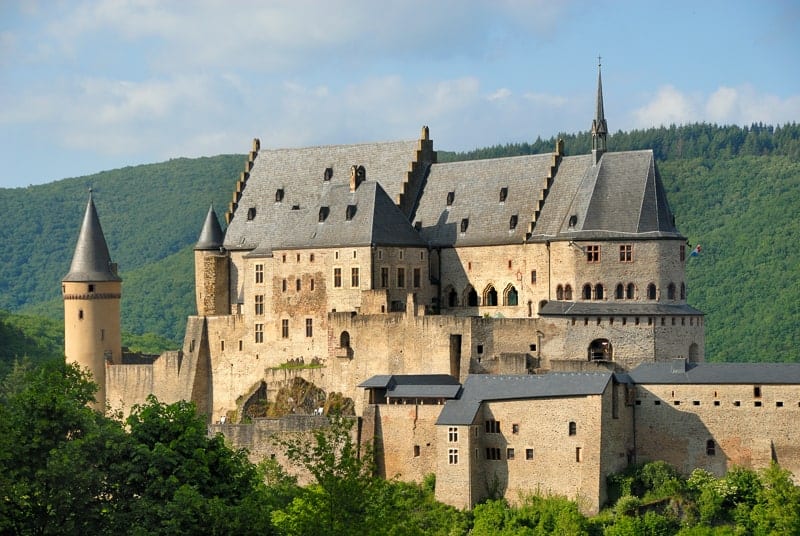 When in Brussels, you might want to include a visit to one of the smallest countries in Europe. I am talking about Luxembourg.
Besides being my home country, there are many reasons why you should consider a day trip from Brussels to Luxembourg. – Get tickets here
Located at only 3 hours and 15 minutes by train and 2 hours and 35 minutes by car, Luxembourg will make you fall in love with its old town, the Palais grand-ducal (grand-ducal Palace), and the fortification system built into rocks.
Best things to do in Luxembourg are:
Casemates: a complex tunnel system carved into rocks that gave Luxembourg the name of "Gibraltar of the North".
Cathédrale Notre-Dame (Notre-Dame Cathedral): the most important church of Luxembourg City, and an impressive building that hosts the Madonna statue from the 16th century. The crypta contains the graves of some of the members of the Grand-Ducal family.
Grund: the quaintest place in Luxembourg City, hosting numerous bars that provide a great view on the Upper Town
Parks and bridges: 2 main bridges shape the landscape of Luxembourg City, and both are great locations to take pictures. There are many parks in the city that are coveted spots for picnics and people-watching
Gëlle Fra: this monument has a special meaning to Luxembourgish people, as it is a memorial to the fallen during the War. The golden statue disappeared during WWII, and was found back after the war ended.
Related: Where to stay in Luxembourg
How to visit Luxembourg from Brussels?
21. Amsterdam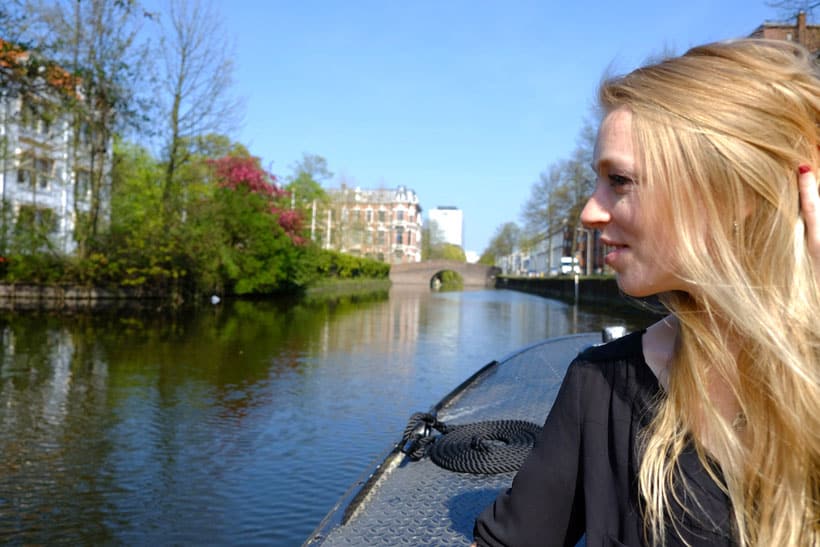 Amsterdam is always a good idea, right? Well; the good news is that it has a great train connection to Brussels, which makes it the perfect destination for a day trip or a weekend getaway.
As the architecture of Amsterdam is very different from Brussels, this international day trip from Brussels will be an exciting adventure.
Be ready for tiny houses, charming canals, and loads of bicycles!
Best things you can do on a day trip from Brussels to Amsterdam:
Explore the canals: a canal cruise will take you to some of the quaintest corners of the Dutch capital
Anne Frank House: one of the most famous museums in Europe, and depicts the life of the little girl behind "The Diary of Anne Frank". It's an impressive memorial against forgetting the horrors of WWII.
Damrak: one of the biggest avenues that connect the Central Station to the city center. It also takes you along some very pretty buildings.
Bloemenmarkt (Flower market): visiting a flower's market is one of the top things to do in the Netherlands. It's on top a very colorful place to take pictures.
Rijksmuseum and Van Gogh Museum: well worth a visit, not only on rainy days!
How to visit Amsterdam from Brussels?
22. Den Haag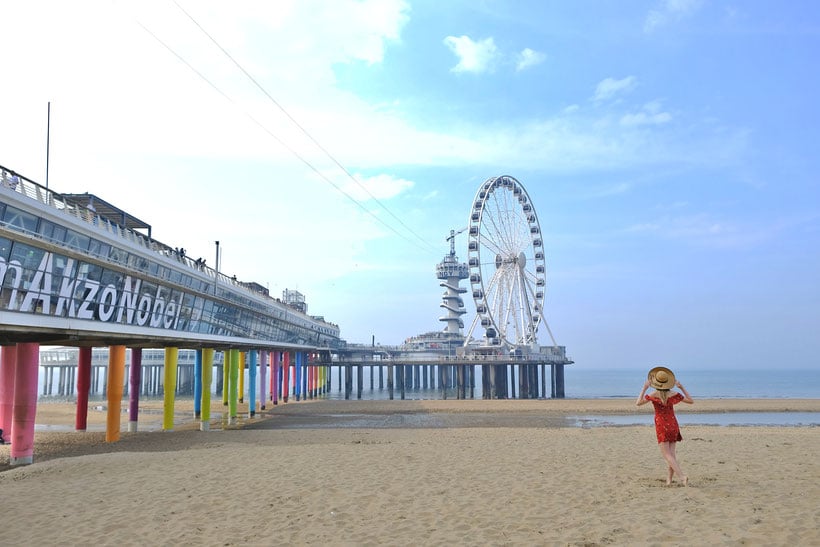 The Hague (Den Haag) is one of my favorite cities in the Netherlands. Unlike Amsterdam, it is quite laid-back, with a large ex-pat community and lovely squares with plenty of terraces.
However, the best thing about The Hague is its 2 gorgeous beaches, Scheveningen and Kijkduin.
The beach bars of Scheveningen and its pier are well-known attractions in the Netherlands. A tram connects the city center of The Hague to the beach.
Here more things to do in the Hague on a day trip:
The museums of The Hague: despite its small size, The Hague boasts a large number of prestigious museums. Some of the most important ones are Mauritshuis, Escher in Het Paleis (Escher in The Palace), and Panorama Mesdag.
Stroll along Scheveningen beach boulevard. Boasting 11 km of beaches, the Hague is definitely a paradise for sea and surf lovers. Strolling on the promenade is a delight, and there is always something to do
Related: 1 Weekend in The Hague Itinerary
How to visit The Hague from Brussels?
23. Maastricht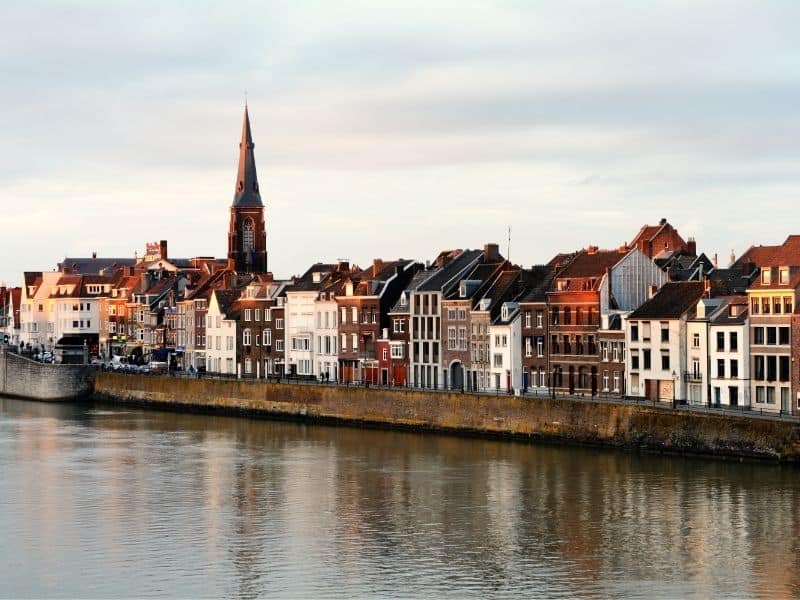 I love going to Maastricht mostly for one reason: shopping! There are plenty of boutiques that you can't find anywhere else in the region.
However, there are many more things to do in Maastricht which makes it a fabulous day trip from Brussels.
Because besides its large variety of shops, restaurants, and bars, the city has a very picturesque setting along the Meuse river, and comes with many quaint plazas.
Things to do in Maastricht on a day tour from Brussels:
Sint-Pieter (Sint Peter): this intriguing tunnel system is one of the highest points in Holland. They have been excavated by men for centuries.
Vrijthof: one of the largest squares in Maastricht. It's been attracting people since the Middle Ages who want to visit the tomb of Sint Servaas (Sint Servatius) in the Sint Servaas Basiliek (Saint Servatius Basilica). There are many terraces that make this square a popular place to meet up.
Maastricht's markets: my favorite place to stroll around! You'll be spoiled for choice as there is an organic market, a flea market, and much more.
Eat a herring: a must when being in the Netherlands! I cannot leave a Dutch city without having tried at least one!
How to visit Maastricht from Brussels?
24. Cologne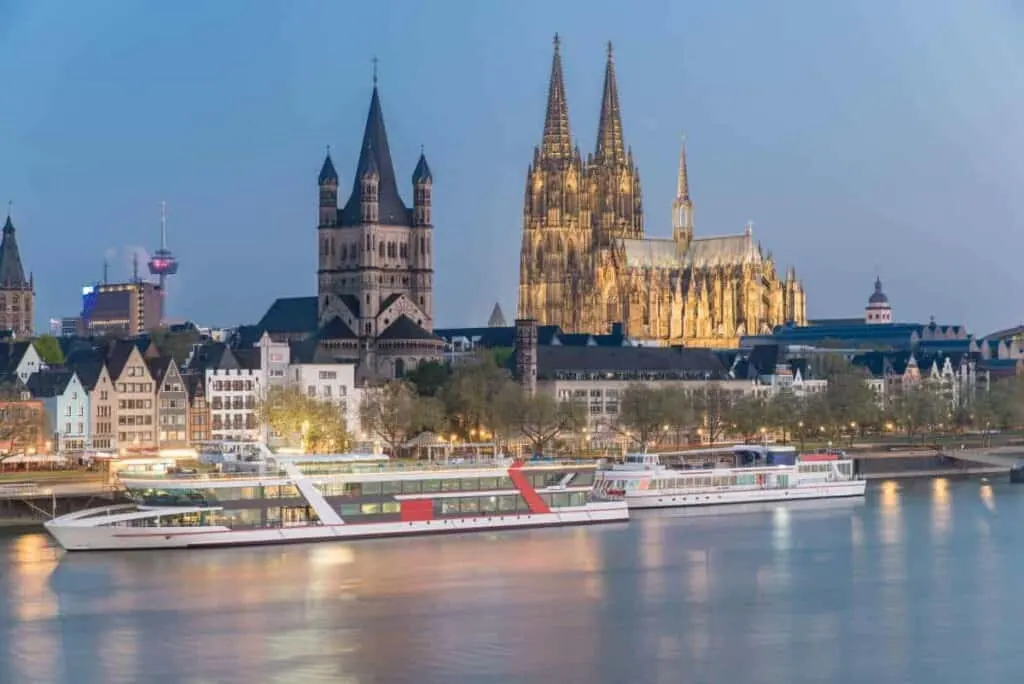 You fancy a day trip from Brussels to Germany? Well, there is nothing more easy than that! Thanks to the high speed connection, you'll be in Germany in a very short time.
Although you can visit several German cities from Brussels, Köln (Cologne) remains one of the most popular day trips from Brussels to Germany.
Cologne used to be one of the most important cities in medieval times. But it's also its scenic setting on the Rhine river, its impressive cathedral, relaxing plazas and hearty food that makes people visit, over and over again.
You may consider visiting during wintertime, as Cologne has one of the best Christmas markets in Germany.
Things to do in Cologne on a day tour from Brussels:
Cathedral: used to be the highest building in the world for several centuries. Built in medieval times, it's also the place where the 3 holy kings are buried. Climbing up the stairs of the tower will provide you the best views over the city.
Take a river cruise: I love river cruises as they always give you a different perspective. Read more here about Rhine River cruises
Visit the old town: the original old town was totally destroyed during WWII and has been reconstructed. The best place to start is at the town hall.
Eat! Cologne has several traditional treats that you must try on a day trip. There's the Kölsch beer, the Chocolate museum and my all-time favorite Mettbrötchen (bread roll with minced pork).
How to visit Cologne from Brussels?
25. Paris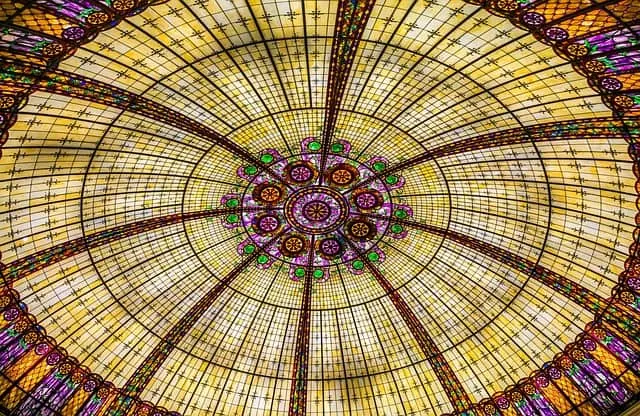 Paris is always a good idea! Even if you're located in Brussels, you can reach Paris in a very short time!
Especially if you only have limited time to spend in Europe, a day trip to Paris from Brussels is a fabulous idea. Or maybe you are fancying a little more romantic town than Brussels?
What to say about Paris? There are so many emblematic sites to visit: the Cathédrale Notre-Dame, the Eiffel Tower, Montparnasse and its painters, etc.
The list is endless! Even though you can easily spend more than only one day in Paris, one day is enough to see the most important things.
It's important to catch the first train from Brussels to Paris in order to make the most of your day trip from Brussels to Paris.
Things to do in Paris on a day tour from Brussels:
Cathédrale Notre-Dame: one of the most emblematic churches in the world. It took more than 200 years to build it up. However, a tragic fire in 2019 destroyed large parts of it. We can be sure though that one of Paris' most important monuments will be built soon!
Musée du Louvre (Louvre Museum): only a short walk away from the Cathédrale Notre-Dame. You'll not have the time to visit the entire museum on a day trip to Paris. However, the famous pyramid is well worth a visit. You can also just visit the most important parts of the museum such as the iconic Mona Lisa.
Champs-Elysees and Arc de Triomphe: both sites are not very far from the Louvre, and they are the perfect place to stroll around. There are loads of boutiques and terraces. The view from Arc de Triomphe is amazing. The monument was built in honor to those who lost their lives during the French Revolution.
Eiffel Tower
Montparnasse: the impressive white church is a must on any day trip to Paris. I love wandering around in its narrow cobblestone paved streets. The Place du Tertre is famous for the countless painters.
How to visit Paris from Brussels?
---
How to go on Brussels Day Trips?
By train:
Most of the destinations in this guide can be reached with public transport. – Get tickets here
However, be careful when traveling by train from Brussels!
There are several train stations (Gare du Midi, Gare du Nord, Bruxelles Schumann and Gare Centrale), but the trains don't stop at every station!
Thus, always double-check from where your train departs! – Buy tickets here
By tour:
If the destination cannot be reached by train, I always recommend GetYourGuide in order to organize day trips from Brussels. Their tours are reliable and have a fabulous price/performance ratio! – Check prices here
Day Trips from Brussels will definitely make you hungry, so I invite you to read more about typical food in Brussels, Belgium.
---
Short FAQ about day tours from Brussels
What are the best day trips from Brussels to other countries?
If you're looking for day trips from Brussels to other countries, you should consider a day trip from Brussels to Luxembourg, the Netherlands, Paris or Cologne, Germany.
What are cool day trips from Brussels by train?
Some of the best day trips from Brussels by train are Luxembourg, Bruges, Cologne and Antwerp.
What are cool day trips from Brussels in winter?
Some of the best day trips from Brussels in winter are Bruges, Luxembourg, Cologne and Liege.
---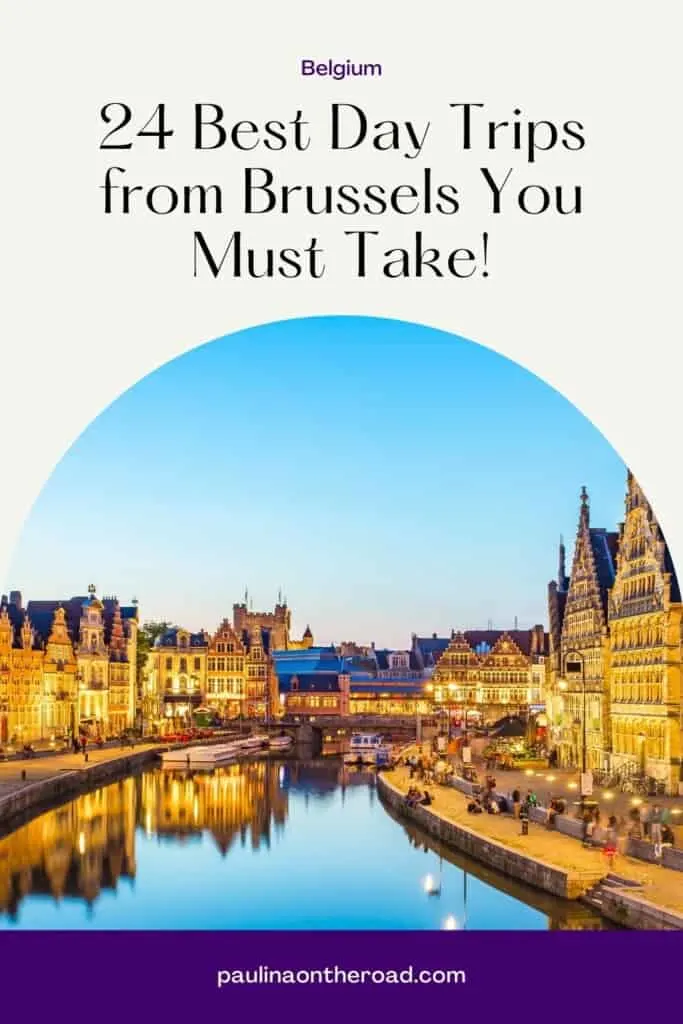 ---
Hola! I am Paulina, a fervent travelette who crossed the Atlantic Ocean by Boat HitchHiking. On my blog, you'll find all the tips to make the most of your holiday. Get ready to enjoy outdoor and sustainable travel like hiking, cycling or sailing. Let's hit the road together!