Hiking in Brussels: The Best Hiking Trails Near Brussels
A guide to the best walking trails near Brussels for every level
Brussels has it all – exquisite chocolate, a host of art museums, and incredible squares and cafes.
Visitors to the capital of Europe are drawn by the range of activities in Brussels and leave recharged by the simultaneously hip and relaxing atmosphere.
But there's another reason to visit Brussels: hiking.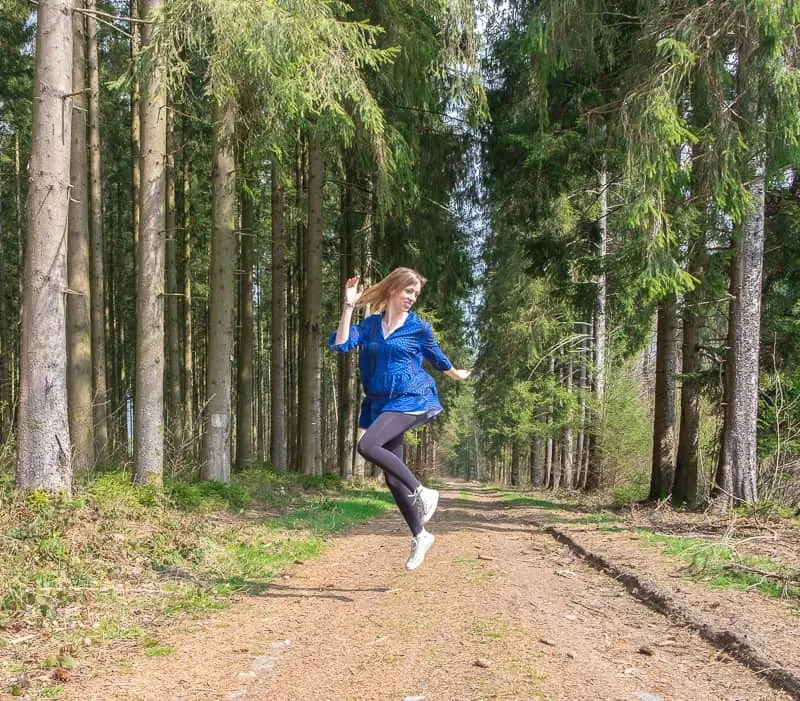 Walking might not be the first thing that you think of when you plan a weekend in Brussels, but the network of trails and hiking around Brussels is just as beautiful as the cosmopolitan city itself.
Indeed, not all of Belgium's best hiking trails are located in the Belgian Ardennes region.
The hiking trails have the added bonus of being only a short distance from the center, making them a haven for nature lovers and city dwellers alike.
Many of the trails are quite close to the Grand-Duchy of Luxembourg, thus they might be a great option when looking for day trips from Luxembourg.
Whether you've got a week or a weekend in Brussels, venture off the beaten track and explore the hidden secrets that lie just beyond the city's boundaries.
In case you are just staying in Brussels for 1 day, check out my guide here.
Hiking in Brussels is also the perfect occasion to bring your vegan hiking boots or to invest in a backpack made from recycled material.
Ready to hike near Brussels? Let's get started!
This blog is supported by you, dear reader. If you purchase through a link, I earn a small commission. As an Amazon Affiliate, I earn from qualifying purchases.
Top Resources to travel Belgium
⚘ Avoid tourist traps and get the "Belgium Like a Local" itinerary for less than 10€. Buy here

✈ Book cheap flights to Belgium with Skyscanner

✔ Book tours in Belgium with GetYourGuide

➳ Find the best hotel deals in Belgium with Trivago

❖ Rent a car with the best discounts at DiscoverCars

✎ Never leave without travel insurance. I got mine at HeyMondo. It is cheap and easy to set up.

$ Withdraw money without hidden fees and avoid exchange rates with Wise (you'll get a free card on top!)
Best Easy Level Hiking Trails near Brussels
1. Stalle Loop Trail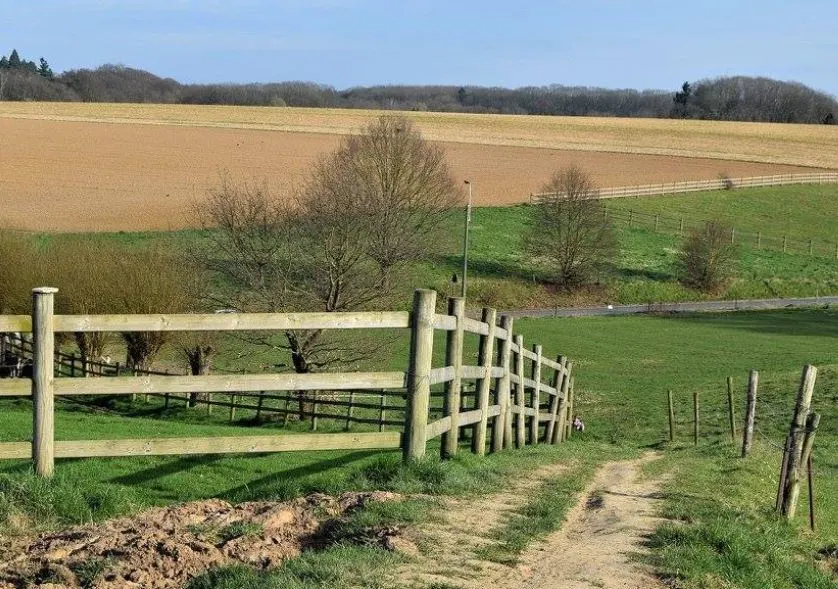 Length: 13.6 km
Starting Point: Uccle/Ukkle
The suburb of Uccle/Ukkle (In French and Dutch) is one of the wealthiest and most beautiful places in Brussels. Hikers can hop on the S1 train at Brussels Central station and be at the trail in 15 minutes, making it perfect for those with only one or two days in Brussels.
The walk starts at the intersection of Rue du Melkriek and Rue de l'Etoile and hikers should begin by heading south on Rue de l'Etoile before turning left on Rue des Trois Rois and heading away from the town towards more open space.
This relatively flat trail winds through streets, farmland, and the final legs meanders through forest, and hikers will be on a path or pavement for the majority of the walk. On a sunny day, views across the flat land give a real sense of space.
This circular walk ends back at Rue de l'Etoile, where hikers can either get a refreshing drink or choose to head back to town for the evening.
Read more about the trail here.
2. Groene Gordel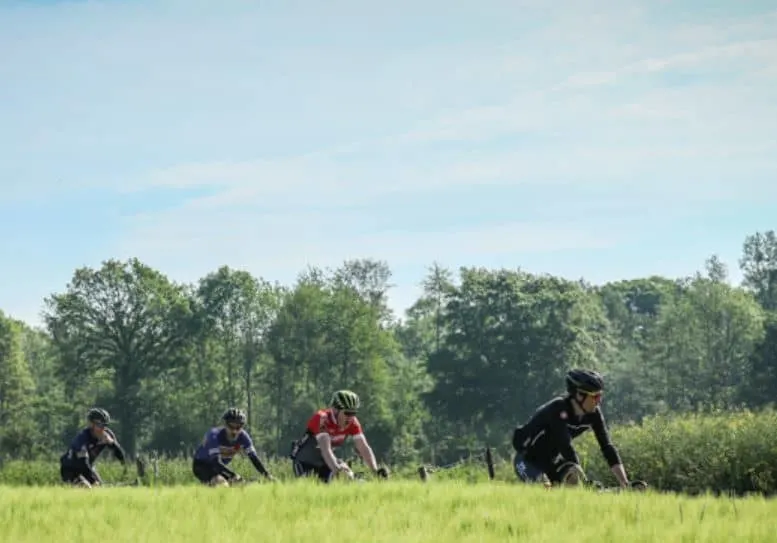 Length: up to 144 km
Starting Point: Halle (recommended)
The "Green Belt" is a circular walk around Brussels that tracks through the Pajottenland, Brabant Jouters, and the Dijleland regions.
It is easy to access from the center and hikers can choose to walk one stage or all 9 over the course of 9 days. Halle is the recommended starting point, but hikers can opt to begin at another stage closer to their residence.
Either option unveils the beauty of the Belgian countryside, as the path dives through an abundance of forestry, gentle hills, mighty castles, and welcoming pubs.
Notable sights include the National Botanic Garden at Meise, the fairytale castle at Gaasbeek, one of the best castles in Belgium, and the renowned Africa Museum at Tervuren.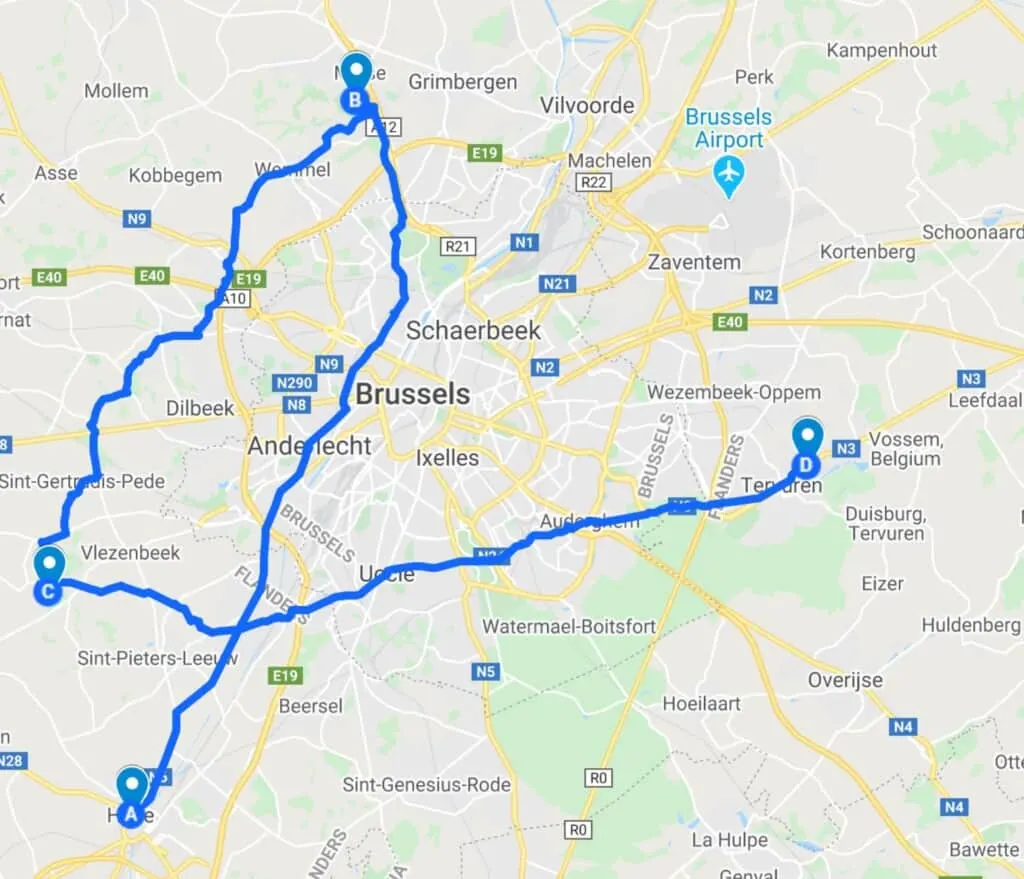 3. Foret de Soignes Trail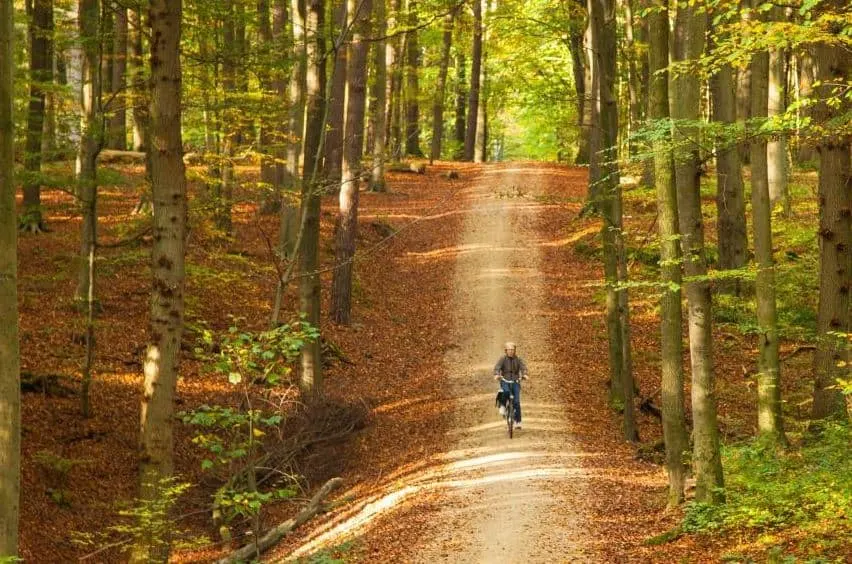 Length: 9 km
Starting Point: Watermael-Boitsfort/ Watermaal-Bosvoorde
Watermael-Boitsfort/ Watermaal-Bosvoorde is a suburb in the south of Brussels, but on this walk hikers won't see much of the city.
Instead, this flat route meanders through the gorgeous Sonian Forest ("Zoniënwoud" in Dutch, "Forêt de Soignes" in French), an ancient beech forest recently designated a UNESCO World Heritage Site.
The trail starts at the intersection of two roads; Kattenberg and Avenue de la Foresterie, reachable by car, or by bus (alight at the Heiligenborre bus stop).
From there, head into the forest and discover the three distinct ponds of the "Etangs des Enfants Noyés" nature reserve. Lucky hikers might even spot the wild boar, which was rediscovered in 2007.
The trail ends at the "Aux Enfants Terribles" restaurant and hikers can opt for a refreshing meal here, or another restaurant in Watermael-Boitsfort/ Watermaal-Bosvoorde, before hopping on a bus back to the city center.
4. Solvay Domain and Hulpe Castle Trail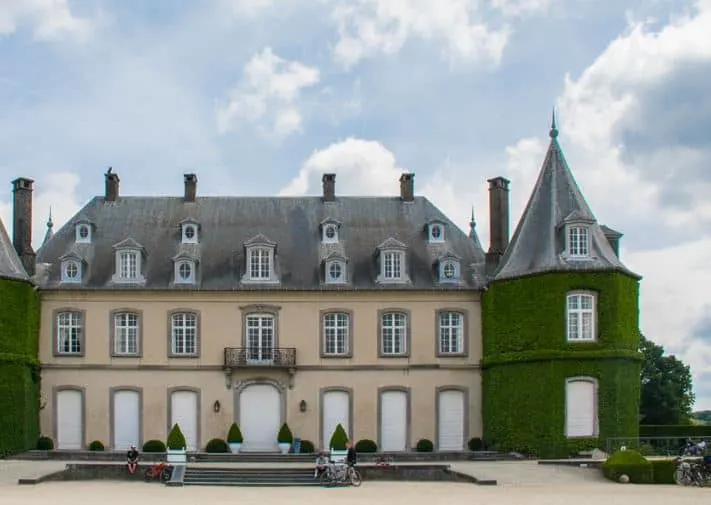 Length: 5 km
Starting Point: Domaine Solvay
To the south-east of the city center lies Domaine Solvay, one of the best parks in Brussels and popular with adults and children alike.
There are three main trails that take visitors through the extensive grounds, but I recommend the Promenade des Zones Humides, which starts from the north-east entrance and heads straight to the étang de la longue queue (oblong pound).
Hikers skirt the pond and walk through the fringes of lush forest, before emerging into a French maze garden that frames the first view of the beautiful Solvay Castle. No wonder that it is considered one of the prettiest castles in Belgium.
From there, hikers navigate around another lake, and through old farmhouses (where visitors can stop for a nice Belgium beer), before following a winding stream back to the north-east gate.
Follow the directions here.
5. Genval Lake Loop
Length: 2.4 km
Starting Point: Genvel
Genval Lake lies 20 km to the south of Brussels and is a perfect quick walk for those who have only 1 day in Brussels, but still want to explore some of the beautiful countrysides near the city.
The hike itself circles the lake, and hikers can opt to stop for a Brasserie lunch, a drink, or simply to marvel at the peace and tranquillity that lie so near the city center.
The lake is near Hulpe, so hikers can combine the loop with a walk in the Solvay Castle gardens to get a real sense of the variety of the landscape near Brussels.
Best Medium Level Hiking Trails near Brussels
6. Via Brabantica (also known as Via Brabançonne)
Length: 35 km
Starting Point: Mechelen
Via Brabantica is part of a dense network of old pilgrim routes that meander through Belgium towards Santiago de Compostela in north-western Spain.
There, the Belgium routes join other trails that Christian pilgrims tracked across Europe towards the place where the tomb of St James was rediscovered in the year 813.
Hikers can opt for a 'pilgrim pass' which is stamped en route and presented to secure a Compostela certificate and proof of the journey.
The whole length of the Via Brabantica is over 140 km, but this Brussels leg is perfect for those looking for a whole-day hike.
Starting in the city of Mechelen (an easy train from Brussels), hikers begin the journey walking alongside the river Zenne, before walking through wildflower meadows.
History lovers can marvel at the Premonstratensian monastery at Grimbergen, and the remains of the castle at Berthout.
Arriving into Brussels' outer suburbs will bring a host of monuments, parks, and even the King's palace. The trail ends at the central train station, making it perfect for those staying in the city.
And if you are a food lover then you can find good places where you can eat traditional Belgian food here.
7. GR126 – Brussel-Namur-Membre sur Samois
Length: 14 km
Starting Point: Brussegem
The GR126 route is a scenic route that starts just to the north of Brussels in the picturesque town of Brussegem and finishes in the heart of Brussels.
I love to combine rural and urban landscapes on my walks, and the GR126 route is perfect for those who fancy hiking in Brussels city itself.
The route begins on a road, Brusselsesteenweg, but dives onto a narrow country lane after 200 m and heads south through rolling countryside.
The route makes a brief detour east to the little town of Lindestraat and then heads into Brussels through the northern suburbs. For all GR routes, red and white flags are used for directions.
The 14 km route ends at the King Baudouin Stadium, leaving hikers free to wander through the maze of parks, down to the canal, and then slightly west into the center of town.
Follow the directions here.
8. GR121 – Wavre – La Roche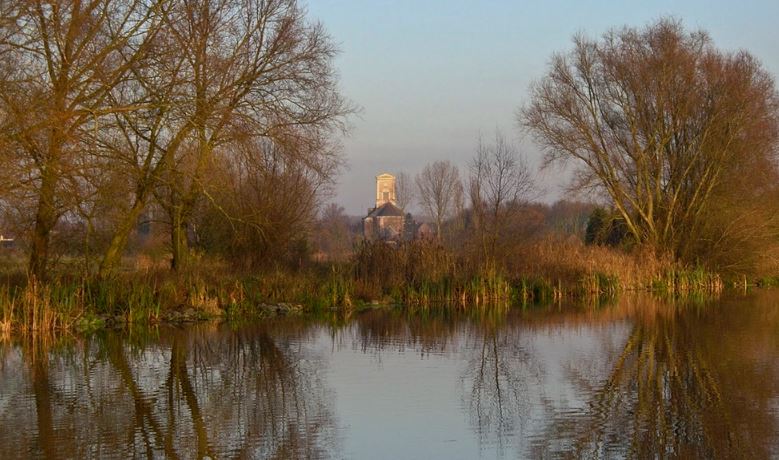 Length: 22 km
Starting Point: Wavre
This trail marks stage 1 of the GR 121 pilgrim route and starts slightly further afield, so is best for visitors with a bit more time on their hands, although trains from Brussels are fairly frequent.
From the Wavre railway station, hikers need to head right along with the Rue du Chemin de Fer until they arrive at a post with the classic red and white flags of the GR routes. The walk starts here.
The first 15 minutes are spent walking through the center of Wavre, before heading into the suburbs and then open countryside. Passing a golf course, hikers should keep their eyes peeled for beehives and a host of wildflowers.
Before long, the Catholic University of Louvain, the largest French-speaking university in the country, appears, along with its beautiful picnic-worthy lake.
The rest of the hike heads through the Forest of Dreams, farmland, and quaint paths, before ending at La Roche railway station. From there, it's a train back to Brussels, and a chance to rest tired feet.
9. Walking Tour in the Sonian Forest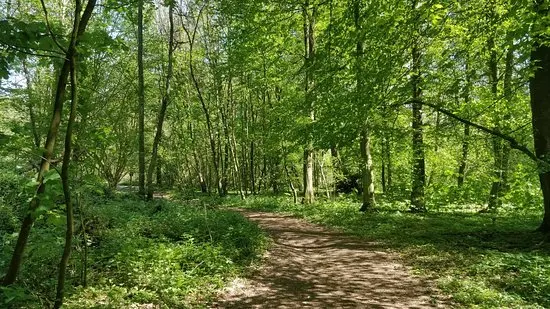 Length: 14.5 km
Starting Point: Groenendaal
Like the Foret de Soignes Trail described above, this walk is a chance to appreciate the beauty of this ancient beech forest and get a taste of the Belgian countryside without having to go too far from Brussels.
There are numerous walks through this beautiful forest, but I recommend starting at Groenendaal train station, which is quick to reach from Brussels centre. – Buy train tickets here
From there, hikers can follow the signposts through the arboretum, pass through tunnels, and keep an eye out for the monuments that lie just behind the trees.
The circular walk ends back at Groenendaal train station, making for a simple route back to Brussels.
You can buy train tickets here
10. Hiking in Het Moeraske, Evere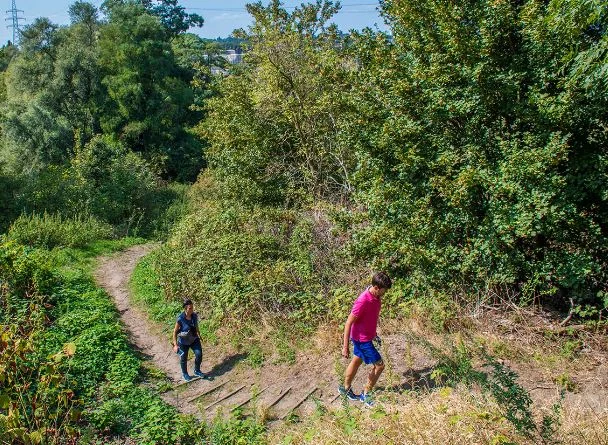 Length: 5 km
Starting Point: Evere
Evere is a suburb in Brussels, easily accessible from anywhere in the city through a network of trams, buses, and trains. But it's also the last remaining swamp in Brussels and boasts some of the richest flora and fauna in the city.
To make the most out of this hidden oasis, hikers can catch a train to Haren-Sud and then follow the train tracks 5 km along a narrow footpath.
The path will lead to the commune of Evere and hikers can climb the hills to look down on the swamp of Het Moeraske.
Hikers can opt to extend the walk to Goede Herderpark, or continue on the path to Schaerbeek train station.
Best Difficult Level Hiking Trails near Brussels
11. Brussels-Liege Trail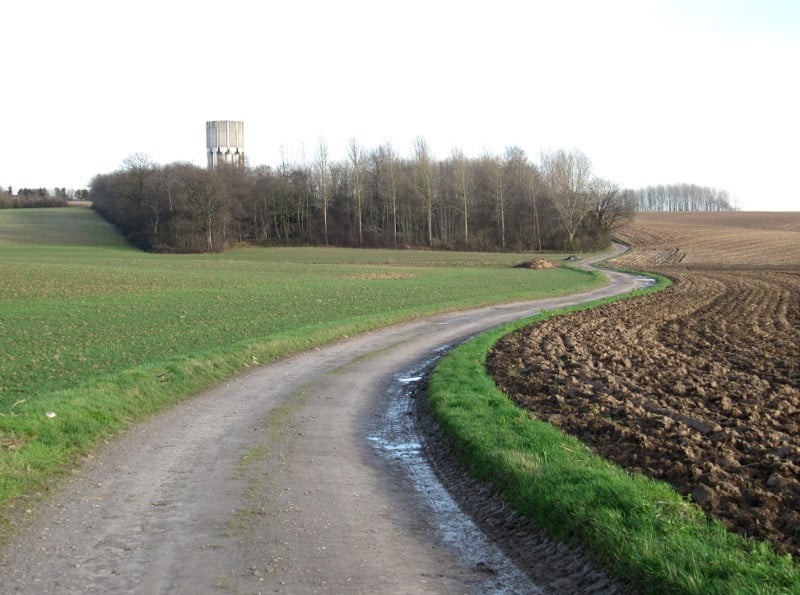 Length: 9 or 29 km
Starting Point: Cathedral of Saints Michael and Gudule, Brussels
This forms part of the GR597, a relatively new route that connects the major cities of Brussels and Liege. Like other GR routes, it's a long-distance footpath that stretches 161 km and is well signposted with red and white signs.
There are two options for hikers starting in Brussels – either walk the 9 km to Watermael and then return to the city or carry on an extra 20 km to Huldenberg to extend the walk.
Either way, hikers will start at the Cathedral of Saints Michael and Gudule, one of the greatest European cathedrals, in the Freedom Quarter of Brussels. Snaking through the city, hikers can admire the neo-Gothic architecture, pass the Royal Palace, and skirt around the ponds of Ixelles.
This route takes in the ancient Abbey of La Cambre, which tells the story of religious conflict in Belgian history, and gives a real sense of space as hikers walk beyond the cosmopolitan beauty and discover rural tranquillity instead.
Hikers leaving at Watermael can jump on a train back to Brussels, whereas those carrying on can look forward to the enchanting Sonian Forest, the arboretum of Tervuren, and, finally, the grape growing region of Huldenberg.
From there, it's a train ride back to Brussels. – Get tickets in advance here
12. Promenade Verte Brussels – The Green Walk
Length: 63 km
Starting Point: It depends on where you are staying!
There is no set starting point for this great green loop around the city. Instead, hikers and cyclists alike dip in and out of the Green Walk, heading clockwise or anticlockwise.
There are 7 different sections to choose from, and they truly showcase the variety of hiking near Brussels (Bruxelles in French), from local history to urban sprawl or rural retreat. Hikers can choose as many sections as they like to walk.
For urban hikers, the Senne-Woluwe leg is the best, as it passes houses, industry, and cemeteries, and is bound to reveal some Belgian history. This leg starts at the Parc du Doolegt, and ends at the Hof ter Musschen.
For nature lovers, the Molenbeek Valley stage promises a world of wonders and takes hikers through farms, parks, and forests. This stage starts on Rue Kasterlinden and ends at Place Saint-Lambert.
Learn more about the Promenades Vertes in Brussels here.
---
Short FAQ about hiking in Brussels
What are good hiking places in Brussels?
Via Brabantica,GR126,Brussels-Liege Trail etc ate good hiking places in Brussels.
What are easy hiking trails near Brussels?
To name a few easy hiking trails in Brussels are Stalle Loop Trail,Groene Gordel,Foret de Soignes Trail etc.
What are great hiking spots in Brussels?
Stalle Loop Trail, GR121 – Wavre – La Roche ,Walking Tour in the Sonian Forest etc are great hiking spots in Brussels.
---
---
Hola! I am Paulina, a fervent travelette who crossed the Atlantic Ocean by Boat HitchHiking. On my blog, you'll find all the tips to make the most of your holiday. Get ready to enjoy outdoor and sustainable travel like hiking, cycling or sailing. Let's hit the road together!