10 Things To Do in Brussels in a Day
Post Written by Mayuri Kashyap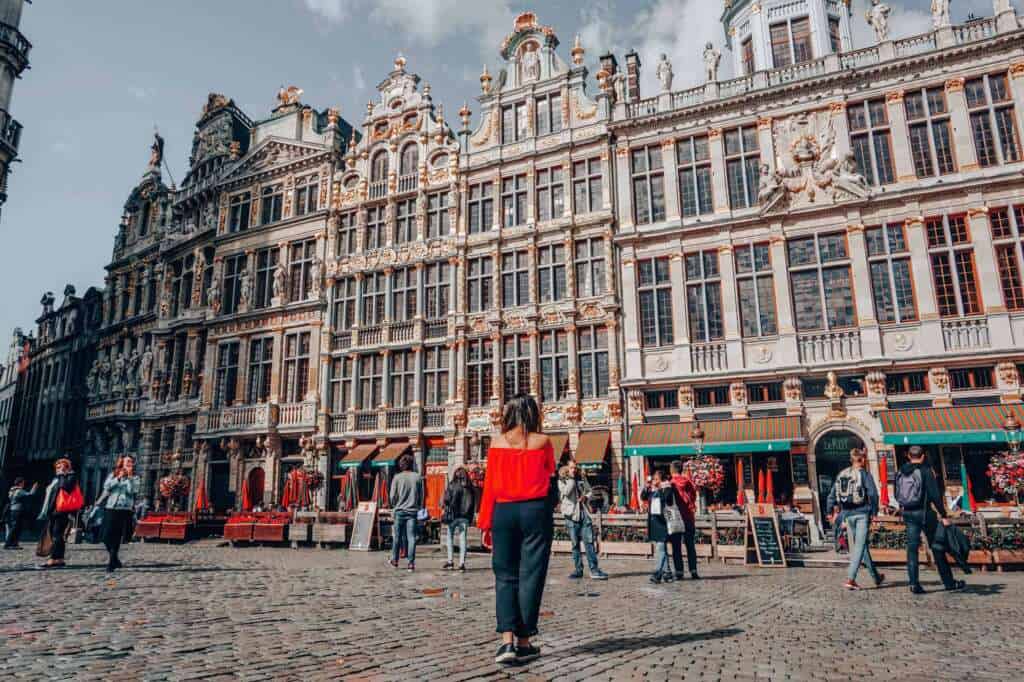 Brussels is the stunning capital city of Belgium. There are amazing things that you can see and experience in Brussels. It is a perfect way to get in to the heart of Western European culture. We had a great time in Brussels on our recent visit. You can explore the city in a day or more.
If you have more than 1 Day in Brussels, then read the best day trips to take from Brussels.
If your visit is for a day, then read the post below. We curated this handy list with the top 10 Things to do in Brussels in one day.
1. Grand Place or Grote Markt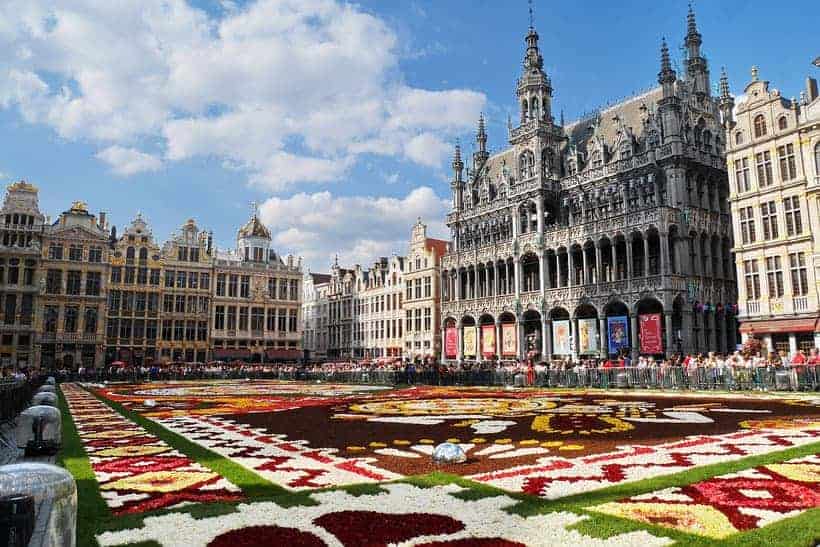 The "Grand-Place" or the Grote Markt is one of the iconic landmarks of Belgium. It is located in the heart of Brussels and is considered as one of the most important squares in the country. The Grand Place is on the UNESCO World Heritage List.
Following the induction of the Grand Place into the UNESCO List, several decrees for the protection of the interiors were issued by the Administration of the Brussels-Capital Region.
There are three main structures that make up the grandeur of the Grote Markt. They include the town hall, King's house and the houses of the Grand Place. This tourist spot should be included in your itinerary. You will be mesmerized by the stunning gold ornate and designs on all the merchant and guild buildings.
There are many events that are organised at the Grand-Place all year round. They include the Flower Carpet event, which is a flower (begonias) event, organised every 2 years in mid-August. Every year in December, Christmas Market and Tree are set up on the market square. Summer months are busy here with free concerts showcased here. The Meyboom procession also starts at the Grand Place.
The Grand-Place is definitely one of the must see places in Brussels and the starting point for your exploration of Brussels.
2. City Museum and the Brussels Town Hall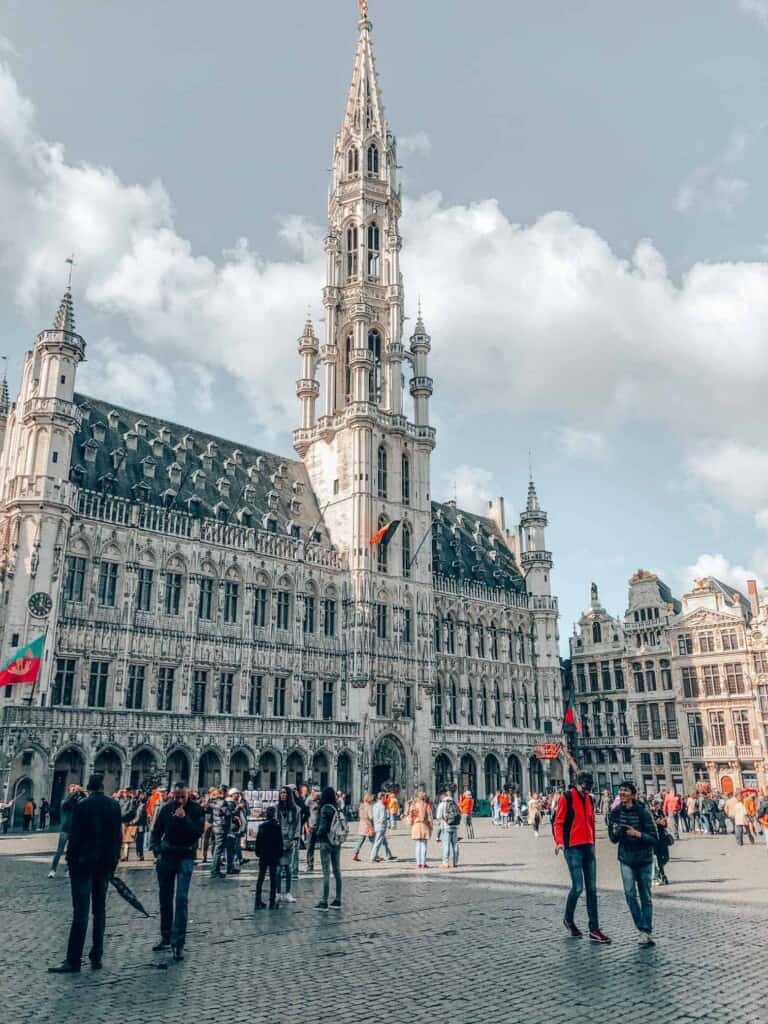 The Town Hall is located at the central point of the Grand Place square. It is the only medieval building that exists in its old form at the Grand Place. The Town Hall still houses a significant portion of municipal offices. It is embellished by a bell tower which is the most iconic structure of the square.
The town hall was built in different stages during the early part of the 15th century and, when you closely look at the architecture, you will find that it is asymmetrical…also one of the reasons why the town hall is aesthetically criticized!
It is still stunning though, in my opinion. There is beauty in its imperfections.
Located close the the Brussels Town Hall is the King's House (Maison du Roi) which houses the Museum of the City of Brussels. (Entry fee – 8 euros for adults.) Group and guided tours are also available. It is definitely one of the main attractions in Brussels.
3. Take a horse carriage ride at the Central Square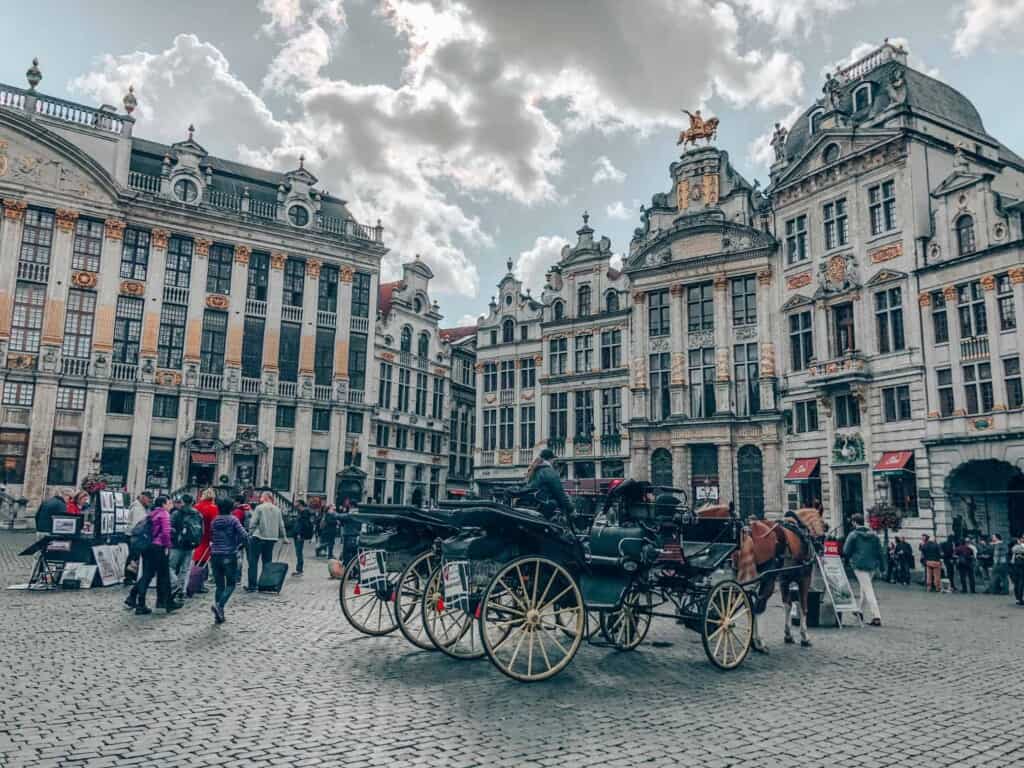 Take a horse carriage tour starting at the Grand Place and explore all the buildings and markets in and around central Brussels. The horse-drawn carriage tours costs €44 and takes 30 minutes. It is a perfect way to add some memorable activity in the historic city center.
If horse-carriage is not your thing, take a stroll around the buildings and do some souvenir shopping and/or eat your heart out.
4. Eat some waffles at Maison Dandoy
You are in Belgium, so you have to try their waffles. Belgium waffles aka the original waffles are quite different from the ones we eat in North America.
Read more about where to eat in Brussels
These waffles were introduced by Maurice Vermersch of Brussels and it are based on a simplified recipe for the Brussels waffles – it has a lighter batter, larger squares, and deeper pockets then North American waffles.
Did you know that there are Brussels Waffles and Liege Waffles (another city in Belgium). Well, for now, let's try the authentic "Brussels Waffles". One of the popular places to eat waffles in Brussels is Maison Dandoy. You will find casual dining places near the Grand Place, which are also great choices to try some waffles.
5. Try some Belgian fries & beer
Belgian frites are unique to Brussels too. They are fluffier than the usual French fries and are served in a cone. Try some fries at Belgian Frites, located in central Brussels. Belgium fries are fries and whole lot of taste. Try them, you will see why they are different from French fries. Add some sauce to it as well! Yum!
Here are some other places where you can enjoy some delicious Belgian fries:
Place Flagey: Fries Food Truck
Maison Antoine
Friterie du Miroir
Belgian Beer is popular as well. Many visitors visit Belgium for its beers. In many parts of Belgium, you can visit breweries to see how beer is made and the entire process of brewing can be experienced with a guided tour.
There are about 296+ active breweries in Belgium. Belgium has the most storied history of any country when it comes to brewing delectable beers. Beers in Belgium include pale lager to amber ales, lambic beers, ales and stouts. Take a beer tour to experience the best of Belgian beer or head to a brewery.
6. Comic Strip Walk and Museum
Brussels is home to the comic stars – Tintin, Spirou and the Smurfs and they are everywhere in the city. The Belgian Comic Strip walk is a lane full of murals in Brussels city centre (55 murals). It is a definite treat to the eye.
Hint: This place also makes for great photography location!
You know that Brussels loves Tintin (my husband does too). His iconic blonde hair graffiti is everywhere in the city. If you are a comic fan, then head to the Comic Strip museum. The Comic Center is a museum dedicated to the colorful world of comics.
You won't be disappointed here. This is a different way to explore the quirky side of Brussels.
7. St Michael and St Gudula Cathedral, Brussels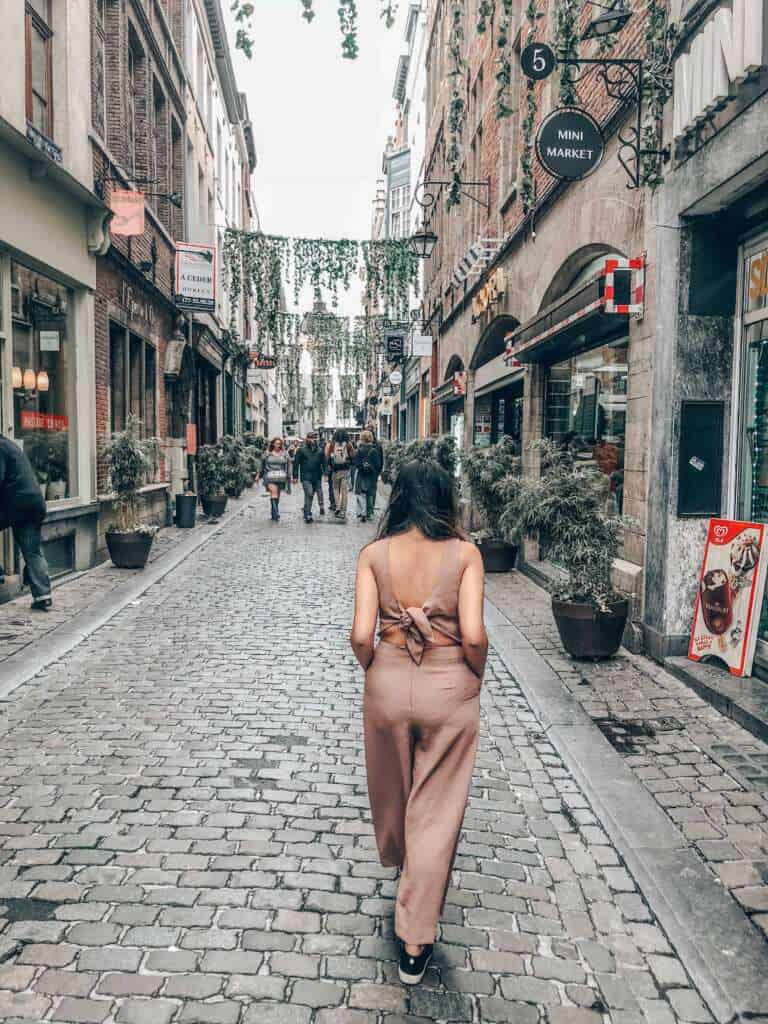 St Michael and St Gudula Cathedral is a Roman Catholic Church located in central Brussels.
The cathedral is made up of stone quarry and looks stunning from the outside. If you have some time on your hands, it is worth visiting the interiors of the cathedral as well.
There are many marble alabaster altarpieces and baroque style pulpits.
8. Manneken Pis Statue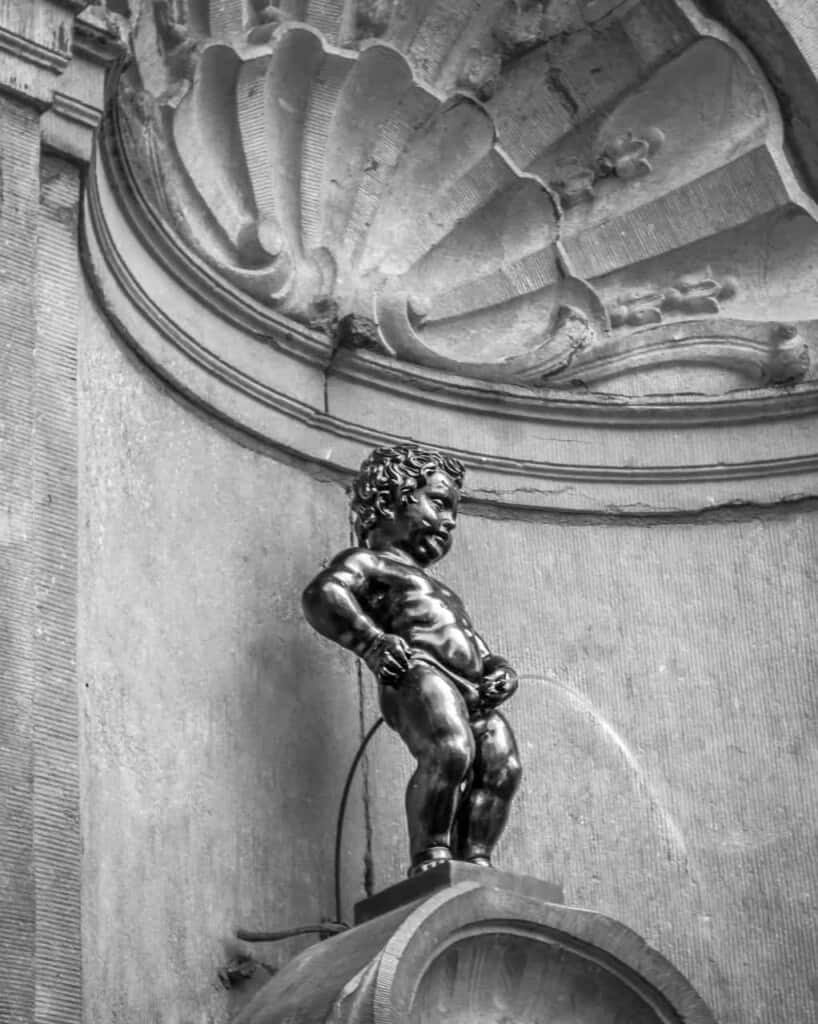 Manneken Pis is a weird tourist attraction in Brussels. I say weird because its a "little man pee" statue. The statue takes a little bit of skill in hunting down (unless you see it as part of a tour) but it is worth persevering.
You will find it by taking the right lane away from the town hall. Definitely worth a visit to see what the fuss is all about!
9. Get some shopping done at Hubert Hall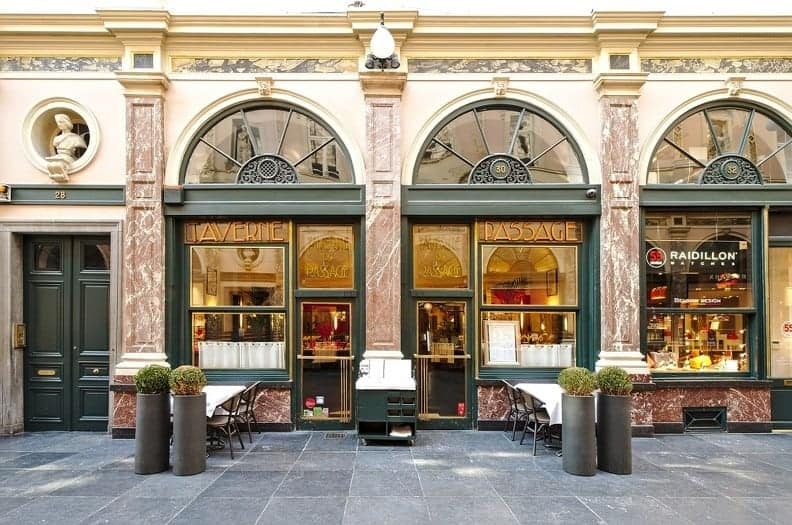 The Saint-Hubert Royal Galleries are a stunning array of shopping arcades in Brussels. Located close to the central square, this gallery dates back to the 1850's.
The internal passage is very beautiful and makes for a great photography spot. If you are here in the morning, before stores open, then enjoy some breakfast and coffee. The stores are open as late as 09:00 pm.
We enjoyed some Belgian chocolates in the evening during our stay as well! The Saint-Hubert Royal is on the UNESCO "Tentative List", due to its cultural importance.
10. Marolles Flea Market
Marolles is a flea market located at Place du Jeu de Balle, Brussels. This place is quite historical. In olden days it was called the "Old Market" ("Vieux Marché" in French).
It was built in 1853, along with the nearby rue Blaes, the Place du Jeu de Balle or "Old Market" and was intended to serve as a playing field for "balle pelote" players. Today it is a popular flea market in Brussels and definitely one of the cool things to do in Brussels.
About 450 merchants work here every day of the year, selling some vintage items to collect and take home from your visit.
---
Now that you are ready for Brussels, here are some quick tips for your Brussels Trip
Brussels is served by the Brussels Airport, which is located northeast of Brussels
You can use your credit card for most transactions as well
Safe and perfect for solo, couple or family vacation trips
Best Time to Visit : April to July are summer and busy months to visit. There are lot of activities/fests that take place in Brussels during summers. August to early October are off-season month. You can find good hotel prices during this time. Tourist spots will be less crowded too.
National trains (SNCB) connects Brussels to other cities in Belgium – Buy here your train tickets to Brussels
Inter-country or Thalys trains also operate from Brussels (Bruxelles-Midi) to other countries like France and Netherlands. – Buy here your train tickets to Brussels
You can use sightseeing tours to visit Brussels as well. Lots of tour options are available for all budgets.
Hotel Tip – Stay in Brussels downtown or central square area for better access to sightseeing areas.
Brussels is a beautiful European city that deserves a visit. It is modern, yet you will find vintage and medieval remnants across the city. And don't forget the FOOD in Brussels. It is yummy!
---
About the Author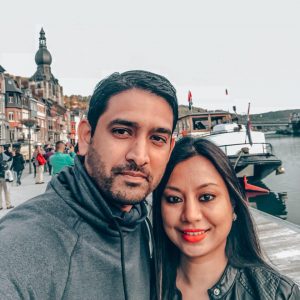 Mayuri is a Business Management Professional based in Canada. Originally from India, she moved to Canada to finish her Masters Degree and has been calling it home ever since. Mayuri is a history nerd and loves to explore a city's past. She works full time and encourages people to travel even with busy schedules.
She blogs her travel stories and tips on tosomeplacenew.com. Her blog has series of short term itineraries and weekend getaway guides to suit travellers with hectic lifestyles. She travels with her husband, Salil who is also the mastermind behind the lens.
---