20 Best Day Trips from Milwaukee, Wisconsin
A guide to the best day trips and road trips from Milwaukee, Wisconsin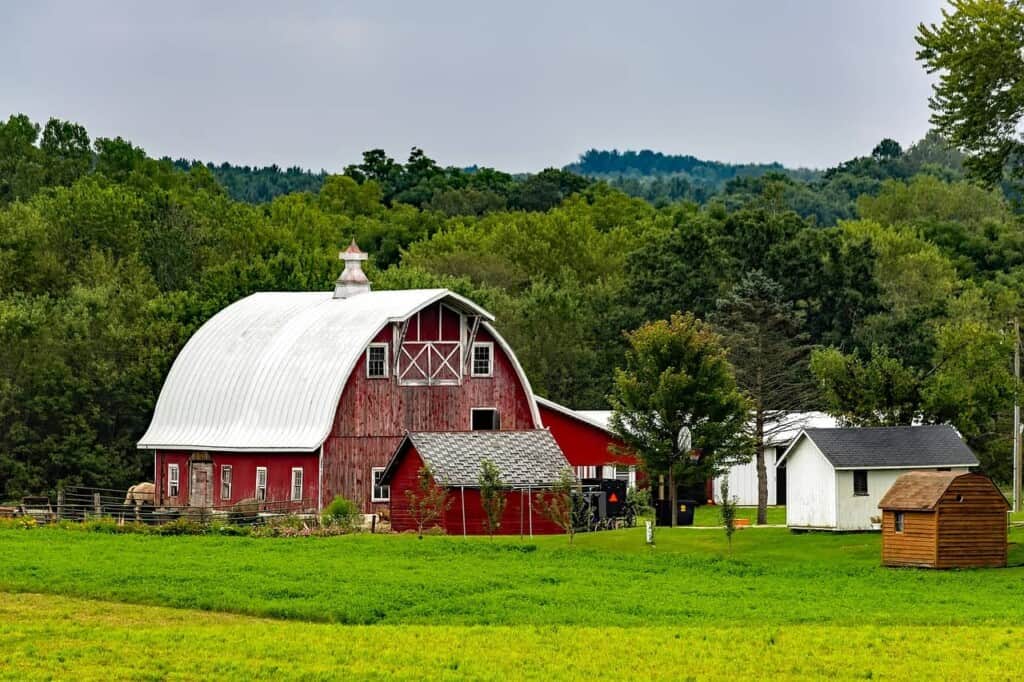 You may not have Milwaukee, Wisconsin on your bucket list, but perhaps you should reconsider and add it. You may be surprised at the many interesting attractions around Milwaukee that will delight families and single travelers alike.
Whether you live in Wisconsin or are simply visiting the state, this article will give you some ideas about the best places to visit around Milwaukee and what to see around the state of Wisconsin. Plus I've included some of the best road trips from Milwaukee.
Wisconsin itself is beautiful, full of beautiful lakes, hiking trails, and beaches. Some of the best state parks in Wisconsin are my favorite in the entire United States! These day trips from Milwaukee will help you explore all that this amazing state has to offer!
You can start your road trip from Milwaukee or, alternatively, begin your day trip to Milwaukee from Chicago.
Whether you are looking for day trips from Milwaukee in winter or summer, or even shore trips out of Milwaukee, you'll find some of the best day trips in Wisconsin on this list!
Thanks to affiliate links, I pay my bills. If you make a purchase through them, I may receive a small commission (for which I'm deeply grateful) at no cost to you. All opinions are always mine. Merci!
Useful Travel Information for Wisconsin
✎ Plan the ultimate Wisconsin road trip (no backtracking!) with the Perfect Wisconsin Road Trip itinerary – Get it here

✈ Book cheap flights to Wisconsin with Skyscanner

✔ Book tours in Wisconsin with Viator

➳ Book holiday and vacation rentals in Wisconsin with VRBO

❖ Rent a car at the best rates with DiscoverCars

☘ Get the best discounted outdoor gear (outlet) at REI.com

$ Get Wisconsin hiking guides and maps at REI.com

✎ Never leave without travel insurance. I get mine at SafetyWing. It is easy to set up, cheap, and reliable.
What to Expect from Road Trips to Milwaukee, WI
Road trips are, of course, part of the cultural heritage of Americans. Think of Jack Kerouac and his groundbreaking novel, 'On the Road.' Stop off in or near the city and spend time there so that you can take part in the varied outdoor activities near Milwaukee that are on offer.
For example, depending on the season, you can do cross-country skiing, go fishing or hunting, hire a horse for a day or longer, or go riding. You can also do more extreme sports such as tubing.
The sporting world is your oyster as far as fun things to do in the Milwaukee area and beyond are concerned. – Book here your rental car in Milwaukee
If you don't really want to drive all the way from your home to Milwaukee, it has an airport, General Mitchell International. So you can fly to it and start exploring the area around the city.
Even during the cold season, there are plenty of things to do in Milwaukee in winter.
There are even lots of great date ideas in Milwaukee – and one of them is to get out of the city and take a day trip!
While you are in the vicinity of Milwaukee, I highly recommend considering some weekend getaways near Milwaukee. One of the best things about any road trip is that you can have a flexible schedule and stay wherever you like.
Book here foodie tours in Milwaukee
Wherever you decide to use as a base while you are near Milwaukee, there will be plenty of places of interest to visit. However, the best way of getting to know an area is to drive around it.
Since I recommend exploring and taking as many driving trips from Milwaukee as you can, it might even be worth considering an RV rental!
There are so many places to see around Milwaukee and so many road trips from Milwaukee to take. This list offers some suggestions for the best day trips from Milwaukee.
Book here the best tours and activities in Wisconsin
1. Old World Wisconsin
Distance from Milwaukee: 44 minutes, 39 miles
A must-visit place is Old World Wisconsin which is just under 39 miles by road. A visit to Old World Wisconsin is just one of the many attractions around Milwaukee.
It is an ideal place to start going for weekend getaways from Milwaukee and is of interest to young and old alike.
Visitors can have a first-hand experience of village life in the 1880s and what it was like to work on a farm.
2. Chicago
Distance from Milwaukee: 1 hour 32 minutes, 92 miles
Chicago, known as the "Windy City", lives up to its name. So if you are used to the climate of California or Florida, perhaps the best way to explore the city is with the subterranean Pedway.
This is a network of tunnels running under the central downtown area of Chicago. If you want to travel hassle-free, I recommend this day trip by train from Milwaukee to Chicago.
Book a guided walking tour, then return to explore and shop at your own pace.
If it's winter when you visit, go ice skating in Millennium Park or visit Willis Tower and get a bird's eye view of the city from the observation deck.
In summer, water sports on the lake are a great thing to do on your getaway from Milwaukee. Chicago plays host to a multitude of events and festivals all year round. So there is sure to be something to interest you.
If you are en route to Chicago by car, then there are a whole host of things to do between Chicago and Milwaukee that are listed below.
Of course you can also do it the other way around and take a day trip to Milwaukee from Chicago. There are quite a few Wisconsin day trips from Chicago you can take!
Book here your day trip by train from Milwaukee to Chicago
3. Kenosha
Distance from Milwaukee: 45 minutes, 32 miles
Kenosha is located on the banks of Lake Michigan. So you have a choice of water sports to do on the lake. It's another place that transports visitors back to the past, especially those looking for short trips out of Milwaukee.
Book here a weekend cabin in Kenosha
This is one of the top Milwaukee trips for water-sports enthusiasts. It also has a Dinosaur Discovery Museum which kids of all ages (and adults) find fascinating.
Kenosha also has one of the most historic lighthouses of Wisconsin.
Visit the historic Southport Light Station Museum to have an understanding of what it was like to be a lighthouse keeper at the end of the 19th century.
The Kenosha Public Museum is also worth a visit. This has some skeletons of mammoths on display, and there is also a model native American village.
Not far from the Public Museum is the Civil War Museum, ideal for those who are interested in this period of American history. I recommend spending some time exploring Kenosha. You never know what you will find.
Because the distance from Milwaukee to Kenosha, United States is only 45min drive, this is one of the best day trips from Milwaukee! Read here about things to do in Kenosha.
Book here your hotel in Kenosha, Wisconsin
4. Madison
Distance from Milwaukee: 1 hour 19 minutes, 79miles
Madison is the state capital of Wisconsin and an interesting city to visit. It's one of the ideas or day trips in Wisconsin from Milwaukee that you could go on.
However, as there is so much to see and do there, you may want to stay longer.
Book here your tours around Madison, WI
There are a few places of interest that offer free admission, such as the Arboretum at Olbrich Botanical Gardens, and the arboretum at the University of Wisconsin-Madison.
You can't miss Madison if you love makes as it is home to some of the best lakes in Wisconsin.
Of course, it's free to visit all five lakes that are in the Madison area and you can follow the more than 200 miles of hiking and biking trails around the city.
Not surprisingly, Madison has some of the best hiking trails in Southern Wisconsin.
In summer, you can enjoy a free concert on the Monona rooftop terrace, where you can dance and listen to some great live music.
Tours of the state capitol building are free, on a daily basis too, and you can get some amazing views of the city from the observation deck.
The city's museums and art galleries are free and certainly have interesting exhibits.
Madison is arguably one of the best places to visit near Milwaukee, and perhaps one of the best day trips in Wisconsin!
Whether you visit in summer or winter, there is always something to do in the city so that it should definitely be on your list of places around Milwaukee to visit. Madison is thus a great place to visit in Wisconsin in winter.
5. Port Washington
Distance from Milwaukee: 33 minutes, 30 miles
Port Washington is under 30 miles away from Milwaukee, which makes it an ideal place for a brief day trip. This is definitely one of the top Wisconsin day trips from Milwaukee, so you might want to consider adding it to your itinerary.
If you are to be based in Milwaukee for a prolonged period, you could add this coastal city to your list of weekend getaways near Milwaukee (Wi) and visit when there is an event that you would like to see.
Port Washington is on the shores of Lake Michigan, which means that you can use it as a base and do water sports there.
One of the historic landmarks is the art deco lighthouse on the lakeshore. Stroll around the lakeside shopping area will be a revelation, as you never really know what you will find to delight yourself in this historic part of town.
From here it is only a stone's throw to the Luxembourg American Cultural Center.
Book here your hotel in Port Washington
6. Belgium, Wisconsin
Distance from Milwaukee: 43 minutes driving, 37 miles
Belgium is another town in Wisconsin that has firm ties with Europe, this time with the small country of Luxemburg.
The Luxembourg American Cultural Society and Center is a mine of useful information regarding dual citizenship processes and Luxembourgish heritage. Trace your ancestors who came from Belgium and Luxembourg to the USA and understand more about their lives.
It's home to the Harrington Beach State Park, the Forest Beach Migratory Preserve and also has, within its boundaries, about 6 miles of the Ozaukee Interurban Trail. Heading to Belgium is one of the best vacation ideas in Wisconsin.
So if you enjoy the great outdoors, Belgium is ideal for a weekend getaway from Milwaukee, or just plan a day visit. – Book Skip the Line tickets to Luxembourg American Cultural Center here
7. Cedarburg
Distance from Milwaukee: 30 minutes, 23 miles
A Milwaukee day trip idea is a visit to Cedarburg, Wisconsin. If you enjoy quaffing a glass of wine, you should spend an hour or two at the Cedar Creek winery. But take care not to drink and drive. It might be a better idea to book a tour instead of driving yourself.
A trip to the winery in Cedarburg is one of the best things to do around Milwaukee.
While in Cedarburg, be sure to visit the visitor center, the museum and the old general store, which gives visitors an idea of what shopping was like in the town's past.
There were no supermarkets or malls, just shops where the owner and staff knew all their customers and endeavored to please them.
The Cedarburg cultural center is the local history museum and it offers visitors another opportunity to step back in time.
8. Racine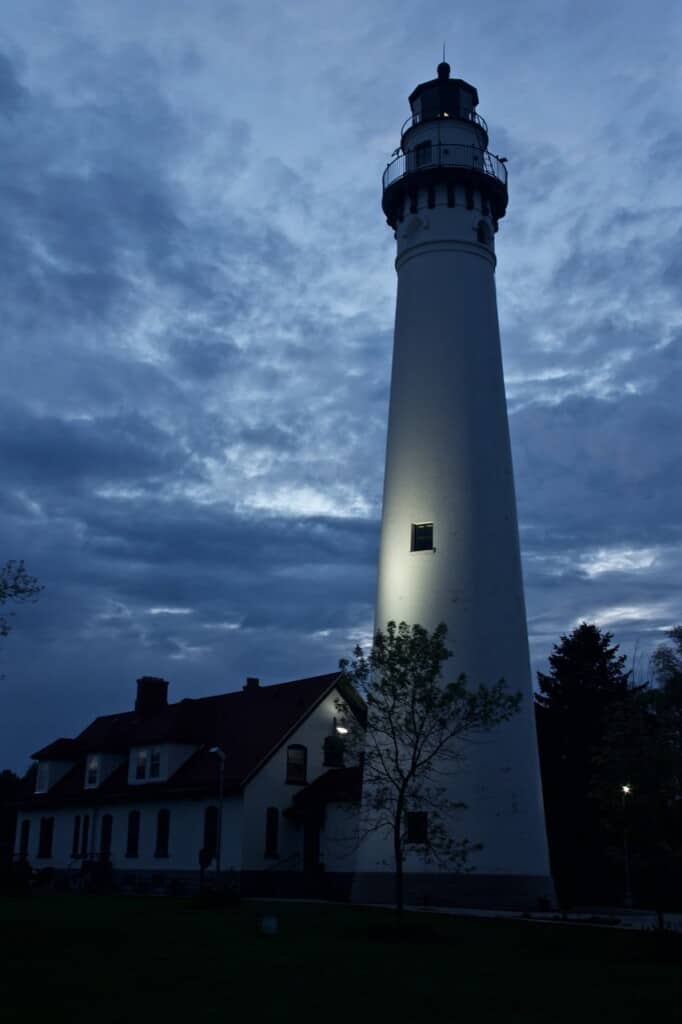 Distance from Milwaukee: 38 minutes, 27 miles
Racine is another good town to visit, especially if you are looking for shore trips out of Milwaukee. It's named after the 17th-century French playwright, Jean-Baptiste Racine and is another example of Old World influence on Wisconsin.
The town is situated on the shore of Lake Michigan, so there's ample opportunity to sail or do other water sports. The town's lighthouse is yet another highlight of a long weekend trip from Milwaukee.
There's something for everyone in Racine: from fishing and kayaking to visiting the world-famous buildings designed by Frank Lloyd Wright.
Racine is not all about culture, although you may be forgiven for thinking that it is. It has appeal for all the senses. And that of taste can be satisfied by a visit to the local bakery, Kringle, home to the official Wisconsin state pastry, which is basically an oval Danish Pastry. There are several Danish bakeries in Racine.
Try the ones on offer at Kringles in the town. Tasting this delicacy is one of the things you can do near Milwaukee if you have a sweet tooth. – Check rates & reviews for hotels in Racine, WI
9. Lake Geneva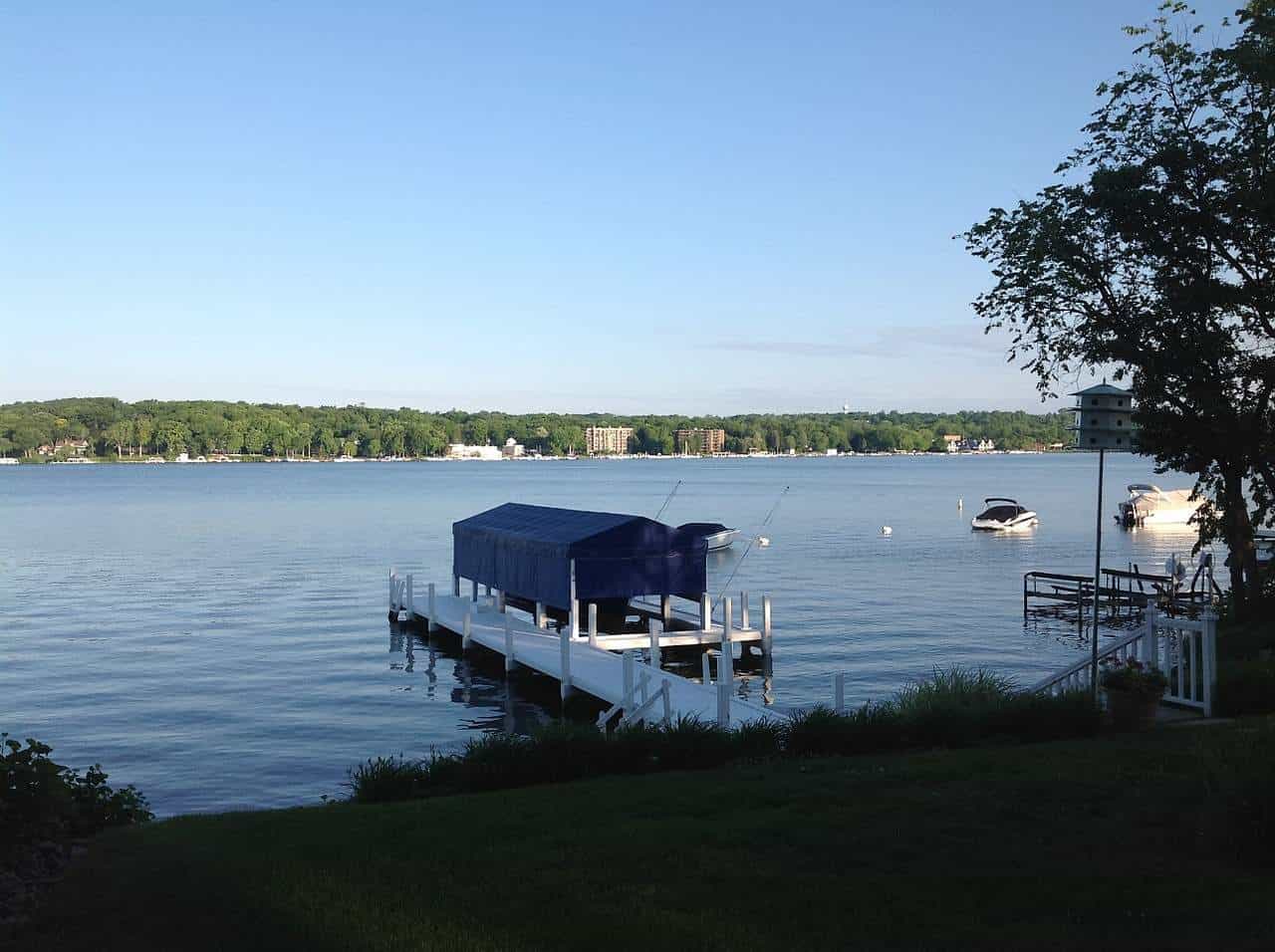 Distance from Milwaukee: 58 minutes driving, 54 miles
Lake Geneva, approximately 50 miles away from Milwaukee, is another of the towns near Milwaukee that you shouldn't miss. Lake Geneva is on the banks of the lake with the same name, and a stroll around it will transport you back to a bygone age of luxury. – Book here your lake cabin in Lake Geneva
It has 19th-century mansions contrasting with the Big Foot State park, (which kids love) and in winter, there is a ski resort to enjoy.
In fact, Lake Geneva in winter is one of the best times to visit as you can see the famous ice castles!
So whatever the season, you should add this destination to your list of fun things to do near Milwaukee. It's particularly beautiful with fall foliage and it's thus considered one of the top things to do in fall in Wisconsin.
If you love extreme sports, you can go zip-lining in winter and be awe-struck by the snowy landscape. In summer, go kayaking on the lake or try cross-country skiing or walking in snowshoes during winter.
If you're looking for romantic getaways in Lake Geneva, you can enjoy a couples' spa treatment on a day trip or go for a hike on the Geneva Lake Shore Path.
Lake Geneva has something for everyone, so don't miss it off your itinerary when it comes to things to do near Milwaukee.
Related: Where to stay in Lake Geneva, Wisconsin
10. Kohler
Distance from Milwaukee: 55 minutes, 55 miles
Another of the best road trips from Milwaukee is Kohler, just 55 miles away. It is interesting as the village was built to house the workers of the factory of the same name.
Although there are many instances of such communities in the UK, there are few in the US.
Why visit Kohler? There's a winery there which produces good wine, a golf course and a design center where you can see designs of the bathroom fixtures and fittings produced at the Kohler factory. This might not appeal to everyone, but it is one of the top sites to see.
The area is also home to some of the most romantic cabins in Wisconsin, thus you might consider it for a couples' getaway.
Don't forget to bring your Wisconsin hiking guidebook in order to explore the best trails in the area. – Check rates here
11. Green Bay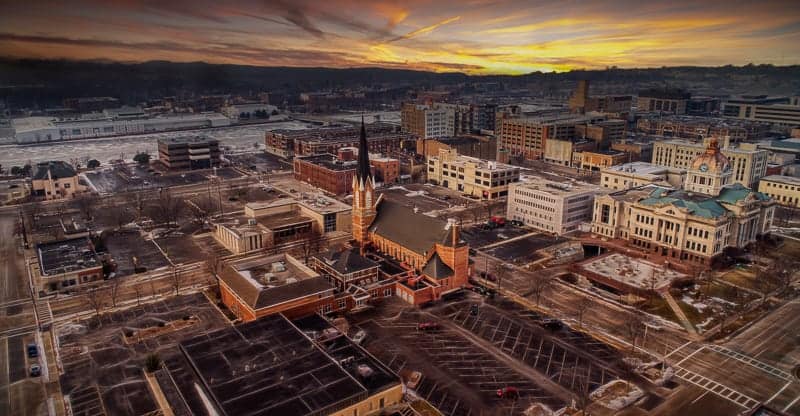 Distance from Milwaukee: 2 hours 7 minutes, 116 miles
Green Bay is another of the tourist attractions near Milwaukee Wi which is 116 miles from the city.
Because I visited in winter, I think that Green Bay is one of the top winter day trips from Milwaukee, or if you have the time it was one of my favorite weekend road trips from Milwaukee.
You could plan to stay for a couple of days as it offers a chance to do water sports on Lake Michigan and if you have kids, there's also an amusement park that they will enjoy. There are also many opportunities for Wisconsin day trips from Green Bay.
When in Green Bay, don't miss visiting Titletown, Wisconsin since it's just one attraction among other things to do in Green Bay, Wisconsin.
If you plan on staying for one or more nights, check out my guide on the best resorts in Green Bay.
Discover the best tours in Green Bay, Wisconsin
12. Horicon
Distance from Milwaukee: 1 hour, 55.7 miles
Horicon is home to a marsh and wildlife center, but the city, which is close by. has year-round events for visitors and locals alike.
It's an ideal place to have your base for your nature expeditions.
Due to its exceptional beauty, the Horicon is ofter considered as one of the best places to vacation in Wisconsin.
On top, the area served as a location for some of the best movies filmed in Wisconsin.
13. Horicon Wildlife Refuge and Horicon Marsh
Distance from Milwaukee: 1 hour, 55.7 miles
Horicon Wildlife Center and Horicon Marsh are 55 miles away from Milwaukee. These natural attractions are popular with outdoor enthusiasts and kids. A longer visit to these places is one of the Milwaukee weekend getaway ideas I recommend.
Horicon (not horizon) is problematic to get right if you use a spell check. Its origins lie in the language of the Mohicans and it means either 'clear' or 'pure water.'
The Mohicans who lived in Wisconsin were descendants of those who were driven out of Schodack, which is near Albany, and moved to Stockbridge, Massachusetts.
They were later allotted a reservation in the 19th century and the Munsee tribe joined them. These people became known as the Stockbridge band and some members would have hunted and fished in what is now the Horicon Wildlife Center and its marsh.
If you have kids, they will love pretending to be Mohicans here. Especially after they have taken part in some activities at the Horicon Marsh Education and Visitor Center.
The history of the marsh goes back to prehistoric times, and there is even a woolly mammoth for kids to climb on and touch. Your kids will be fascinated by the exhibits and the information supplied by the knowledgeable staff at the center.
14. Kettle Moraine State Forest
Distance from Milwaukee: 45 minutes, 44 miles
The Kettle Moraine State Forest is in southeastern Wisconsin. You can camp there from May to October, but you should make a reservation for a site.
If you can visit in September or October to make the most of the stunning fall colors in Wisconsin.
There are several campgrounds, most of which close by the end of October. The only one open throughout the year is the Ottawa Lake campground which has 100 sites.
At this site, there are cabins for people with disabilities.
Some facts about the Kettle Moraine Forest:
There are various hiking trails in the forest of different levels of difficulty.
The forest area has a long history, going right back to the Ice Age.
You can explore the forest alone or join a group and have a guide.
The Kettle Moraine scenic drive takes visitors through both sections of the forest and is highly recommended if you have time to explore.
Horses and their riders are welcome.
See the glacial landforms.
You can bike along some of the trails.
Kettle Moraine State Forest appeals to all age groups, so it is a great place for one of the driving vacations from Milwaukee that you can take.
Visiting the forest on a day trip or for a vacation is, without doubt, one of the best places to visit near Milwaukee, Wisconsin.
Don't forget to bring your Wisconsin hiking guidebook in order to explore the best trails in the area. – Check rates here
15. Fort Atkinson
Distance from Milwaukee: 39 minutes, 58 miles
Another of the day trips to take around Milwaukee is one to Fort Atkinson, 58 miles from Milwaukee, which has a number of things to do like exploring the Riverside resort and visiting the Dorothy Carnes Country Park and Rose Lake State Natural Area. – Book here your hotel in Fort Atkinson, Wisconsin
16. Door County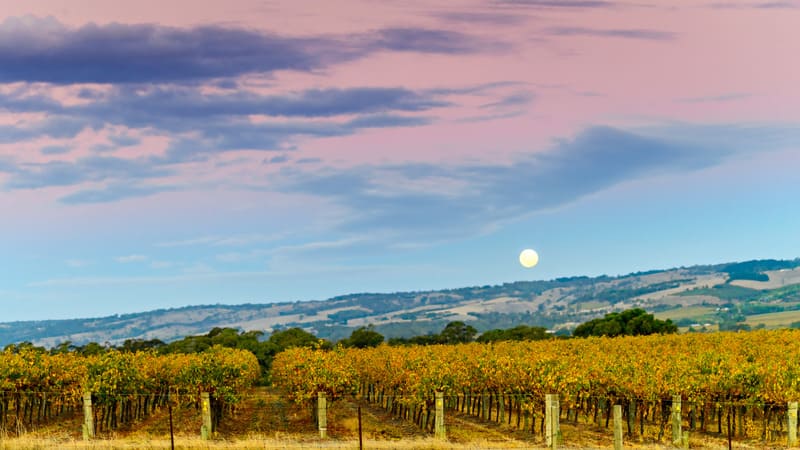 Distance from Milwaukee: 2 hours 19 minutes, 154 miles
If you're looking for the best road trips from Milwaukee, you can't go wrong with Door County as it's the furthest day trip from Milwaukee on this list.
There is so much to do here whether you love the outdoors, hanging out in museums, or diving! Therefore, many combine it with a Door County cabin getaway.
Diving is one of the most unique things to do in Door County due to the high number of shipwrecks off the coast. Although you can see the wreckages from a boat, or even the shore in some cases, going diving is a once in a lifetime experience here.
I also recommend taking a Segway to explore Fish Creek, a ferry to Washington Island or relaxing on the beaches (they're some of the best beaches in Wisconsin).
If you want to see more of the countryside, check out the Door County wine trail. This will let you see some of the region's beautiful landscapes, AND go wine tasting at some of the best wineries in Door County!
Basically, if it wasn't already obvious, this is not only one of my favourite Milwaukee day trips, but also one of my top getaways to vacation in Wisconsin!
Depending on the time of year you visit, you can also visit the vineyards or go cherry-picking.
But Door County is also one of the best winter day trips from Milwaukee if you enjoy winter activities like ice fishing or snowshoeing.
Check Lake Cabins in Door County
17. Sheboygan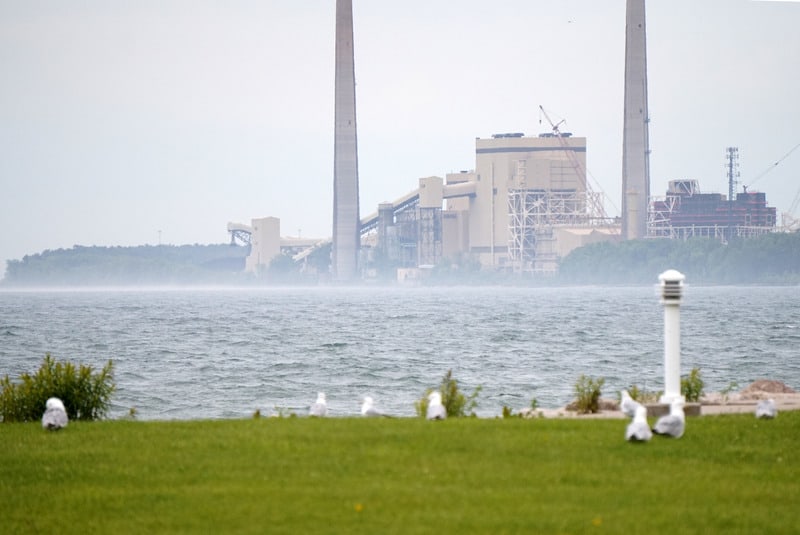 Distance from Milwaukee: 56 minutes, 57.7 miles
I absolutely fell in love with Sheboygan's Bookworm Gardens.
Although it's designed for kids, if you love books and botanical gardens, you'll also adore this place. But the gardens do make Sheboygan one of the best Milwaukee day trips for families.
There are also several beautiful parks, especially Deland Park and Evergreen Park, to wander around and enjoy nature.
If you love to surf, you can't miss Sheboygan! It is also known as the Freshwater Surf Capital of the World.
For those that decide to stay longer than one day, there are lots of great hotels in Sheboygan to choose from.
18. Elkhart Lake, Wisconsin
Distance from Milwaukee: 1 hour, 2 minutes, 60 miles
This is another wonderful option is you are considering both Milwaukee day trip ideas or weekend trips in Wisconsin. Elkhart is the perfect romantic getaway. But if you don't have time for a full weekend, I still recommend a romantic afternoon picnic on Sandy Beach.
If you are able to be there for it, try to visit during the famous Road America Race, held every summer. The race dates back 50 years and is great fun!
19. Wisconsin Dells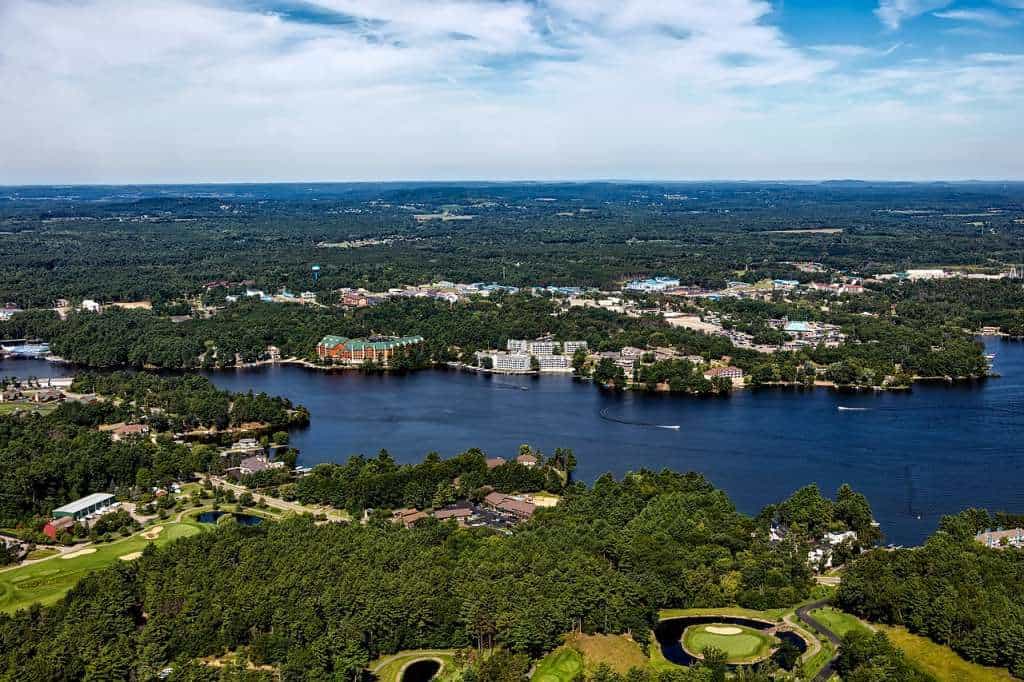 Distance from Milwaukee: 1 hour, 55 minutes, 123 miles
There are so many amazing things to do in Wisconsin Dells that it's easily one of the best weekend road trips from Milwaukee.
For starters, the Wisconsin Dells is home to The Noah's Ark, the largest waterpark in the United States. For hot summer days, there's also the Mt. Olympus Water Park!
But if theme parks aren't your thing, there's still plenty to do in Wisconsin Dells. You can have a relaxing day trip from Milwaukee hanging out at the spa or indoor jacuzzi!
If the weather is nice and you want to get outdoors, go for a walk through the forest or along the beach. The hiking in Wisconsin Dells is some of the best in the state.
For those looking to stay a bit longer for a couples getaway, Wisconsin Dells has some of the most romantic hotels in Wisconsin.
Book here your Wisconsin Dells tours
20. Six Flags Great America
Distance from Milwaukee: 45 minutes, 49.3 miles
Are you hoping for driving trips from Milwaukee that end in a day of fun? Then Six Flags Great America if the day trip for you. This place is definitely is for the kid in all of us!
If you love crazy roller coasters you'll be in heaven at Six Flags Great America. They have the American Eagle, Goliath, the Viper and more! If roller coasters aren't your thing, though, there are plenty of more tame rides and even waterparks to keep you entertained!
---
Wisconsin Map of Best Day Trips from Milwaukee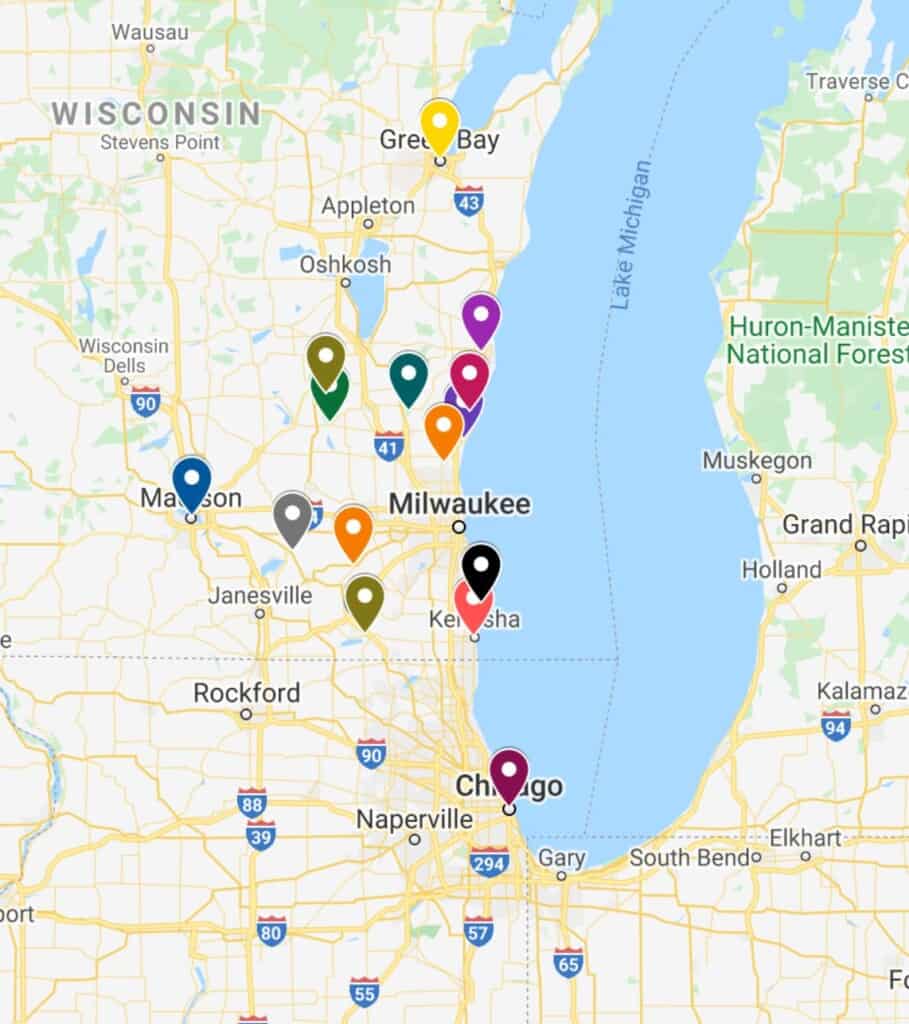 ---
Before You Go: Top Tips for your Trip
---
Short FAQ
What are cities within 8 hours of Milwaukee?
There are so many great cities within 8 hours of Milwaukee. Some of my favourites are Chicago, Madison and Kenosha.
What are great weekend getaways from Milwaukee?
Milwaukee is the perfect place to take a weekend getaway from because of how many options are available. I highly recommend Elkhart Lake, Door County or the Wisconsin Dells. Or any of the cities above in order to explore more.
What are the best scenic drives near Milwaukee?
By far the best scenic drive nearby is the Kettle Moraine scenic drive. It takes you through the forest, making the trip absolutely beautiful.
---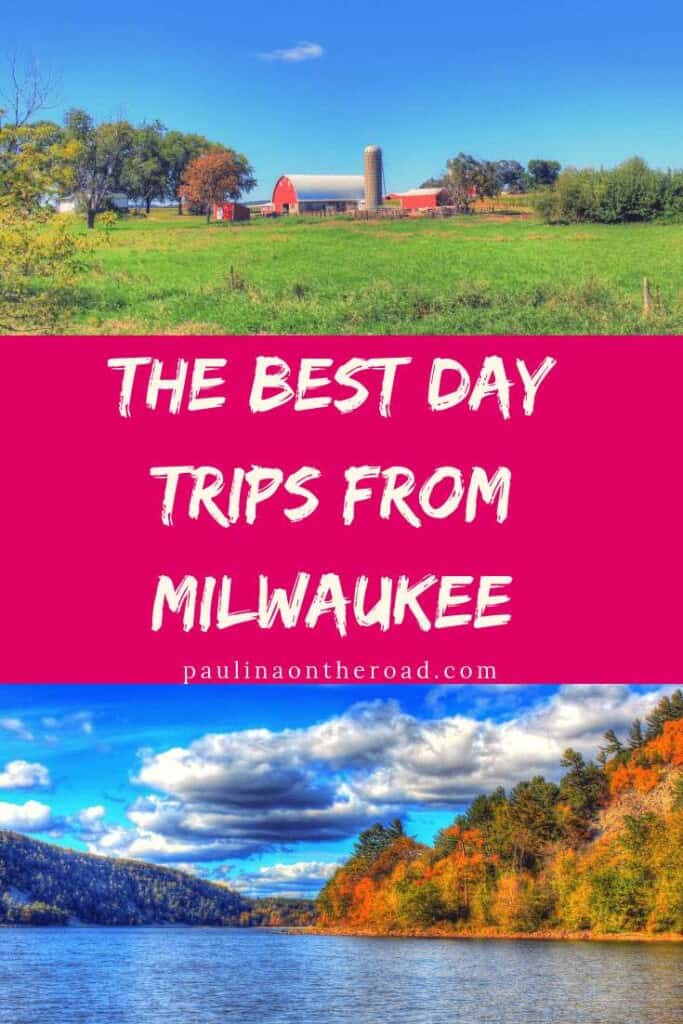 ---