A selection of the most captivating wilderness survival books incl. fiction, true stories and survival guides
Connecting with the outdoors is not only fun, but is also therapeutic.
If you are someone like me, an outdoor enthusiast, you know the relaxation you get while spending the night under the stars or watching a stream of water flow by while sitting near your camp.
However, if you don't have the best survival skills, your outdoor endeavors can become disastrous, and wilderness survival books are the fountains that you can tap into for a variety of useful outdoor knowledge… And inspiration!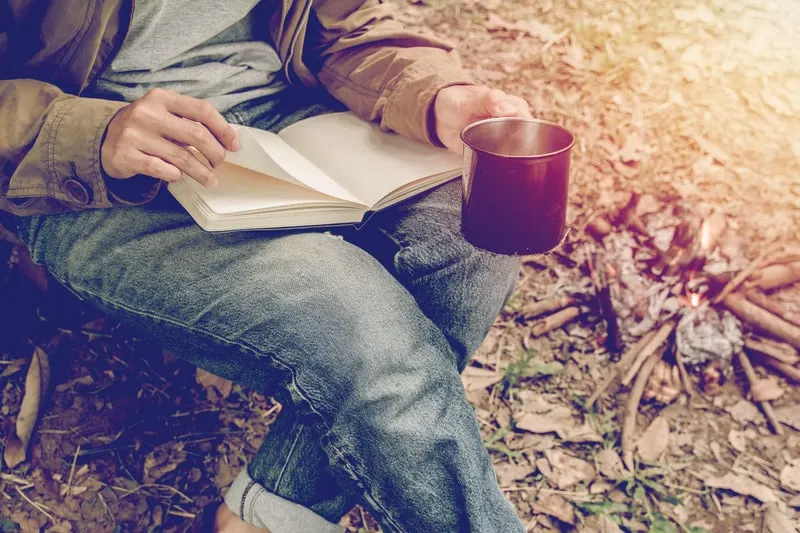 This blog is supported by you, dear reader. If you purchase through a link, I earn a small commission. As an Amazon Affiliate, I earn from qualifying purchases.
Overview: Top Wilderness Survival Books
12 Best Wilderness Survival Books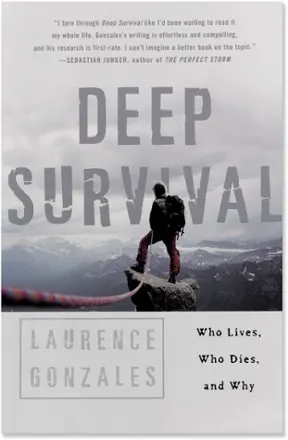 Laurence Gonzales's bestseller, Deep Survival has helped save people's lives from the deepest wildernesses, just as it has improved readers' everyday lives.
This book has several survival stories that serve as examples of how outdoor adventures can turn tragic, when life may be dependent on a single decision. Using the most recent scientific studies, Laurence explains the sequences of events that can leave an outdoor enthusiast in mortal peril within seconds.
Careful planning, the fluidity of thought processes, and the flood of emotions in unexpected situations are what I liked the most.
This wilderness survival book is a mix of survival science, adventure narrative, and practical advice that has inspired business leaders, military officers, educators, and psychiatric professionals on how to learn to assess risk, take control of stress and make better decisions under pressure.
Outdoor enthusiasts and adventurers will love the authenticity of Deep Survival and the spirit in which it is written. It's definitely one of the best survival storybooks out there.
---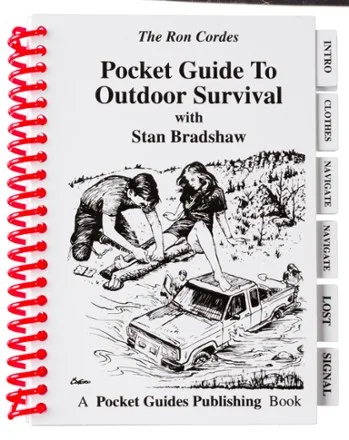 The Pocket Guide to Outdoor Survival, written by Ron Cordes and Stan Bradshaw is the book that will help you make it out of an emergency situation alive.
If you wind up lost in the wilderness, in need of food, shelter, or unable to find your way back to civilization, this survival guide book will be your best friend.
The book covers all the basics of getting through life-threatening situations in the outdoors, from navigating in the wild to sending emergency signals to aircraft via a mirror.
This pocket survival guide also covers how to build an emergency shelter, starting a fire, find food and water in the wild, and dealing with lightning, avalanches, and hypothermia. Best of all, the guidebook is waterproof, dirt-proof, and pocket-sized so you can carry it easily with you in the wilderness.
If you're a fan of the outdoors, prepare for every possibility, make Pocket Guide to Outdoor Survival a permanent part of your gear.
---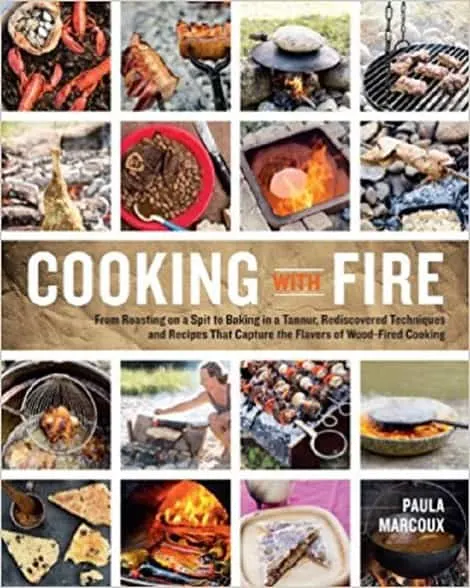 Cooking with Fire is different from the crowd of BBQ and grilling books as it tells you how to grill amazing meals while camping or hiking.
This outdoor survival book is truly a one-stop-shop for anything you need to know about cooking outdoors. There are loads of recipes all of them equally tasty-looking, but it's really all the tutorials and detailed information on what cooking equipment you need for camping makes it the best.
The wealth of information this book offers is amazing. The book also offers pro tips on everything from building your own pizza oven to today's fresh, modern, healthy approach to cooking and eating outdoors.
This book will be enjoyed by people who love cooking under the open sky, whether at a campsite in the woods or at a grill in the backyard.
---
Do you find solo travel great, or does the idea of finding yourself alone in a foreign place figure in your worst nightmares?
According to The Solo Travel Handbook by Lonely Planet, solo travel is the ultimate indulgence, allowing you to come and go as you please, with no compromises needed.
If that sounds like your idea of fun as it is mine, then this guidebook will hone your appetite for your first adventure.
The wilderness survival book has quizzes, tips, apps, and solid information on budgeting and saving before and during travel, smart booking hacks, notes on tying up loose ends at home, and hints at saving on solo accommodations and packing like a pro to make the most of your adventure.
You don't have to be an extrovert or hooked on adrenaline rushes to have fun, and going it alone is safe if you follow the book's advice on choosing your destinations and behaving once you're there.
The Solo Travel Handbook will help you design your best adventure ever.
---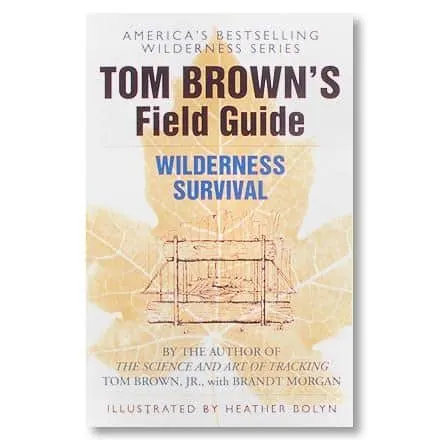 This handbook by the director of the world-famous Tracking, Nature, and Wilderness Survival School is the first of its kind.
The Field Guide to Wilderness Survival by Tom Brown Jr. this survival storybook preserves knowledge that was in danger of being lost forever but reaches even deeper into the past.
In it you will find much that was forgotten, the most ancient and essential skills of humankind, presented in a simple, easy-to-use format with clear instructions.
It's definitely a must have survival manual!
---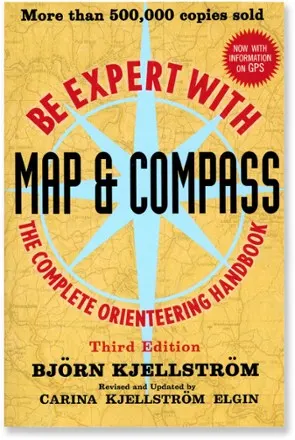 You may be wondering that in this age of GPS, why would anyone need a map and compass?
My dear friends, though GPS devices are great, they can break, get lost, or easily be hampered by weather conditions, which makes basic map and compass skills essential for people who love spending time outdoors.
Be Expert with Map and Compass is a classic map and compass navigation guide that has helped people find their way for more than fifty years.
Now it has been updated to include GPS as well as current websites, references, sources, and photographs.
This survival skills book contains everything the beginner needs to know about the increasingly popular sport of Orienteering, understanding map symbols, traveling by map alone, by compass alone, or by map and compass together.
---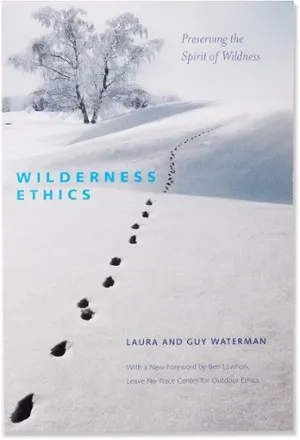 by Laura and Guy Waterman
In this classic environmental call to action book, Laura and Guy Waterman write about preserving the ecology of the backcountry.
They focus on what they call the spiritual dimension, its fragile, untamed wilderness. Wilderness Ethics is one of the best survival books nonfiction that helps put the many issues surrounding wilderness in focus.
Without management, wildness cannot survive, but with too much management or the wrong kind of management, we can destroy the spiritual component of wildness in our passion to preserve its physical side.
With humor and insight, the Watermans look beyond the ecology of the back-country to explore the factors that make it wild and consider the most difficult wilderness management issues.
---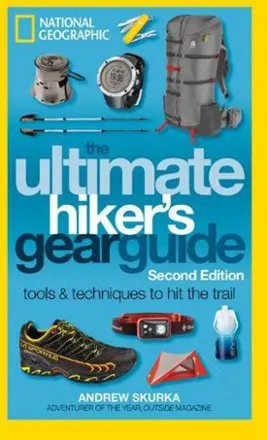 Ultimate long-distance hiker Andrew Skurka shares his knowledge in this best survival guide to backpacking gear and skills.
He is named as one of the best traveled and fastest hikers on the planet, by National Geographic, Adventurer of the Year by Outside Magazine, and Person of the Year by Backpacker.
Skurka is well known for his 4,700-mile 6-month loop around Alaska and Canada's Yukon, the 6875 mile Great Western Loop, and the 7775 mile Sea to Sea Route.
In The Ultimate Hiker's Gear Guide, you will learn what you need to carry in your backpack. The practical and priceless recommendations give you all the tools and techniques you'll need to hit the trail.
Whether you're a first-time backpacker, an occasional weekend traveler, or a seasoned long-distance trekker, you will love this guide.
---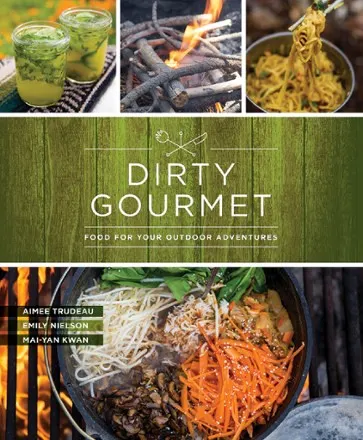 Dirty Gourmet: Food For Your Outdoor Adventures is a lifestyle, one that celebrates delicious food, warm company, and outdoor fun.
It began as a website and blog when friends Aimee Trudeau, Mai-Yan Kwan, and Emily Nielson joined hands to share their love for wilderness, outdoor education experiences, and knowledge of backcountry cooking via workshops, classes, catering events, and easy yet exciting recipes.
Dirty Gourmet: Food For Your Outdoor Adventures, now extends its mission to get more people to eat well outdoors and have fun doing it.
It highlights healthy eating with fresh ingredients, efficient techniques, and global flavors. Breakfast, trail meals, sweet and savory snacks, dinners, appetizers, side dishes, desserts, even refreshing camp drinks, you can find all this and more in this best survival book.
---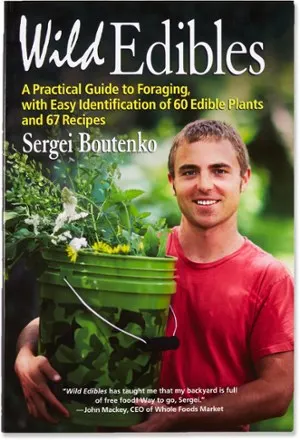 Sergei Boutenko (son of raw-food guru Victoria Boutenko), in Wild Edibles about foraging wild edible plants, explores the health benefits of wild-harvested food.
He also explains how to safely identify trailside herbs, fruits, weeds, and greens that grow worldwide, and shares his delicious, nutrient-dense recipes.
Sergei has been gathering wild plants since he the age of 13 when in a 6-month hike from Mexico to Canada, he and his raw-food family ran out of provisions and turned to forage for ultimate survival in the wild.
This practical guidebook to plant foraging gives backpackers, hikers, raw foodies, gardeners, chefs, DIYers, survivalists, and off-the-grid enthusiasts the tools to identify, harvest, and prepare wild edible plants.
It is a good survival book that outlines basic rules for safe wild-food foraging and discusses poisonous plants, plant identification protocol, gathering etiquette, and conservation.
---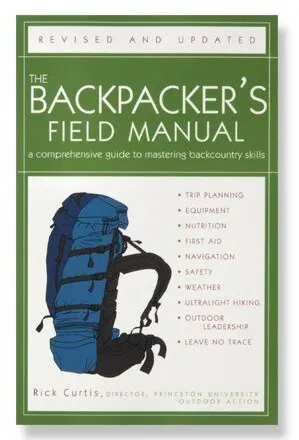 It is a comprehensive guide to mastering backcountry skills and is the most readable handbook of backpacking instructions available today.
Written by Rick Curtis, Director of Princeton University's Famous Outdoor Recreation Program, this wilderness survival book provides a gear-agnostic approach to the skills and techniques required for enjoyable and safe backcountry hiking.
Published in 1998, and updated and revised in 2005, The Backpacker's Field Manual illustrates techniques and skills that have been applied, tested, and refined by the experiences of thousands of college students.
This book has sections on ultra-light backpacking, different stove types including alcohol stoves, GPS use, and personal locator beacons.
The Backpacker's Field Manual offers an in-depth explanation of trip planning, which is the most essential skill any backpacker should master.
---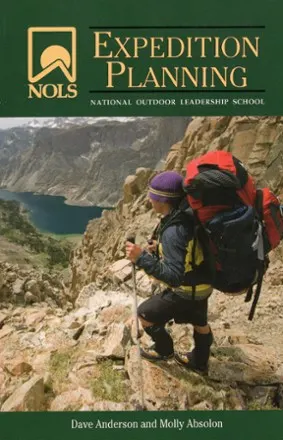 The NOLS (National Outdoor Leadership School) Expedition Planning book written by Dave Anderson and Molly Absolon covers how to plan a successful trip, whether short or long distance.
This book on survival will also help you choose essential gear, with checklists for personal and group gear. It also covers how to research access to domestic and international public and private land and how to create a budget for your travel.
NOLS Expedition Planning will also help outdoor enthusiasts plan food and fuel requirements, how to prepare mentally and physically for the hardships faced in the great wilderness.
It also covers transportation, and lodging, how to deal with risks, health issues, illnesses, and injuries in the wilderness.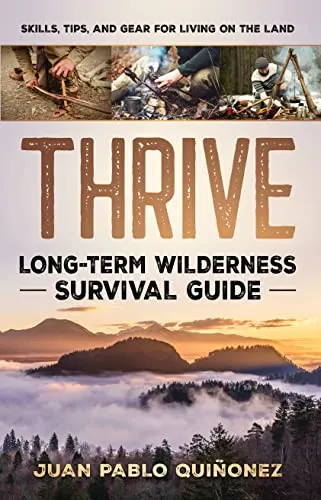 If you're planning a trip to the great outdoors and want to learn how to survive in the wilderness, "Thrive: Long-Term Wilderness Survival Guide; Skills, Tips, and Gear for Living on the Land" is a must-read book.
Written by experienced wilderness expert Juan Pablo Quiñonez, this guide is packed with detailed tips and recommendations on how to live on the land.
It covers everything from the importance of mental resilience to essential gear for long-term survival.
What sets this book apart from others is not just the author's expertise in the field but also the narrative style, which is entertaining and informative.
You'll be learning survival skills while being entertained and inspired.
---
My personal notes: Why read Wilderness Survival Books?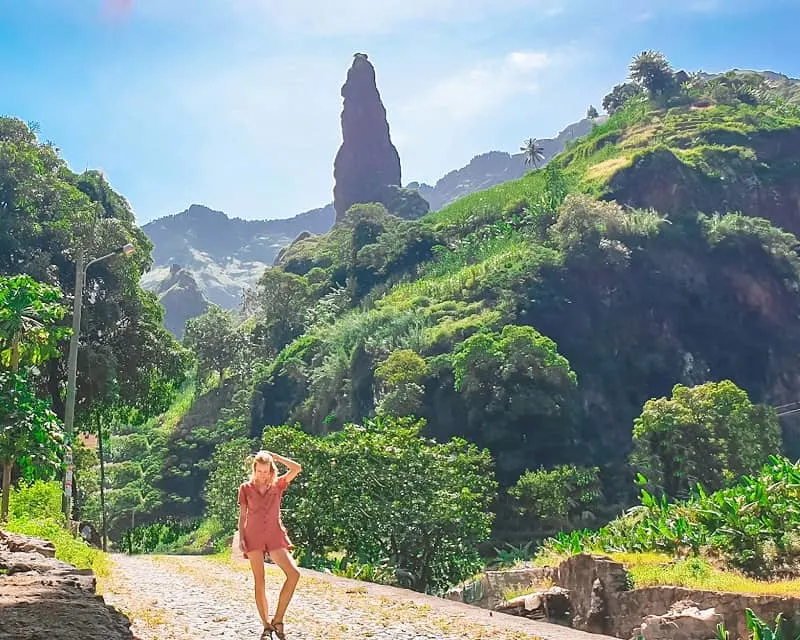 Some wilderness survival books are heavily focused on tips and tricks for building fire, making shelter, and finding food, while the best books on survival cover everything you will need to know about wilderness, the way of life, and wilderness medicine.
Fortunately, many outdoor enthusiasts and survivalists have come before us and decided to compile their experiences and lessons into books that we can learn from.
There is no better way to learn new skills and get inspired than reclining with a good book.
However, to pick out a beneficial book from a useless one, you will need to know if the information is authentic, along with the credibility of the author, and the writing style.
I have evaluated my choices based on these aspects so that you can make your decision, and spend your time productively, reading these best outdoor survival books. They are also a perfect complement of the best survival stories books based on true stories or gorgeous coffee table books about travel.
My picks for the best wilderness survival books are here to give you the information you need while traveling the great outdoors.
Where to buy Wilderness Survival Books?
To me, every episode of the hit survival shows on TV, DVD or a survival app on the phone just don't take the place of a real paper book.
My library is full of various outdoor survival books most of them brought from REI.com.
I purchase my books from them because I love their eco-friendly policy, and a strong focus on sustainable standards of travel and travel gear.
Read here how they raise the bar on product sustainability, and you too will become a fan to source all your best survival storybooks and outdoor gear from them.
You may also be interested in my selection of the best outdoor adventure books.
These are a few of the survival stories books that I loved and you too can enjoy them. Happy Reading!
---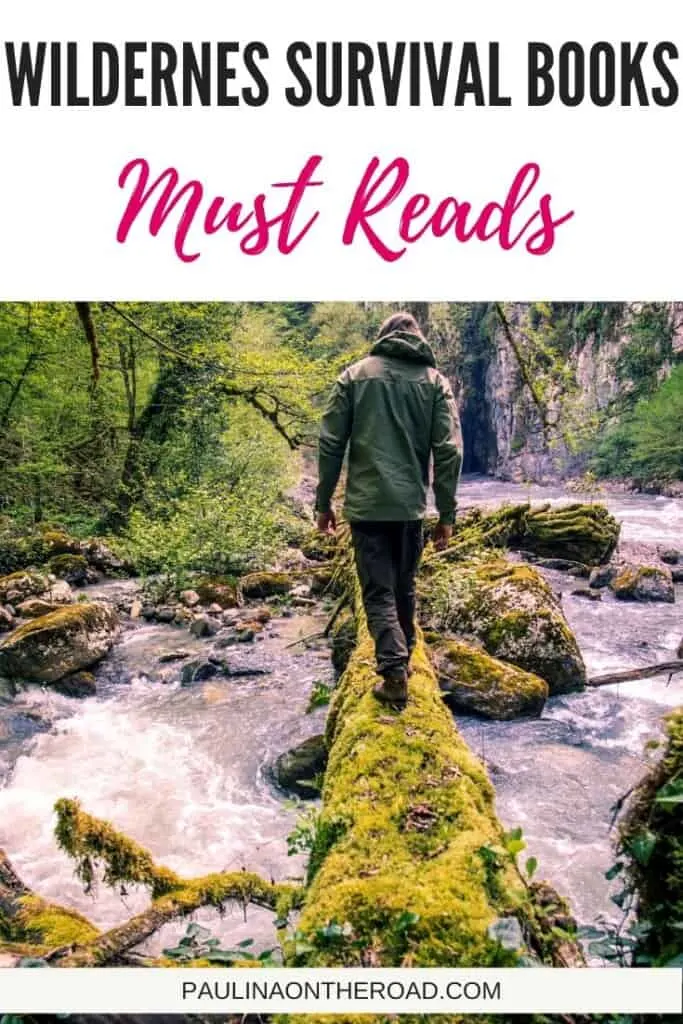 ---
Hola! I am Paulina, a fervent travelette who crossed the Atlantic Ocean by Boat HitchHiking. On my blog, you'll find all the tips to make the most of your holiday. Get ready to enjoy outdoor and sustainable travel like hiking, cycling or sailing. Let's hit the road together!