Coffee Table Books!! Ah, they have come to serve as a signifier, giving a perfect look into an individual's creative inspiration and interests as well as add to the ambiance of the place making it look classier.
If you love surfing as much as I do, then having a few surfing coffee table books would be a salvation for you.
Flipping through the pages of the surf coffee table book, the beautiful and awe-struck photographs will immerse you and take you back in time enjoying the waves.
Surf coffee table books also help keep your guest entertained and conversation starter.
If you are looking for perfect gifts for outdoorsy people, then you can never go wrong with my collection of coffee table surfing books. I have rounded up my absolute favorite 20 surf coffee table books and hope you like them as much as I do.
"Paulina on the Road" is supported by you, dear reader. As you buy through my links, I earn a small commission. As an Amazon Affiliate, I earn from qualifying purchases. Thank you for your support
Overview: Beautiful Surf Coffee Table Books
---
As surfers, we try to make waves ours. We catch them, ride them, name them, and sometimes fiercely guard them.
No matter our relationship with the ocean, it will not change the fact that waves are wild and no two are similar. However, waves do have a certain behavior pattern, and Swell: A Year of Waves captures that essence in breathtaking wave photography.
The book showcases four distinct waves from around the world and traces their journey to the seashore. This is the best ocean coffee table book with powerful images of hundreds of waves frozen in time.
Dimensions: 9.25 x 0.75 x 10 inches
I find surf shacks quite interesting and when I am riding the waves, they are my abode to rest in between sessions.
If you too love shacks, you can peek inside the homes of longtime enthusiasts through the vibrant photographs of design details in the Surf Shack book.
This surf coffee table book takes you on a colorful tour to some of the most unique and coolest shacks on the planet. It is one of the prettiest design and décor surf shack books to own or give.
Dimensions: 8.29 X 1.22 X 11.27 inches
The History of Surfing is the best surf coffee table book telling a definitive story of surfing, surfers, and beach culture.
The book with a collection of information, awesome photos, and anecdotes make it the best and perfect travel coffee table book.
This is a book that you will read and reread for a long time.
The author knows a lot about surfing than any other person on the planet and has created an unprecedented history of the sport in a voice that is authoritative, funny, and original including the 250 rare photographs in the book.
Dimensions: 9.5 x 1.75 x 11 inches
Salt & Silver is an absolutely useful and interesting surf coffee table book to have. It blends travel and surf stories along with recipes from Central and South America.
The authors traveled through the locations to create this awesome book. You will find the best surfing locations, few stories from the local surfers, and recipes from each area.
From mouthwatering Cuban street dishes to the kitchens of Chile, this coffee table book contains 90 regional recipes, over 250 breathtaking photographs, and a wide array of tips.
This makes it one of the best outdoor adventure books for any surfer, traveler, or cook. If you are looking for outdoor gifts for women, then Salt & Silver is it.
Dimensions: 8.3 x 1.1 x 11.2 inches
This surf coffee table book gives an effect of a time capsule, bringing back an era that resonates in shades of Technicolor and black & white. The cover for the coffee table is distinctive as well, as it is clothbound.
The look and feel of the book are great and the perfect décor for your coffee table.
The book has the most vibrant surf photographs from the 60s and 70s era covering the perfect wave at San Onofre to dramatic wipeouts at Oahu's famous North Shore.
This book also offers insights into the surfers' lifestyle, from surfer stomps and fans at surf contests to board-laden woody station wagons. With the iconic images, the book embodies the free-spirited nature of the era.
Dimensions: 6.77 x 9.44 inches
Surfers' Blood tells the universal story of individuals who share a deep connection with the sea through the beautiful collection of oceanscapes, wave surfing portraits, and action shots.
When flipping through this surf coffee table book you will get to see the most intense, glamorous, and frightening aspects of surfing along with moments of stillness, beauty, and serenity.
This book reaches out to those hardcore surfers' connecting them to an extended family through an honest and beautiful portrayal of their sport and its culture, and at the same time offers outsiders a peek into the intense undiluted world of surf.
All in all, this is one of the best surfing coffee table books to know the sport well.
Dimensions: 10.29 x 0.7 x 10.31 inches
You might think that the Aloha shirt is just an enduring souvenir that tourists come back from Hawaii with, but you are wrong.
This beach coffee table book is my absolute best as it covers the rich history of the Hawaiian shirt and how it came to be the cultural icon that it is today.
The Aloha Shirt: Spirit of the Islands is beautifully illustrated with hundreds of fantastic images, interviews, newspaper and magazine archives, and personal memorabilia, capturing the vibe of the shirt.
The book is a fascinating chronicle of the world's love affair with Hawaii and fun to browse.
Dimensions: 8 x 1.5 x 11.1 inches
Anyone interested in design or surfing cannot fail to be enchanted by this beautiful surf coffee table book.
With its high-quality 150 stunning images of the exhibited boards along with the history of the evolution of surfboard designs, this book is absolute bliss.
From the ancient Hawaiian traditional board to the unadorned boards designed with mathematical precision, to the store-bought longboards popularized by the 1959 surf- movie Gidget, board design reflects both aesthetics and history.
Dimensions: 10.31 x 0.91 x 11.31 inches
The California Surf Project is an awesome fully illustrated surf coffee table book telling the story of two surfers who took a trip of a lifetime down the California coast.
Chris, a celebrated photographer of the surfing world, and Eric, a professional surfer, packed their Volkswagen bus and traveled from the Oregon border to the Tijuana Sloughs. Here they surf perfect waves, camping with strangers, and discovering everything the legendary coastline has to offer.
With over 200 gorgeous photos, soulful text, and a half-hour DVD, relive the incredible journey of the authors.
The California Surf Project is one of the best travel coffee table books around and you need to own one.
Dimensions: 10.13 x 1 x 10.38 inches
Incredible Waves: Amazing Surf Photos is a beautiful, unique, and stunning surf coffee table book of photographs capturing the majesty of the world's most awesome waves.
The book is a collection of the best work by 20 top surf photographers and has the most spectacular shots of big waves that are both enticing and dangerous.
This book also has essays about the timeless allure of perfect waves and the forces that create them, plus a discussion about current trends in surf photography.
If you have a surfer friend who loves photography, then this book is a perfect gift for them.
Dimensions: 8.63 x 0.75 x 11.13 inches
Slide Your Brains Out surf coffee table book is a compilation of Campbell's incredible surfing photography work spanning nearly two decades.
Thomas Campbell is a prolific artist, photographer, and filmmaker, who began documenting surfing culture in the late 90s and this book conveys that.
This book also offers tips on photography from photographers in the skateboarding press. This coffee table book makes a great gift for surfer enthusiasts in your life.
Dimensions: 6.75 x 9.75 inches
70s Surf Photographs is a colorful portrait of 70s surf culture. This surf coffee table book has awe-struck photographs showing the pre-commercialized 70s era in surfing.
The colored and black & white photographs showcase here were taken throughout California on the Baja, Laguna Beach, Dana Point, Malibu, La Jolla, San Clemente, and Oahu coastlines.
Hence they give a vivid image of the close-knit culture and the incredible athletic feats of its heroes and heroines. A must-have coffee table book to create a classic ambiance in your home.
Dimensions: 12.01 x 0.71 x 9.65 inches
The Life and Love of the Sea is a compilation of images from the world's leading marine and nature photographers taking you on a breathtaking visual tour of the ocean's great diversity.
The book also provides tips on the latest underwater photography techniques.
This #1 best seller photography book will take you on a journey to dramatic coastlines, barrier reefs, and island chains.
With the incredible images of the ocean's fascinating inhabitants, the book also features scannable QR code footage from award-winning underwater cameraman Steven Hathaway.
Dimensions: 12.5 X 1 X 12.5 inches
Whether you are into the surfing lifestyle or not, Surf Shacks: An Eclectic Compilation is a great surf coffee table book to add to your library.
With clean modern design mixed with a heightened personal flare, it is a wormhole into the power of having and practicing a passion.
This coffee table book illustrates how surfers live both on and offshore taking a deeper look at their homes and artistic habits. Through stories, photographs, and conversations, Surf Shacks reveals a more personal side to surfing.
Dimensions: 9.75 x 1.31 x 11.25 inches
Chris Burkard, a celebrated photographer of the surfing world takes you on a journey from the Arctic Circle south to Roaring Forties, with tropical diversion in-between through brilliant photography in the book High Tide: A Surf Odyssey.
When you will flip through the pages of this beautiful travel coffee table book, you'll feel breathtaking landscapes, remote and desolate places, the highest waves, and the most spectacular jumps sitting right on your couch.
Dimensions: 10 x 1.35 x 12.35 inches
Be The Ocean is a must-have beach coffee table book for beach homes, sandy towels, and shelves of every ocean-loving soul.
Written by two sea admirers, the photo book has rustically textured words about living fully, feeling deeply, and embracing one's true self.
This is the best coffee table book that shows you to stay both calm & still and yourself get wild and lost in a storm.
Dimensions: 7.99 X 0.31 X 7.99 inches
Palm Beach by Aerin Lauder is a book with childhood recollection of visiting her grandparents' home during the winter holidays.
The book highlights the old-world glamour and new-world sophistication through excellent photographs.
The coffee table book showcases some of the favorite places of the author such as Nandos restaurants, scenic Lake Worth trail, and many such beautiful places. This travel coffee table book provides the history of the iconic destination.
Dimensions: 9.8 X 1.3 X 13 inches
Waves: Pro Surfers and Their World is one of the best surfing coffee table books portraying the vibrant celebration of surfers in and out of water.
The award-winning photographer Gilbert spent four years among the surfer community clicking the most dramatic action shots and compiled them into this book.
This coffee table book not only features photographs, but also some Q&As and hand-written contributions from prominent figures in the scene. Waves is an ode to surfing and to men and women who live it every day.
Dimensions: 9.35 x 1.2 x 11.3 inches
Surf Like a Girl is a beautiful surf coffee table book and my absolute best as it showcases 30 amazing women making enormous waves in the world of surfing.
Packed with stunning photos and inspiring words from professional surfers to entrepreneurs, surf photographers, writers, filmmakers, mothers that surf, and surfboard shapes I am super inspired by the stories.
This book makes the perfect outdoor gifts for women and surfing enthusiasts.
Dimensions: 9.69 x 1.13 x 12.06 inches
I can't get over the serene cover of the Escape coffee table book, Oh my. The book has astonishing images, journal entries, and behind-the-scenes anecdotes capturing life's joyful moments.
From remote islands to major cities, Escape captures the spirit of 22 vacation spots across 11 countries that is sure to inspire you to plan an escape of your own.
Dimensions: 13.5 X 10 X 0.94 inches
These are the 20 best surf coffee table books and I hope you like them. Also, please do check my post about National Parks coffee table book and Beach coffee table books.
---
Short FAQ about Surf Coffee Table Books
---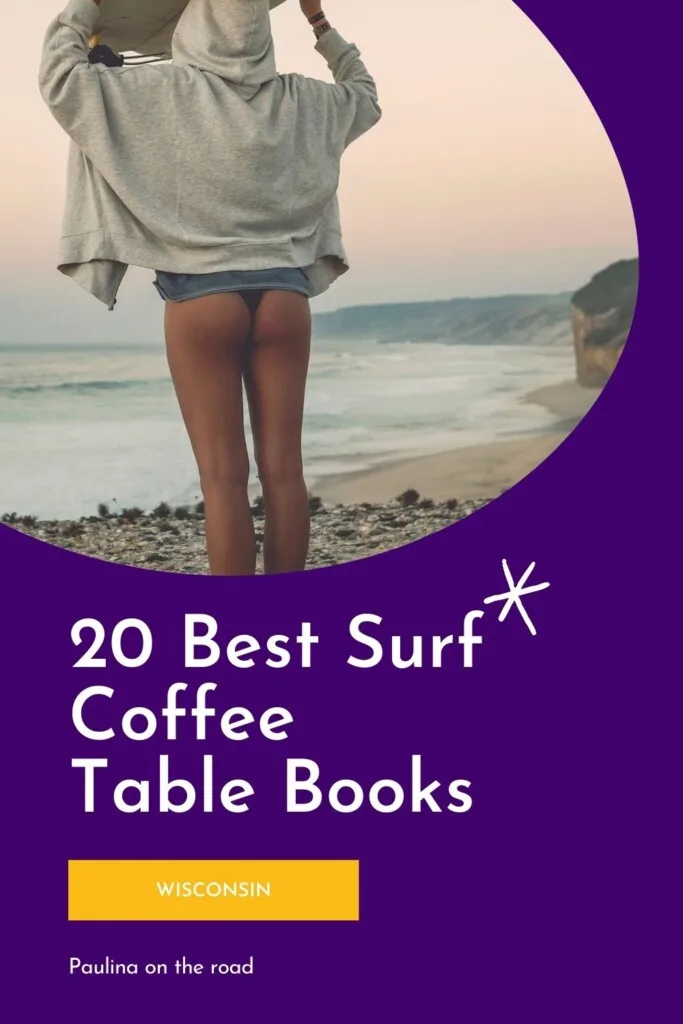 ---